Flight from Shoreham EGKA to Alderney EGJA, March 2020
Alderney is one of the Channel Islands - Guernsey and Jersey are the other main ones - and is located close to France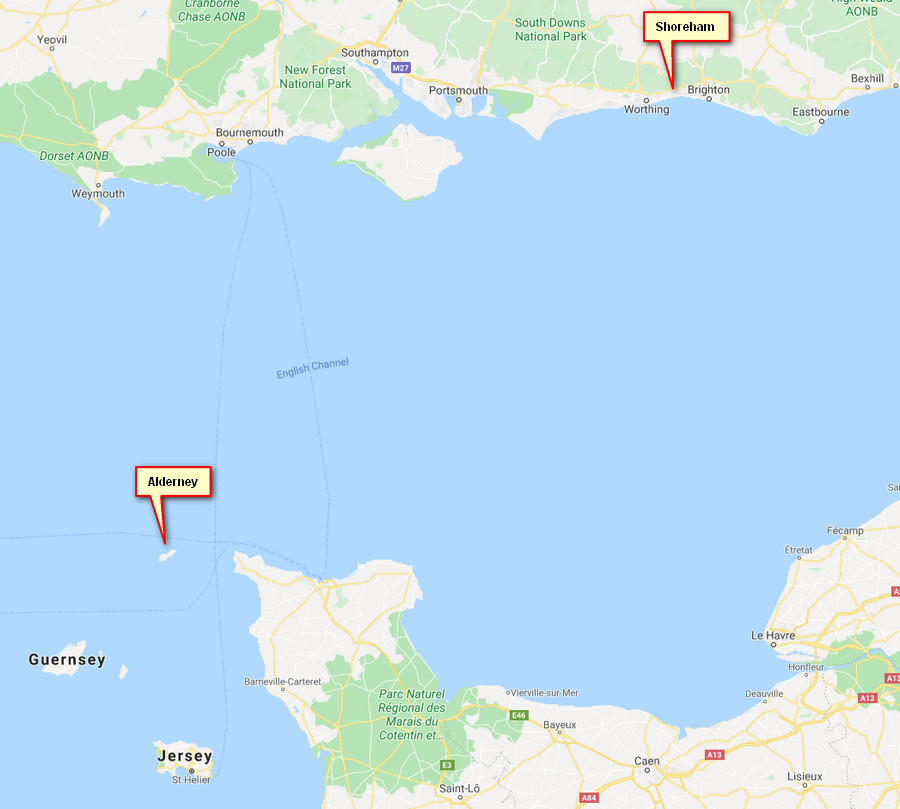 This writeup is a simplified version of my normal ones in which I go into a lot more detail of each trip.
Pilot
FAA CPL/IR, JAA/EASA PPL/IR, ~2600hrs.
Aircraft
The aircraft is this 2002 TB20GT; one of the last made before production ended.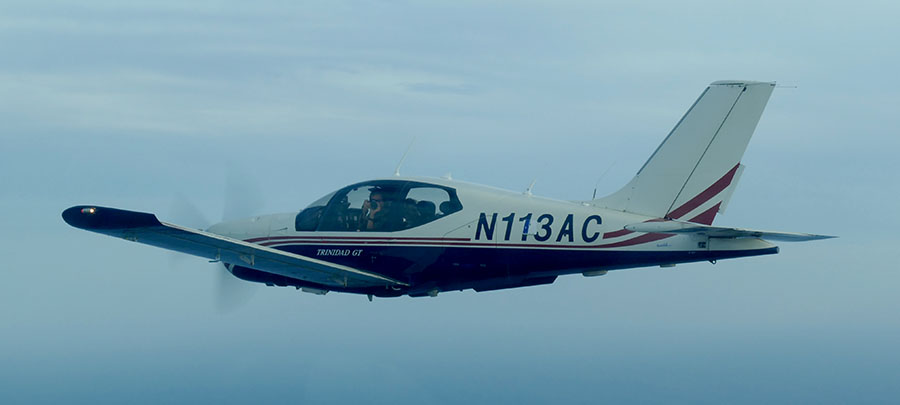 It is equipped for BRNAV (RNAV 5) and can fly ILS and GPS/LNAV approaches using the autopilot. This is currently sufficient for all practical European IFR flight. The instrument panel is largely as delivered in 2002, with a Sandel EHSI installed on the LH side and with the RH side reworked with another EHSI and arranged to form a usable "pilot panel" so the aircraft can be flown from the RH side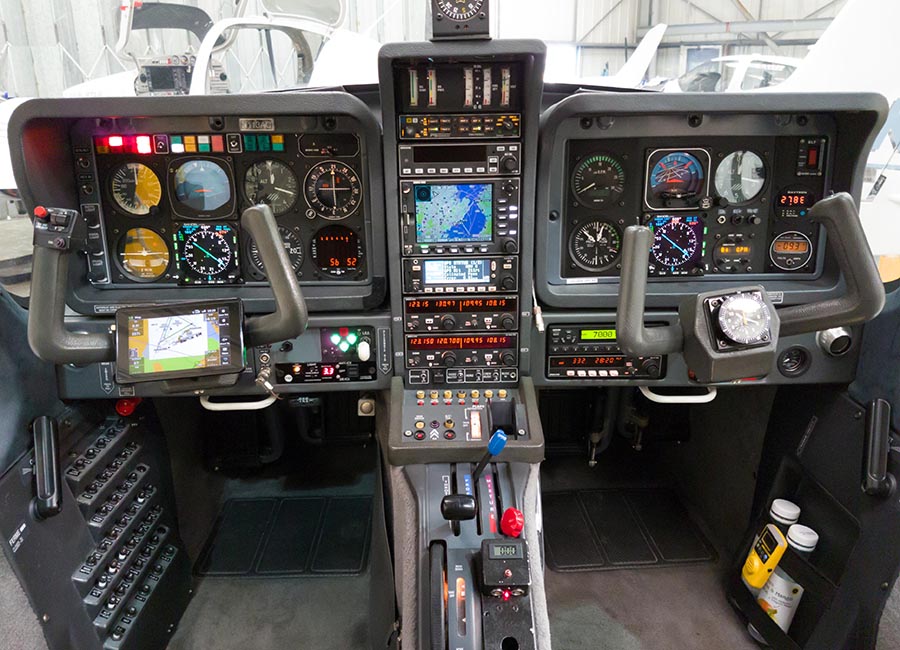 There is no LPV approach capability but LPV is not yet operationally relevant in Europe - in the sense that flying to/from the UK (and with the UK being non-Schengen) almost every IFR-capable airport I fly to has an ILS. Or... it is located somewhere a lot warmer

Having said that, Alderney received the UK's very first LPV approach, in 2011, and remains one of the very few LPV approaches in all of the UK. The benefit of LPV is marginal however: mainly a reduction in the DH from 340ft to 300ft, which is silly given the total lack of obstacles.
I have a long term plane to upgrade the centre stack with 2xIFD540. This is a photoshopped mockup. I haven't done it yet because of a dire shortage of avionics facilities in the UK, and what I have does the job fine for the sort of flying I do.
However, this simple flight was done mostly in VFR conditions, partly as VMC on top. It was flight planned as IFR, and IFR flight plans were filed, to make it more obvious that an instrument approach is expected at the destination. Actual IMC was encountered only briefly while going up/down through cloud layers. It could have been done wholly below the cloud (and 100% VFR) but because it is mostly over water, it would be less safe due to the reduced time to carry out emergency tasks in the event of an engine failure. Since the Channel Islands zone is Class D, the flight could have been filed legally as IFR with just the UK IMC Rating.
It was a short-notice day trip. I had been to Alderney before, several times. This trip was done at the start of the Corona virus crisis which quickly covered Europe and shut down most flying just days later. It was very safe from that point of view because it was easy to keep a large distance to other people. Alderney has practically zero tourism at this time of the year.
Routes
The route was EGKA GWC KATHY ORIST EGJA and the return route was the same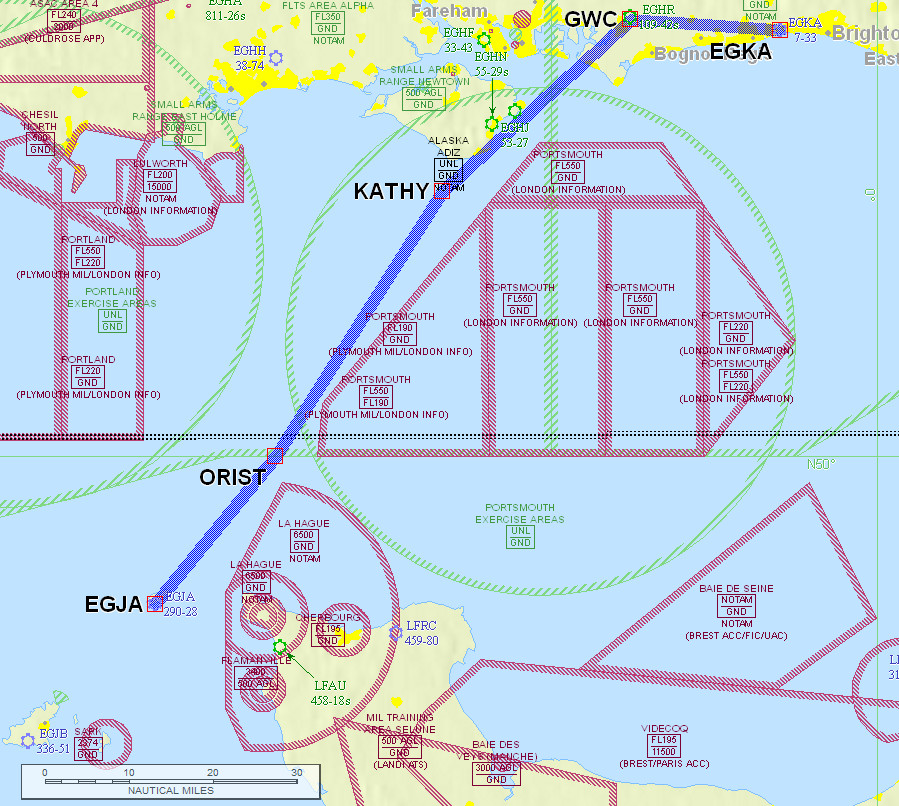 This route avoids the extensive Portsmouth danger areas which are usually active on weekdays.
The route was filed as IFR at 5000ft and flown OCAS (outside controlled airspace) i.e. Class G. Solent Radar (the controlling unit for the airspace west of GWC) normally allow a transit at 4000ft, but sometimes they are busy and don't, so there is no point in asking. One could have also done this higher up, say FL100, on a more conventional route via SAM ORTAC but there is a risk that Solent will not let you into their airspace and then you need to have a Plan B anyway.
Airport PNR/PPR and other requirements
The airport, St Anne EGJA, does not require PPR (prior permission) but due to the rumoured imminent closure of the islands to visitors (due to corona virus) they suggested that I phone them in the morning to make sure they are open. In the end, the closure came 3 days later, in the form of a 14 day quarantine for all arrivals.
The Channel Islands require a GAR form, with a 12hr notice, for both journeys. This goes to the UK police. In addition, Guernsey (which "runs" Alderney) requires its own slightly different version of the GAR form; I don't think that is on a 12hr notice because the form often gets completed when you arrive at Guernsey or Alderney, and it saves time if it is emailed ahead. The GAR form can be filed via email to nc[email protected] (at time of writing, this is not reliable) or via OnlineGAR for a small fee.
A flight plan was filed in each direction. According to various sources, the Channel Islands require one to be filed at least 1hr before departure. As mentioned above, the flight plan was filed IFR and at 5000ft, wholly in Class G until the Channel Islands zone, Eurocontrol almost always validates the route anyway. The flight plan of course implies no clearance for the route.
Alderney is really GA-friendly and the island hosts various annual GA events. Guernsey EGJB is also very good for GA; park at ASG. Jersey EGJJ has gone seriously downhill with poor grass parking which is on a slope and IMHO dangerous for a TB20, and a massively expensive tarmac (over £200) at GAMA as the only alternative.
Outbound Flight Shoreham EGKA - Alderney EGJA
The weather was good, with a possibility of low cloud, and you never know where the FEW might end up

METAR
EGKK 170750Z 22008KT CAVOK 08/06 Q1028
EGKA: no results found
EGHI 170750Z 19005KT 140V230 9999 FEW025 09/06 Q1028
EGHH 170750Z 22009KT 9999 SCT028 SCT038 09/07 Q1028
EGKB 170750Z 22012KT CAVOK 06/05 Q1027
EGMD 170750Z AUTO 23014KT 9999 NCD 09/07 Q1029
EGJJ 170750Z 22006KT 9999 FEW013 08/06 Q1030
EGJA 170750Z 22010KT 9999 FEW012 09/06 Q1030

TAF
EGKK 170453Z 1706/1812 22010KT CAVOK BECMG 1707/1710 BKN025 TEMPO 1714/1812 BKN012 PROB40 TEMPO 1802/1812 BKN008
EGKA: no results found
EGHI 170805Z 1709/1718 22010KT 9999 BKN020 TEMPO 1714/1718 BKN014
EGHH 170805Z 1709/1718 22010KT 9999 BKN020 TEMPO 1714/1718 BKN014
EGKB 170804Z 1709/1718 22013KT 9999 SCT025 PROB30 TEMPO 1712/1718 BKN012
EGMD 170804Z 1709/1718 23016KT 9999 FEW030
EGJJ 170802Z 1709/1718 21008KT CAVOK
EGJA 170802Z 1709/1718 22009KT CAVOK
I did obtain updated weather for EGJA before the flight but did not record it.
Local weather was nice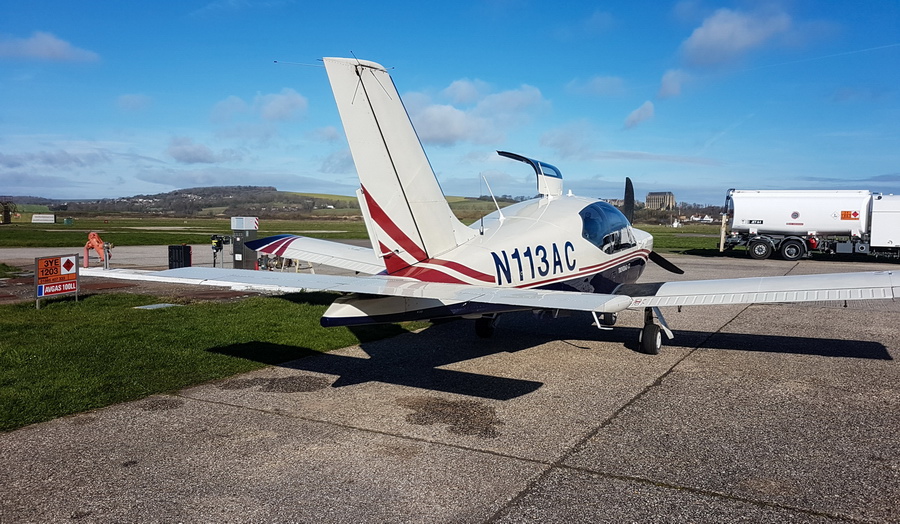 Cloud tops were around 4000ft so I climbed to 4700ft. For IFR it should be 5000ft but that increases the (very small) risk of a collision with another aircraft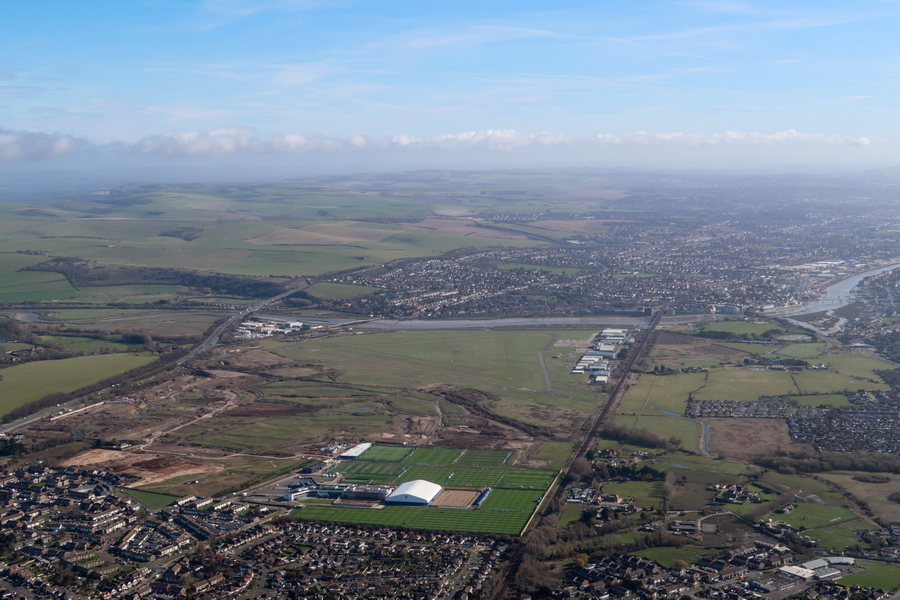 It is always wonderful to be above the cloud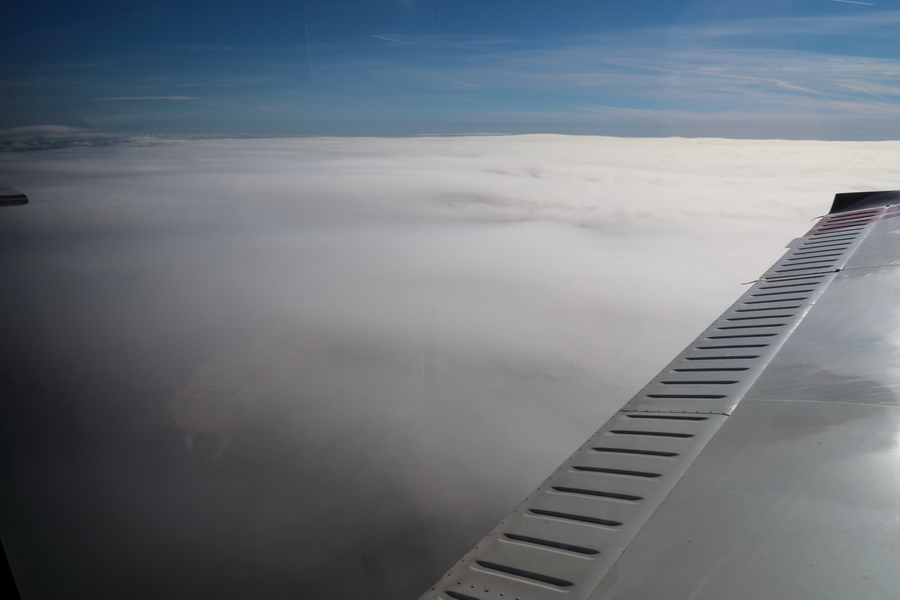 Solent gave a poor service on this occassion. I asked for a Traffic Service. As they do fairly often, they gave me a Standby and didn't get back for a very long time, by which time I was a long way down route. They don't receive flights plans on which theya re just a waypoint (this is the usual UK procedure) and could not have known whether I was asking for a transit or just a service, so a transit request would have certainly failed. Then they handed me over to Bournemouth (Radar or LARS - Lower Airspace Radar Service) which did much the same thing, finally doing the handover to Jersey Radar which was competent and helpful as they always are. Solent's poor service was a surprise given that FlyBe had just gone bust, removing a large chunk of Southampton's traffic, so they weren't busy on the radio.
The reason for asking for a radar service is that there are many pilots who fly with their transponder turned off, or with the altitude readout turned off. This is the result of the appalling new CAA policy on infringements. This is my TAS/TCAS1 display showing one of these. There are practically no Mode A transponders around; this was a Mode C or Mode S unit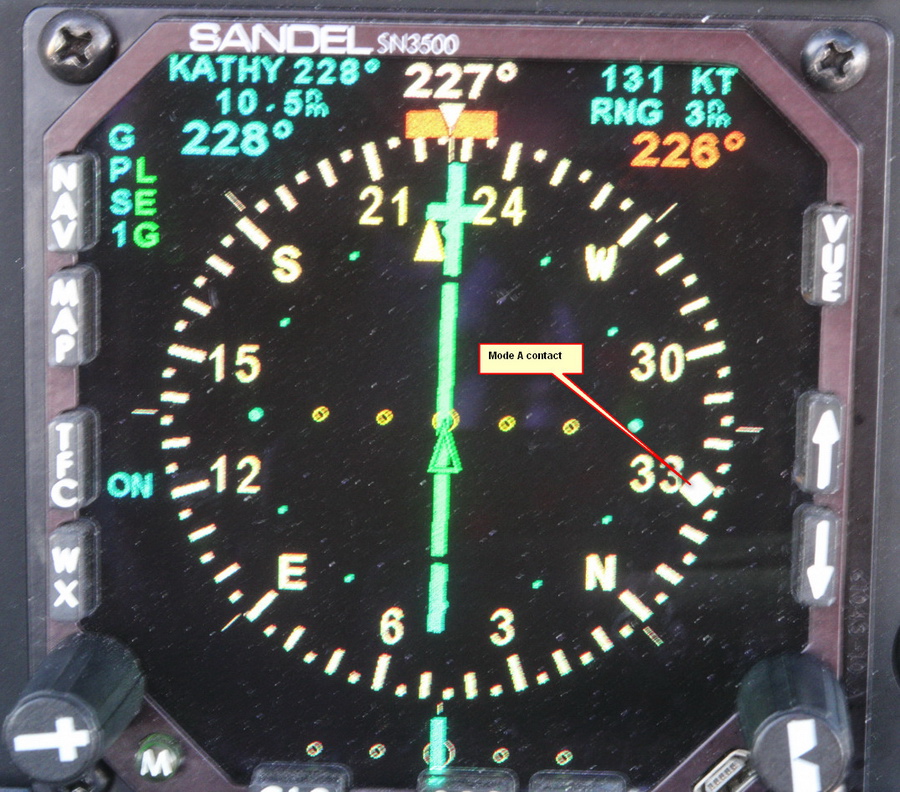 Jersey handed me to Guernsey Radar for the RNAV approach at Alderney which has no radar. Upon getting established on the final approach track one gets handed to Alderney Tower for the landing clearance.
Descending for the RNAV26 instrument approach at Alderney. The KLN94 / KMD550 is 1990s kit but still does it all perfectly - except LPV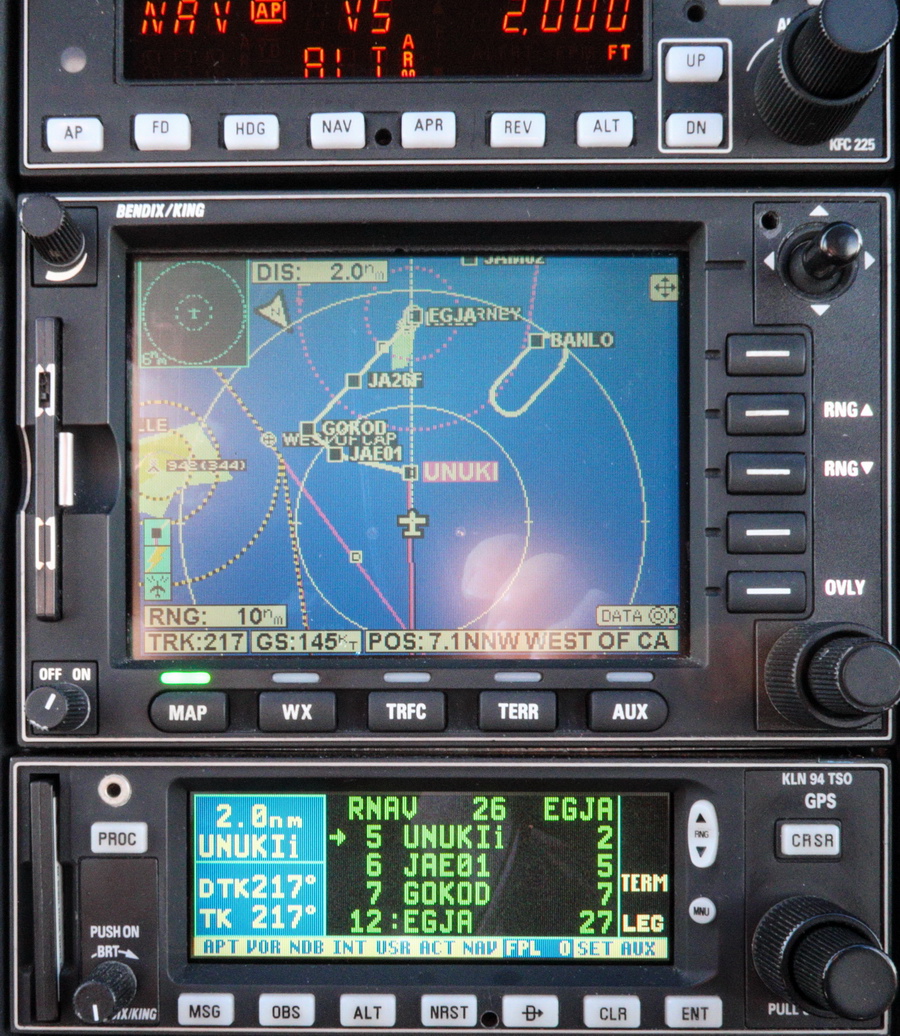 The coast of France is not far away. There was a layer of cloud nearby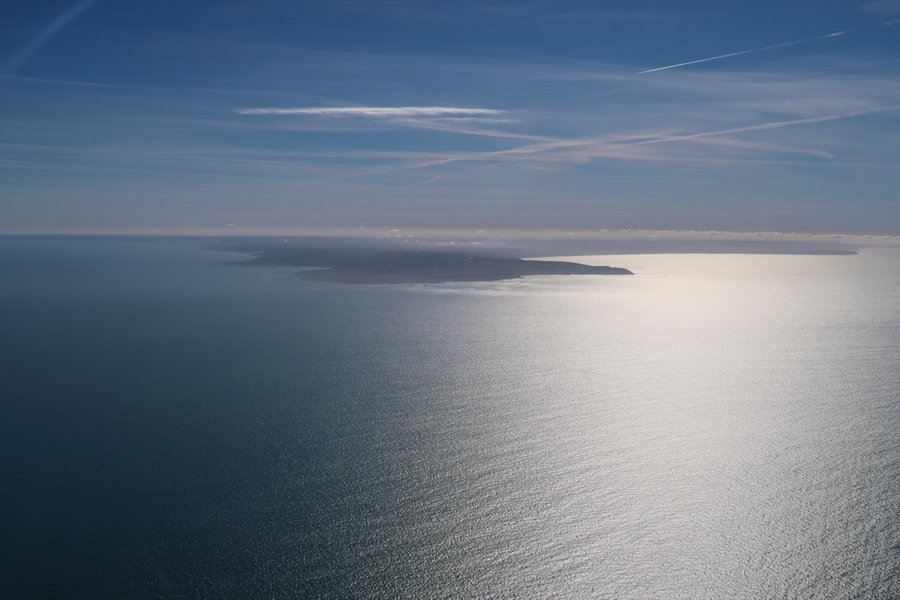 The runway is becoming visible at the left end of the island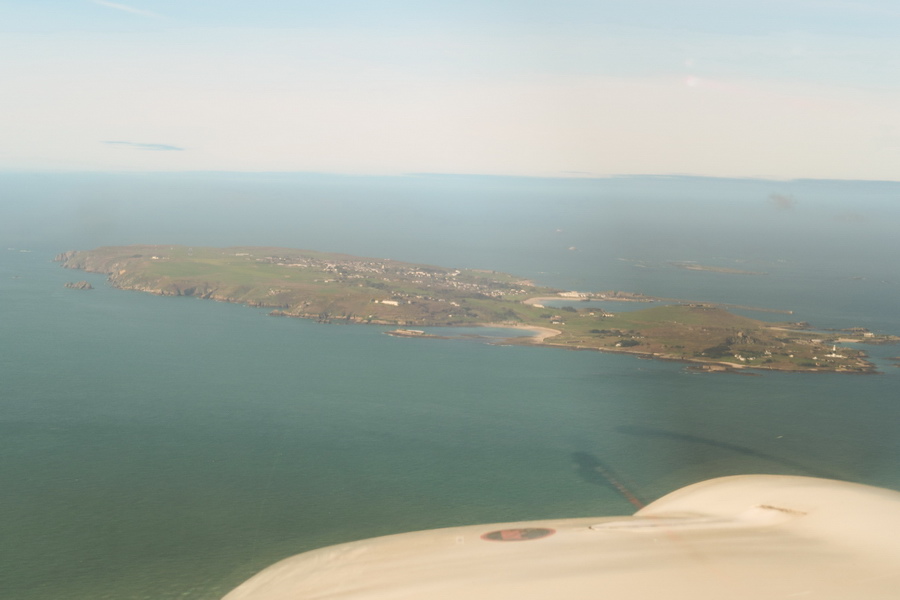 It's a really scenic approach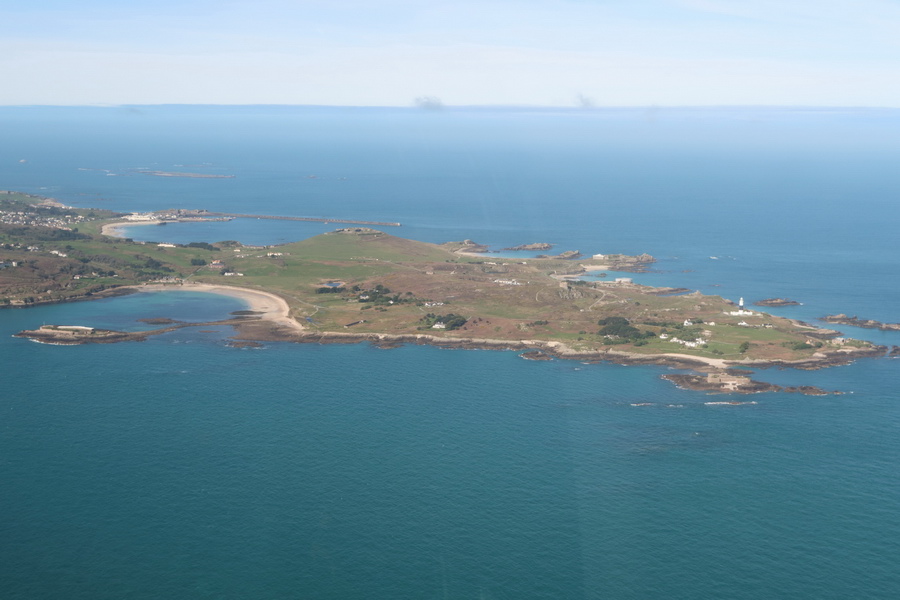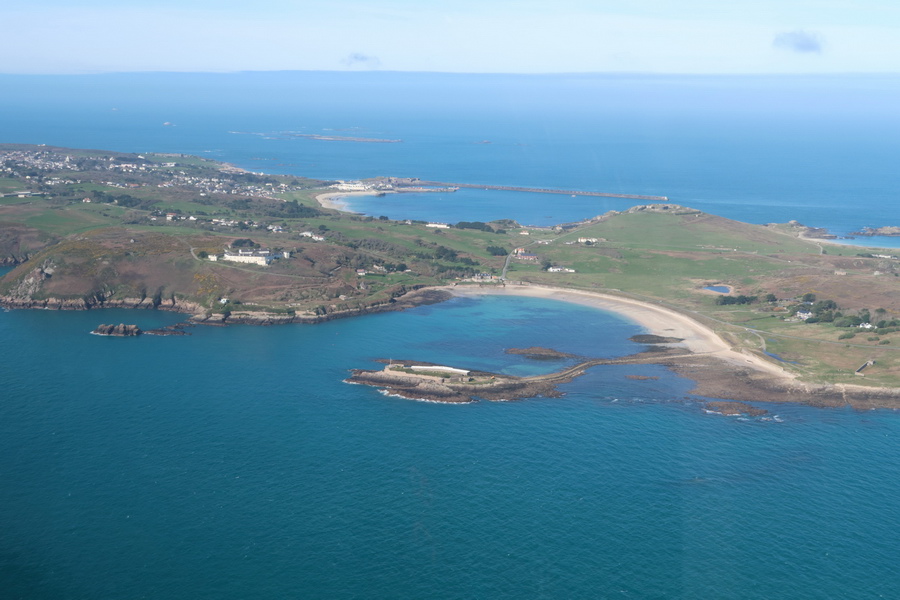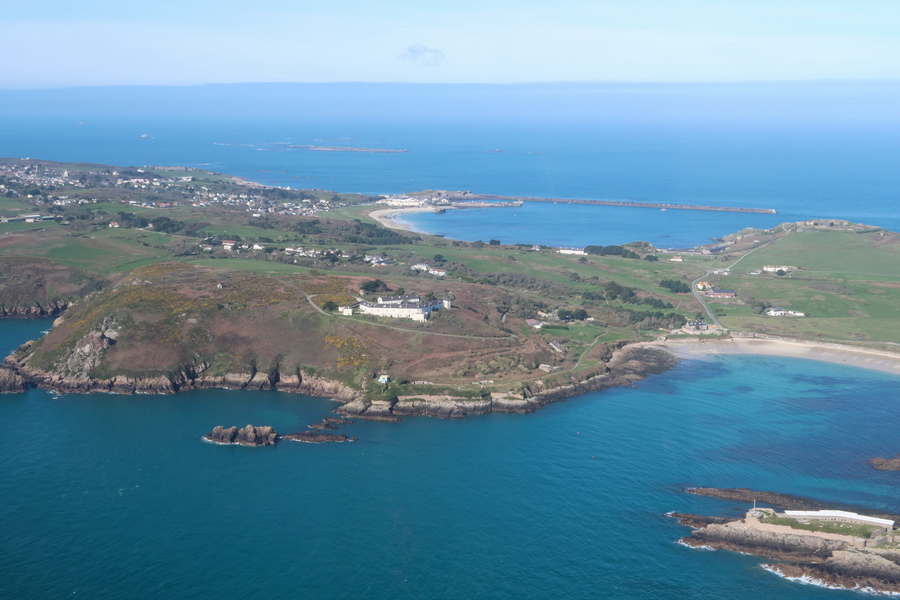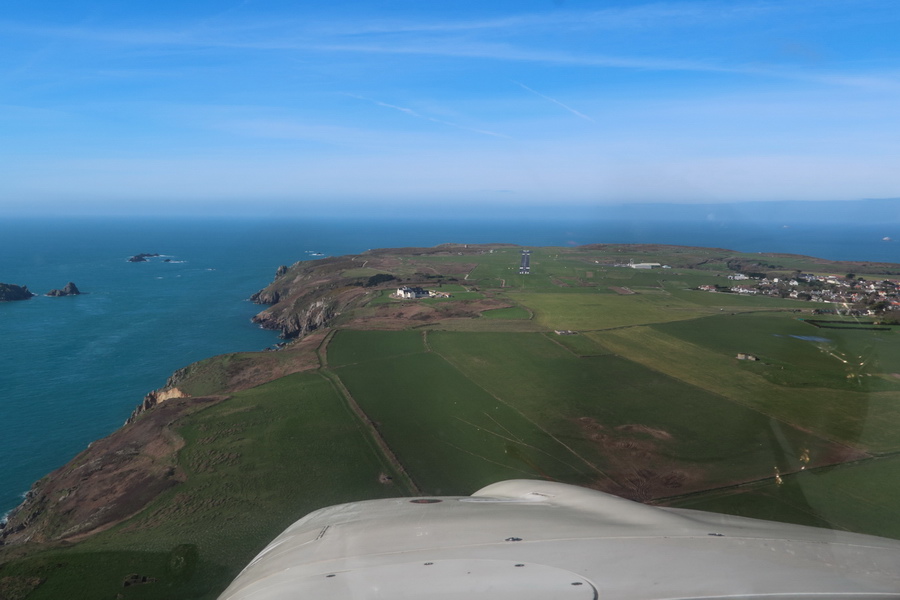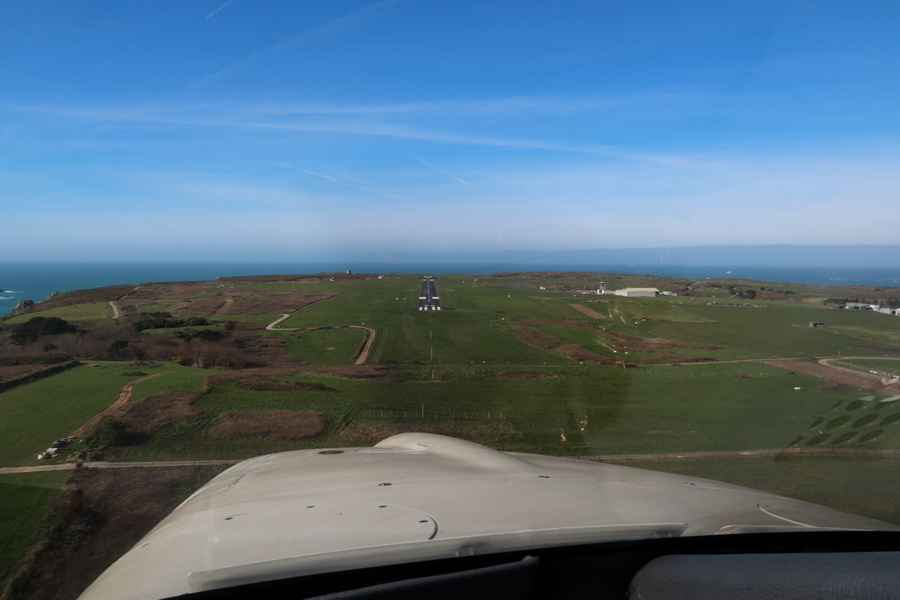 The wind was 15kt mostly across the runway and was gusty so it wasn't one of my best landings

The max demonstrated crosswind of the TB20 is 25kt.
Parked up. Everything is quick and easy here. On this occassion - very little traffic - I got the tarmac but normally GA is parked on grass. Due to the amount of recent rain, I did phone beforehand to request tarmac but they were already doing it.
You are supposed to wear a yellow jacket otherwise you might get run down by a 747

but I sneaked in without one... On the way back this didn't work and I had to be escorted to make sure I didn't plant a bomb somewhere...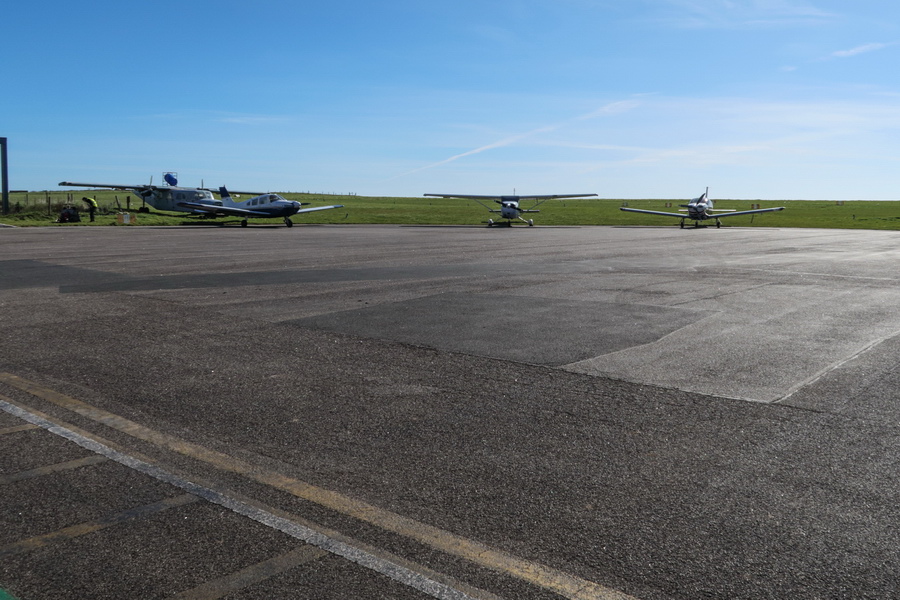 The landing fee is paid at a little hut. It was something below £20.
Alderney
It is just possible to walk all around the island in one day, but that is not the most interesting thing to do because it involves a long walk uphill with not much to see. This is the road leading up to the airport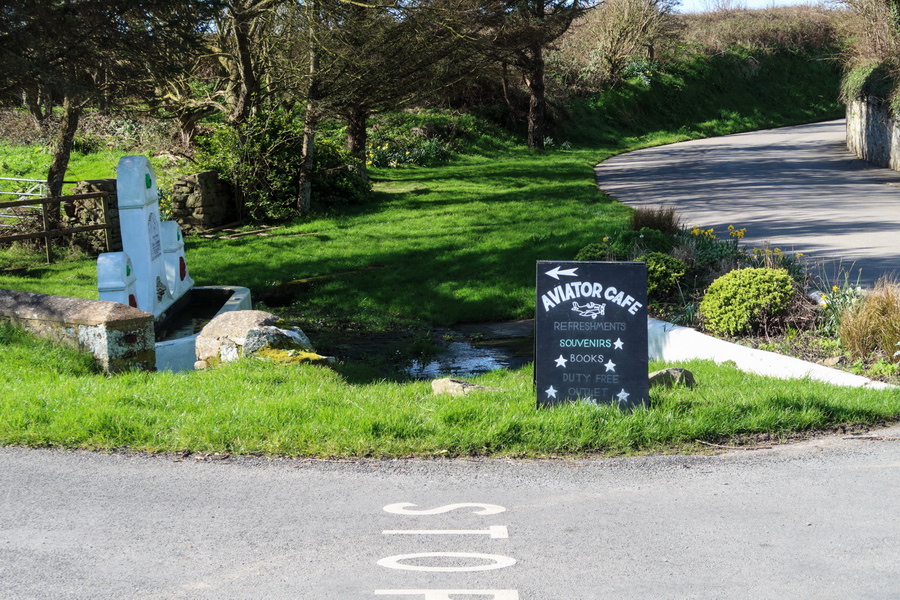 This does appear to be a working petrol pump. There is another one on the other side of the island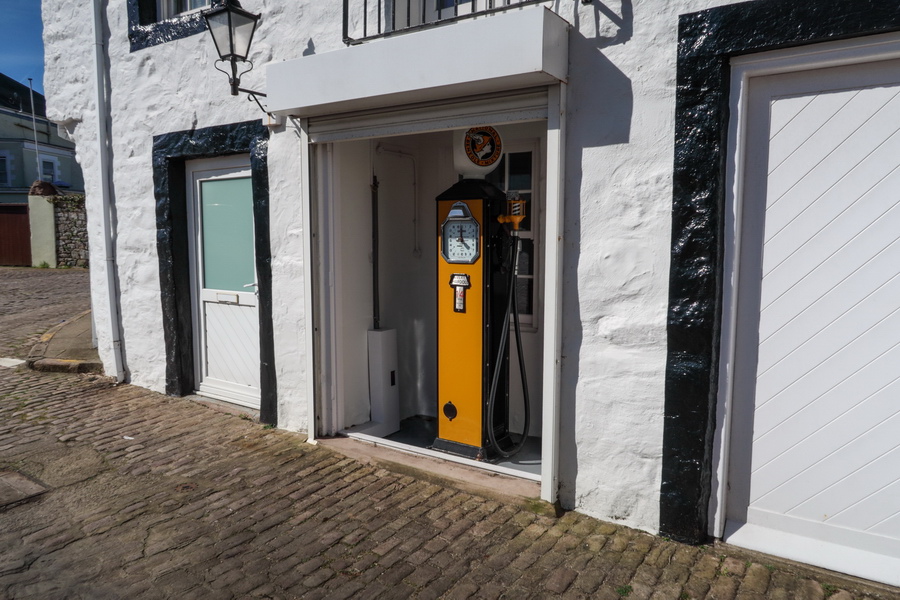 There are several pubs. I didn't go inside any of them, to observe the recommendations to keep one's distance due to the virus situation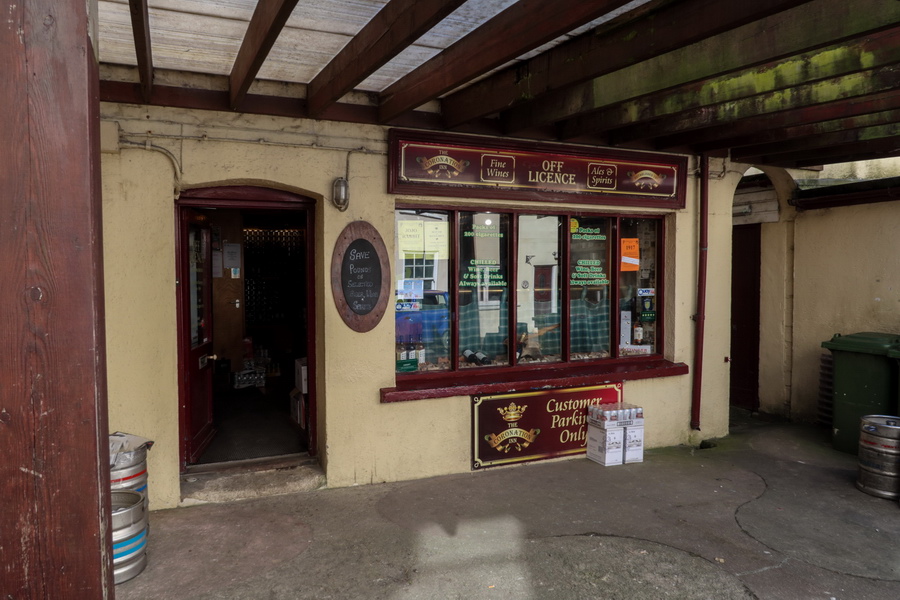 This is a great place where you can sit outdoors. In the summer they do wonderful crab sandwiches - for £16 (2019)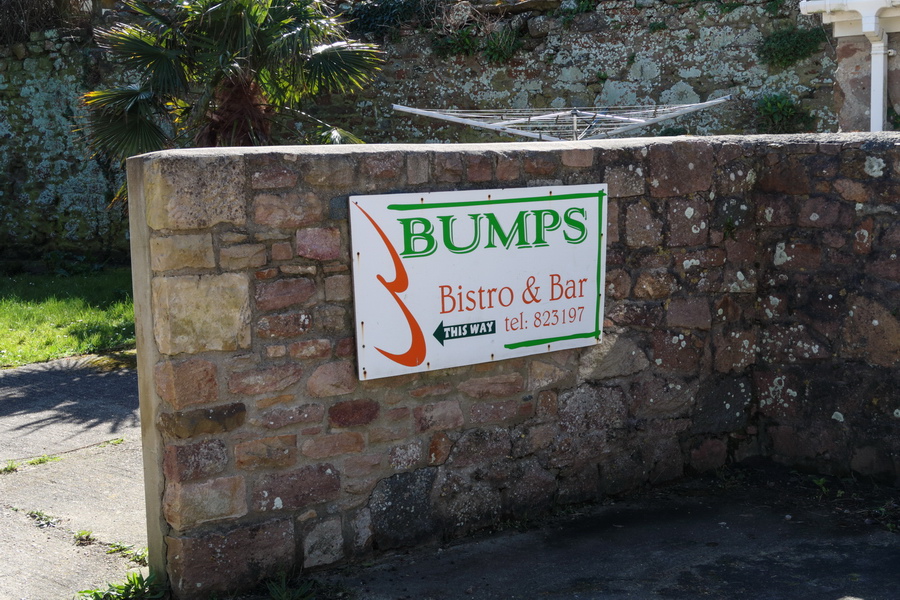 I got this very nice lunch at Jack's Brasserie, sitting outdoors in the sunshine. It turned out to be the last sunny day for a while...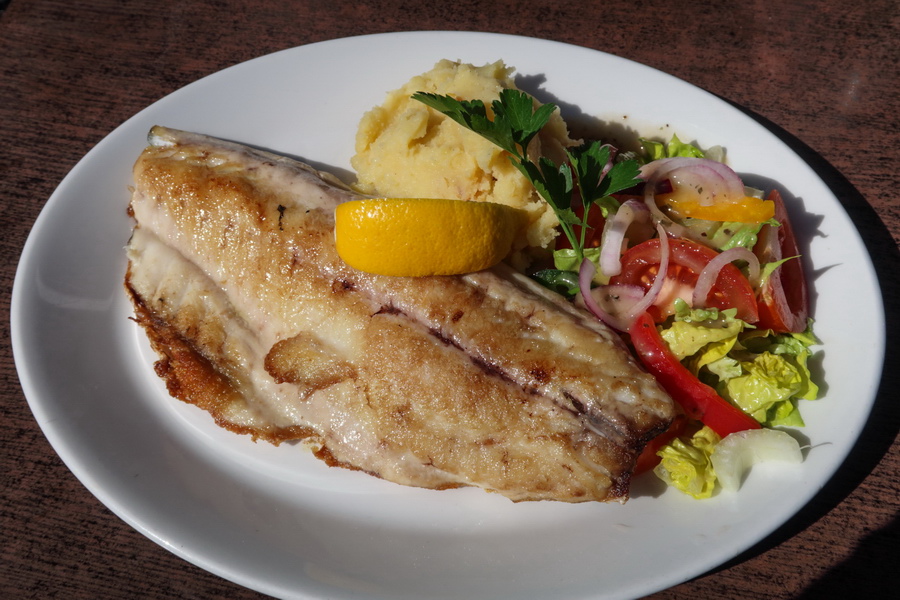 Just down the road from the above, we stayed at this lovely apartment in July 2019. A photo gallery from that trip is near the end of this writeup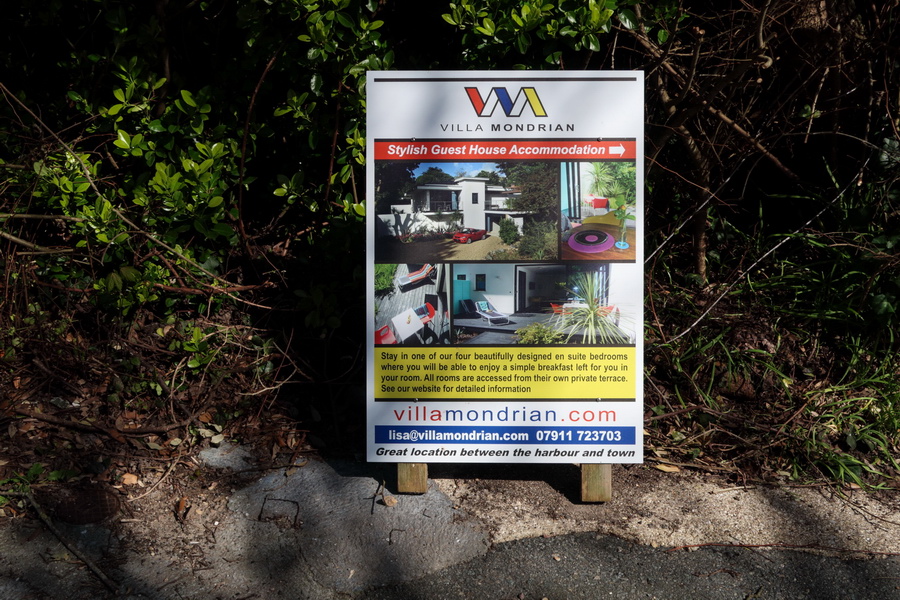 One of the many decrepit and uninhabited houses on Alderney. The population is only 1800 and is slowly declining, being heavily dependent on the Aurigny airline which charges a fortune for the short flight to Southampton or Jersey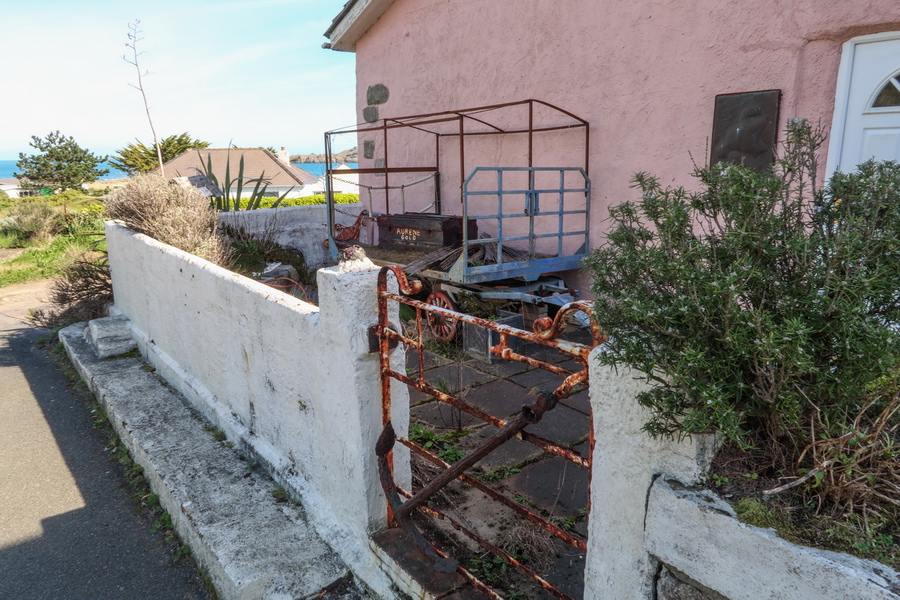 Braye Beach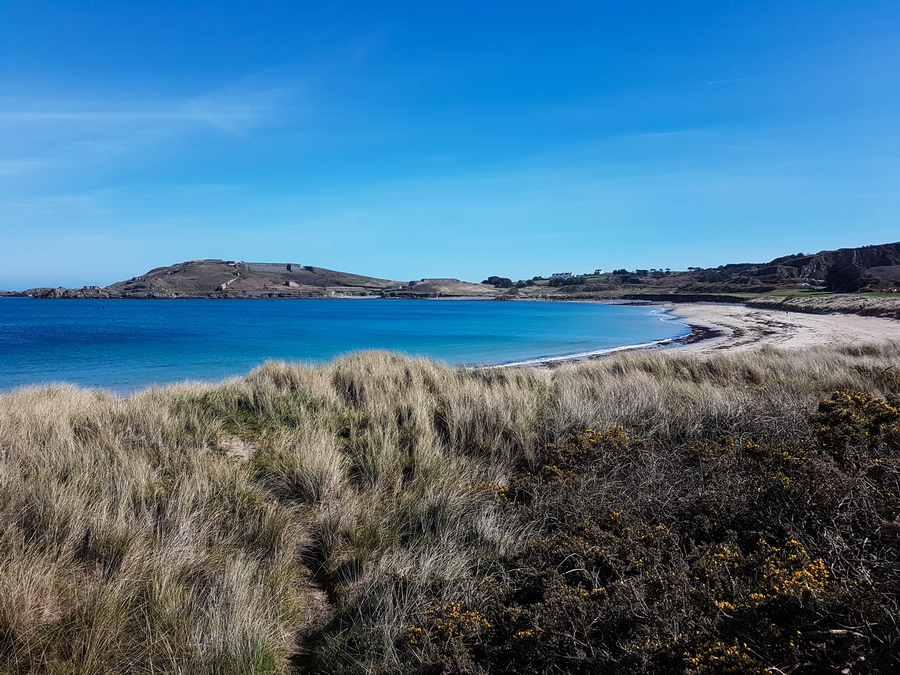 There is a short piece of rail track on which they run old London Underground wagons, in the summer. Some repairs are being done while there are no tourists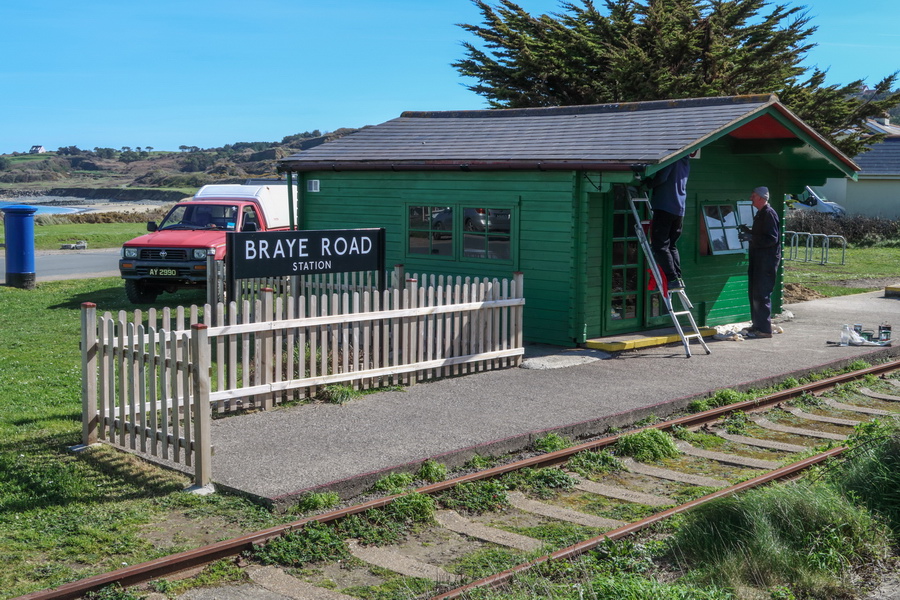 The Moorings was firmly closed; hopefully not permanently like a few other places I saw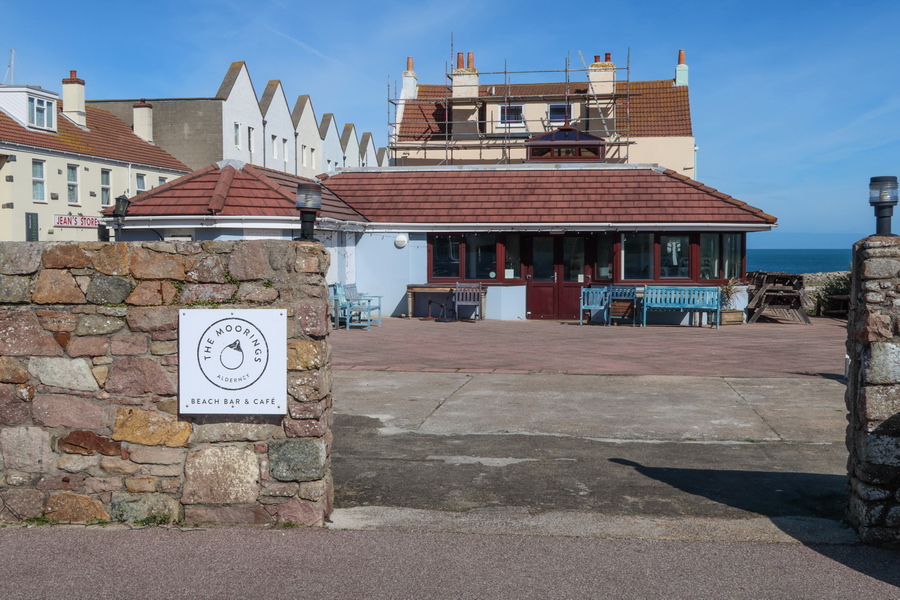 The fishing community is still busy...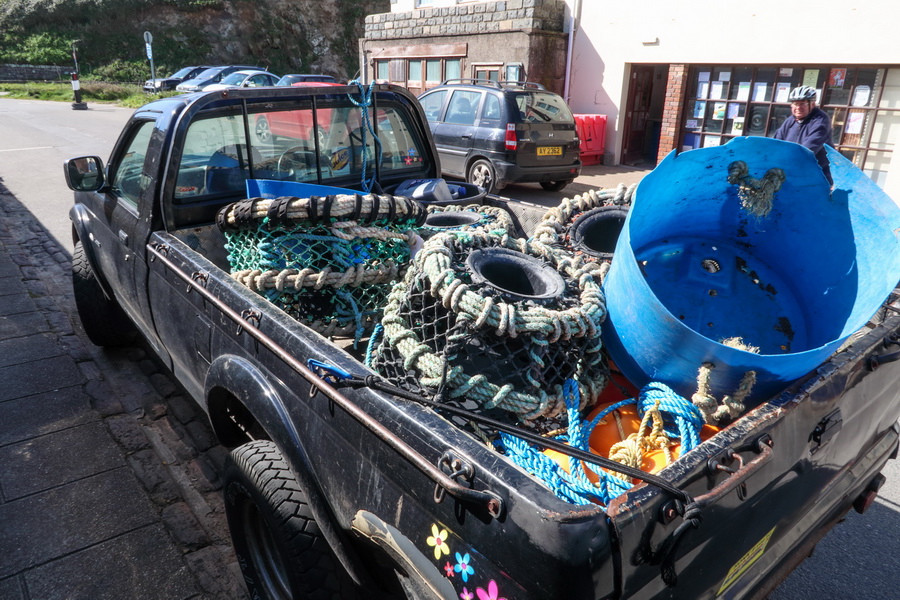 Braye Beach again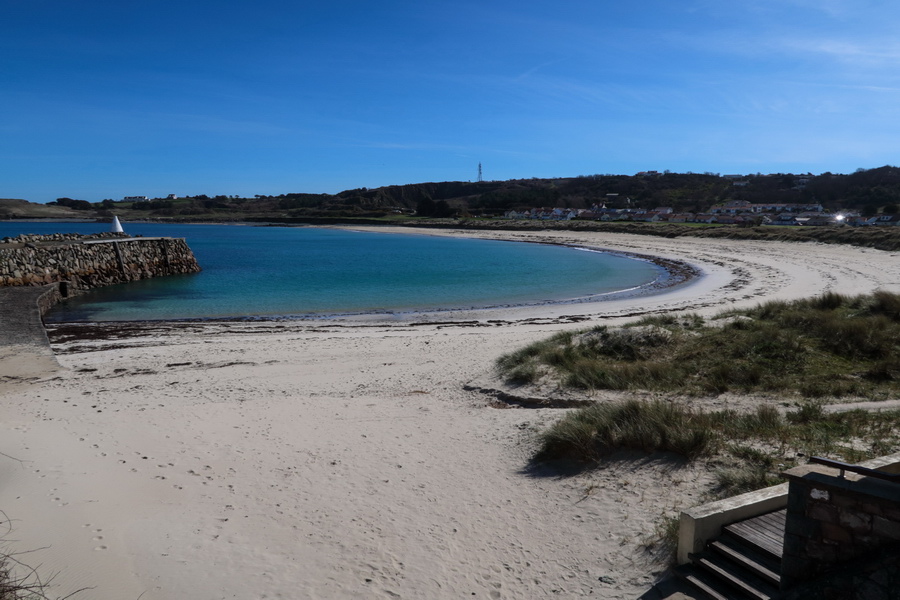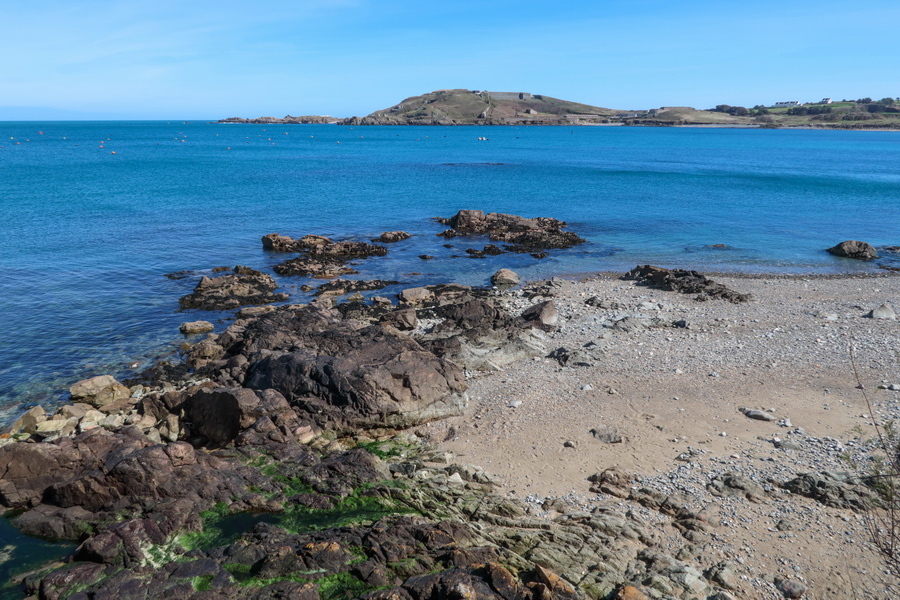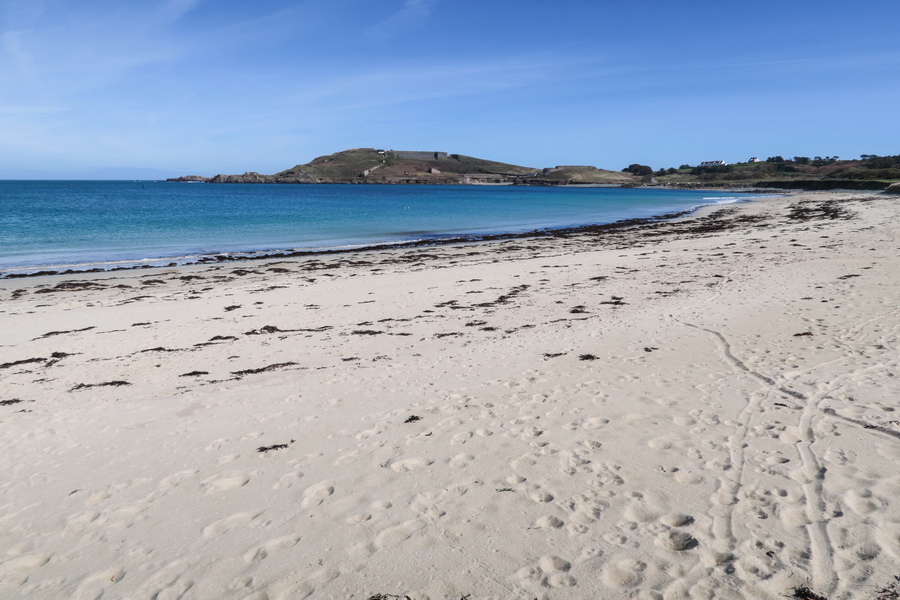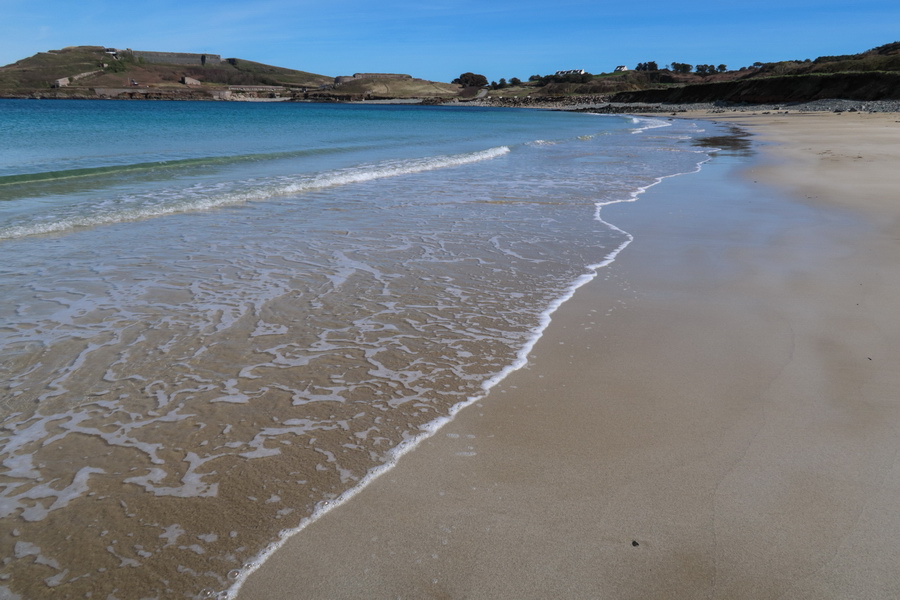 The long breakwater. There is a disused train track running its whole length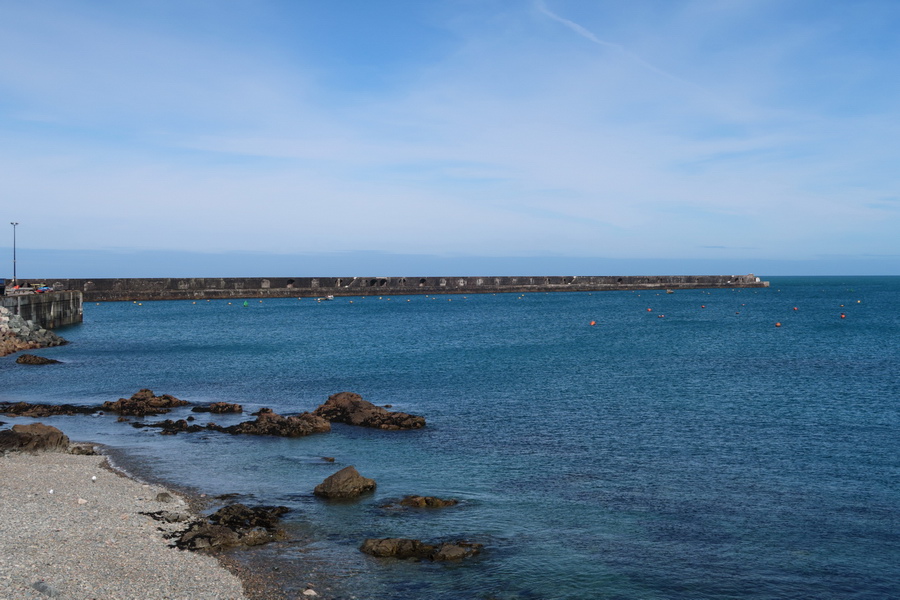 Everything rusts fast here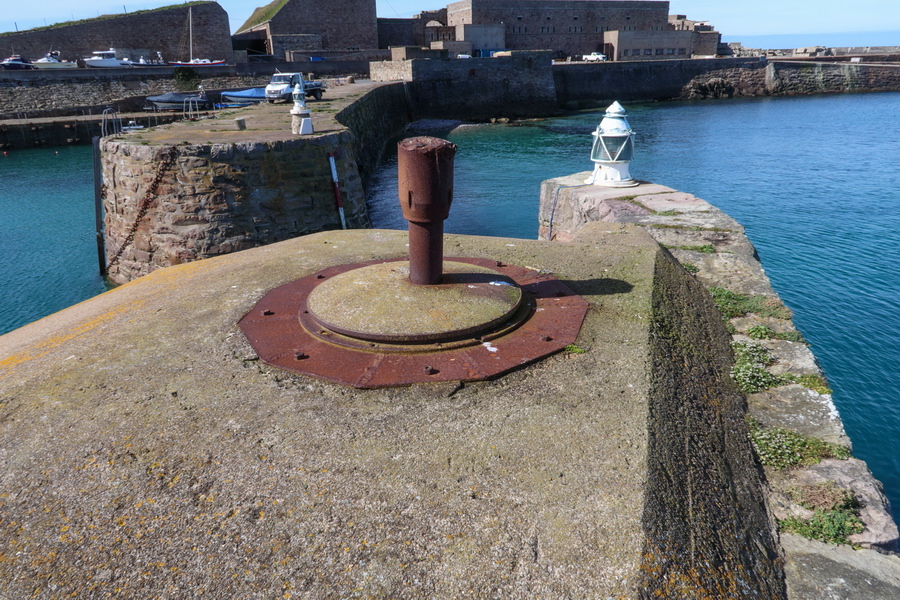 This former restaurant has been closed for as many years as I can remember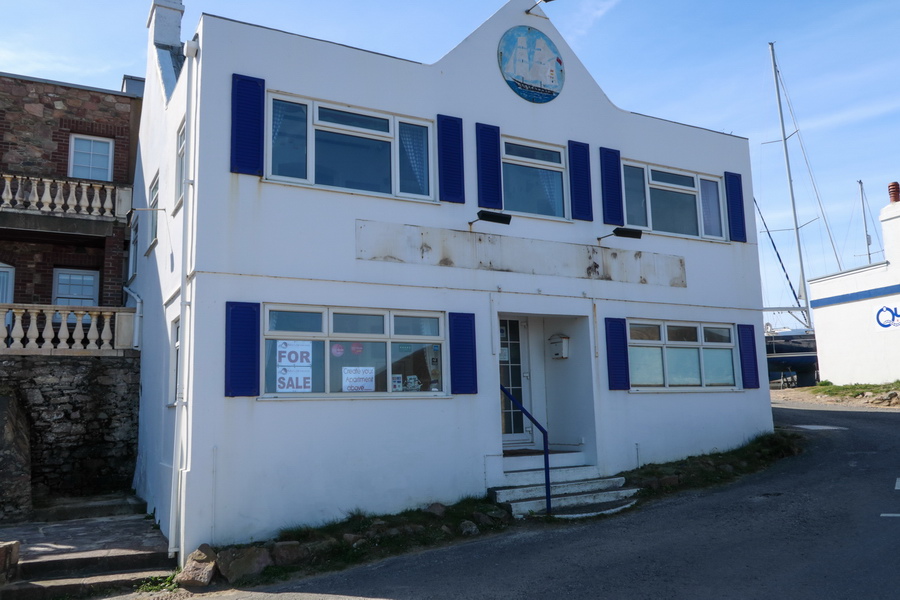 The 3 or 4 right-hand buildings are the Braye Beach Hotel which is the only sizeable accommodation on the island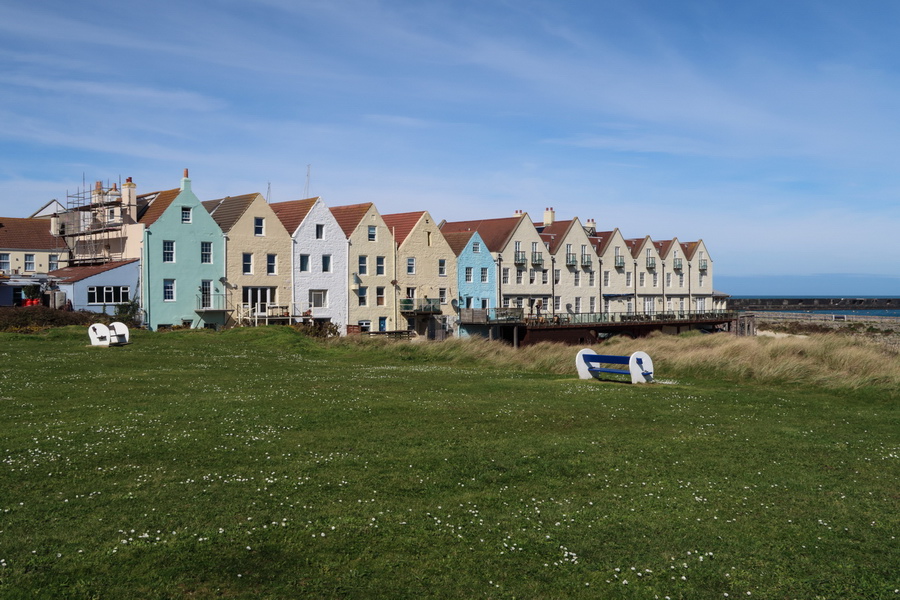 This is the railway track. We had a ride on the train last July; it was brilliant fun if rather short. It is pulled by a slow diesel "locomotive"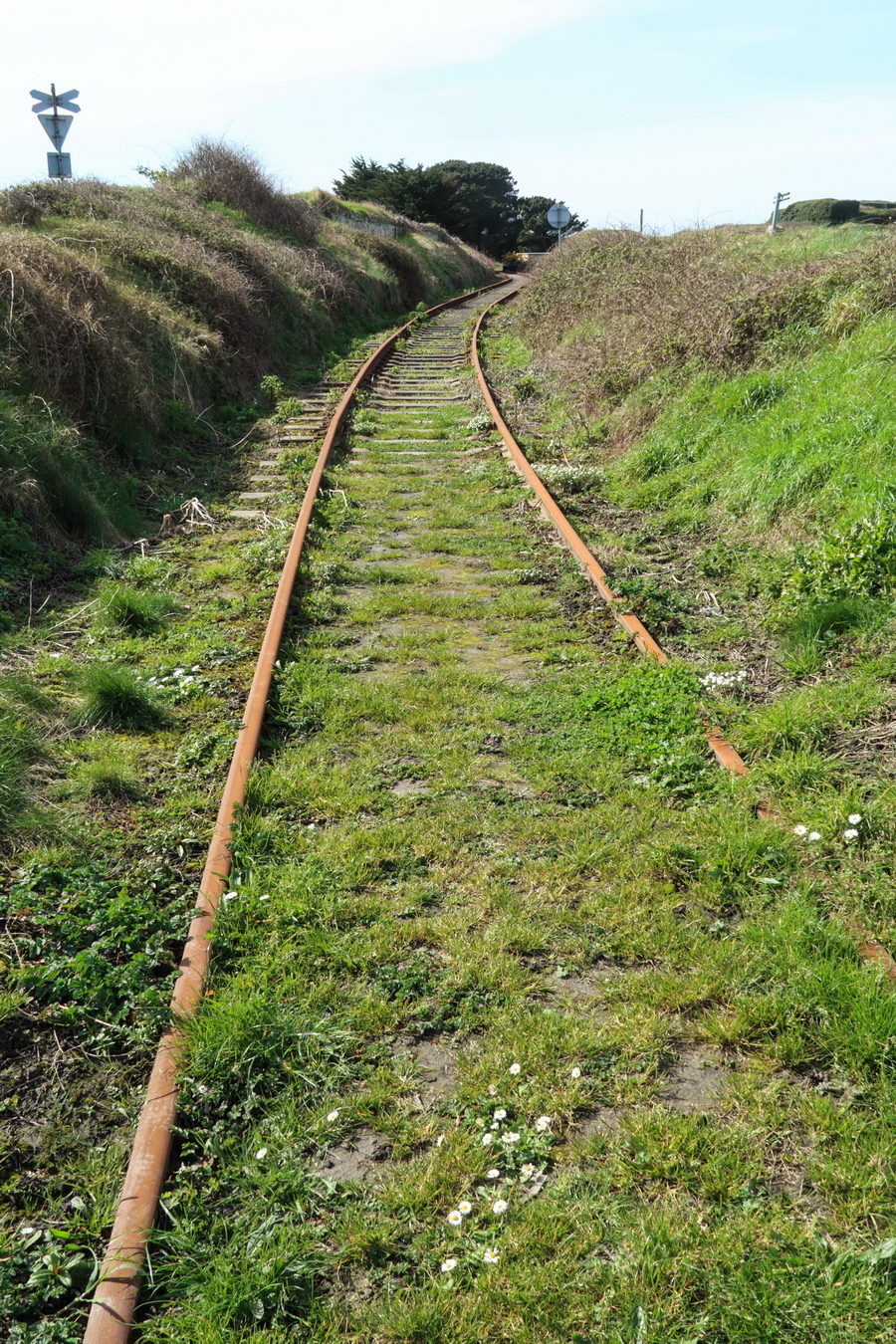 One of the approximately 600 bunkers built by slave (POW, etc) labour during the German occupation. The island has a dark history in that department but actually little detail is known because almost none of the local population remained there during the war, so there are almost no witnesses. In contrast, Jersey and Guernsey had many of the locals remain there during the war. There is a German cemetery, next to the active local one, but there is almost nothing there; just a few stones with mostly illegible markings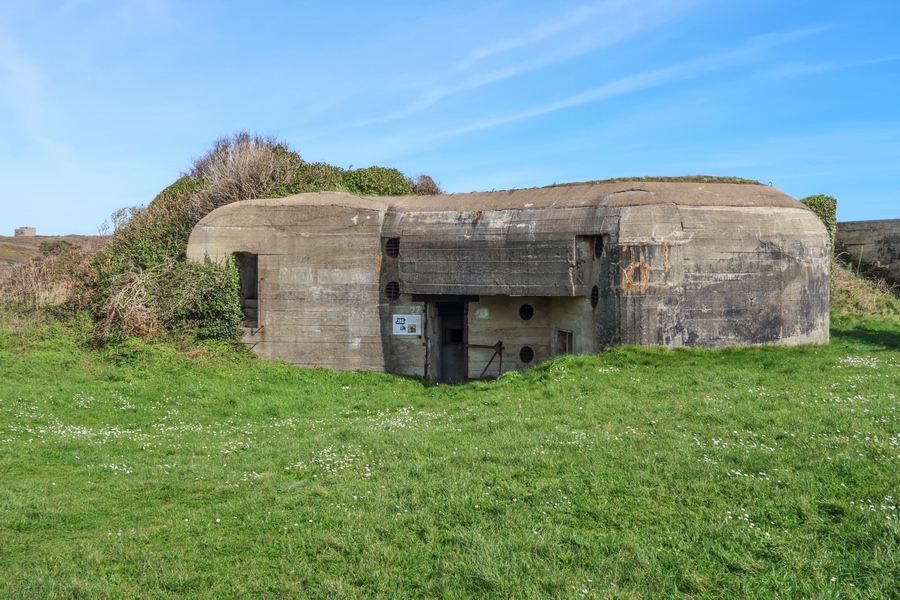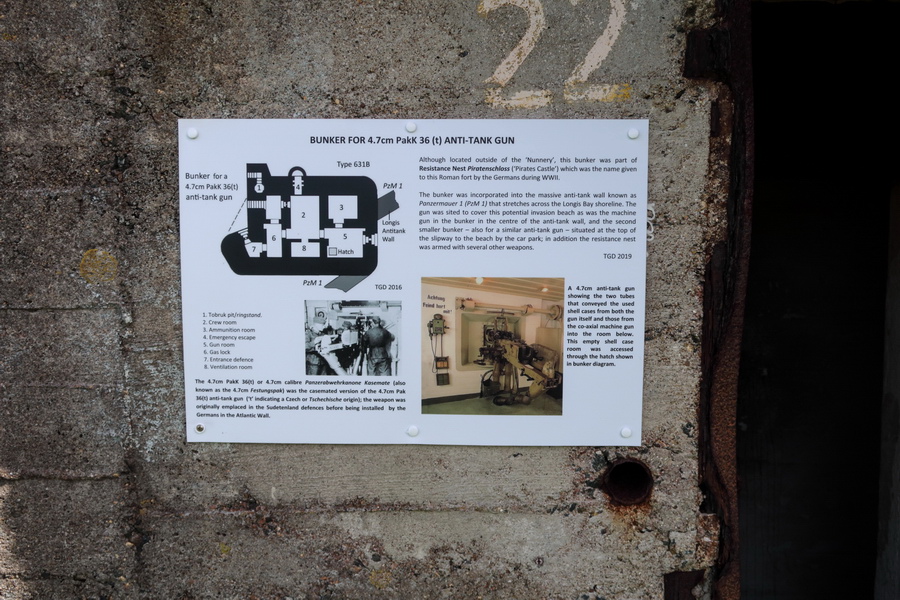 There are also some tunnels. I found one on the 2019 visit and walked all the way through it (there is a small exit hole at the far end) but the others are harder to find. The local "officials" discourage people from looking for them. I have a few pics in the 2019 gallery near the end.
A long walk uphill along Longis Road. Bunkers everywhere you look...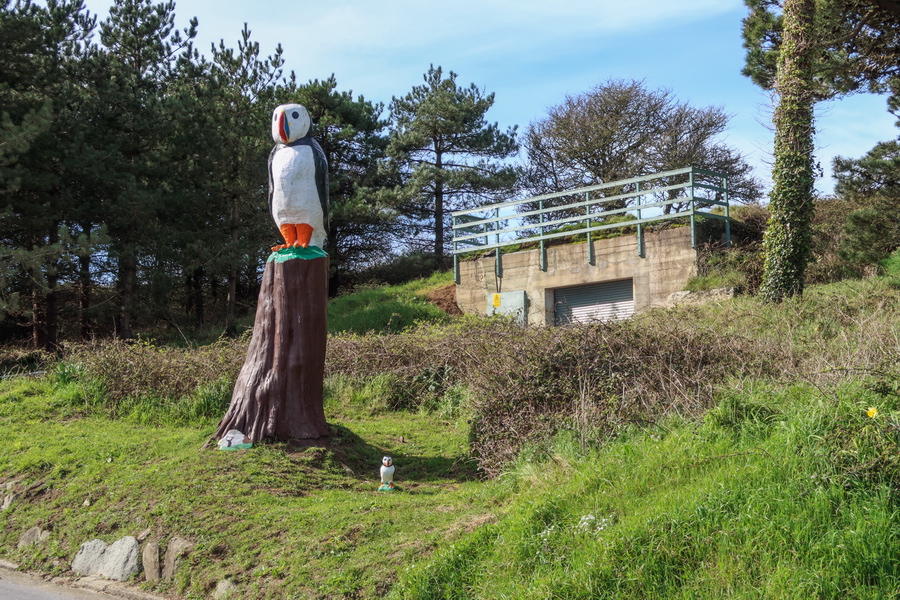 I don't think this guy is very busy

but you never know; the internet is very important here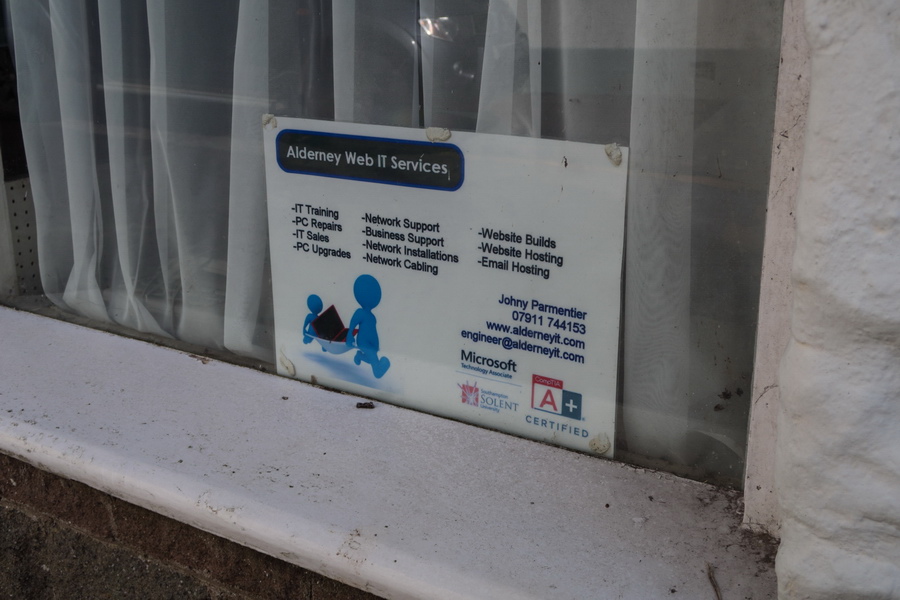 There is plenty of property for sale and Alderney would be a great place for someone who is "self contained" and loves nature and the countryside. You would also need to own your own aircraft so you can visit the mainland, and then of course the rest of Europe is very accessible too. There are two hangars at the airport; one of them is large and was built recently.
Return Flight Alderney EGJA - Shoreham EGKA
The weather on departure was still great, although there was plenty of low cloud near Shoreham - but not below the instrument approach minima. I asked ATC for a circle around the island to get some photos and this was approved.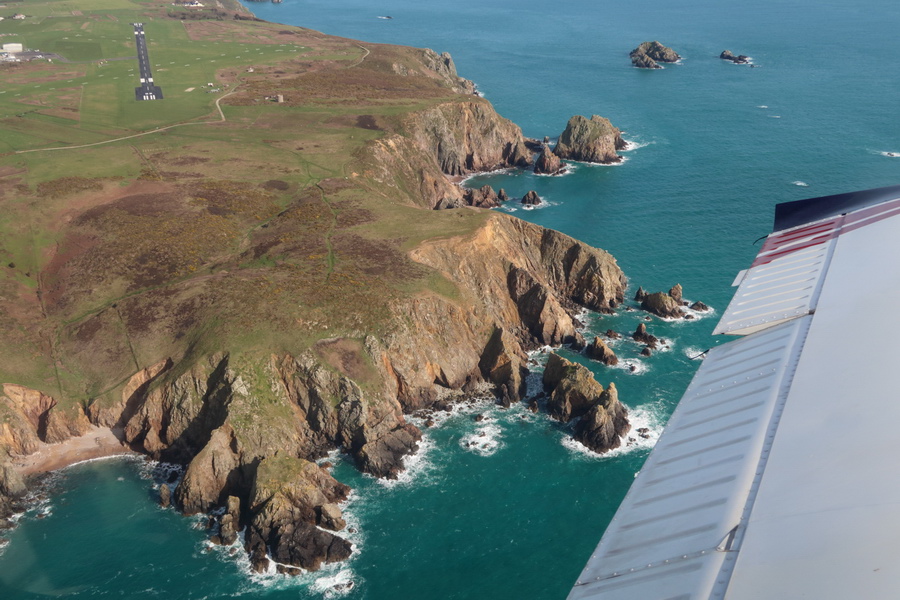 I was so busy with the camera I forgot to retract the flaps

Luckily the TB20 cannot exceed the max flap operating speed if at cruise power settings...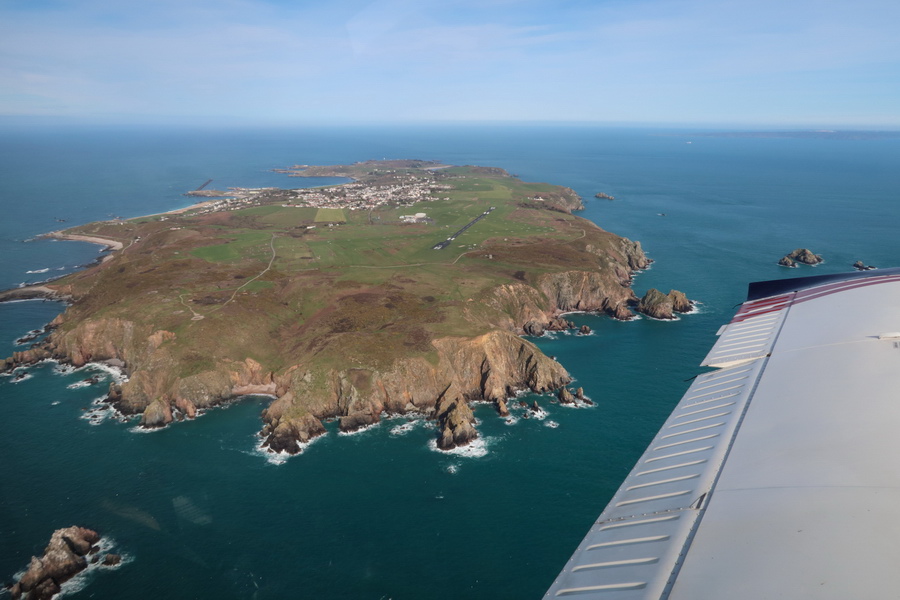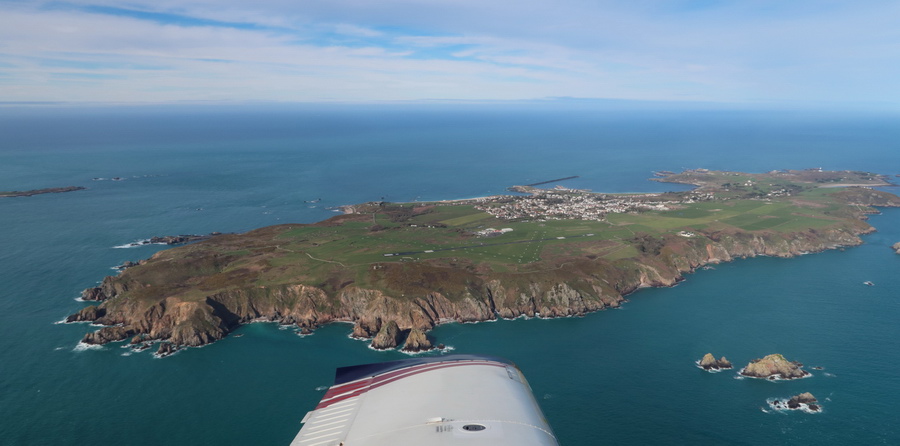 The tracks actually flown are here.
Image Gallery
We visited Alderney for several days in July 2019 so had a lot more time to walk around. A photo gallery is here.
General Comments
This was a super day trip, very relaxing and a great opportunity for taking photos. I would recommend an overnight stay at least and some boat trips. But it is well and truly "in the back of beyond" and you won't find any night clubs there... Obviously it's worth doing only if the weather is good.
It is also a great demonstration of the utility value of GA flight. The only other ways of reaching Alderney involve a lot of driving, or train journeys, and a ferry or the previously mentioned expensive flights from Southampton, or Gatwick-Jersey and Jersey-Alderney which is even more expensive. For most, it will take a complete day in each direction. For those living near a suitable UK airline airport, it takes half a day to be on a Greek island! And the cost of flying there in the TB20 (which is mostly the avgas) is under £200 for both flights (fuel burnt on this trip was 91 litres of 100LL).
The grass parking area which is used normally in the summer is not great for some aircraft types, but is fine for the TB20 with due care. It would not be suitable for a heavy aircraft with narrow wheels like e.g. a Cessna 421.
No GA aircraft were seen airborne enroute on the entire trip, but that is completely normal in Europe, especially when flying above ~ 3000ft.
The photos on this trip were done mostly with a Canon G7X pocket camera, and some with my Samsung S7 phone. All were done in RAW and processed in Lightroom.
The Virus
A few days after this trip, the Channel Islands were effectively shut to arrivals
C1679/20 NOTAMN
Q) LFRR/QFAXX/IV/NBO/A /000/999/4942N00213W005
A) EGJA
B) 2003191300
C) 2005010001
E) BAILIWICK OF GUERNSEY COVID-19 PROCEDURES UFN EXERCISING HER POWERS UNDER THE EMERGENCY POWERS RE CORONAVIRUS, BAILIWICK OF GUERNSEY REGULATIONS 2020, THE MEDICAL OFFICER OF HEALTH HAS IMPOSED A REQUIREMENT ON ALL PERSONS ARRIVING IN THE BAILIWICK FROM ANYWHERE IN THE WORLD TO SELF-ISOLATE FOR 14 DAYS ON ARRIVAL. THIS IS A LEGAL REQUIREMENT, AND FAILURE TO COMPLY IS A CRIMINAL OFFENCE. CREW AND PASSENGERS ARE TO BE REMINDED THAT ALL NON-ESSENTIAL TRAVEL TO THE BAILIWICK OF GUERNSEY, BEING GUERNSEY AND ALDERNEY HAS CEASED. YOU WILL BE REQUIRED TO SELF-ISOLATE FOR 14 DAYS AND PROVIDE YOUR PERSONAL CONTACT DETAILS ON ARRIVAL. ON ARRIVAL YOU WILL BE PROVIDED WITH A FORM TO COMPLETE. YOU MUST COMPLETE ALL DETAILS REQUIRED ON THIS FORM. ON ARRIVAL YOU WILL BE REQUIRED TO HAND YOUR FORM AND IDENTIFICATION DOCUMENTS TO THE GUERNSEY BORDER AGENCY WHEN REQUESTED. YOU WILL ALSO BE PROVIDED WITH INFORMATION ABOUT SELF-ISOLATION BY THE GUERNSEY BORDER AGENCY OFFICERS. PLEASE READ THIS CAREFULLY. YOU MUST GO STRAIGHT HOME FROM THE AIRPORT AND NOT LEAVE YOUR ACCOMMODATION FOR 14 DAYS. PLEASE NOTE THAT COMPLETION OF THE FORM CORRECTLY, PRESENTATION AND SELF-ISOLATION IS A LEGAL REQUIREMENT. CREATED: 19 Mar 2020 13:24:00 SOURCE: EUECYIYN
Why not Eurocontrol IFR?
It could have been done as a high altitude IFR flight; called "airways" in the UK PPL scene. This is nomally filed in controlled airspace (CAS) and a typical route would be EGKA GWC SAM ORTAC EGJA, at say FL100. I have done that in the past but sometimes Solent (who control the airspace around SAM) do not get back to you with a clearance to enter their airspace before you are too close to it, so you have to execute Plan B which is a flight OCAS (outside CAS) and then you need to be ultra careful to not infringe. If there were icing conditions below say 5000ft then I would do this but on this flight, with +6C at 5000ft, that was not a factor. I routinely use IFR, starting at FL100, when flying to mainland Europe, and that works a lot better because you start with London Control.
The other benefit of being higher is that you get more time to sort things out in the event of an engine failure, but 5000ft gives about 5 minutes which is plenty of time to go through the restart checklist, set 7700, make radio calls, etc.
Flight times (airborne times)
EGKA-EGJA 0:55
EGJA-EGKA 0:50
This page last edited 22nd March 2020