Trip from Shoreham EGKA, UK, to Aosta LIMW, Italy, October 2020
This article describes a trip from Shoreham EGKA, UK, to Aosta LIMW, Italy.
It was partly a "check" flight for an Aosta - taxi - Cervinia ski trip in the winter. The taxi ride is 1hr and the cost is around 100 euros each way. The coronavirus situation makes airline flights highly dangerous, packed and stuffy ski shuttle buses even more dangerous, and this is a perfect example where GA can be useful. It's a short flight of around 3.5hrs.
It was done IFR in the Eurocontrol system, with a VFR section at the end to land at Aosta because the IFR arrival procedure (a) was out of action and (b) requires special crew authorisation. Same on the way back, but VFR was used to achieve a much shorter route, utilising canyons for the climb above the terrain.
Here is a glossary for non-aviation readers.
Some background to this trip is in this EuroGA thread.
Airport PNR/PPR
Despite being an "airline" airport at some time in the past, Aosta LIMW was easy and really friendly, with fast replies by email. In aviation, this is not all that common! Currently, per the AIP, they require just 3hrs prior notice for Customs/Immigration.
Due to coronavirus, the airport also required a negative virus test certificate, with the test done within 72hrs of arrival. The only option for this is a private (£120+) test by mail order - there is nowhere you could just walk in, anywhere near where I live - and meeting the 72hrs is only just possible.
Unfortunately the UK introduced a 2 week quarantine for all arrivals just before departure from the UK, but I decided to go anyway and put up with sitting at home for 2 weeks afterwards. I was working mostly from home anyway.
Accommodation
With GA travel, there is no short-notice cost penalty so you can stay at home until the destination weather is good. AirB&B and Booking.com provide good solutions for accommodation and are widely used by pilots. Due to the coronavirus situation, there was little foreign tourism in Italy and most tourists were local. It was thus easy to find accommodation.
Pilot
FAA CPL/IR, EASA PPL/IR, ~2700hrs.
Aircraft
The aircraft is this 2002 TB20GT; one of the last made before production ended. This photo was taken in 2018 on a flight between Crete and Karpathos, in Greece: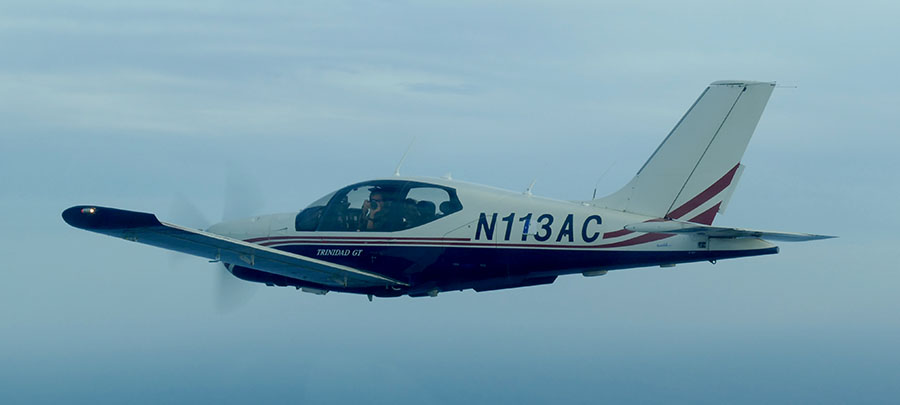 In January 2018 a full TKS ice protection system was installed. This was a big job, with numerous nontrivial aspects, but the end result was well worthwhile in expanding the operating envelope, by enabling safe penetration of non-convective icing conditions - basically icing layers which can be climbed or descended through fairly quickly. It was good to discover afterwards that the TKS system did not affect the cruise speed - something of a problem on other TB20 / TB21 installations where a speed loss of 5-7kt had been reported. The above pic shows the not yet painted TKS fluid refill door, just left of the "3". There is a payload loss of 50kg (with a full tank of fluid) which makes the TB20 a 2-seater if doing a trip with a lot of stuff. The system is totally effective against any icing conditions I have encountered but in those conditions it will empty the tank in around 1 hour! And the sticky fluid makes a mess; it is best to wash the aircraft down after such a flight with some hot water.
The aircraft is equipped for BRNAV (RNAV 5) and can fly ILS and GPS/LNAV approaches using the autopilot. This is sufficient for current European IFR flying. The cockpit is largely as delivered in 2002, with a Sandel EHSI installed in 2011 on the LH side and with the RH side later reworked with another Sandel EHSI and arranged to form a usable "pilot panel" so the aircraft can be flown from the RH side.
There is no LPV approach capability but LPV is not yet (to me) operationally relevant in Europe especially if flying to/from the UK which normally needs an airport with Customs/Immigration. France is ahead of most countries in removing ILS approaches (from airports not served by airlines) and replacing them with LPV. Adding LPV capability (which also gives you the very useful "+V" advisory glideslope on most GPS approaches) could be done with a cheap-and-dirty solution of a used GNS430W, but that would leave various dysfunctional loose ends, and a decent installation would be a Garmin GTN650+GTN750 (or just the 750) or Avidyne 2xIFD540 (the foregoing links are photoshopped mockups) and these jobs would cost about 30k but much more importantly I don't know of any installer who I would let loose on my aircraft on which I value the virtually 100% uptime!
The aircraft has an operating ceiling of 20,000ft in ISA conditions. I have taken it to 21,000ft but in the fairly common summer conditions of e.g. ISA+15 it will reach at most 18,000ft at MTOW.
This is the current panel, with the Aera 660 GPS on the LH yoke; this is wired to the intercom to provide a GPWS function with audible warnings in the headsets, as well as providing an emergency "DCT box" for navigation following a total loss of electric power. The Aera 660 is shown running the Garmin Safetaxi product which makes it a lot harder to get lost at a big airport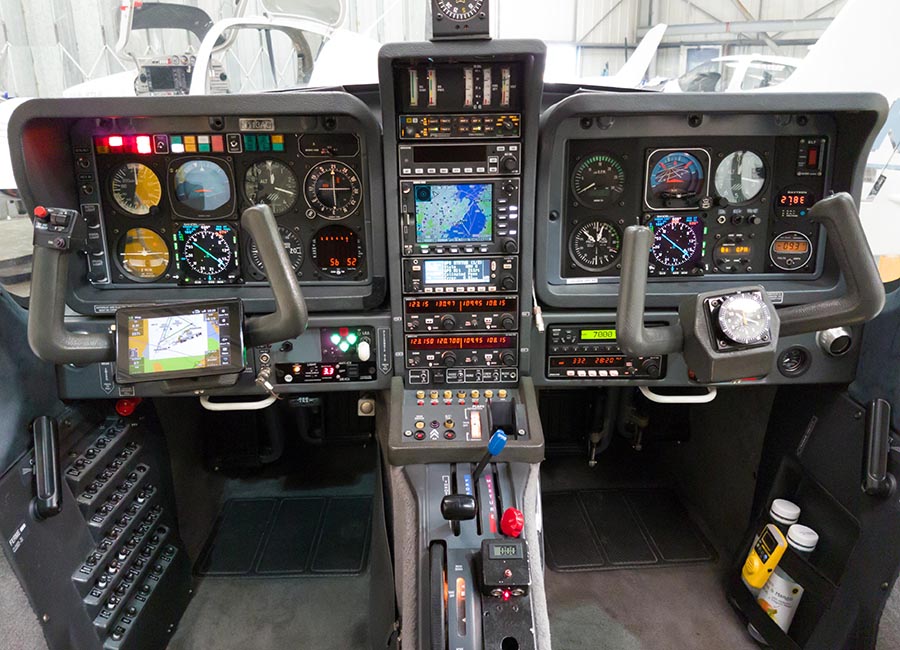 The Golze ADL150 satellite weather receiver was also installed in January 2018. This gives simple but usable graphical weather data for most of Europe, plus tafs and metars. With an upfront cost of around €500 and monthly costs of around €25 this is one of the best add-ons one can install in an IFR aircraft.
Routes
The IFR routes were developed with the Autorouter which was also used to file the flight plans. This facility is currently free. The only other options for autorouting are RocketRoute (over €200 a year) and Foreflight (around €100/year). Foreflight dominates the US market and is working on a European version, but it isn't there yet in terms of required functionality. For VFR flight plan filing I use EuroFPL. I also use EuroFPL for filing IFR flight plans as a backup, or for unusual situations e.g. where a specific ETA must be filed (to fit inside a purchased airport slot) and the Autorouter aircraft performance model does not allow that. With the recent demise of FlightPlanPro (one of the original autorouting tools, from 2008) the lack of a realistic backup for the Autorouter is a concern to many pilots... I have already found problems with delaying flight plans, for example, which works via the telegram interface but not via the website.
In case the Autorouter disappeared while on a trip like this, I generate the routings before leaving home and save them in a file which I email to myself. Then I could use one of the other flight plan filing tools (e.g. EuroFPL, or at worst AFPEX) to file the flight plans. This is not 100% reliable because a flight planned route may no longer be valid a week later, but it usually works, or may just need a little tweak.
Some notes on IFR in Europe are here.
The outbound route was filed for FL100 initially, rising to FL140 for the Alps. Aosta is fairly near the start of the Alps, and is easy to get to. IFR is cancelled at LISMO but FL100 will not be enough to cross the terrain after LISMO; at least FL130 is needed unless one gets "imaginative" with the canyons

EGKA SFD DCT RIBGO DCT RINTI B3 VATRI G40 ARSIL B13 SOMDA A6 DJL A1 LISMO VFR LIMW
481nm as filed
432nm GC
Alternates: Sion LSGS, Annecy LFLP
The return route was filed for FL100 initially but as above this is too low unless one makes use of the canyons. Change to IFR at SPR.
LIMW SPR IFR A1 DJL A6 SOMDA B13 ARSIL G40 VATRI B3 BILGO H20 XORBI H40 NEBRU H40 ABB N20 KUNAV DCT WAFFU EGKA
480nm as filed
432nm GC
Alternates: Biggin Hill EGKB, Lydd EGMD
The two routes are almost identical except for some unidirectional routings at the UK end. The upper one is outbound; the lower one is the return route: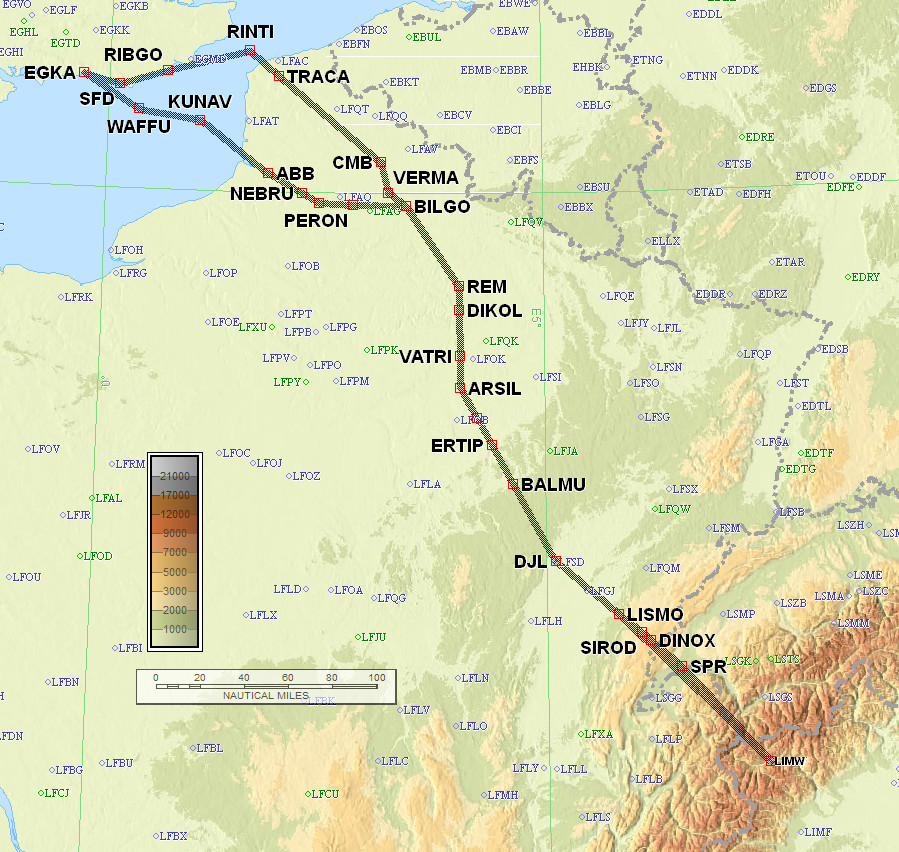 The TB20 has enough range to go there and back without a refuel! It would be about 7hrs total. But it would be pointless, since Aosta has avgas and so do most airports in that region.
Many pilots fly "fully electronically" nowadays but for any significant trips I always prepare a printed paper package comprising of the route pic, a plog (a waypoint list; this is rarely used since the route picture shows most of the waypoints, and the flight is done with GPS navigation), and the terminal charts for the departure, destination and alternate(s). For terminal charts for unplanned airports I have a collection of PDFs on various devices including my phone. The advantage of paper is that the battery can't go flat

Weather sources
For many years I have been using tafs, metars, radar, IR (infra red) images for cloud tops, sferics (lightning) for convective activity, and the UK MO MSLP charts for the general picture.
The Windy.com website is a new addition to the set of weather tools and is proving to be nothing short of a revolution. It offers three new European weather models - ICON NEMS and ECMWF - all of which are generally better for Europe than the GFS model which was universally used by pilots beforehand. European weather data has always been tightly guarded as a "commercial secret" so everyone used GFS, which was freely provided by the US. Somehow, Windy.com is able to offer these new weather models. The wind visualisation at different levels is very good; of course it is no more accurate than the weather models but it offers an easy way to assess which route is likely to get the worst or best winds. In reality I have found it to be within 10kt, usually. For IFR pilots, the "rain" layer is perhaps the most useful one, and I find the ECMWF model the most accurate, with ICON being the least accurate.
Shoreham EGKA to Aosta LIMW
This trip was planned for a gap in the October weather

MSLP: 0600 1200 1800
TAFs/METARs Notams IR Radar Sferics Winds Webcam1 Webcam2
The IR image showed tops to maybe FL100, but not extending over the Alps.
The return MSLP looked good, as did the one the following day but after that it all changed. I like to have a clear extra day for the return trip, because often the weather moves faster than forecast.
Departure weather was nice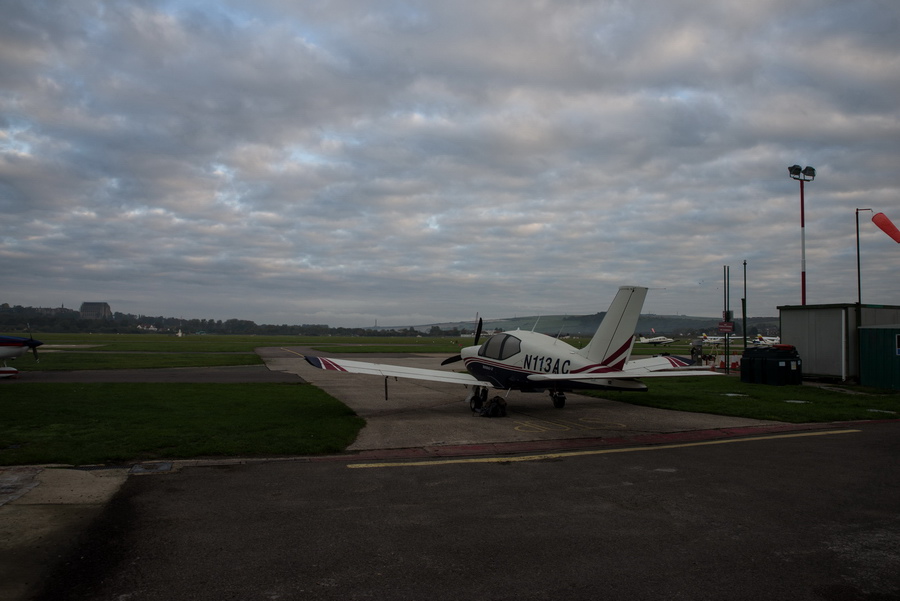 This is what IFR is mostly about: flying VMC on top of any weather, and not having to worry about busting controlled airspace

Some low cloud around... London Control cleared me into controlled airspace on (eventually) track TRACA, FL100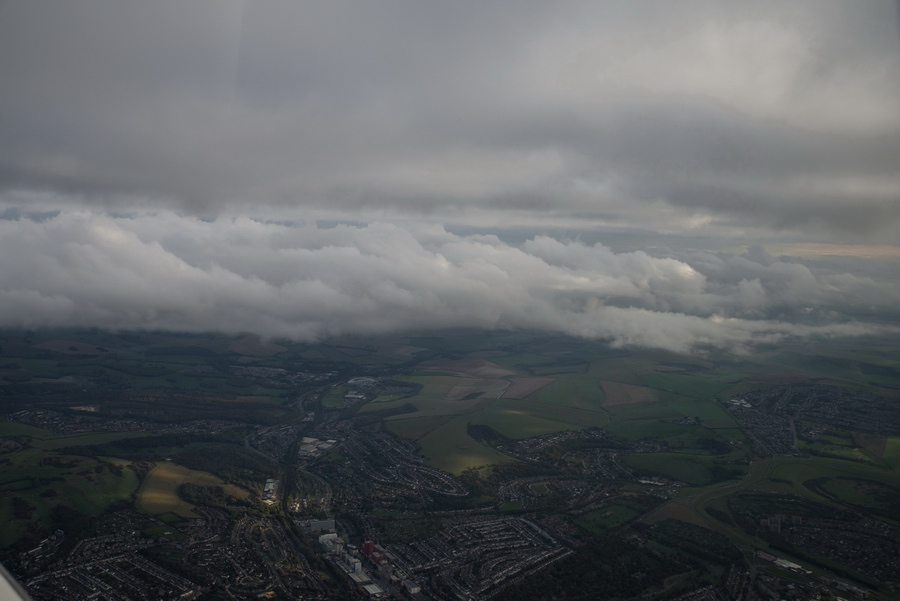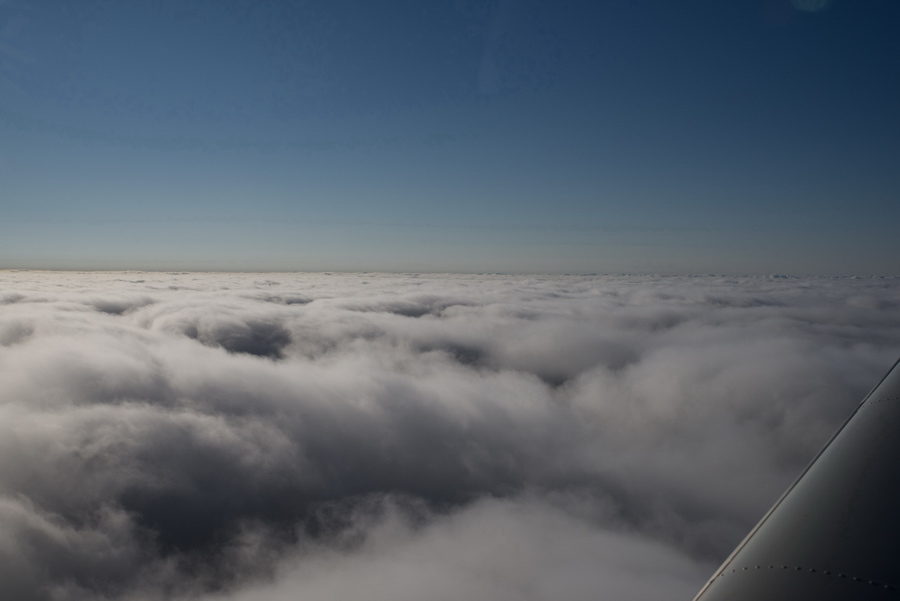 and that is how the flight was, all the way to the Alps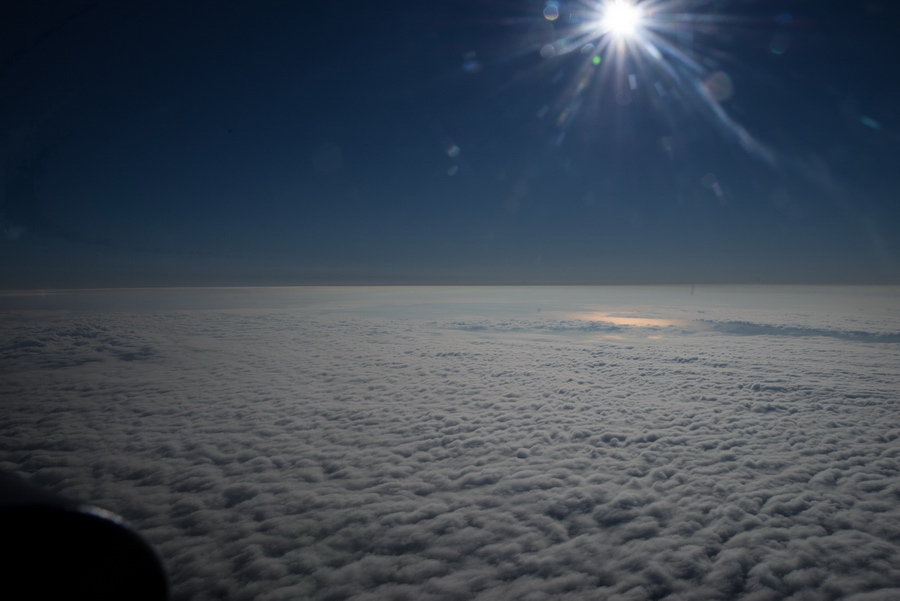 The fuel totaliser forecast 46 USG on landing, which is more than half of the usable fuel. There was zero wind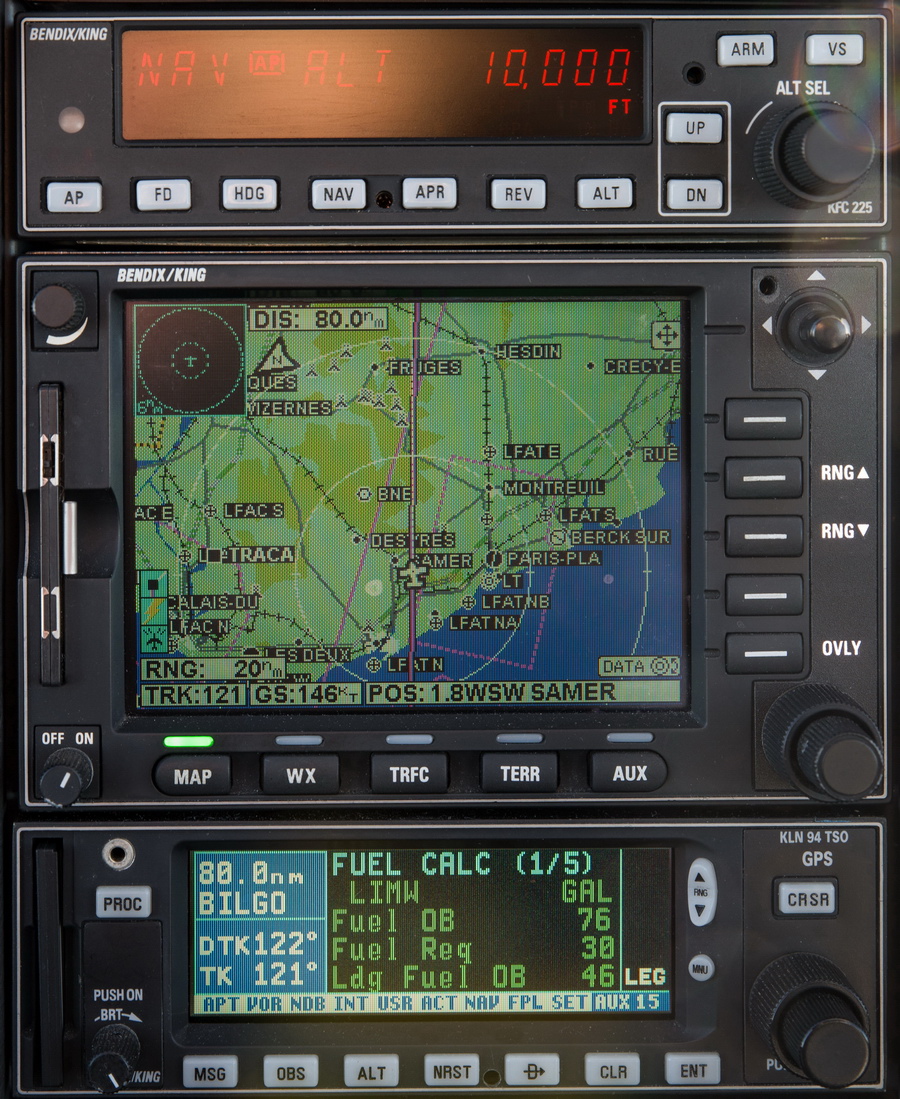 Finally the Alps appear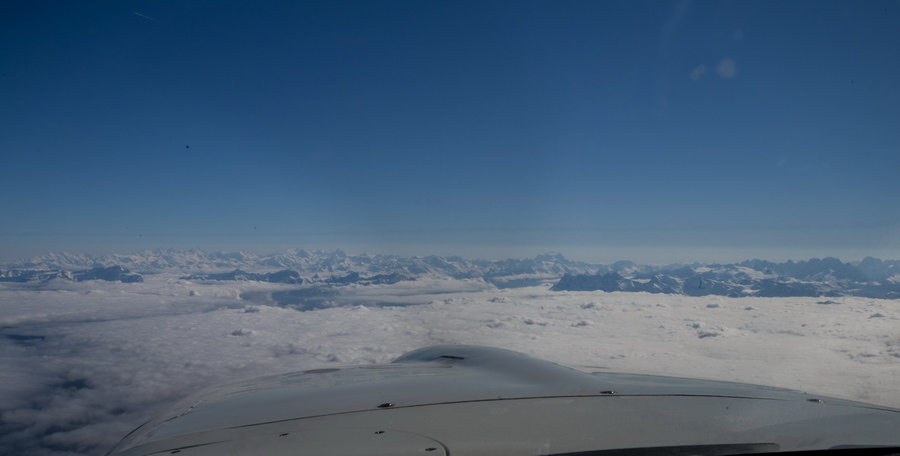 I wanted to fly over Cervinia, to get close-up pics of the Matterhorn, and to see what the snow looked like. I really like skiing there - great smooth blue and red runs

and nobody grooms the slopes better than the Italians! I created a user waypoint for Cervinia (CERV1). SVC is the start of the IGS27 instrument approach (basically a localiser-only approach but offset) which is "special crew authorisation" only but one can fly the trajectory under VFR. Also the IGS27 was notamed INOP on the day.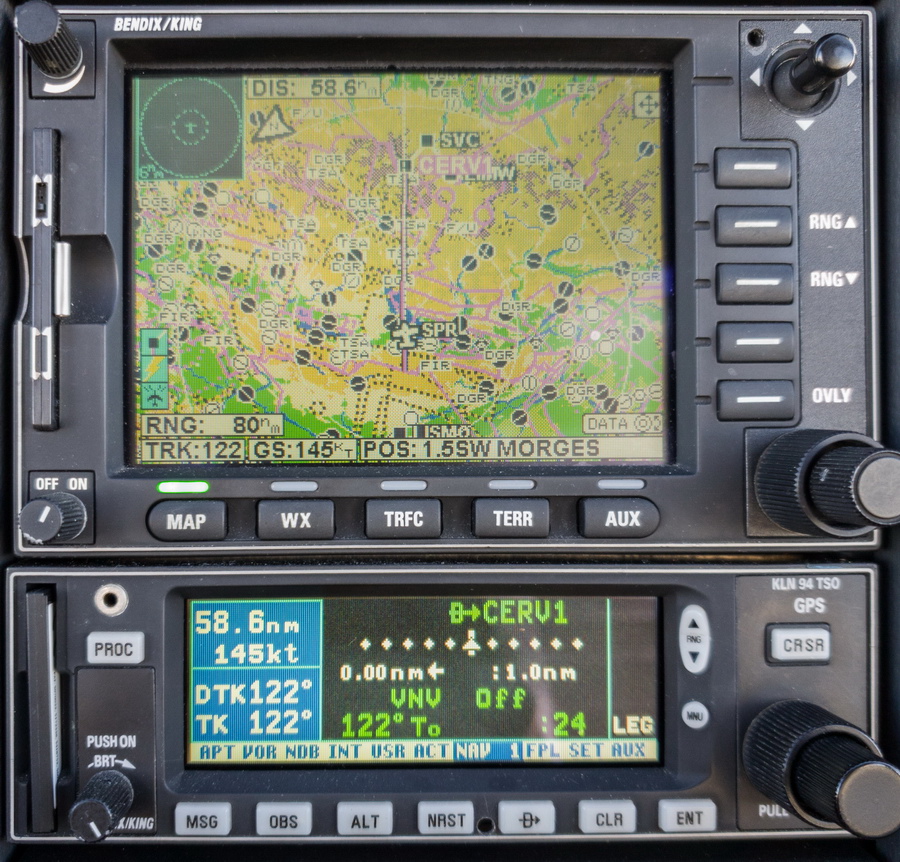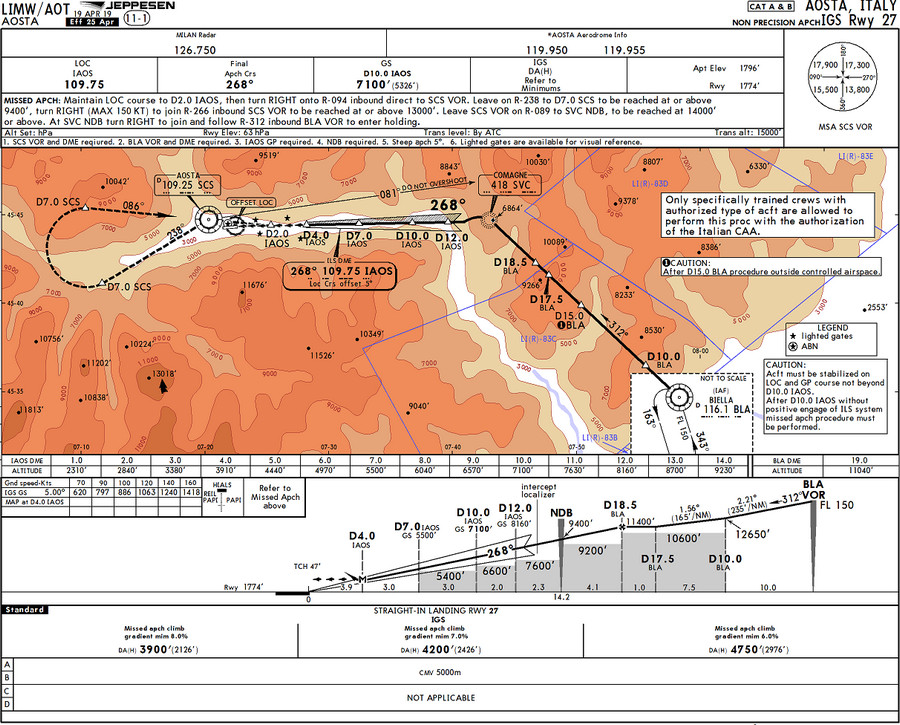 On a good day, the Alps are highly scenic. We are now at FL130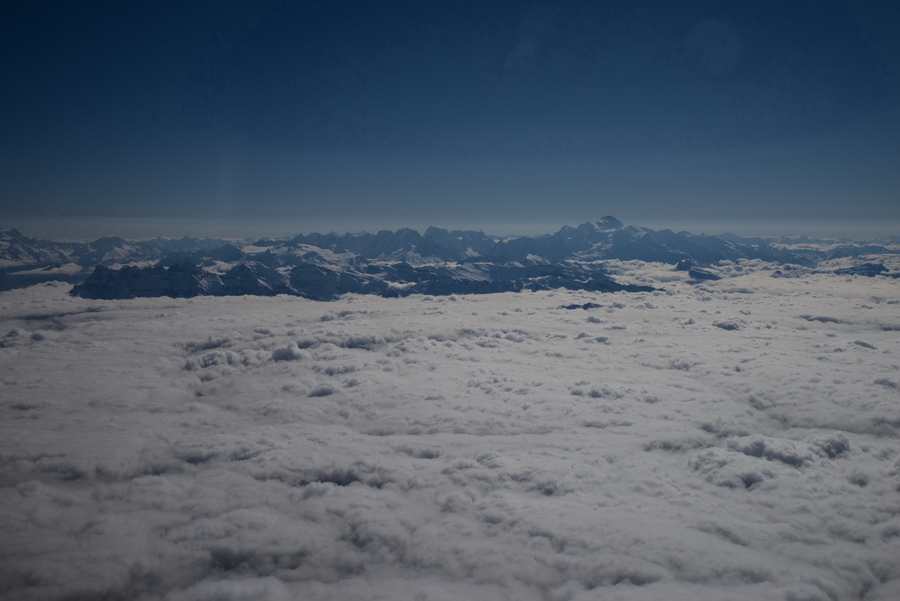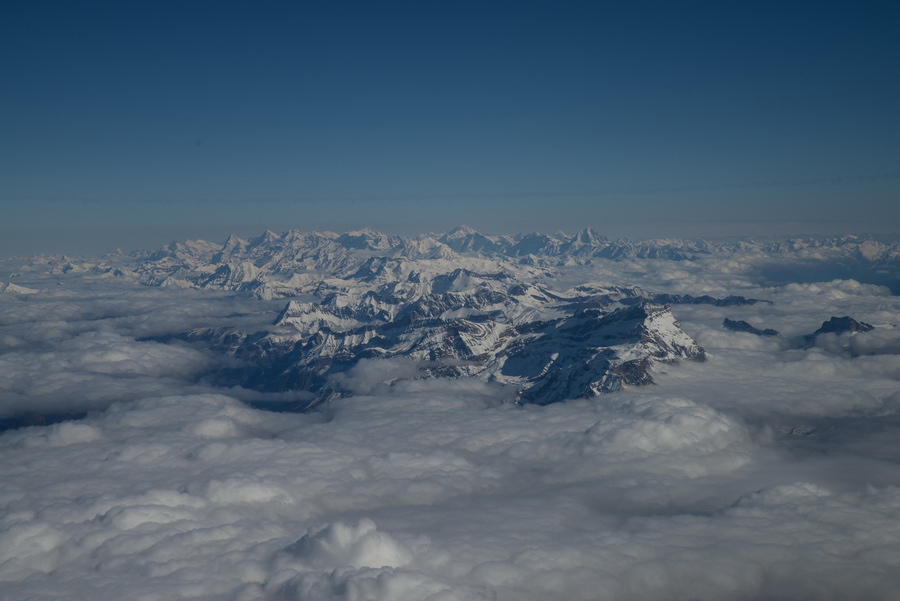 Getting photos looking through the propeller requires a shutter speed of 1/80 and a corresponding aperture of F16-F22, and is practically impossible to do with any phone since none of them have a real "shutter"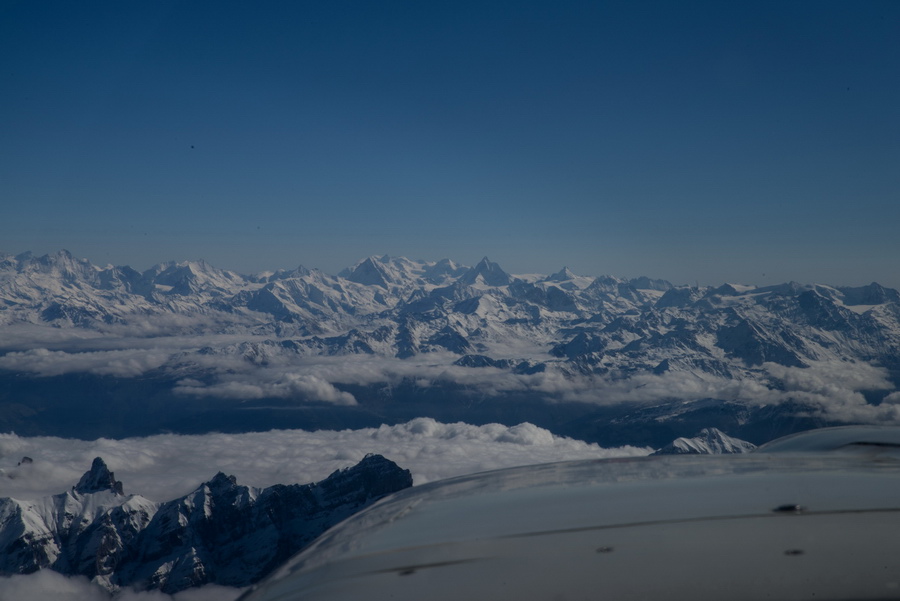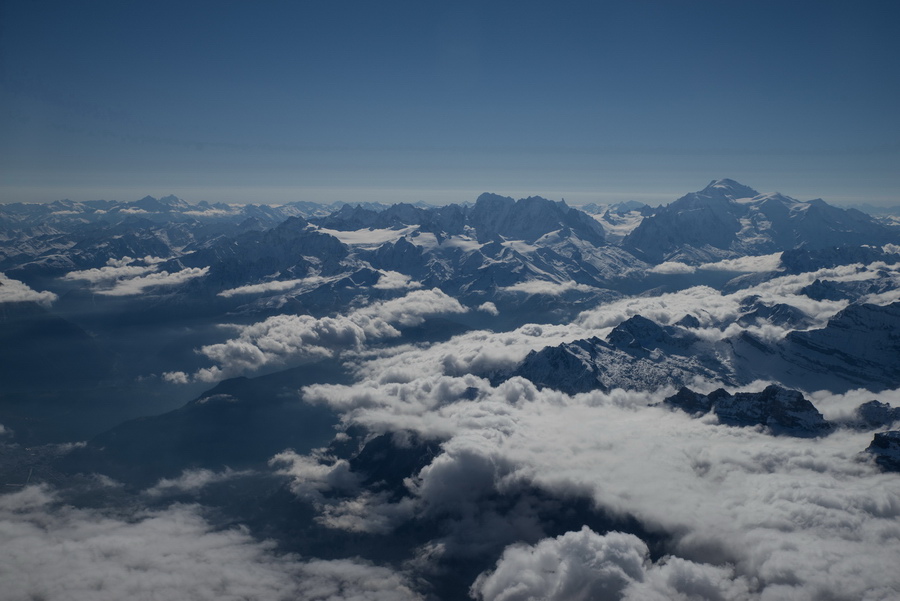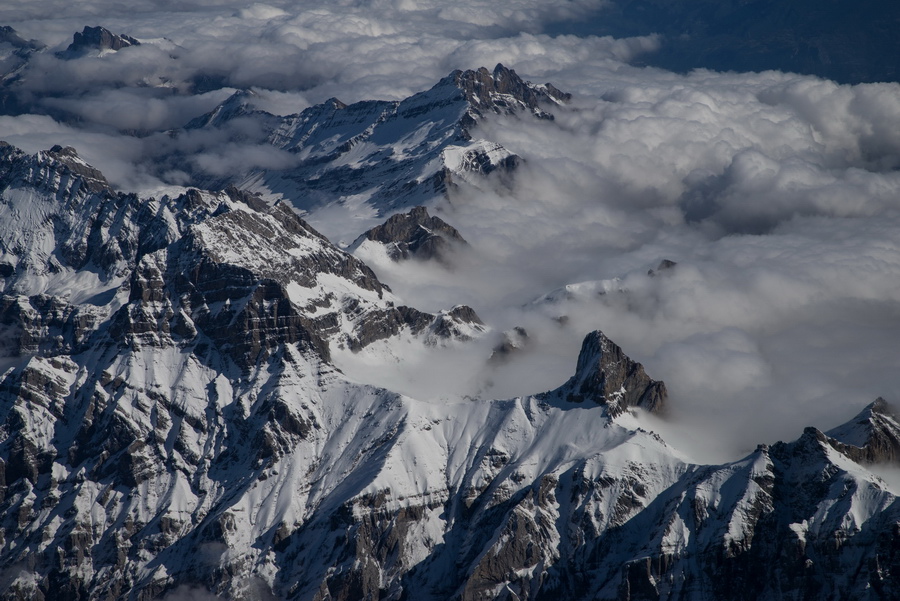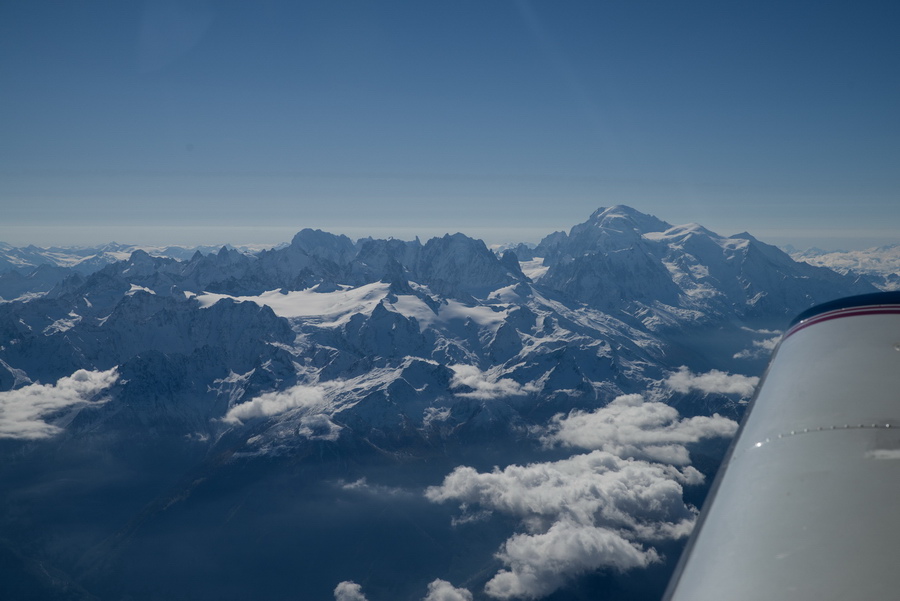 Sion LSGS. I landed there in 2004. It's a good airport for ski trips too...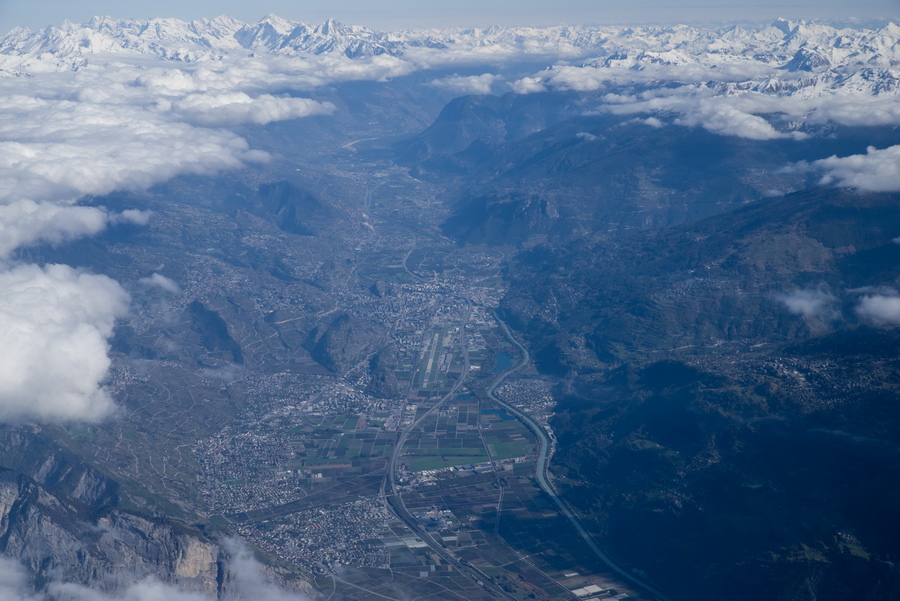 Someone who knows the area will recognise the mountains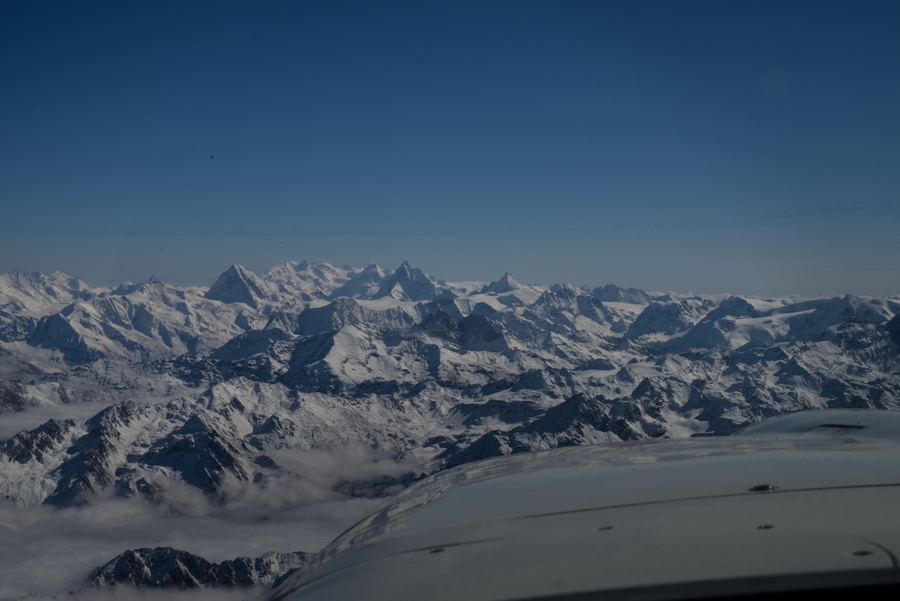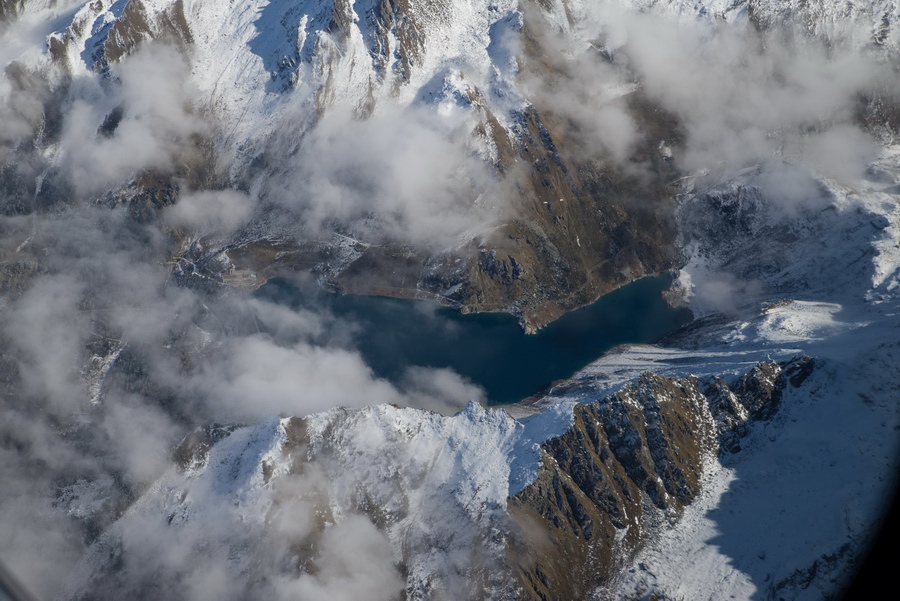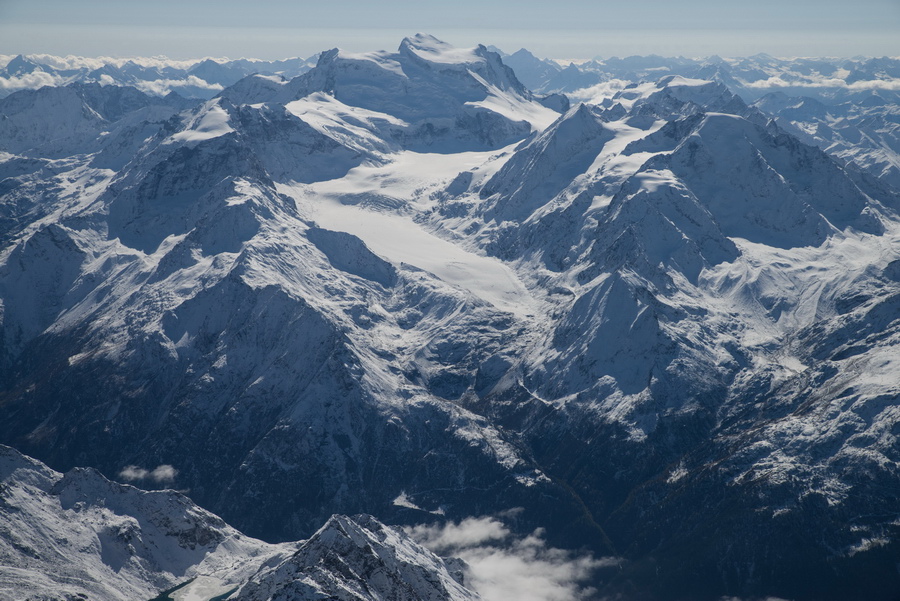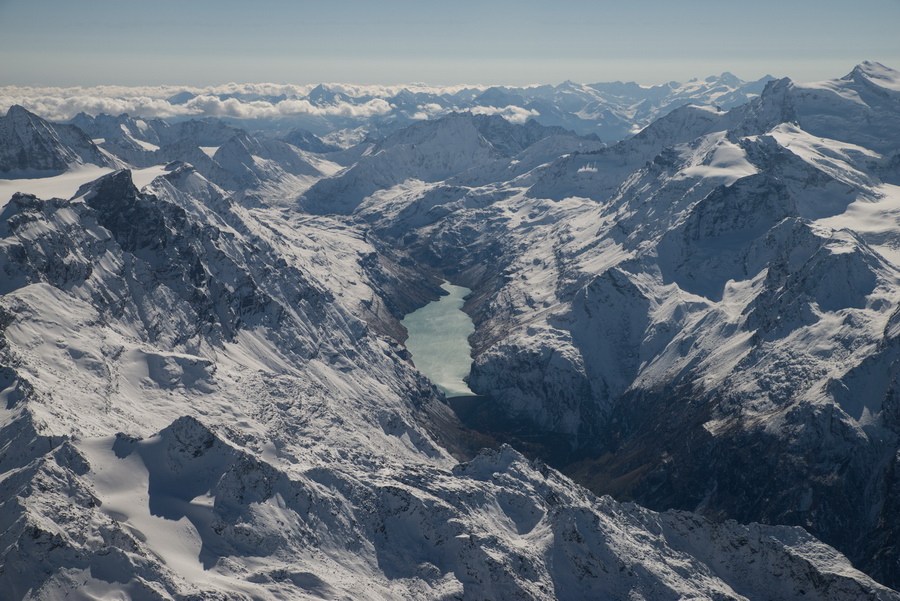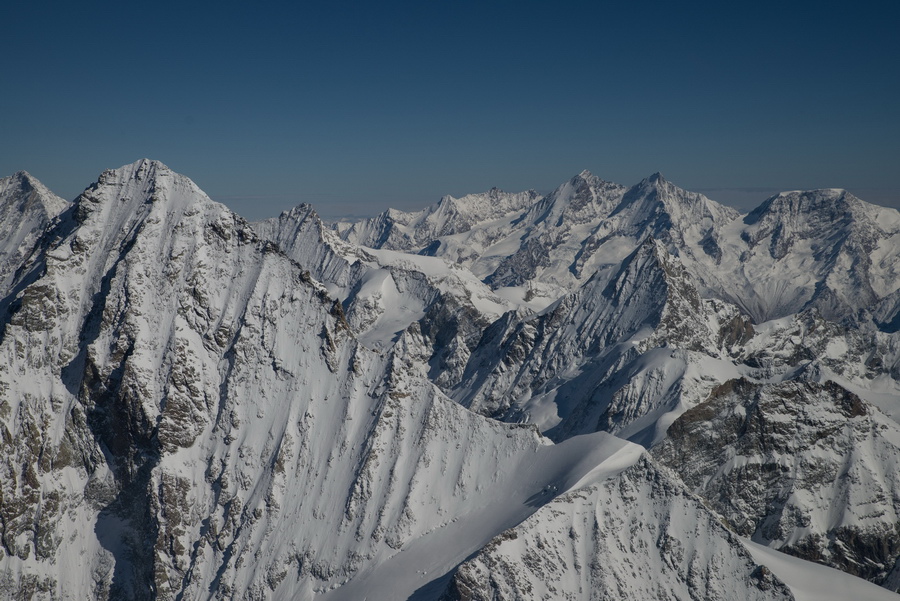 The Matterhorn. The "classic" Matterhorn view is more from the left; from other angles it looks totally different. Zermatt is down below on the left, and Cervinia is to the right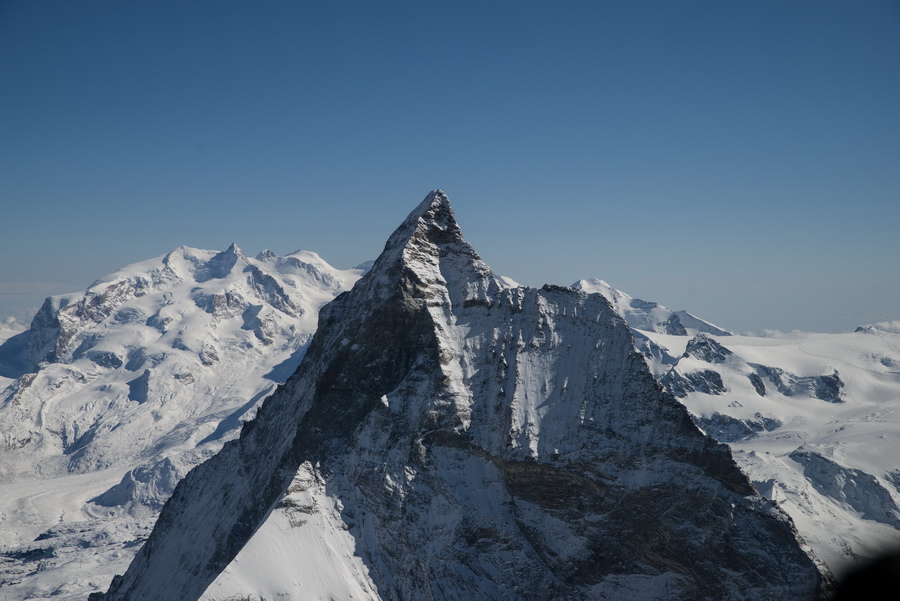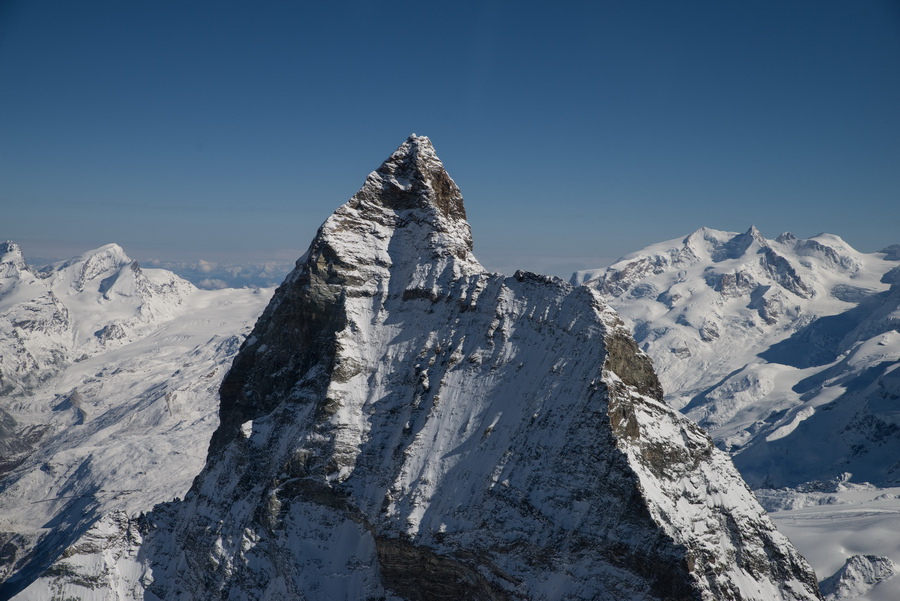 Plenty of snow on the ski runs already, but more needed. Cervinia states at time of writing (22 October) that it will open 28th October which is much earlier than usual; I guess they are trying to get some business before the widely expected total lockdown in the winter. Really sad...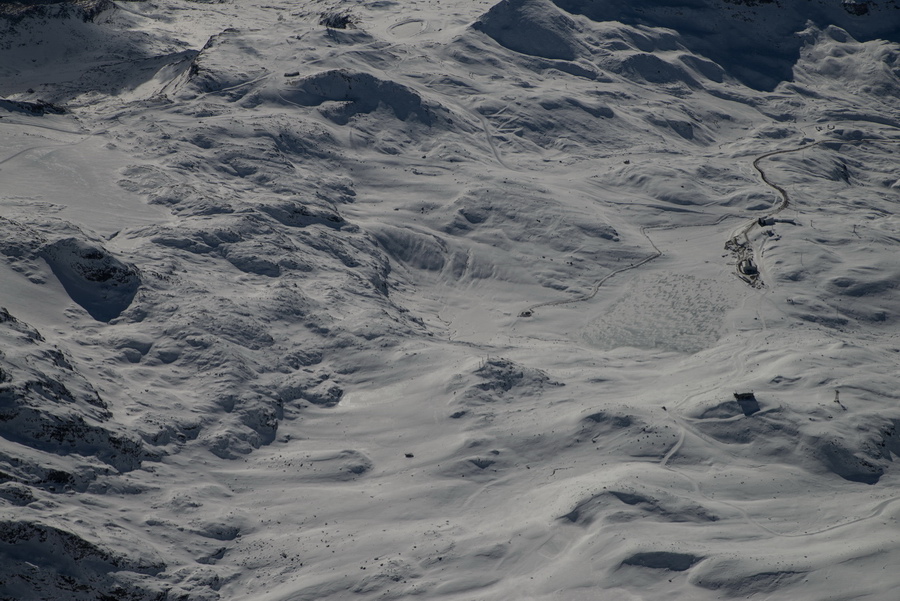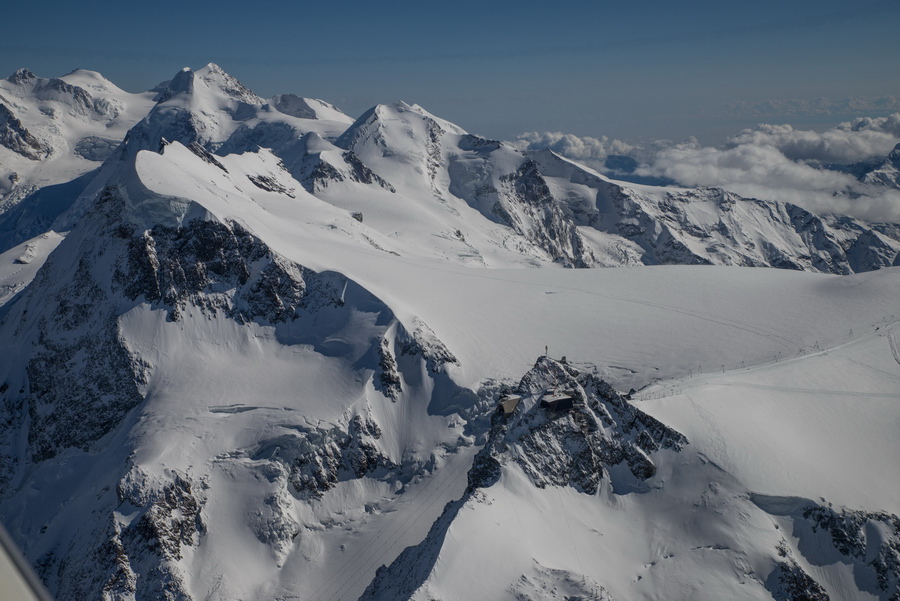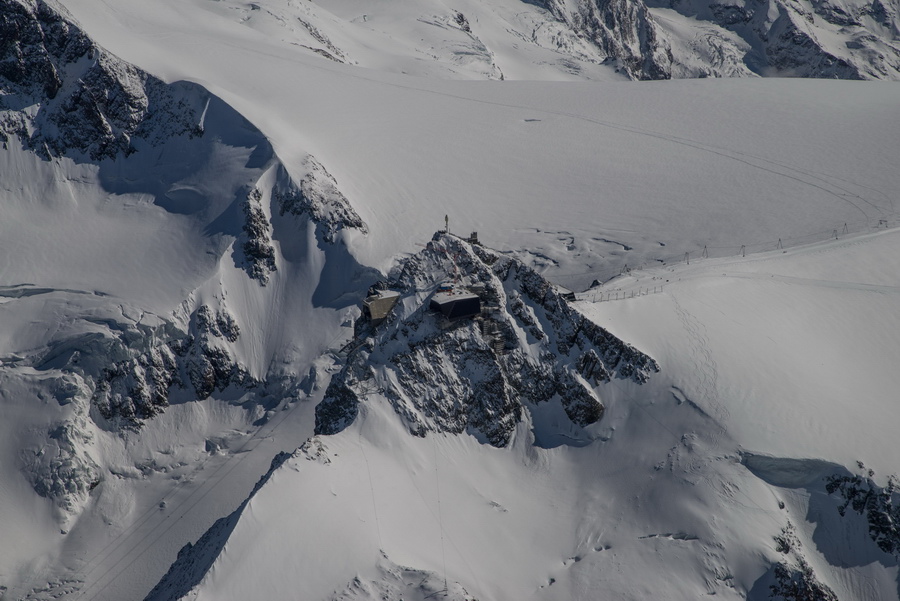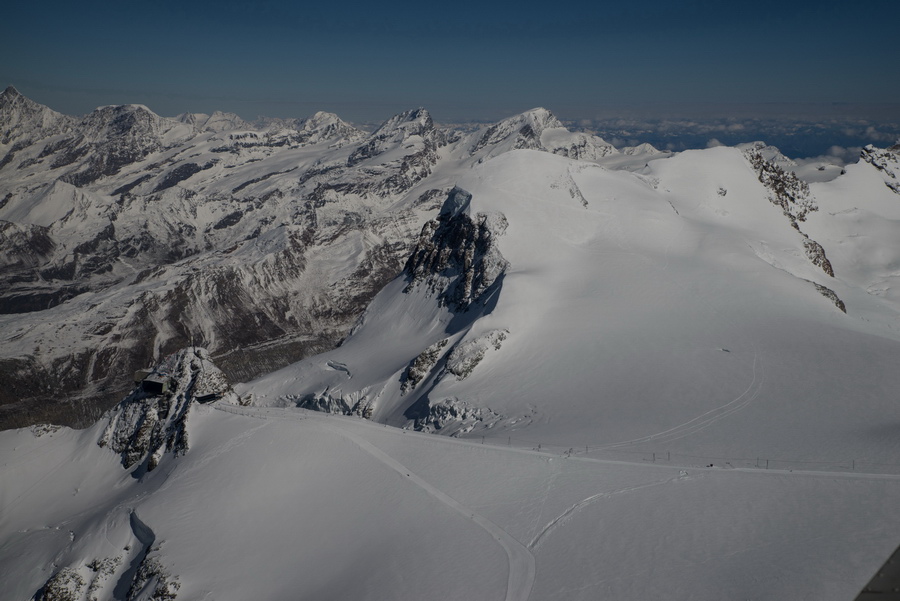 We had to do a descending orbit to get down from FL130 to around 9500ft to commence the IGS approach trajectory. IFR was already cancelled some way back with Geneva, and Aosta Information were told exactly what was being flown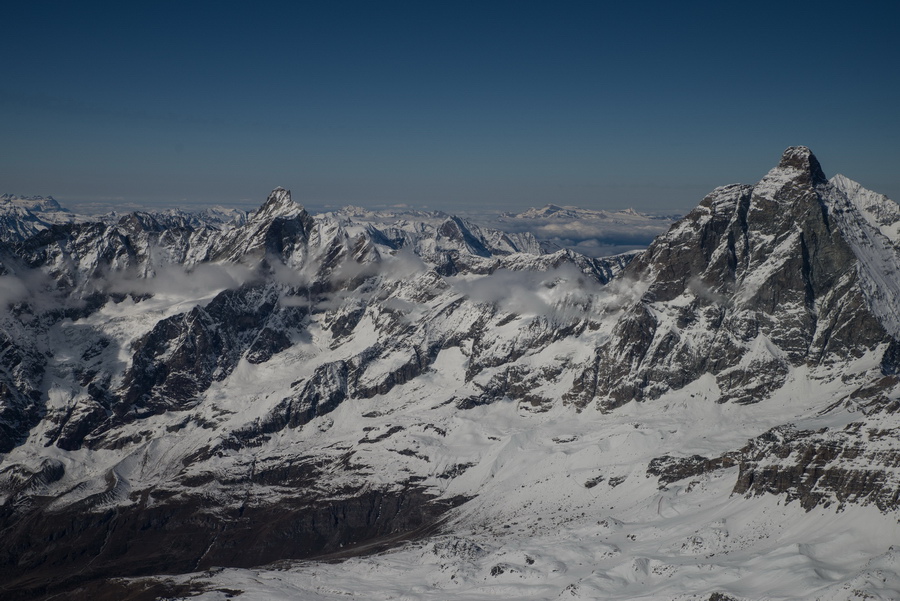 Aosta airport now visible; this is still during the orbit and not yet "localiser established"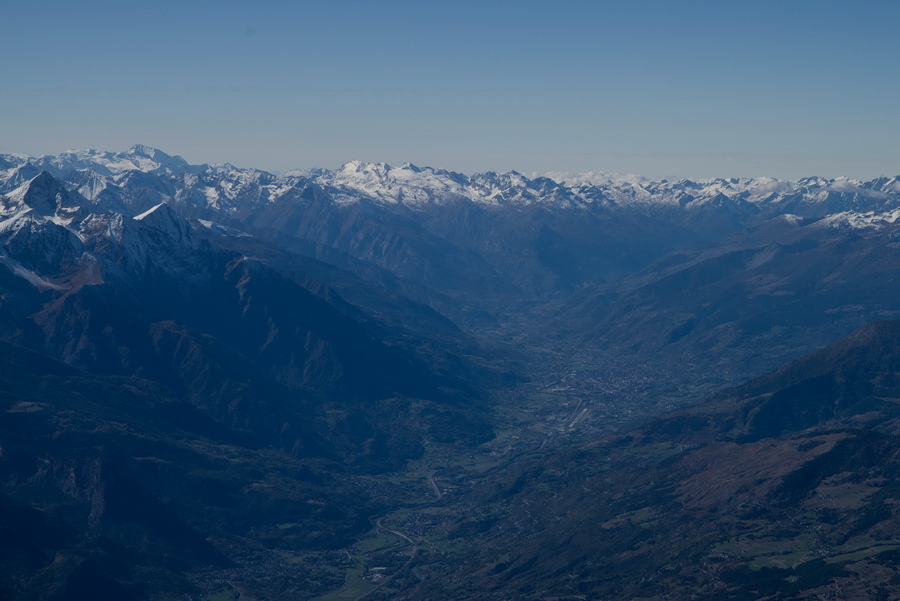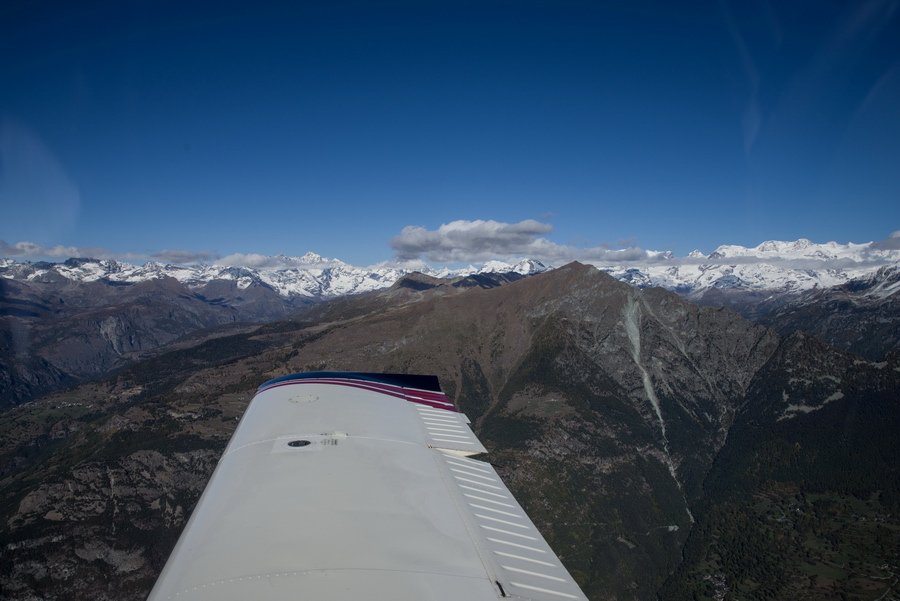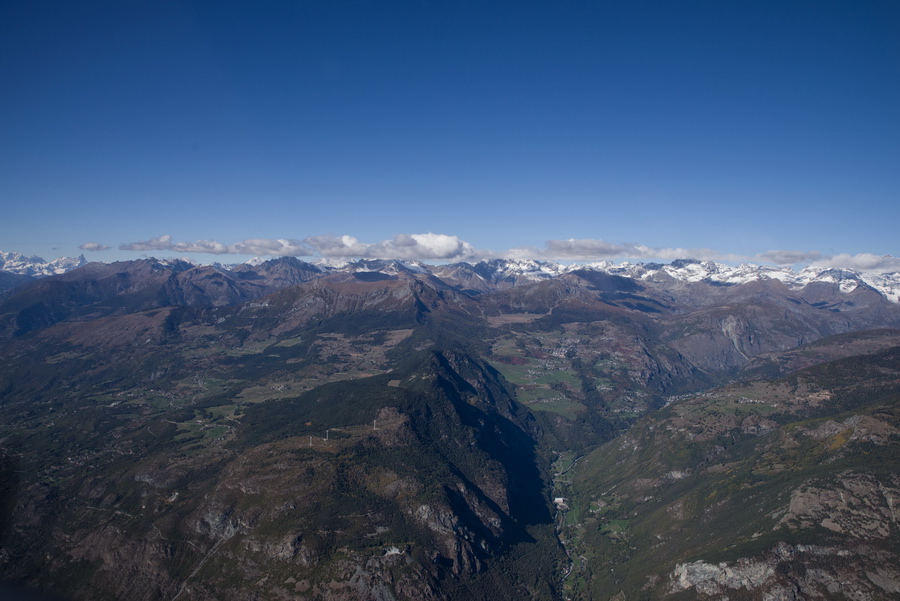 Now "localiser established". This was flown using the GPS in the OBS mode, autopilot in NAV, and the VS set as per the table on the plate, from the ground speed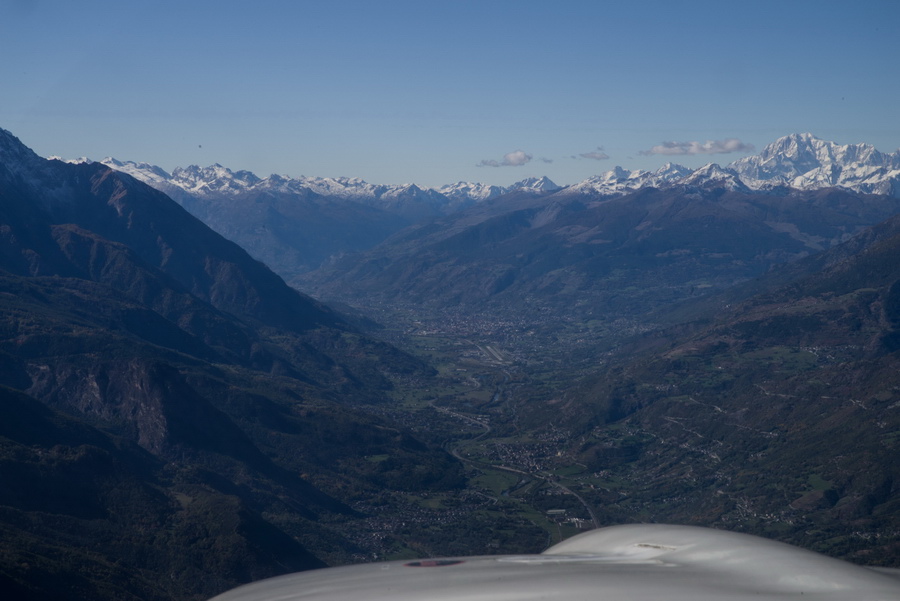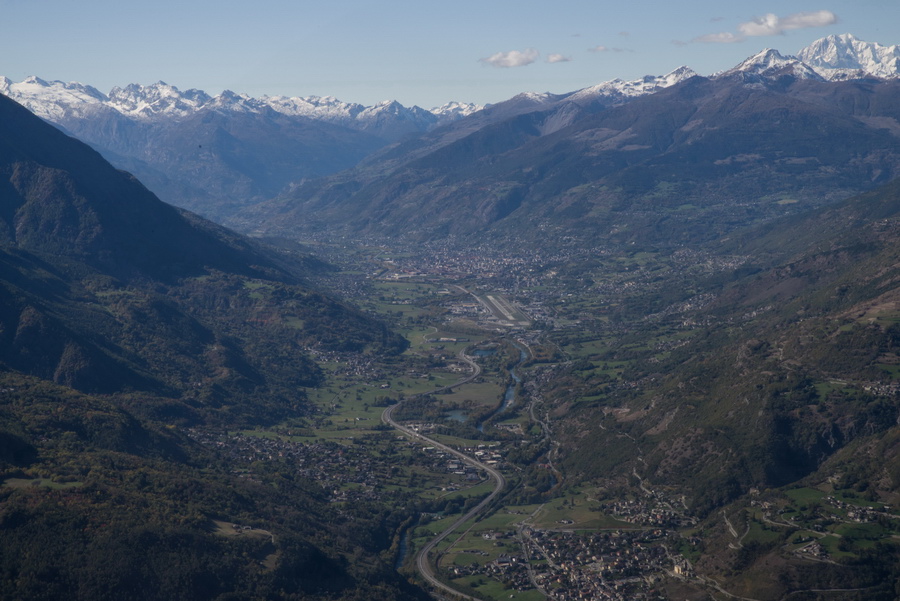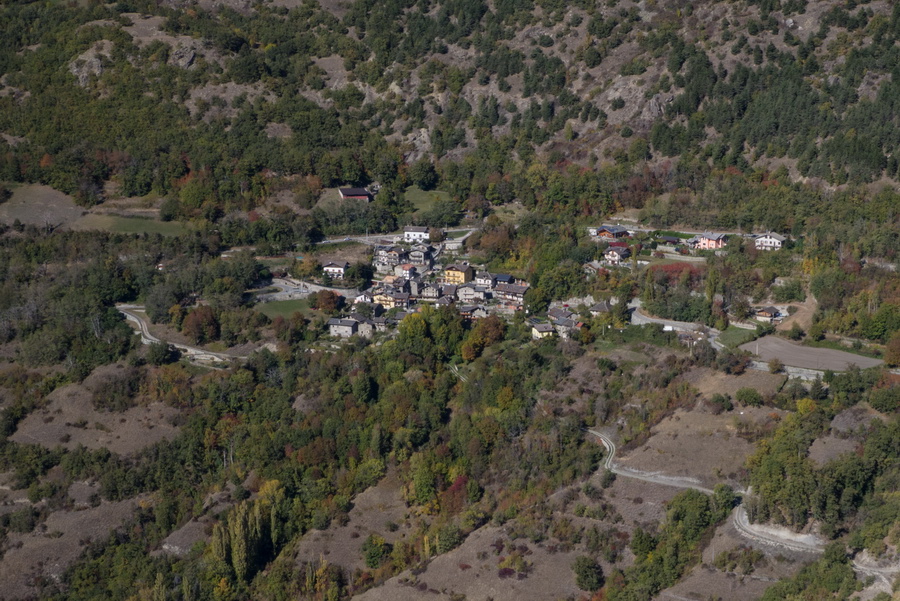 Initially I was going to land on 27 but then changed my mind to 09, as the wind changed around. In reality it would not have mattered, with the ~1500m runway. This is a right break to circle to land on 09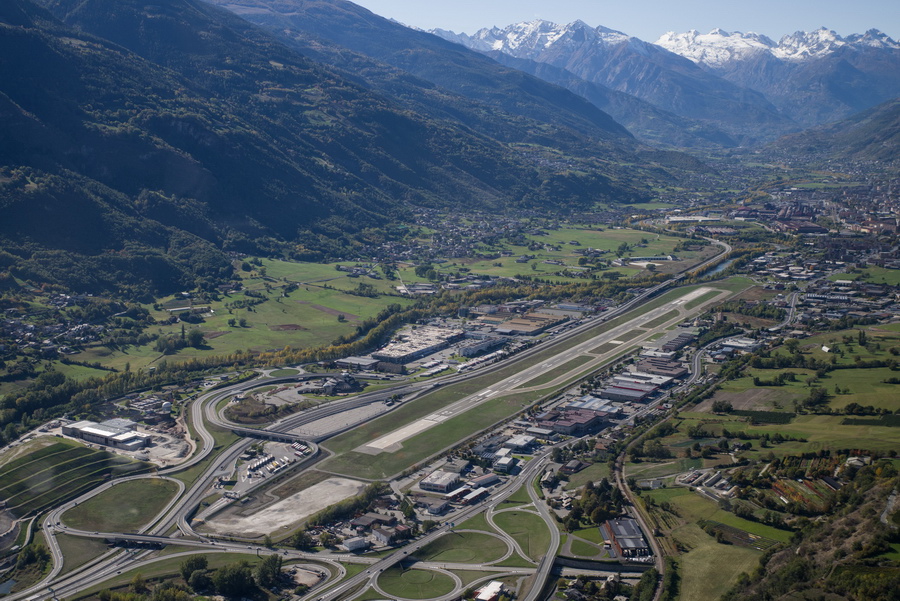 Turning final on 09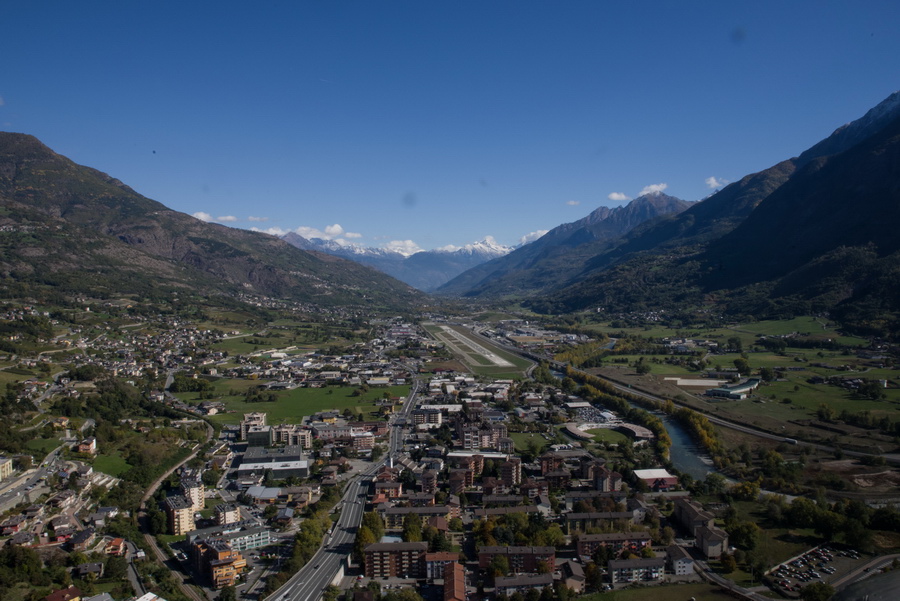 These forward facing pics are not easy to do while flying the plane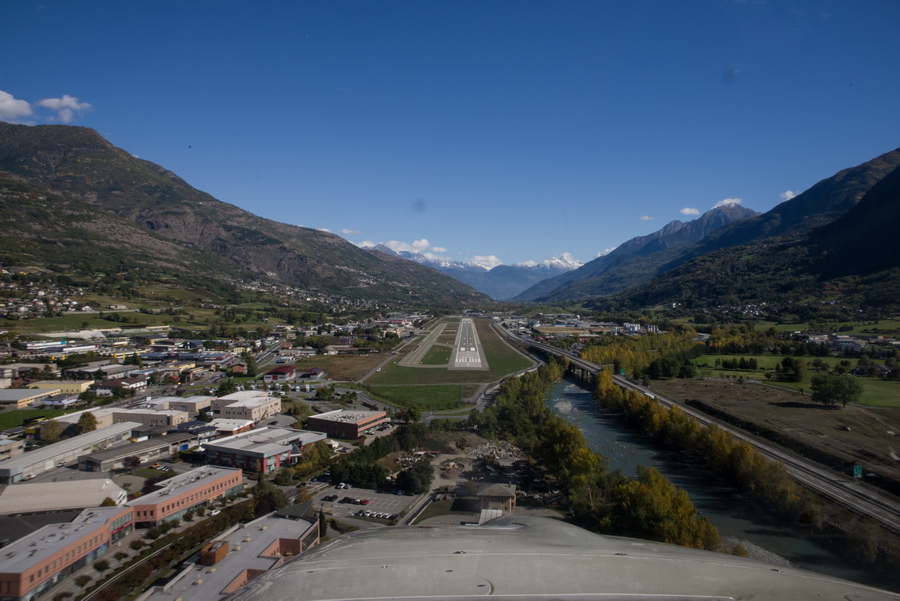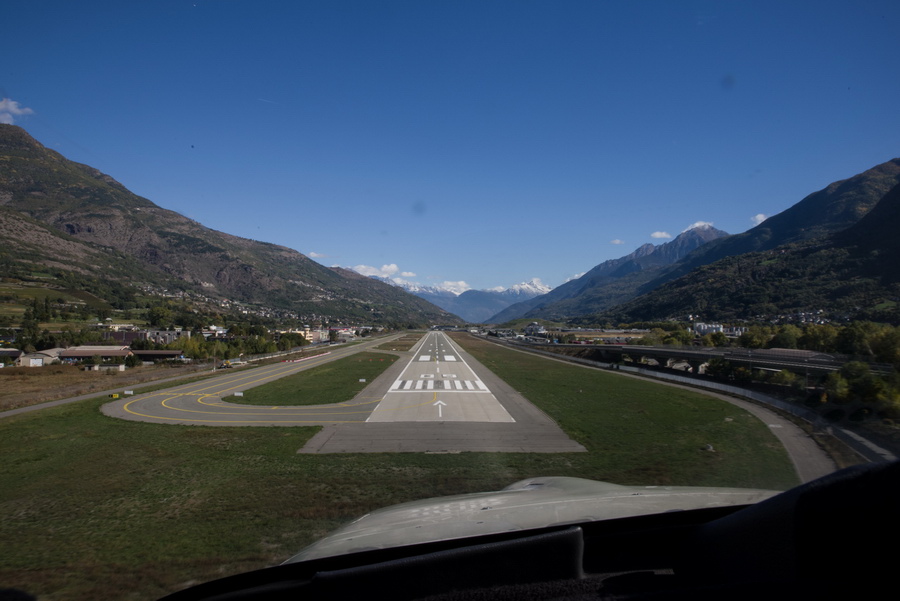 This is the route actually flown (in black)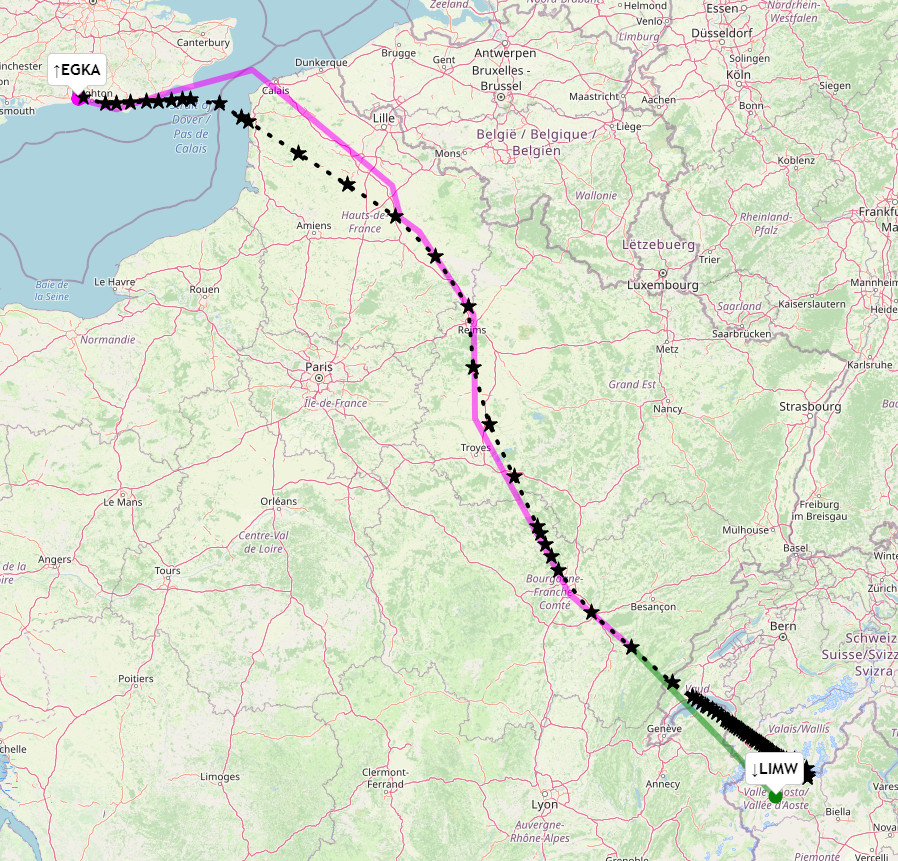 and this is from Flightaware. The tracking is lost when in the mountains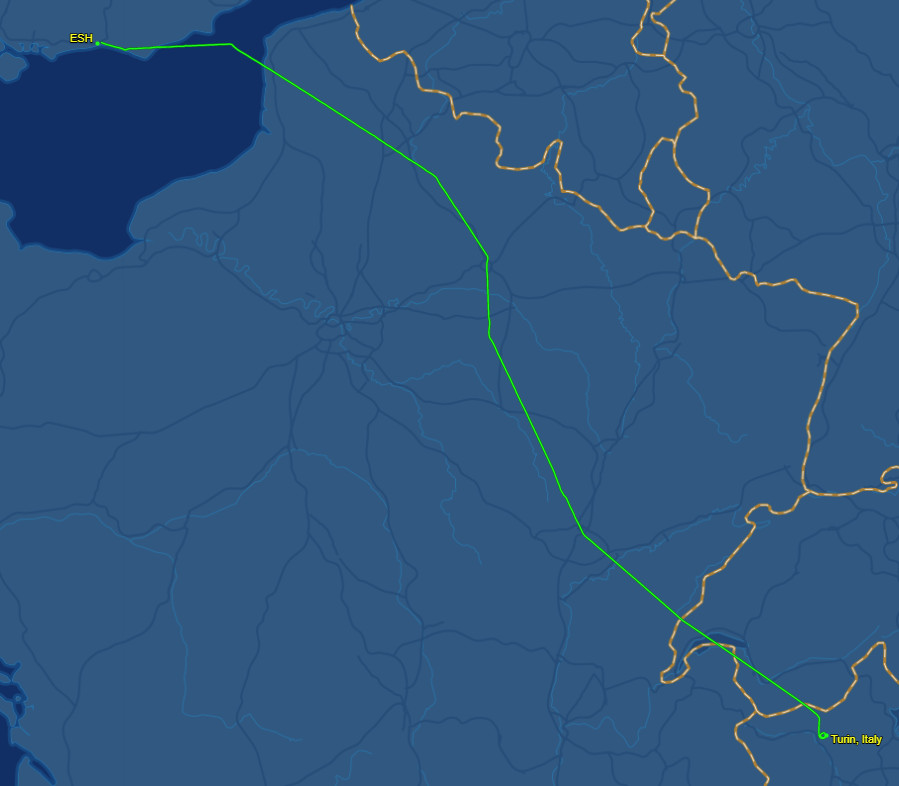 The airport is really super. Everyone was nice and helpful and with no delays anywhere. At 42 euros (landing and 1 night parking), it is excellent value too. The computed fillup was 159.5 litres and the pump said 159

One could have flown all the way to Sicily...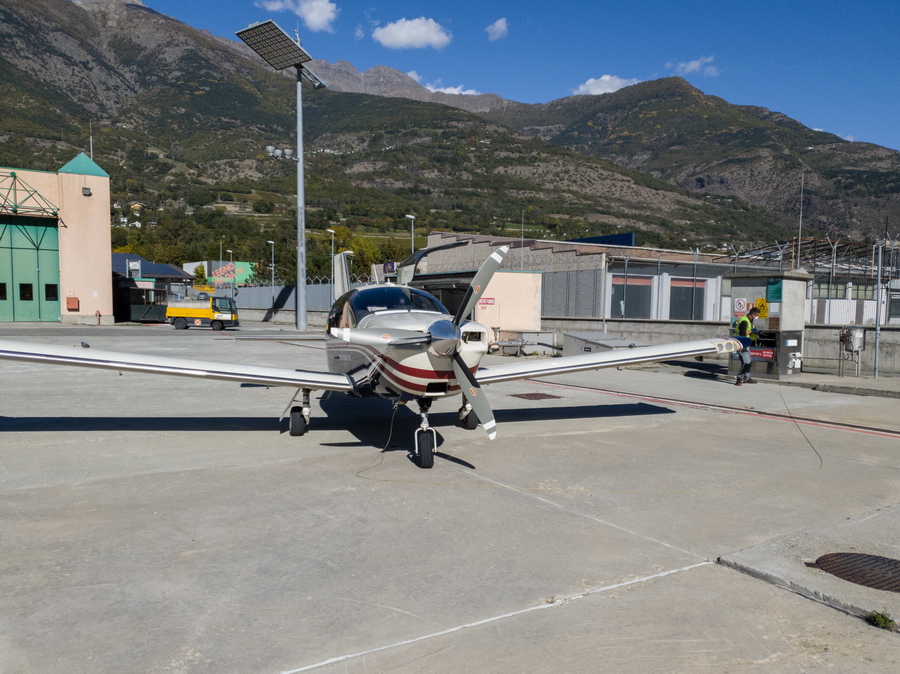 They also have some hangarage for visitors, which is handy for winter flights because it avoids the plane getting covered in frost. To remove that stuff involves carrying a spray device (normally used for gardening chemicals) and several litres of TKS or similar fluid. I have carried that kit on a number of winter trips but have not yet had to use it because either I got hangarage or the temperatures at the airport didn't go low enough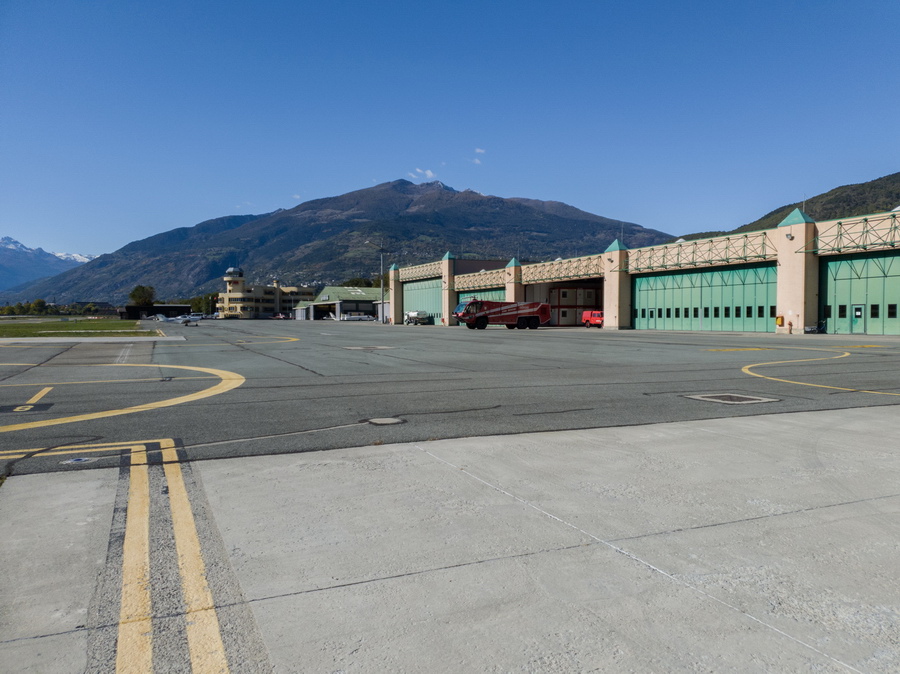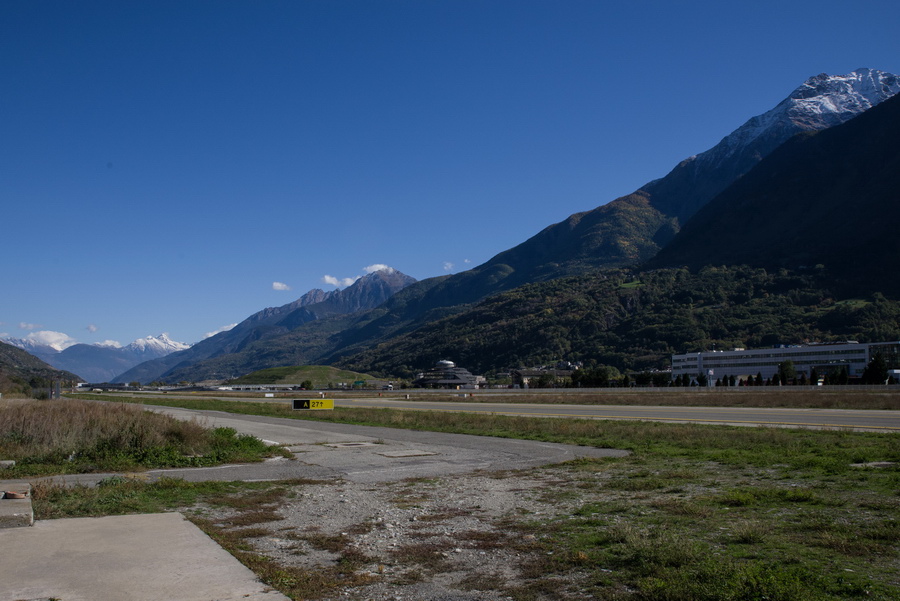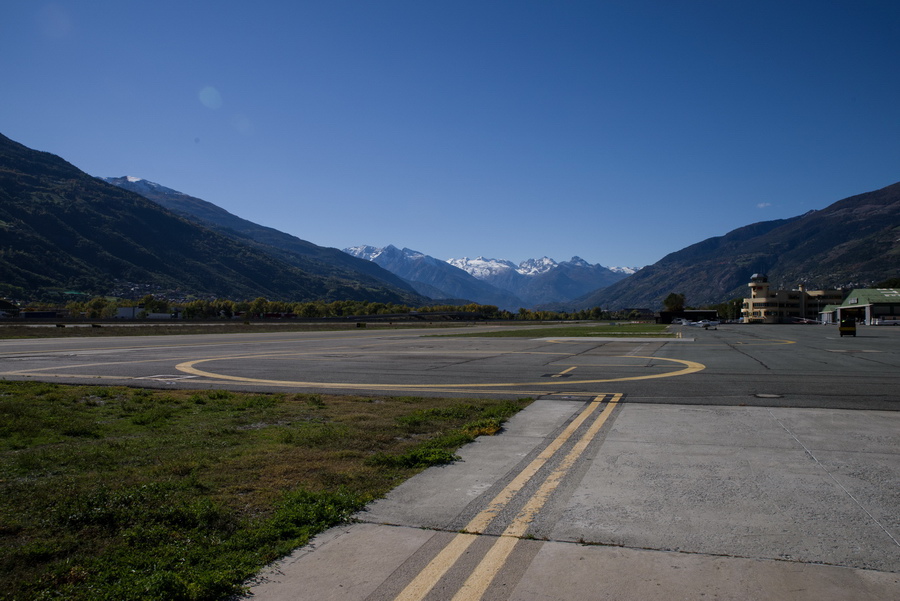 Parked up and almost ready to go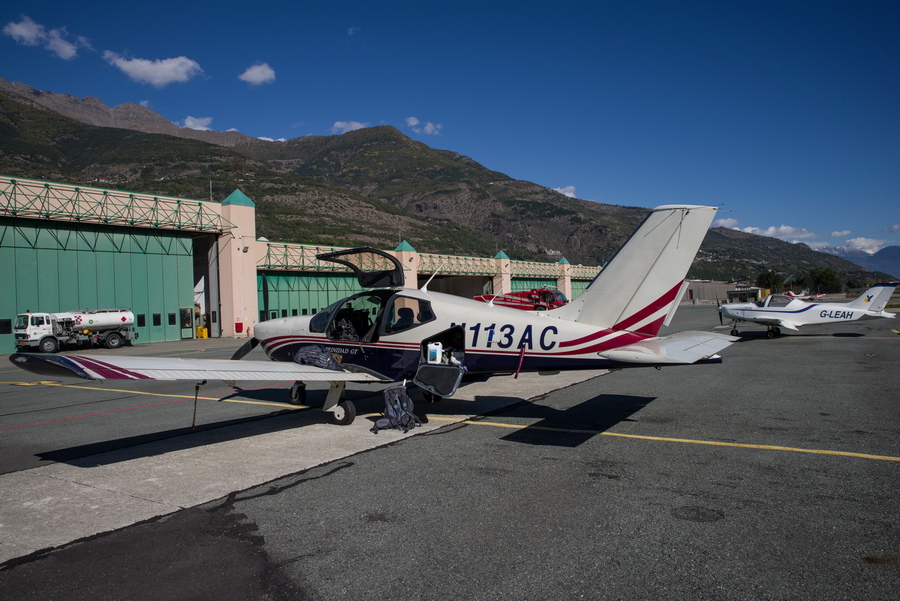 There was a fair bit of glider towing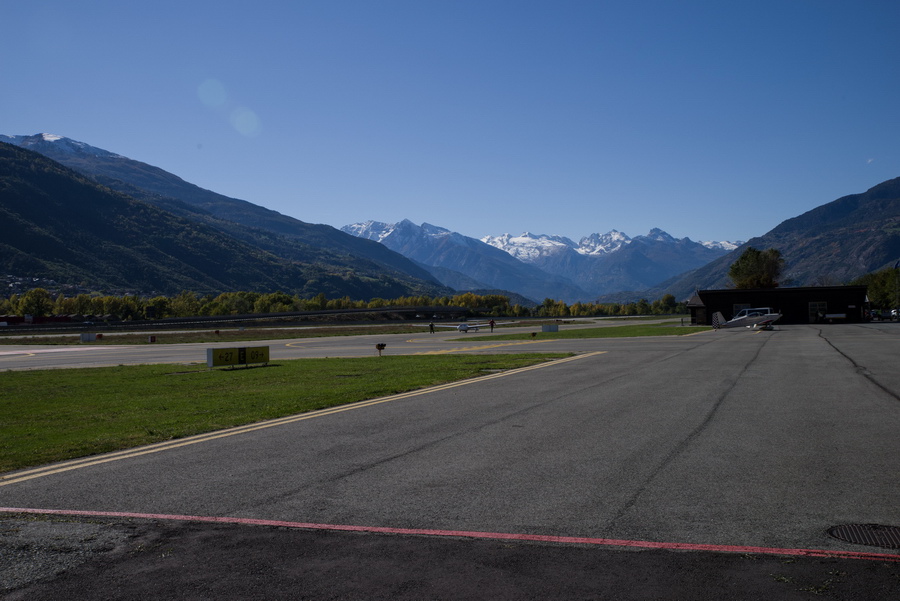 The cafe has a nice garden. In these coronavirus times I am not doing any indoor spaces - apart from going in and out of a hotel room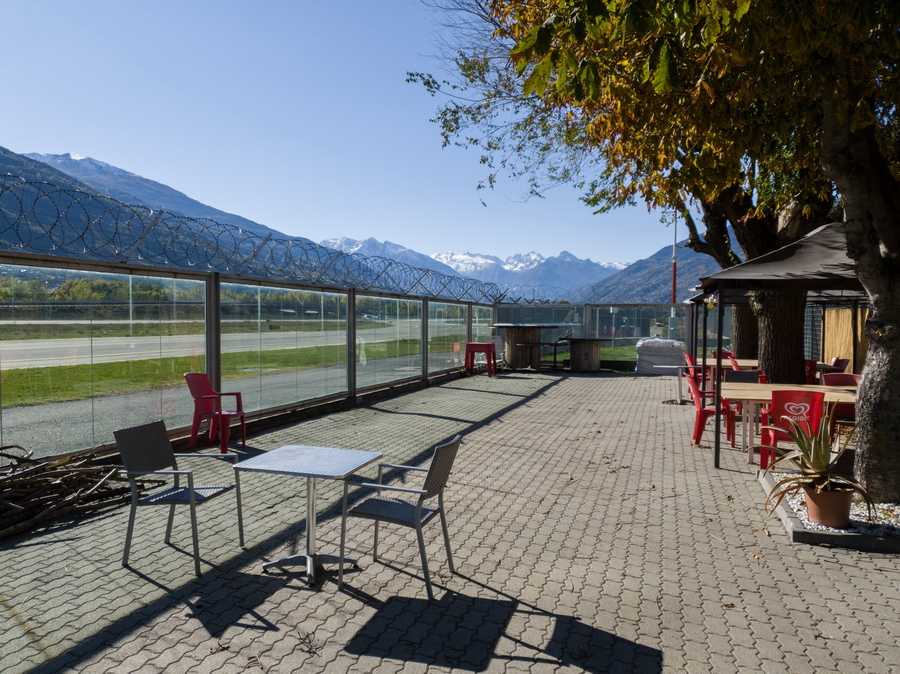 Taxi into town was 16 euros.
Aosta
This trip was done after the initial peak of the coronavirus infection had passed and just as the second one was rapidly building up. Accordingly, with Europe full of restrictions and quarantine rules, there were almost no foreign tourists. The tourists were apparently all from Italy. The level of the virus was most likely around 1 person per 1000 being infectious - similar to the southern UK - so it was fine to walk about, while avoiding touching door handles etc. Italy mandated mask wearing in the main streets and compliance was 100%. In the UK, myself and my girlfriend live in a small village and had been diligently isolating since March 2020, not even visiting a supermarket since then, so the chance of bringing the virus with me was negligible. And I had the test 3 days before. The shops and hotels were really careful with virus precautions, keeping everyone well apart, and with different procedures at breakfast: the choice was very small but they could bring it to the room, which was nice. Croatia was doing the same when I visited a couple of times earlier in the year. Due to nice weather all eating was easily done outdoors (well, wearing a Merino wool underlayer

) and that has been our standard procedure since; we stopped going to indoor restaurants etc back in March 2020.
Lots of fashionable outdoor gear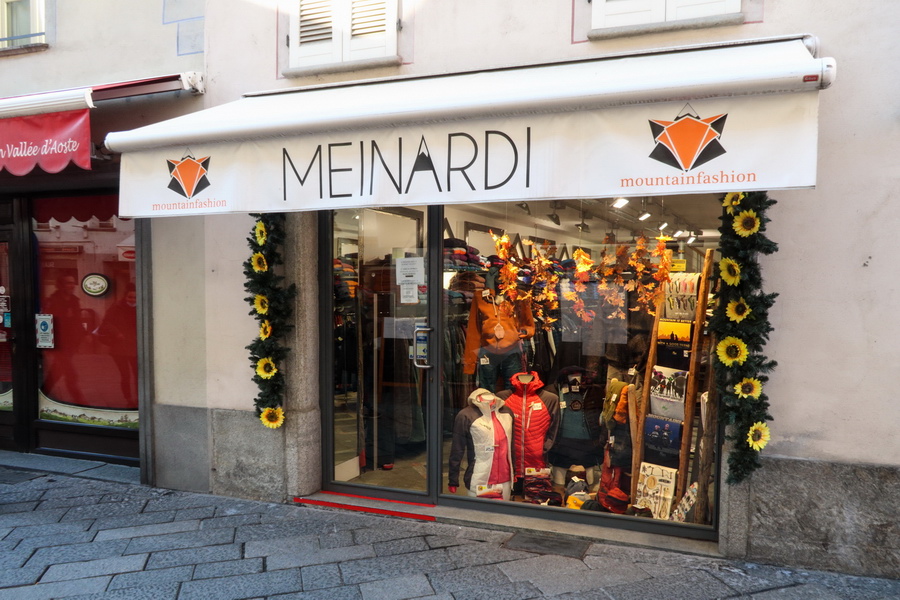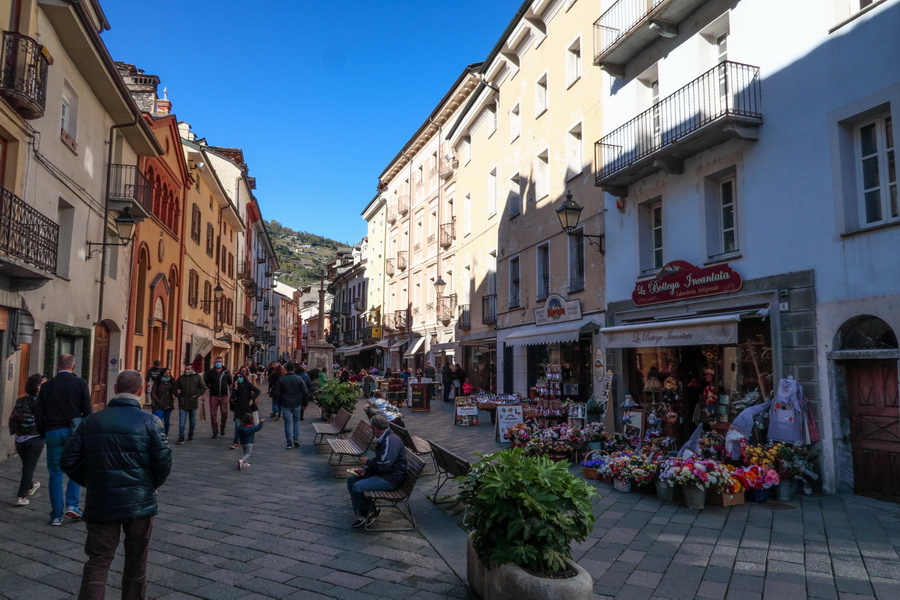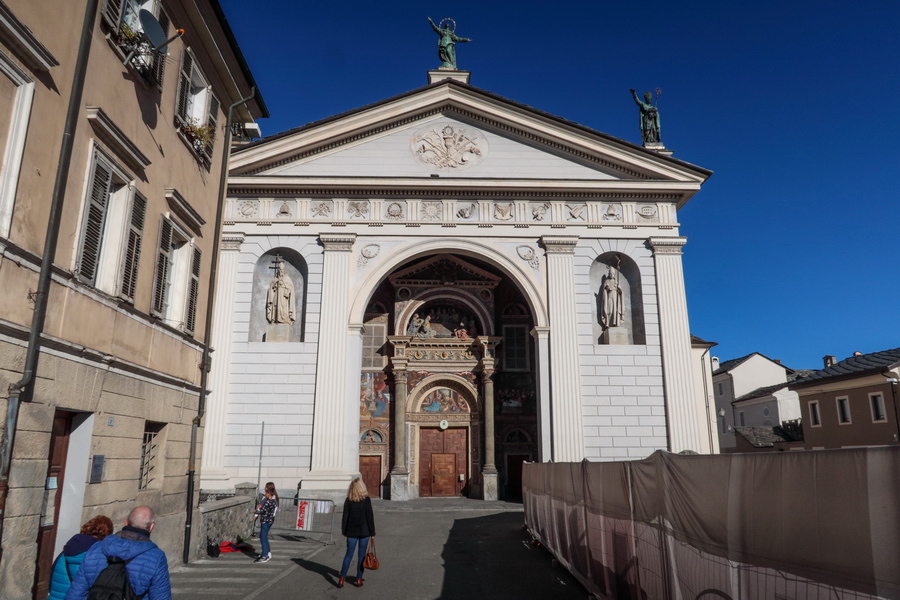 Lovely mountain views in every direction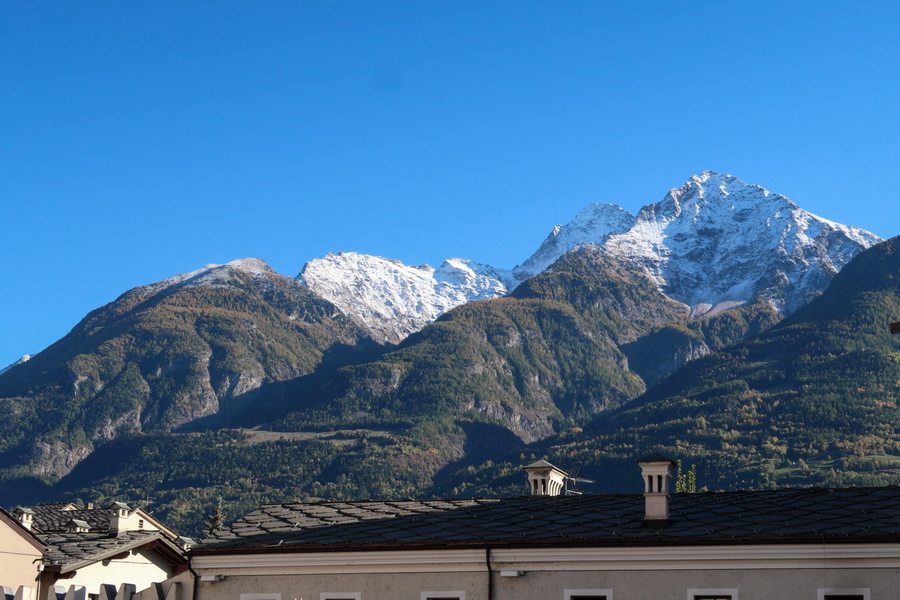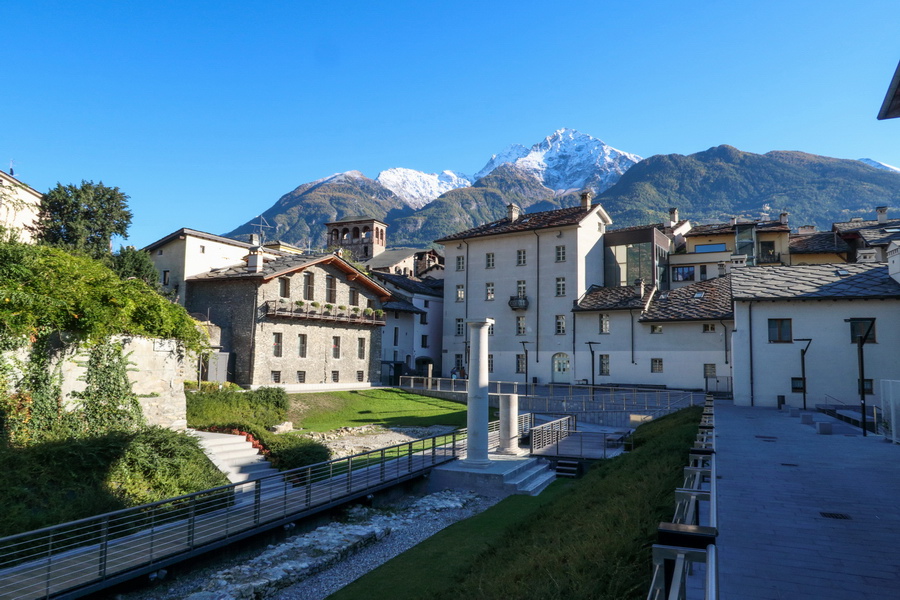 The main square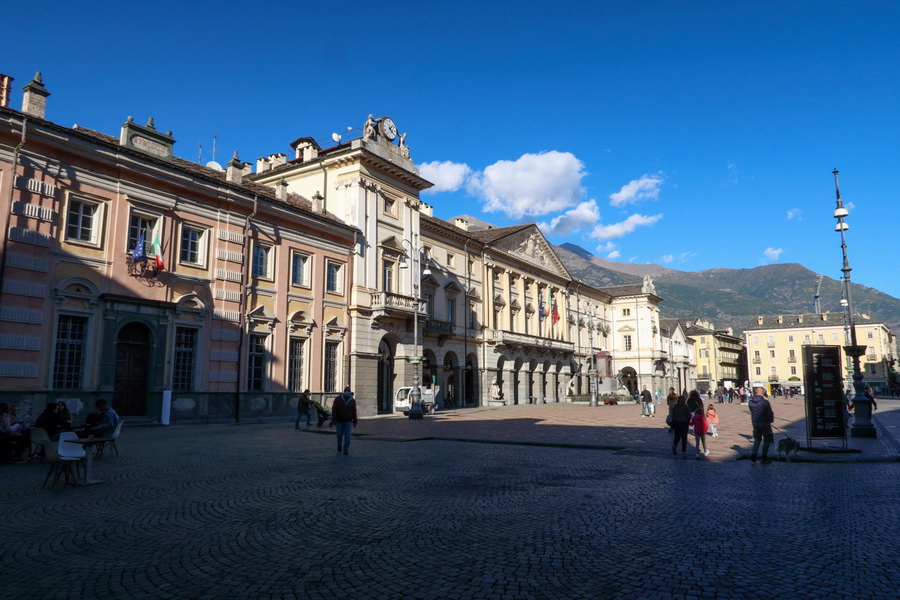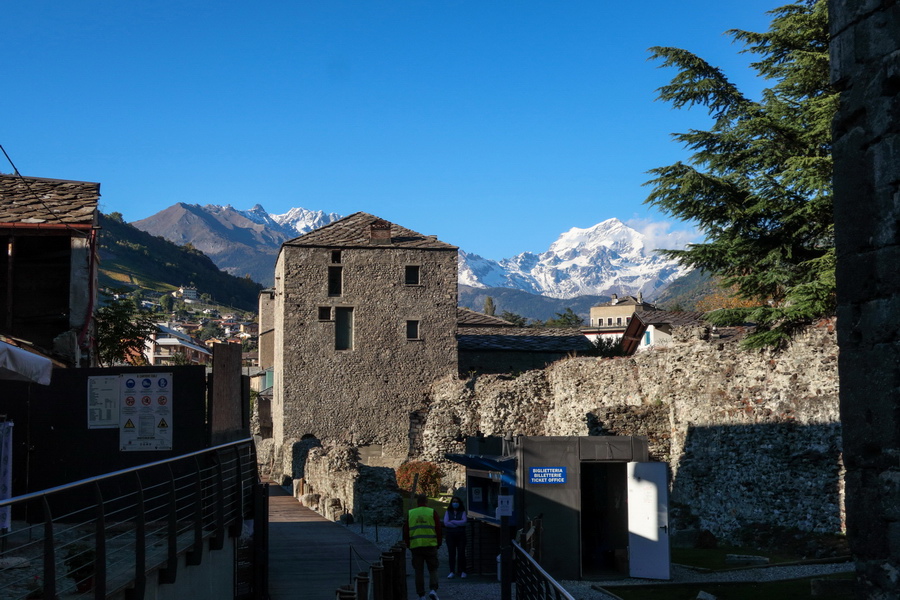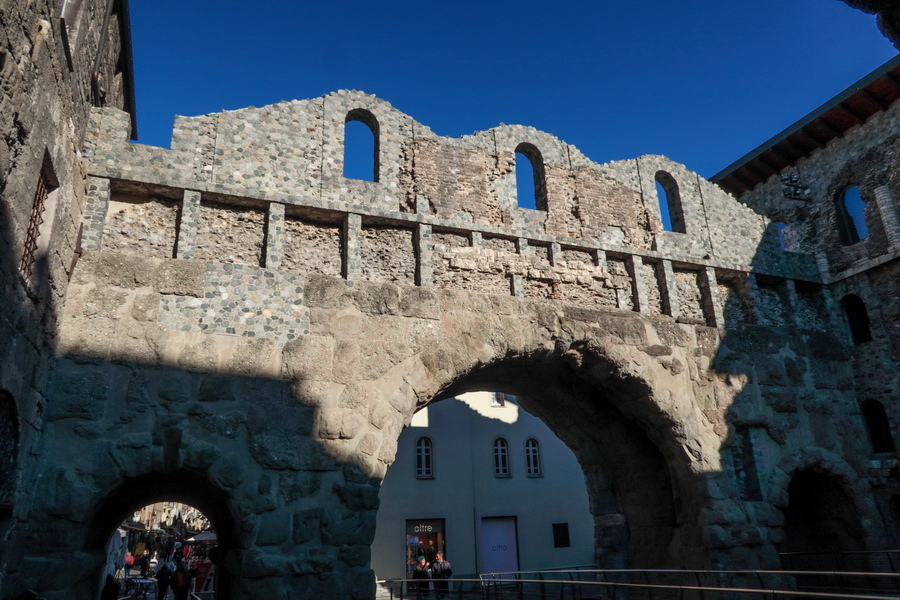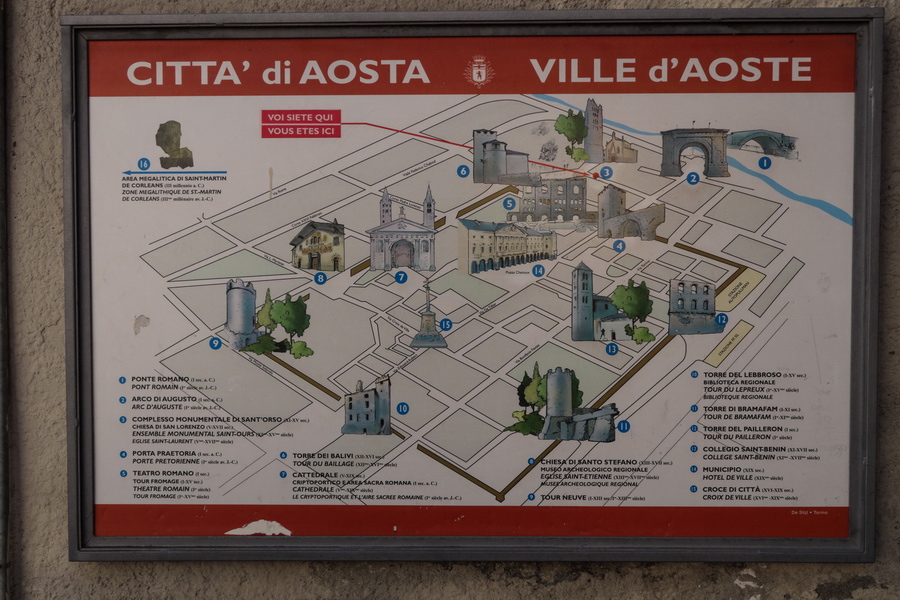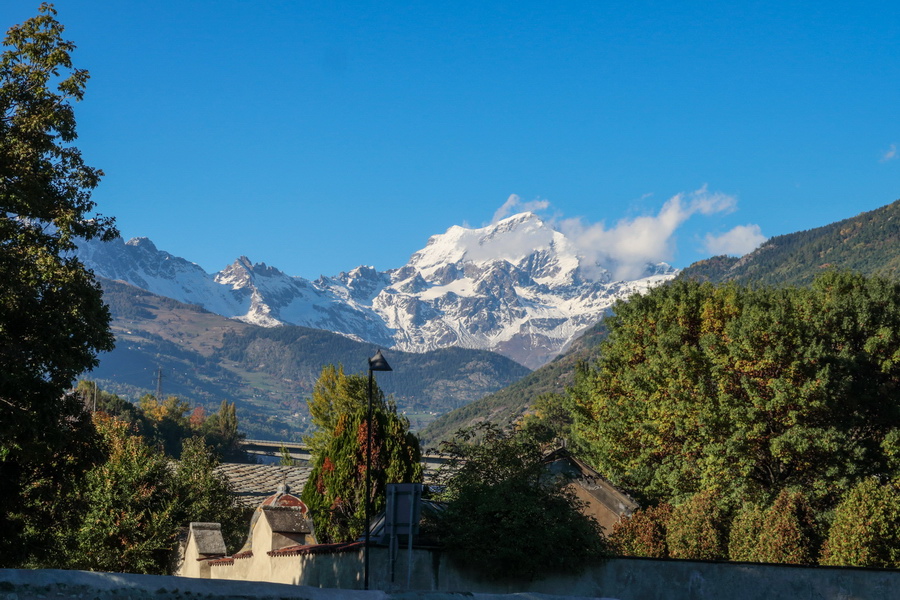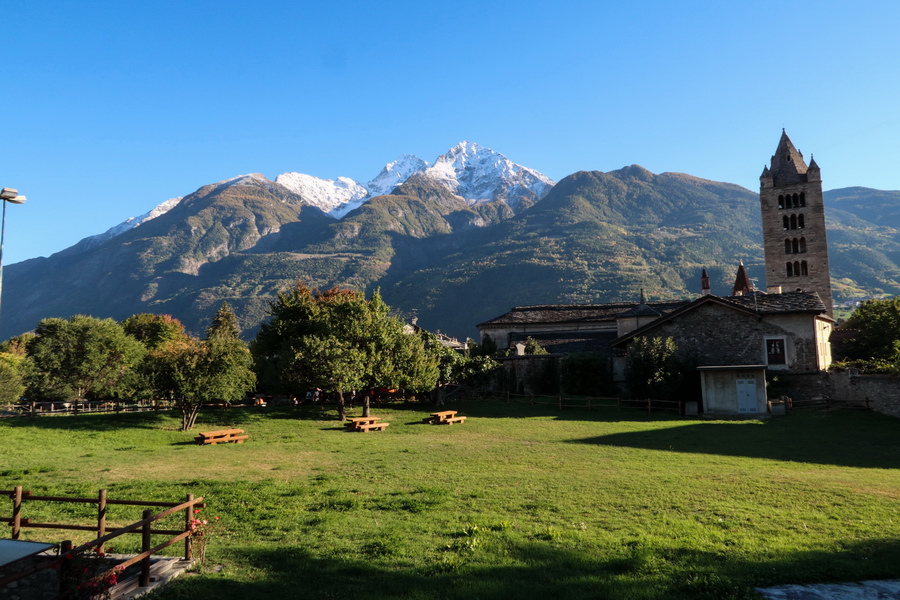 Time to look at getting some panettone to bring back

This shop had every imaginable flavour...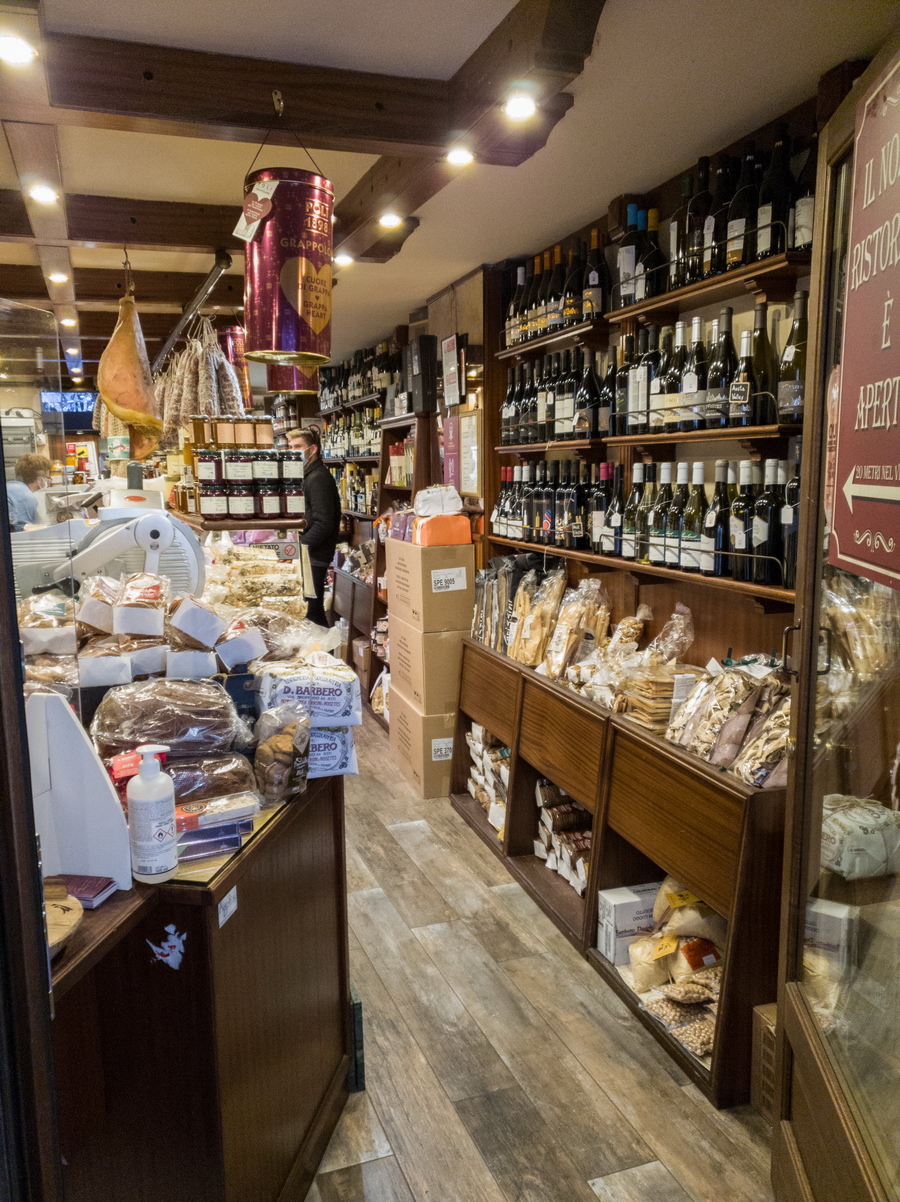 Evening light is good for pics...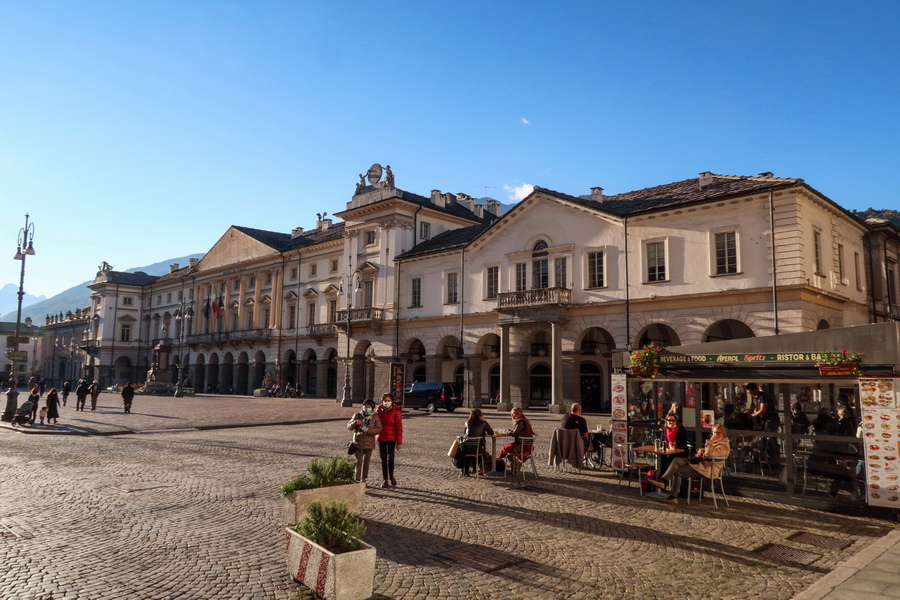 One last hot choc

The hand wipes got used after touching anything e.g. cups, cutlery, etc. A completely crazy world!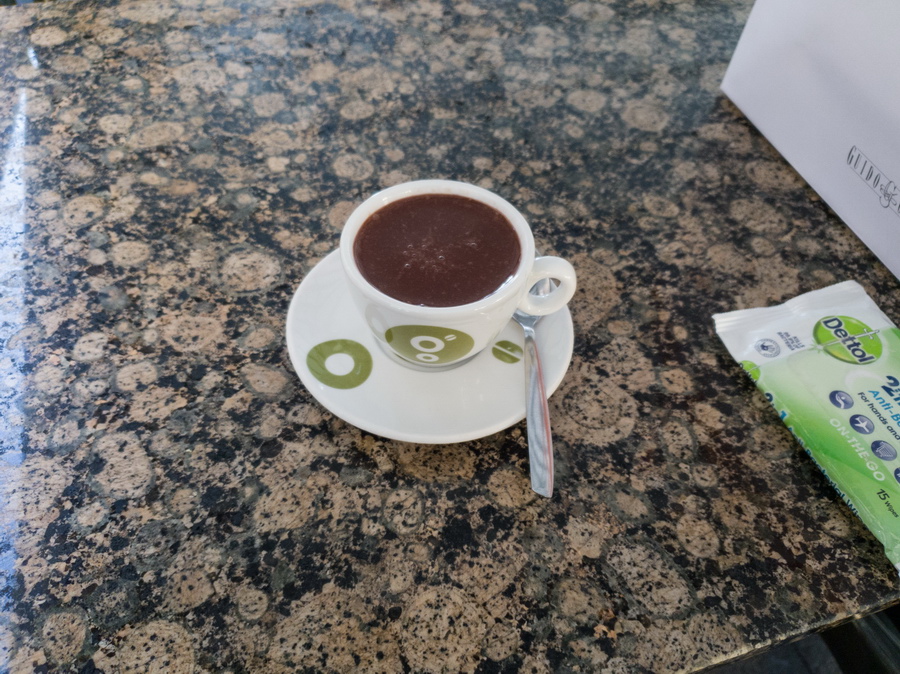 At home we eat almost no meat or dairy - examples - but this is impossible when travelling, and completely impossible in this part of Italy where the choice is pizza, spaghetti, or pizza...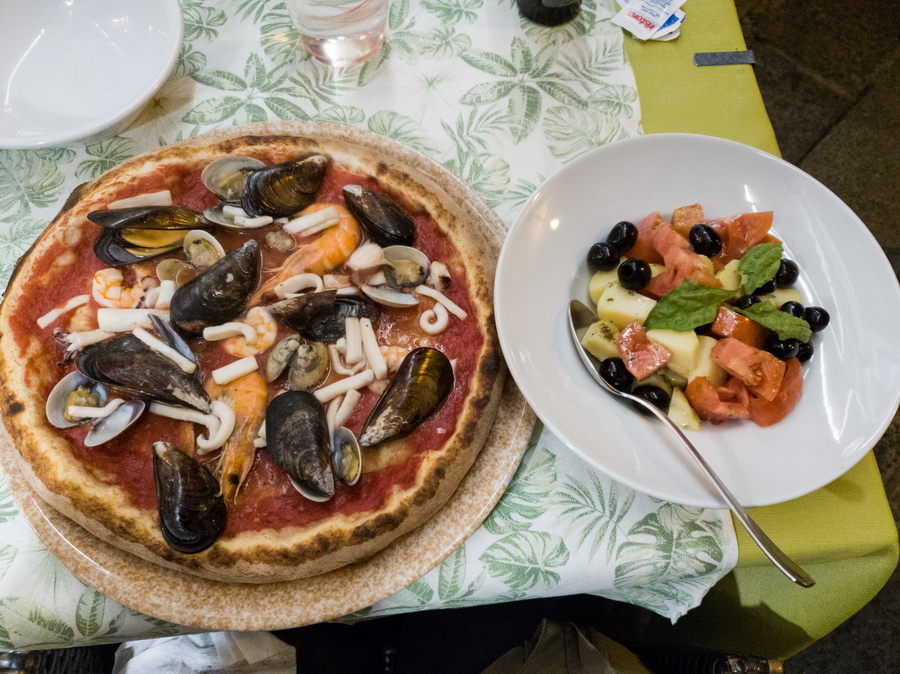 Hotel breakfast brought to the room, to minimise infection risk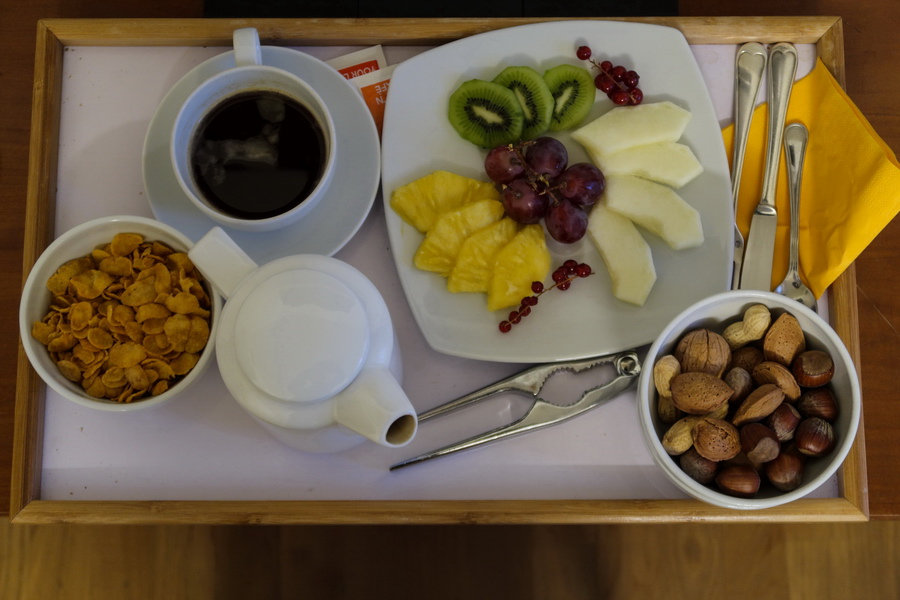 Mission accomplished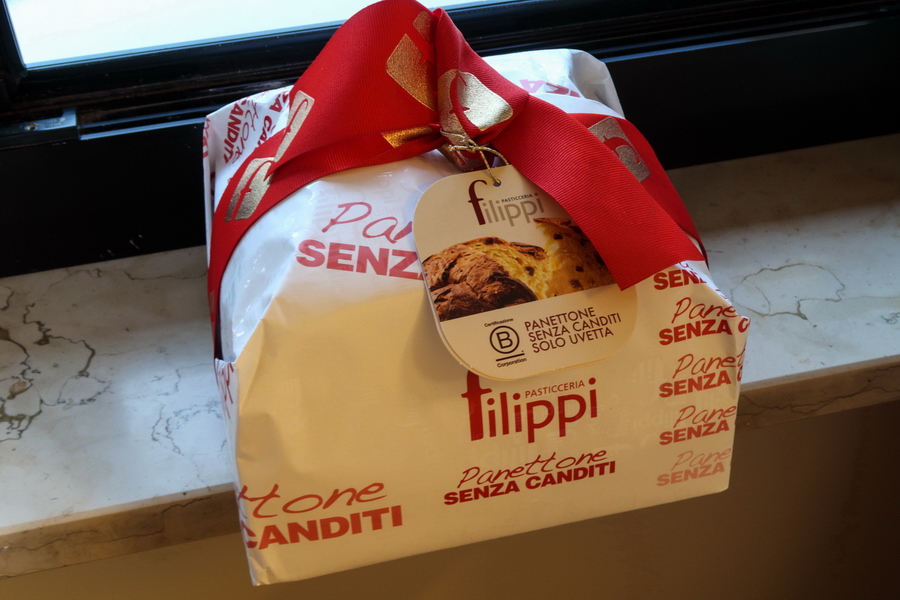 I got this pic just after the guy finished the display and before the first of them was sold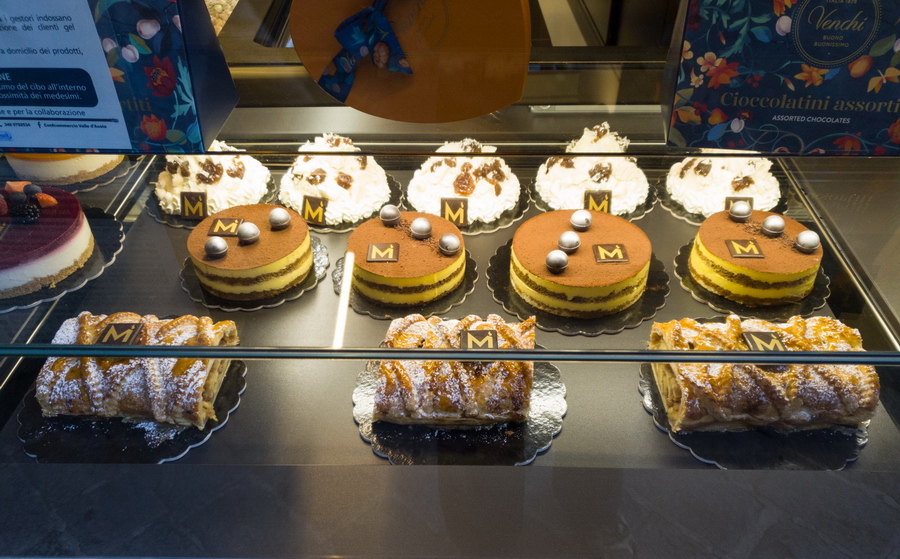 Nice weather on the morning of departure - essential for getting out through the canyons safely. Didn't need any webcams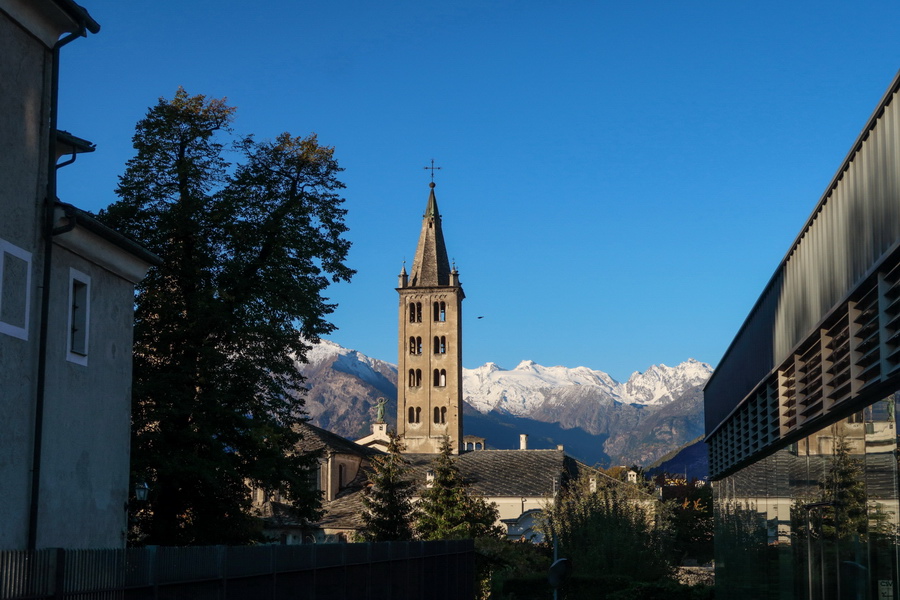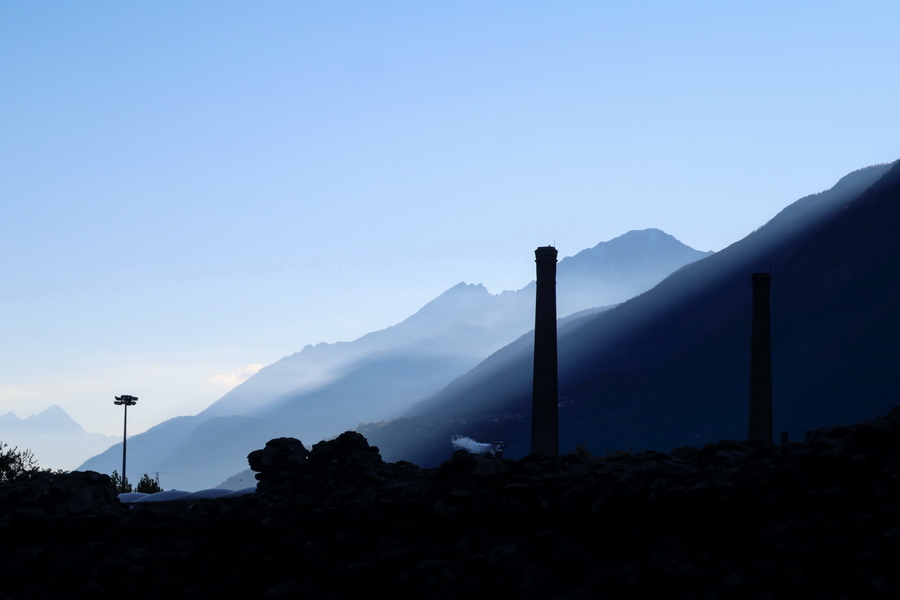 Return flight
The weather was good.
MSLP Tafs & Metars Radar IR Windy.com winds
I normally allow an hour to get back out through an airport but here the formalities were just a few minutes. Accordingly, once ready for departure, I moved the FP earlier to just 30 mins ahead, and luckily didn't get a CTOT; they are much more likely if you file at a short notice.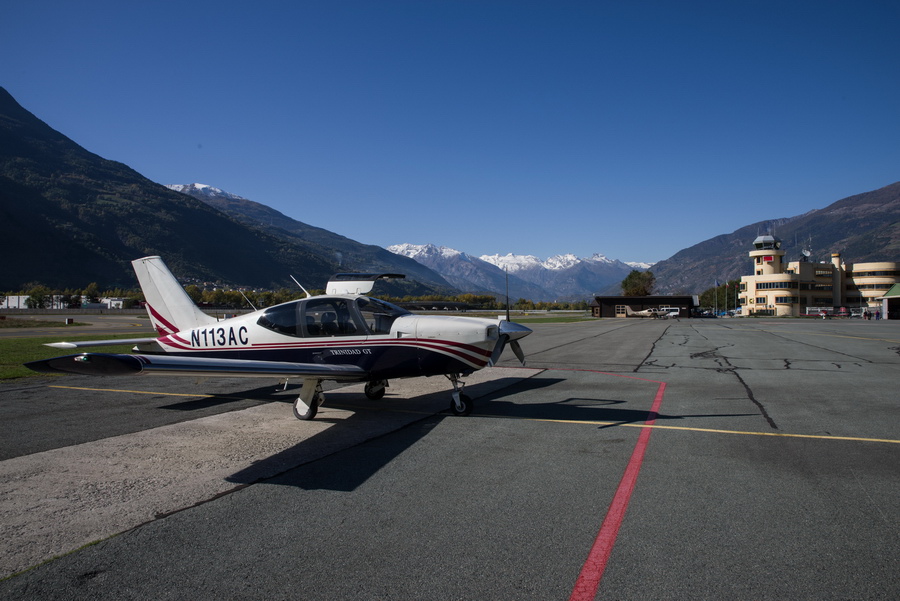 The return route was already loaded; I try to remember to do that on each outbound flight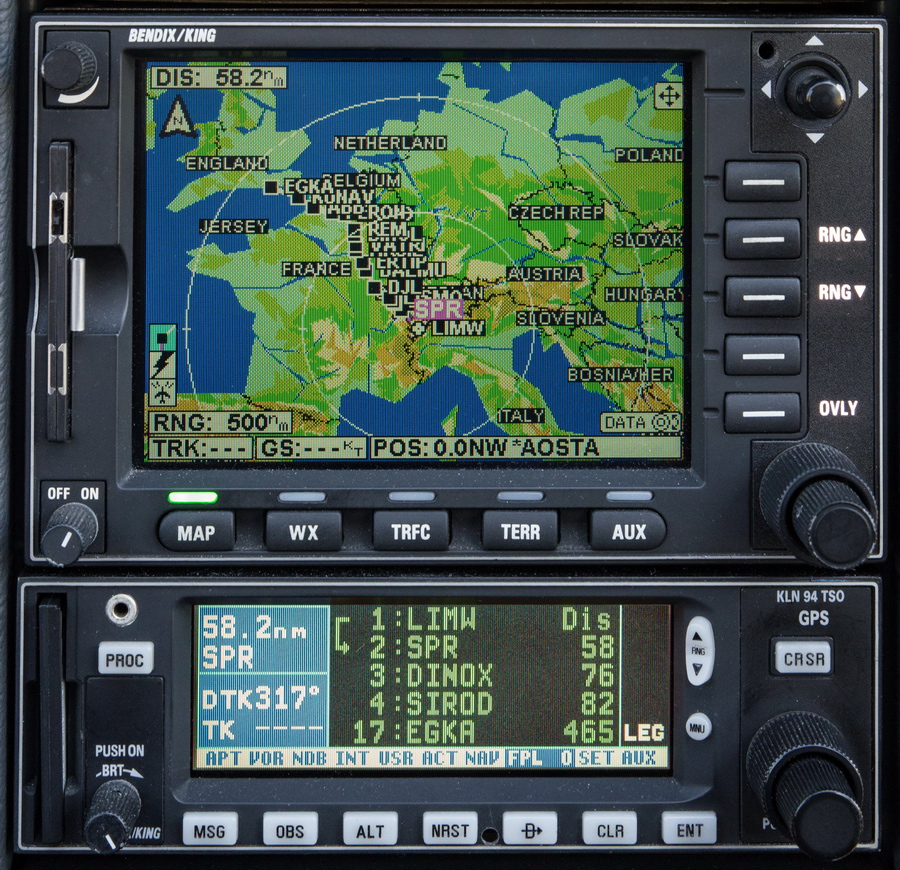 I departed from 27 which goes directly towards Mt Blanc. This is the quickest way but it presents the steepest gradient for the climb. Most GA pilots depart in the opposite direction, climb a bit and then turn around, but I had earlier calculated, from the terrain topography, that the TB20 could outclimb the terrain by at least a factor of 2x.
It is hard to get good photos looking forward while climbing at a steep angle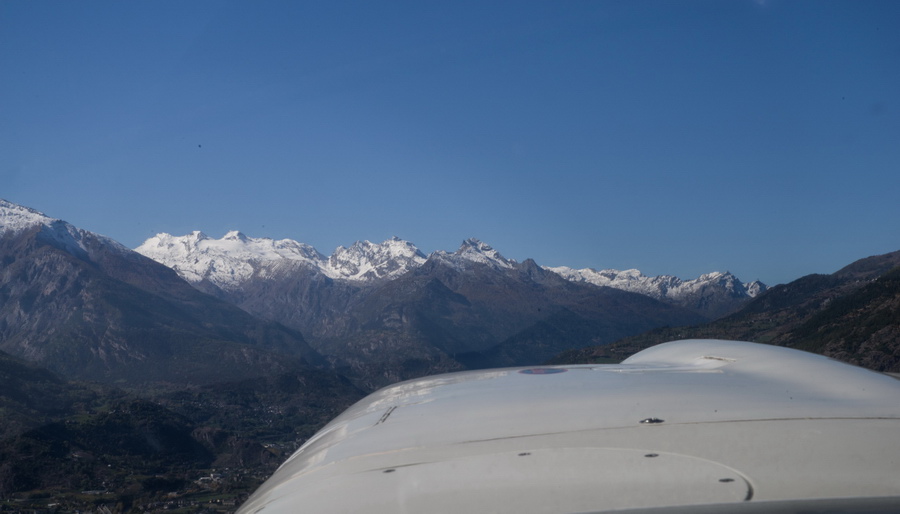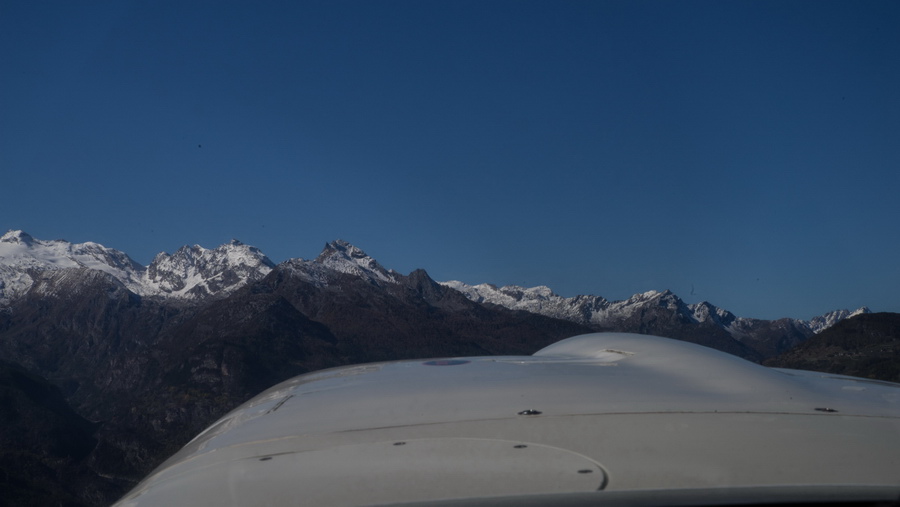 Mt Blanc straight ahead. Here we are not following the canyon exactly, but the terrain clearance is obviously ok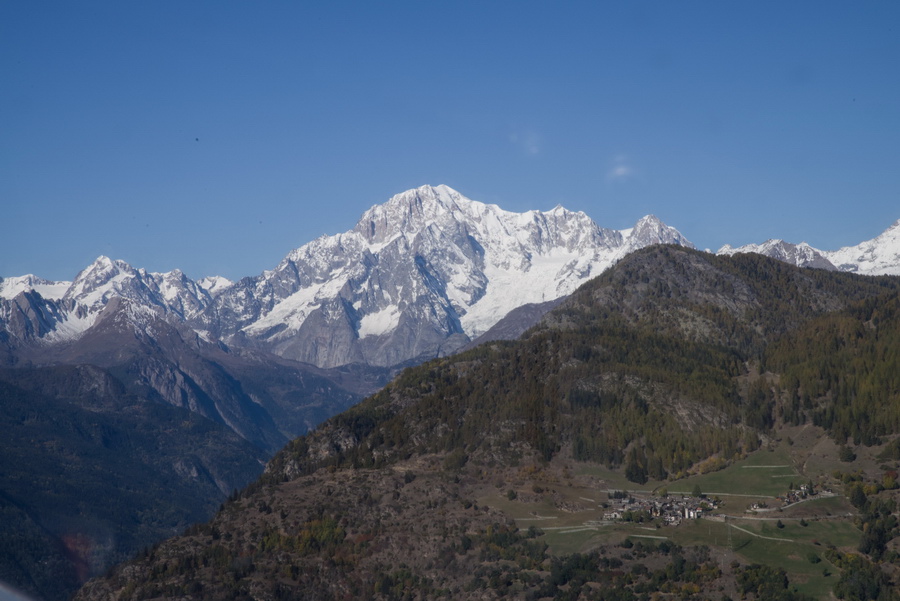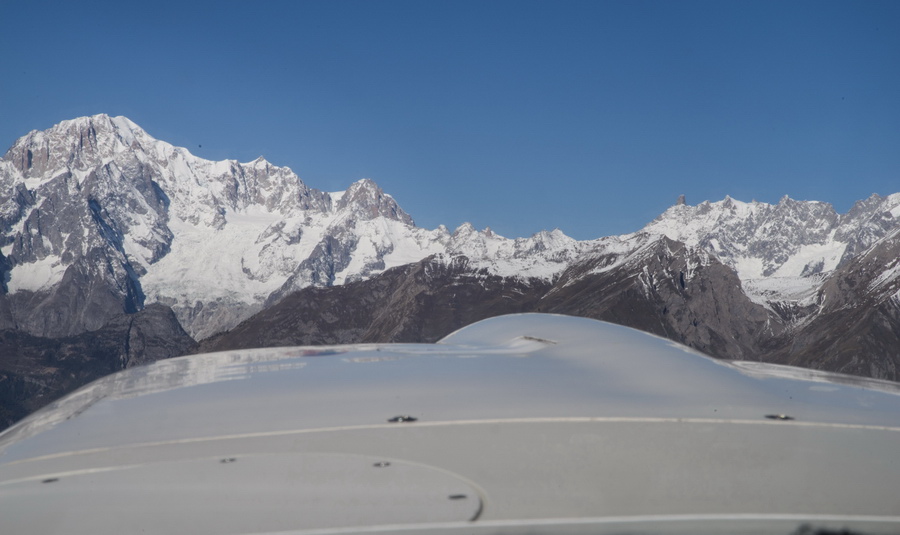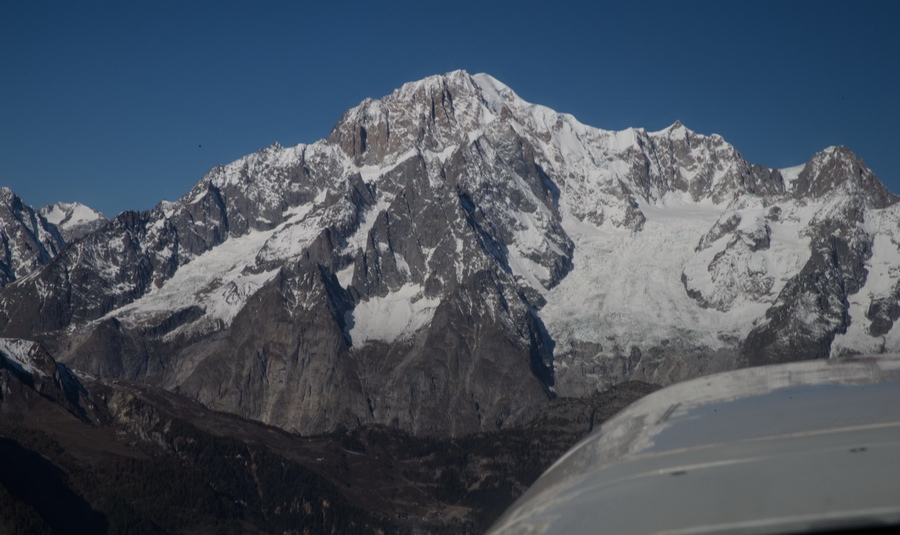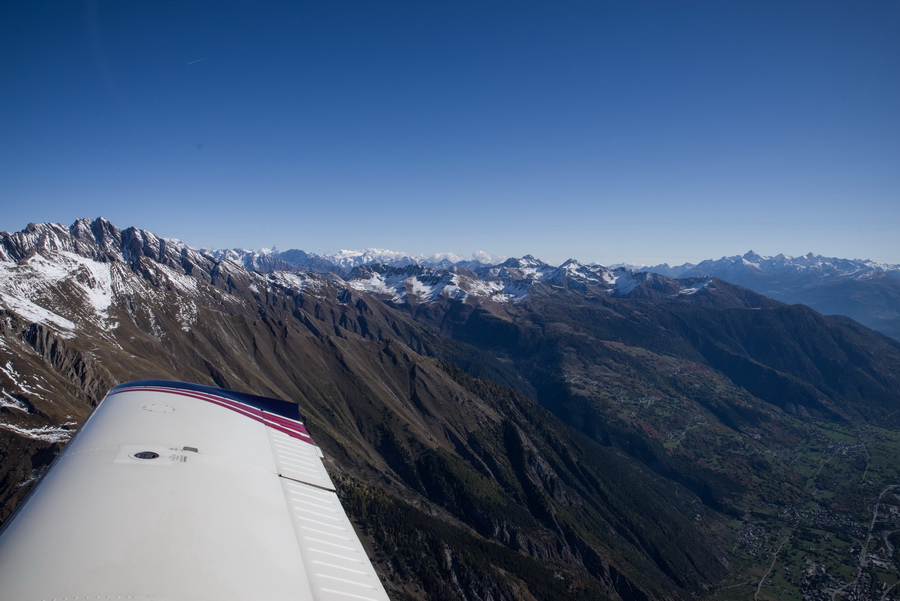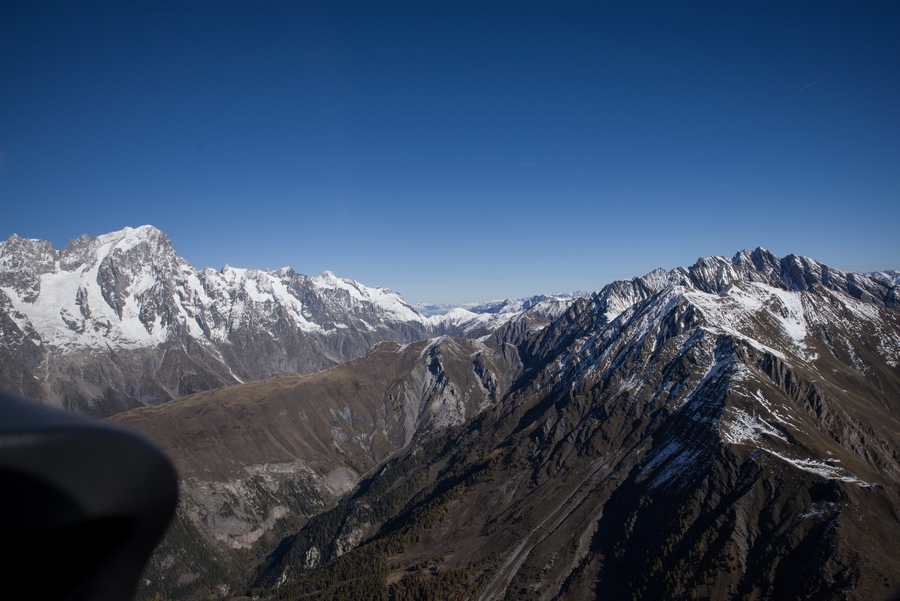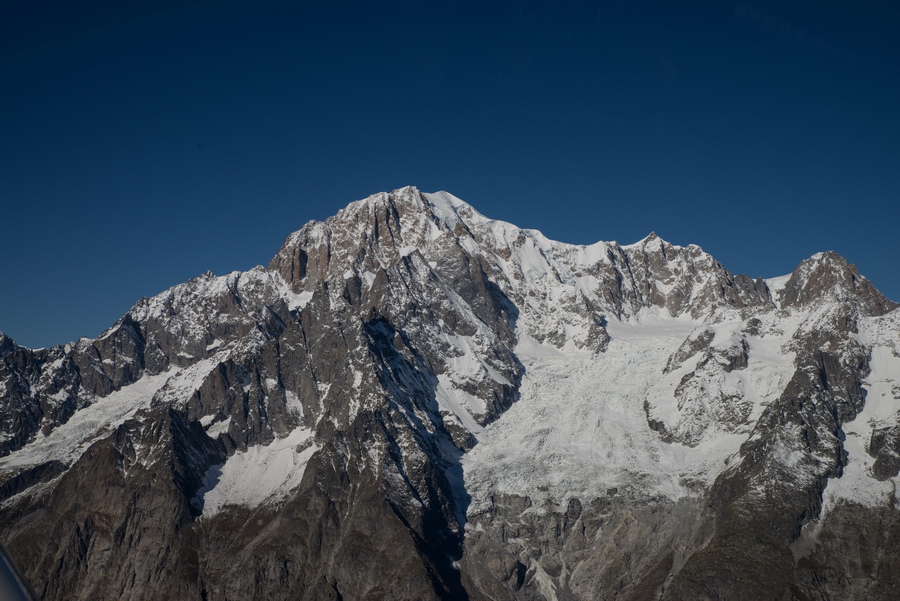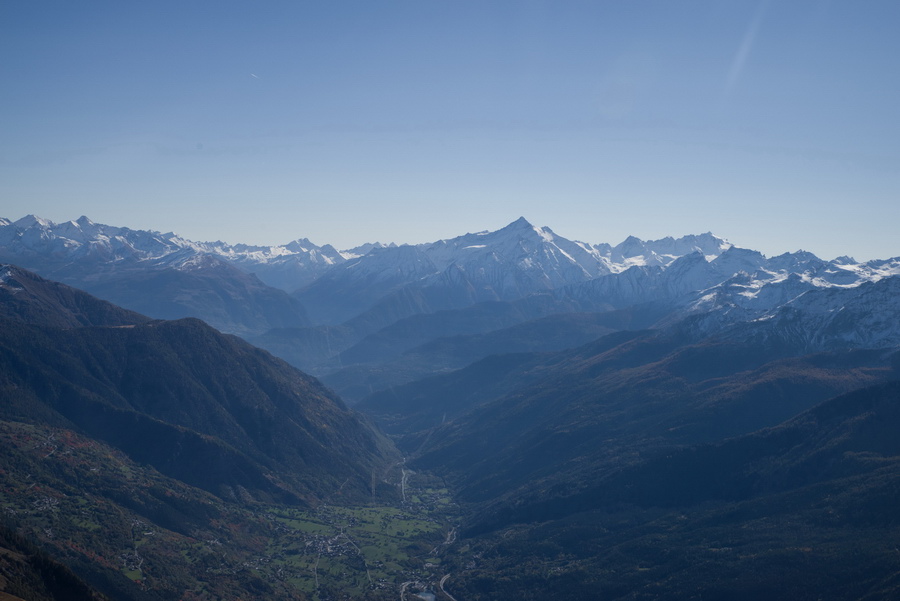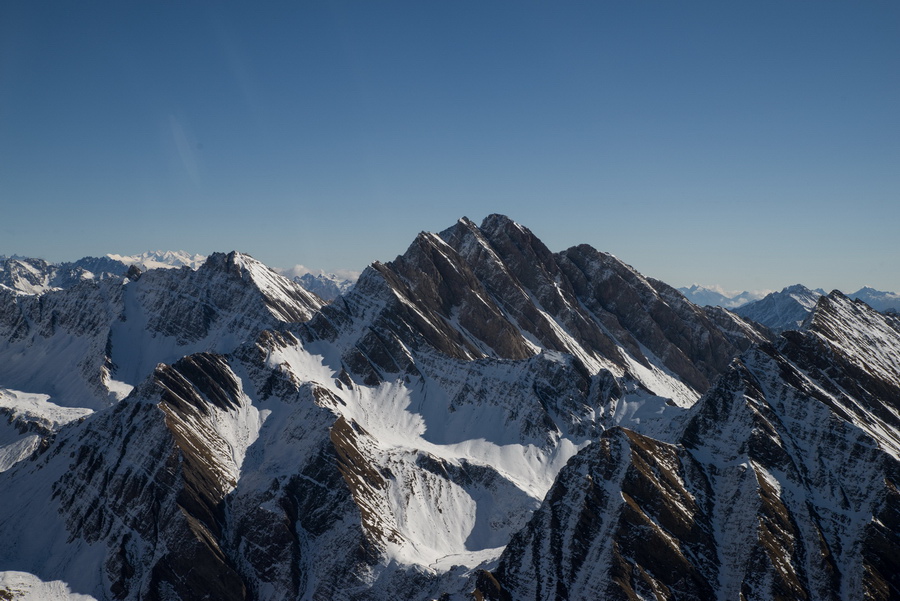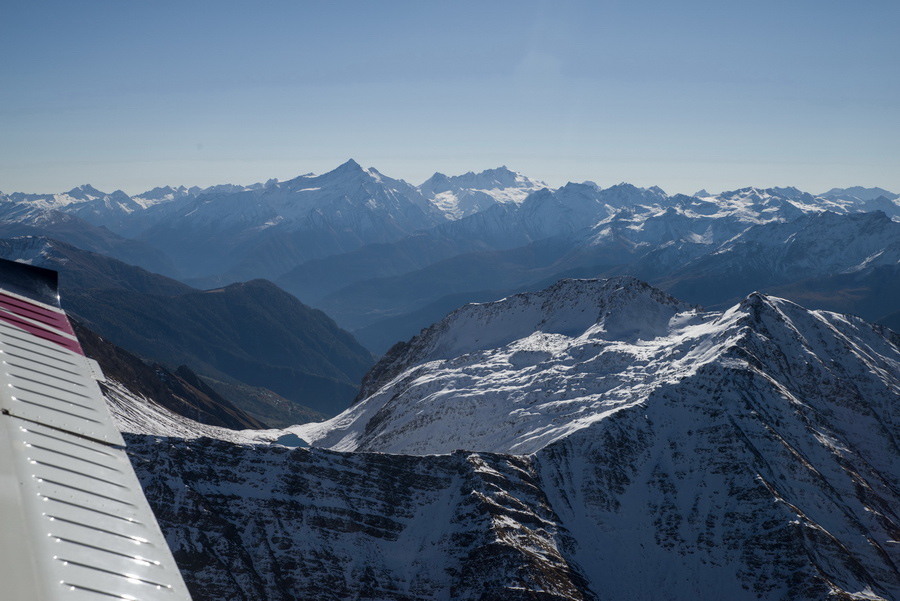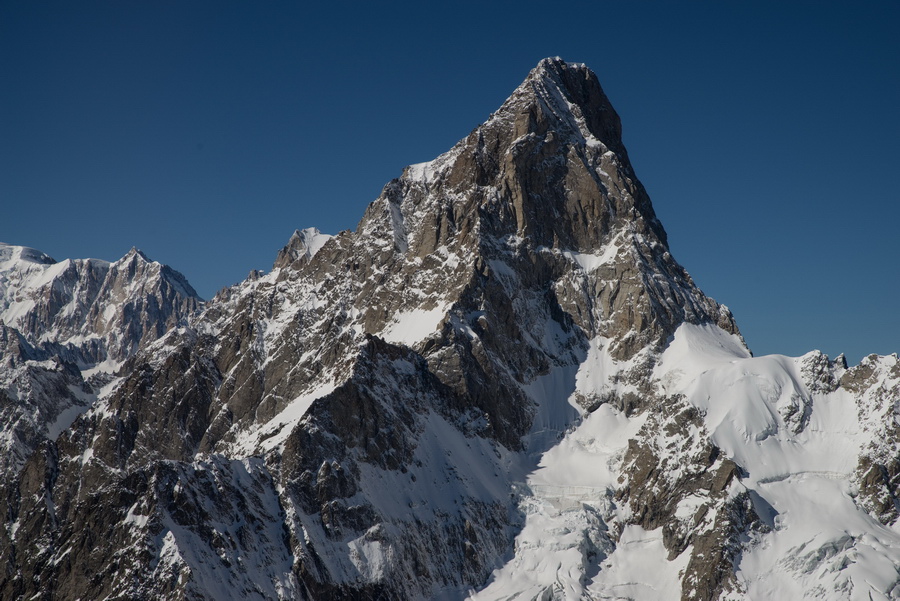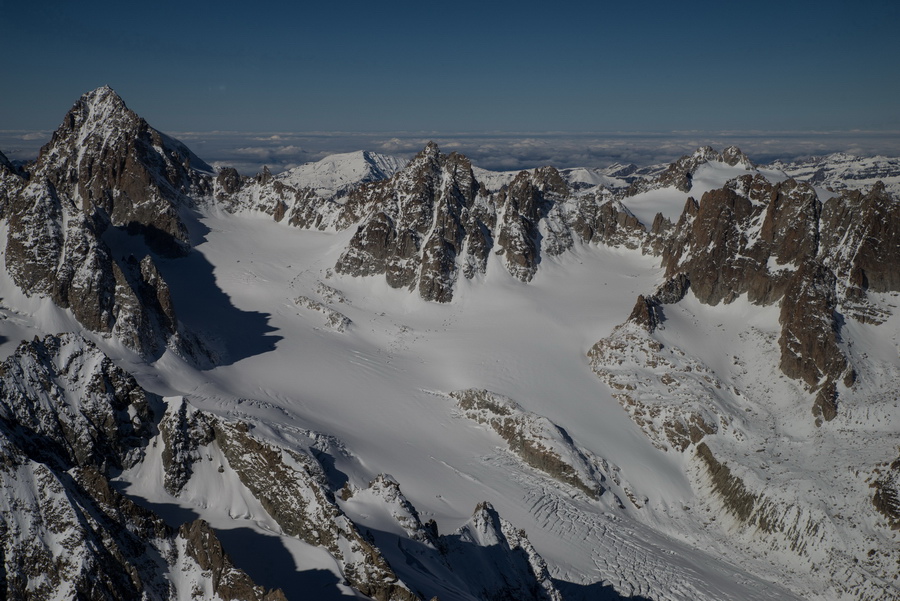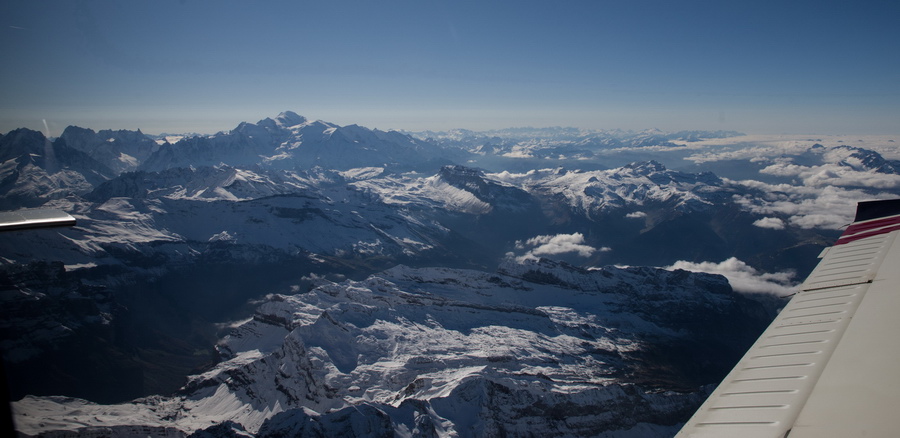 Now around FL130 and changed from Aosta Info to Geneva Info who sort out the IFR clearance. Within the canyons all flying is "VFR" - basically, apart from restricted areas and national borders, nobody cares what you do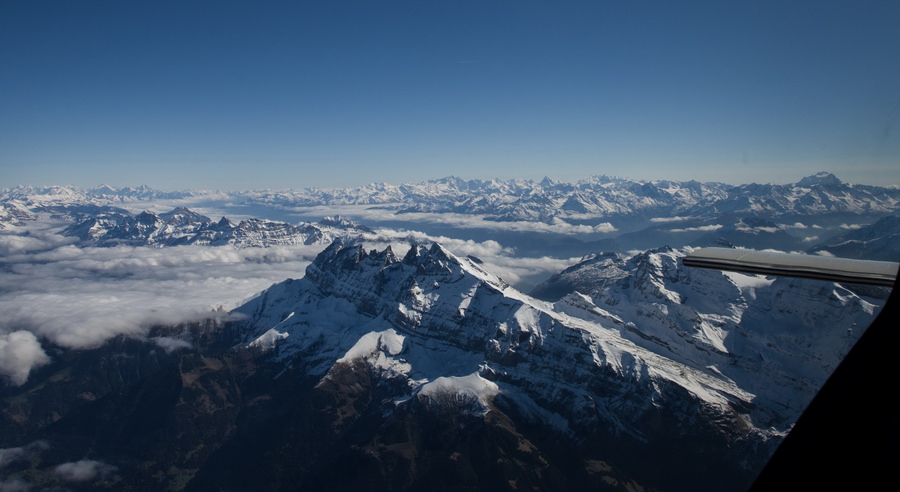 The rest of the flight was above an overcast, but there isn't anything to see anyway over this part of France; just thousands of fields...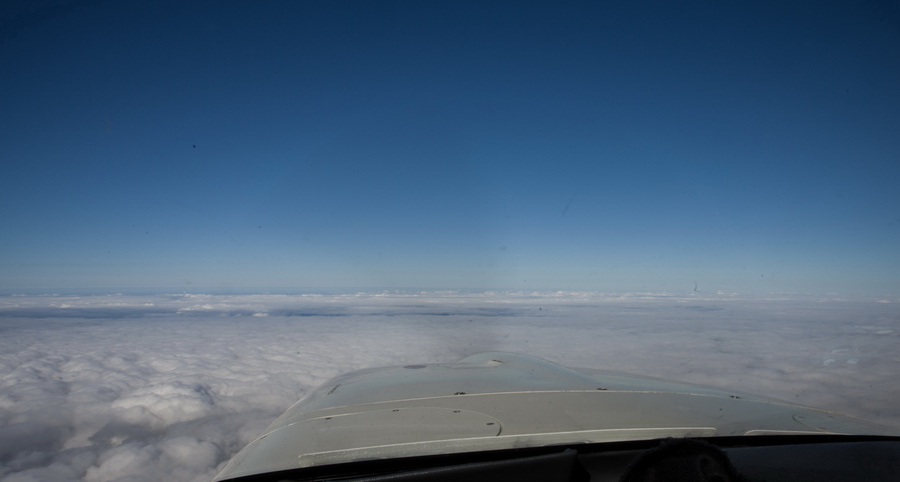 Despite it being Sunday, I got no shortcuts through any of the military airspace east of Paris; ATC claiming it to be active. However, I did get a shortcut through some of the Paris airspace direct KUNAV which is on the UK/France airspace border. London Control usually take over shortly before there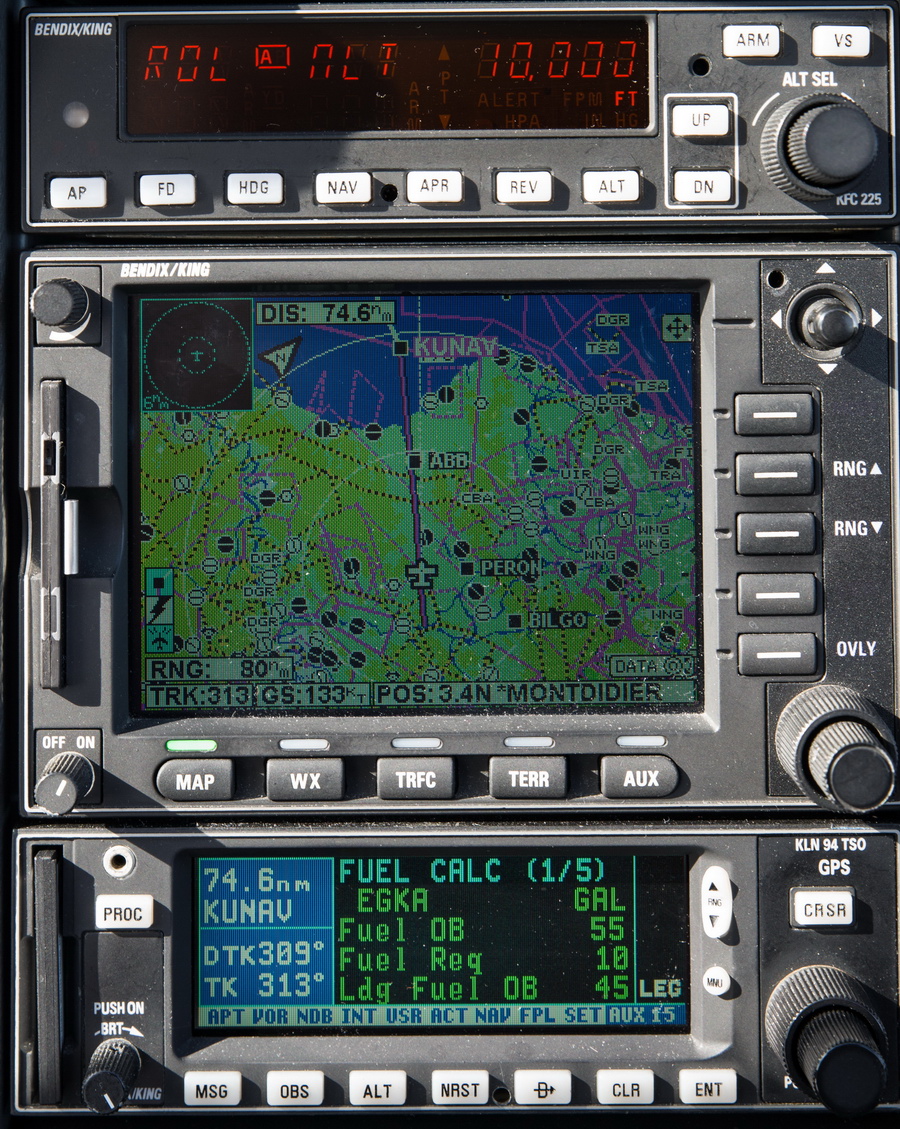 Descending back into a cloud layer near the UK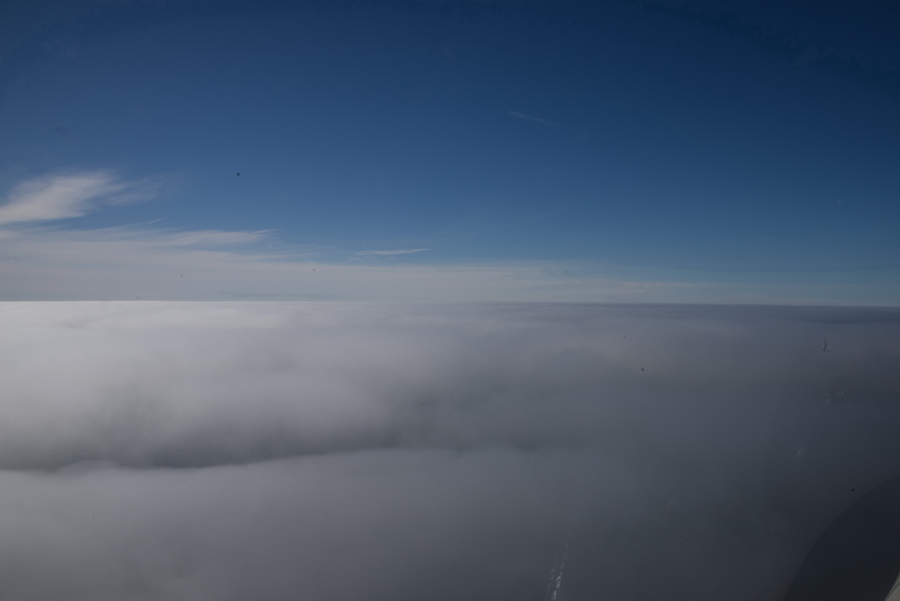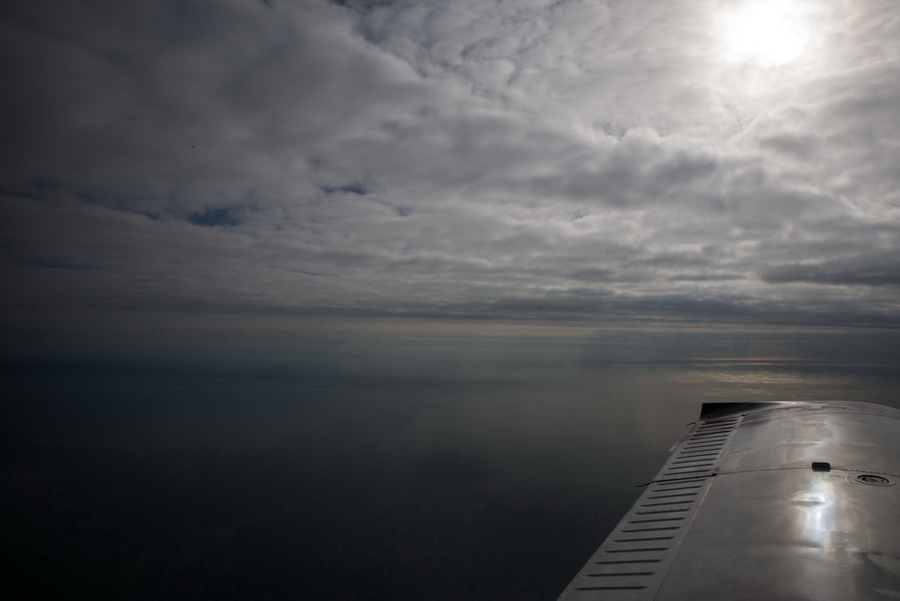 The white cliffs near Seaford, and Brighton Marina. London Control cleared us to leave controlled airspace by descent and change to Shoreham, while still at FL075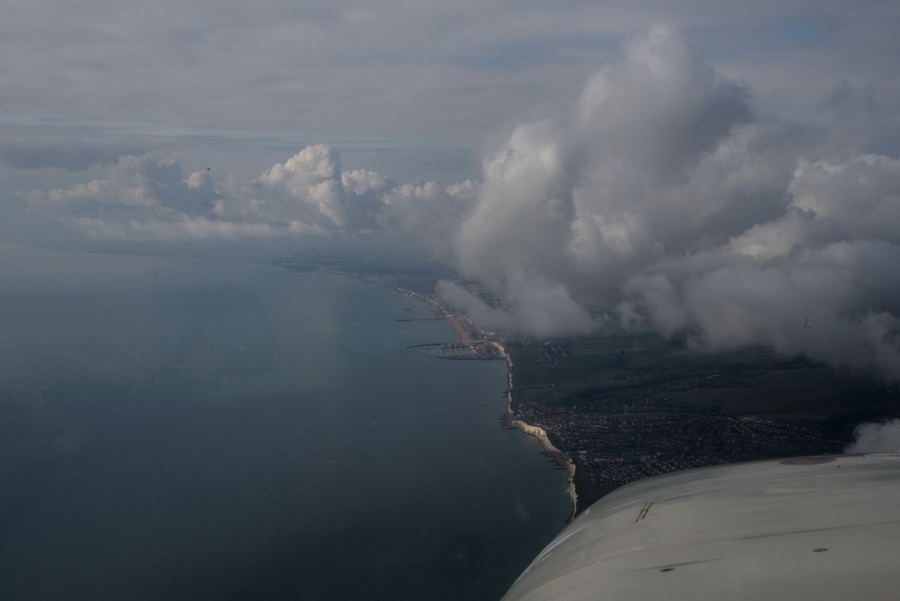 Final approach for 20 into Shoreham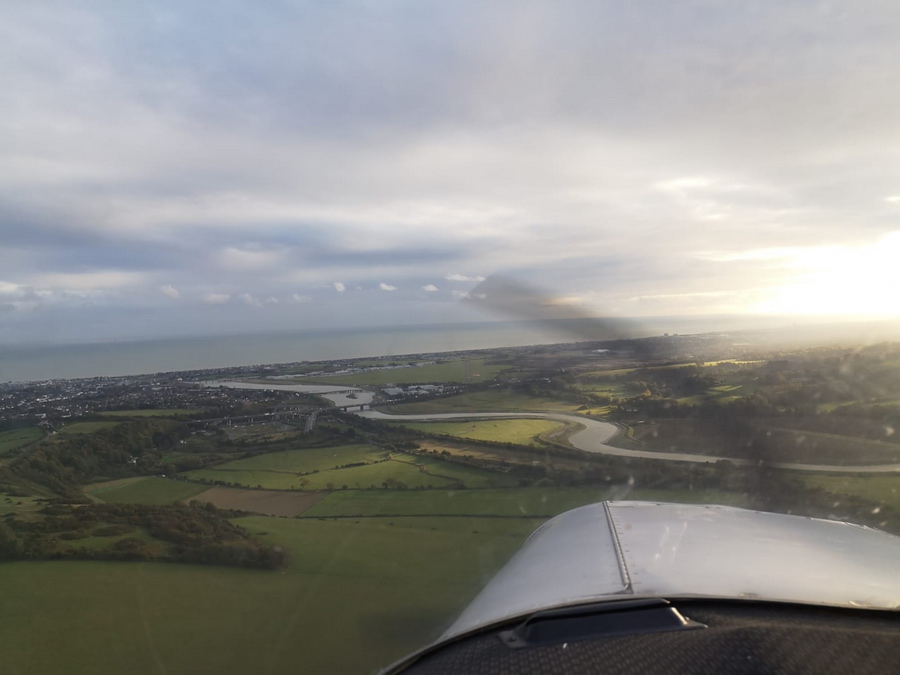 This is the route actually flown (in black)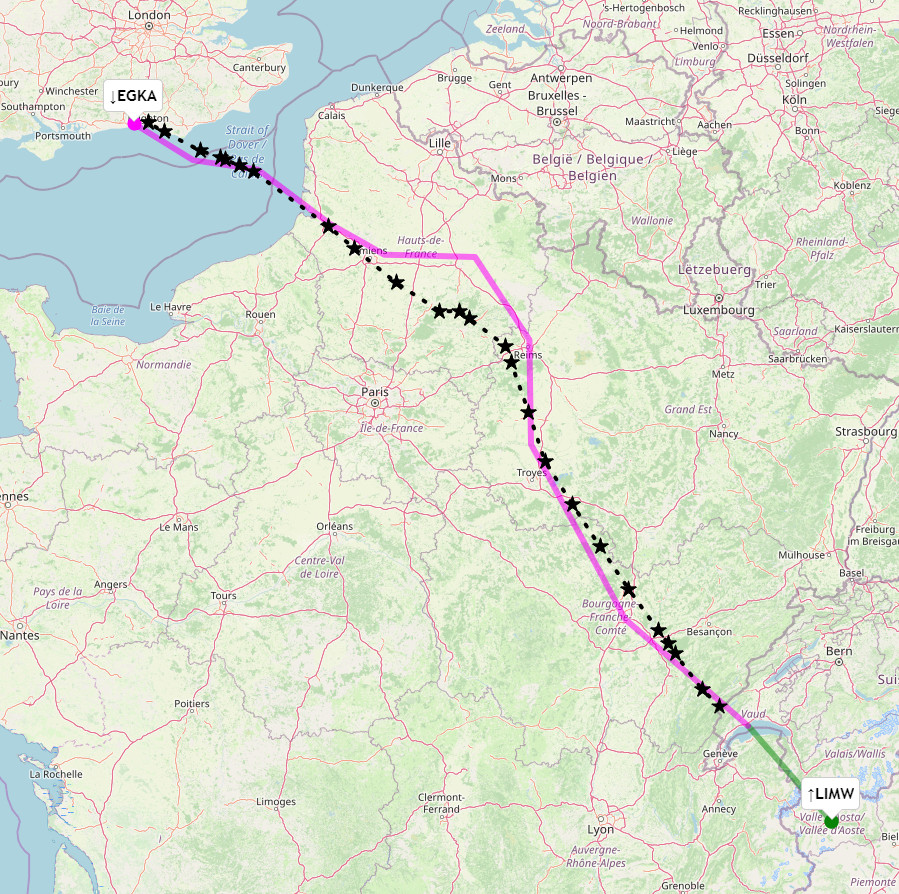 and this is from Flightaware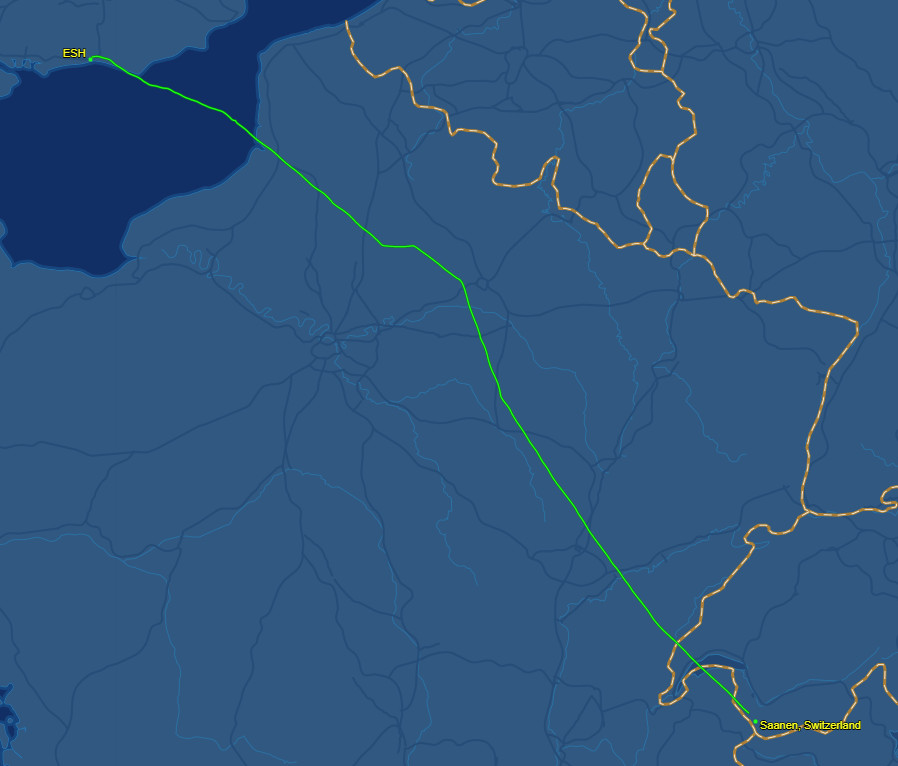 The fillup was just 0.4% off the computed LFOB (landing fuel on board).
It was a brilliant high-value trip, despite being somewhat impractical due to a quarantine imposed on Italian arrivals in the UK at 4am on the very day I arrived!
Here is a photo gallery with a lot more pics:
This is a video containing both flights and the ATC interaction. It was edited to be as useful as possible, to pilots wishing to fly to this or similar destination and to pilots working towards the instrument rating:
Flight times (airborne times)
Shoreham EGKA – Aosta LIMW 3:40
Aosta LIMW – Shoreham EGKA 3:50
The outbound flight could have been shortened quite a bit by not doing the "photoshoot" of the Matterhorn

and flying direct to SVC and descending directly to the airport.
Fuel on landing (US gallons)
Aosta LIMW 43.8
Shoreham EGKA 44.4
For an idea of the reserves, the fuel burn enroute ranges from 11.5 USG/hr at low level to 8.5 USG/hr at FL160.
Airport costs (including VAT) for TB20, 1400kg MTOW, AOPA discount if applicable
Aosta LIMW €42 avgas €1.87
Shoreham EGKA £30 avgas ~£1.69
Contacts
On this trip there was absolutely no issue communicating with the destination airport. Very quick and friendly! EuroGA airport database report.
Oxygen
An oxygen system is practically necessary for IFR in the Eurocontrol system. Occassionally, the weather is nice and one can fly at FL090 or so but most people would still get tired after several hours. Also many routings are not available below oxygen levels, due to controlled airspace structures, and in some cases terrain. Aosta is accessible via the canyons without needing oxygen, but you have no other options then.
On this entire trip the usage was around 15% of the 48 cu. ft. cylinder, for 1 person. Without oxygen I would have not done the trip because one cuts off the top half of the aircraft operating ceiling (the Alps cannot be crossed, for example, and one cannot climb above most cloud) and in the wrong conditions could spend most of the flight in icing conditions and turbulence.
The Value of an IR
On this trip, the flights could have been done under VFR, but differently:
In the UK you will not get into Class A so the UK sections would be capped at say 5000ft max, rising to FL070 later. The UK is operating an extremely aggressive pilot punishment policy for infringements with a "get 100% of them" policy - even for 100ft into controlled airspace!
In France the routes flown would be identical because - below FL120 - it is Class E. Above FL120 it is mostly Class D and France does not allow VFR in this airspace, in a large portion of France, and this can force you into IMC and potentially icing conditions. However, one would generally fly VFR well below FL100.
In Switzerland and Italy the routes would be similar. Italian airspace is uncontrolled in that region. Between the Jura and SPR, Geneva on 119.175 above FL075 for crossing, or fly uncontrolled below FL075 with flight following from Geneva Info 126.35.
Photo Galleries
For the photo galleries I have for many years used the feature in Photoshop, which works well enough. The gallery in this report were generated with Juicebox which has a free version with various limits (e.g. up to 50 photos) and a $45 version which does everything. It runs on Adobe Air and seems to have issues with large galleries on a win7 64bit machine so I run it in a winXP compatibility mode

It delivers good results but has some annoying features e.g. stripping off EXIF data, which should arguably be preserved, or at least be configurable. It also can't process images over 4096 pixels wide which a lot of modern cameras do exceed so I have to downsize them a bit first.
Gadgets
No trip report can be complete without this bit

The photos were shot with a Pentax K1 with a 24-70 ED SDM WR lens but that was used only in the aircraft. I don't carry it around unless going somewhere super scenic. The ground photos were done with a Canon G7X pocket camera which produces photos which far exceed anything from any phone, and a few pics were done with a Samsung S10e phone.
All photos were taken in DNG (or CR2, for the G7X) raw format and processed in Lightroom to crop and remove some haze. This avoids the fashionable but ridiculous enhancements (over-saturation and over-sharpening) which the phone makers do. The other program I use instead of Lightroom is ACDSEE PRO which is easier to use in the way it can be used on any randomly chosen picture folder. Lightroom workflow is a lot more formal, but it is much quicker for uniformly processing lots of photos. For example, I apply +20% vibrance and +20% clarity in Lightroom, to all RAW images. On phone pics I bring down highlights a bit. All these programs try to impose weird workflows which are counter-intuitive unless you work in just the way they want you to...
In theory one could do everything needed on a trip with just the Samsung phone. It can be used to get weather, file flight plans, run the ADL150 app, and of course do all the normal comms with other people. It can even take "ok" photos. But it is too small for any significant typing. So, I have a Samsung Galaxy T705 8.4" tablet. It is functionally practically identical to an Ipad (which I have too, kicking around the house, for web browsing) but is much better for a "power user" because it isn't as restricted as an Ipad. For example it can be expanded with a micro-SD card; say another 128GB. The T705 version of this tablet takes a SIM card and with a contract SIM (I have a Vodafone contract on both the S10e and a cheaper version of it on the T705). This tablet also acts as a "backup phone" because it is a fully functional phone. I have VOIP installed on both the S10e and the T705, via the Localphone VOIP service which works most of the time and this delivers extremely cheap outgoing calls. On the phone I use the CSIPsimple VOIP app and on the T705 there is a built-in VOIP function which seems to work.
One cannot beat a laptop for productivity, for any significant amount of typing, viewing approach plates, AIPs, etc, or completing forms such as the UK GAR or - in coronavirus times - the Public Health Declaration form. The last two forms are 100% checked by UK police on GA arrivals. I use a Dell XPS13 (I have the older XPS13-9360 version with a 1920x1080 screen) which is does basically everything anyone could ever need and with the quad core I7 processor is very fast - good enough for movie editing/rendering and faster than most of today's ~3GHz desktop computers. Normally I don't bring the laptop on short trips like this but I did bring it this time because there was a small possibility of something crazy happening e.g. Italy suddenly imposing a quarantine on all arrivals, or imposing a virus test which I fail, and any of this could result in me getting locked up in Italy for weeks or even months (until two successive negative tests are done) and then I would certainly like a laptop

In the aircraft I run my S10e phone and the above mentioned T705 Android tablet. Both also run the app for the ADL150 satellite weather receiver.
This page last edited 29th October 2020