Trip to Brac, Croatia, September 2016
This trip was for the EuroGA fly-in on Brac. It was intended to continue to Greece for a friend's wedding on Lesbos but we cancelled that part due to a number of factors which included the weather. The dates were too tight for the flexibility required in GA travel.
This trip report is relatively brief because I have been to Brac before and written it up - e.g. here. The most notable differences on this trip were the turbulence and headwind encountered down the Adriatic on the way there, and flying back to Shoreham nonstop on the way back.
I have also included a few flying videos.
Here is a glossary for non-aviation readers.
Pilot
FAA CPL/IR, EASA PPL/IR, ~2300hrs.
Aircraft
The aircraft is this 2002 TB20GT; one of the last made before production ended.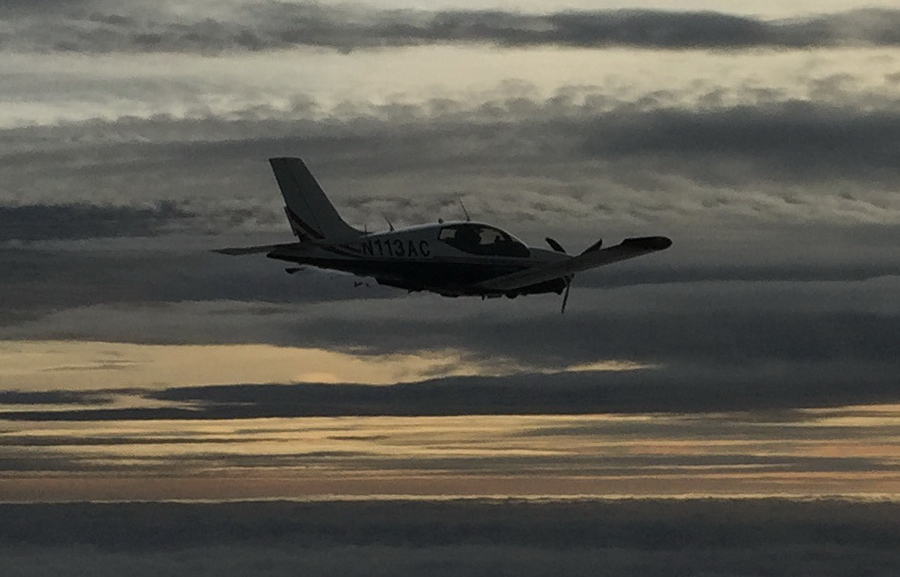 It is equipped for BRNAV (RNAV 5) and can fly ILS and GPS/LNAV approaches using the autopilot. This is sufficient for all practical European IFR flight. The cockpit is largely as delivered in 2002, with a Sandel EHSI installed on the LH side and with the RH side reworked with another Sandel EHSI and arranged to form a usable "pilot panel" so the aircraft can be flown from the RH side. There is no LPV approach capability but LPV is not yet (to me) operationally relevant in Europe especially if flying to/from the UK which normally needs an airport with Customs/Immigration.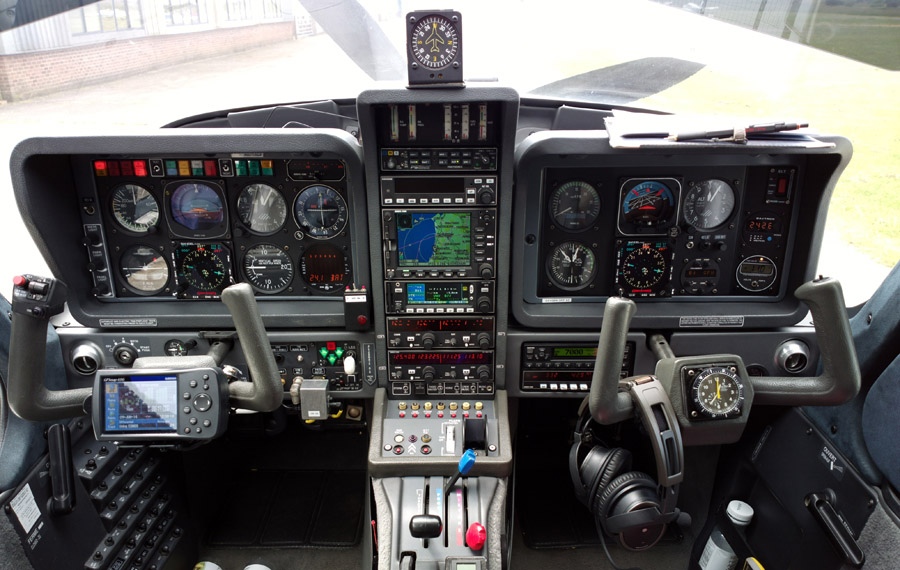 The aircraft has an operating ceiling of 20,000ft in ISA conditions. I have taken it to 21,000ft but in the fairly common summer conditions of e.g. ISA+15 it will reach 18,000ft at MTOW.
Routes
These were developed with the EuroGA autorouter which was also used to file the flight plans. This facility is currently free. It does IFR flight plans only. A wiki on it is here. The only options for autorouting are the aforementioned, RocketRoute (which is expensive), and a free PC tool FlightPlanPro which was developed by one of the RocketRoute people before RR came along and which I use as a backup. A lesser known option is MT Blitzplan which has been around for many years but never acquired a broad following in GA due to being tied to an expensive custom-made tablet computer.
The outbound route was filed initially at FL080 and going up to FL150 over the Alps:
N0150F080 SFD Y803 DVR L9 KONAN/N0152F110 L607 SUXIM DCT AGBUL DCT OLIVI DCT MND DCT OKIBA DCT ABTAL L173 RIXED DCT ROKIL DCT BAVAX M867 MUN/N0146F150 M867 NIPEL/N0150F120 M867 ABISO L608 DOL/N0152F100 L868 ROKSA/N0150F080 L868 GISER L862 SPL SPL5N
885nm as filed
825nm GC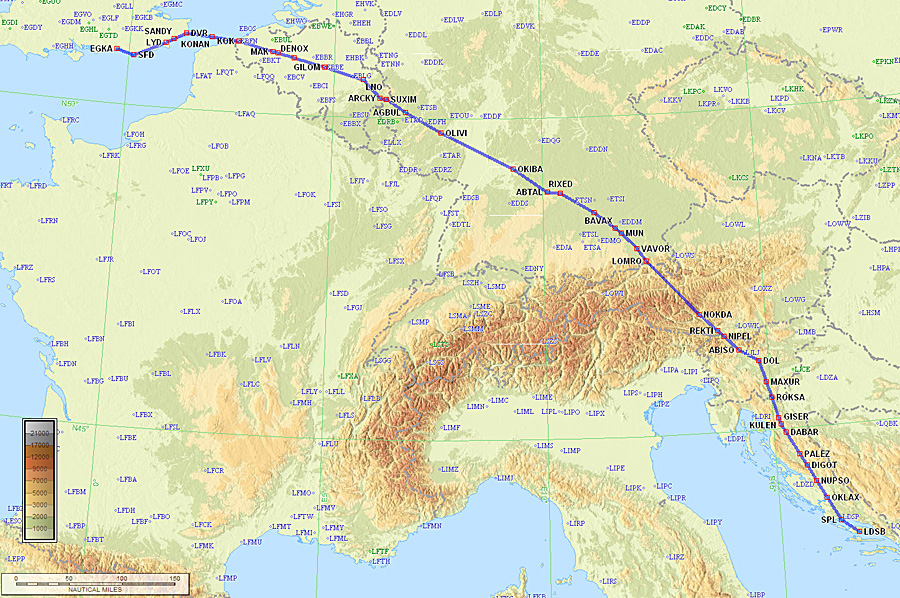 The return route went up to FL140. The section over the Alps which you can see below has the lowest MEA of all the routes around the middle of the Alps, but it was chosen for a different reason: it enables a fair bit of fuel to be burnt off before reaching the Alps, which gives a better maximum altitude and equally importantly provides a good opportunity to view the cloud cover over the Alps and if this appears too high then the flight would divert to the south-west to land at e.g. Cannes in France, bypassing the Alps. In practice, if the cloud cover is not too high, I ask for shortcuts to straighten-out the dogleg over N Italy so this route is more efficient than it looks.
N0152F110 SPL4T SPL L607 ZDA N606 PUL P11 ROTAR L615 INBUT N503 VIC L615 LEGLO/N0148F130 L615 DESIP N851 UTAVO/N0147F140 N851 SOPER/N0148F130 N851 ELMUR/N0150F120 L613 HOC G4 HR/N0152F110 G4 RLP B3 BILGO H20 XORBI H40 NEBRU/N0150F120 H40 ABB N20 KUNAV/N0151F090 N20 ELDAX/N0150F080 DCT HARDY/N0145F040 DCT SFD
923nm as filed
825nm GC
Flitestar plog Ignore performance and fuel data - I could never edit the model without crashing the program. I plan by working out a reasonable fuel reserve (whose size depends on the alternate options), ignoring any forecast tailwind and taking the highest forecast headwind, and then when enroute I use the LFOB (landing fuel on board) from the GPS-linked fuel totaliser to decide whether to continue or divert.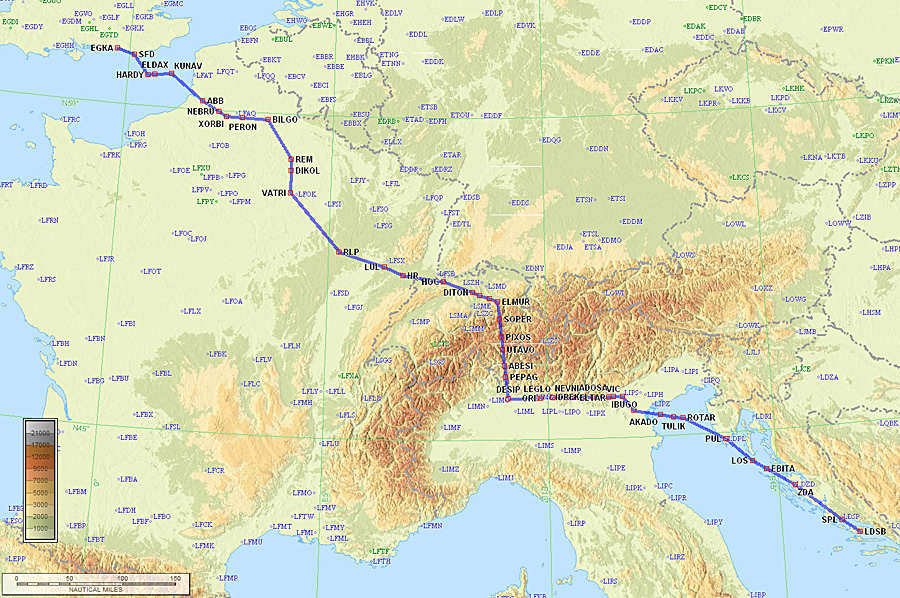 Note that Brac LDSB is mostly without a manned tower and during these times it requires the flight plan to be VFR so if flying IFR you should file Z or Y. I didn't know about this but it still worked

Airport PNR/PPR
Brac LDSB requires none of this, unless you want to arrive out of operating hours in which case they ask for 24hrs notice and the charge is €50 per extra hour. Brac closes 1400 UTC (except Saturdays) and this makes TB20 flights from the UK a bit tight on time. So I usually ask for this extension, but it isn't charged if it isn't actually used. I have not had to use it yet and I have done several flights Shoreham-Brac.
Brac opening hours depend on part of year (winter or summer) as well as on parts of summer: for the last few summers the opening hours were:
From the last Sunday in March until 31 May all days of the week 0600 - 1400 UTC.
01 JUN - 31 AUG days 1 2 3 4 0600 - 1600 UTC and days 5 6 7 0600 - 1800 UTC (Monday=1).
01 SEP - last Saturday in OCT days 1 2 3 4 5 7 0600 - 1400 UTC and Saturdays 0600 - 1800 UTC.
Saturdays in last mentioned period depend on charter and regular flights. That's why Saturdays are different from the other days of week.
Accommodation
With GA travel, there is no short-notice cost penalty so you can stay at home until the destination weather is good. The short-notice hotel issue can be tricky but AirB&B and Booking.com can be very useful and are widely used by pilots.
Booking.com is mostly normal hotels although many apartments appear on it also, hence it tends to be "hotel prices". In fact I use Booking.com as the standard way to look for hotels. It is generally better than AirB&B for short-notice trips because you get a guaranteed booking right away whereas with AirB&B you "request" the apartment, and many AirB&B hosts play silly games and take up to 24hrs (the max allowed time) to respond, presumably in the hope of getting a longer-duration booking. Many hosts simply don't bother to reply, and this gets much worse during the busy season. Fortunately you can cancel your request if you don't hear back within a few hours. The other problem with AirB&B is that you get every "broom cupboard" on it, so one should not go too downmarket... in one €40/night apartment we had sewage coming up through the floor! So, when looking for an apartment for several people, I normally look at apartments priced around the cost of a single hotel room - say €100/night. However, if you have a few days to play with, AirB&B is usually much better value for money; in most cases one can get a whole 2- or 3-bedroom apartment for the cost of the €100 hotel room. One issue with Booking.com is that most of the establishments offer only 1 room on it (to make it look like they are nearly fully booked, to scare people into booking something fast) which can make it impossible to book for a group; this is solved by googling for the hotel and contacting it directly. Normally the hotels prefer that anyway because Booking.com takes a cut of at least 15%. But occassionally one finds a lower price on Booking.com, and I have just had one case where the hotel flat out insisted that the Booking.com price could not possibly be right - until I booked it through it and they "realised" they lost a few hundred quid

Shoreham - Brac (diverted to Split)
The weather was generally good but with some dodgy stuff at the Brac end. MSLP: 0600 1200 1800 IR Sferics Radar Gramet Winds TAFs/METARs. It was OK to fly it because I can get the weather while airborne (using either a Thuraya satellite phone connection, or a normal smartphone and its intermittent 3G/4G connectivity) and there are ample and attractive diversion options all the way down the Croatian coast. Note that the radar image above is incomplete (because meteox.com doesn't have full coverage in the region shown) and the Gramet (which comes from the autorouter) often fails to show cloud! The wind data is only a guide - like any other forecast.
Alternates: the usual problem with alternates is that most of them are dumps where one really doesn't want to be. In southern Europe especially, many don't have avgas which could create a four-figure issue (getting avgas shipped there in 200 litre drums). In this case, however, there are plenty of options all the way down the Adriatic: Ljubljana LJLJ, Pula LDPL, Mali Losinj LDLO, Zadar LDZD, and finally Split LDSP which is very close to Brac. Pula, Zadar and Split have an ILS. All of these are great places to spend time in. For the early part of the flight the alternate would be Shoreham or one of the other UK airports (my alternate for Shoreham is usually Biggin Hill EGKB which has an ILS).
Almost the whole flight was in VMC. The portion before the Alps is mostly not really scenic from altitude. Here we are over the Alps and passing over Zell am See and the Kaprun lakes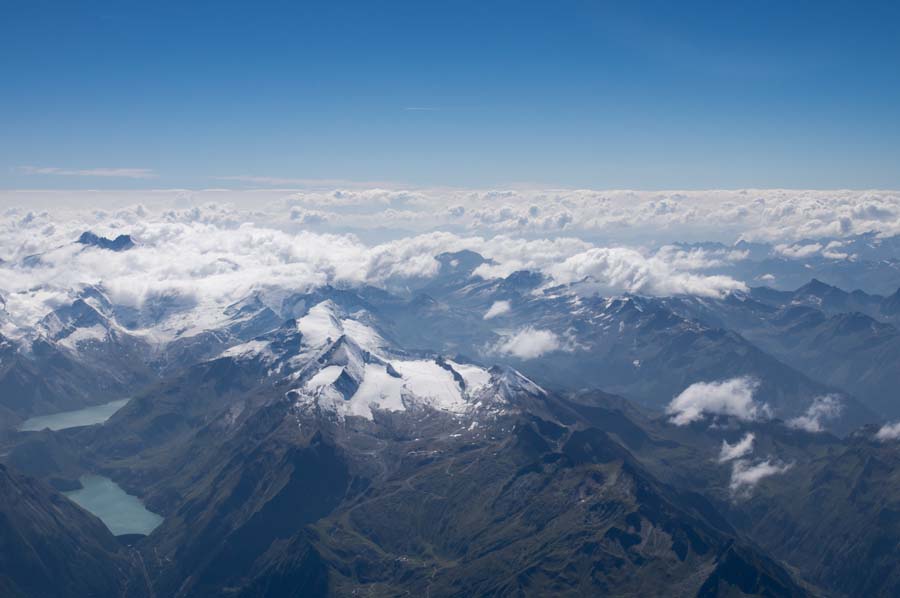 This is the track flown, in black (ignore the magenta lines; they are supposed to be the filed route but they show software artefacts on the autorouter site). I chose to fly over the sea once over Croatia and that was probably a bad move!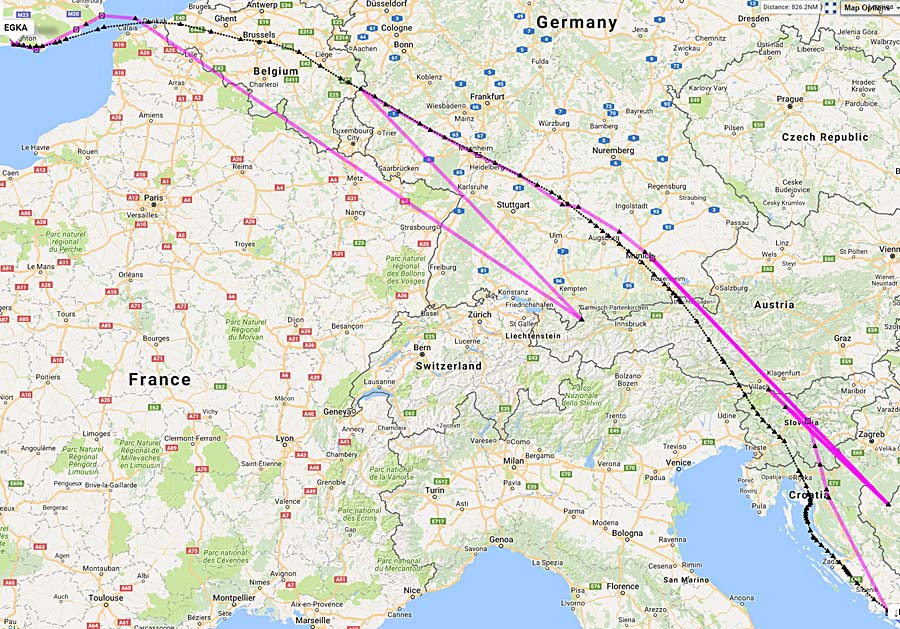 The mistake I made on this flight was under-estimating the turbulence caused by the airflow over Slovenia and N Croatia. The MSLP hints at it...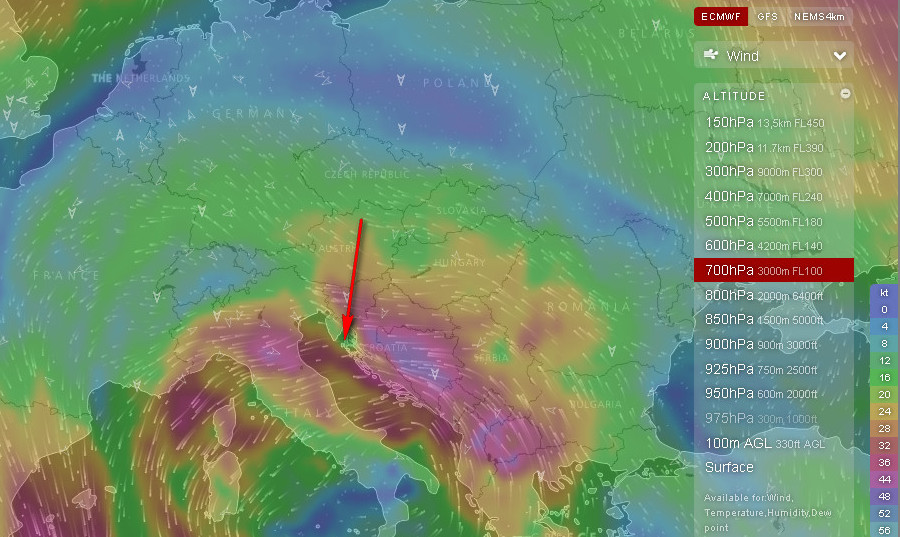 As this was flowing over the Croatian mountains, it produced some pretty heavy turbulence, evident here in the "torn up" clouds; here we are at about FL100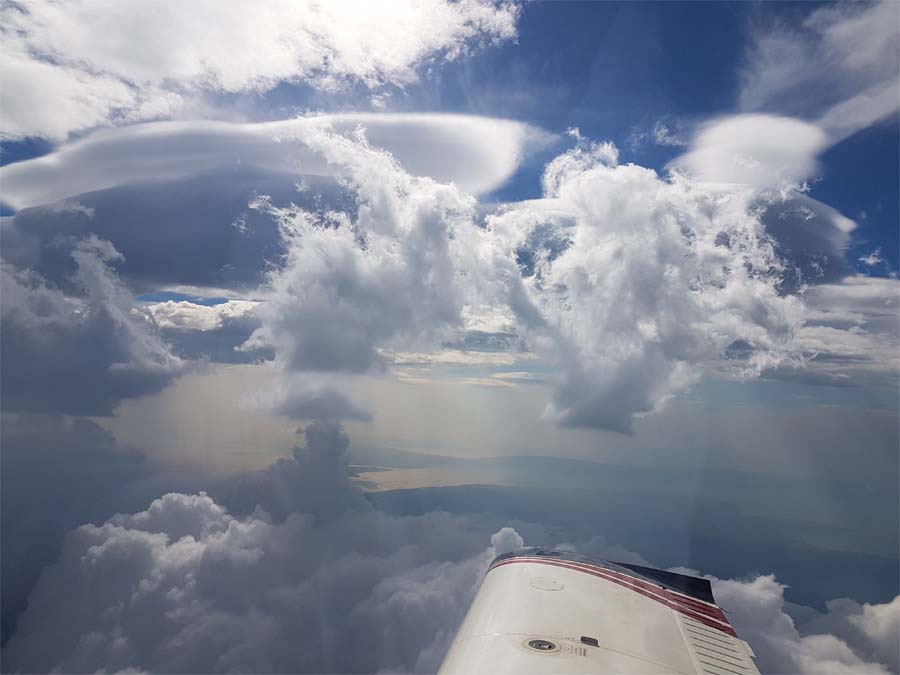 It would appear that flying over the mountains rather than over the water would have been smarter.
This pic shows the conditions over the sea, probably near Zadar, and the sea state shows the very strong surface wind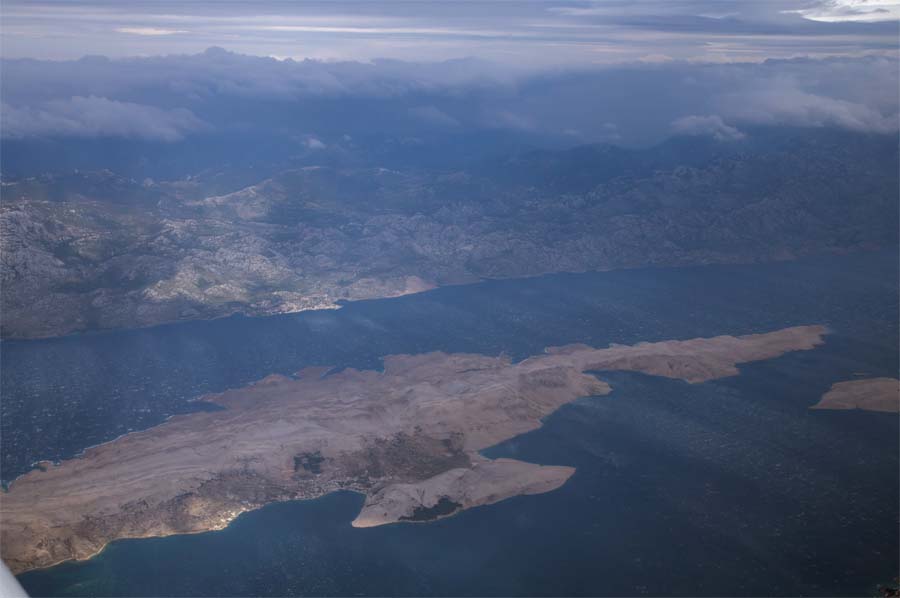 However, the bigger issue was the headwind, which was mostly 30-50kt and way more than forecast. In the absence of such a headwind and the resulting low fuel reserve, I would have stayed at FL150 or more and remained VMC on top all the way to overhead Brac. But with the fuel totaliser forecasting something like 10 USG at Brac when we were over the Alps and descending after them to about FL100, I decided to do the "good weather" thing and descend gradually over the Adriatic Sea, all the way to Brac. This placed us into VMC but into strong turbulence. Due to the fuel situation I decided to stay in it rather than use up a chunk of fuel to climb back up. In still air one would expect to land with about 25 USG.
Ultimately whatever I did wasn't enough and with just 12 USG reserve (slightly over 1hr flying time) being projected for Brac, I started to consider diverting to Split. The decision was clinched by Split ATC telling us that a Challenger jet had just diverted from Brac. I don't remember their exact words but my recollection is that the jet could not get visual, and we knew there was some low cloud around there. In fact, as we later found out, the jet diverted because the runway was wet and this placed it outside the minimum runway length for his current weight... and Brac was in sunshine at the time! The landing at Split was a visual approach (the ILS was not needed) and despite rain it was straightforward. However we did get comprehensively soaked later, getting out of the plane...
The gallery and video below show the whole flight:
Shoreham-Split Video:
Split - Brac
We had 1 night in Split at some cheap motel (actually the two of us stayed in two different places, due to a mix-up) and flew the short hop to Brac the following morning. It was filed VFR, as LDSP DCT LDSB. I use EuroFPL for VFR flight plan filing. This is a great service which is free for up to 10 flight plans per month but it doesn't do IFR autorouting.
It was a scenic flight, initially at 500ft per ATC and then climbing to 2700ft over Brac island to position for an approach given the 1776 ft airport elevation. There was nobody in the tower so I got the wind from Split ATC and we looked at the Brac windsock on the way there. We could not see the windsock on that flypast but the wind was obvious from the GPS ground speed...
It was great to be back on Brac - such a lovely island...
Split-Brac Video:
We had a great time on Brac - 10 days in total. It was sad to cancel the Greek part of the trip and especially to miss my friend's wedding but I had not planned it with enough leeway in the dates. Due to this we had a lot of extra time (the EuroGA fly-in was at the end) so we took buses around the island. I have other Brac trip writeups e.g. here.
I have collected up all the suitable photos from the trip into a gallery.
Brac - Split - Hvar Gallery (ground photos)
The EuroGA fly-in - we normally have two big ones a year, in May and September - was very well attended despite bad weather north of the Alps. One pilot even made it in a helicopter, all the way from the Czech Republic. There are no photos of the fly-in (except some of the aircraft) because I didn't go around and get everyone's permission to publish their photos

We normally have the main dinner on a Saturday evening and this time we met at the Palute which was excellent and could have handled a group of almost any size, at short notice. On these fly-ins we create a Telegram group and use that to coordinate everyone who has turned up so one can do other meet-ups, etc.
Brac - Shoreham
The weather picture was mixed, with a lot of frontal stuff on the MSLP: 0600 1200 1800 Following day 1200 IR Sferics Radar Winds 0900 Winds 1600 TAFS&METARs However I always use the IR image as the final decider on the morning of the flight and that showed some convective weather near Italy, a spot over Switzerland, and the rest was clean, with cloud tops estimated about FL150. The forecast winds were also light, and there are various refuel options in N France e.g. Lille, Le Touquet, etc. The following day's weather looked better but I always fly at the earliest technically feasible opportunity!
There was a lot of spectacular "weather" the day before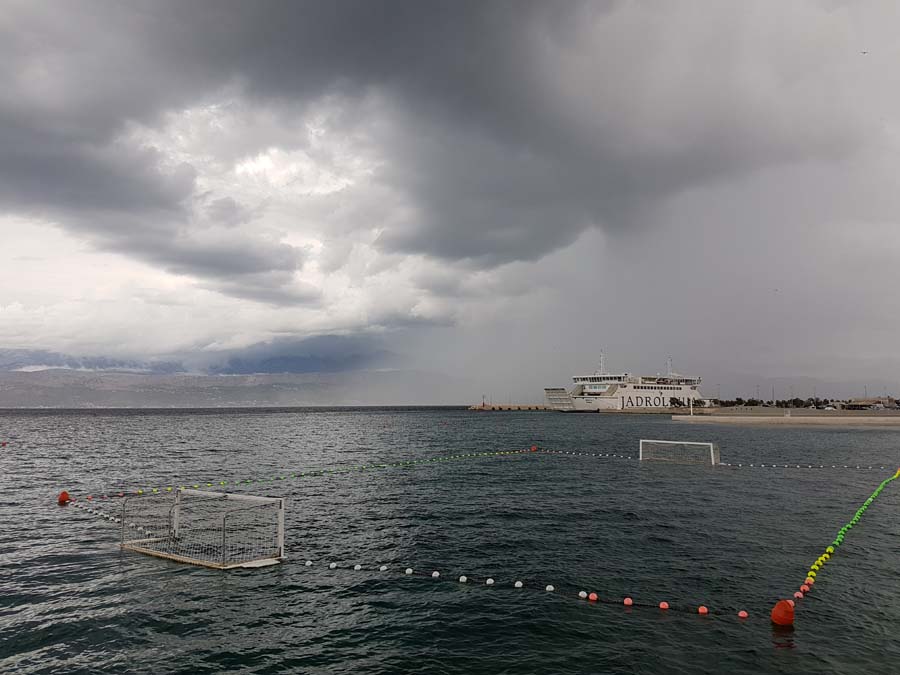 but on the following morning there were just a few bits left, leaving a surreal scene given that Brac airport elevation is over 1700ft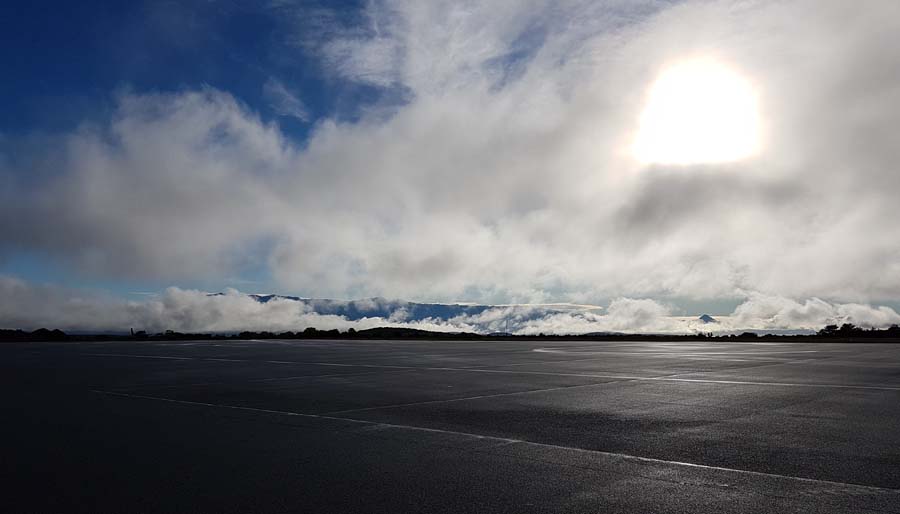 Brac airport is the best organised and the most helpful airport I have ever been to - and I have landed at 150 different airports! We had full tanks already but due to the 10 days' parking about 3cm was lost to evaporation so I taxied to the pump just to get every last drop in. They managed to get 10 litres in!
As on arrival, there was nobody in the tower so one calls up Split after departure.
Soon after departure, with the 0C level around FL100, we picked up ice as expected in a thin layer - this was accumulated within just a couple of minutes: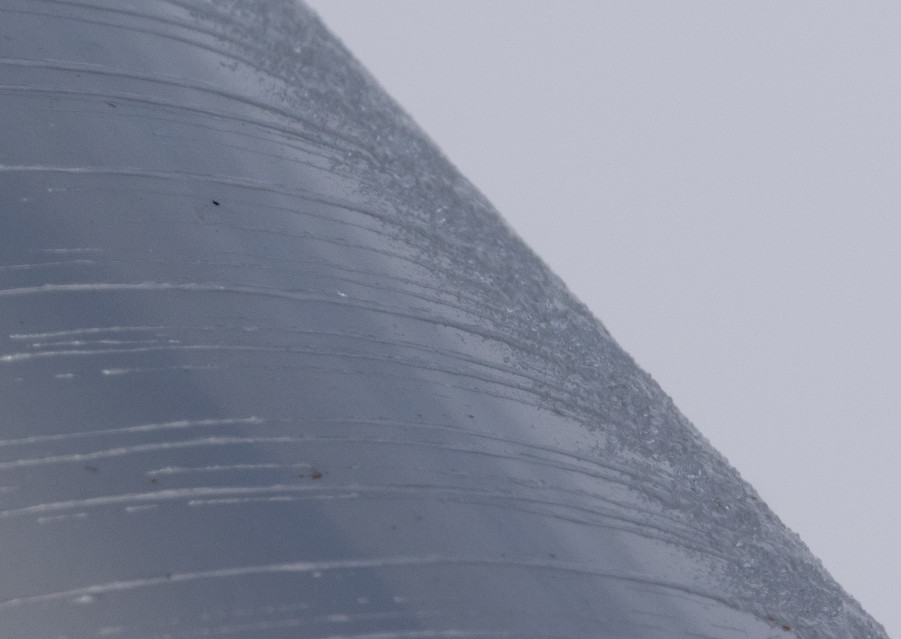 so we descended back down a bit.
The southern part of the Alps was clear of cloud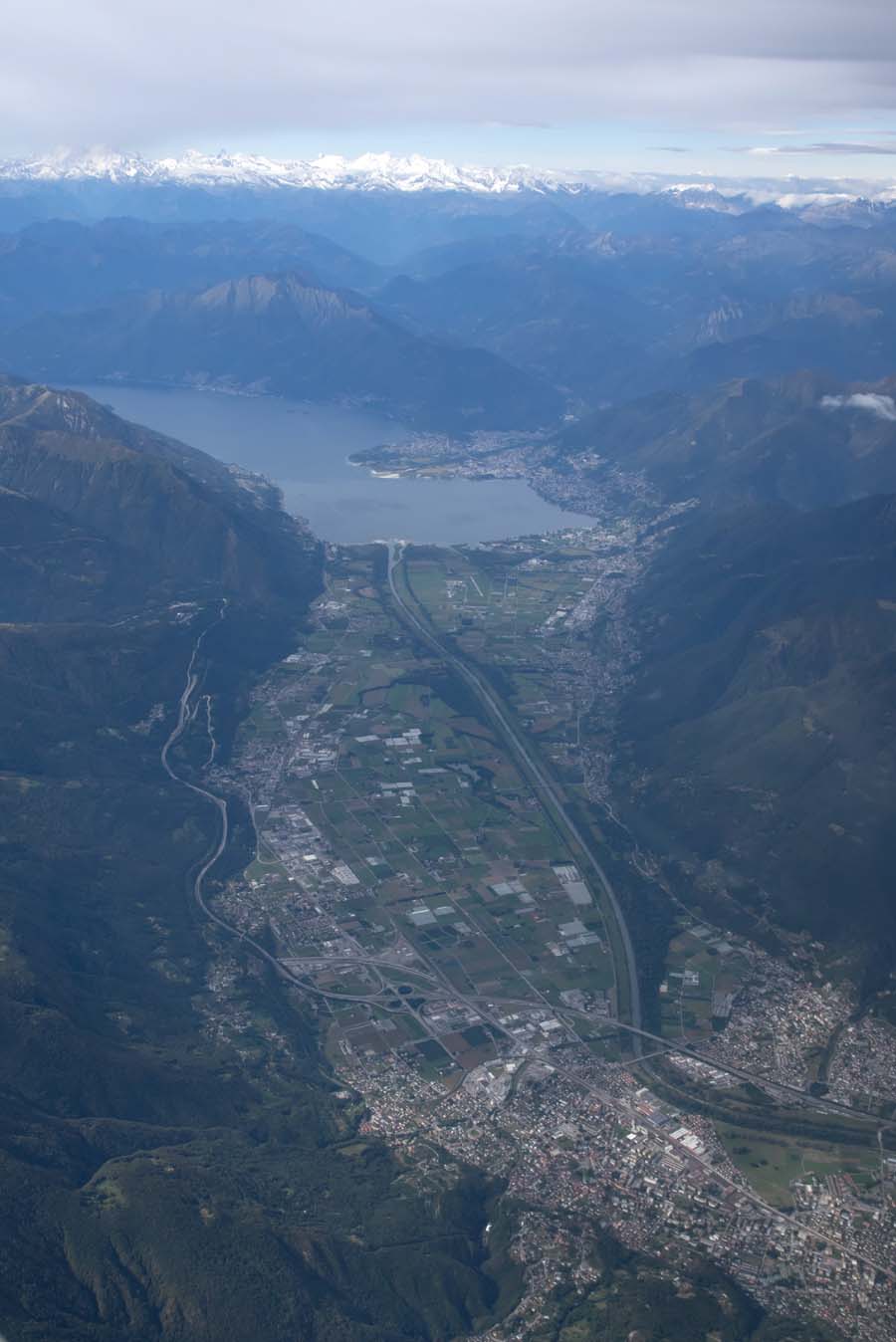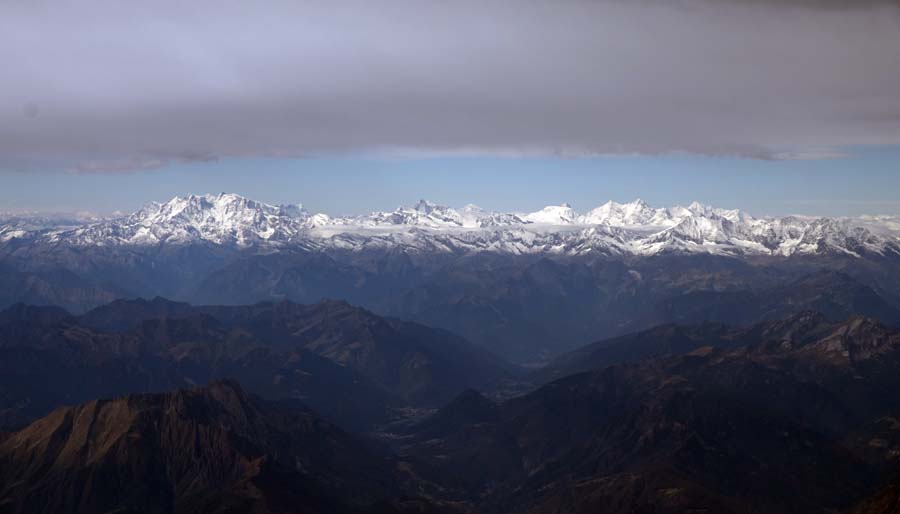 but the rest of the flight was above an overcast. When crossing mountains above an overcast I run a topo map on a tablet so I know where to glide to in the event of an engine failure. The Alps have plenty of canyons and valleys and provided one is flying at least several thousand feet above the terrain one should be able to glide into one of these, perhaps 90% of the time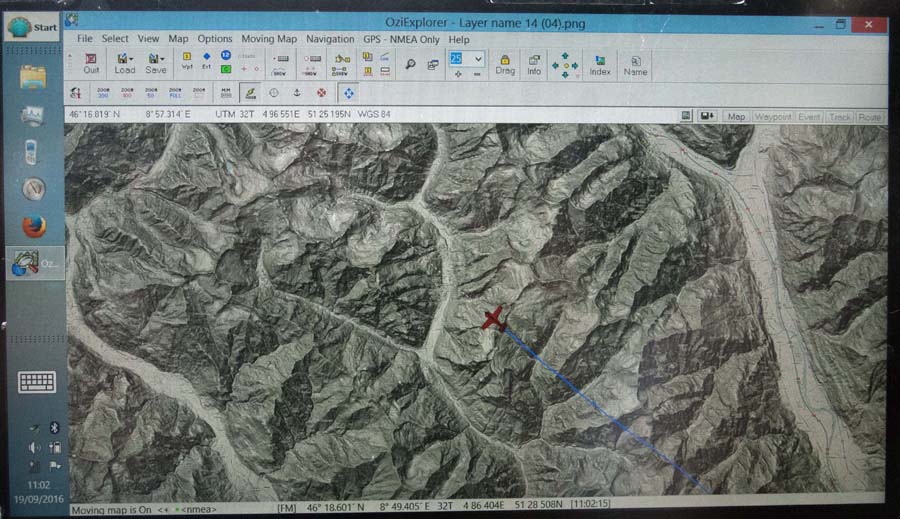 The rest of the flight was uneventful. The external camera iced up immediately in the above icing conditions and it took a couple of hours for the ice to sublimate away in the subzero temperatures, so the movie below doesn't show the route over the Alps.
I worked hard on getting shortcuts and the result (track flown in black, filed route in magenta) was pretty good: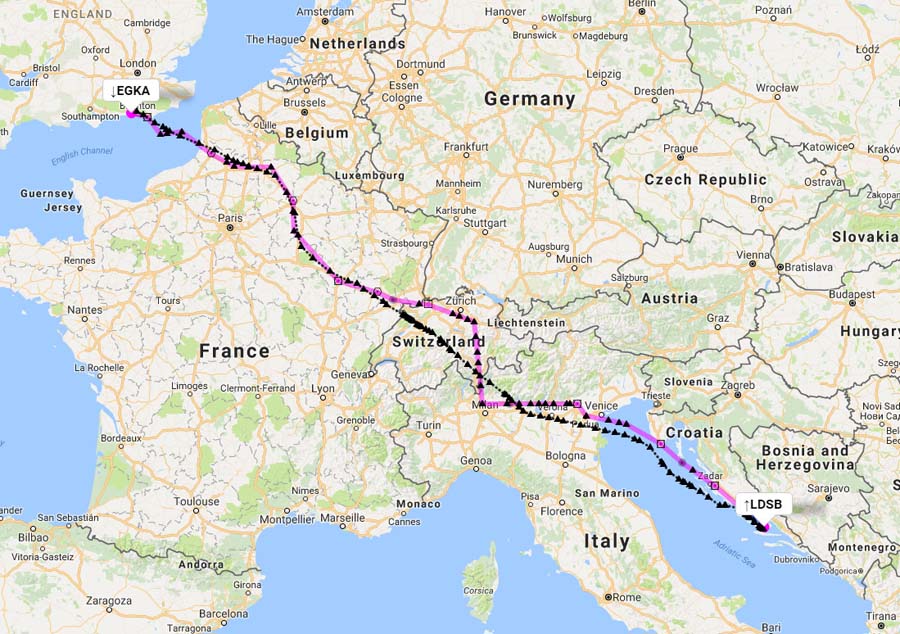 The winds were light. Initially a headwind, then a tailwind over Italy, then a headwind all the way back. We landed with 17.7 USG.
FR24 track FR24 track vertical profile (ignore the "random" speed data)
Brac-Shoreham Video:
Airport costs (including VAT) for TB20, 1400kg MTOW
LDSP
Landing: €14
Parking: €8
Handling: €30
Others: €1.80 ramp charge
Avgas: receipt lost but price should be same as Brac below
LDSB
Landing: €11
Parking: €44 (8 nights)
Handling: €12
Others: €5 ramp charge, €18.20 taxi to Bol
Avgas: €1.76/litre
Some of the above LDSB (non fuel) prices were after a 50% discount which the airport kindly made available to everyone on the fly-in. The full price list is here.
Oxygen
Oxygen is practically necessary for IFR in the Eurocontrol system. Occassionally, the weather is nice and one can fly at FL090 or so but most people would still get tired after several hours. Also many routings are not available below oxygen levels, due to controlled airspace structures, and in some cases terrain.
Very little oxygen was used here - probably 50% of the 48 cu. ft. cylinder, for 2 persons on the 2 long flights. But without oxygen I would have never attempted it because one cuts off half of the aircraft operating ceiling and in the wrong conditions could spend most of the flight in icing conditions and turbulence.
The Value of an IR
Neither of the two long flights could have been done legally under VFR. The short flight Split-Brac was of course done under VFR.
Photos and Videos
The videos were taken with an externally mounted Sony FDR-1000V camera, at 1080P (full HD) 50 frames/sec and with a video bandwidth of 25 megabits/sec. The result is a high quality video but due to the size (about 10GB per hour) it cannot be hosted on any reasonably priced commercial video hosting site. I also cannot host them on the server used for peter2000.co.uk because of the limited storage allowance. So I use Vimeo and pay them $60/year to give me a 5GB/week upload budget (which is wasted most of the year) but they still downsample the video to around 5 megabits/sec. The result is pretty good but if you want to see the original file there is a Download option on Vimeo. You will need a fast PC to play it however... In case you ask "why not 4K"... well, 4K generates about 100 megabits/sec, is more difficult to edit, stabilised 4K cameras are only just appearing, there is no way to host it online without reducing the quality to something like 1080P, and only a top-end PC with a top-end graphics subsystem can play 4K at 100mbits/sec.
The photos were shot with a mixture of Samsung S7 phone, a Pentax K3 camera with a 16-85 lens, a Nokia 1020 phone, and some other stuff... The photo galleries were generated with Juicebox which has a free version with various limits (e.g. up to 50 photos - that was used for the two flying ones) and a $45 version which does everything. It runs on Adobe Air and seems to have issues with large galleries on a win7 64bit machine so I run it in a winXP compatibility mode

Flight times (airborne times)
EGKA-LDSB 7:10
LDSP-LDSB 0:20
LDSB-EGKA 6:50
I would like to thank all those who made the fly-in despite the bad weather north of the Alps, and to Richard and Colm for their company on the flights.
This page last edited 2nd January 2017