Flight from Shoreham EGKA to Weston EIWT, Sligo EISG, Kerry EIKY, August 2014
This article describes a straighforward IFR trip from Shoreham EGKA (UK) to Weston EIWT (Ireland) with additional stops at Sligo and Kerry and flights around the western coastline of Ireland.
Other trip writeups are here
For non-aviation readers, here is a glossary
Pilot
FAA CPL/IR, JAA/EASA PPL/IR, ~1800hrs.
Aircraft
The aircraft is a 2002 TB20GT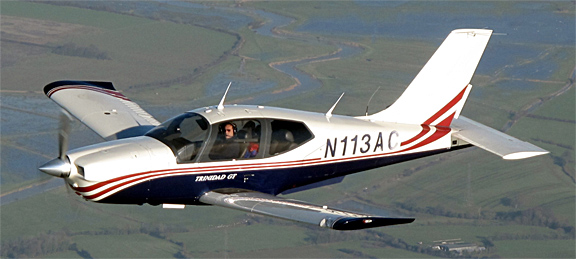 The aircraft has an economy cruise speed of 140-150kt TAS depending on altitude and a 20000ft ceiling. It has an autopilot which will fly GPS/LNAV approaches (laterally only) or ILS approaches (laterally and vertically). It does not have LPV capability; fortunately LPV is not yet operationally relevant in Europe. An article on the TB20GT aircraft is here
Routes
Weston EIWT is a "Customs" airport so is accessible directly from the UK but needs 24hr PNR. It also has instrument approaches, and has an instrument departure which is "unpublished" but they email you a copy when you contact them regarding the PNR.
The flights to Weston from the UK and back to the UK were done under IFR.
These two IFR routes were developed using the EuroGA autorouter and filed directly using its new flight plan filing facility. This makes it easy to do the whole lot from even a small mobile phone. No "app" is required - just a reasonably modern web browser. I have the Opera Mobile browser on my Nokia 808 phone and that is perhaps the most difficult combination, but it works fine.
The autorouter also offers live flight tracking on Eurocontrol IFR flights. This image, taken after the last flight, shows the filed route and the actual route flown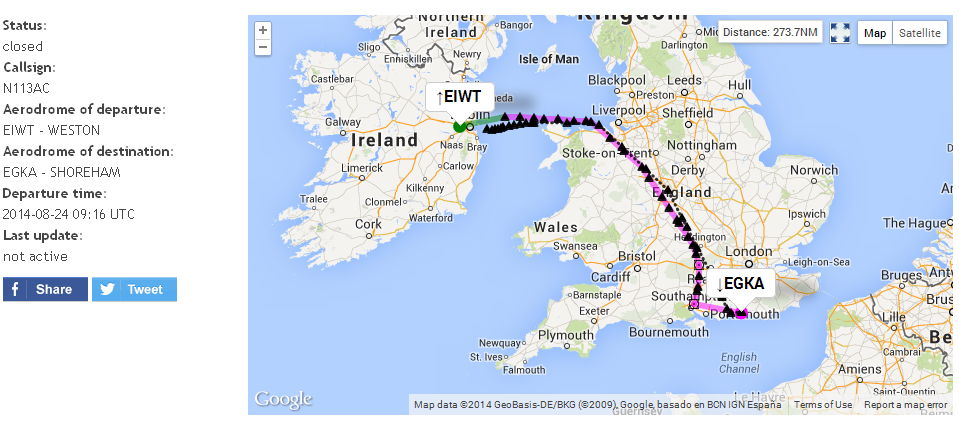 It is also possible to view additional flight parameters, by hovering the mouse over the reporting points on the actual track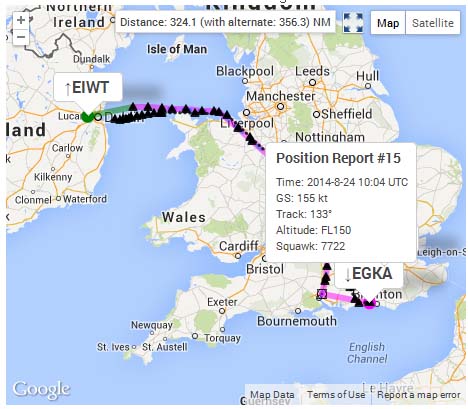 The following route illustrations were done by pasting the route into Flitestar; this is a very old and now almost defunct flight planning program. Jepp are moving everything to the Ipad on which they have rendered useless handy features like printing.
Route EGKA-EIWT:
EGKA N0150F080 GWC/N0150F100 Y8 SAM Q41 PEPIS Y321 CPT L9 MALBY/N0150F110 L9 WOTAN/N0150F120 L9 BADIM/N0150F130 L9 ALVIN/N0150F140 L9 ERNOK/N0150F150 L9 AMMAN/N0150F160 L9 STU M17 VATRY/N0150F080 M17 KLY VFR EIWT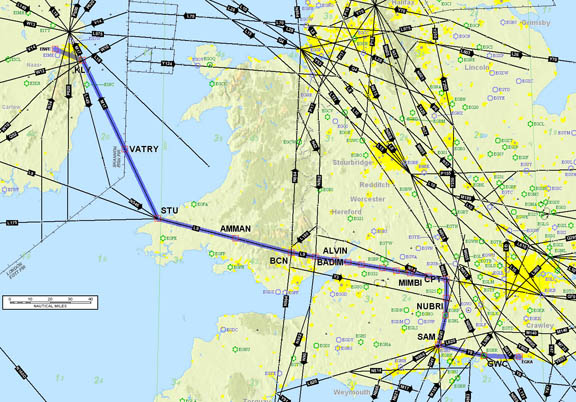 Route EIWT-EGKA:
EIWT N0146VFR LIFFY/N0146F150 IFR L975 MALUD L15 KEPAD L151 NEDEX/N0146F140 L151 KIDLI/N0146F130 N859 DIGUT/N0146F110 N859 CPT/N0146F100 Y321 PEPIS Q41 SAM EGKA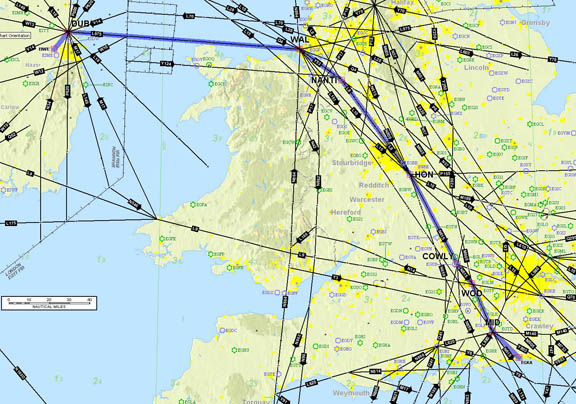 The above filed routes show VFR arrival and departure at EIWT but in fact these were done under IFR also. EIWT has a VOR approach and the VOR D takes you along much the same route which one would fly under VFR. The departure chart is "unpublished" but the airport emails it to you when you contact them for the PNR. It is here
The actual tracks flown on the two IFR flights are: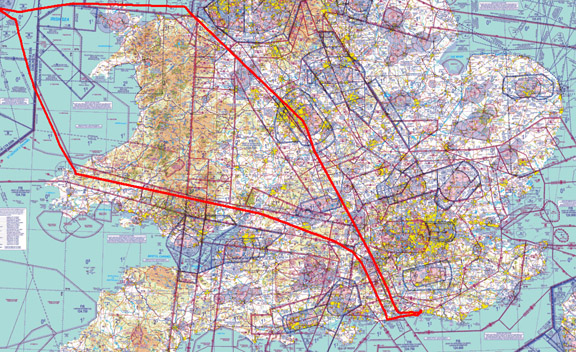 Within Ireland, three VFR flights were done: Weston to Sligo, Sligo to Kerry, and Kerry to Weston. The routes were at low level (mostly around 2000ft but dropping down below 1000ft in a few places) and went around the scenic coastlines. Much of the airborne time was out of glide range of land, due to the low altitude, and probably sometimes out of VHF comms range too... We had a life raft and two handheld 406MHz EPIRBs.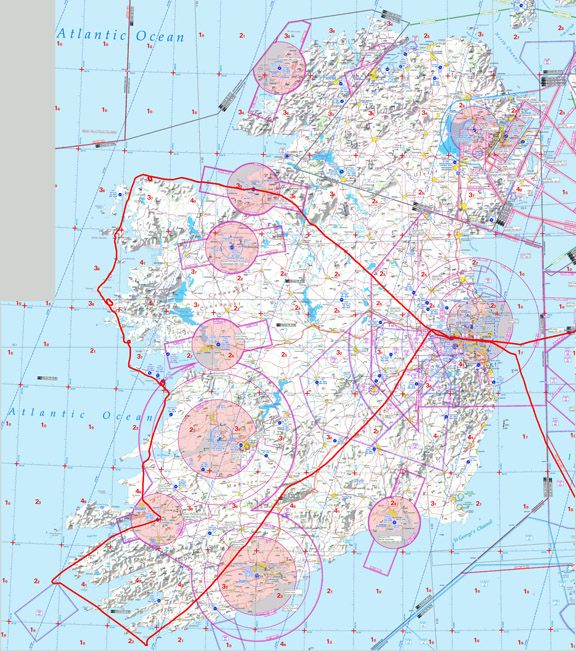 Weather
The weather on the whole trip was good and with unusually good visibility but with some isolated convective activity. However, very bad weather was on its way so the whole trip was done during 3 clear days.
The MSLP charts for the flight EGKA-EIWT, done with a 1300Z EOBT, are 1200 1800.
The MSLP for the flights within Ireland is 1200.
The MSLP for the return to EGKA (0900Z EOBT) is 0000 1200.
The MSLP for the following two days 1 2 is basically unflyable under IFR in a non-deiced aircraft without radar. It also could not be done as a low level run below the cloudbase, unless one flew all the way to Shoreham around the UK coastline!
The IR images for the two IFR flights are here and here.
Ireland
A lot of photos were taken on this trip

Out of the UK, there was a layer around FL100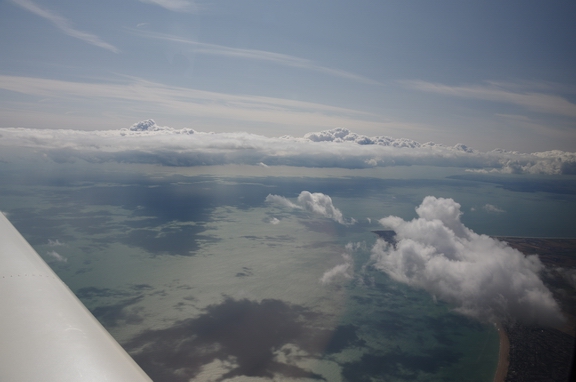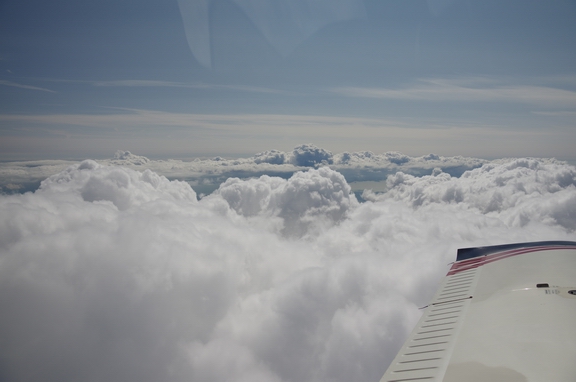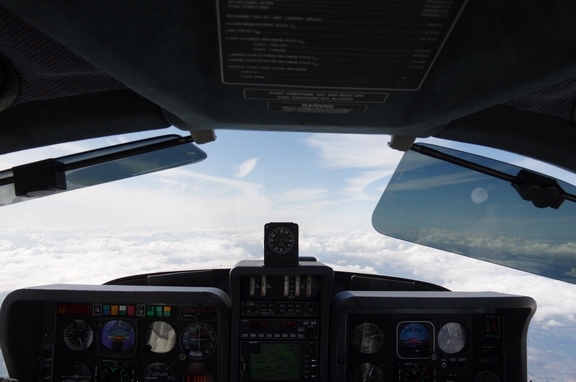 Abeam Compton (CPT), FL160, the fuel totaliser settled on a landing fuel on board of 55 USG, so with 86 USG usable fuel the TB20 could easily fly to Ireland and back without landing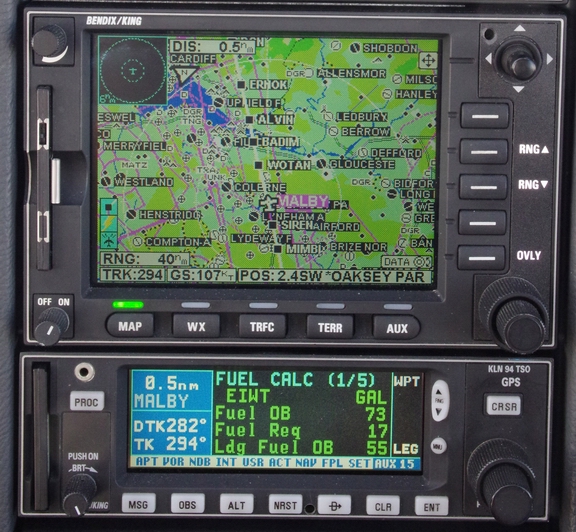 River Avon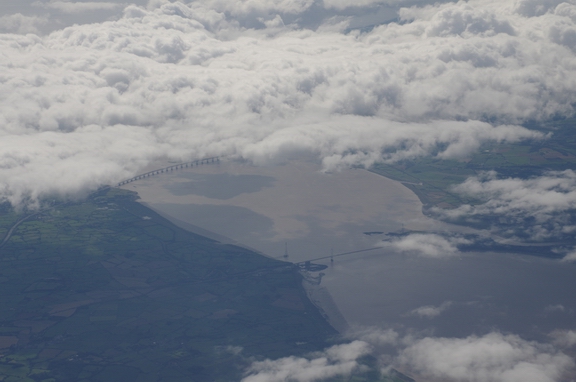 The "Strumble" VOR coming up. Of course, all navigation uses 100% GPS but the IFR routes (the "airways") are still mostly based on VORs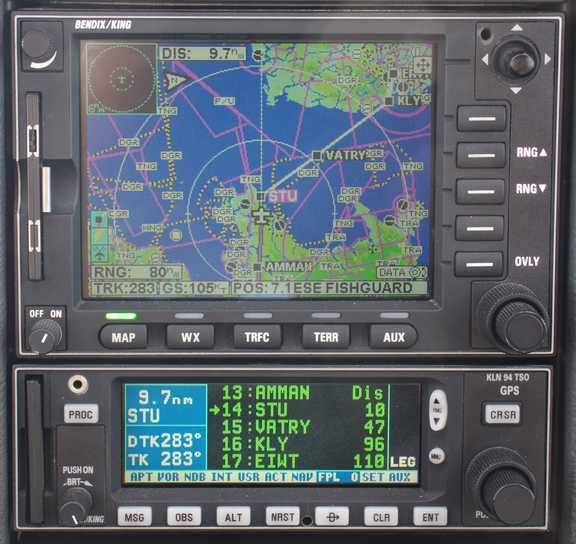 End of the UK mainland from FL160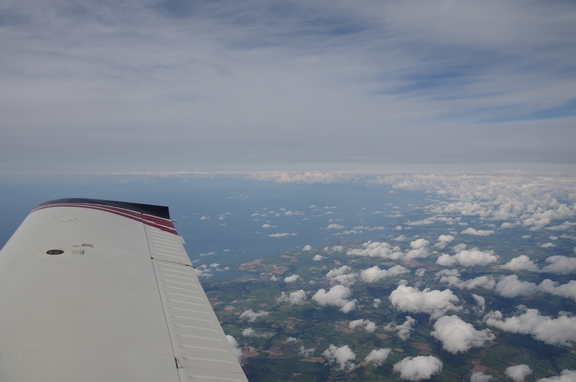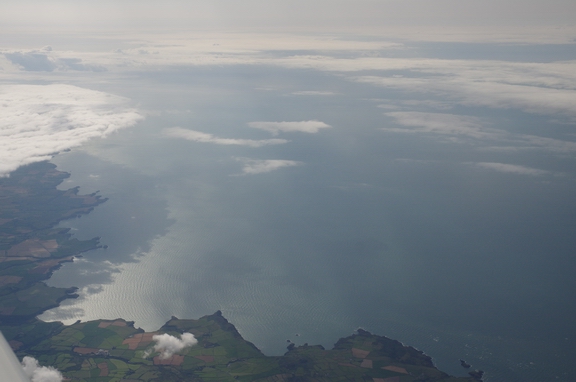 Halfway across the water, commencing a slow descent at -200fpm. It's interesting to note how much one speeds up with just a slow rate of descent. The pitch is down to about 1.5 degrees which is about half of what it is in level flight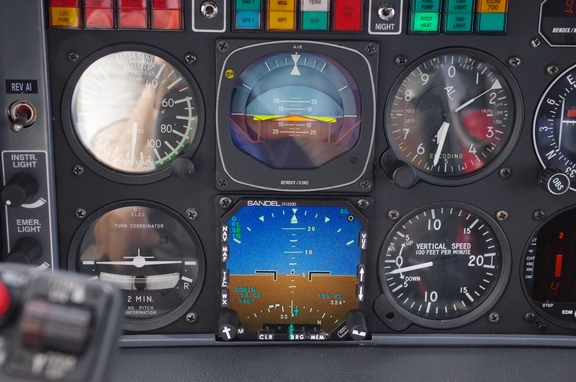 The above pic shows the Sandel SN3500 EHSI switched to the "reversionary horizon" mode. Normally it looks like a normal HSI with some extra information superimposed. Both the EHSIs below can be switched into the horizon mode, individually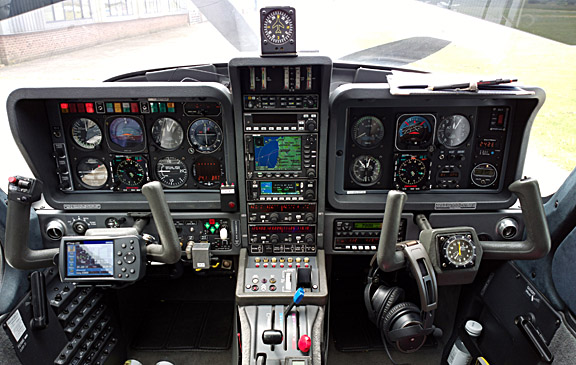 Nearly in Ireland. I was fully expecting to collect some ice in this but it didn't quite happen; the temperature was not cold enough for long enough. The droplets on the window are the TKS de-icing fluid from the propeller de-ice system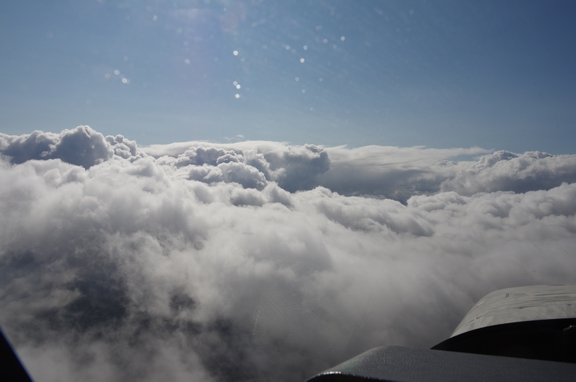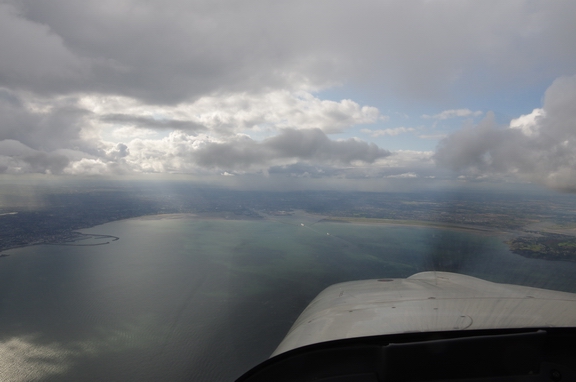 There were some big showers nearby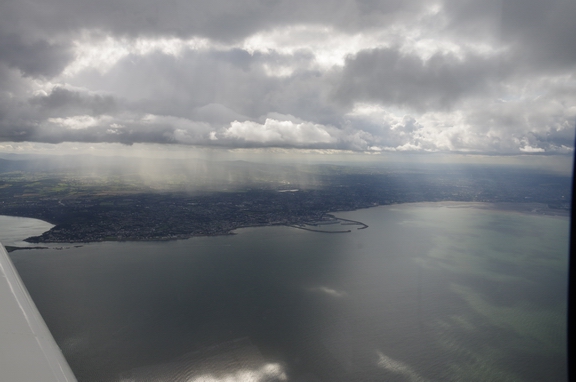 This is an expensive part of Dublin suburbs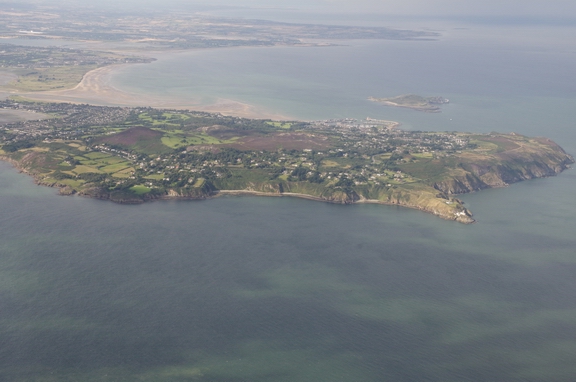 The route takes you over Dublin at a low level - down to 2000ft in this case and - from previous trips there - 1500ft if you were VFR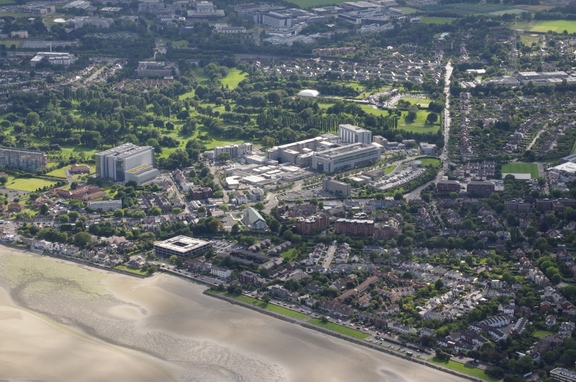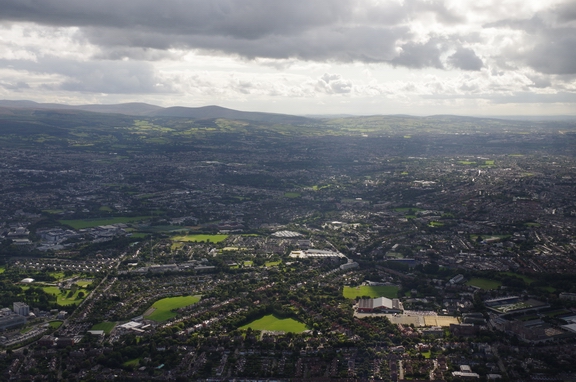 Dublin airport EIDW

Baldonnel/Casement military base EIME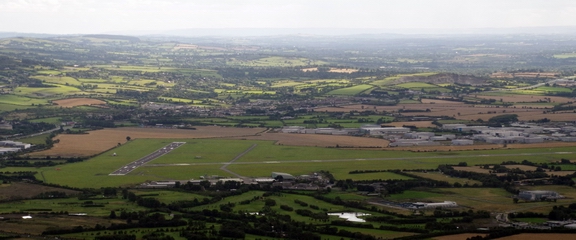 Weston EIWT, from the east looking west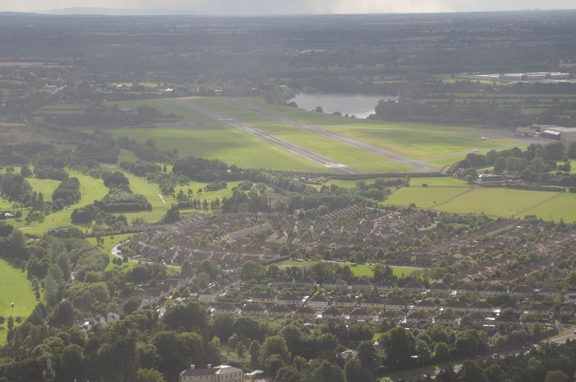 Weston, western apron, with me parked and covered up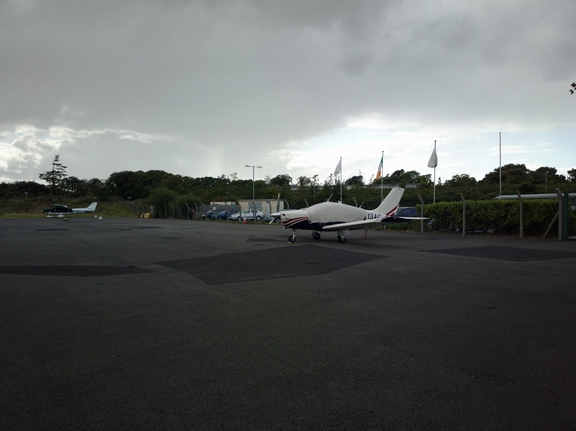 Weston apron, under the darkening sky...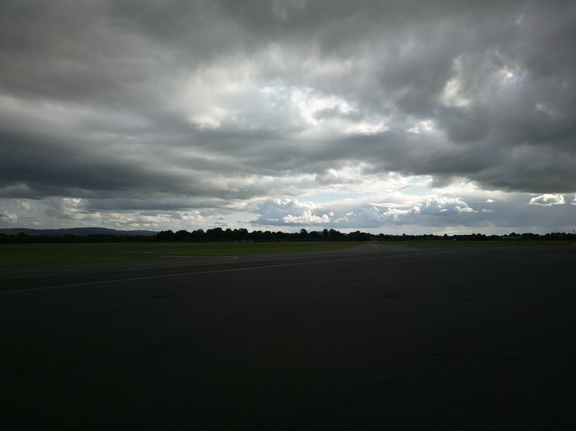 The military jet - a Buccaneer - is a static display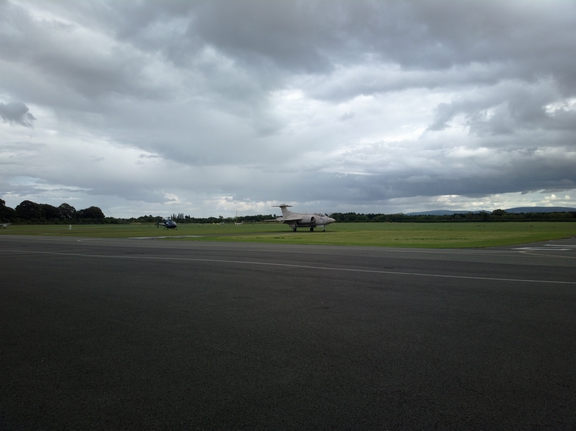 The next morning we departed for the trip around Ireland.
This is Lough Gamhna, Co. Longford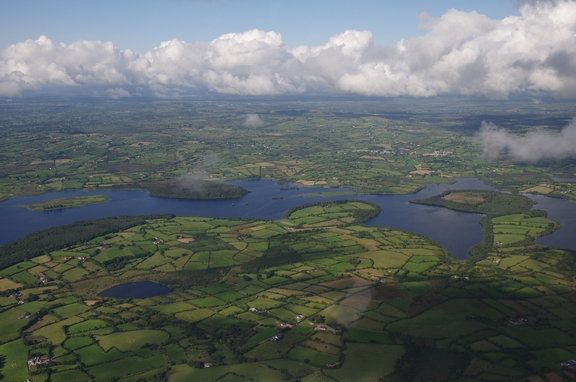 Lough Gamhna - Lough Gowna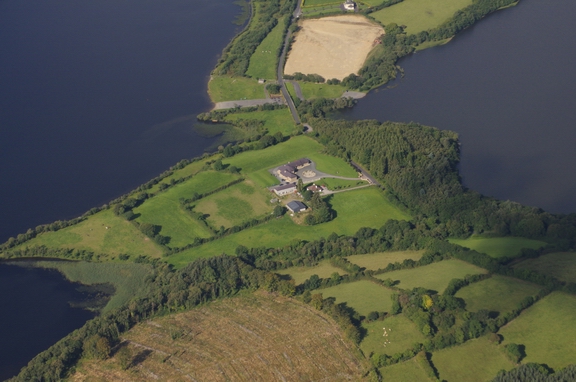 Slieve Anierin, Co. Leitrim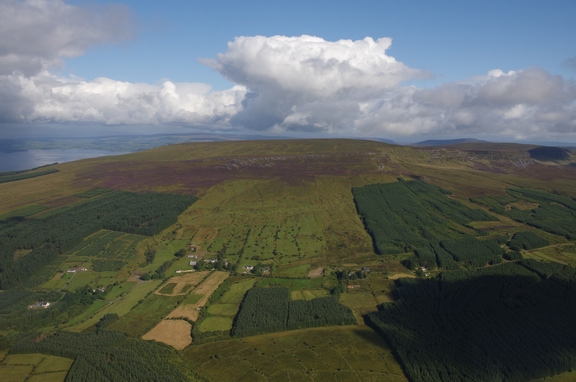 County Leitrim, with showers and a nice rainbow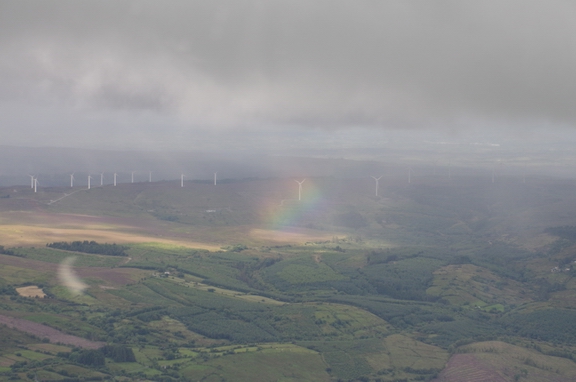 Sligo City. Sligo airport is just visible in the distance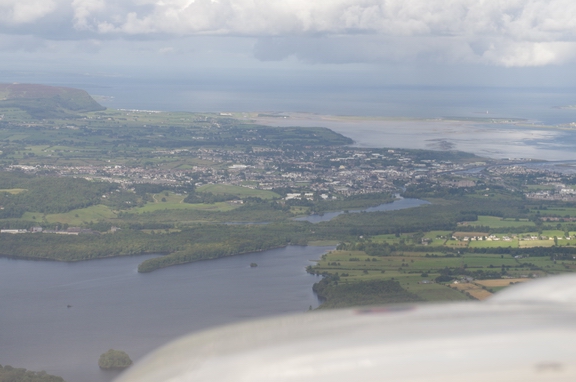 Final approach into Sligo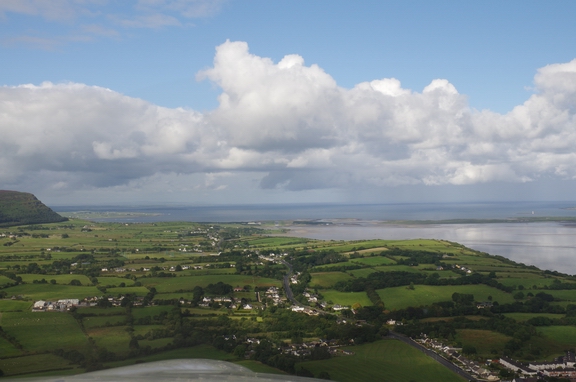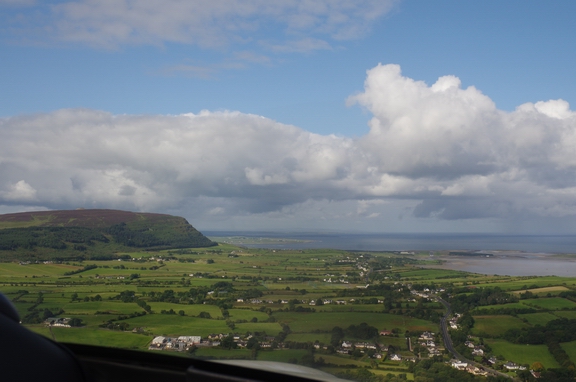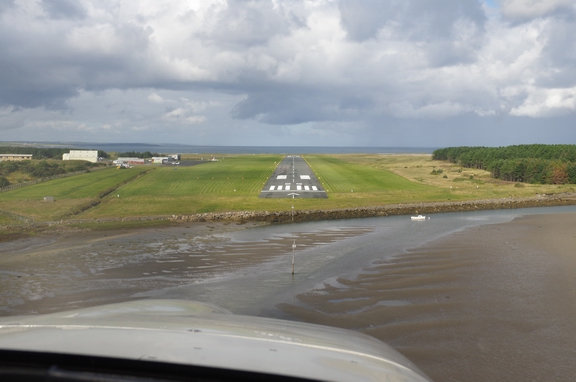 Sligo apron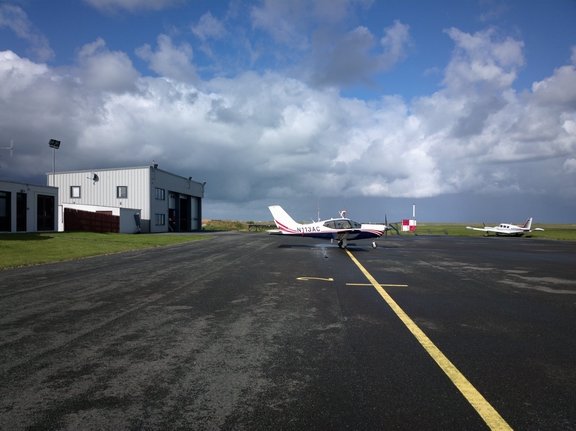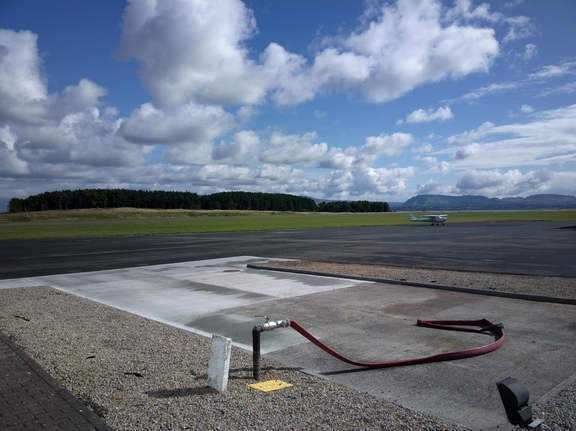 Sligo terminal. They used to have scheduled flights but all have now ended so the place is almost deserted, with just a few people hanging around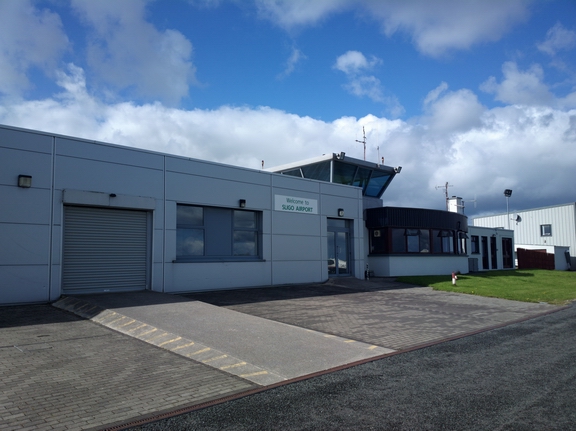 A couple of Socata TB aircraft... at least they've got taste in Sligo


Sligo terminal from the land side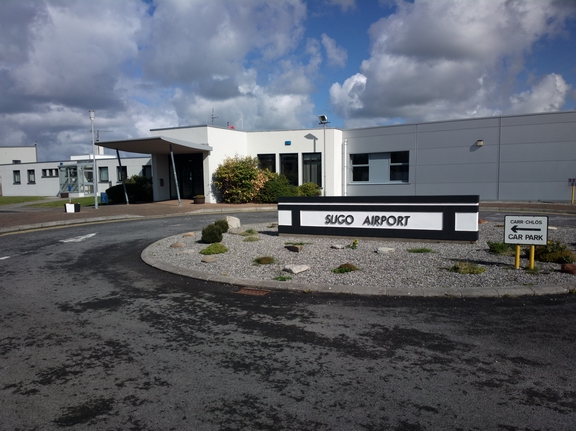 We took a walk (about 20 mins) to Strandhill, Sligo, which is a popular surfing location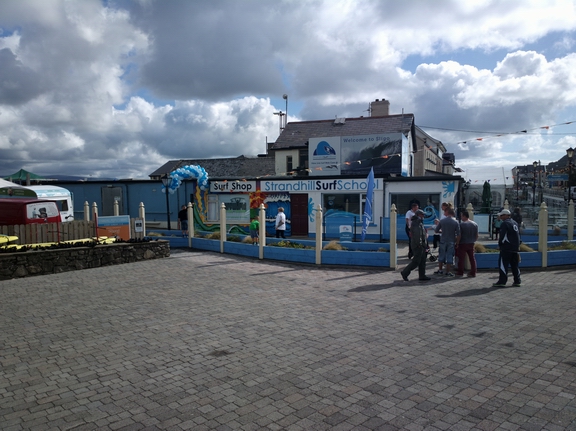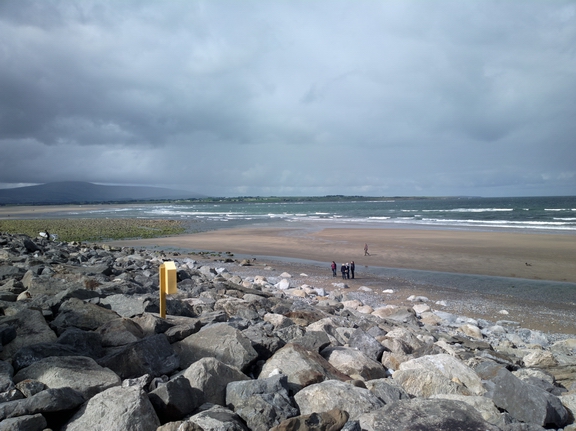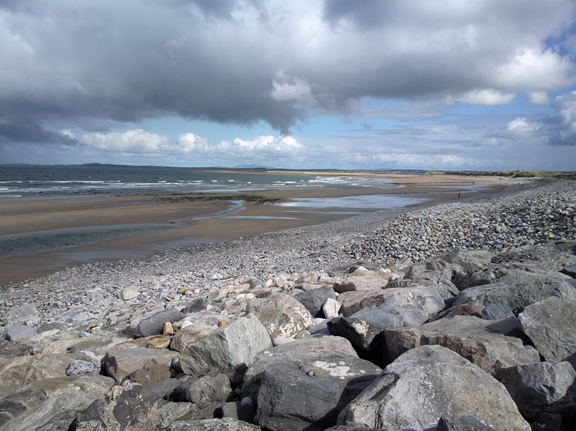 Calm before the storm

The bad weather was moving in from the west but very slowly...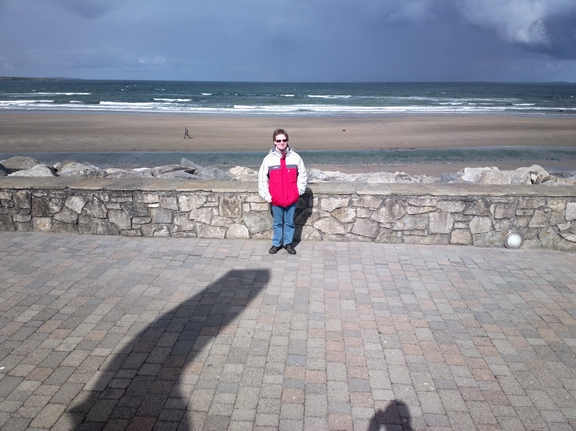 Seaweed baths - no shortage of seaweed here!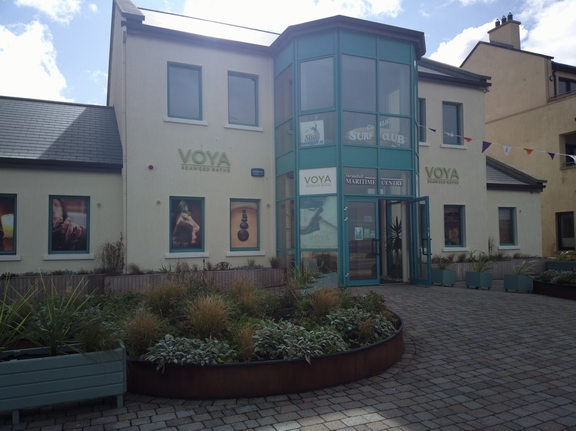 Some temporary entertainment - Strandhill, Co. Sligo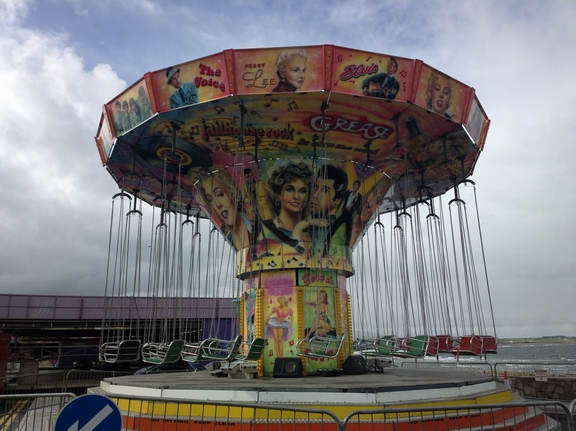 Strandhill, Co. Sligo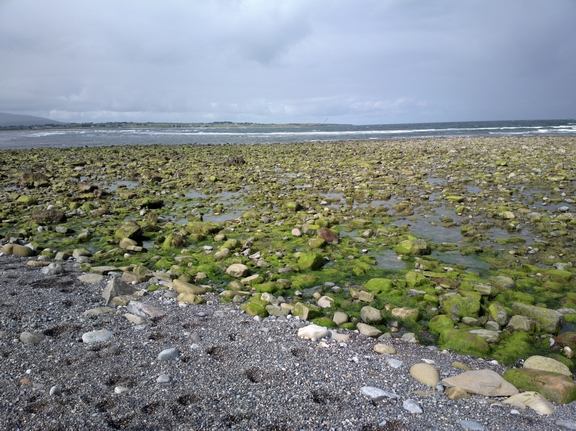 There is not a huge amount of anything else in Strandhill... it is however one of the few places in Ireland where you can walk into a "town" from the airport.
Back to the airport... a twin Comanche is parked in the distance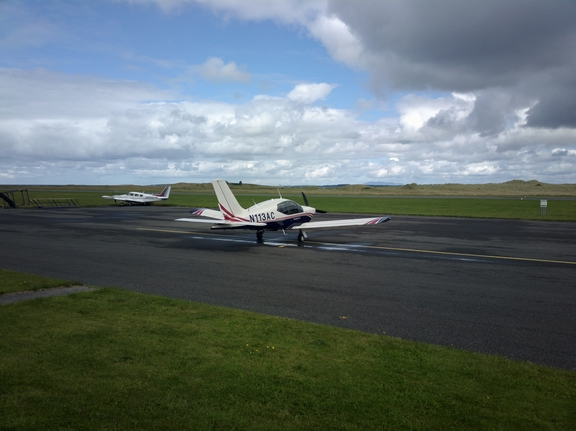 This is an F27 commuter aircraft which ended up in sea in Sligo, following a runway overrun. It is now used for fire training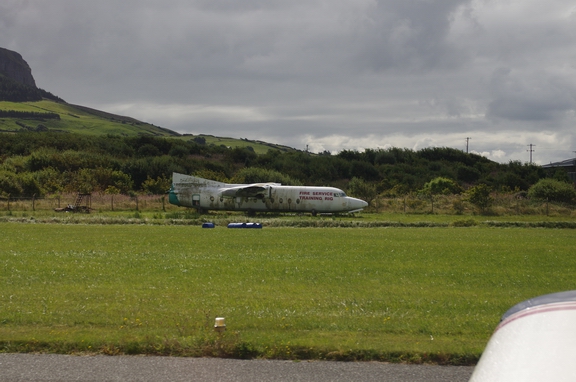 Knocknarea (hill) on climbout from Sligo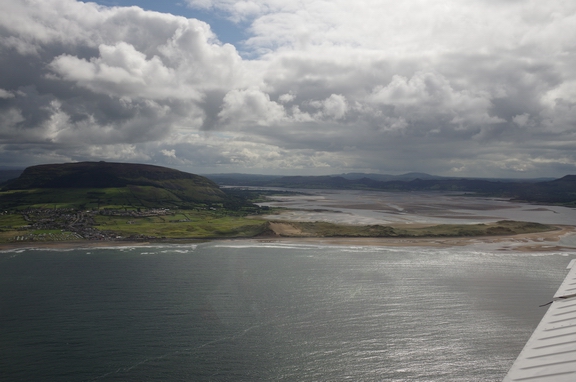 North Coast of Co. Mayo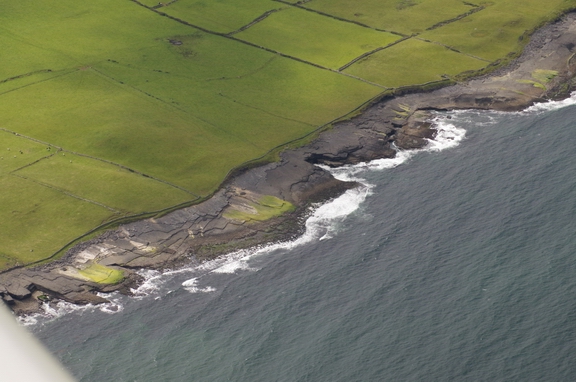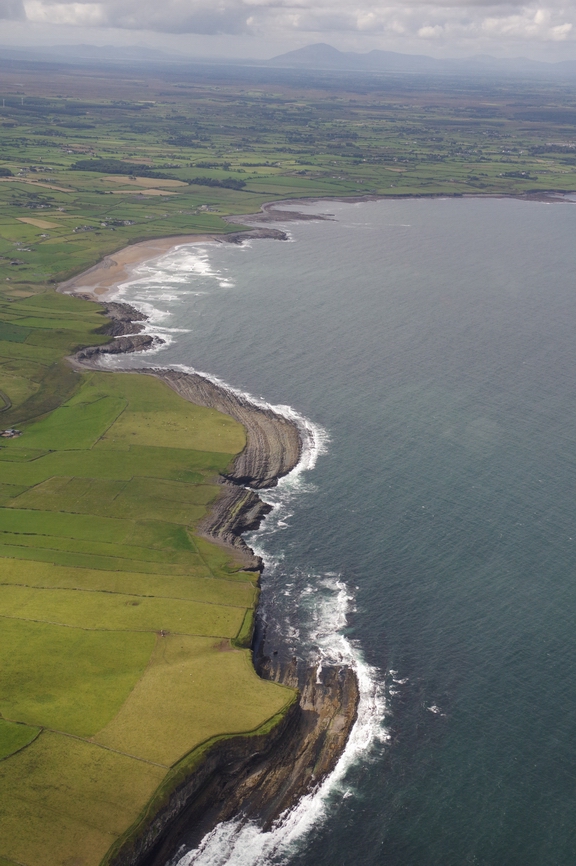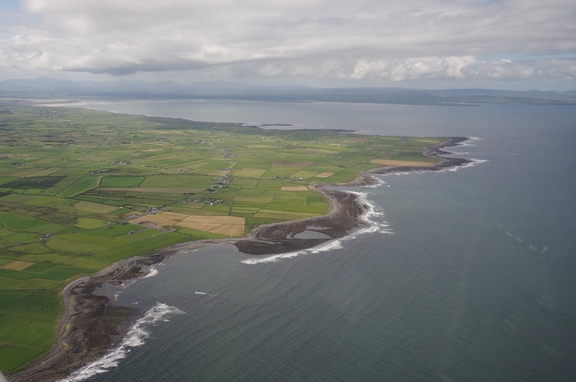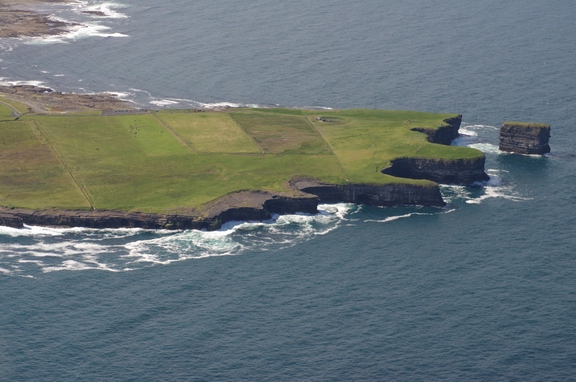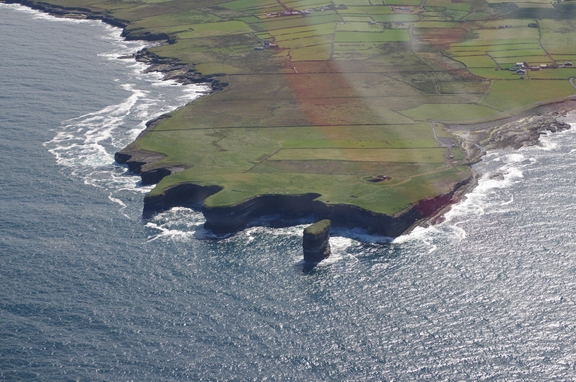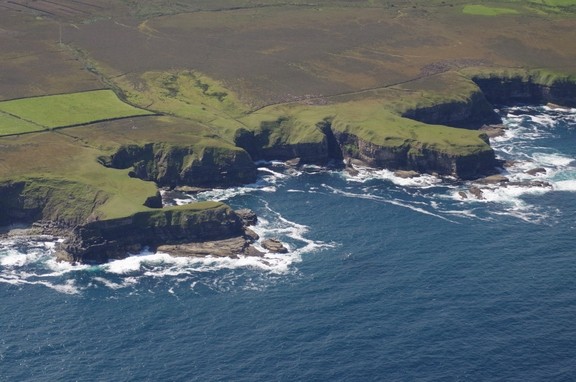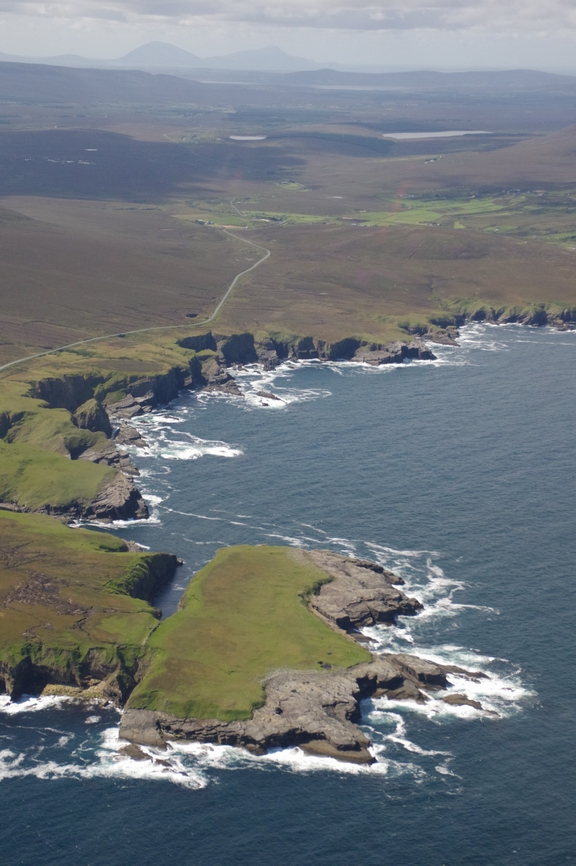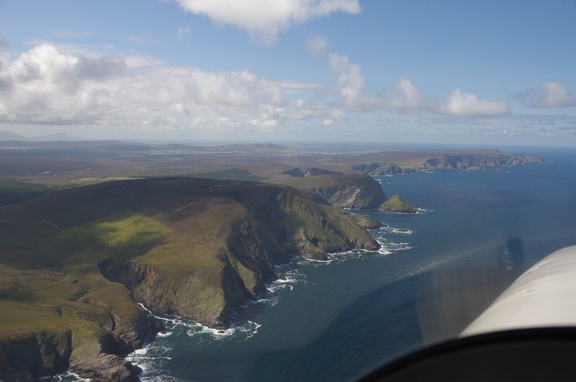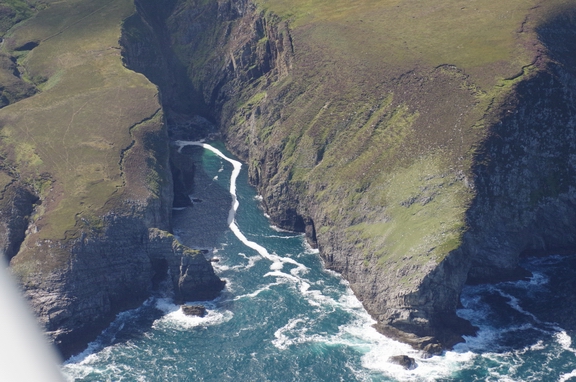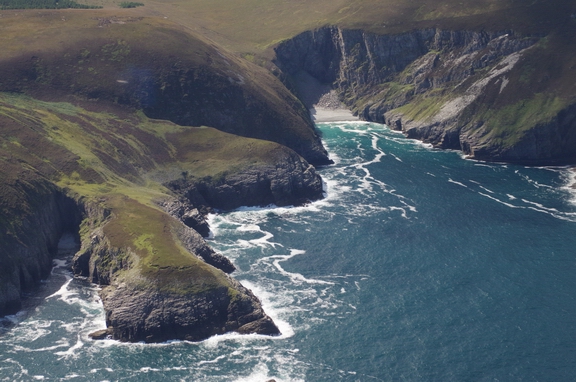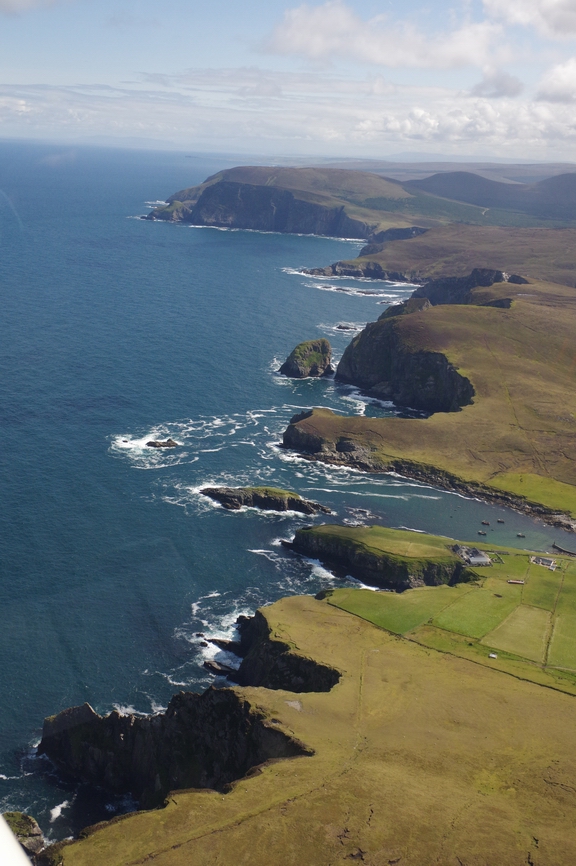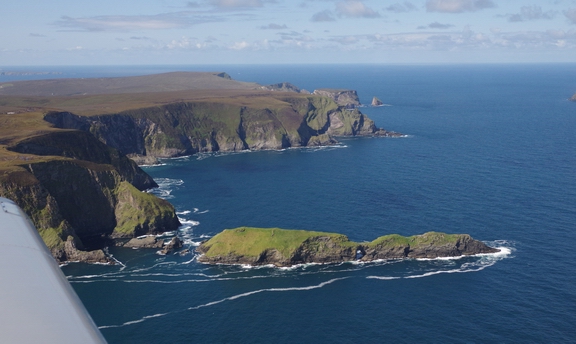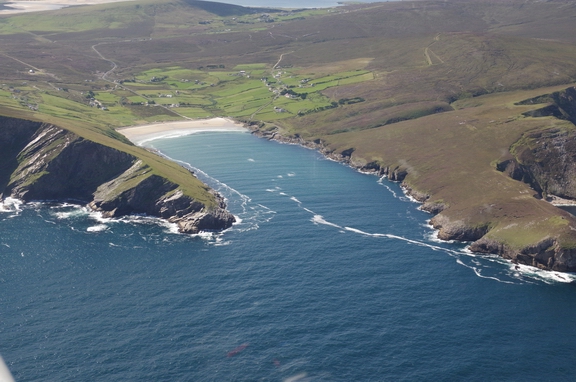 Stags of Broad Haven, Co. Mayo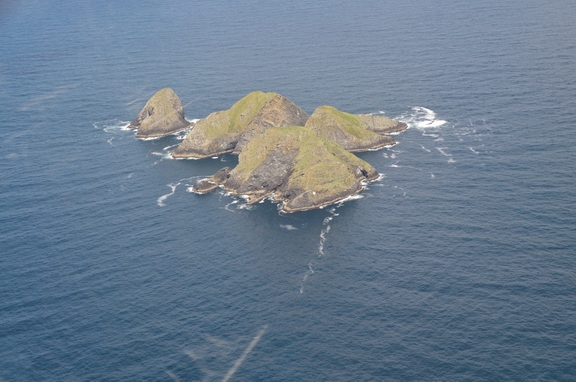 North Coast of Co. Mayo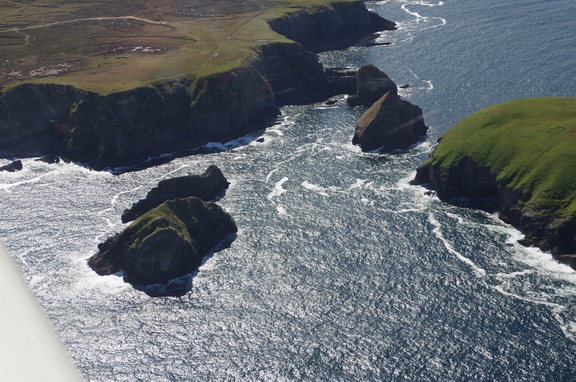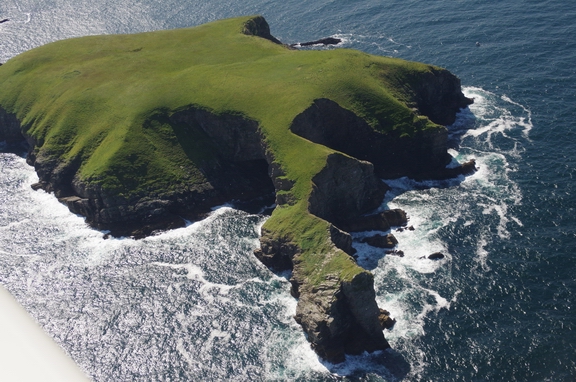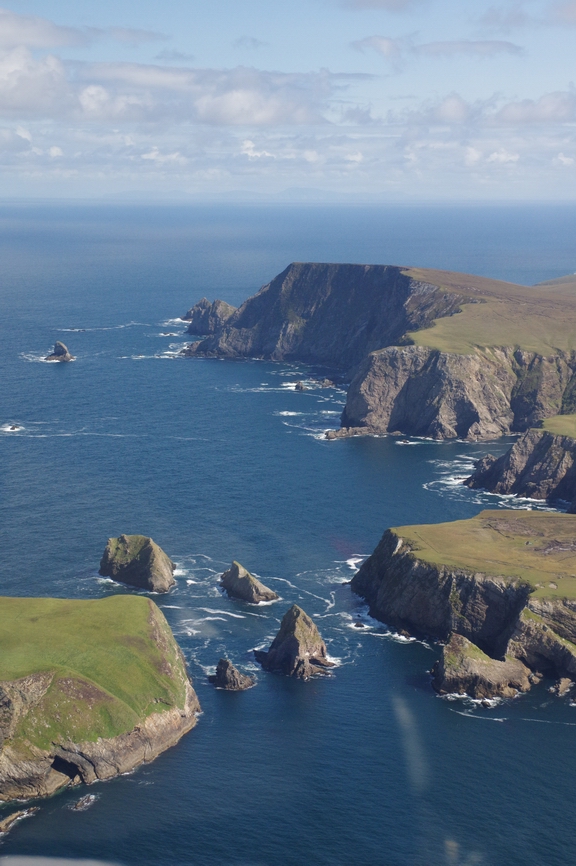 Approaching Achill Island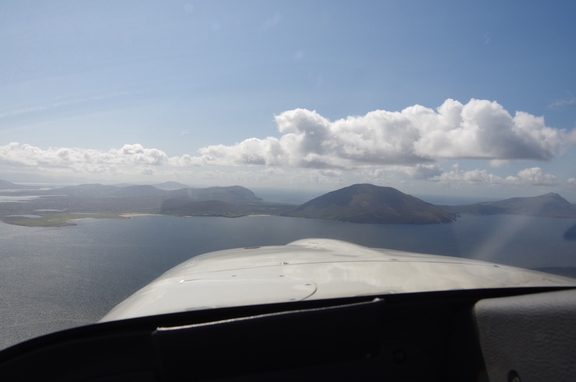 Keel Strand, Achill Island. My co-pilot Colm stayed in one of those houses for a weekend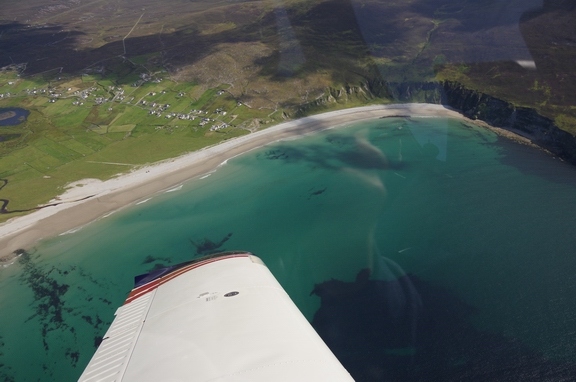 Achill Island... a nice beach but probably not accessible from land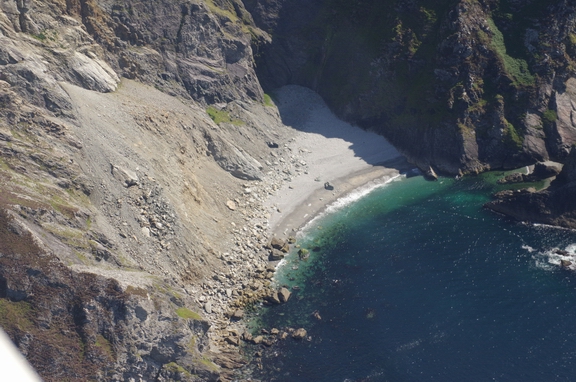 Inishbofin Airport. It was built because the people who live on these islands have a special "protected status" (they speak the Irish language for example). But the money ran out after the boom and it was never opened to use, and now under government contract to Aer Arran to keep it closed. At least the runways numbers are now painted on the correct end, which wasn't originally the case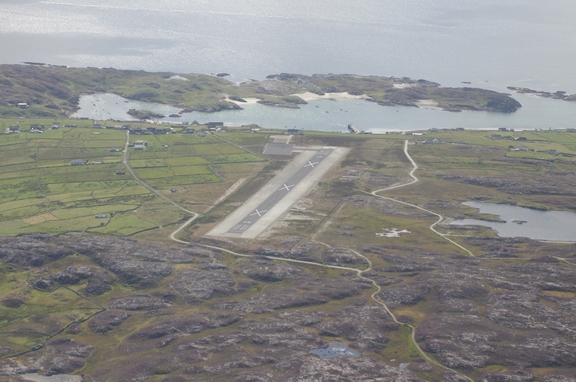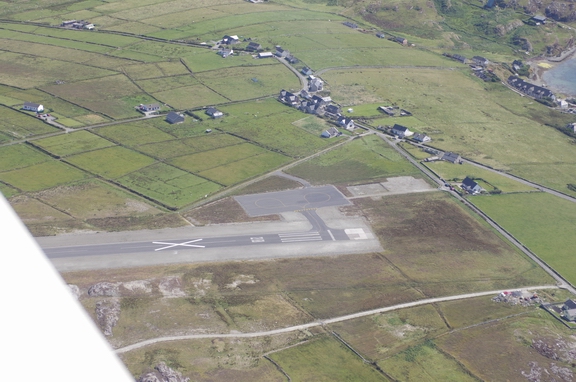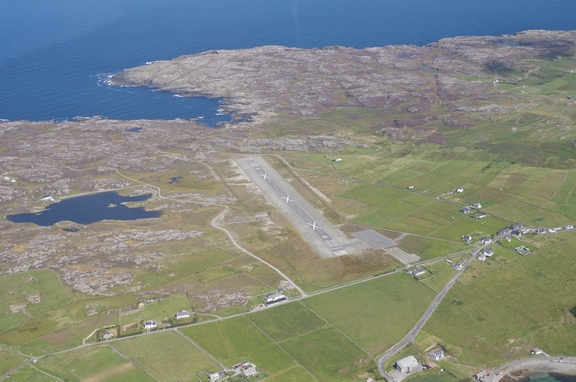 Another closed airport, built recently but never opened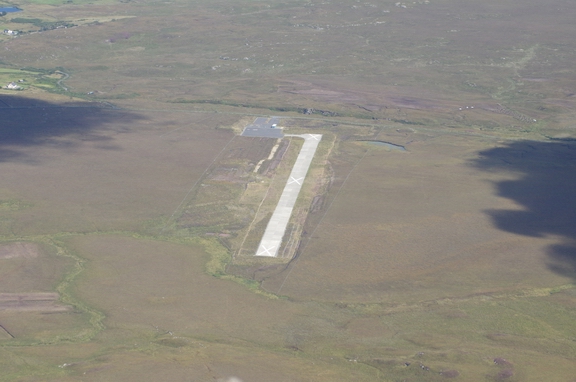 EICD - Clifden Airport at Cleggan. It was to be used for public transport flights to/from the Inishbofin airport mentioned above. It is also under government contract with Aer Arran to keep it closed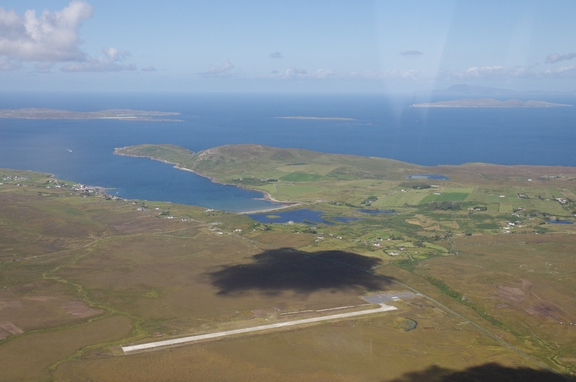 EICD. Apron, and space for a terminal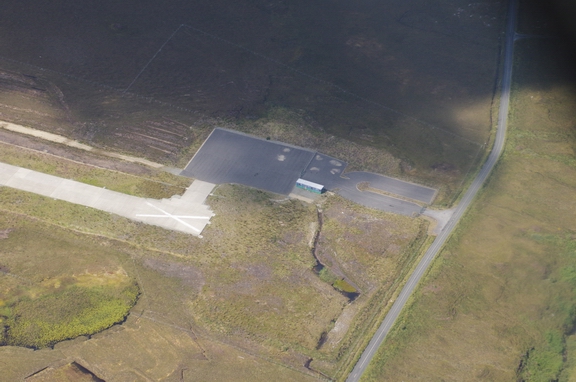 Clifden Castle, Co. Mayo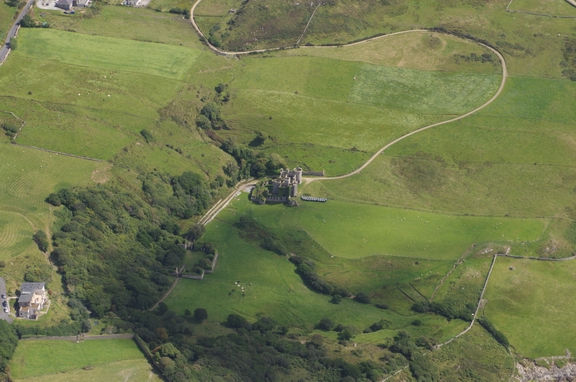 Croaghnakeela Island, Co. Galway - a curious "heart shape"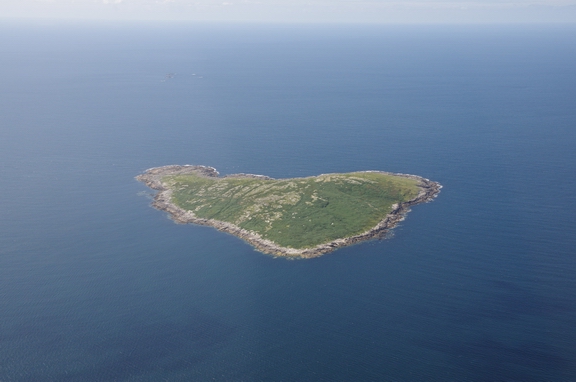 Saint Macdaras Island, Co Galway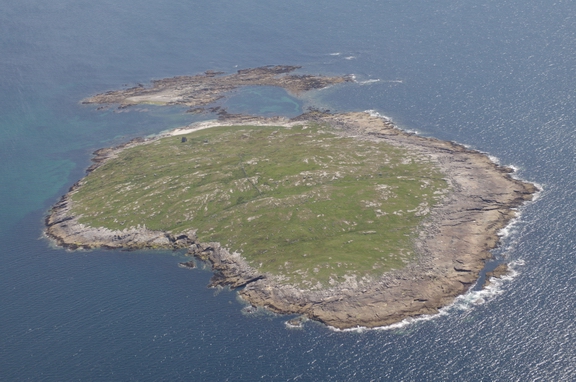 Macdaras Chapel-Saint Macdaras Island, Co. Galway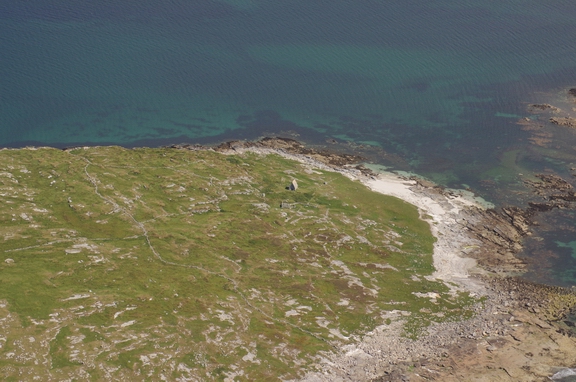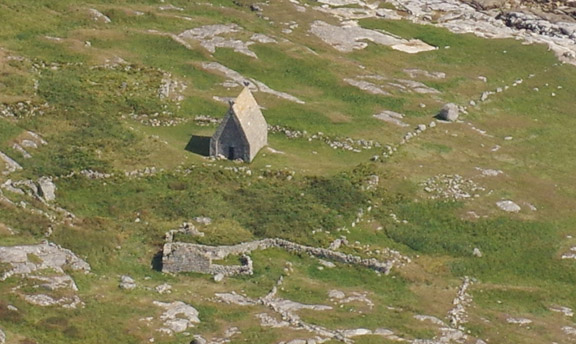 Mason Island, Co. Galway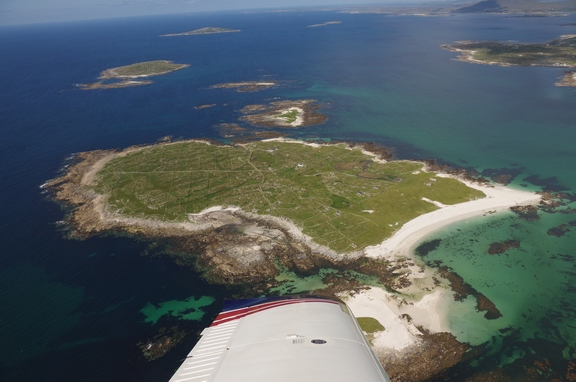 Inishmor, Co. Galway (from the north west)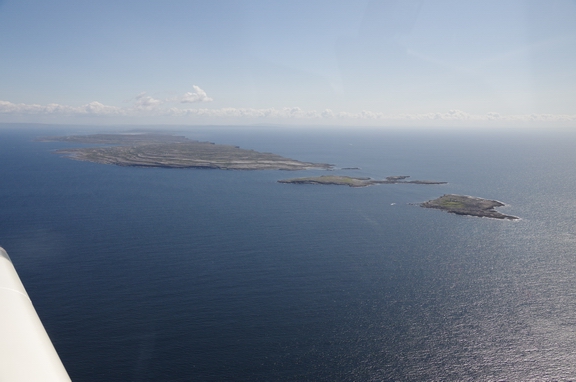 Lighthouse, Rock Island (west of Inishmore)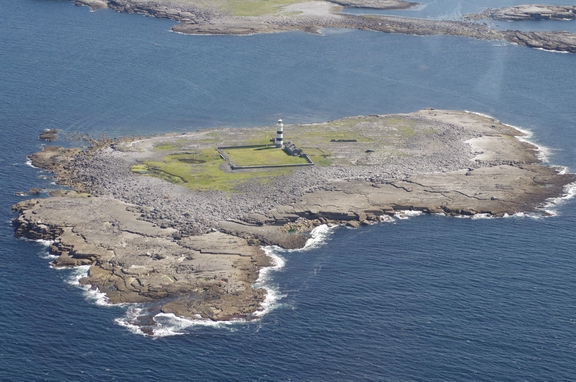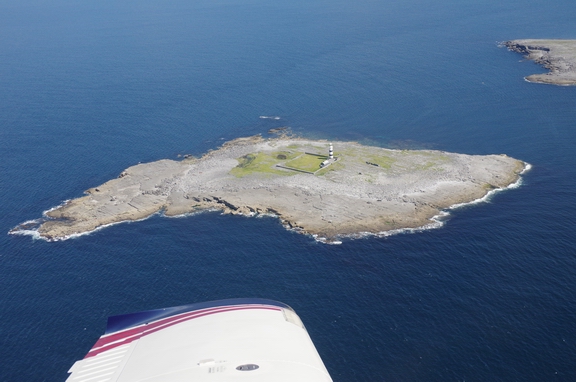 Inishmore-Aran Islands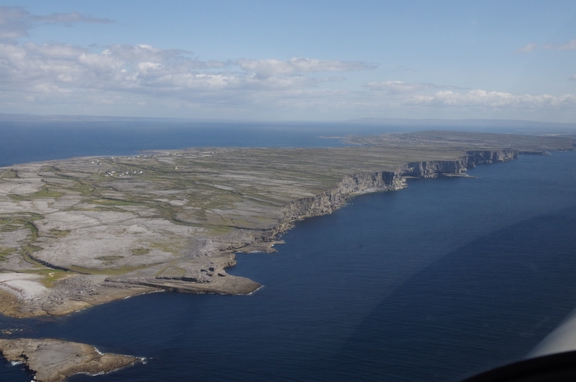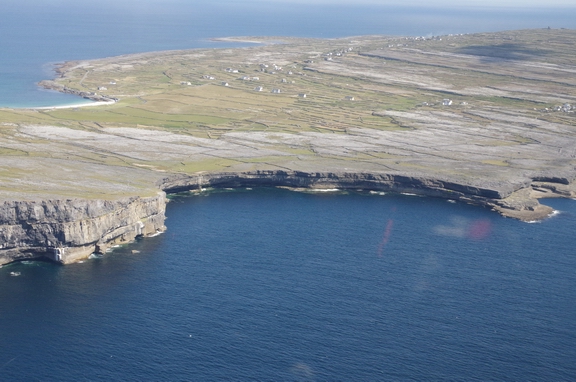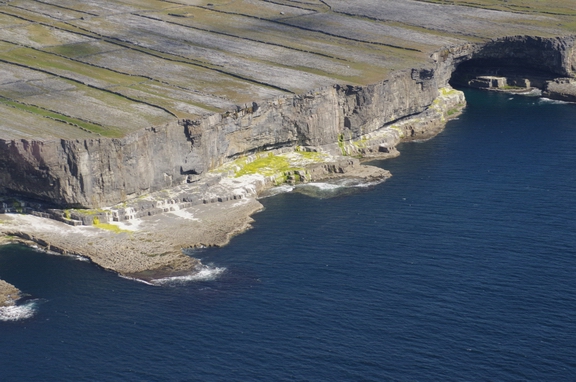 EIIM - Inishmore, Aran Islands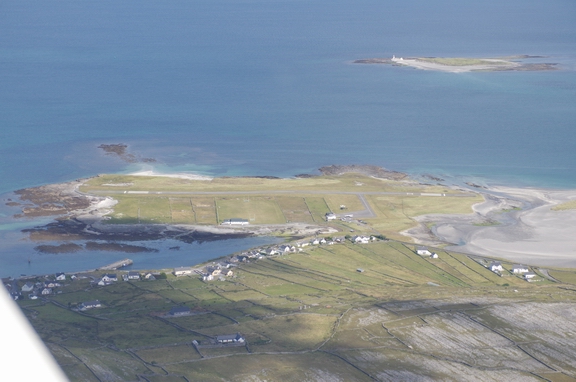 Inishmaan, Aran Islands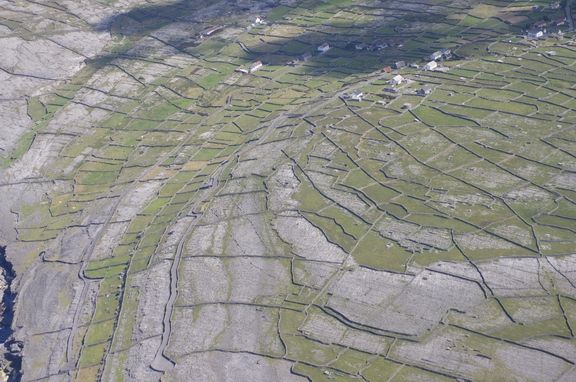 Inisheer-Aran Islands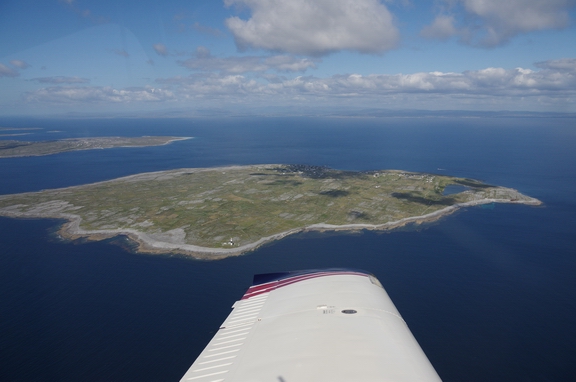 Aran Islands - front to rear: Inisheer, Inishmaan, Inishmor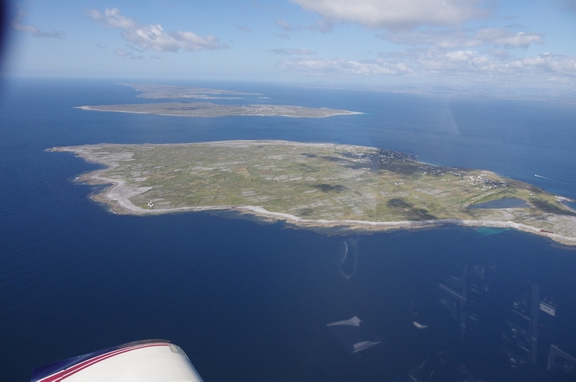 Shipwreck on Inisheer, used in opening credits of the Father Ted film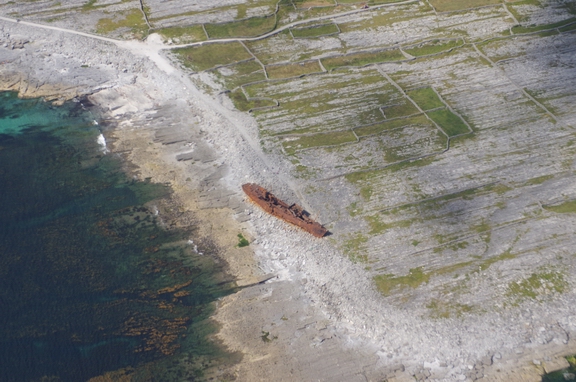 EIIR - Inisheer airport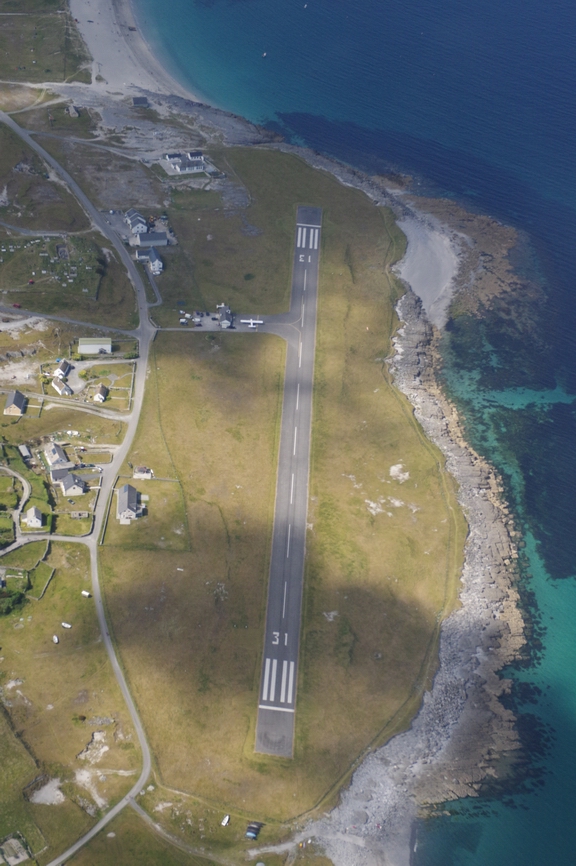 Lighthouse on Inisheer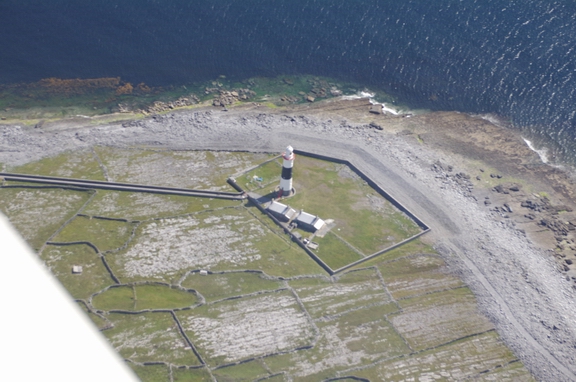 Cliffs of Moher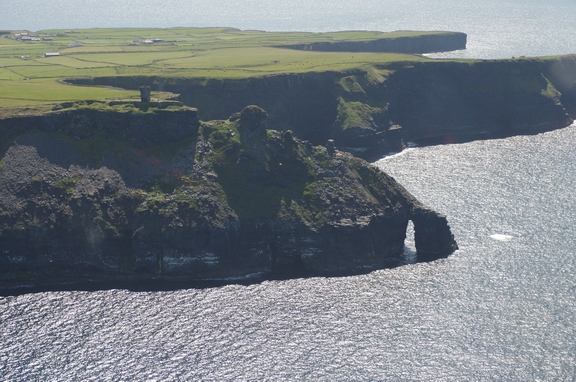 Ballybunnion, Co. Kerry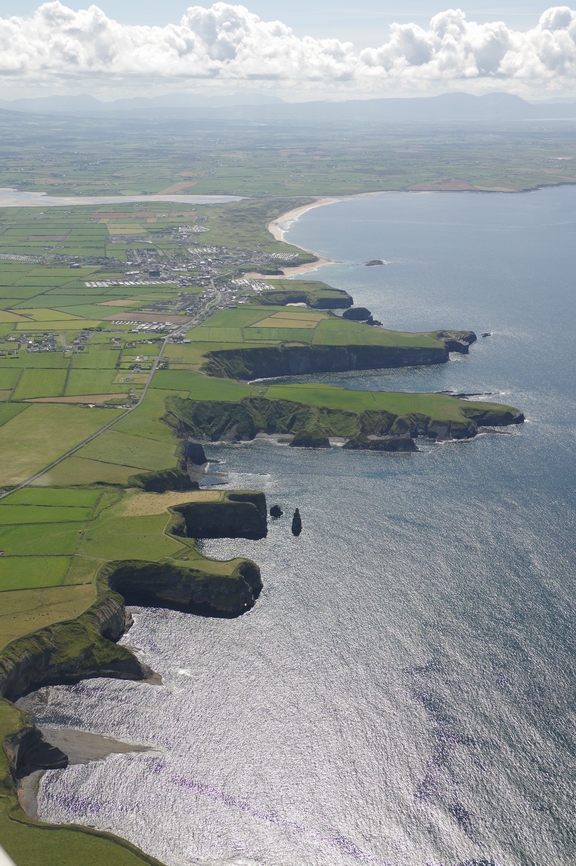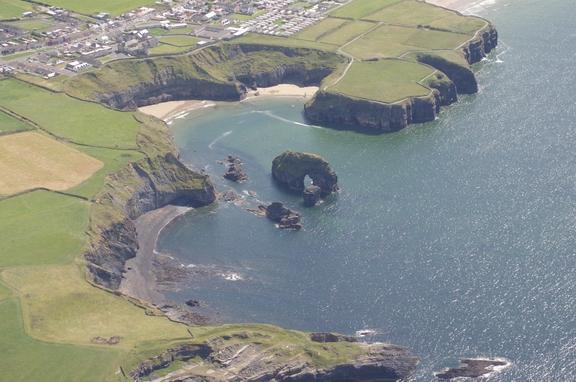 EIKY - Kerry Airport. This one is slightly more busy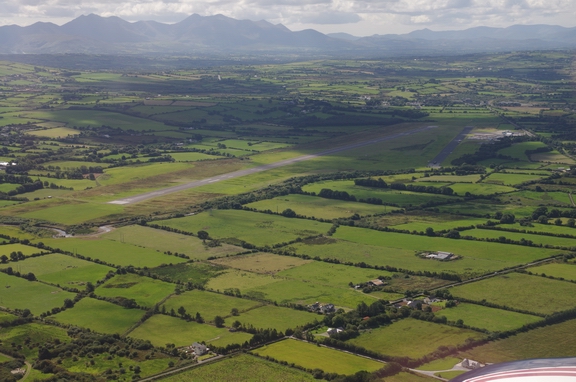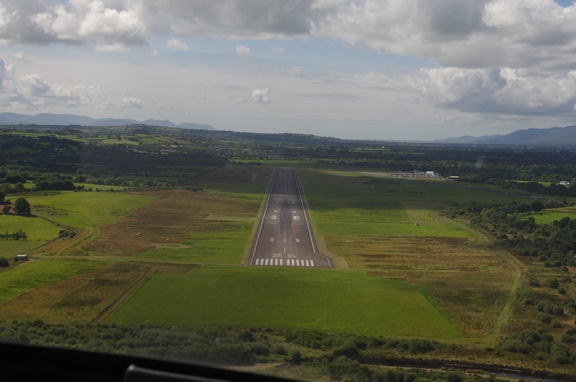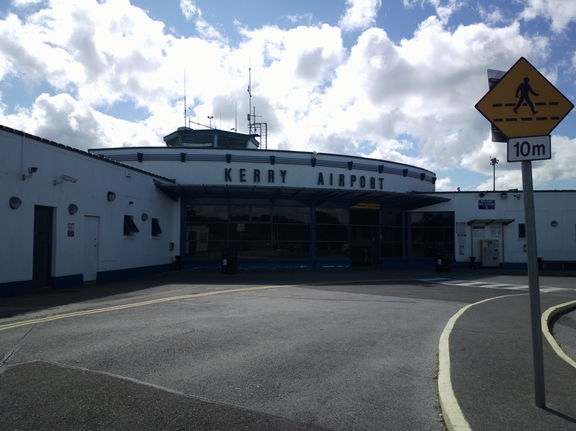 We got a taxi into Kerry - €20. It's a nice place with plenty of tourist shopping, especially Aran sweaters which are big business out there

Personally I think the wool is too rough and scratchy, but they seem very fashionable.
Dingle Bay, Co. Kerry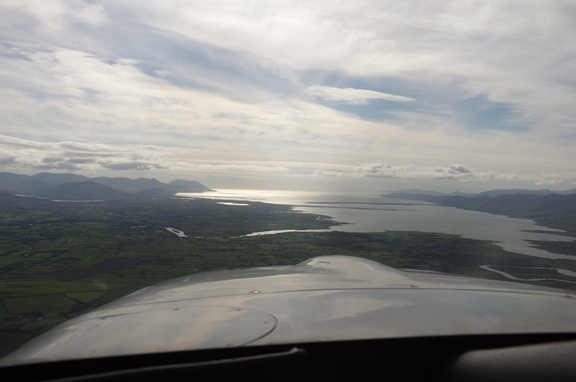 Co. Kerry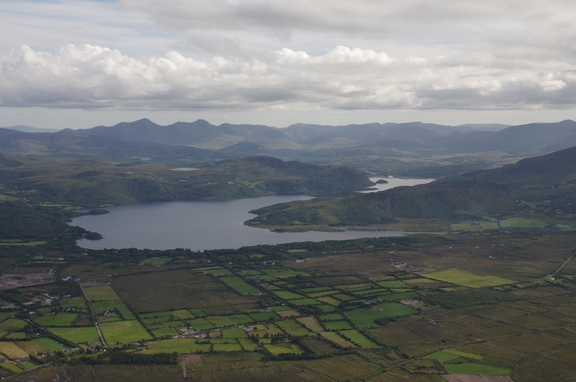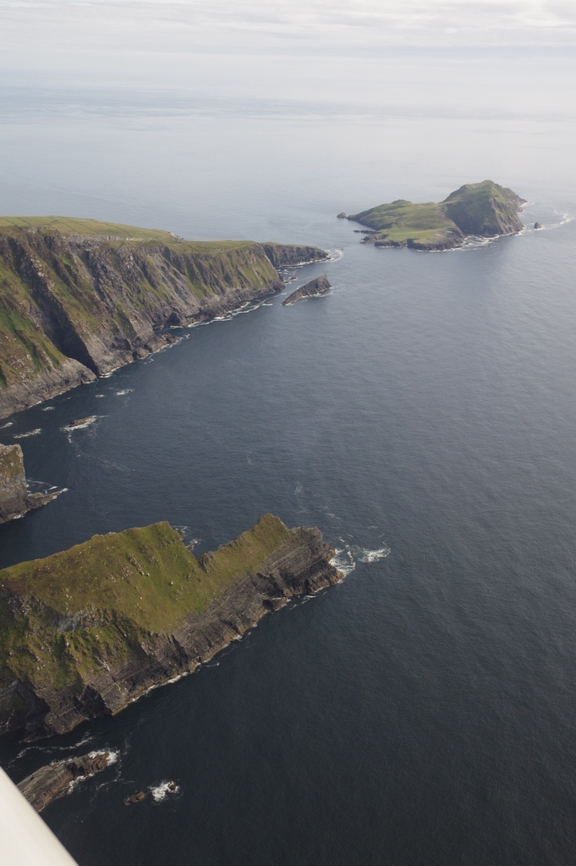 Approaching Skellig Islands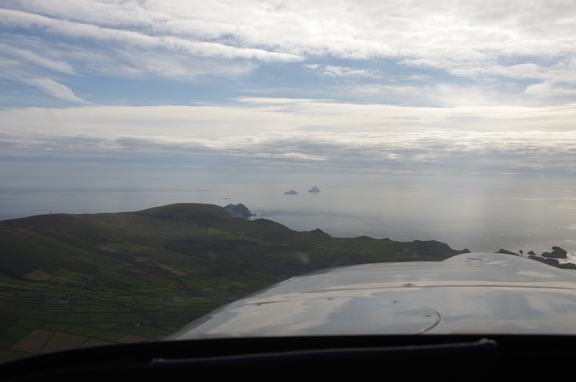 Puffin Island, Co. Kerry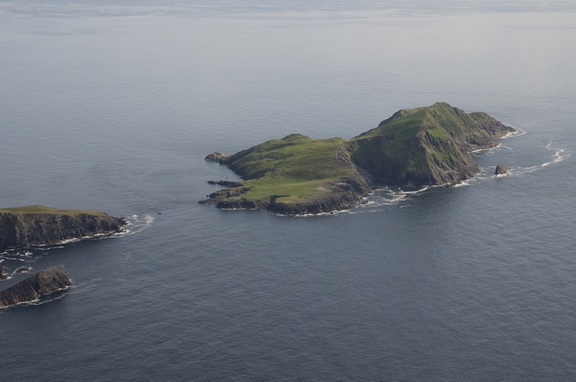 Great Skellig (or Skellig Michael)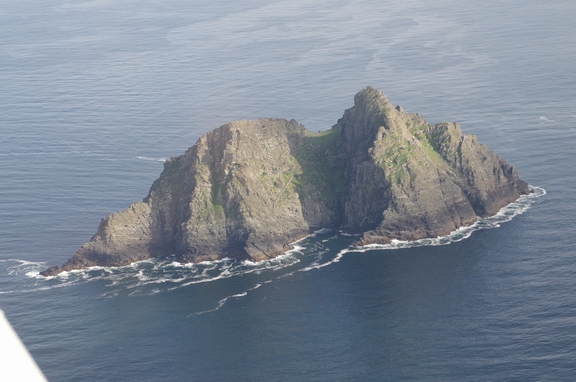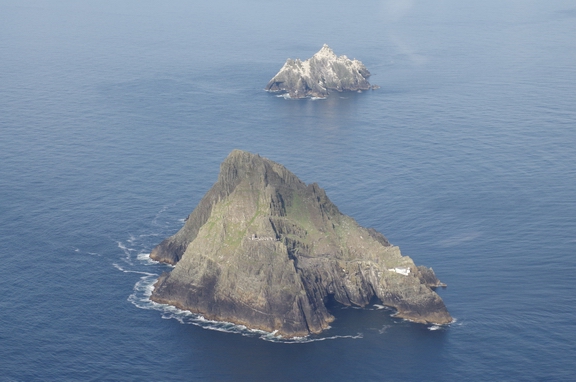 Little Skellig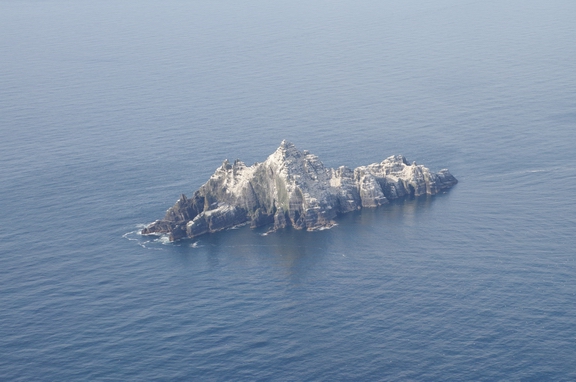 Back to the coast...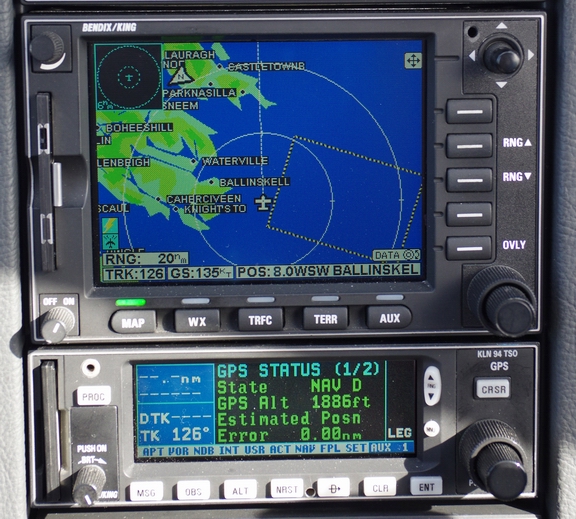 Signals Tower - Beara Pensula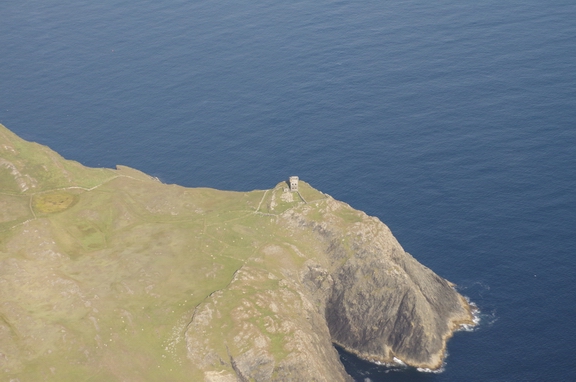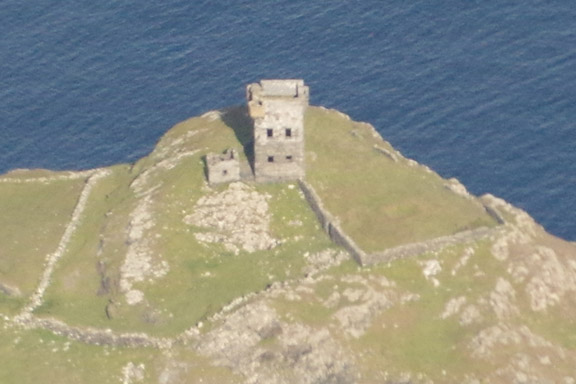 Fastnet Lighthouse - the most southerly point of Ireland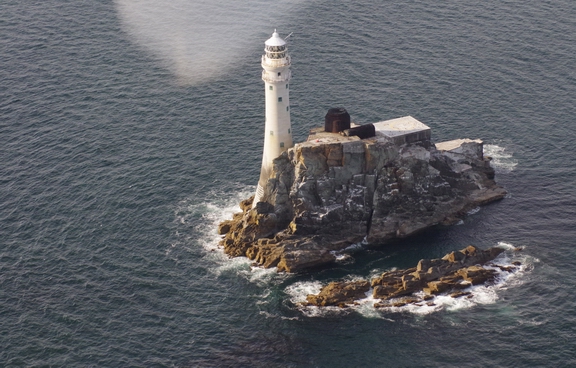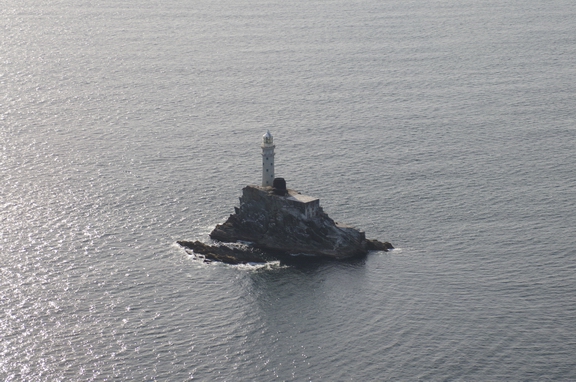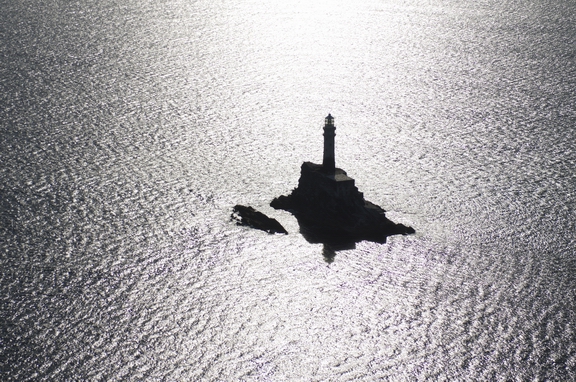 Co. Cork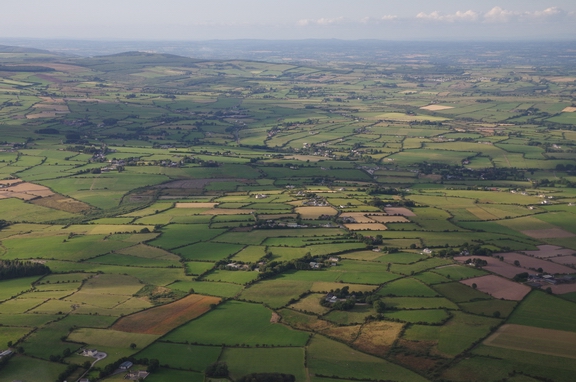 Near Cashel, Co. Cork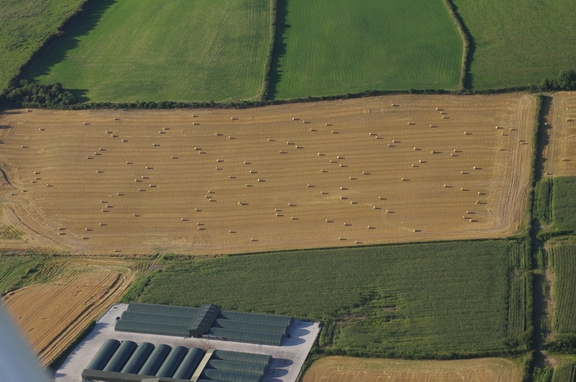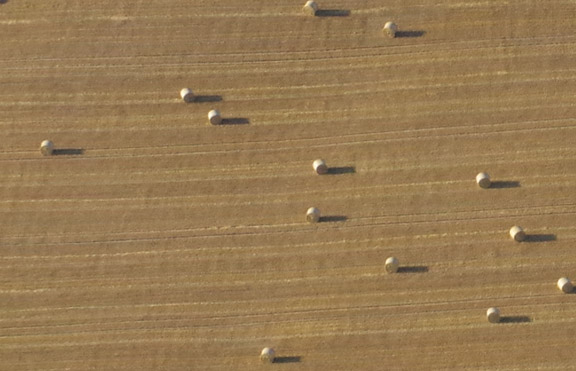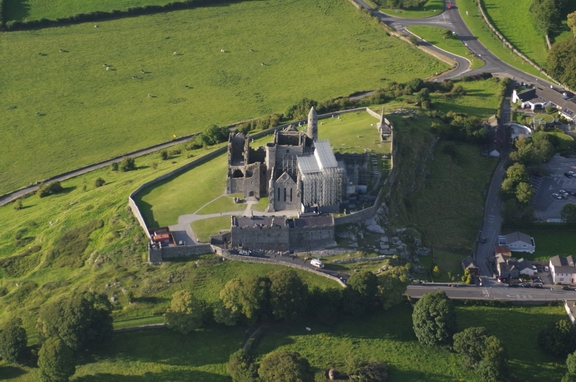 Kilcock, Co. Kildare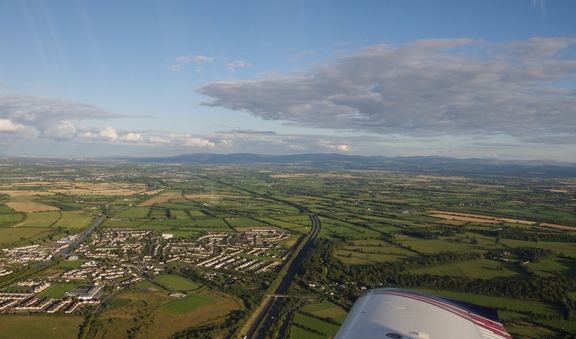 A golf course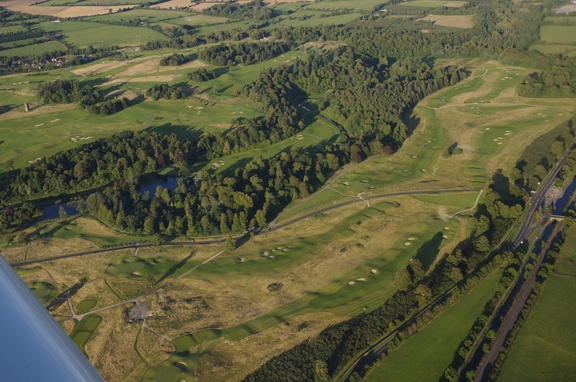 Nearly back to Weston...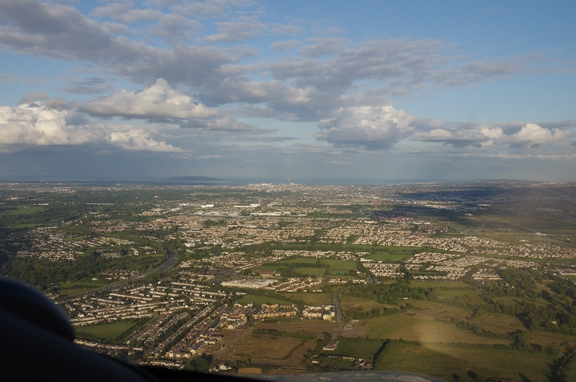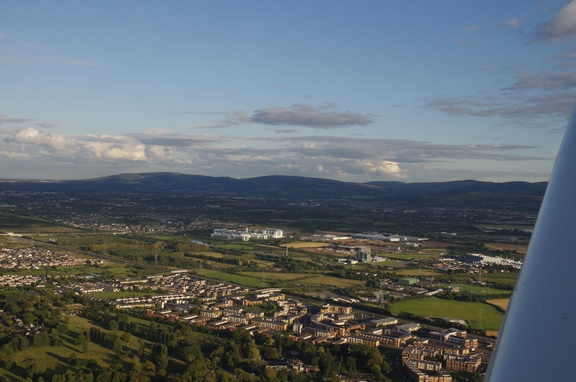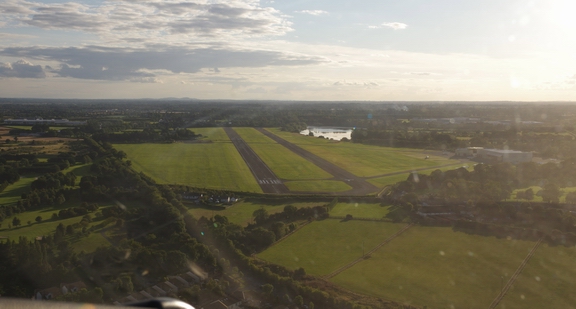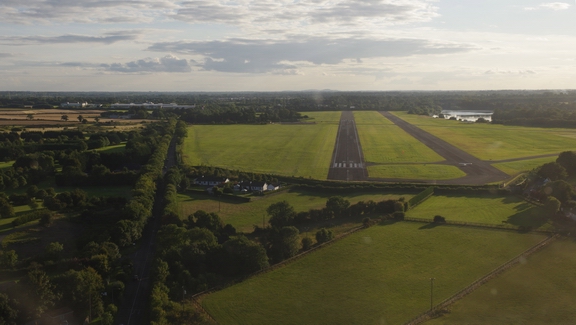 Two happy pilots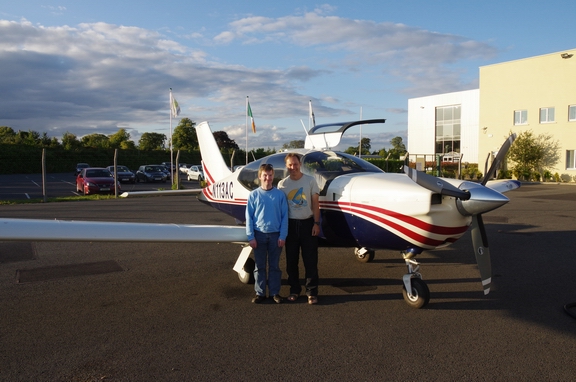 On the way back to the UK, there was a layer at around -5C so predictably - within seconds - I picked up several mm of ice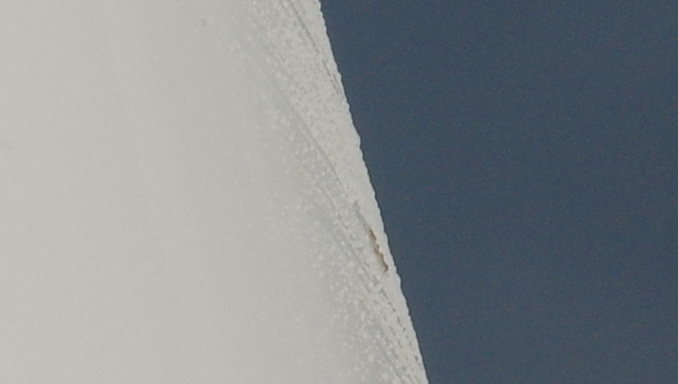 but climbed up through the offending layer fast enough. The 0C level was high enough (about FL080) to provide an easy escape route, via a descent over the sea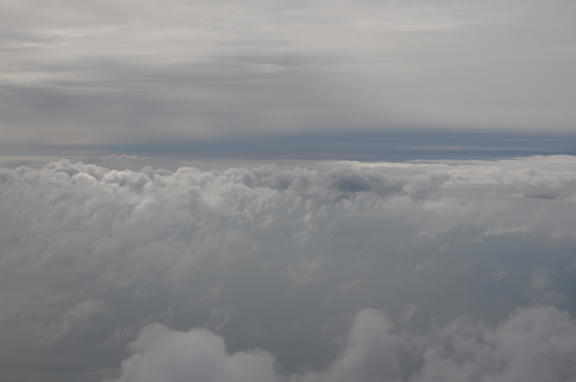 The weather gradually cleared up when approaching the UK coast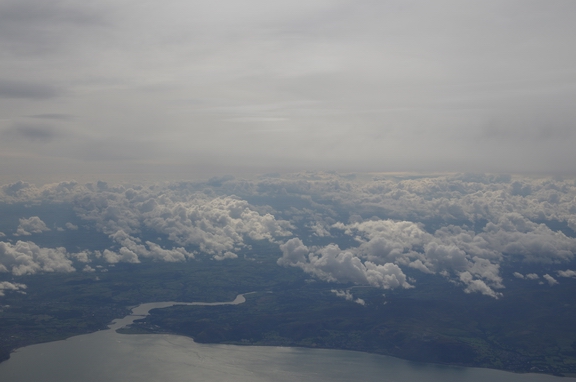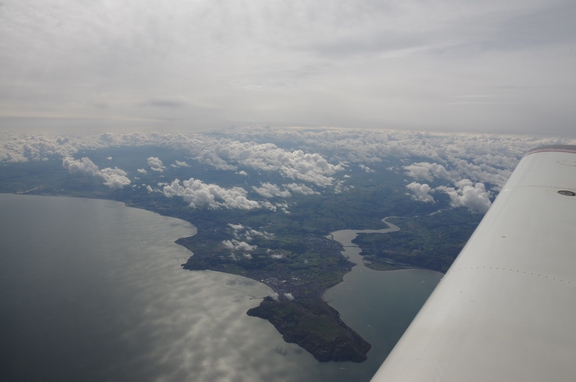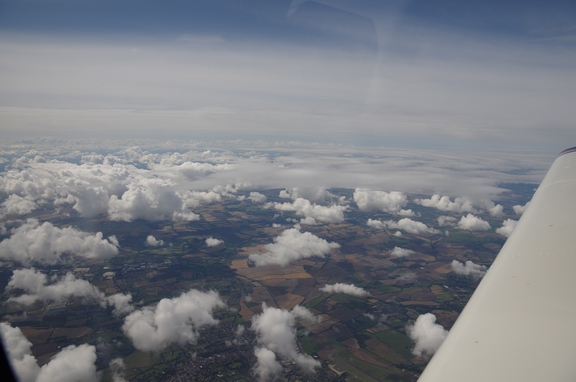 Approaching the south coast and Shoreham, descending through FL070 and getting a radar service from Farnborough Approach while still in Class A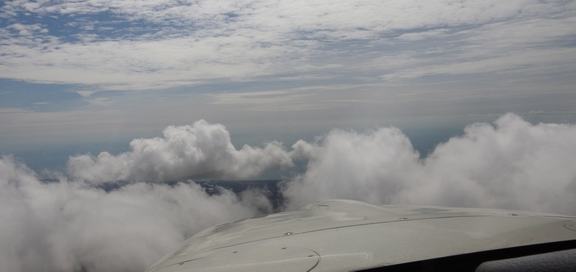 The final part of the descent was pretty steep!
What this trip shows is a combination of high altitude IFR for getting somewhere and low level VFR for the scenery. Each is a tool for a different job. It also demonstrates how good GA is for seeing scenic places and covering a lot of distance.
These are the PocketFMS "breadcrumb" tracks:
Weston-Sligo
Sligo-Kerry
Kerry-Weston
These are the Oziexplorer logs:
Flight times (airborne times):
EGKA-EIWT 2:50
EIWT-EISG 0.45
EISG-EIKY 1:30
EIKY-EIWT 1:45
EIWT-EGKA 2:05
I owe my thanks to my friend and co-pilot Colm for his huge help with flying around Ireland. Without him it would have been a lot more work

This page last edited 26th August 2014