Flight from Shoreham EGKA to Lausanne LSGL, Switzerland, March 2015
Lausanne is a city in the western and mainly French-speaking part of Switzerland.
The trip was done 6-8 March 2015, during a period of unusually good weather for the time of the year. It was a short-notice fly-in of several EuroGA pilots.
This writeup is a simplified version of my normal ones in which I go into a lot more detail of each trip.
Pilot
FAA CPL/IR, JAA/EASA PPL/IR, ~1950hrs.
Aircraft
The aircraft is this 2002 TB20GT; one of the last made before production ended.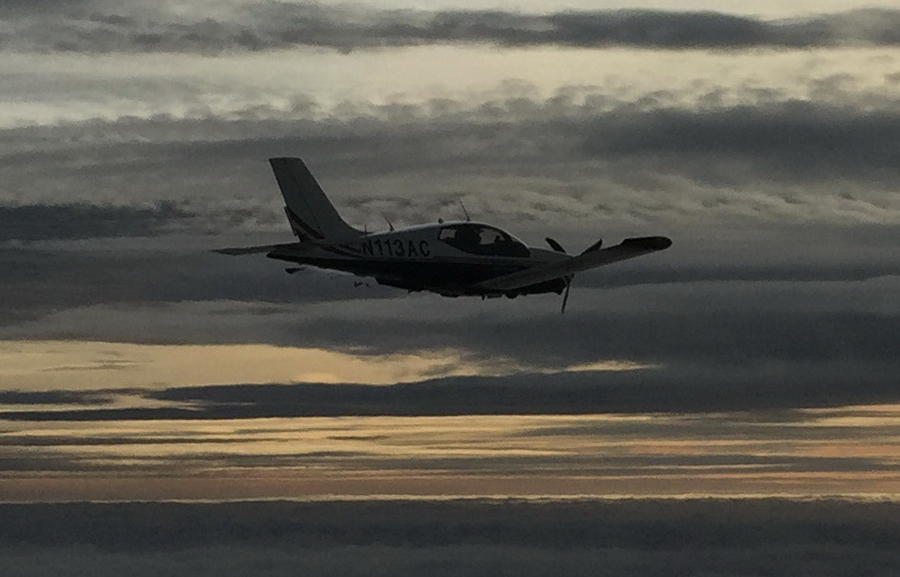 It is equipped for BRNAV (RNAV 5) and can fly ILS and GPS/LNAV approaches using the autopilot. This is sufficient for all practical European IFR flight. The instrument panel is largely as delivered in 2002, with a Sandel EHSI installed on the LH side and with the RH side reworked with another EHSI and arranged to form a usable "pilot panel" so the aircraft can be flown from the RH side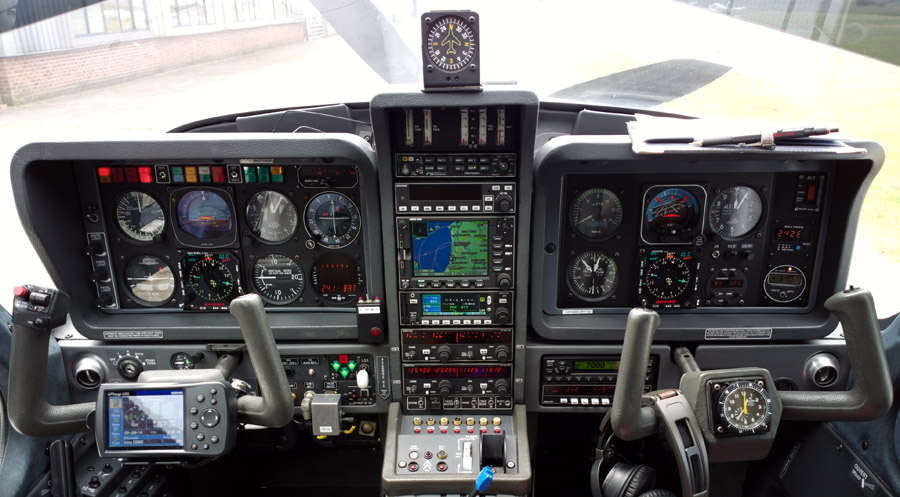 There is no LPV approach capability but LPV is not yet operationally relevant in Europe.
Oxygen is used on all IFR flights, with the Mountain High O2D2 electronic regulators and cannulas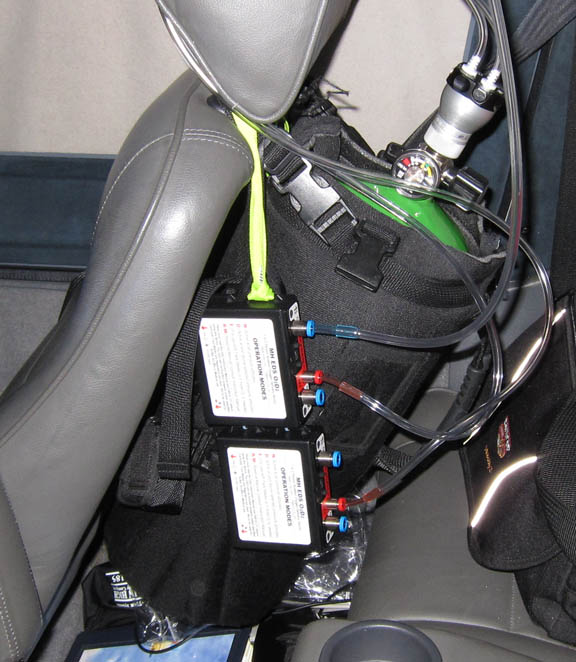 In general, European IFR is only marginally feasible without oxygen, due to the minimum practical Eurocontrol routings. The two IFR legs on this trip were filed at FL100, which is my normal level when the weather is nice, and we were lucky that no higher climb was required. One can fly for hours at FL100 and it is legal but without oxygen one would end up very tired.

Routes

The two routes were almost identical, which is common for France but rare elsewhere.

EGKA N0152F100 WAFFU/N0150F120 DCT KUNAV DCT ABUDA/N0152F110 DCT ABB/N0152F100 H40 XORBI H20 BILGO B3 VATRI G40 ARSIL B13 SOMDA A6 DJL A1 SPR VFR LSGL

GC: 375nm
Eurocontrol: 418nm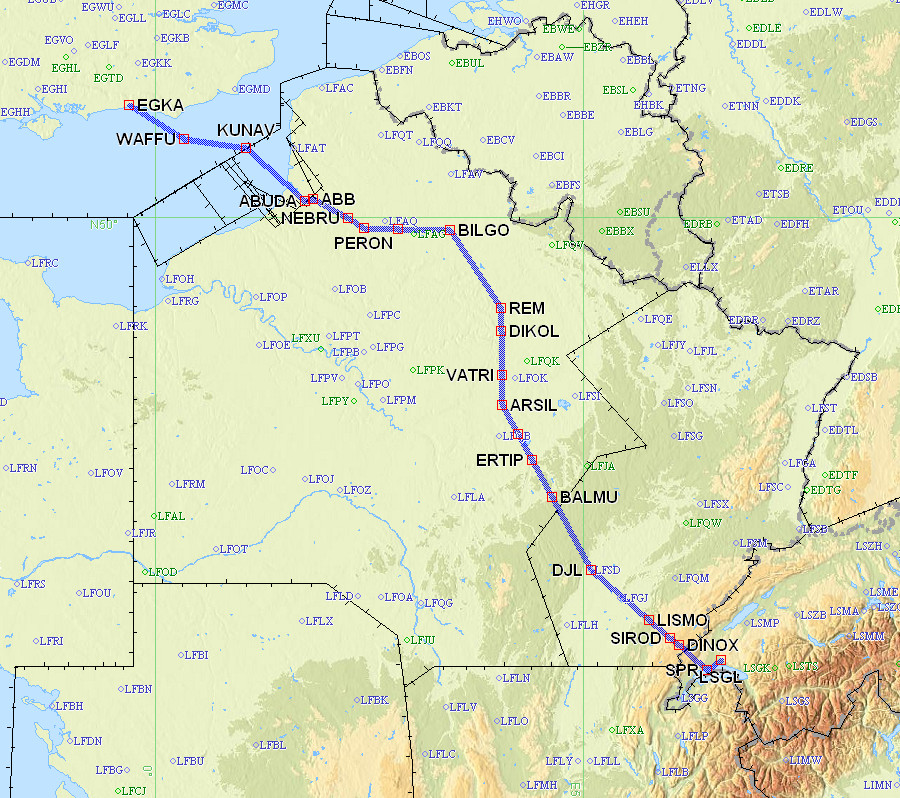 LSGL N0152F100 SPR/N0152F100 IFR A1 DJL A6 SOMDA B13 ARSIL G40 VATRI B3 BILGO H20 XORBI H40 ABB/N0150F120 N20 KUNAV/N0152F100 Y8 WAFFU EGKA
GC: 375nm
Eurocontrol: 416nm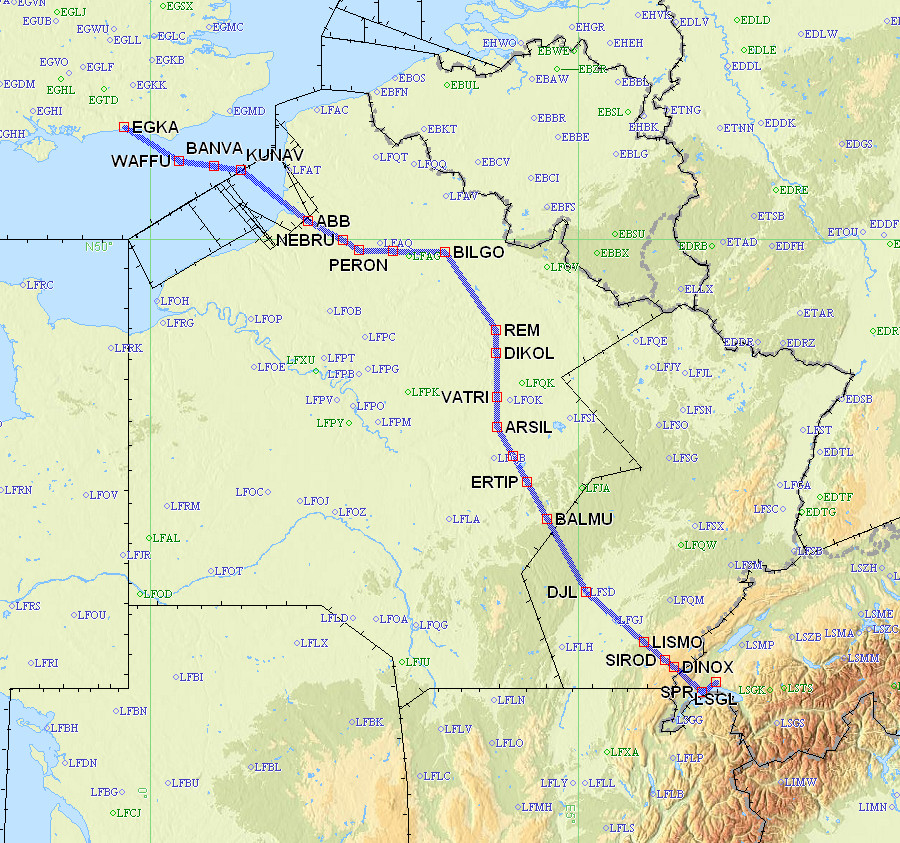 Airport PNR/PPR
The airport, LSGL, has Customs so can be flown to directly from the UK. They email you a form to be completed with crew and passenger details. It isn't clear how much notice they need but I did it all days beforehand. The Customs police officers seem to turn up with 100% certainty, for a passport check. The contact email is


Outbound Flight Shoreham - Lausanne
The departure weather was good: TAFs/METARs IR Image MSLP
On the way to the airport it looked foggy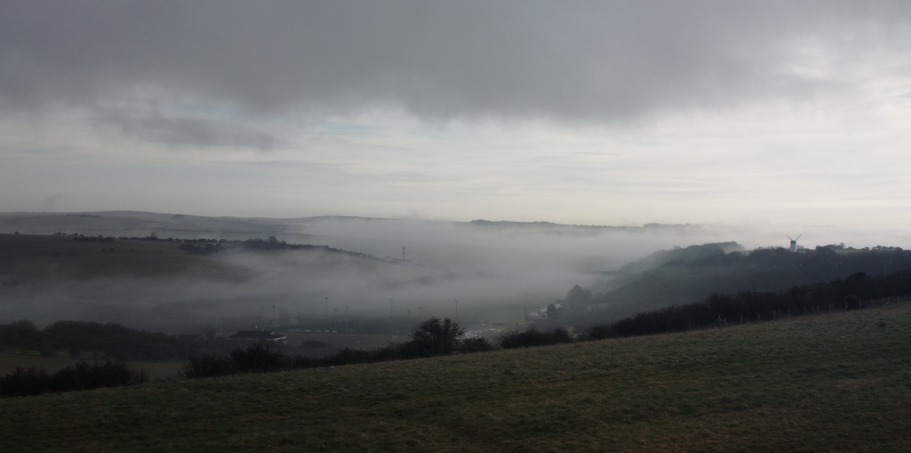 Fortunately, at the airport, there wasn't fog but there was some low cloud, down to about 800ft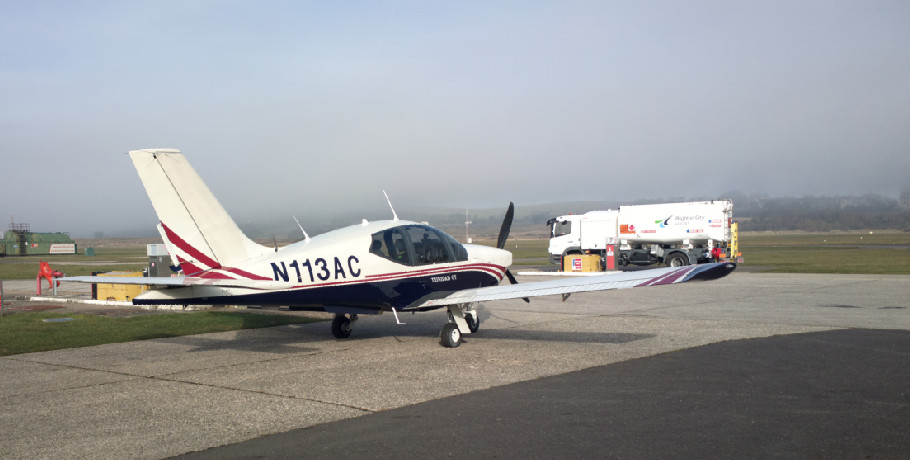 Then we had some "fun"... when full power was applied for takeoff, the fuel flow (which should read about 23 USG/hr in ISA conditions) was fluctuating wildly between zero and 40 USG/hr. Th engine was running perfectly so this was almost certainly an instrument problem but obviously a fuel leak could not be ruled out, so I aborted the takeoff and taxied back to parking. Initially I was going to abandon the trip but then decided that if an inspection of the fuel flow transducer and surrounding pipework shows no leaks, and the instrument is found to be working fine (which would rule out another hazardous condition involving damaged wiring) then one could do the flight. The trip involves only about 1/3 of the aircraft range so no possible headwind could cause a problem.
At Shoreham, there is no possibility of any maintenance work outside the two based maintenance firms (a common "airfield political" situation in the UK) so I paid one of them to use the concrete apron outside their hangar and one of their people helped to remove the cowlings. On the TB20, removing the lower cowling is a 2 person job.
An inspection of the transducer (the pic below is with the fire sleeve removed) showed no leaks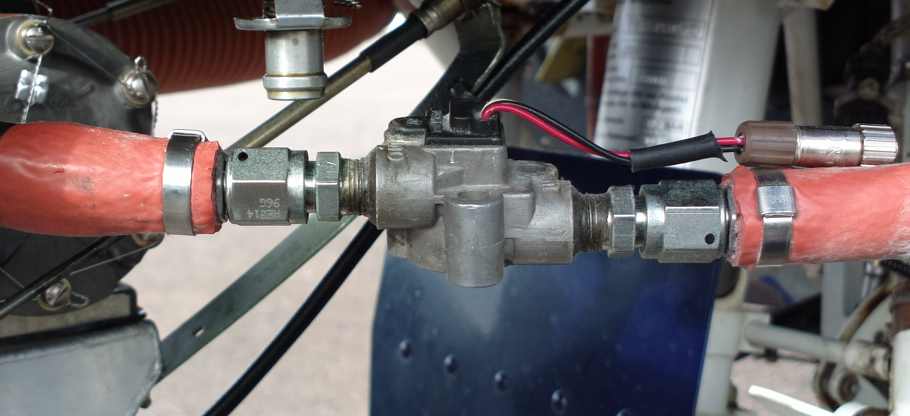 I also had a simulator for the flow transducer, which I built some years previously as part of another life-wasting project resulting from the aircraft manufacturer's negligent installation of the transducer in the wrong place in the pipework... I carry this little gadget in a toolbox in the aircraft. It is a simple pulse generator which divides a 2MHz quartz crystal frequency down and simulates around 30 USG/hr. Th connector above was installed specifically to enable the use of this pulse generator. It immediately confirmed that the wiring from the transducer connector and the instrument itself were fine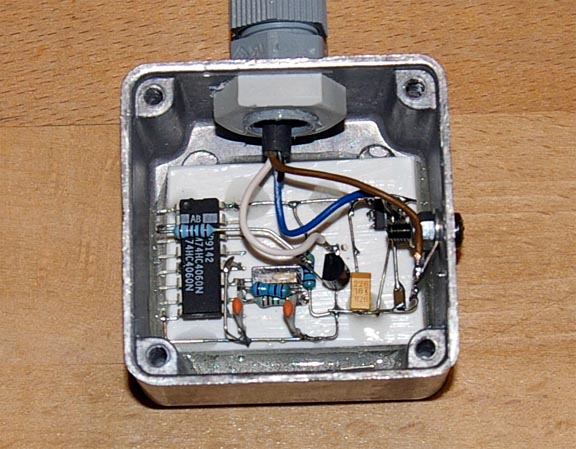 So, 2 hours later (getting the cowlings off takes a while) off we went again...
A new transducer was ordered from Shadin in the USA and it arrived and was installed 3 days later. There were some issues with a poor finish on the unions which came with it and it had to be re-done again a week later, to fix a tiny but unacceptable leak. The bad union is on the left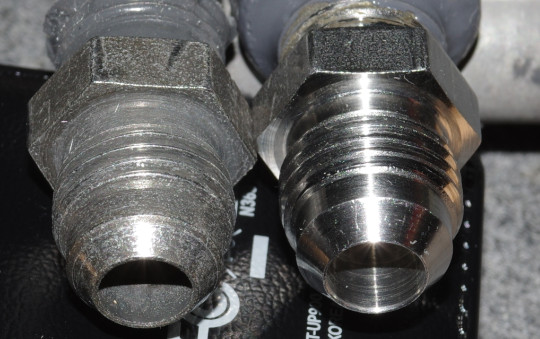 The process grounds the aircraft for a few days because one uses PR1440 (PR1422 was popular but has been discontinued) 2-pack fuel tank sealant on the transducer's tapered threads and this has to be left to go off for a couple of days. The finished job is pressure tested by running the electric fuel pump against a closed mixture control.
As a result of the faulty transducer, the whole flight was done with a zero fuel flow reading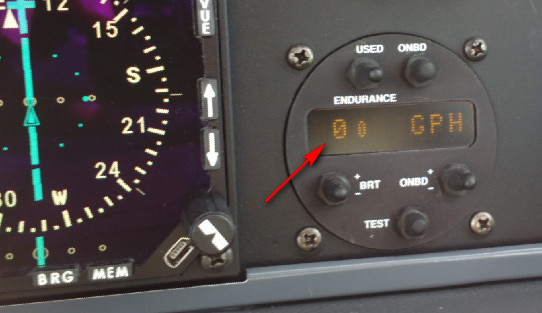 I still had the EDM700 engine monitor which was used to set the engine up for peak EGT - best economy cruise of around 10.5 USG/hr at FL100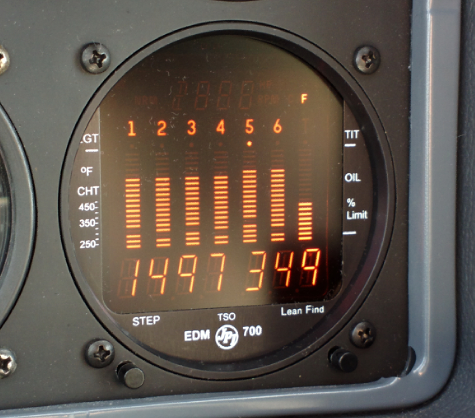 and finally the crude factory analog flow gauge which would indicate something being way off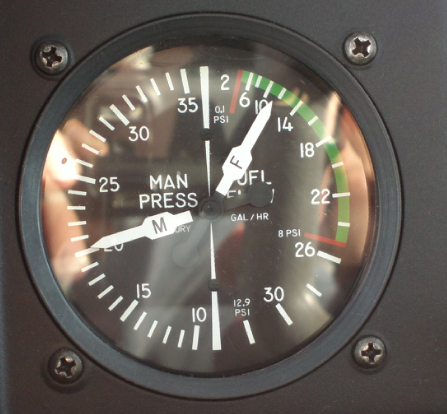 Finally, the TB20GT fuel gauges are very accurate - on past experience to about 3% of full scale.
One has to remember that some 99% of piston GA flies without any accurate fuel measurement...
Crossing the French coast...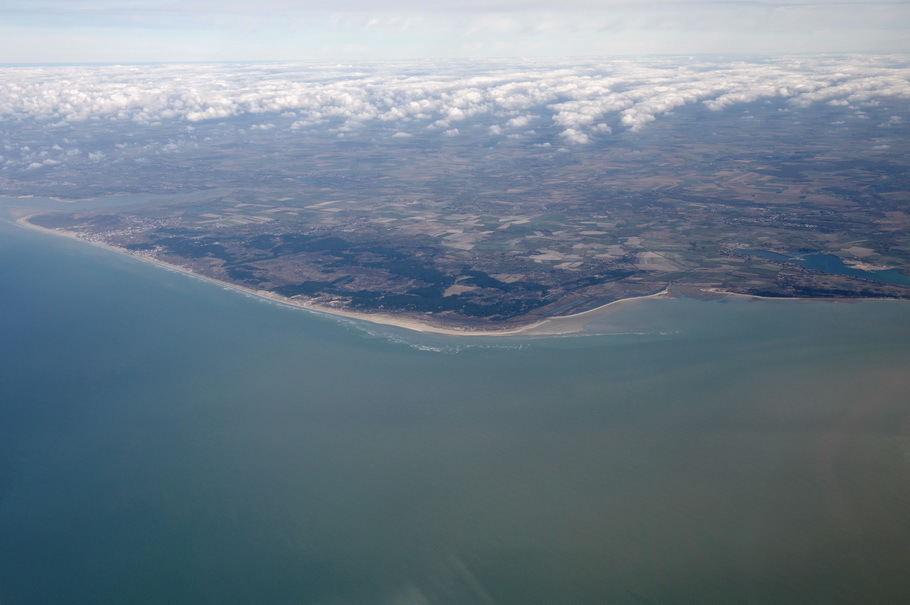 This is Oziexplorer (a generic GPS moving map program) running the latest (2013!) Jeppesen VFR charts, on a Lenovo T2 tablet. I run this as an emergency backup, and for identifying interesting landmarks below.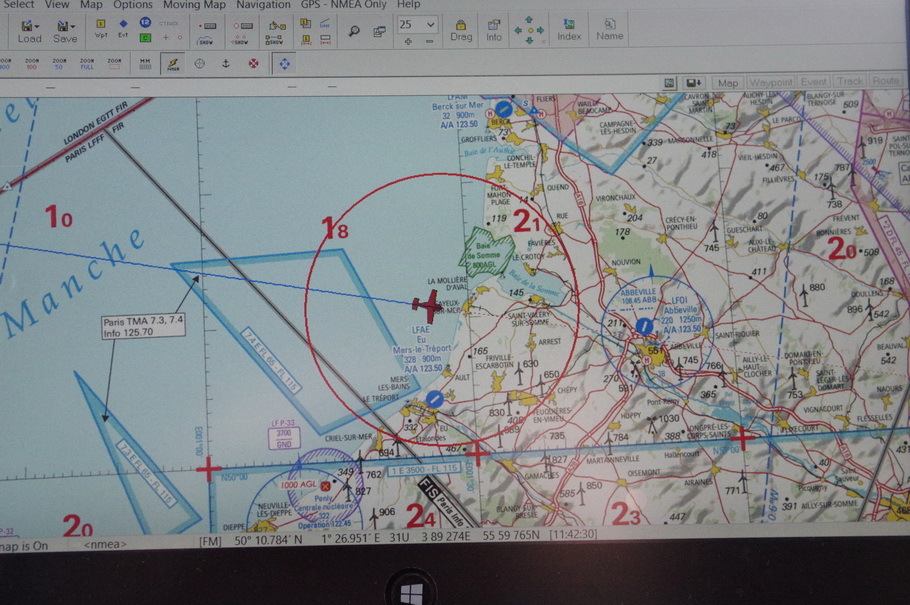 I am trying to move to a smaller tablet - the Samsung Galaxy S 8.4" T700 - which has a nice PDF viewer and is thus much easier to use for terminal charts and this shows both of them... There is a comparison I did a while ago here. The Lenovo tablet runs windows 8 which being windows does "everything" and has a powerful processor, but windows is a poor environment for a touch screen device. However, on the Samsung I came up against various bits of "Samsung functional crippling" which while not as extreme as Apple's functional crippling still makes it hard to use it outside the aircraft. For example they have removed bluetooth tethering (getting internet access via a phone) and standard android deliberately blocks adhoc wifi, so the only ways to get an internet connection are (a) infrastructure wifi, or (b) wired ethernet. There is a 3G (SIM card) version of the tablet out now but that lands you with yet another SIM card account to manage, with all the usual issues (PAYG SIMs expiring after 90-180 days, etc). Also, thus far I have not been able to get dial-up networking (DUN) going (required for my Thuraya 7100 satellite phone). I bought this tablet on the basis that DUN should be possible with PPP Widget or Widget 2 (neither of which, it turns out, work on the Samsung android variant) or it should be possible using chat and pppd shell scripts (which is too complicated for me to implement). I rooted (jailbroke) the tablet which enabled some highly desirable improvements (e.g. disabling auto updates) but the full solution to the bluetooth and wifi crippling lies in flashing it with custom firmware. Unfortunately Cyanogenmod support for the T700 came out only very recently and a lot of stuff doesn't work. Plus, dial up networking may turn out to be impossible at the end of all that... Finally, in terms of power you still get what you pay for and some PDFs (containing graphics) take a minute to render on the Samsung while the Lenovo does them in a few seconds. In the end I might just throw it in the bin - £250 wasted but one can waste so much of one's life sorting out over-hyped IT hardware.
Since the weather was good, the flight was at FL100 all the way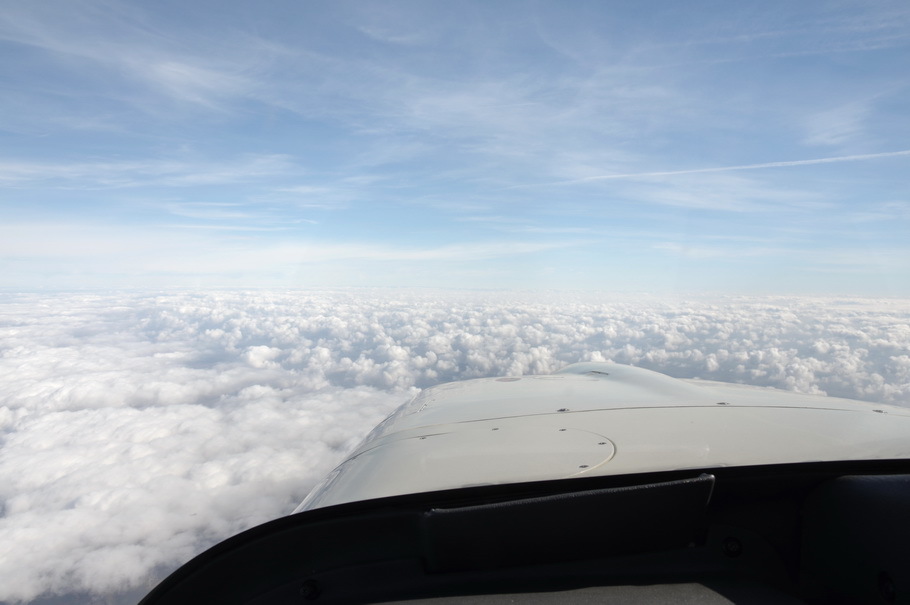 It is a relatively short flight. Here we are coming up to the Alps... Lausanne is in a valley just before the big ones in the distance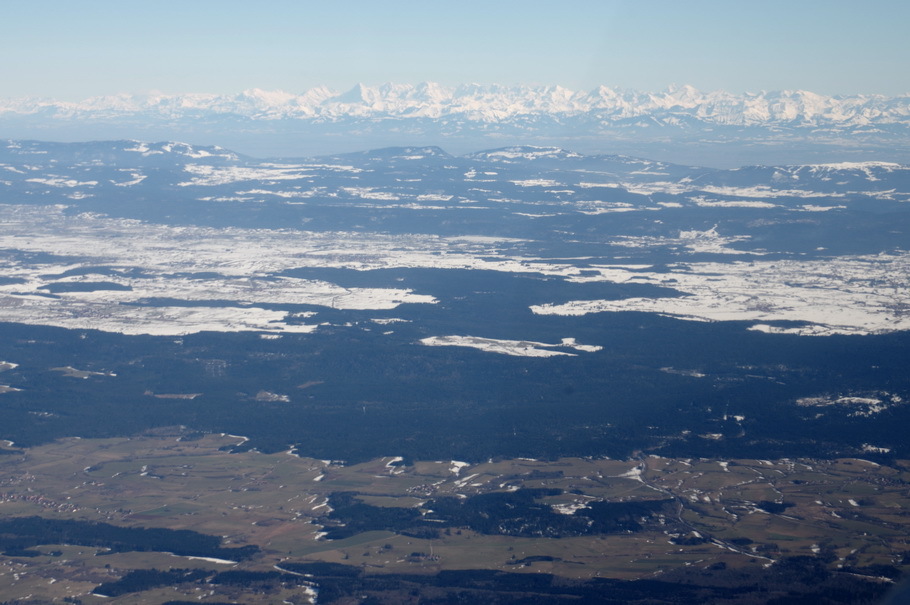 although this wasn't exactly obvious from a quick look at the GPS map, because the lake on the GPS wasn't visible ahead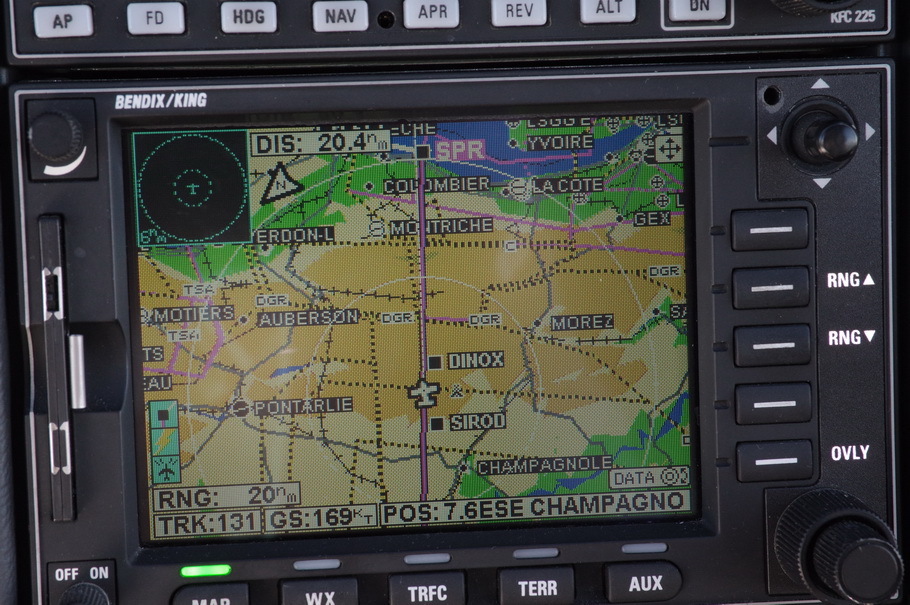 This is a view to the right (to the west), with Mt Blanc clearly visible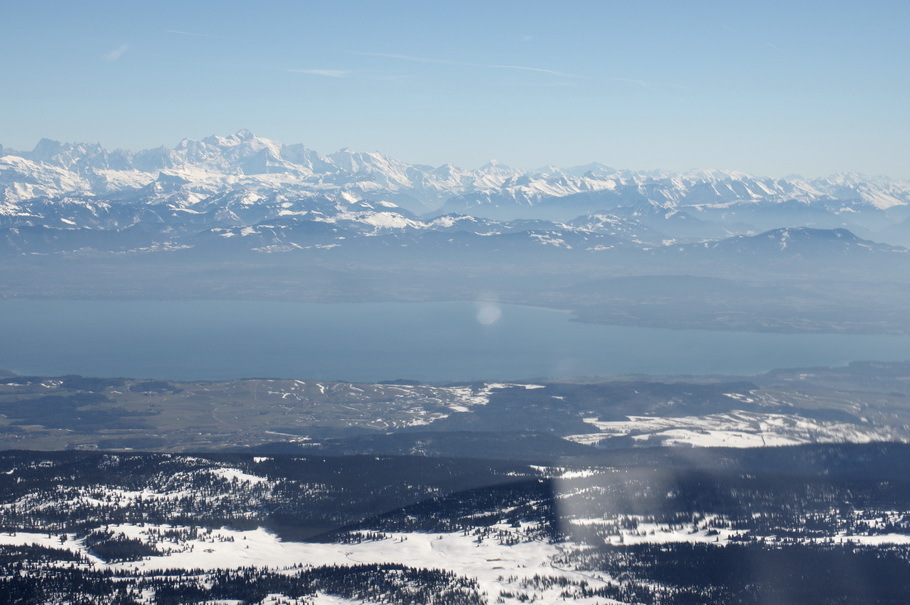 and there was much more haze to the west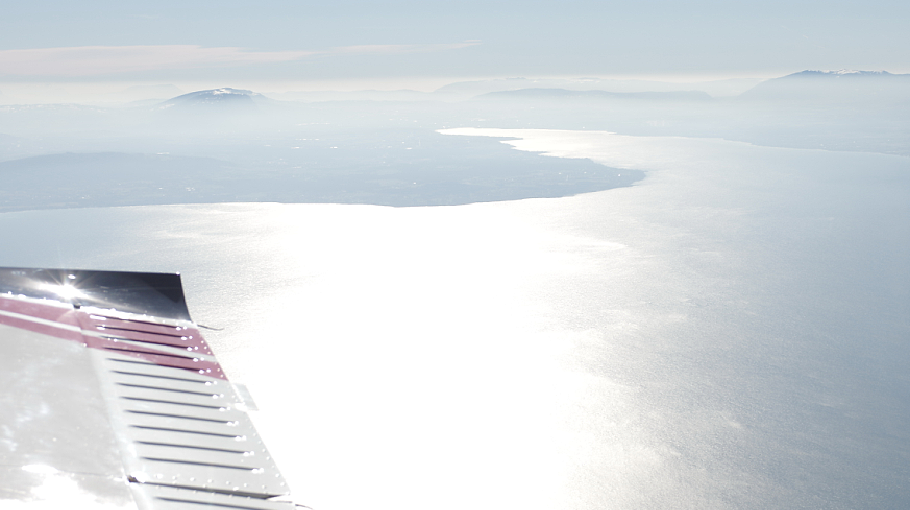 On the ground, a lot of snow in some places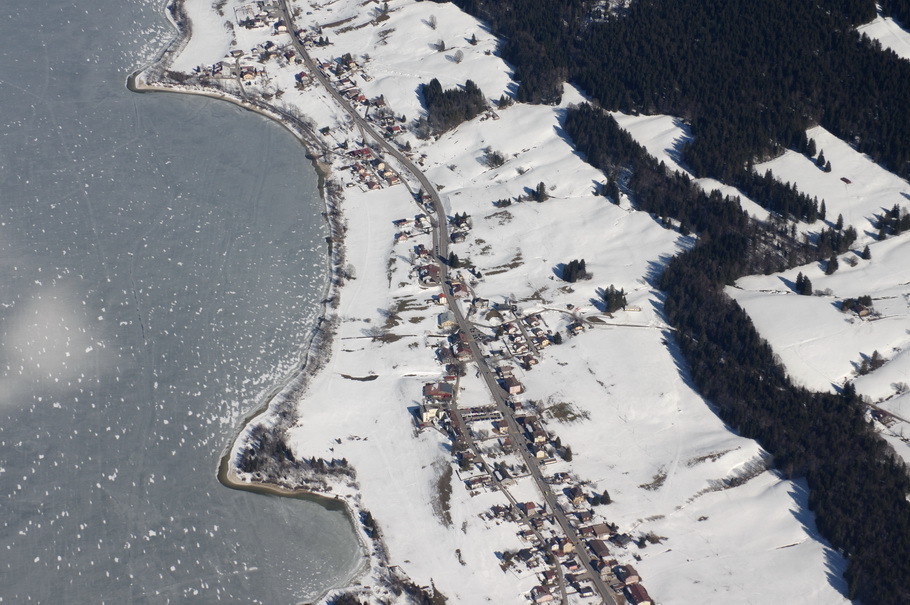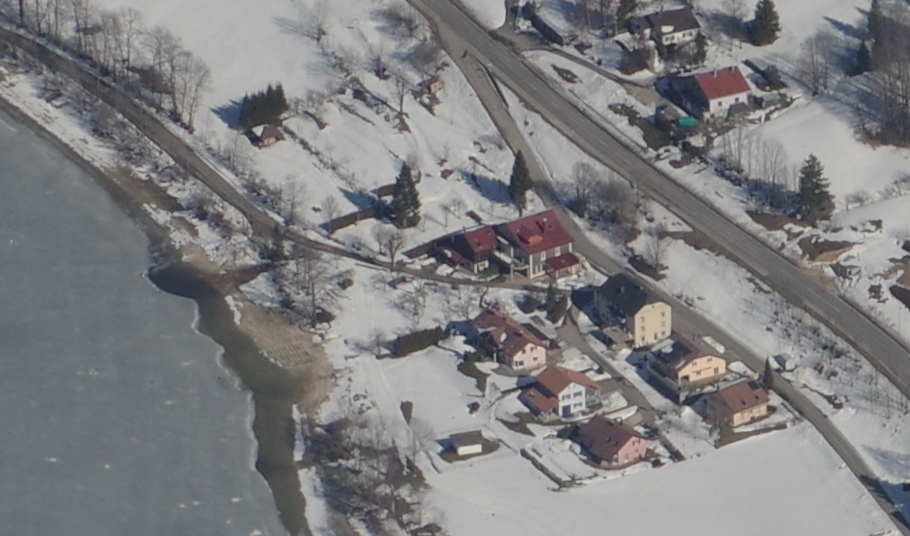 Approaching Lausanne, I was not getting any response on the radio. It looked like there was nobody in the tower. The last IFR controller was Geneva and I called them back several times saying I was getting no response from Lausanne. They appeared to make some phone calls and I was able to make contact. I didn't know at the time that Lausanne is actually functioning non-radio and that you can "just land"! And Geneva were clearly unaware of that too.
From the VFR Approach Chart, Lausanne has an "info" frequency of 118.825 on which you get the runway in use and wind info; you then switch to the airport frequency of 123.2 and announce your position and intentions.
In the Jeppesen VFR data there is a curious French-only requirement on the aerodrome frequency of 123.20 which, taken literally, suggests nobody can fly to LSGL unless they speak French, but the airport information doesn't ban NORDO (non radio) aircraft...

In fact this is a mistake by Jeppesen! The following came directly from the airport:
I confirm that Lausanne is bilingual French and English. As Lausanne is not controlled we won't necessarily respond to landing or departing aircraft, sometimes we simply are busy with something else. If you come again, feel free to land at your discretion, even if no answer from our side. Pilots talk to each other to define who will be number one and two in case of doubt. If the airport is (suddenly) closed for any reason, it would be notified on our APCH INFO frequ. 118.825.

While waiting for a response, I flew around the lake, with the GPWS (ground proximity warning system) going crazy with PULL UP warnings. I could turn it off but prefer not to in case I forget to turn it back on!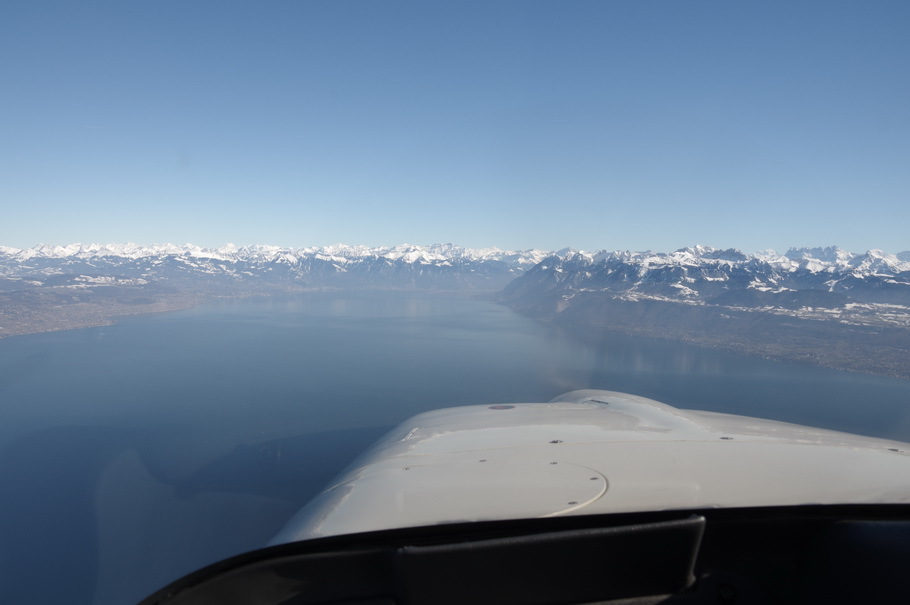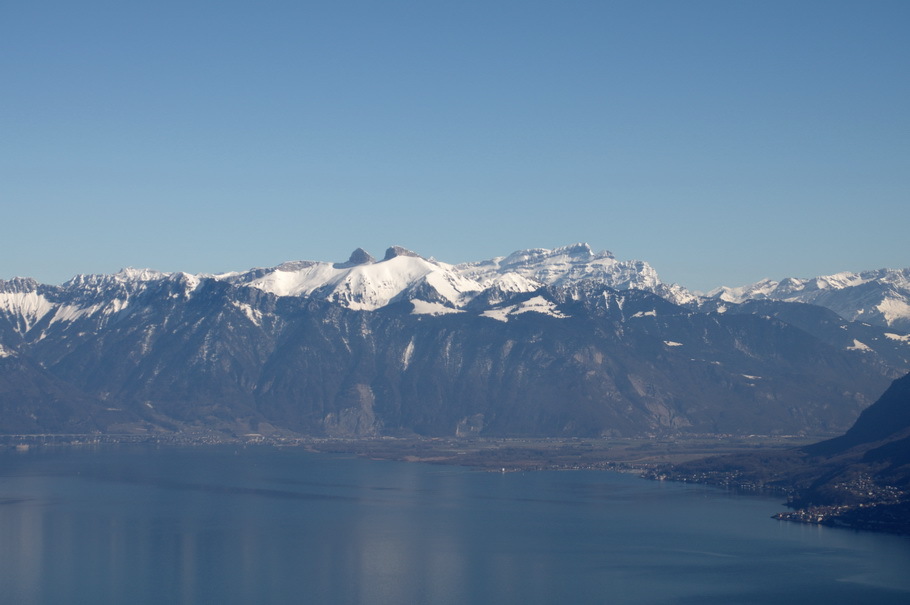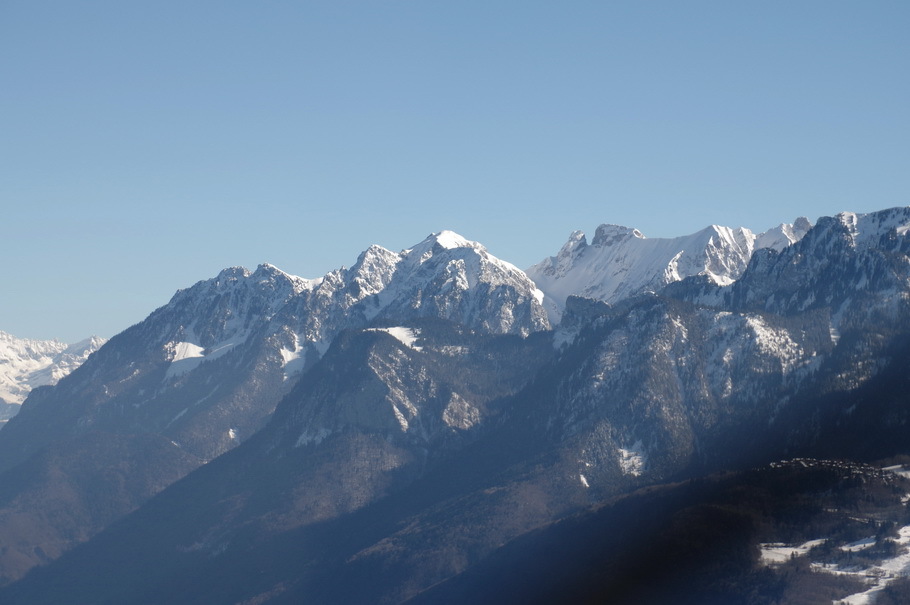 They publish a VFR Approach Chart which in this case (runway 36) meant flying from the south approach sector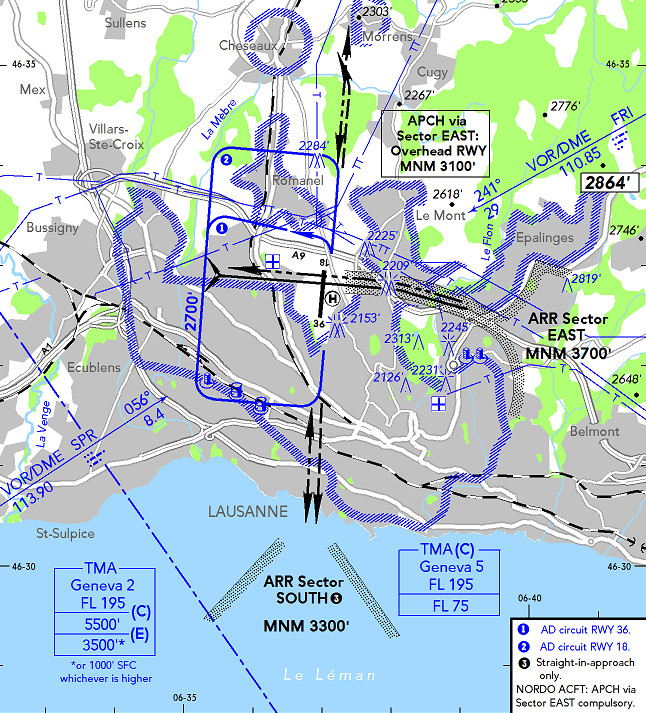 The airport was not trivial to spot, but airports near built-up areas rarely are obvious unless you know where to look - it is somewhere in the LH half of this pic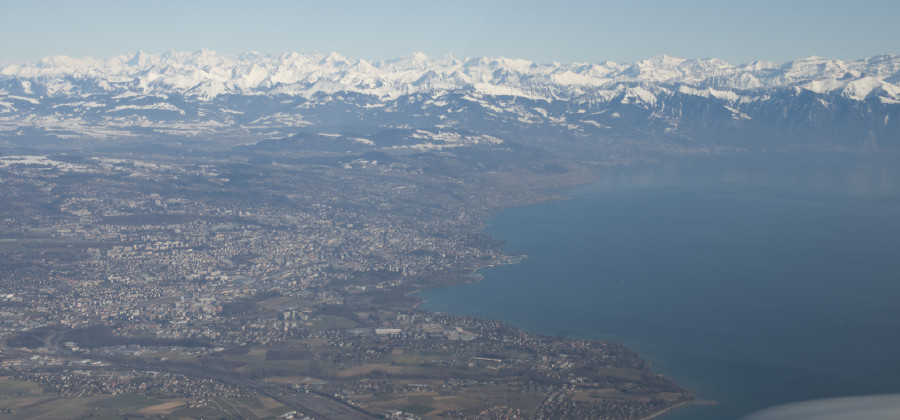 So I ended up flying towards it using GPS, on a bearing of 360, at airport elevation plus 1500ft, and then doing a very steep approach when I finally spotted it. A steep approach is always a better tactic anyway in case of turbulence and the tall buildings under the final approach path would certainly cause problems for pilots who come in very low and with a lot of power. This from about a 1 mile final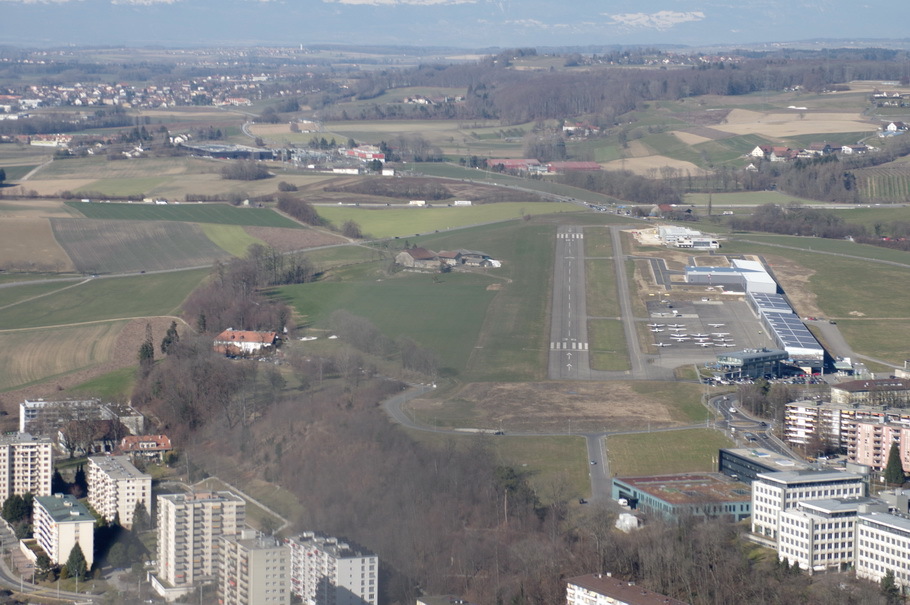 This pic of my aircraft landing was taken by another EuroGA pilot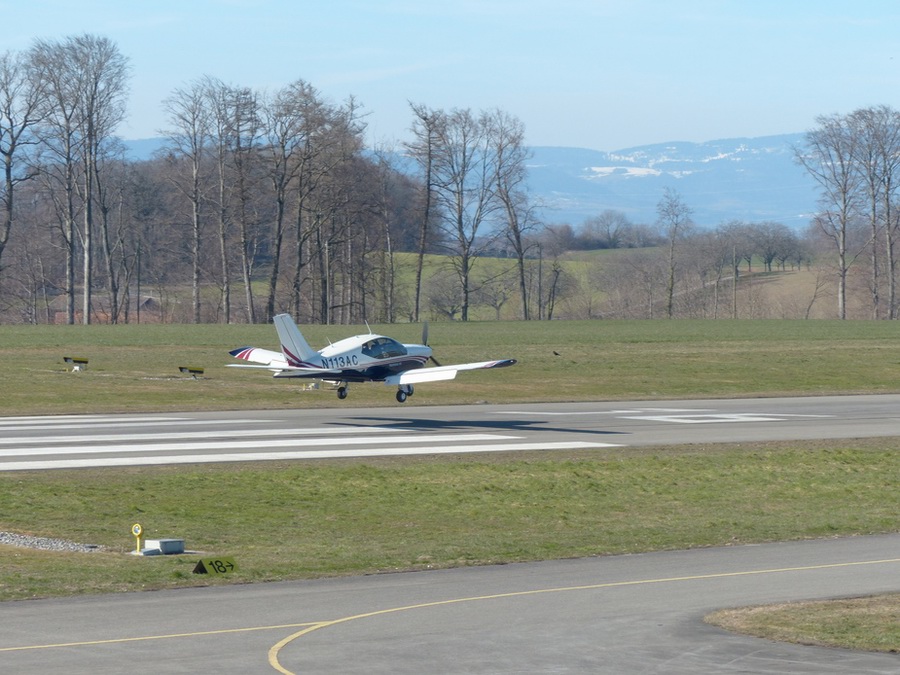 Parking is straightforward. The whole place is spotless and radiates quality, organisation and lots of money

It is one of the nicest airports I have ever been to, with very friendly staff.
There is a slight uphill slope which is visible here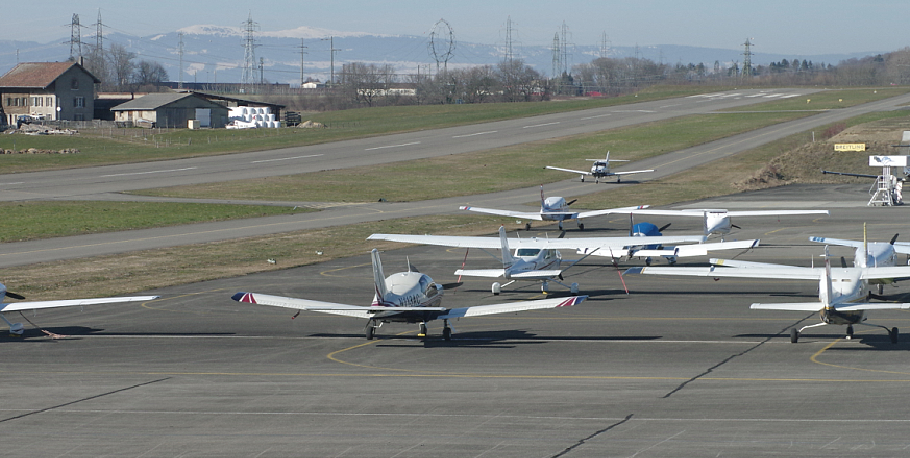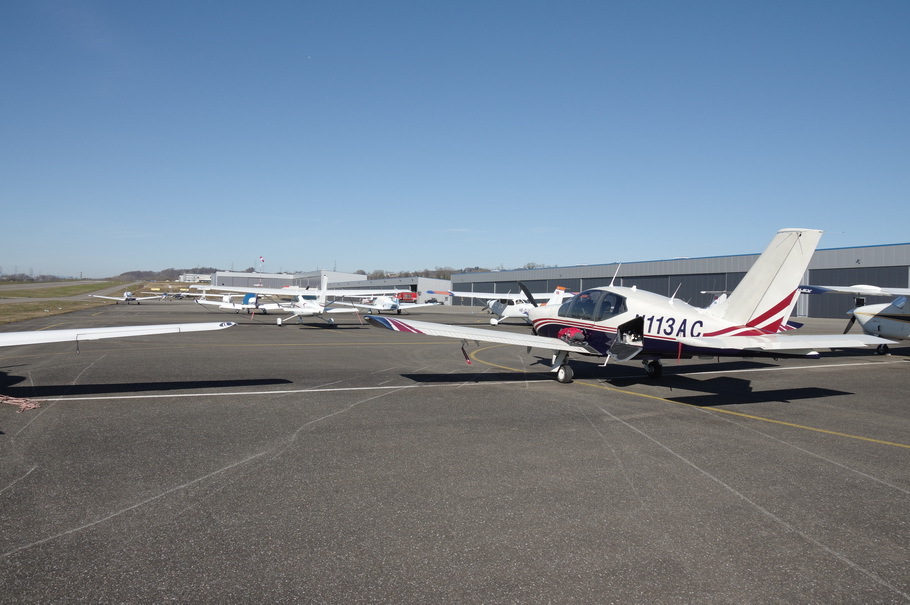 The Alps form a spectacular backdrop... the building to the right is a pricey but very nice restaurant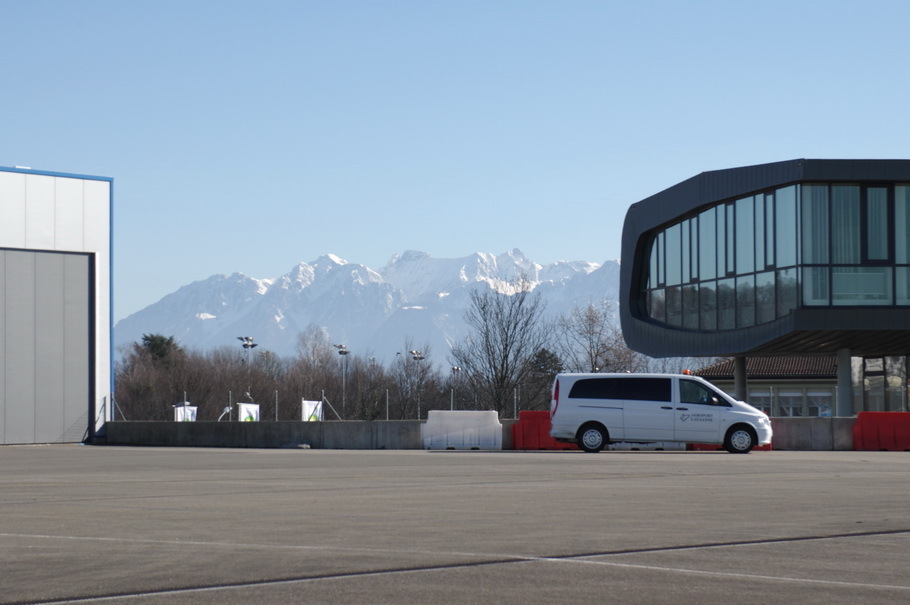 The bowser was interesting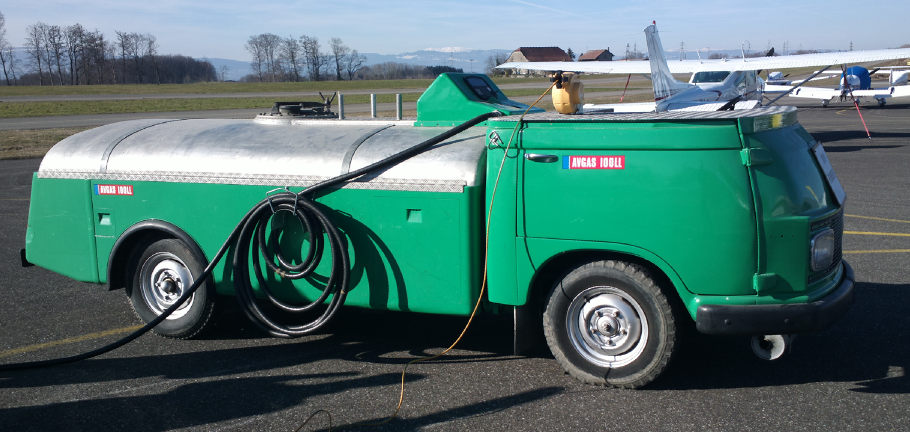 Finally, we have the obligatory sunset photo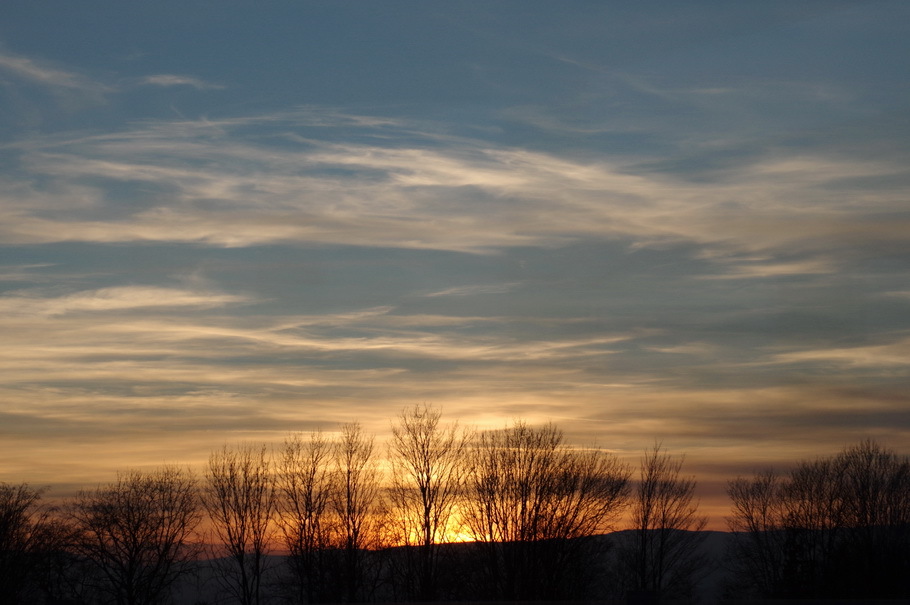 The food is awesomely expensive. I don't think I had ever seen prices like we saw there, but that restaurant was positively cheap compared to some in the town...
Several of us stayed at the Hotel Alpha-Palmiers, which was very nice, but it ought to be at about CHF 150/night, not including breakfast.
Lausanne
A quick look at the weather for the return flight on the following day was not encouraging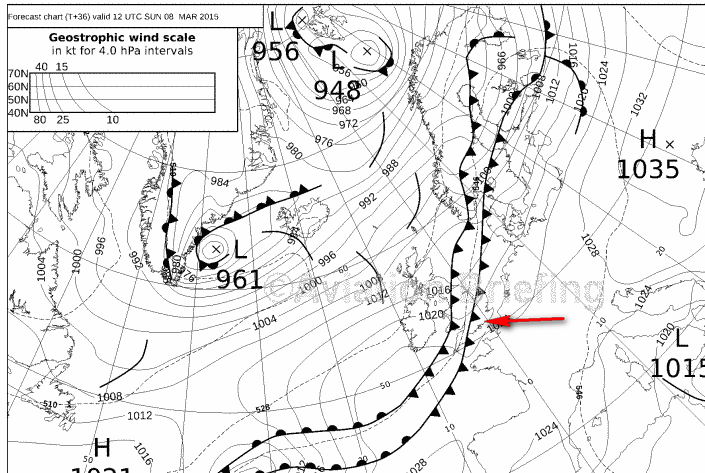 but the Gatwick TAF didn't think much of it
EGKK 070459Z 0706/0812 21010KT CAVOK BECMG 0716/0719 BKN018 BECMG 0719/0722 BKN012 TEMPO 0722/0811 7000 BKN008 PROB30 TEMPO 0800/0809 3000 BR BKN004 PROB40 0811/0812 BKN016
With a forecast cloudbase of 1200-1600ft, tt appeared that the high pressure meant that the nasty looking front wasn't going to be doing much...
The city is very scenic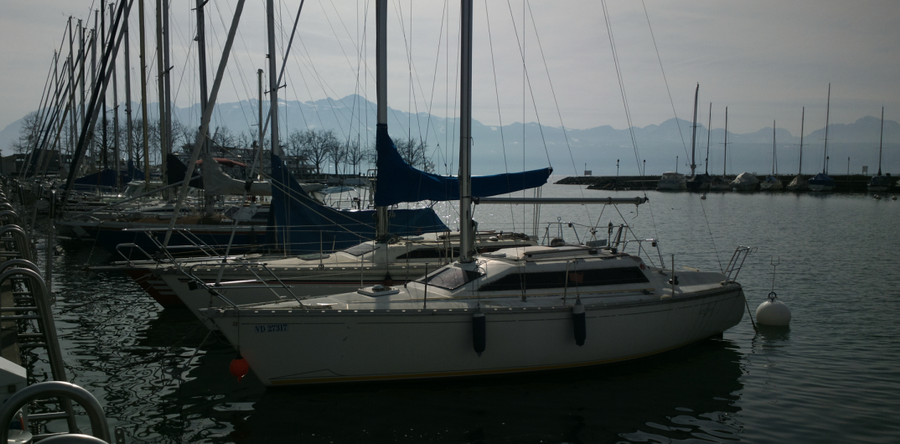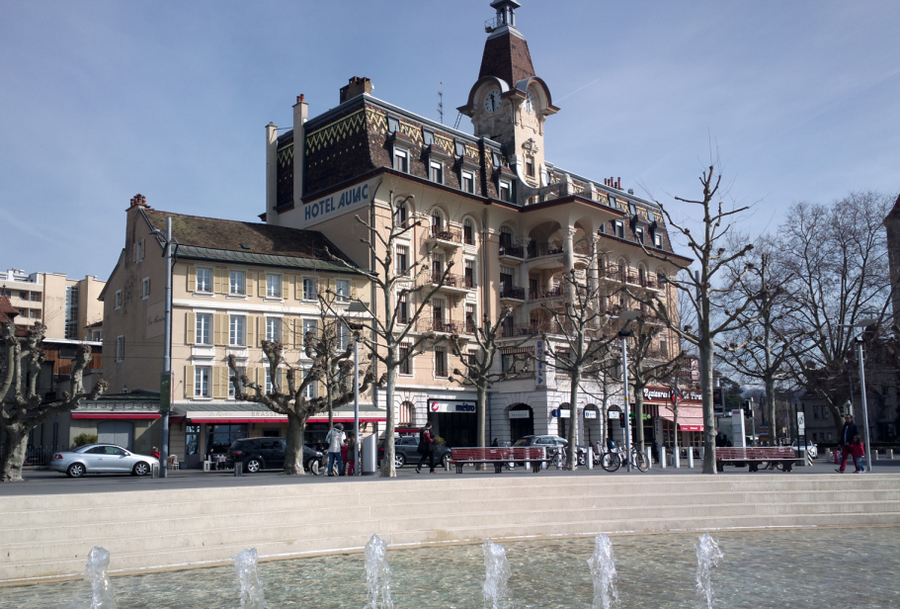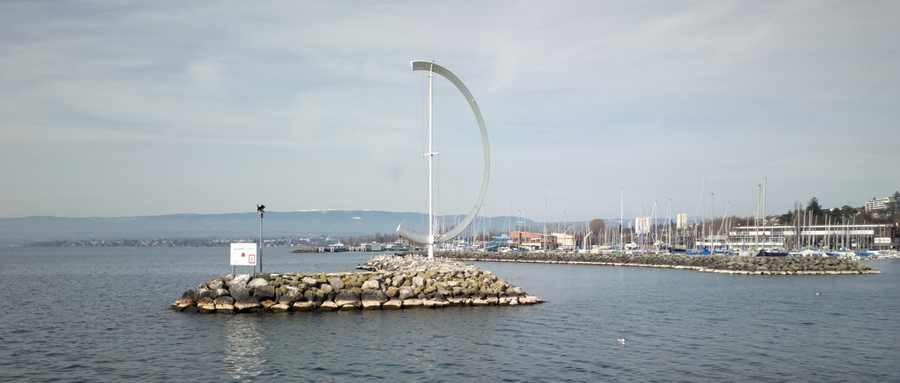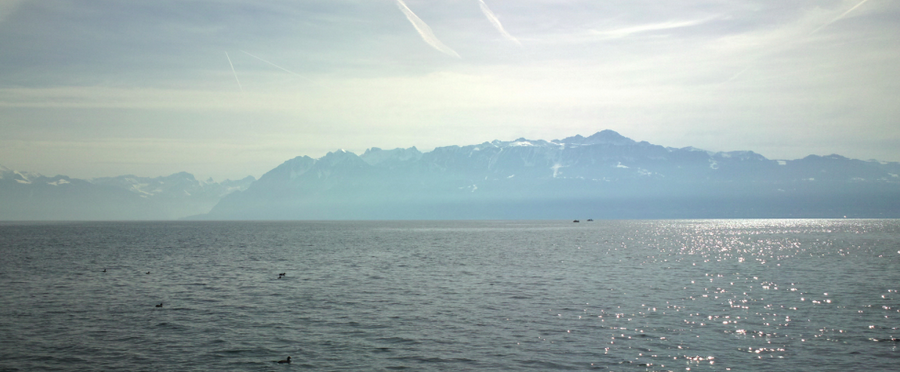 This is the biggest night club - this remains untested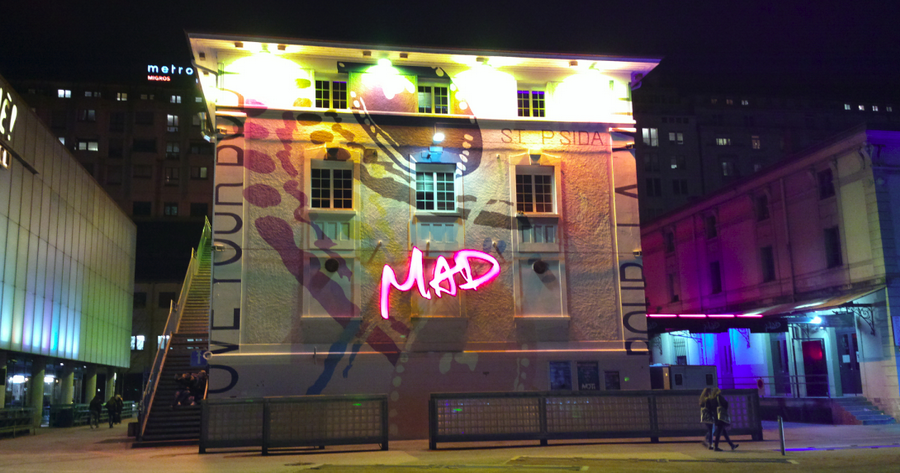 The weather for the 0900Z return flight looked OK: TAFs and METARs Radar
and the new forecast (1200Z) MSLP for the position of that front suggested it would not arrive before I got there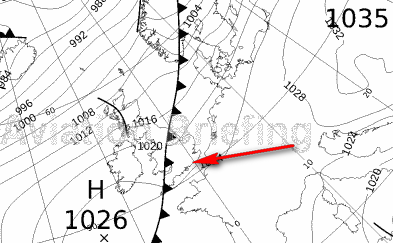 The IR image showed that the MSLP chart was accurate in the position of that front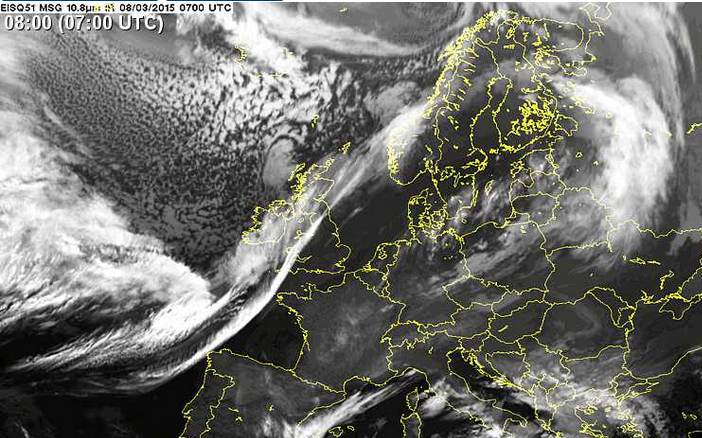 I had some more "fun" when my Nokia 808 phone (the one with the superb 40MP camera) was found to be dead when I woke up in the morning. I suspected the charger blew it up... Fortunately, on trips, I carry a backup phone (a little Nokia 700, with the same operating system as the 808, so a restore of e.g. contacts into the backup is possible) and got that going... Mysteriously, the 808 started working perfectly after I got back home...
The morning of departure had nice weather at the airport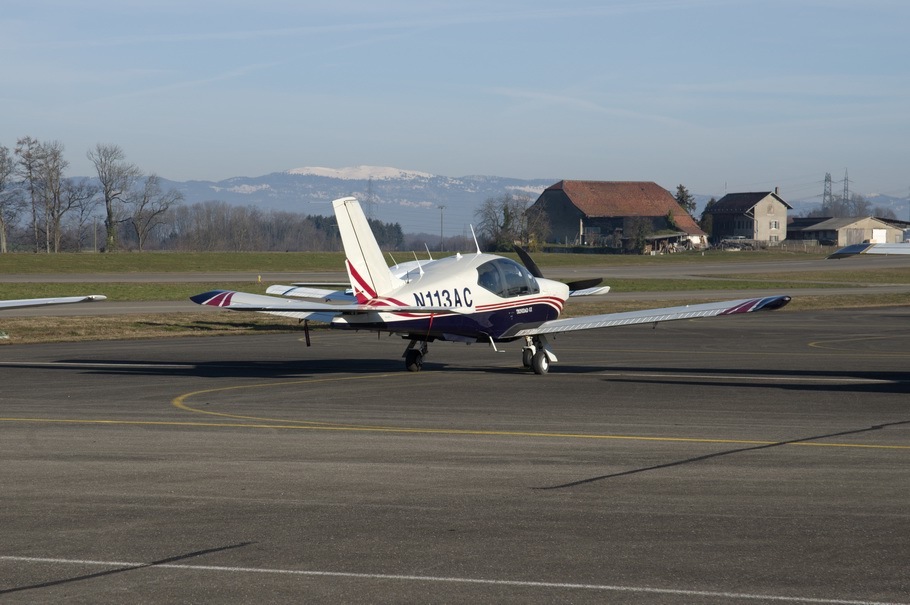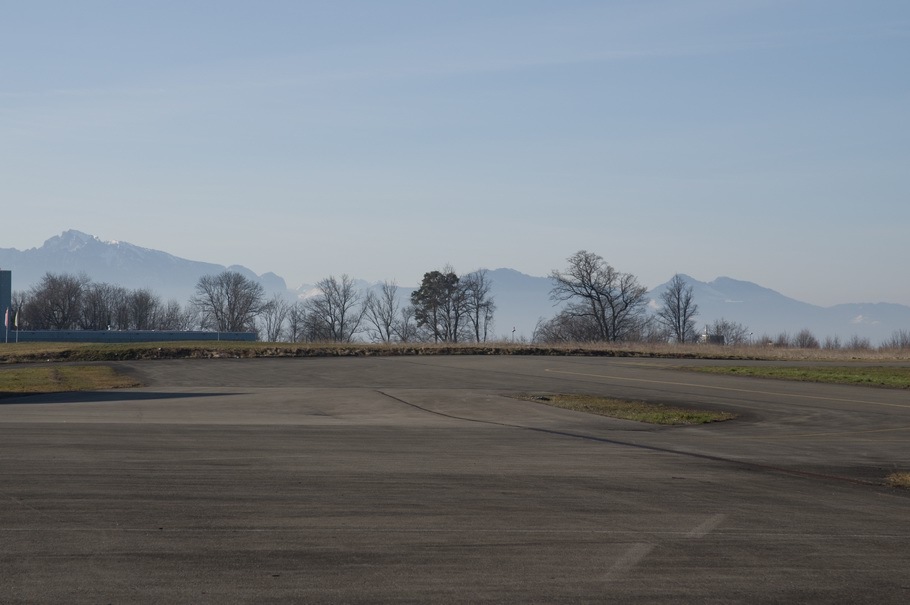 This is a TB10 flown by another EuroGA pilot, from Biggin Hill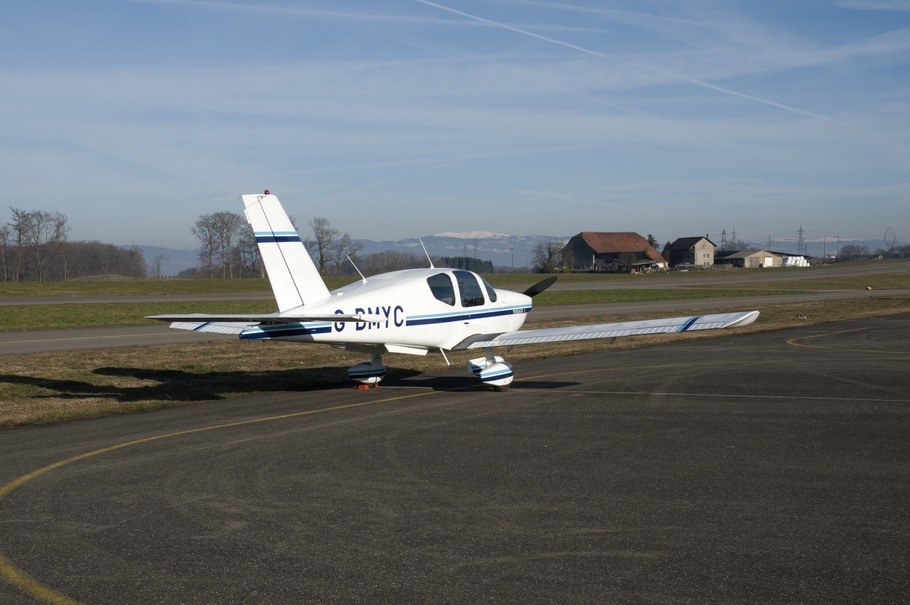 The return flight was a non-event, at FL100 all the way home. There was a lot of haze around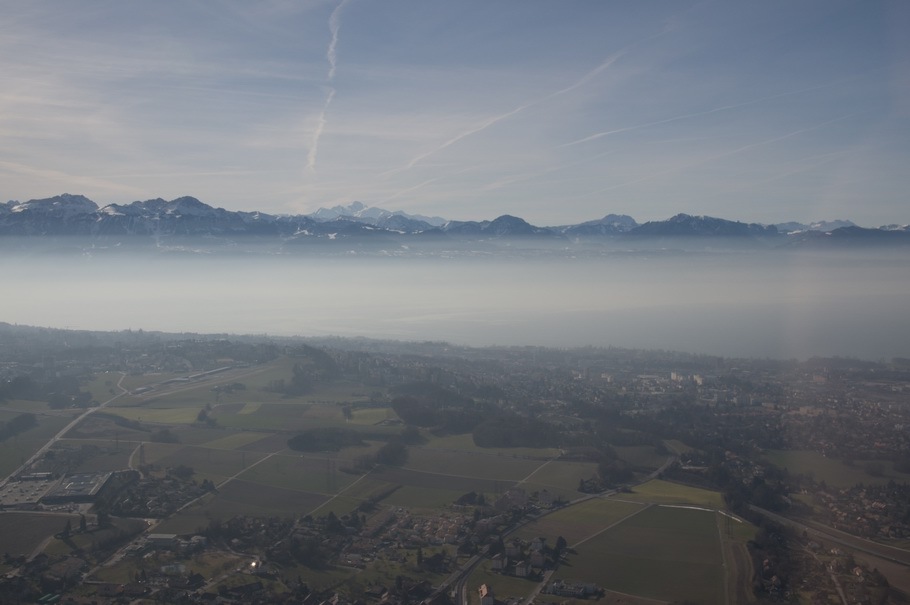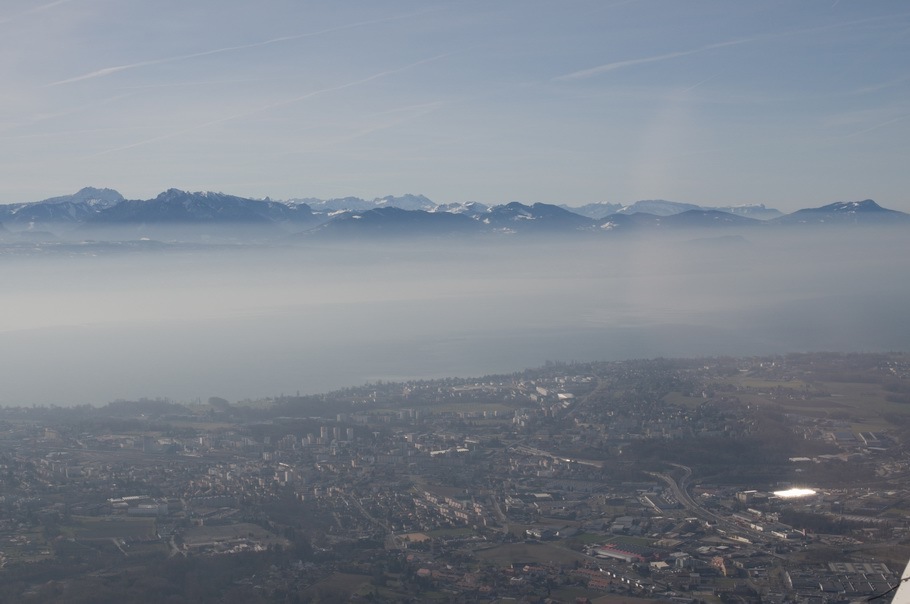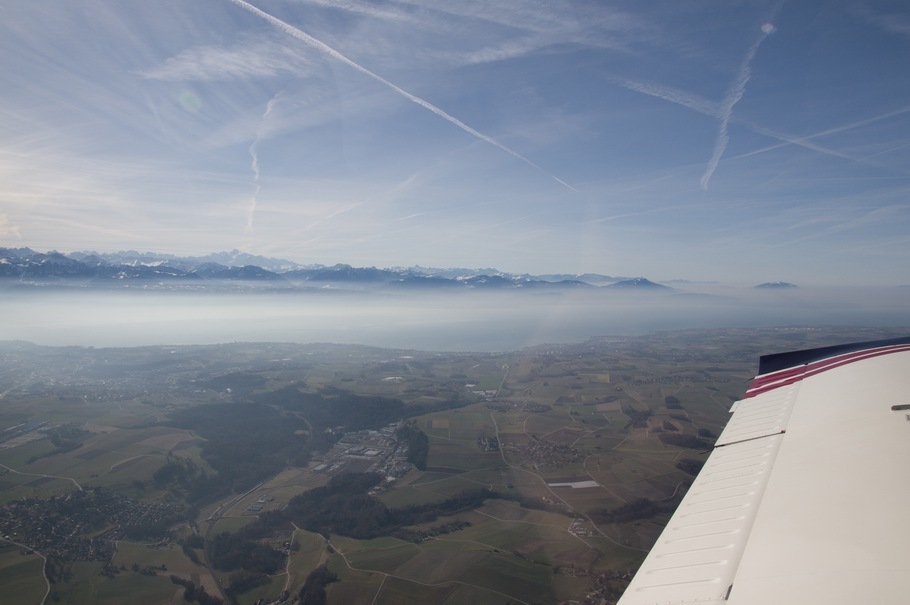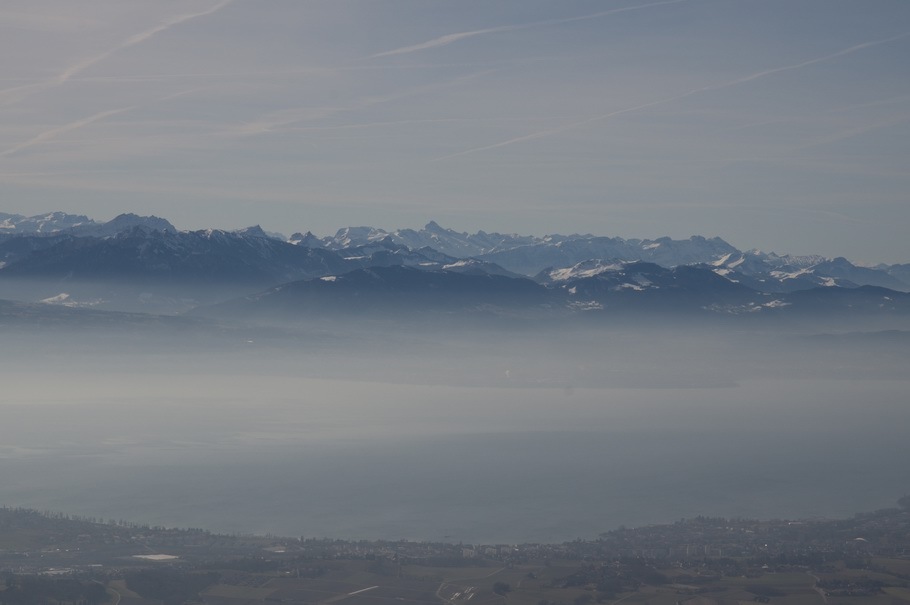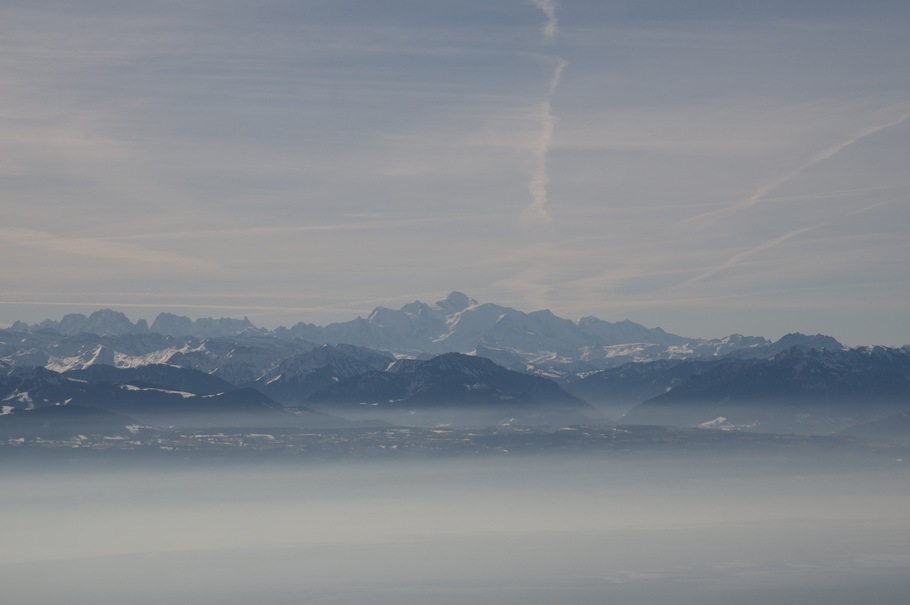 This is a crop of Mt Blanc from the above pic, enhanced as much as I knew how to do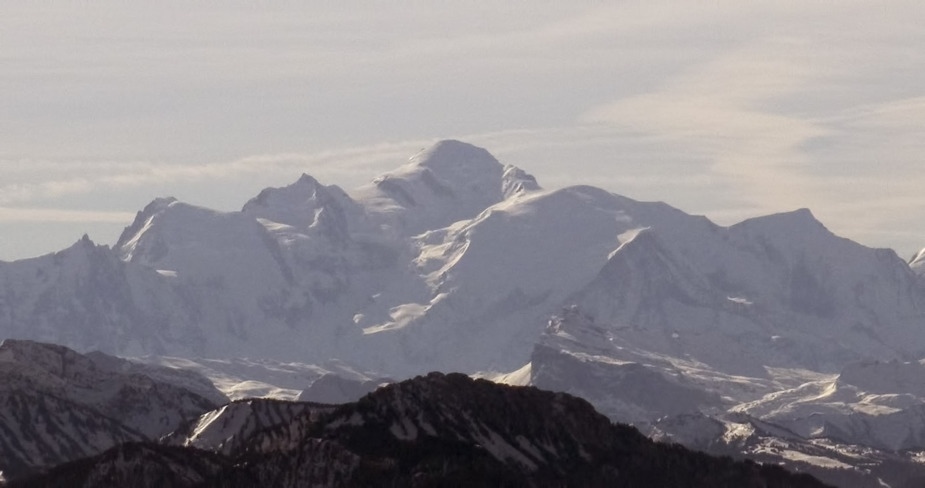 There is a big "hill" to climb over on the way back up north - the Jura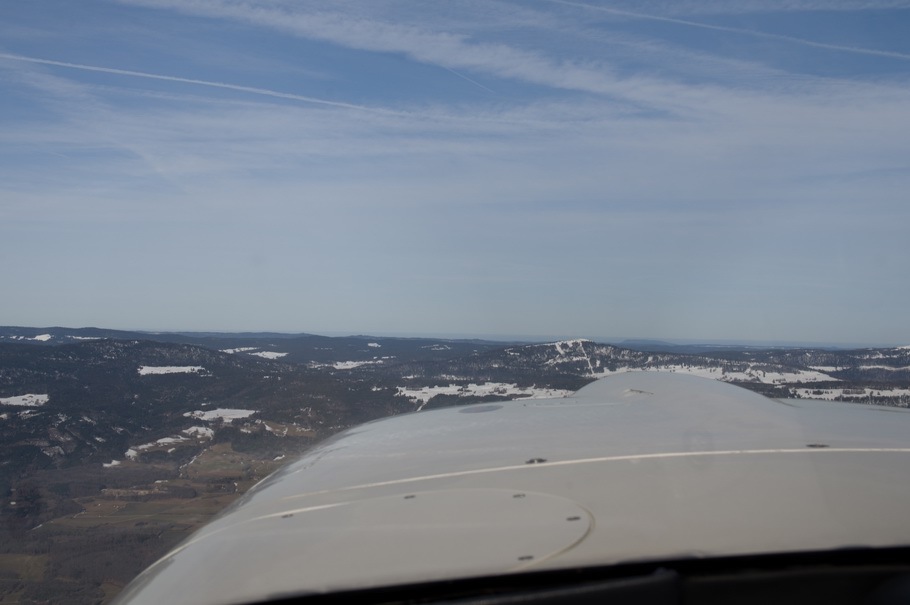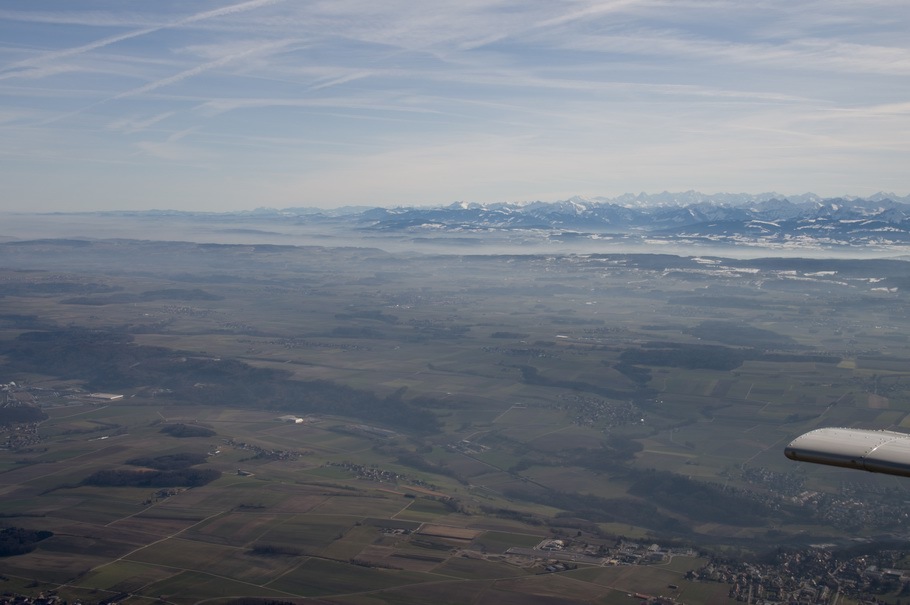 It was surprising how much snow there was on level ground, with relatively little on the mountains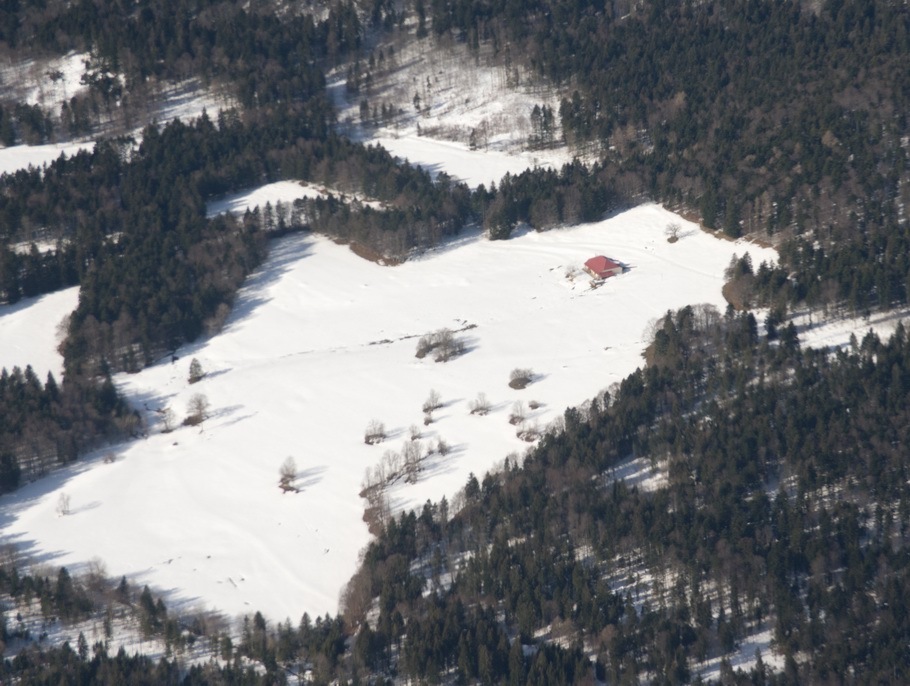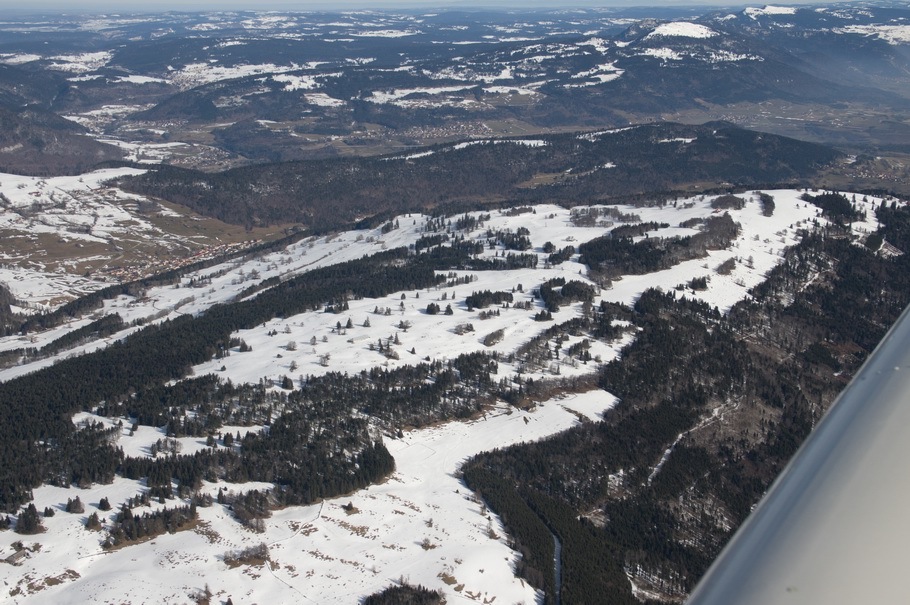 It looks like this area had a lot of low temperatures recently. This lake looks frozen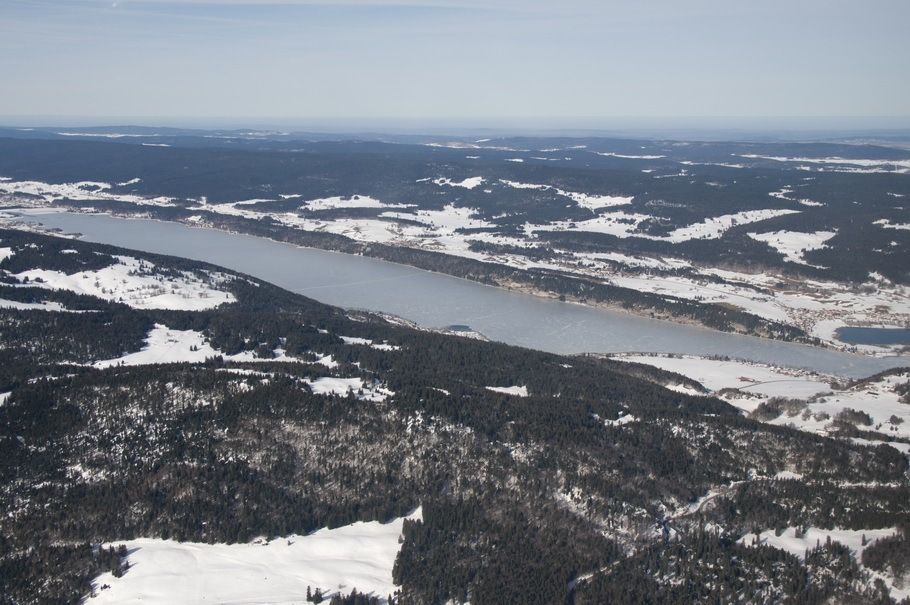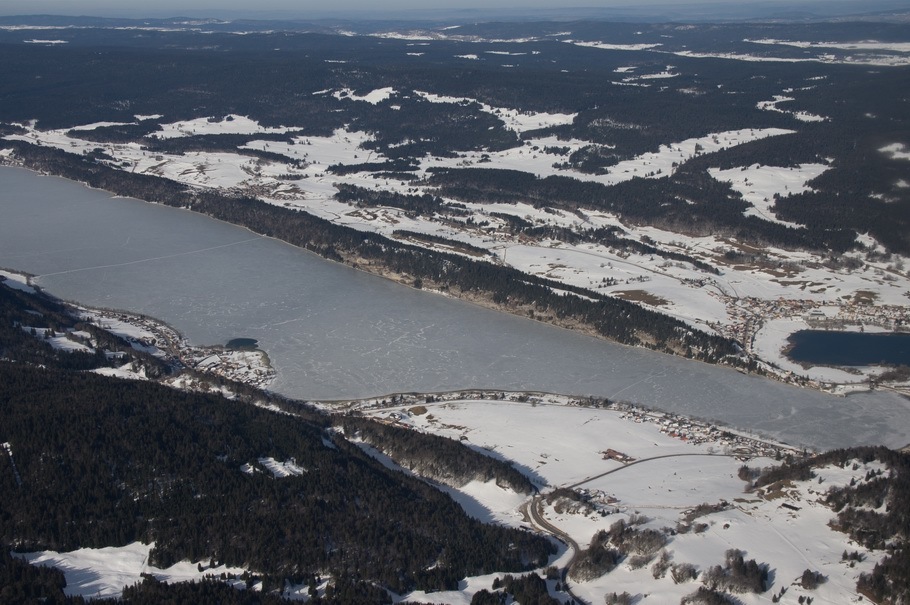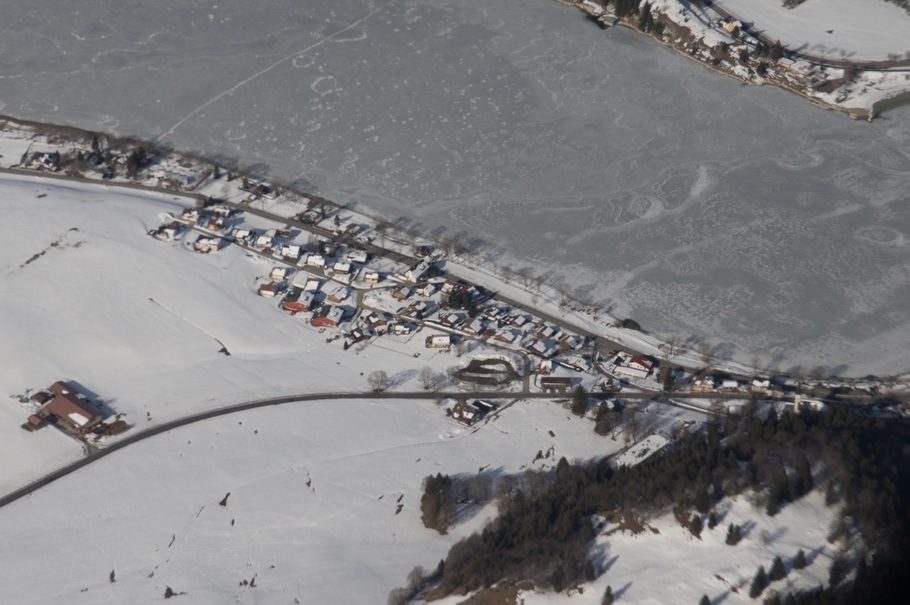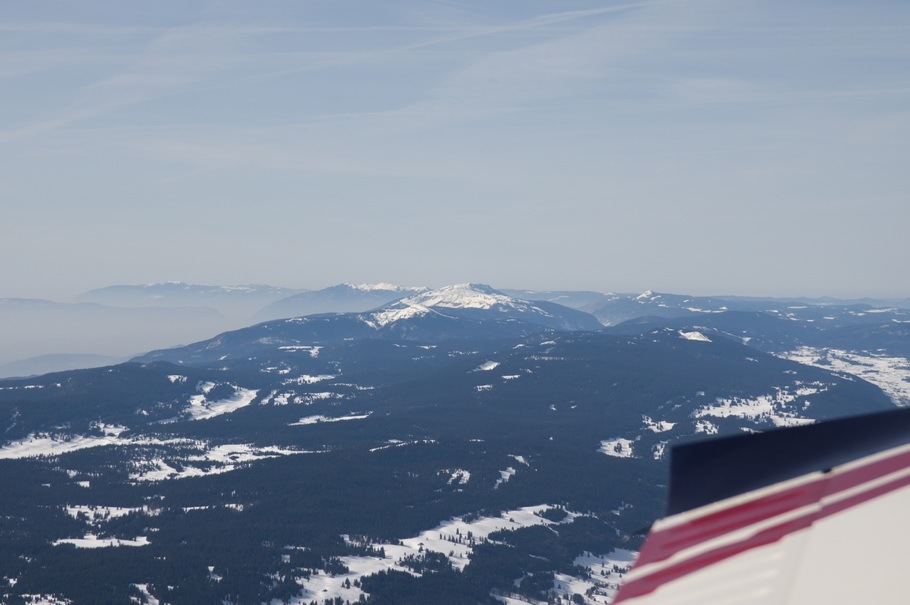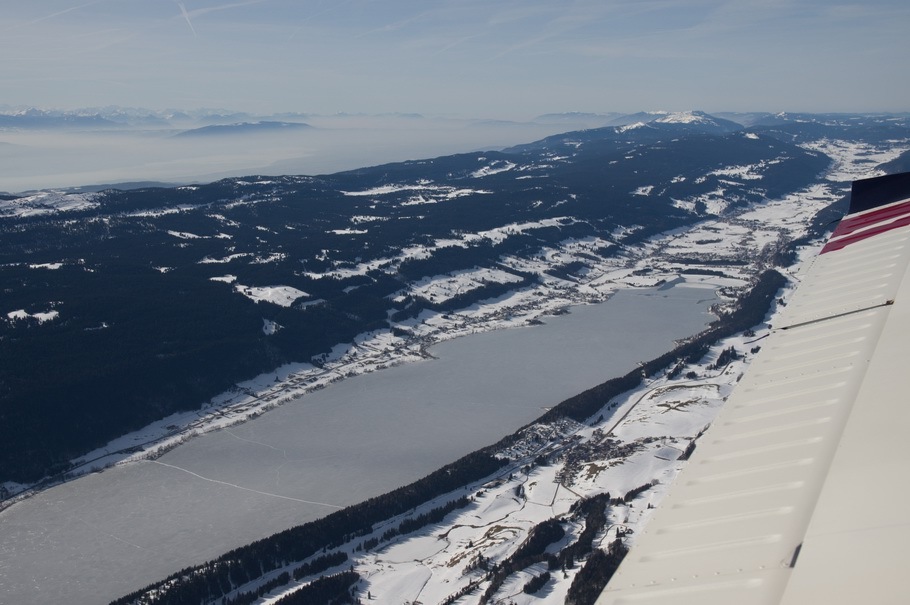 Here is the last view of the Alps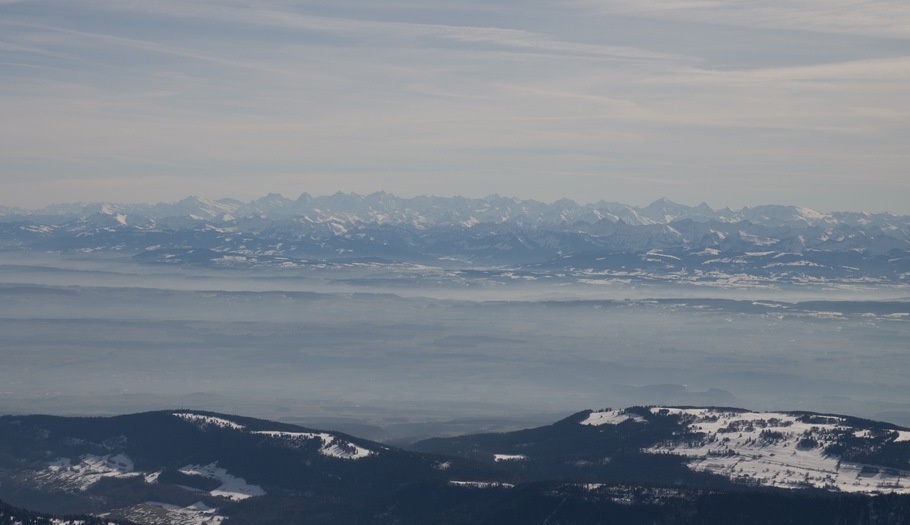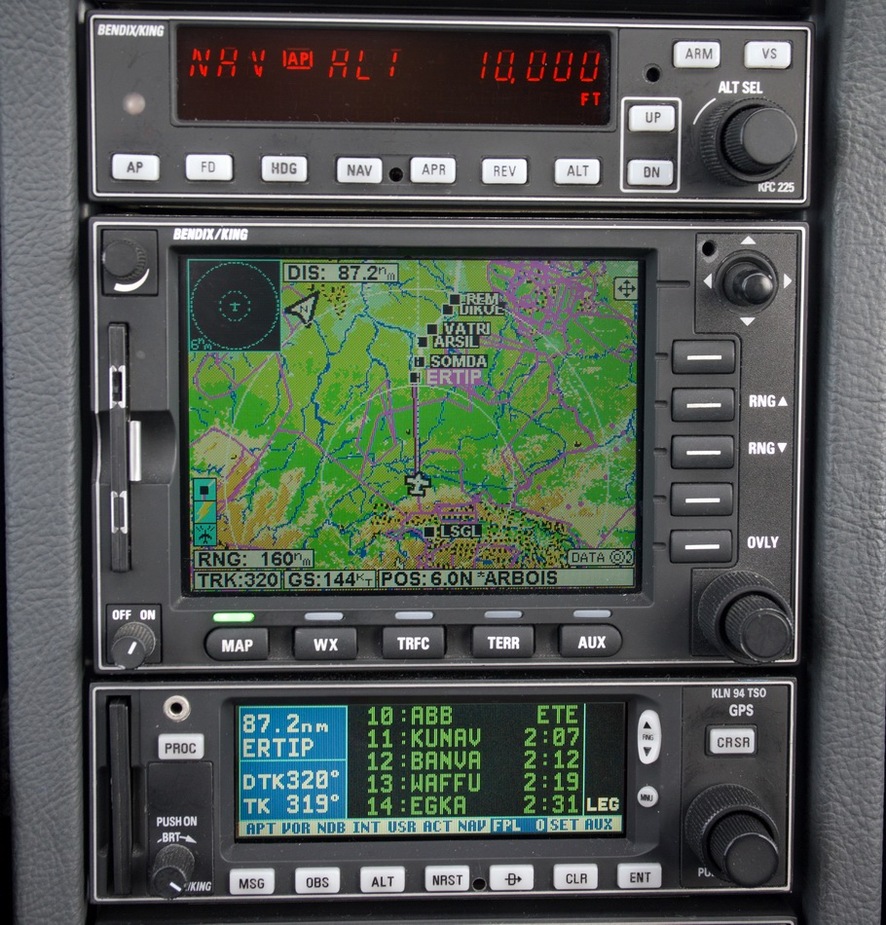 This is some lake in France, after which it gets pretty boring from the air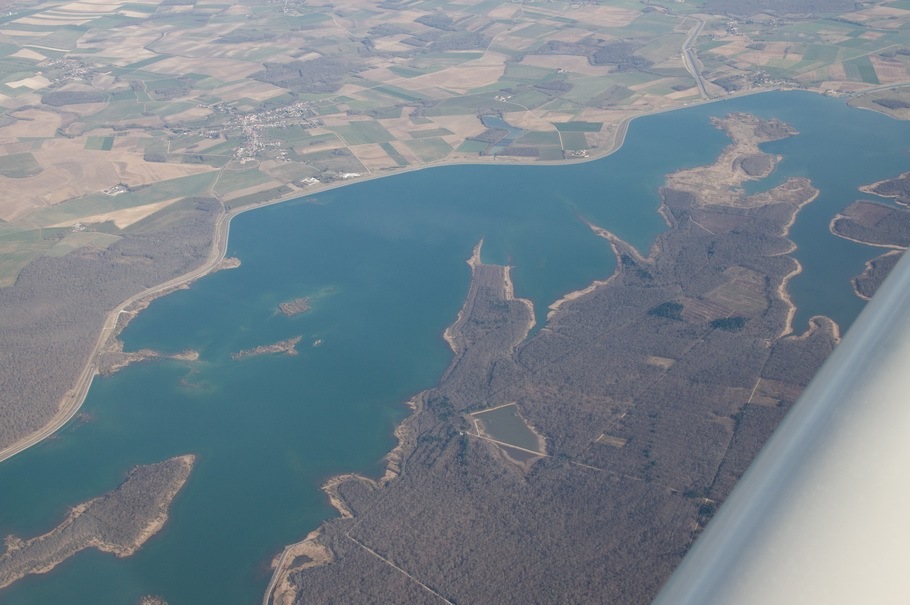 City of Troyes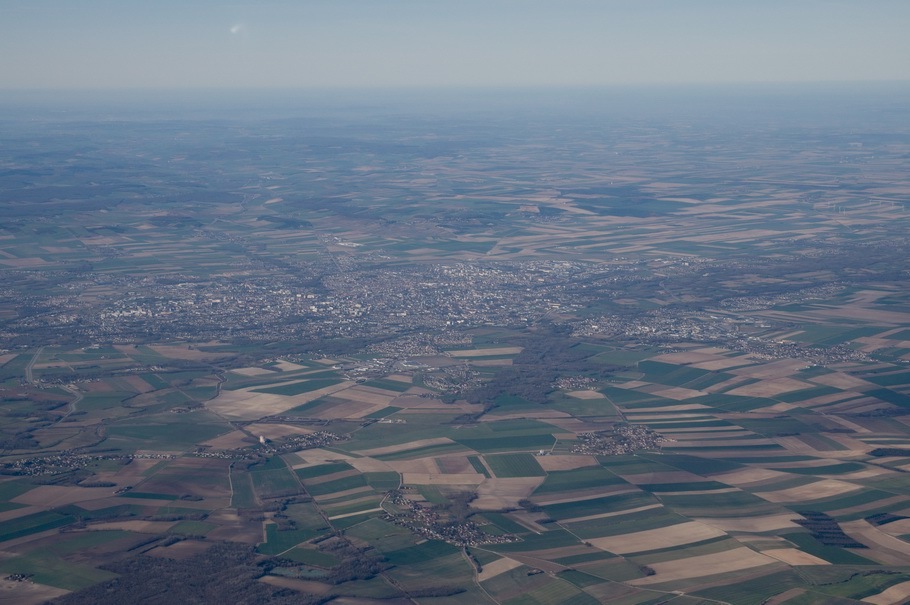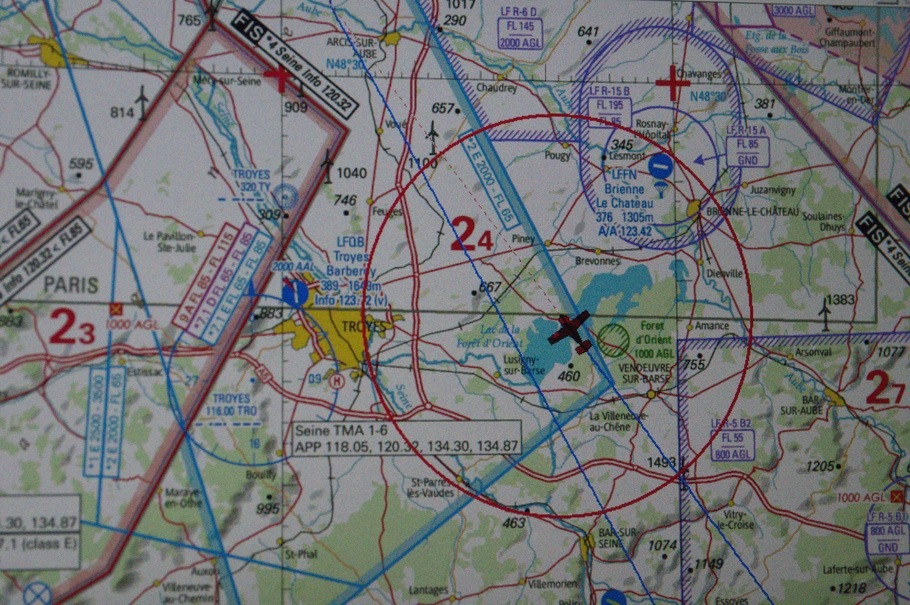 Most of northern France looks like this from the air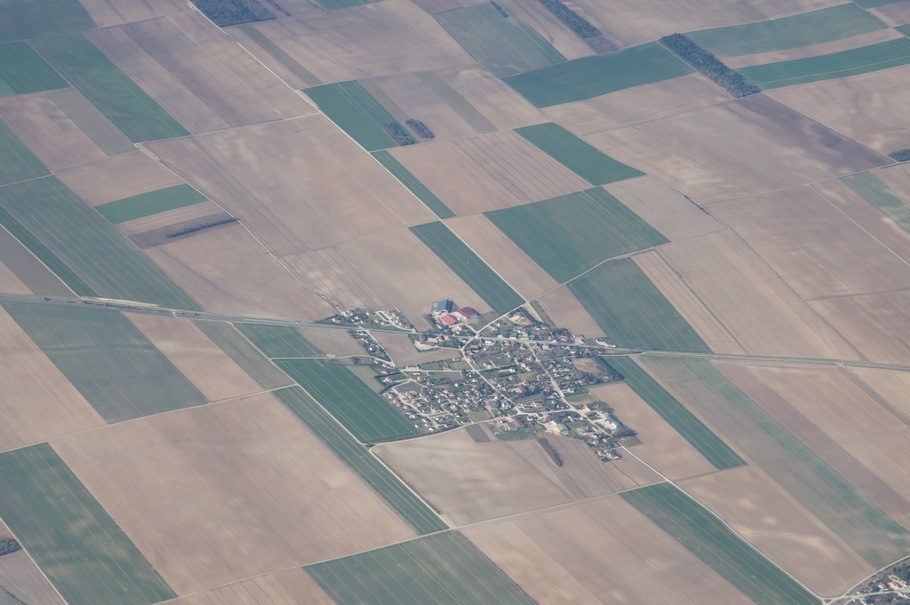 Here is the edge of some weather preceeding the front which was working its way across the southern UK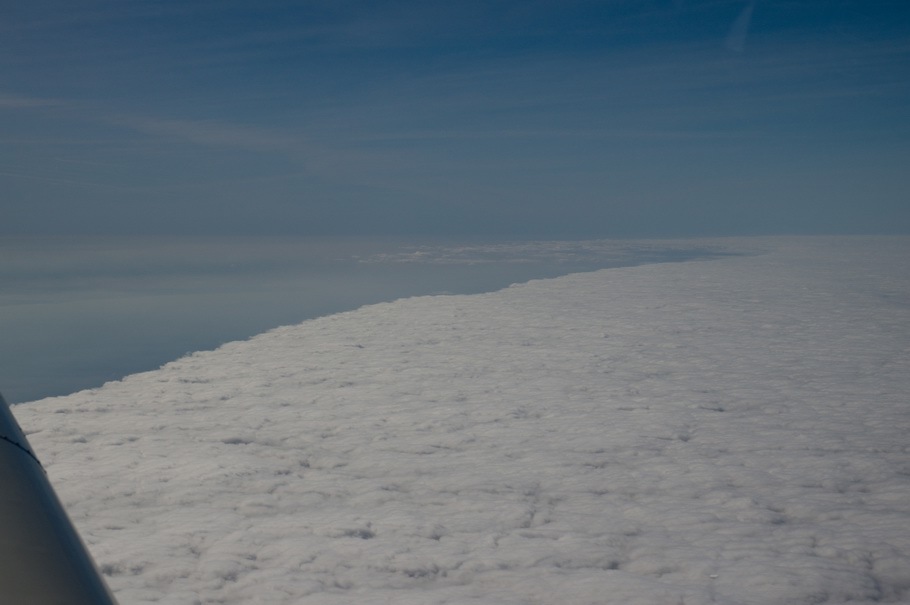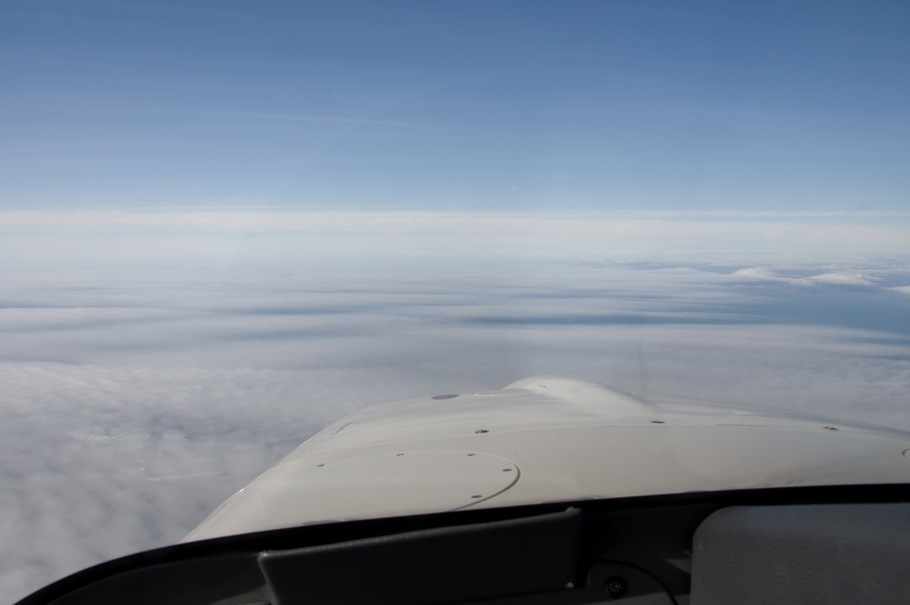 This is approaching the NITEN IAF for EGKA RNAV 20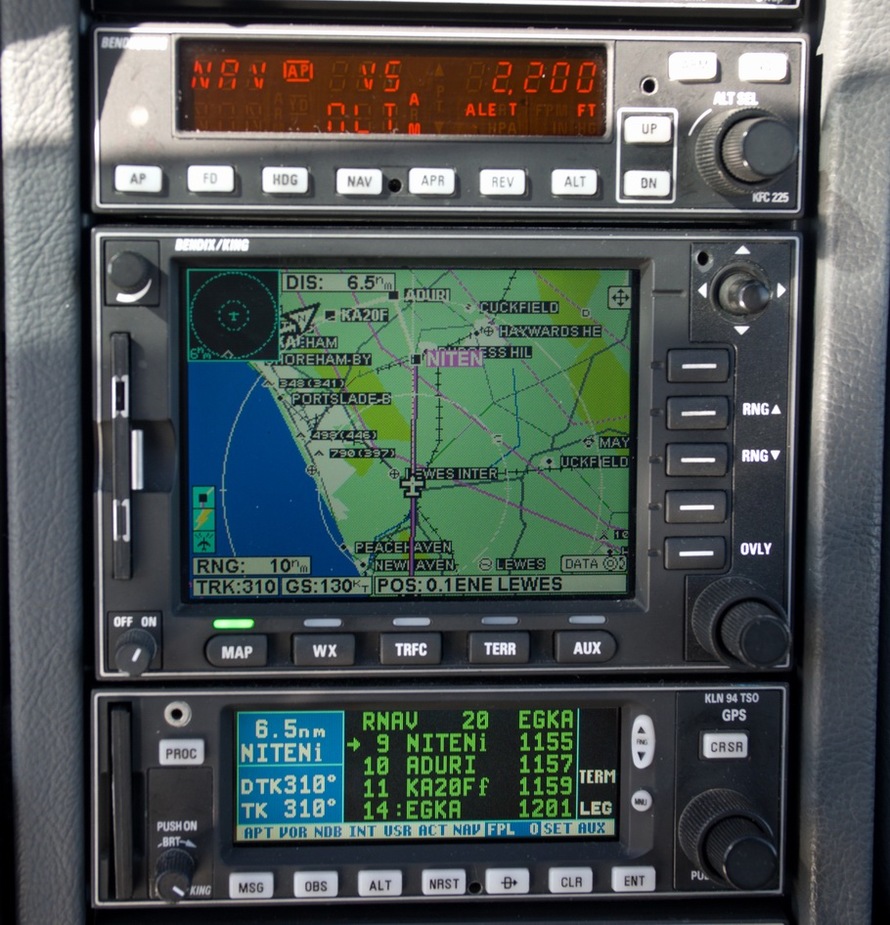 Established on the final approach track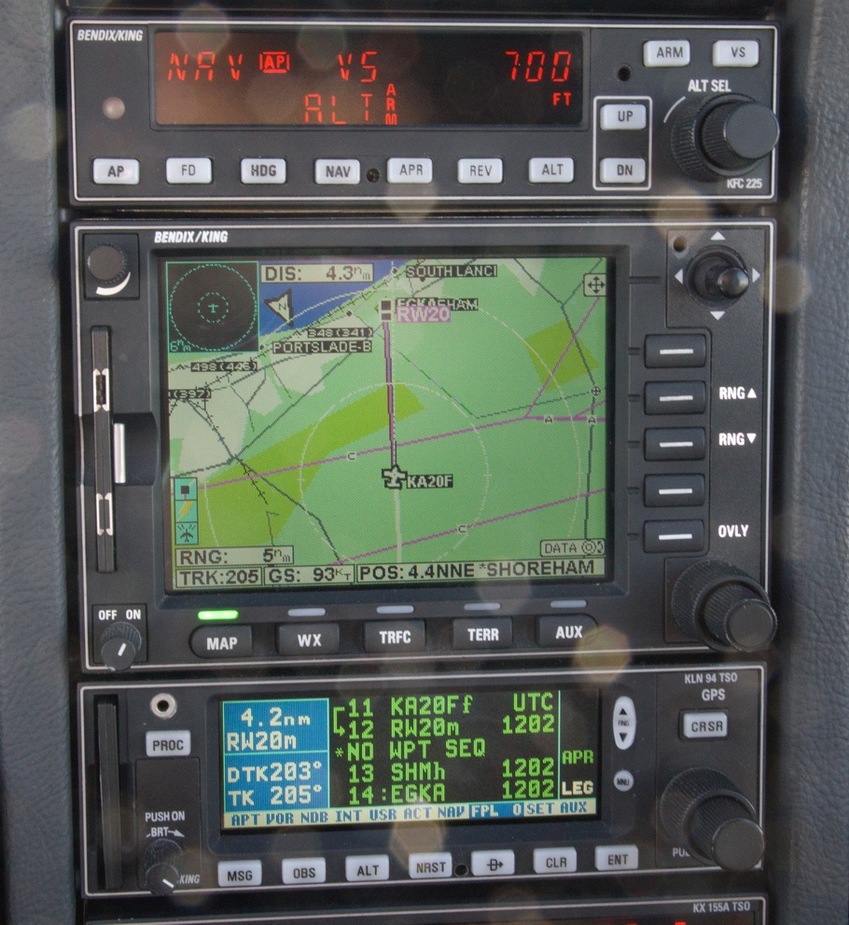 You can just make out the runway here, with a slight offset (one gets a slight overshoot intercepting the FAT at ~120kt)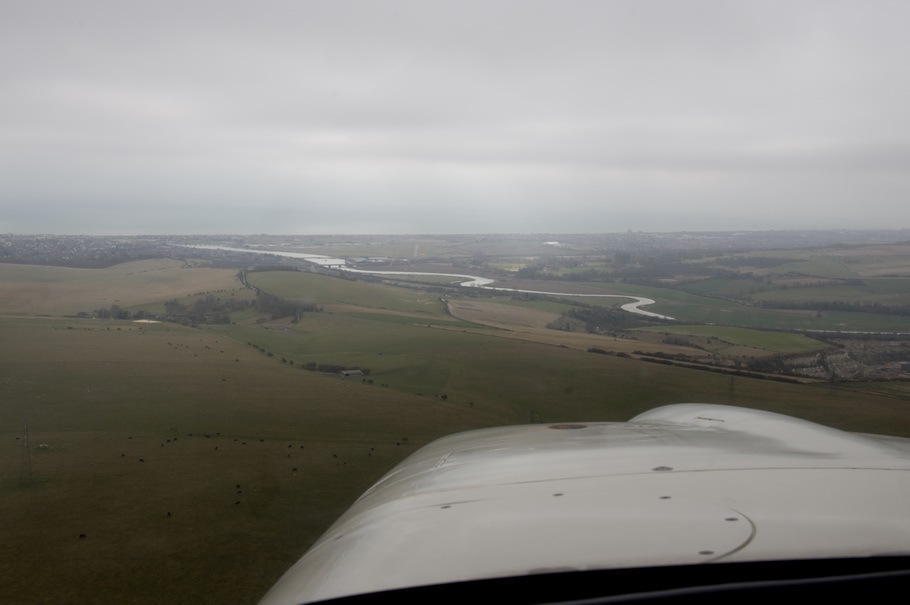 Outbound track (actual in black)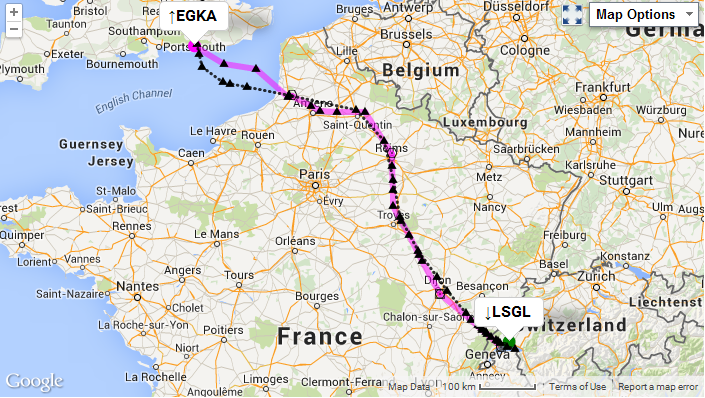 Return track... almost no shortcuts in France, due to "military activity", and anyway the Paris area is a total no-go below FL200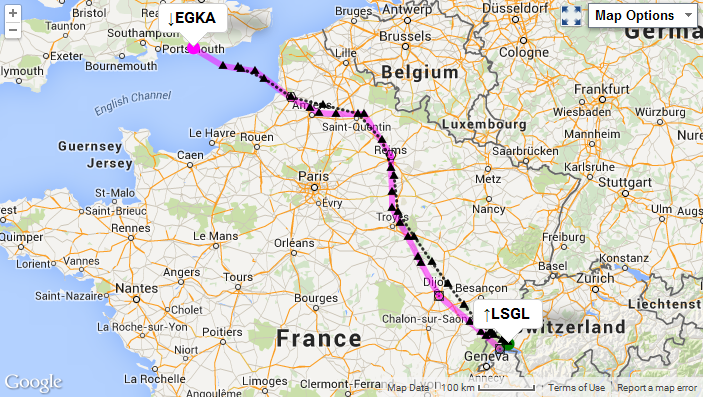 Here is a little video (1080P, 240MB, needs a fast computer to play it smoothly) at the end of which is a departure of the TB10.
Airport costs - Lausanne LSGL (March 2015)
International landing fees : CHF 32.00
Customs fees : 2x CHF 5.00 = CHF 10.00
PAX fees (if any) : CHF 6.10 per Pax
Parking fees : CHF 12.95 per day

General
This was a really "high value" trip, perfect for a meet-up in a scenic location. It would also be perfect for going skiing to Switzerland. In fact I was going to go back there a couple of weeks later, with a colleague who is a keen skier, but various work-related things got in the way and by the time I got around to it, the snow was starting to disappear from all but the high slopes.
The only thing which slightly spoils Switzerland are the astonishing prices. In the UK, a £50 meal should be totally amazing but still most people almost never pay that. In Switzerland that can easily be the entry level in a reasonable restaurant. Normally, anybody who has paid for the avgas on a trip like this isn't going to be too worried about it but on a stay longer than a few days one would definitely look for self catering accommodation.
Very little oxygen was used on this trip - probably 10% of the 48 cu. ft. cylinder. But without oxygen I would have never attempted it because one cuts off half of the aircraft operating ceiling and could spend most of the flight in icing conditions and turbulence.
No general aviation aircraft were seen airborne on the entire trip.
Most of the airborne photos on this trip were taken with a Pentax K3 with a 17-70 DA lens. The ground ones were done mostly with the Nokia 808 phone which takes a 40MP image and downsamples it to 12MP. The ex-Pentax ones were taken in DNG raw and processed in Lightroom to remove some haze.
The Value of an IR
Due to the good weather, this trip could have been done wholly under VFR, probably around FL095/FL105, and - in France, at least - on much the same route. Alternatively it could have probably been done as a low level flight, with some extra planning.
However, IFR still delivers a very stress-free way of flying through some messy airspace layouts.
Flight times (airborne times)
EGKA-LSGL 2:55
LSGL-EGKA 3:00
This page last edited 30th March 2015