Flight from Shoreham EGKA to the Scilly Isles EGHE, June 2015
Edit July 2018: we did a 3-day trip and a picture gallery is here.
The Scilly Isles are located at the south-western end of the UK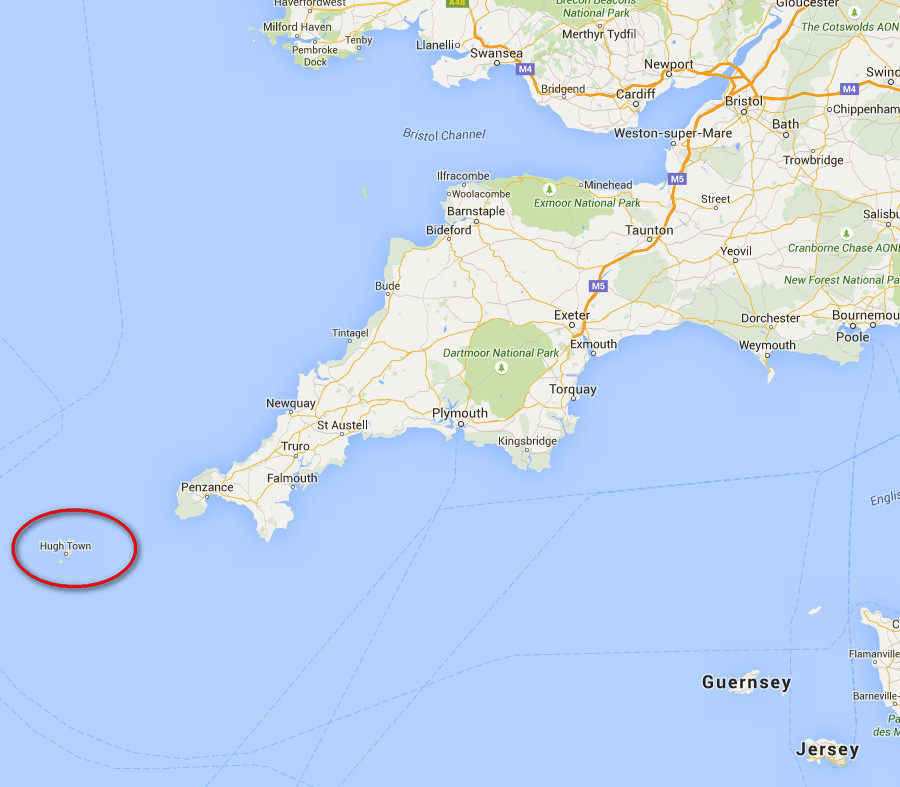 This writeup is a simplified version of my normal ones in which I go into a lot more detail of each trip.
Pilot
FAA CPL/IR, JAA/EASA PPL/IR, ~2000hrs.
Aircraft
The aircraft is this 2002 TB20GT; one of the last made before production ended.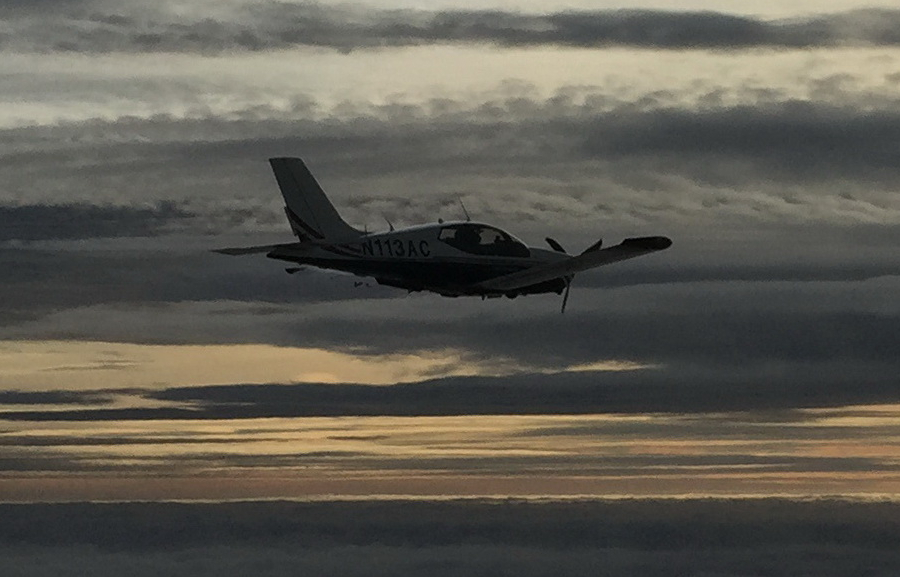 It is equipped for BRNAV (RNAV 5) and can fly ILS and GPS/LNAV approaches using the autopilot. This is sufficient for all practical European IFR flight. The instrument panel is largely as delivered in 2002, with a Sandel EHSI installed on the LH side and with the RH side reworked with another EHSI and arranged to form a usable "pilot panel" so the aircraft can be flown from the RH side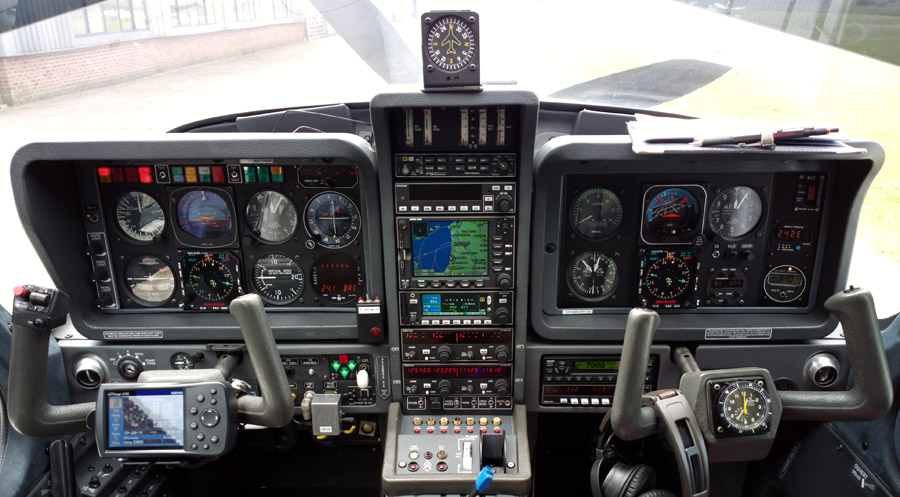 There is no LPV approach capability but LPV is not yet operationally relevant in Europe - in the sense that flying to/from the UK (and with the UK being non-Schengen) almost every IFR-capable airport I fly to has an ILS. Or... it is located somewhere a lot warmer

However, this simple flight was done mostly under VFR, as VMC on top. It was planned as VFR but it became IFR only briefly while climbing up/down through cloud. It could have been done wholly below the cloud (and 100% VFR) but it would have been turbulent and much less comfortable.
It was a short-notice day trip. I had been to the Scilly Islands before, several times, but almost 10 years ago. Justine had never been.
No flight plan was required and none was filed.
Routes
The route was EGKA SAM TINAN LND EGHE and the return route was the same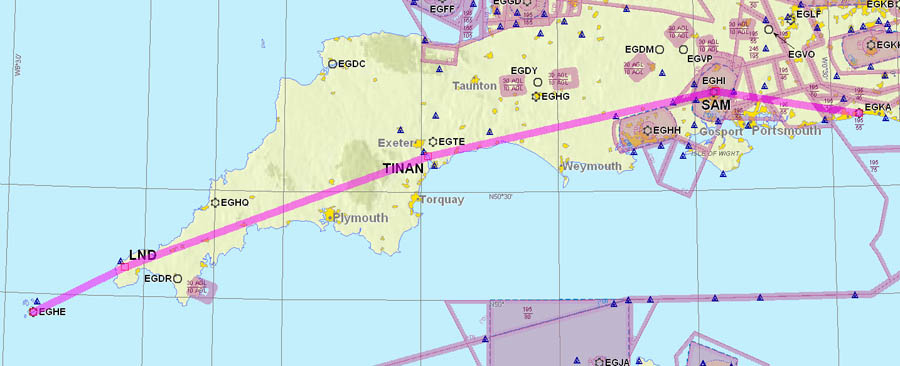 Apart from the Class D transit around SAM, it was planned VFR OCAS (outside controlled airspace) i.e. Class G. Solent Radar (the controlling unit for the SAM airspace) normally allow a transit at 4000ft, but if they are busy and don't do it, one can do a quick dogleg to the south of their area, entirely outside controlled airspace, dropping down to 1900ft or 3400ft depending on the routing.
Airport PNR/PPR
The airport, St Mary's EGHE, requires PPR (prior permission) as stated on their website. It does not state how much notice they want but I telephoned them the day before. This PNR/PPR business is fairly common in the UK. Most "PPR" airports will not refuse a landing clearance if you did not notify them in advance, but there are definitely exceptions (both UK and elsewhere) so one can never be quite sure.
Outbound Flight Shoreham EGKA - Scilly Isles EGHE
The weather was good: MSLP Below is the data obtained before EGHE itself opened on the day. Newquay EGHQ was the nearest airport to EGHE which was reporting weather.
METAR
EGKK 090550Z 03010KT 340V070 CAVOK 09/05 Q1032
EGHI 090550Z 02009KT CAVOK 07/04 Q1033
EGHQ 090550Z 07008KT 9999 FEW015 09/06 Q1033
TAF
EGKK 090459Z 0906/1012 03012KT 9999 FEW040 PROB30 0911/0918 05015G25KT
EGHI 090545Z 0906/0915 03012KT 9999 FEW045
EGHQ: no results found
I did obtain updated weather for EGHE before the flight but did not record it.
Initially the cloud tops were around 4500ft. Solent (Southampton - the SAM VOR) normally does a VFR transit at 4000ft, so I asked for one at 5000ft "due weather" and got it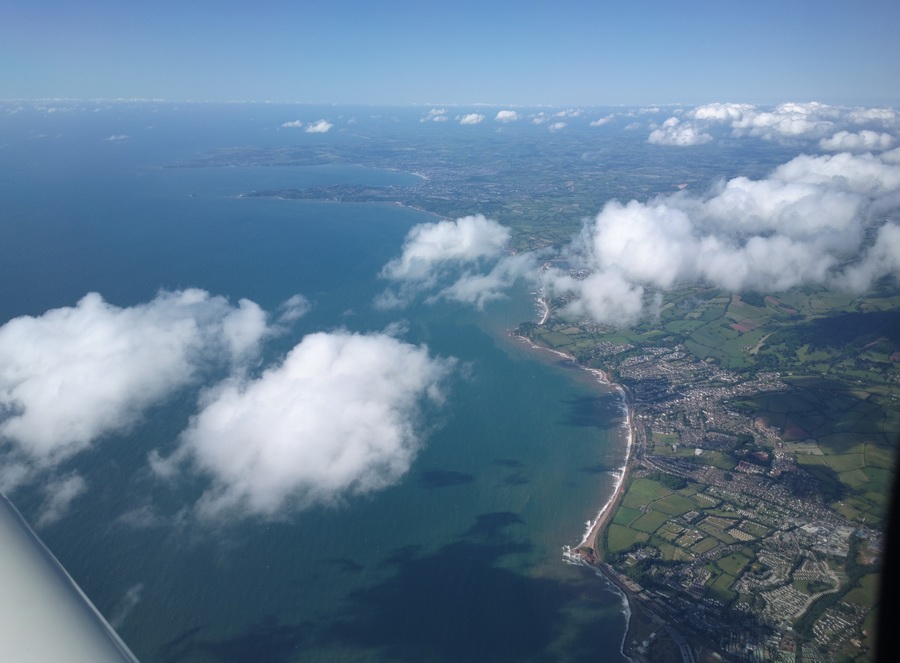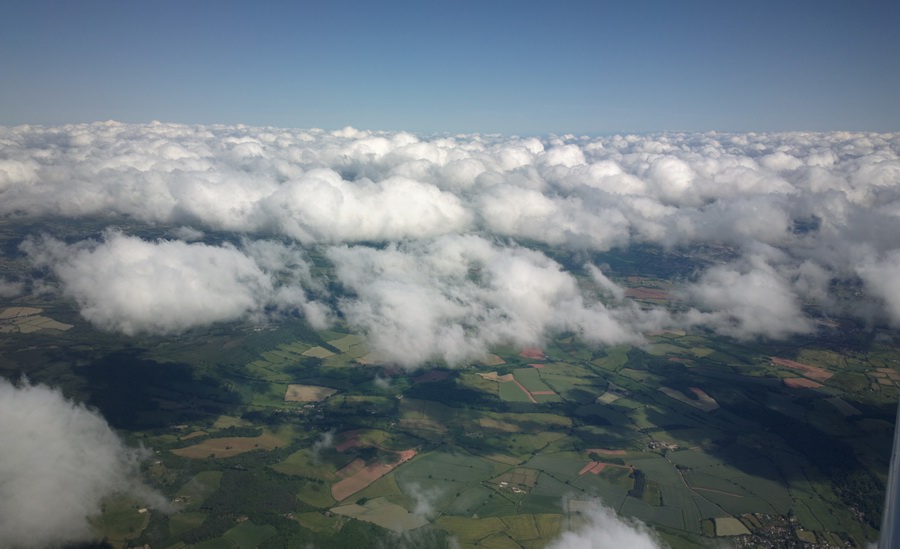 Sharp readers will note Plymouth airport showing on the MFD. It closed several years ago but I don't update the MFD basemap very often since it costs several hundred USD and very little changes on it. The KLN94 GPS database is always the current cycle, however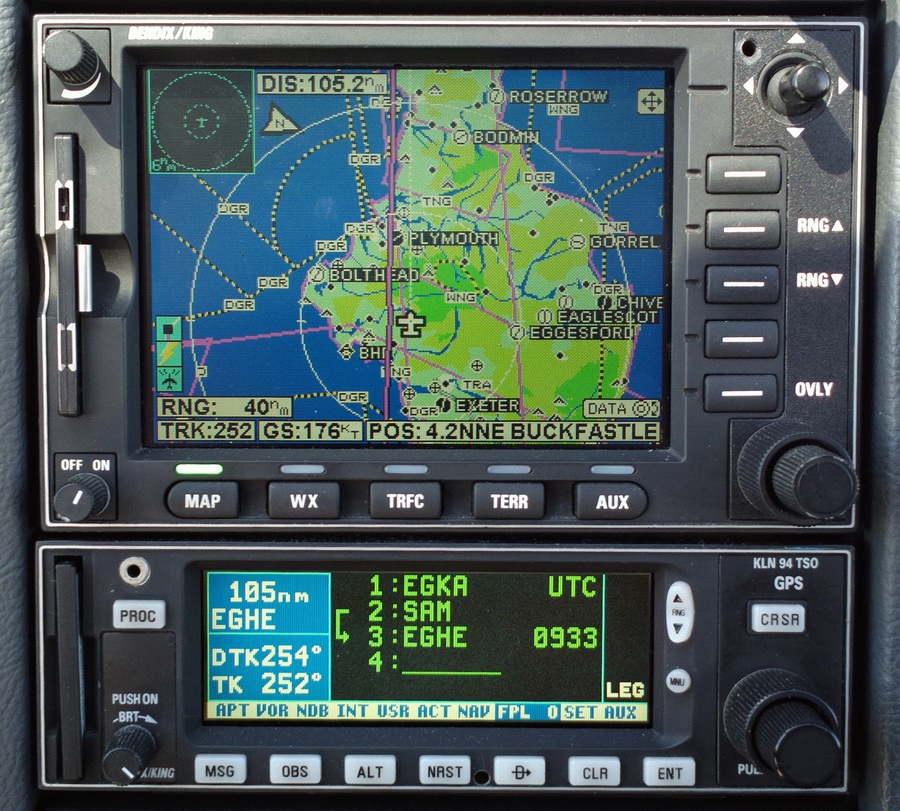 Later the cloud thinned out. The south west England is very scenic from the air. However, it's a different story if you have to drive anywhere, with a lot of slow and winding roads which make getting around difficult. I spent a lot of time there some years ago. When Plymouth airport closed, a lot of people had to give up flying because the nearest alternative was too long a drive…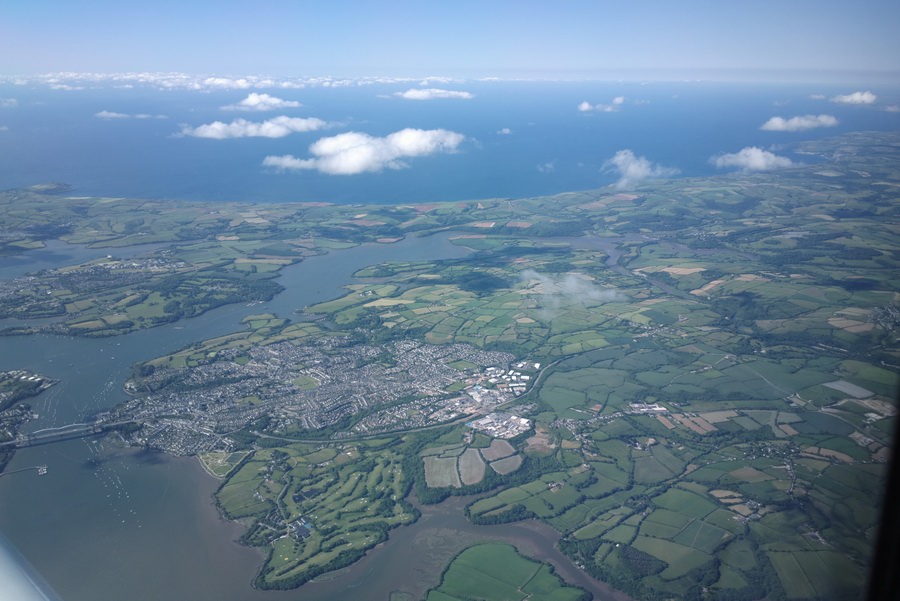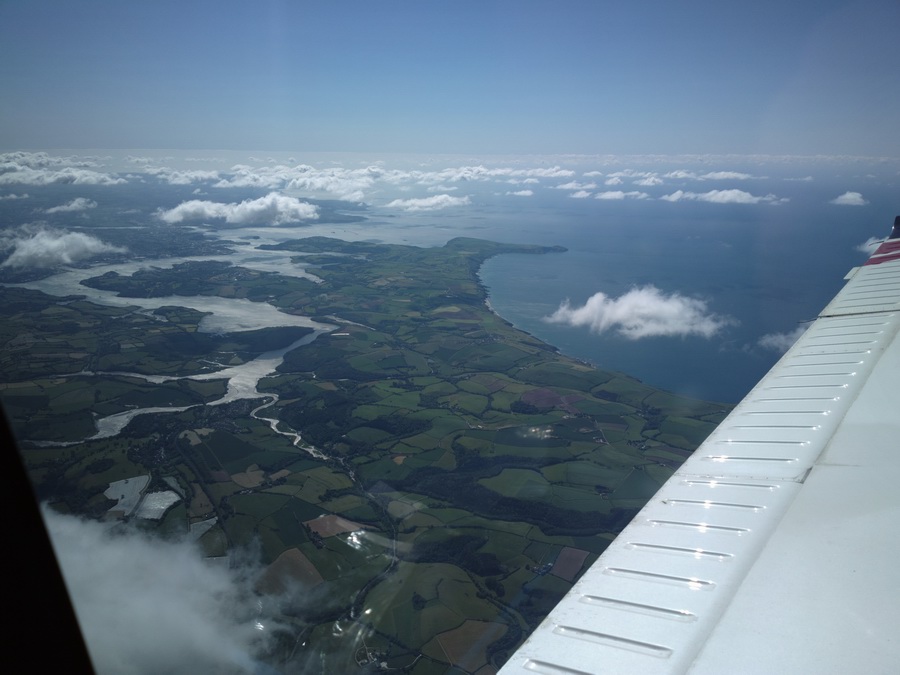 Looking back towards the Plymouth area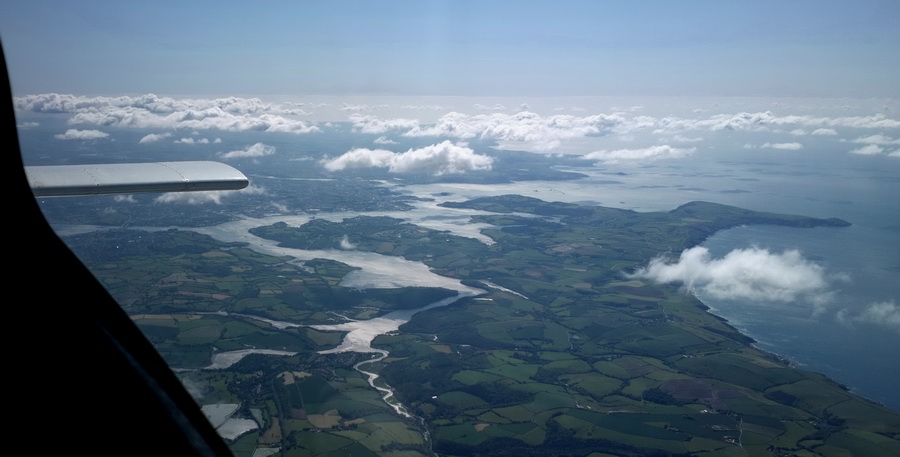 Coming up to St Austell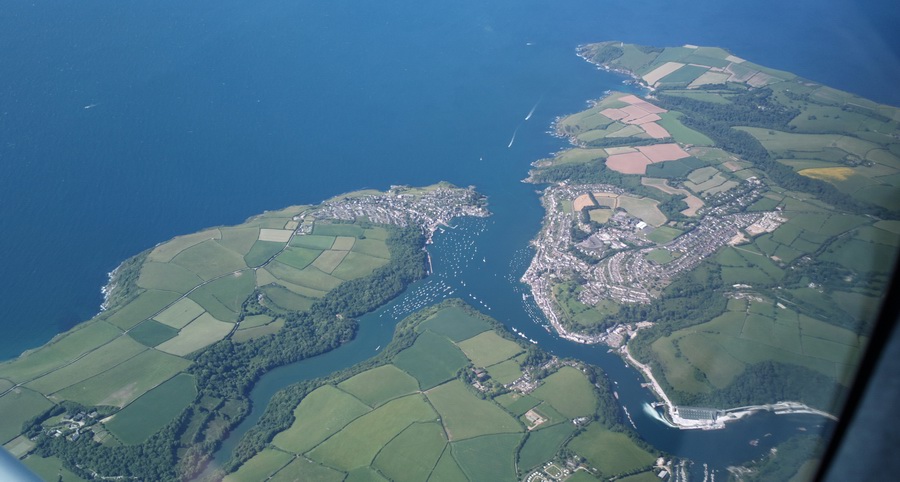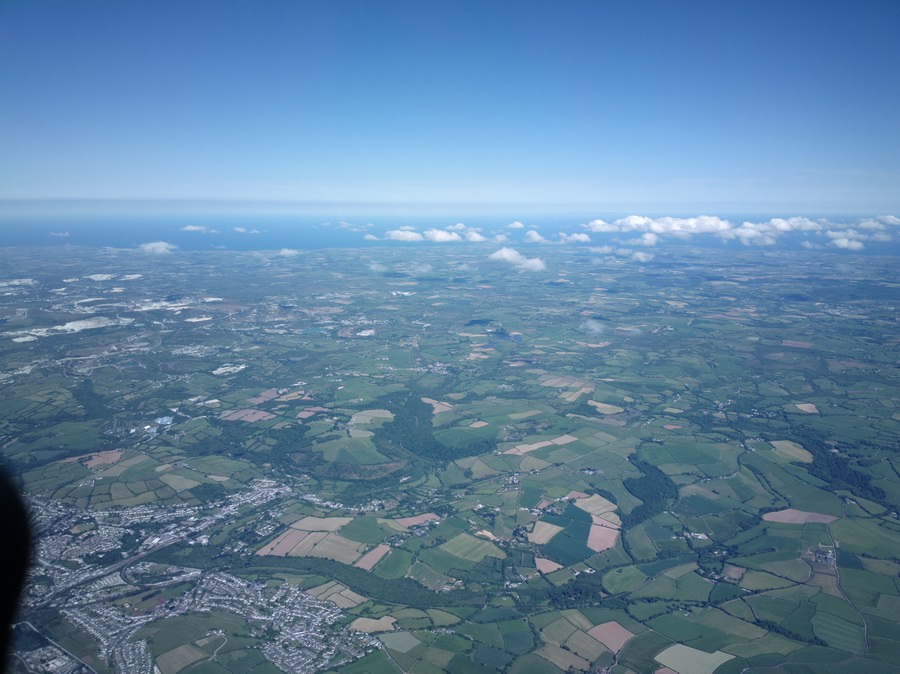 The shiny domes are the Eden Project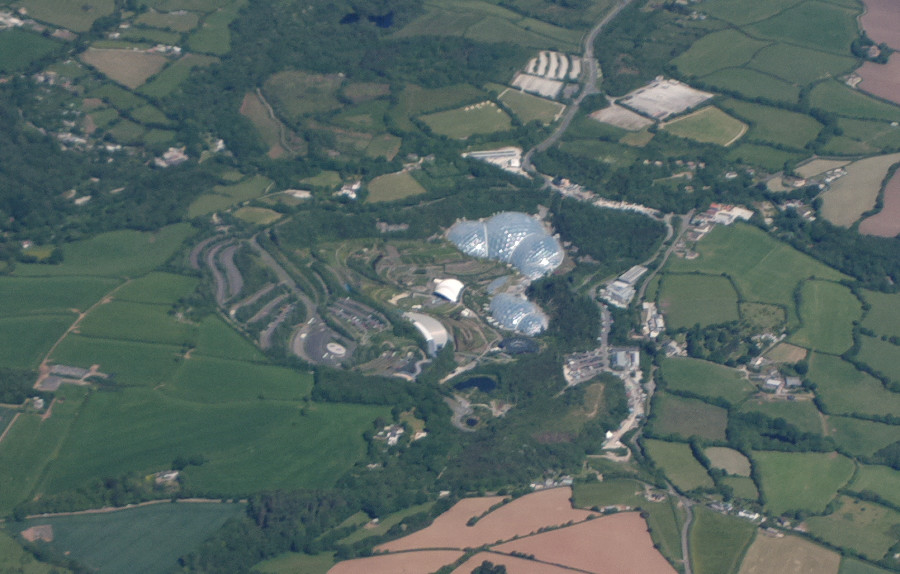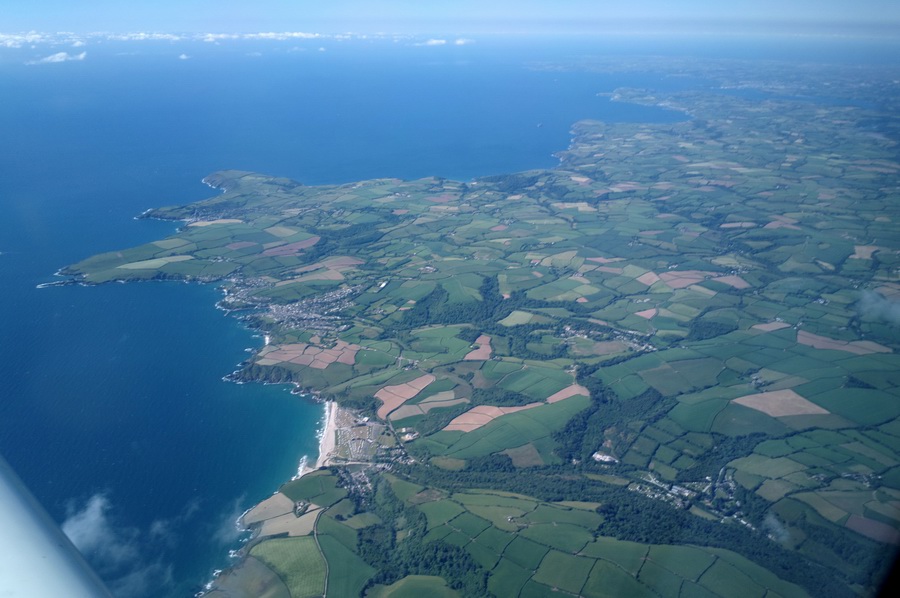 The Penzance area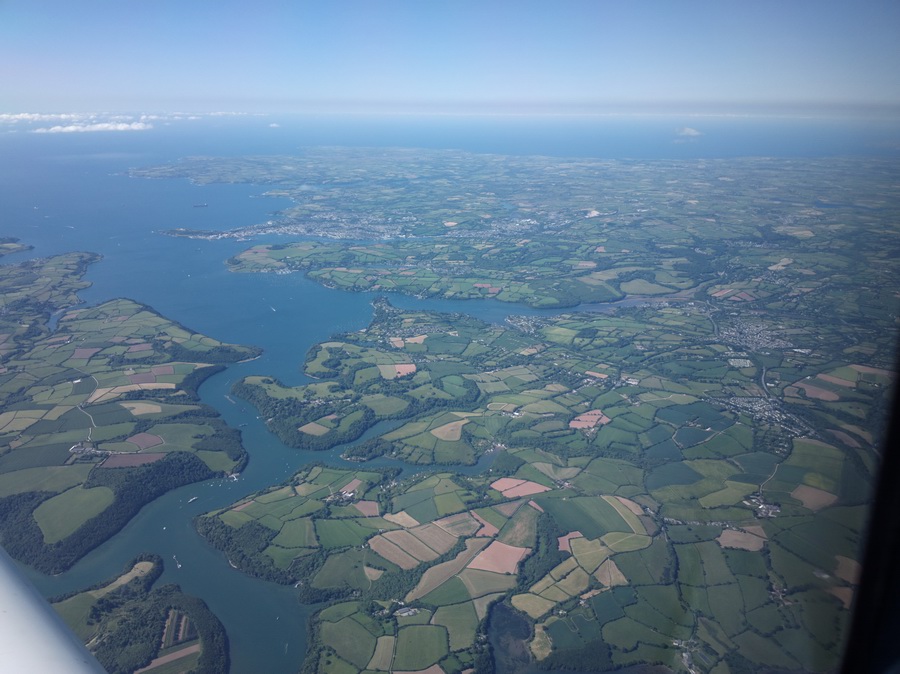 Approaching Lands End. On a clear day you can see both the N and S coasts at the same time, for about 50 miles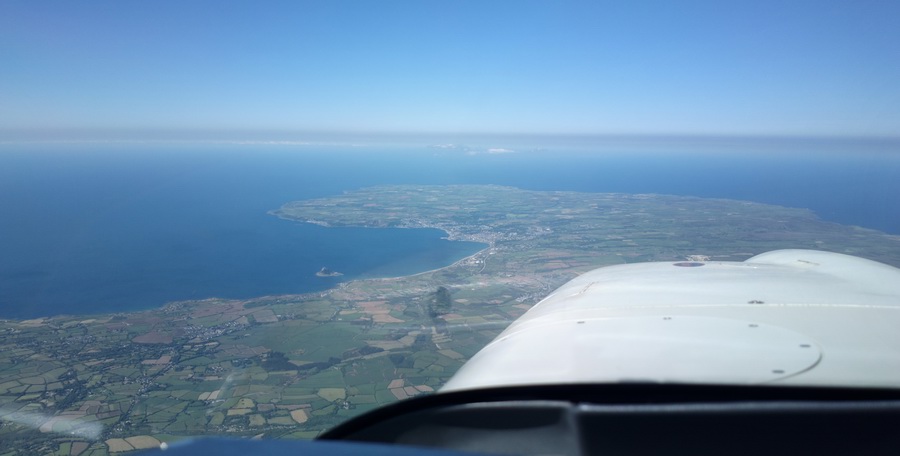 Mount's Bay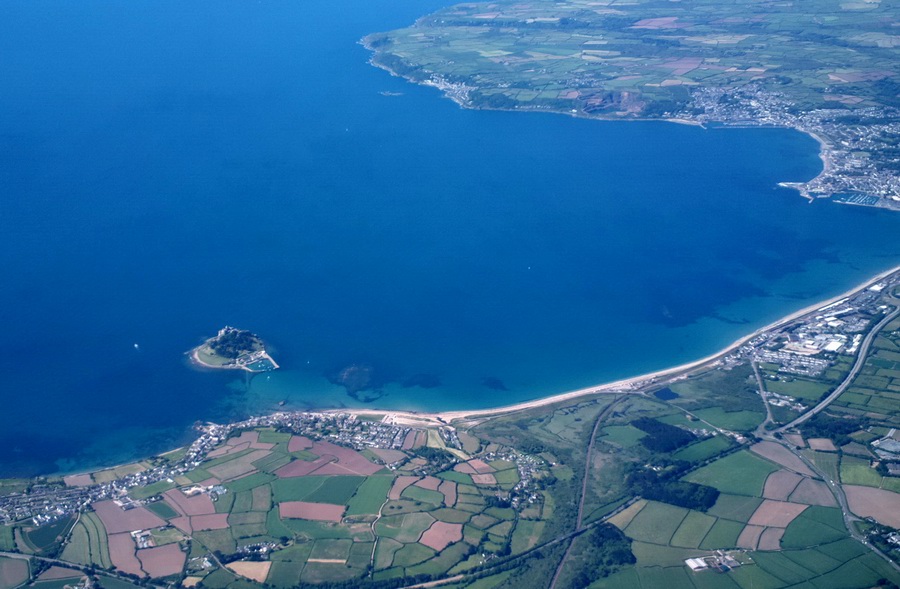 Finally - Lands End, with the airport (EGHC) on the bottom right-hand corner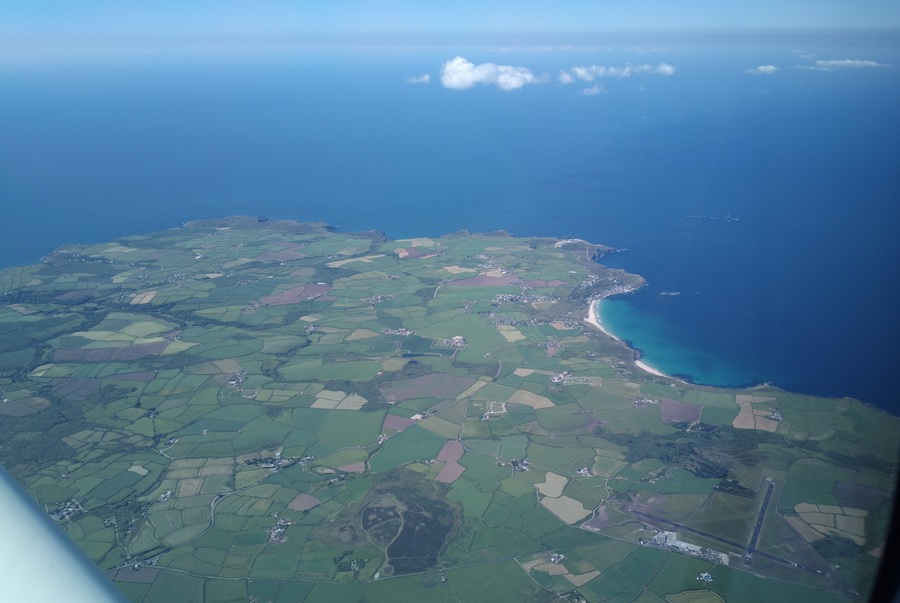 Lands End EGHC. It was recently tarmaced and has full ATC. Presumably this was done to support the regular flights to the Scilly Isles, which are done under an AOC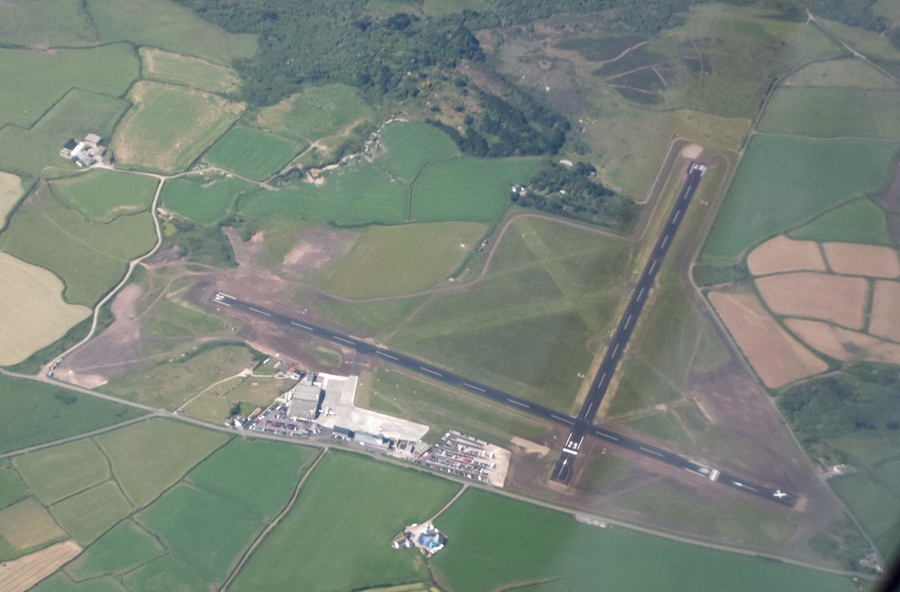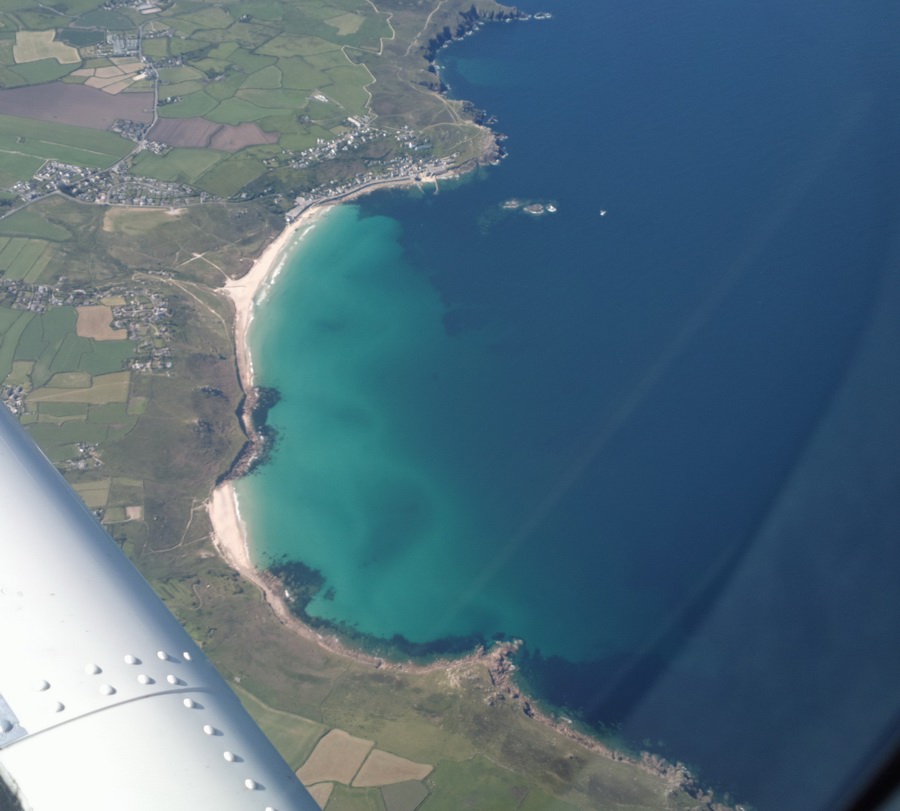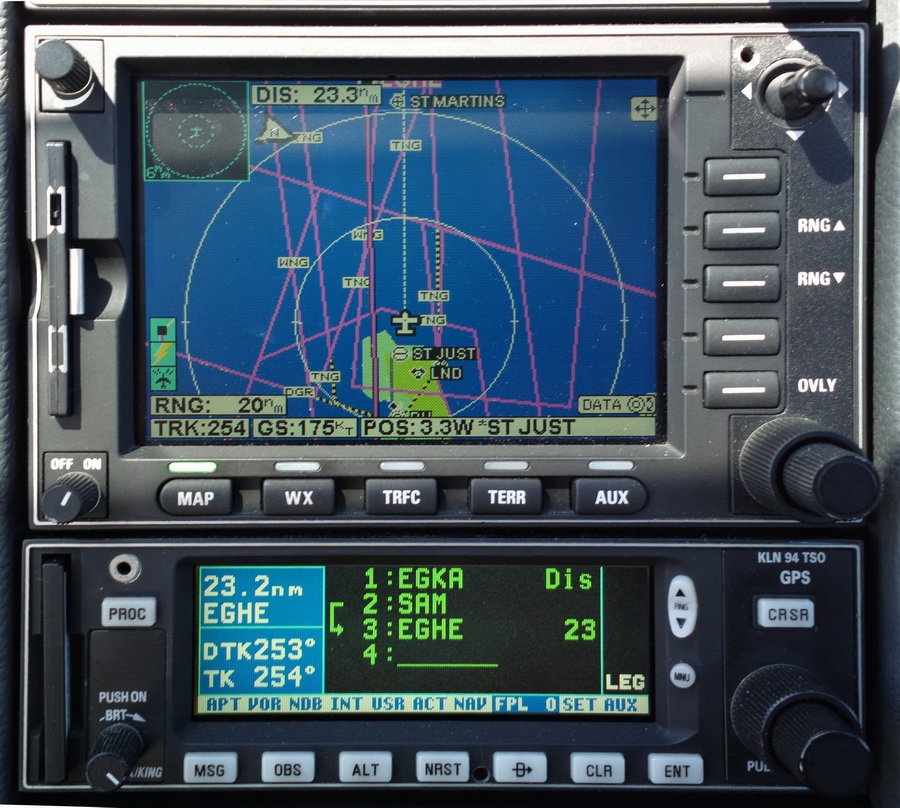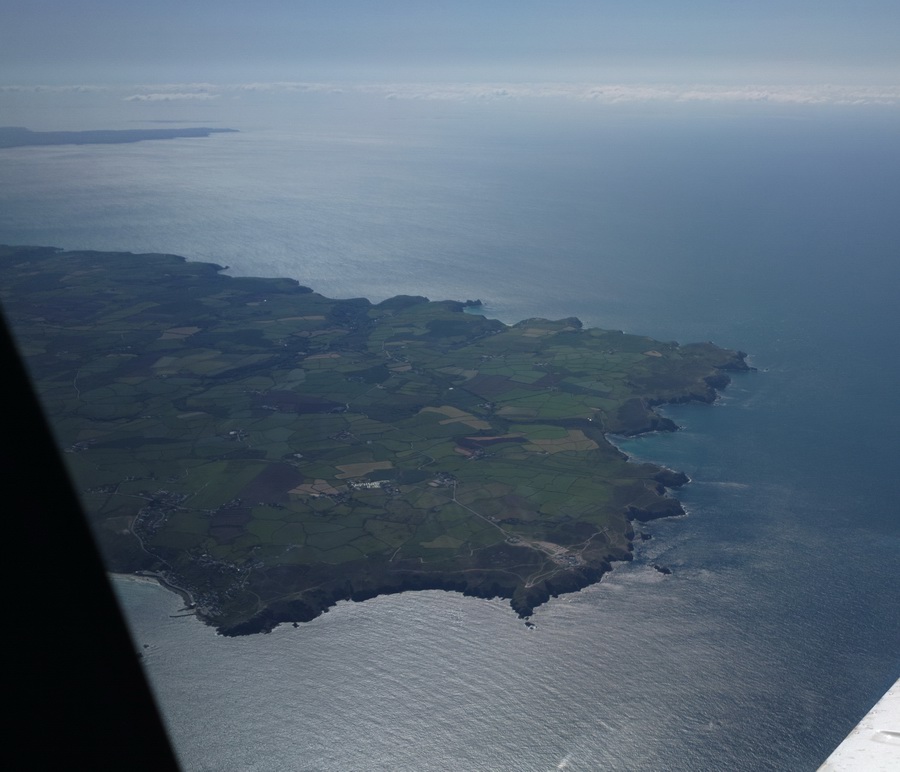 The Scillies appear in the distance almost right away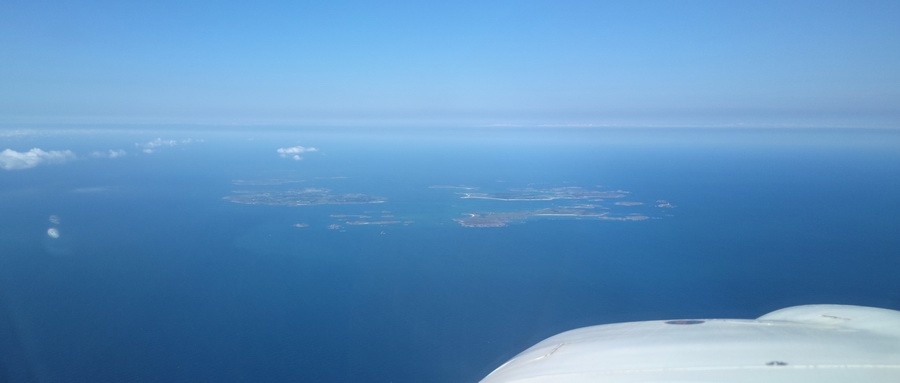 The wind was 15kt right across runway 32 but I chose 32 rather than the shorter 09. The max demonstrated crosswind of the TB20 is 25kt.
Since my last visit, all runways have been tarmaced. The airport has a lot of twin turboprop traffic, connecting to Lands End and Newquay. There is no fuel of any kind but for those who cannot make the island without a refuel there is avgas at Lands End and Perranporth.
The propeller effects below are due to the Nokia 1020 phone camera shutter. If one uses a proper camera with a shutter speed of about 1/80 or slower, the effect disappears completely. However, for reasons unknown, the Nokia 808 phone camera seems to almost avoid it too.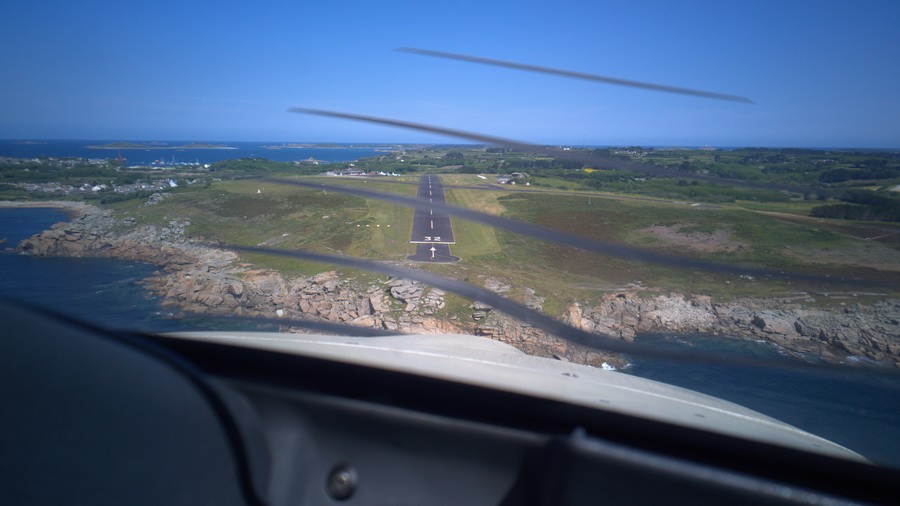 The runway (32) goes uphill and then downhill, so on short final you only see the first half, but usually one stops at the very top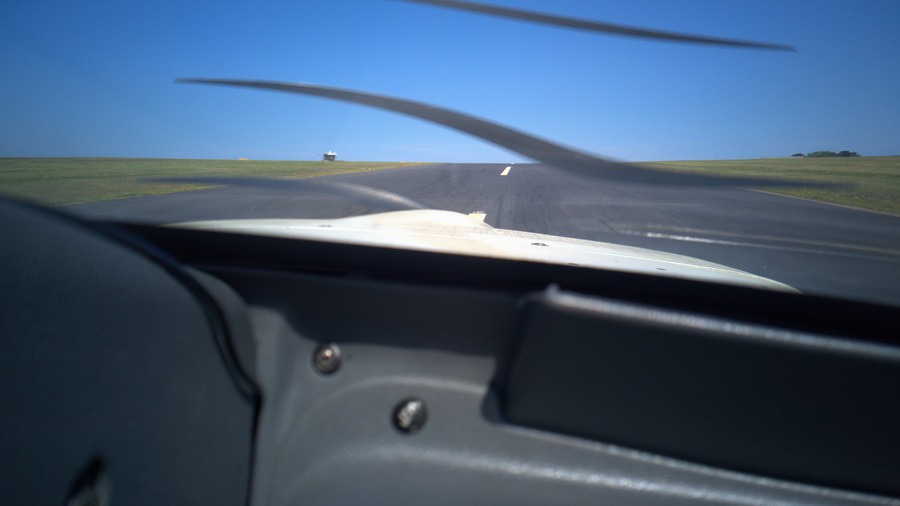 The landing fee is paid at the tower. However, one is not allowed to just walk from the GA parking area (which is grass) to the tower which is at the "main terminal". The approved walkway goes right outside the airport, along a perimeter road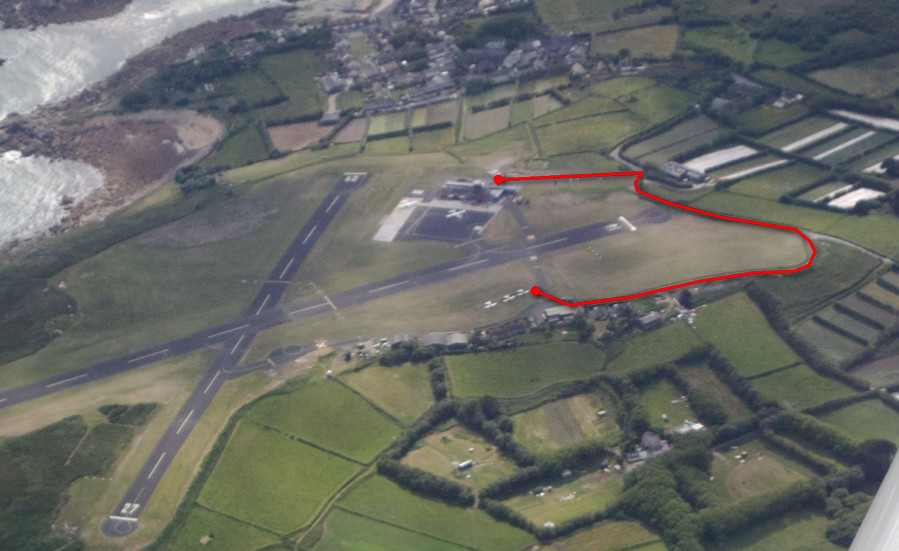 We managed to sidestep this by asking ATC for a "couple of strong men" to help us push the aircraft into the desired parking position, and the two firemen who turned up then gave us a lift. Everyone was really helpful. Yellow jackets were also not insisted on, which always makes a nice change in the UK, and was a relief from a pompous arrogant security guard at Exeter airport a few weeks earlier.
St Mary's
St Mary's is the main "town" on the island. No taxi is needed; there is a very nice 20 minute walk from the terminal building to the "town centre". Here is Justine, with a smile which is always a good result for future trips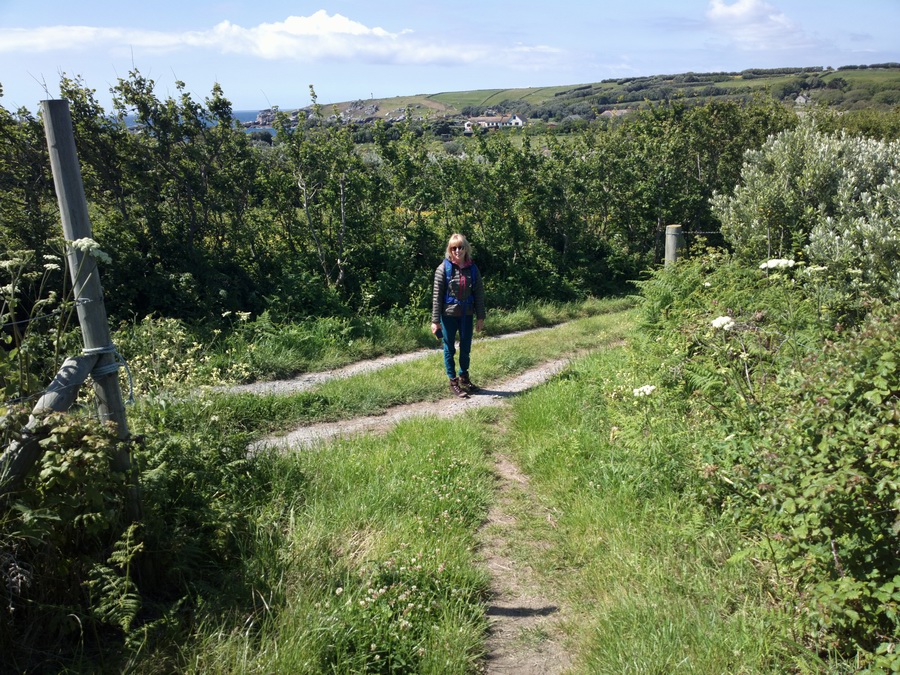 Taking the mentioned footpath, this is the first shop you see. I remember having an ice cream there about 10 years ago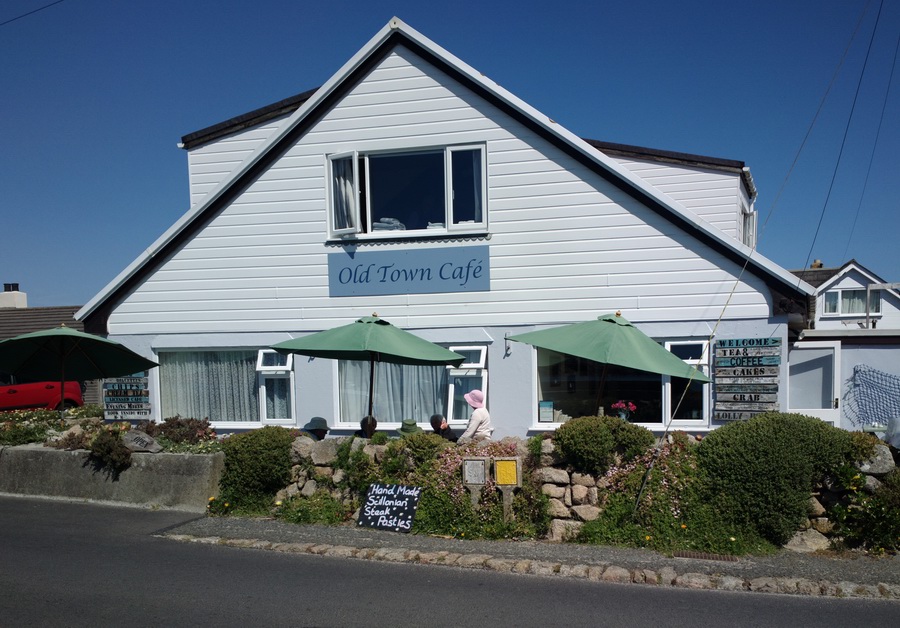 There is an endless supply of really nice sandy beaches. On the day of our visit it was too cold so most were relatively deserted but a few brave people were sunbathing while hiding from the wind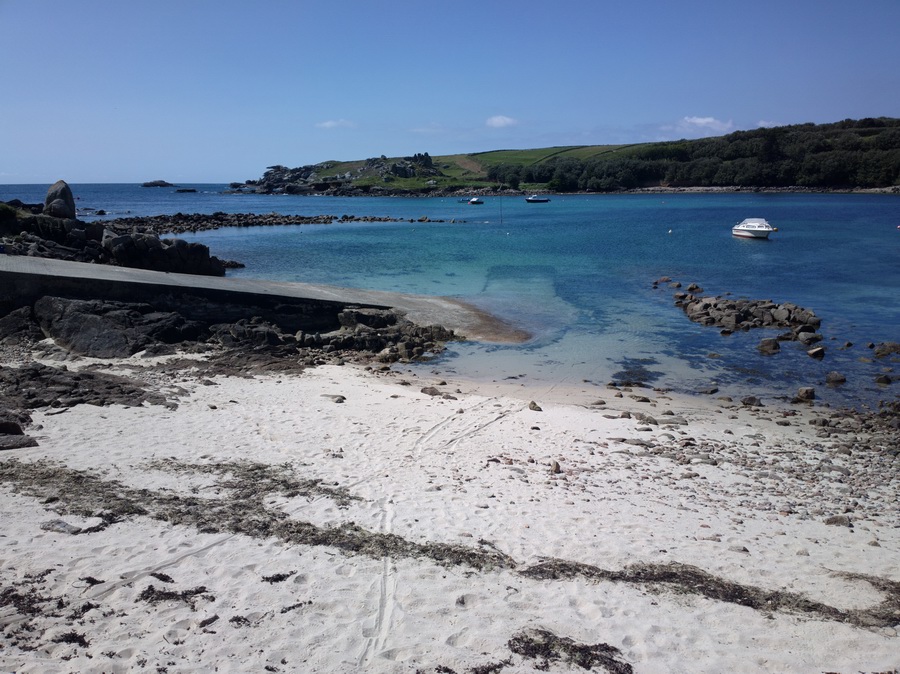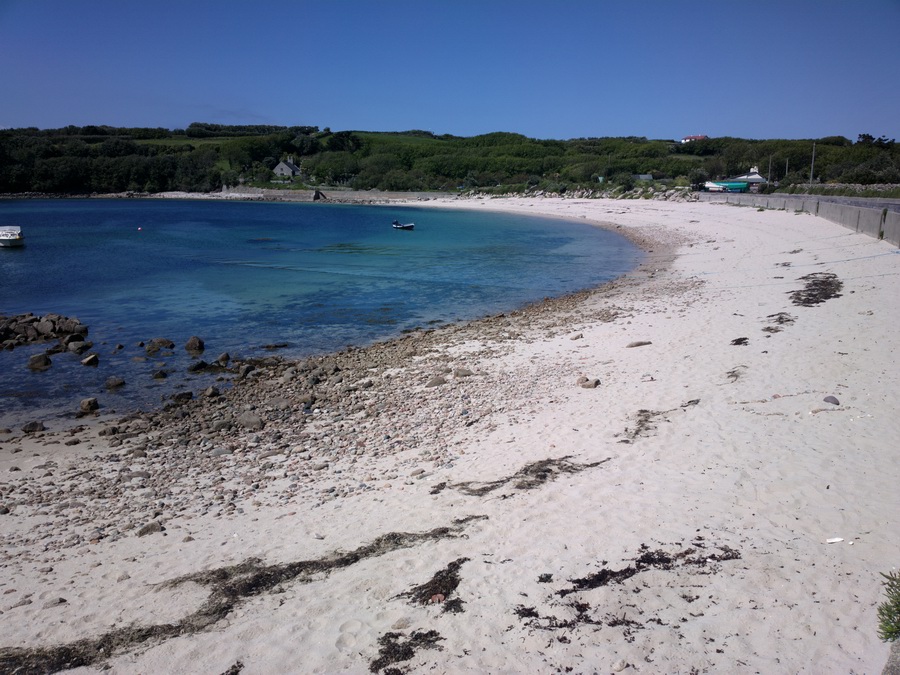 "Nowhere" used to be a diving and surf shop; I still have a T-shirt with their logo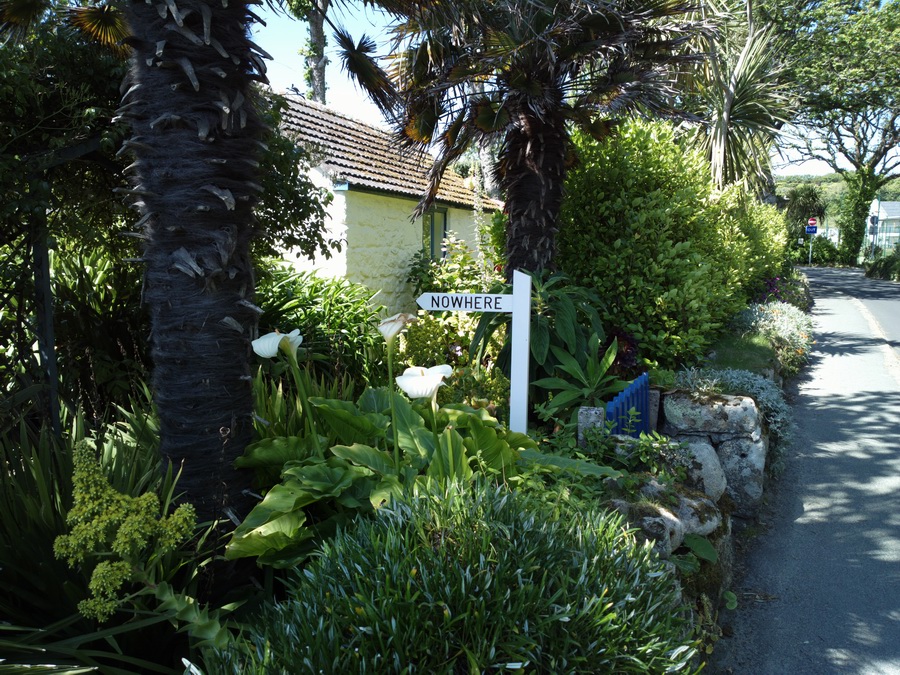 The climate is mild but wet so everything grows well ahead of the rest of the UK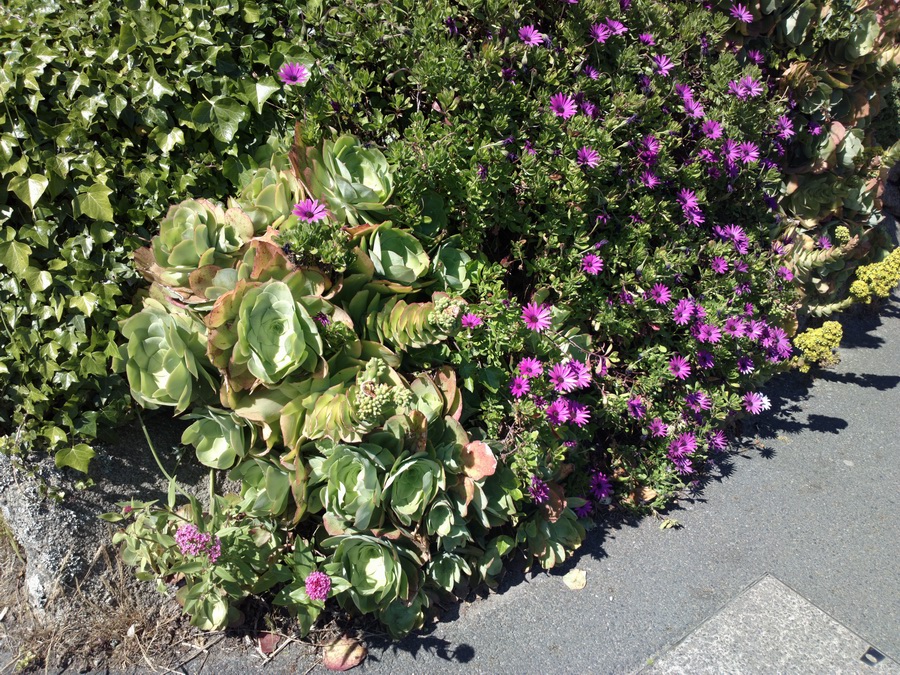 There is some technology there

This was a real live British Telecom engineer!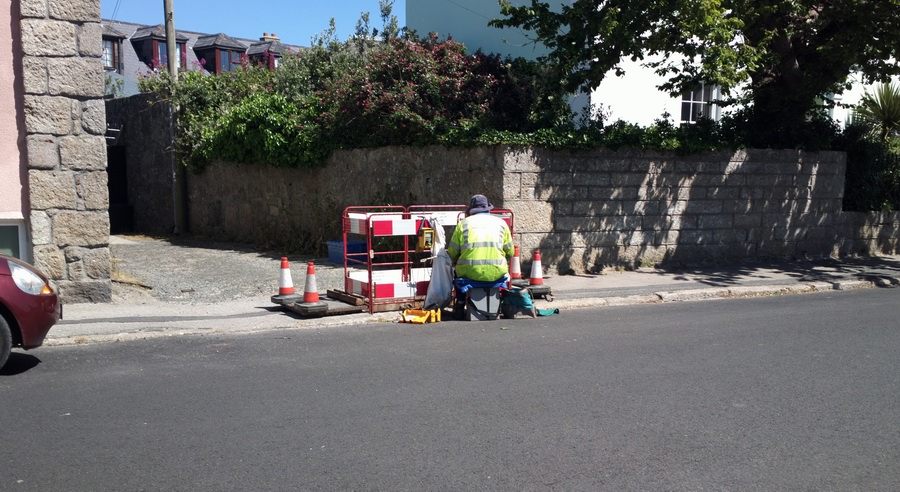 Mobile internet was however very slow, with only GPRS at 20-30kbits/sec, but for 1 day it's not a problem. Most cafes there have free wifi which worked well in the ones we tried.
The island is (and was) home to some slightly eccentric people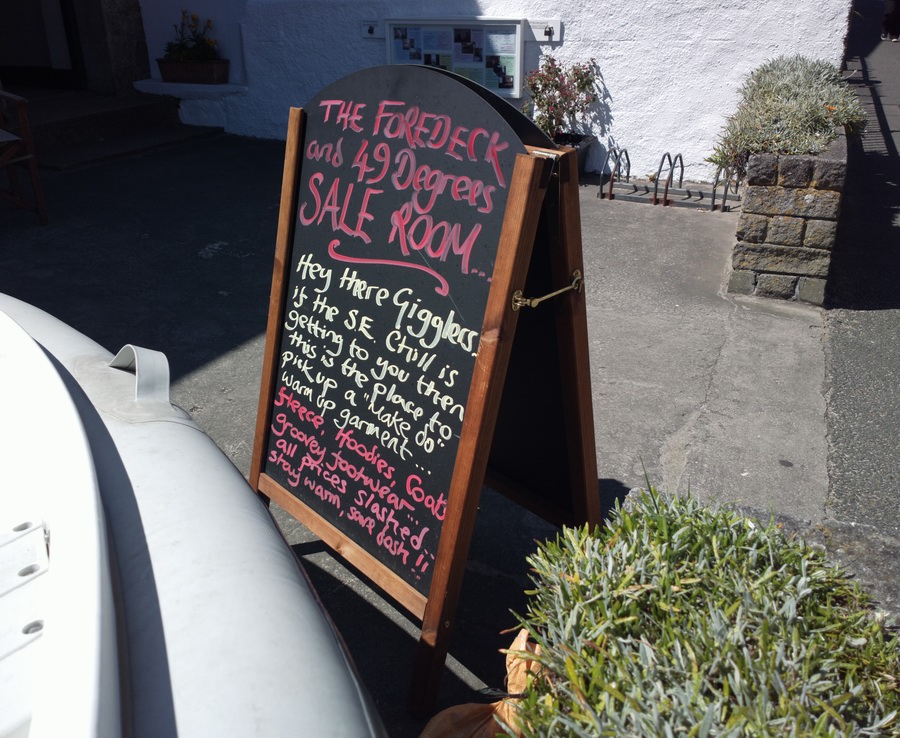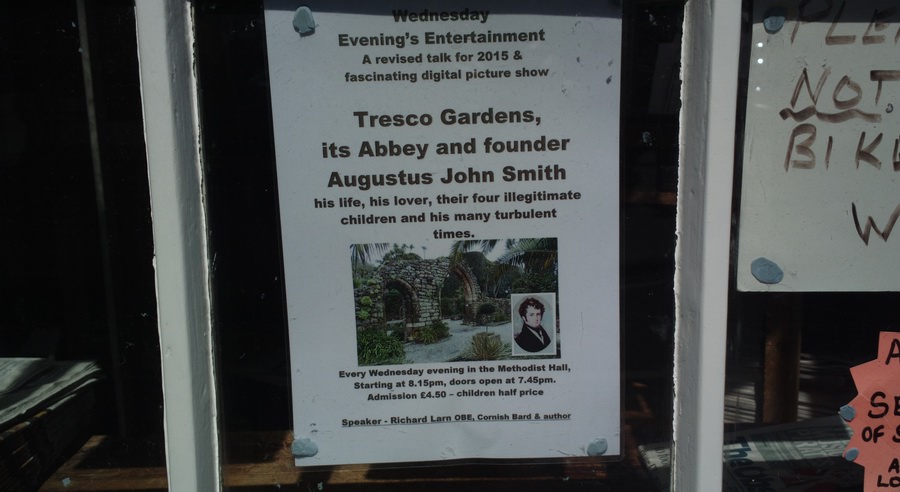 When I was last there, about 7 years ago, St Mary's had some Mk 1 Ford Escorts and Mk 2 Cortinas, but it has moved upmarket since then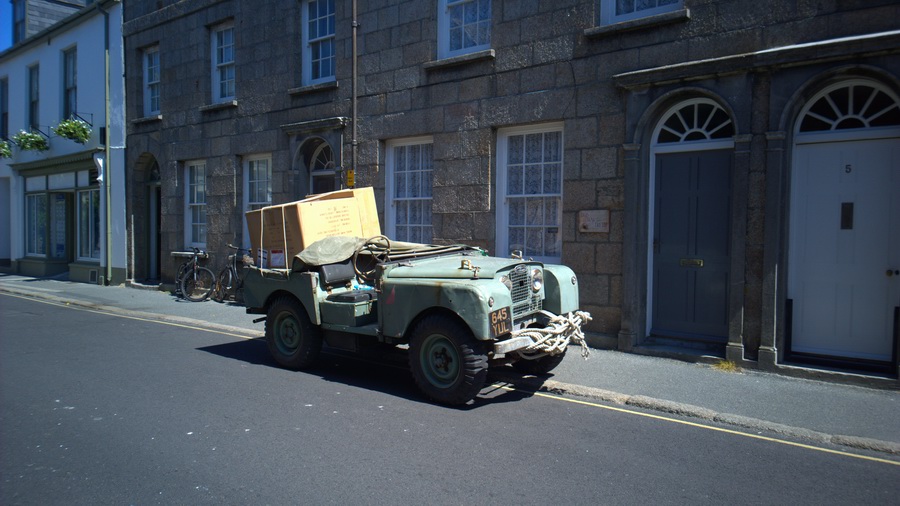 Actually, there is much more tourism now and it no longer looks like the 1950s England which was the case in the past.
There are many nice cafes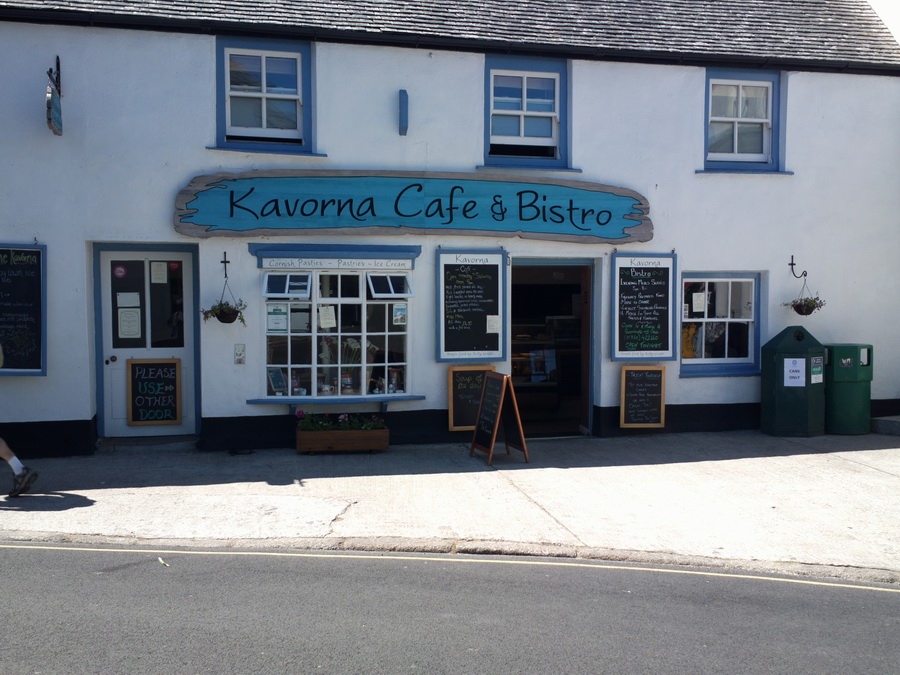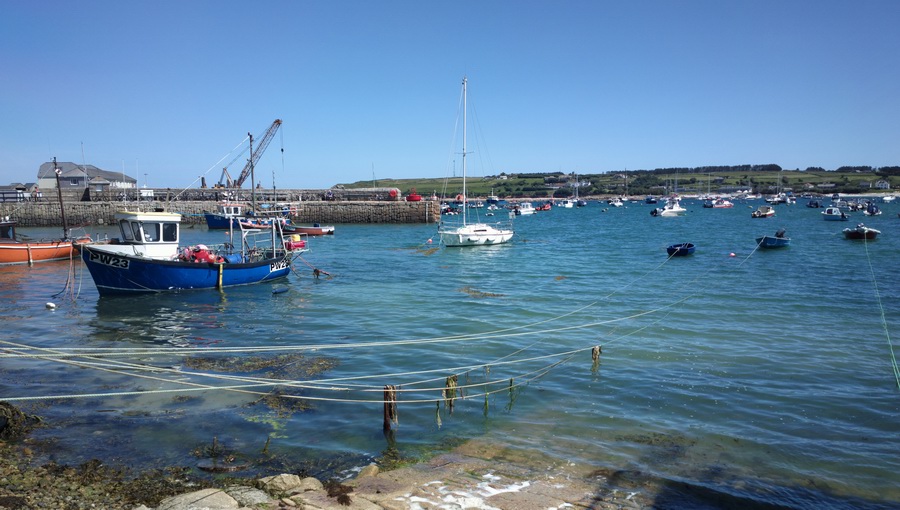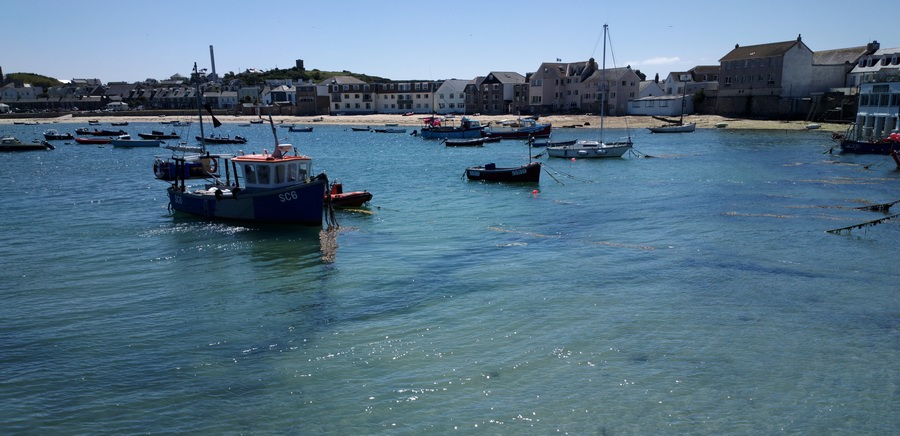 These boat trips looked really good but then you need to stay at least overnight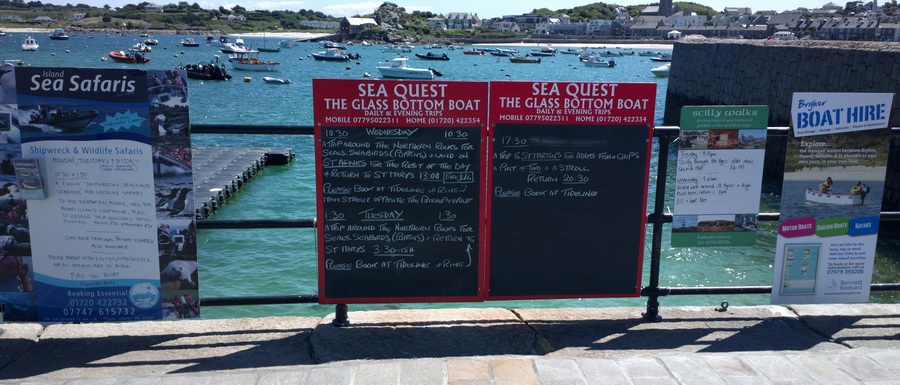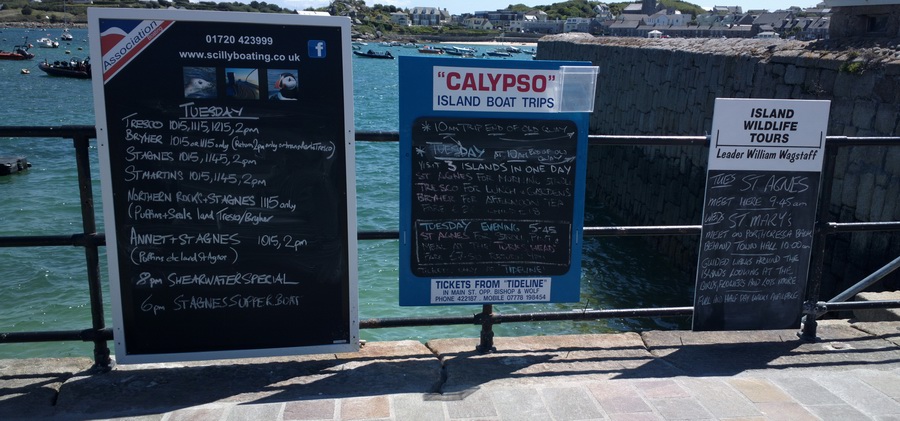 There are buses – this one had a very appropriate destination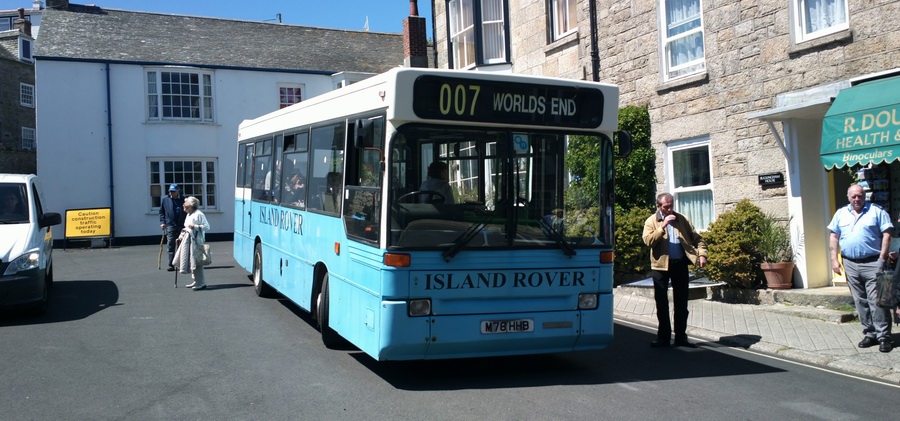 It's easy to find really nice healthy food, and here is a super crab salad. One find the "grease" too if one looks for it...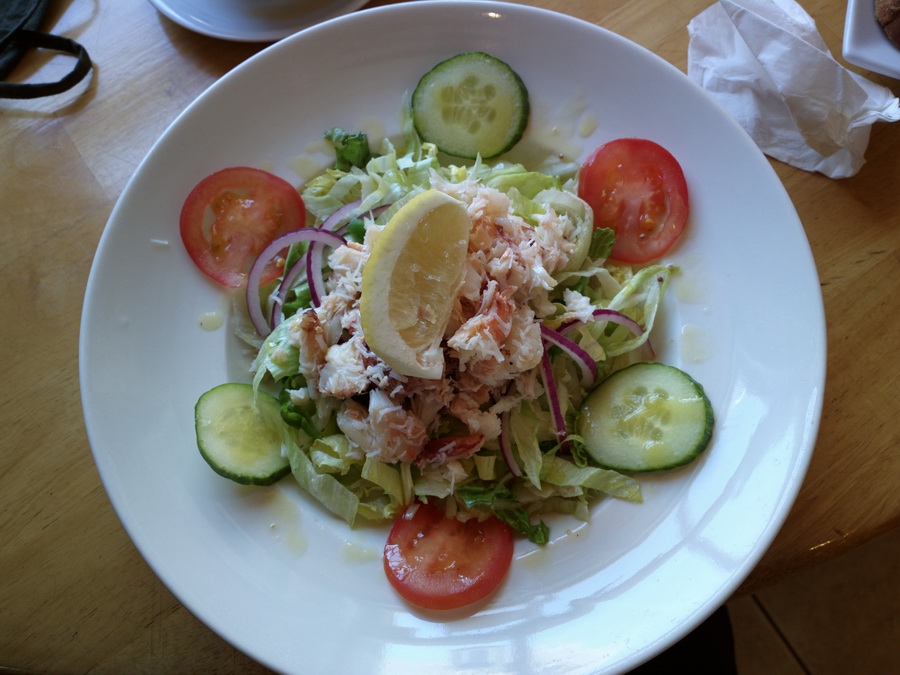 More lovely beaches... I wonder if they are ever crowded, given how relatively difficult to reach the island is...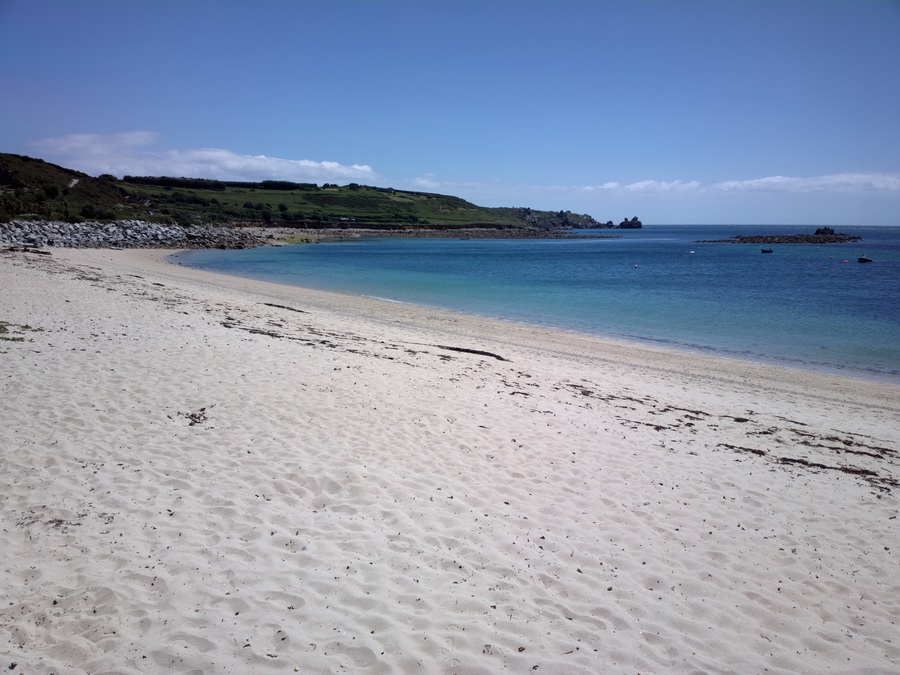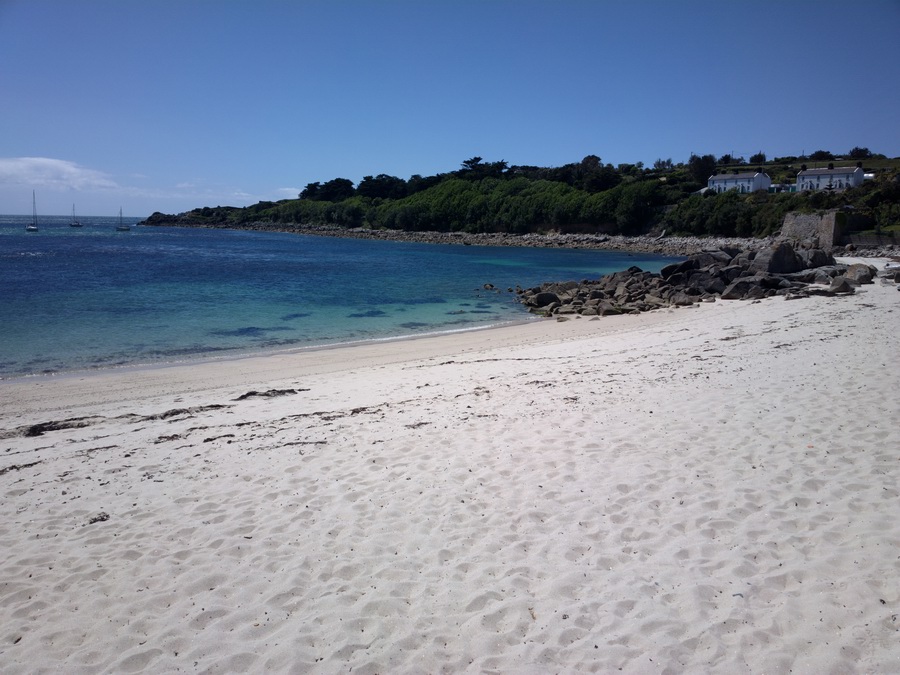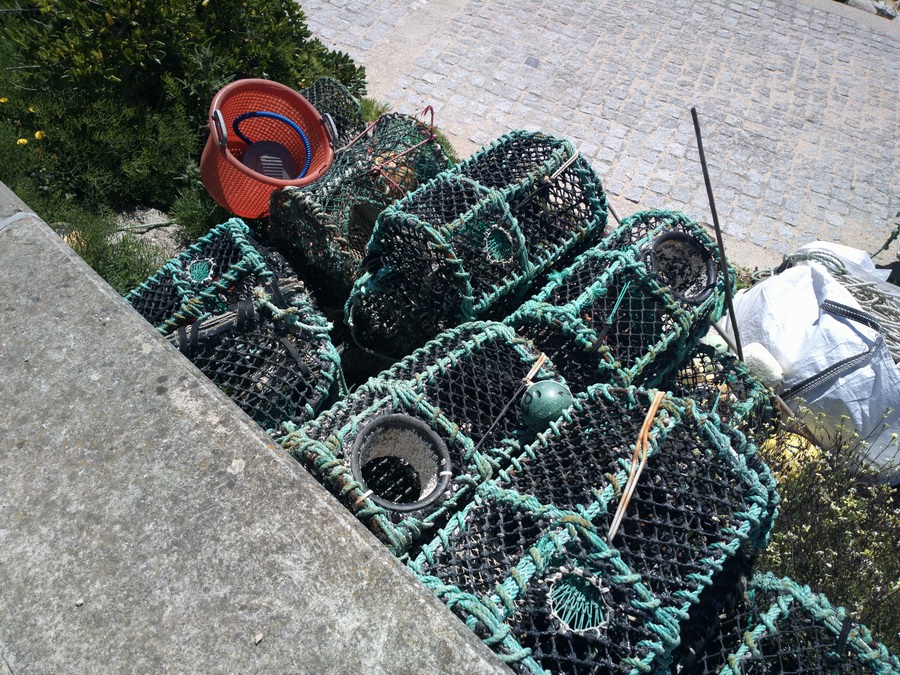 We took a walk along a scenic cliff path to the lighthouse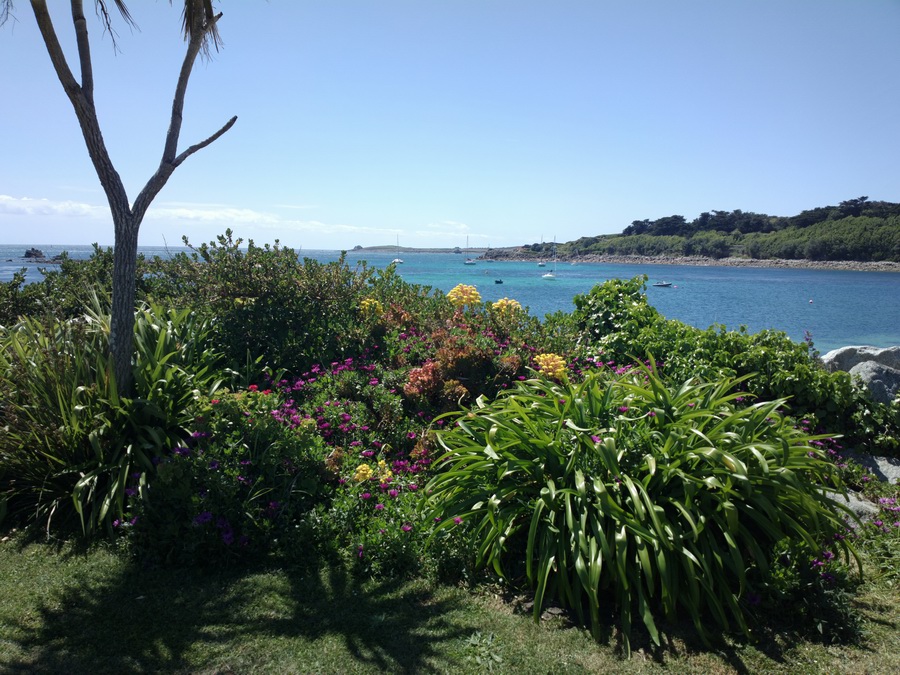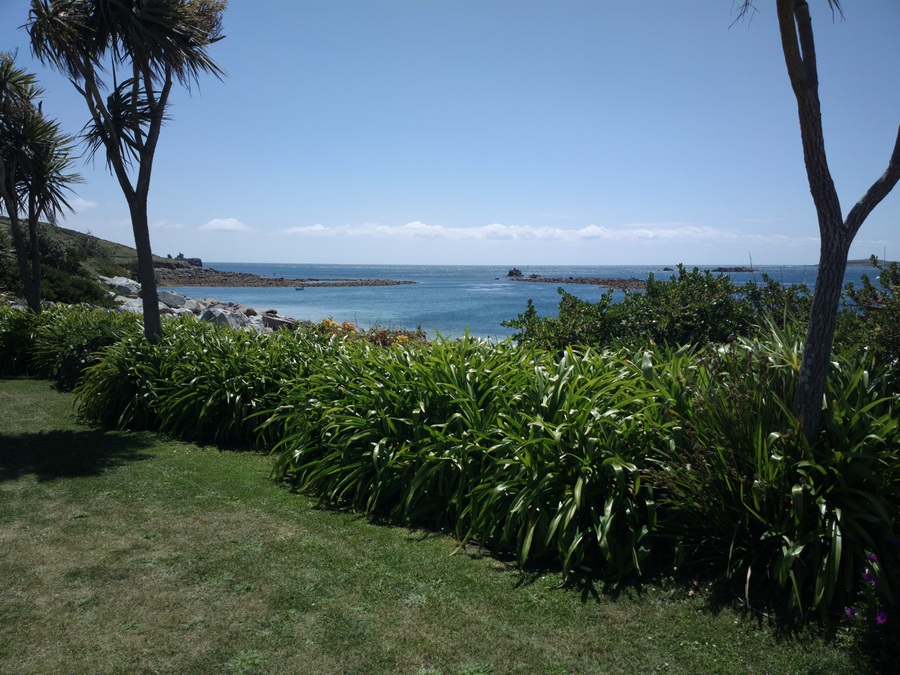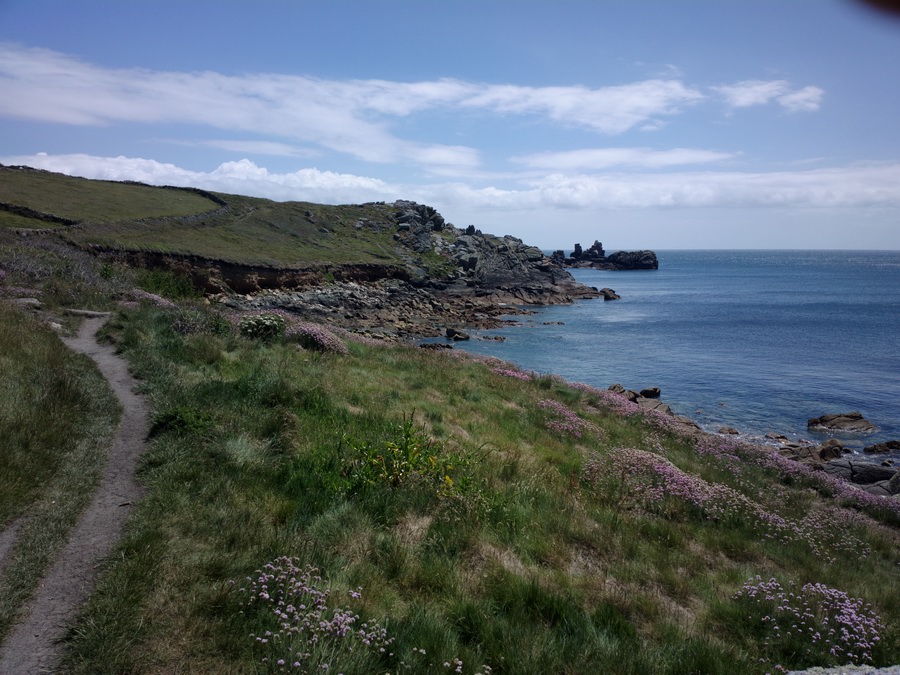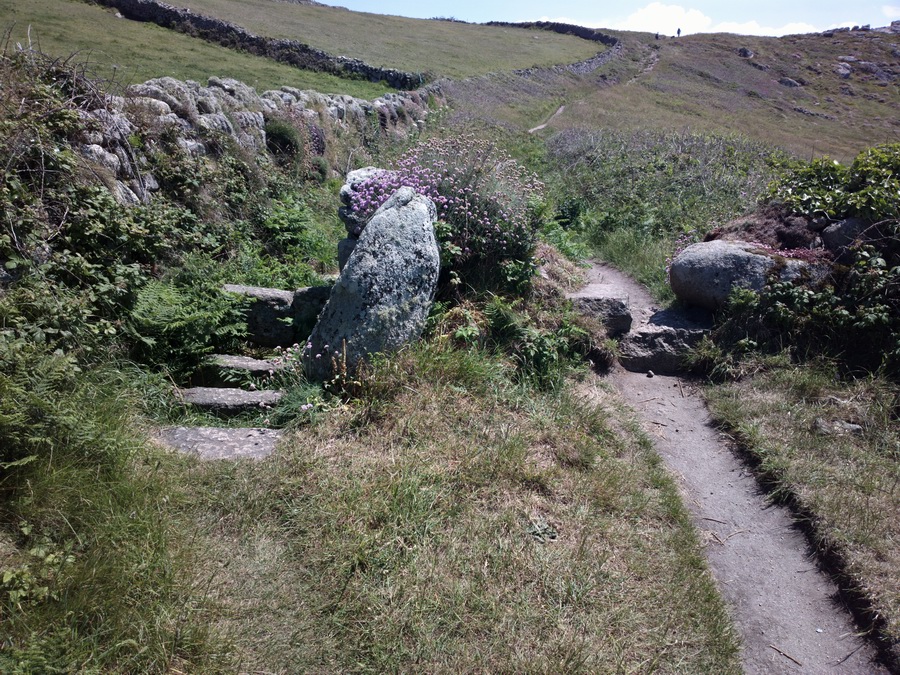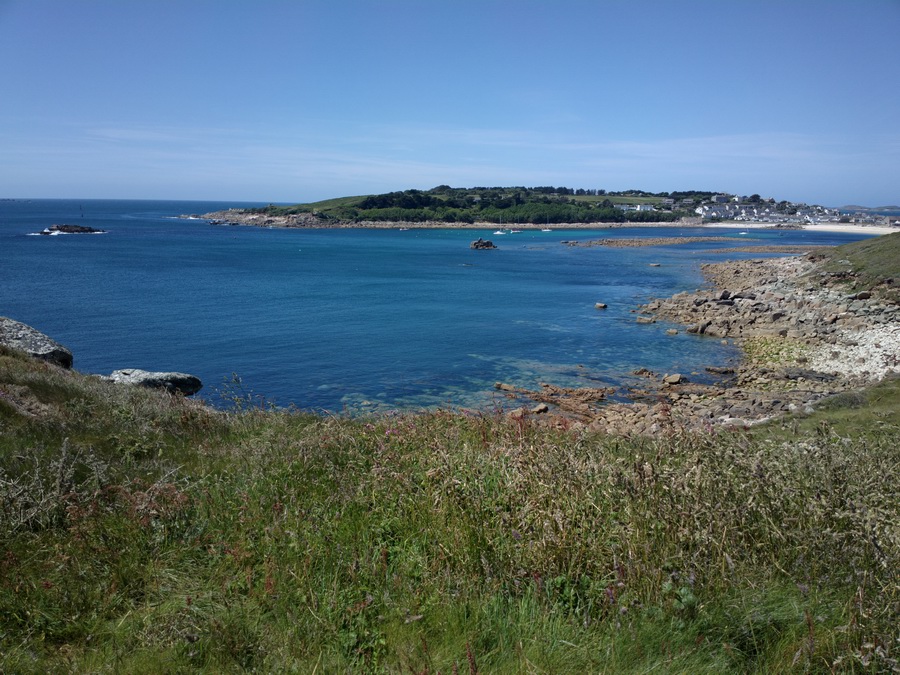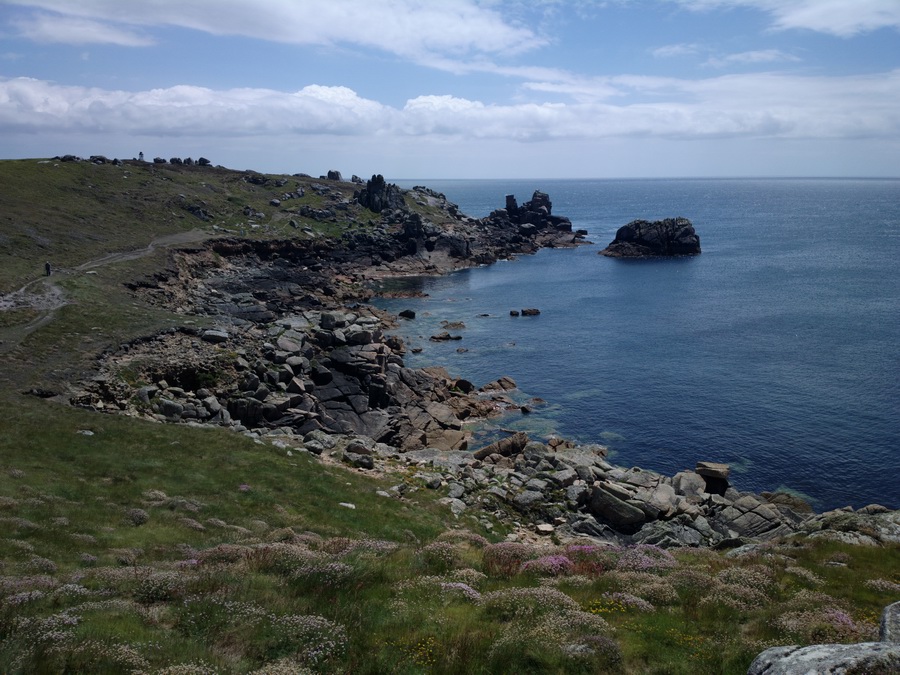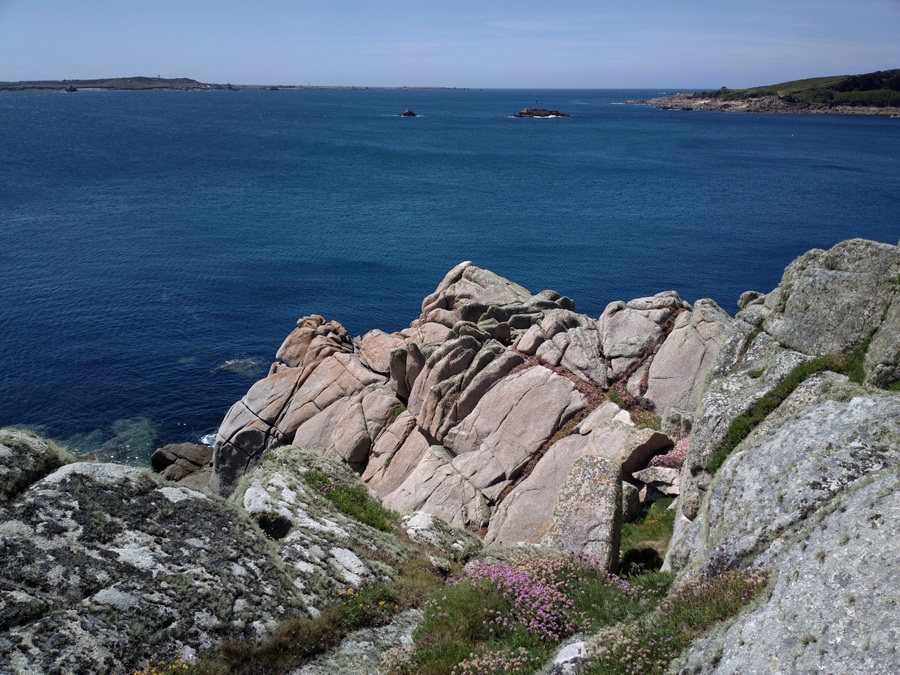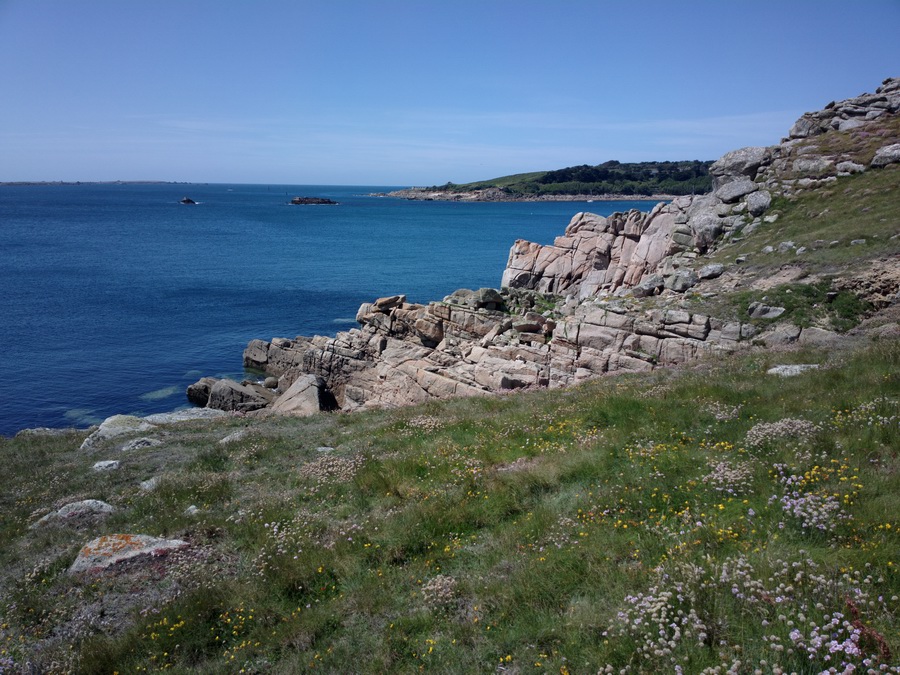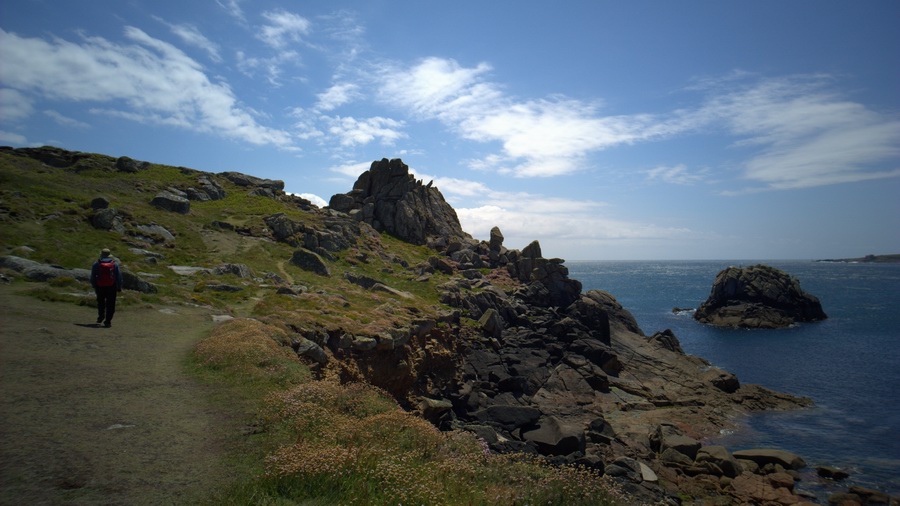 Lots of weird shaped rocks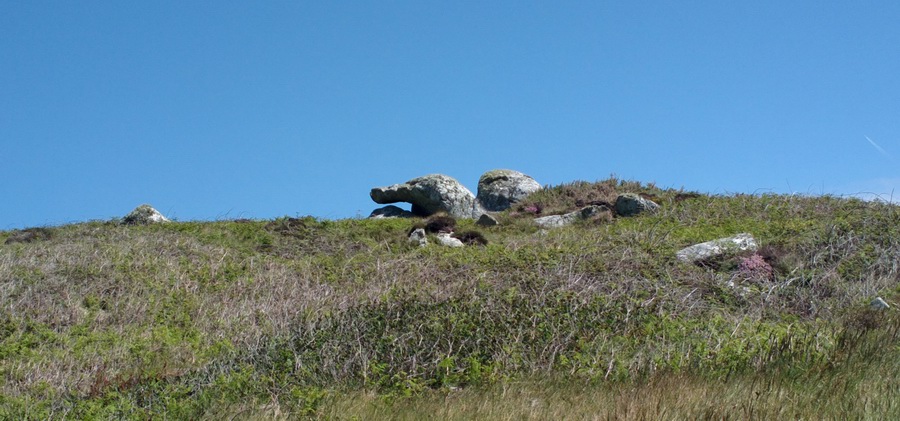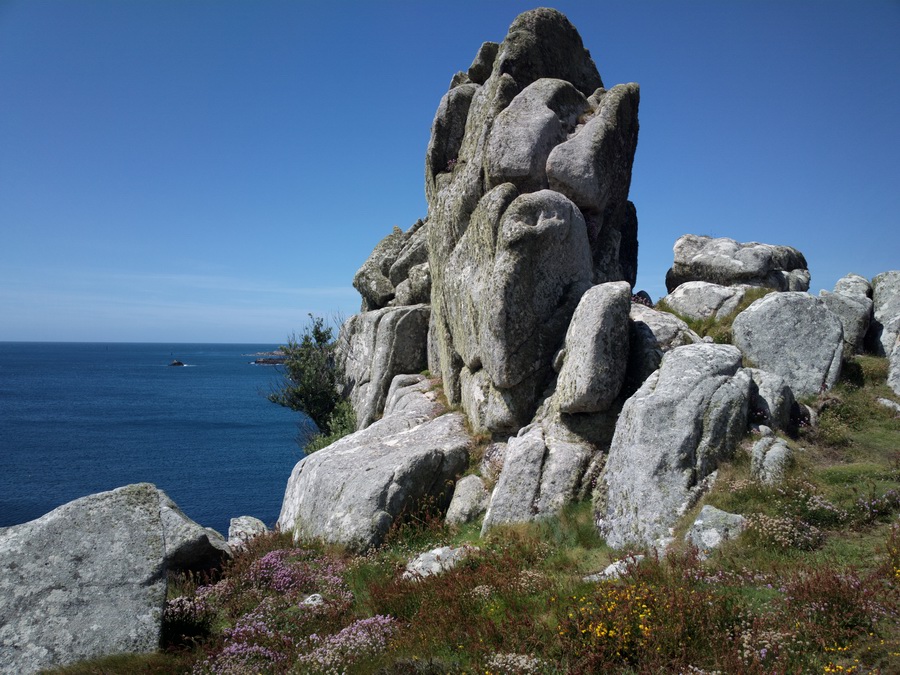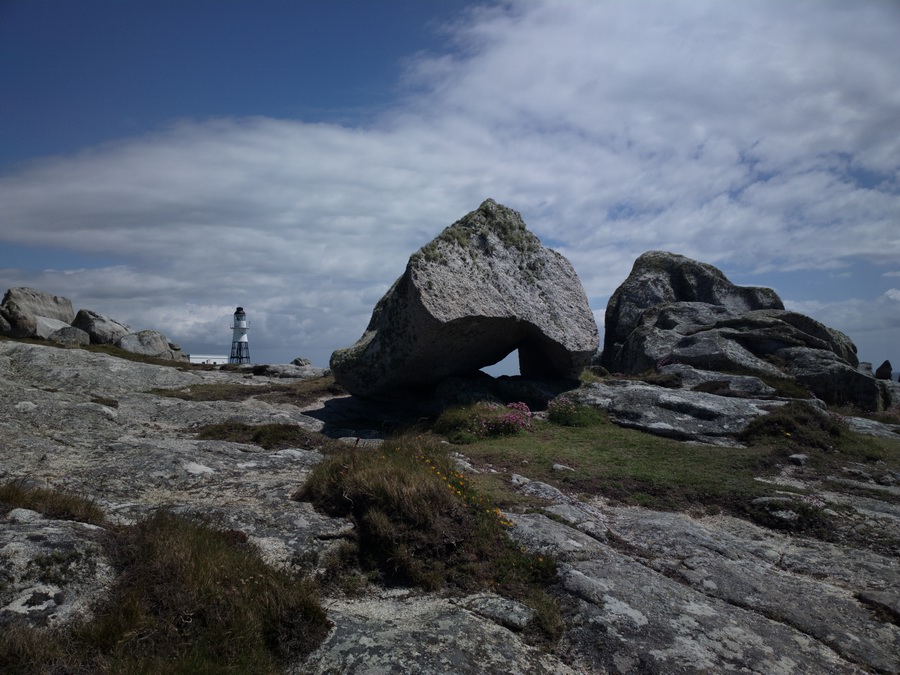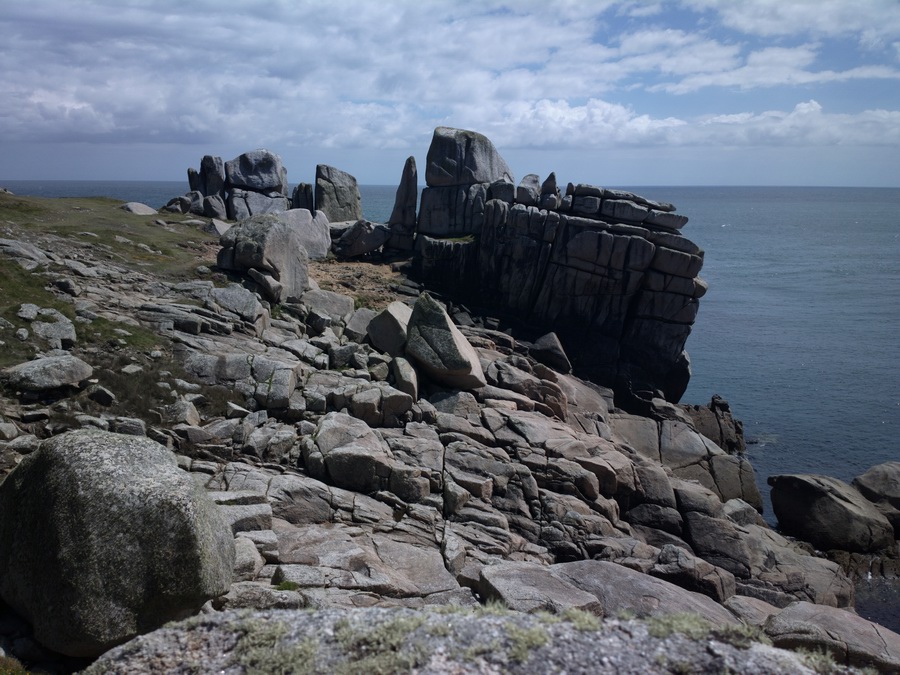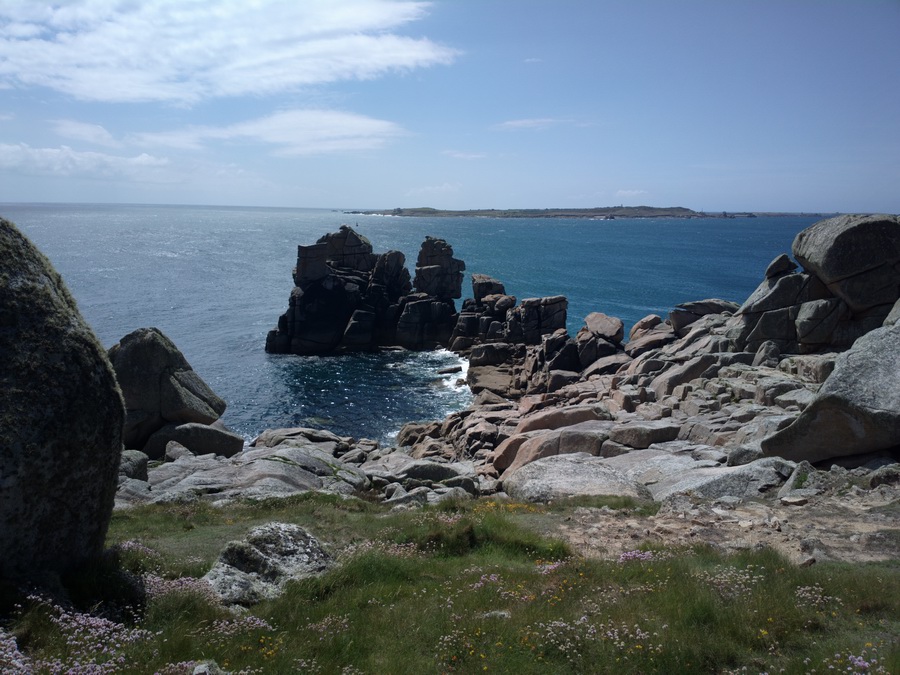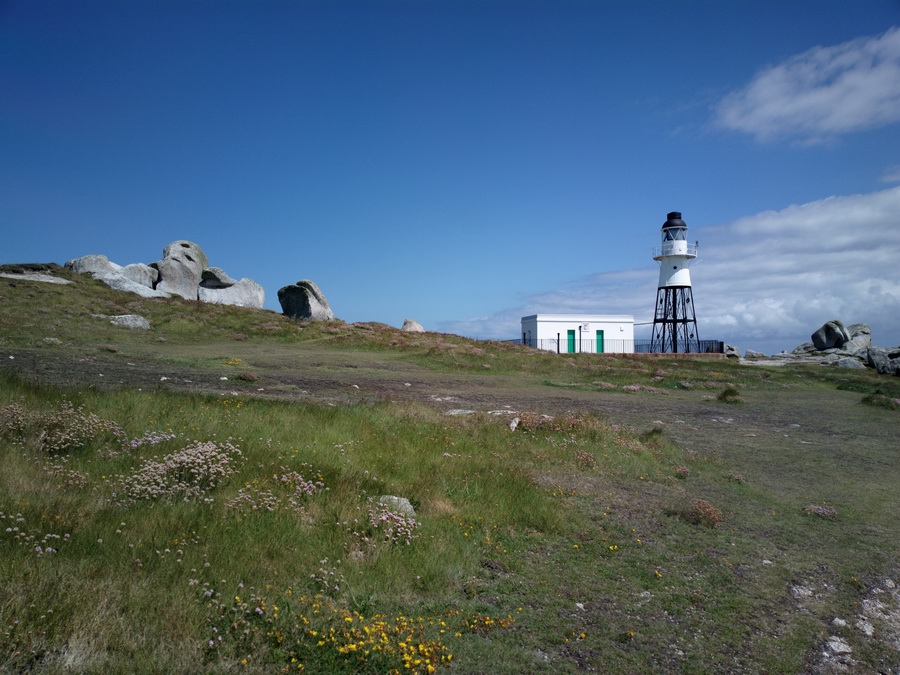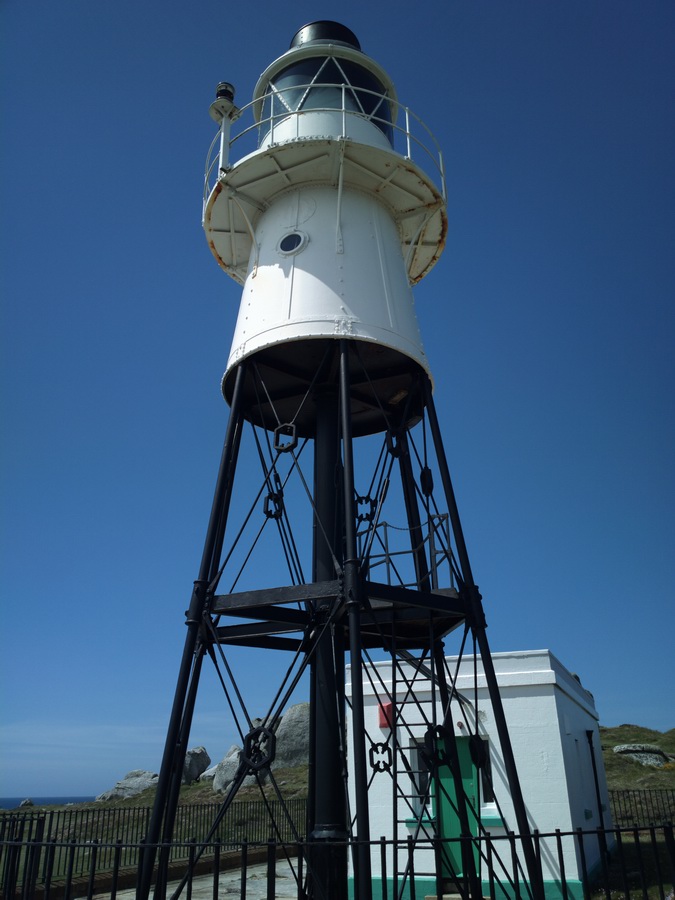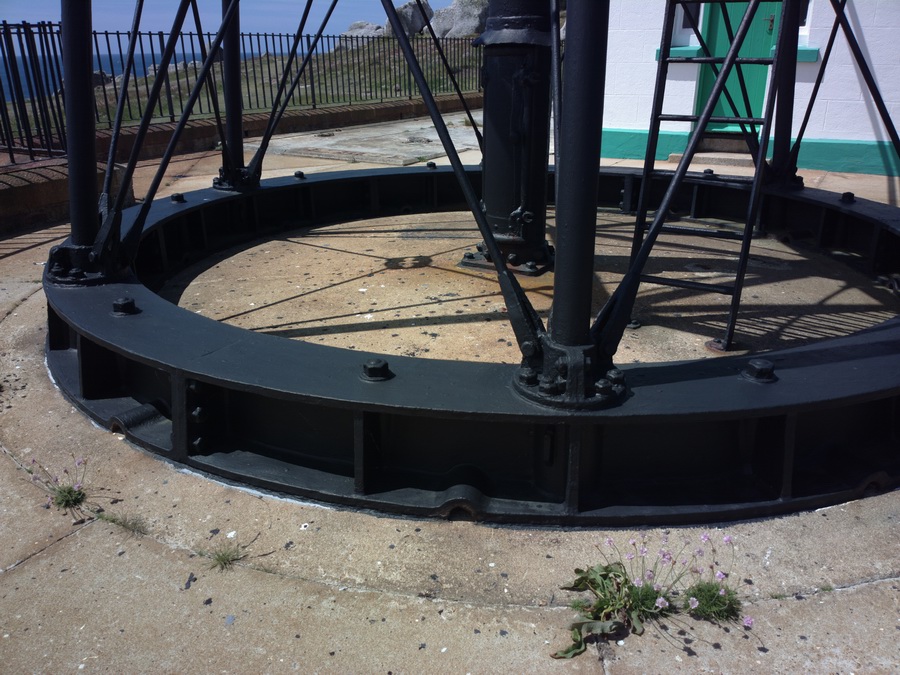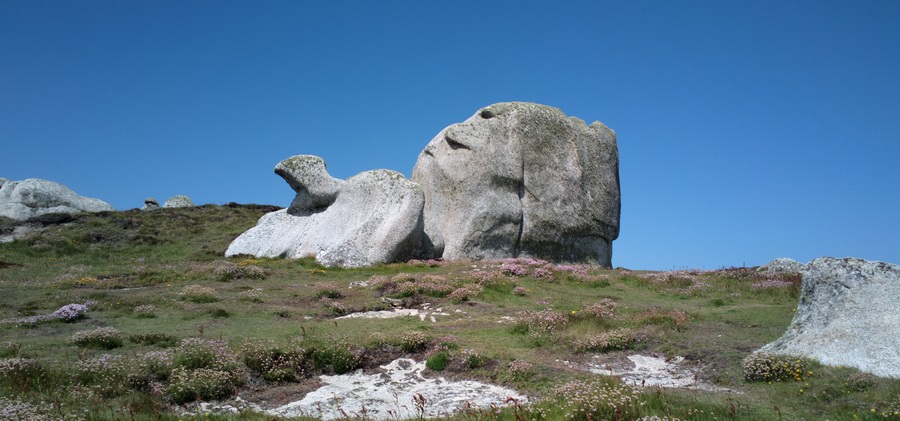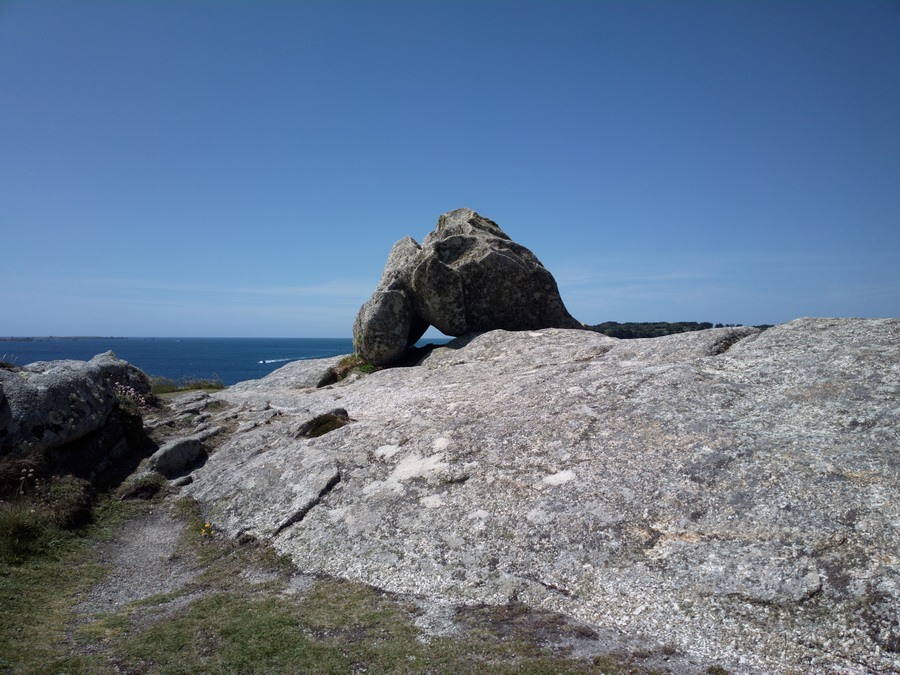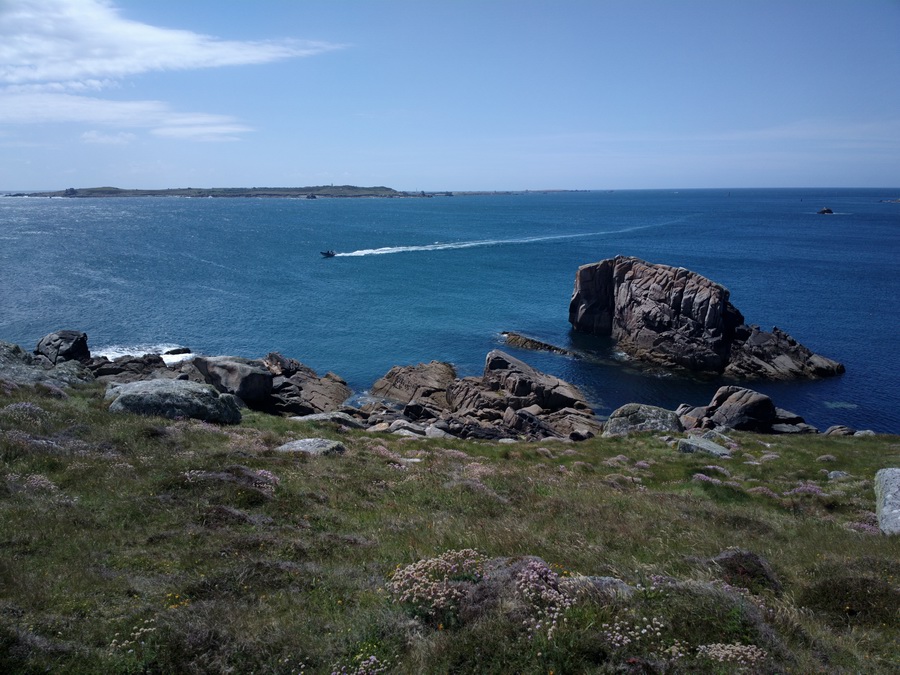 This is one of the commuter flights arriving. I don't know how much they are, and given the small aircraft they won't be really cheap, but clearly plenty of people are paying it. Also Lands End airport has recently acquired hard runways (it was grass, waterlogged much of the time, for many years) so somebody has found it worthwhile to spend 6 or 7 figures on this service. Of course there is a benefit to GA too: a significant improvement at two airports, and in a part of the UK where one feels everything is being run down...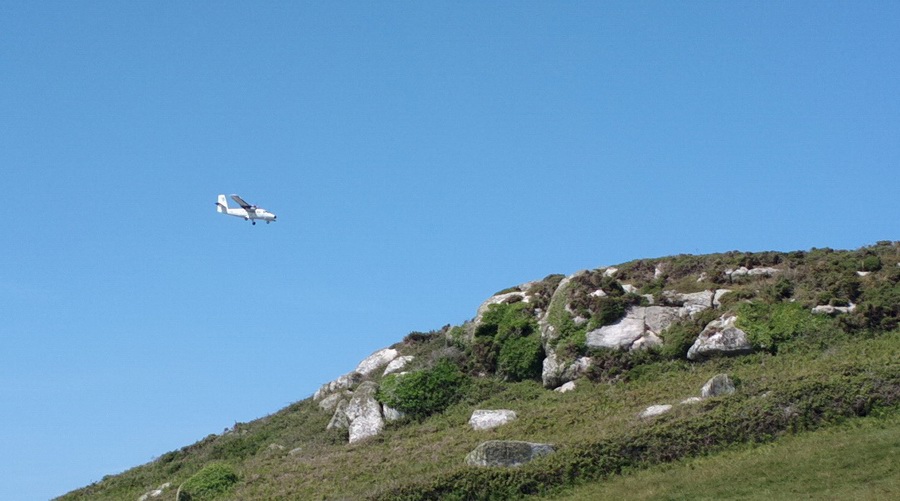 Return Flight
The departure was again on runway 32, with a 20kt crosswind.
As the aircraft was parked on grass, I insisted on walking the path from the aircraft to the edge of the tarmac to make sure there were no potholes or rocks. Following a prop strike in 2002 (brand new aircraft, and at a similar grass to concrete boundary) which cost £20k, I don't take chances. When I mentioned this up at the tower (where one pays the landing fee) they got rather nervous and said I must be accompanied by fire crew! So we managed to get a lift to the GA parking area, which avoided a long walk around the outside of the airport. The condition of the surface turned out to be OK, so long as one avoided a couple of patches.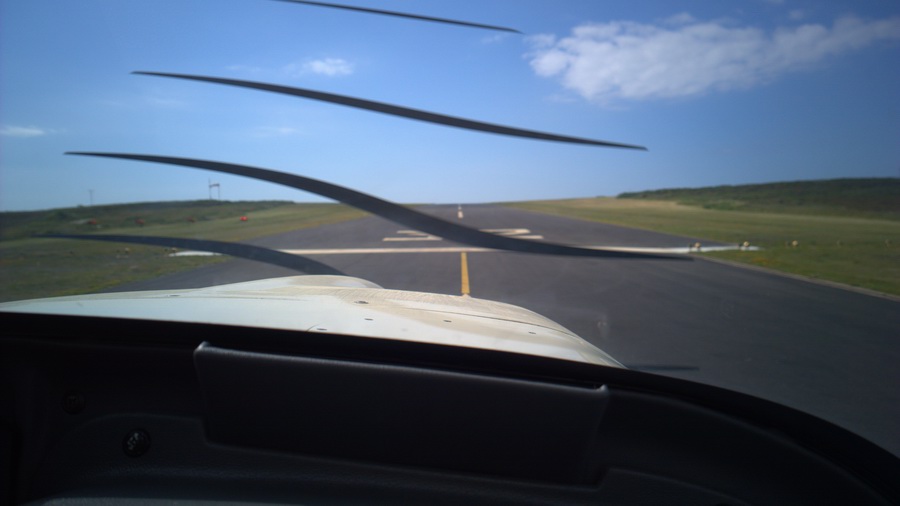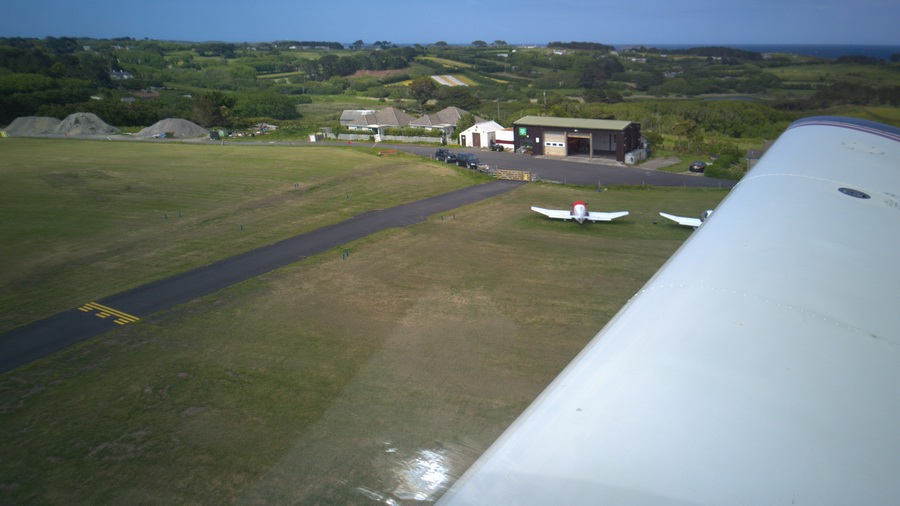 We asked for a clockwise flight around the islands and this was approved, 2500ft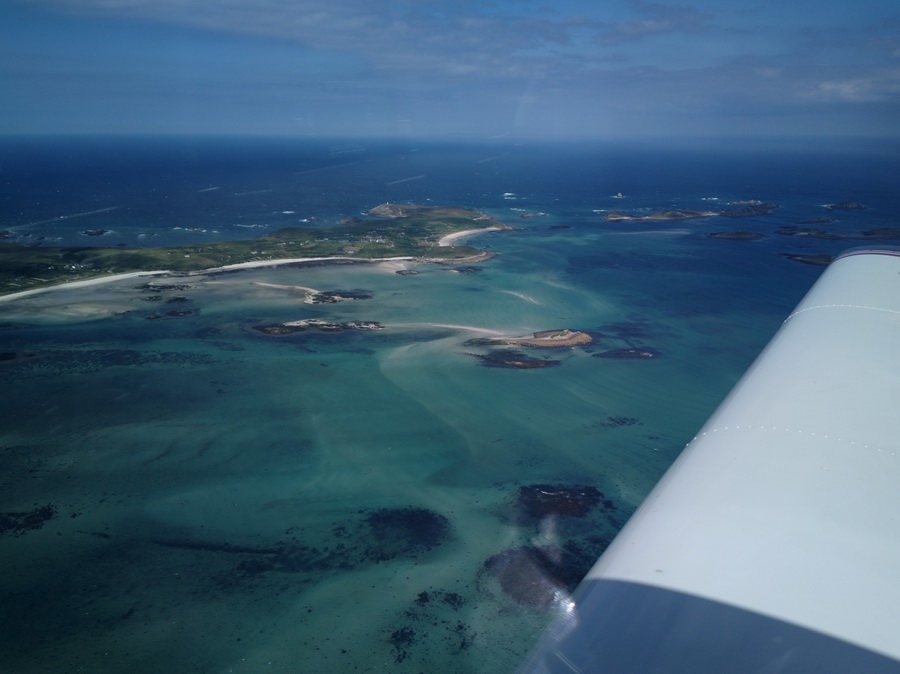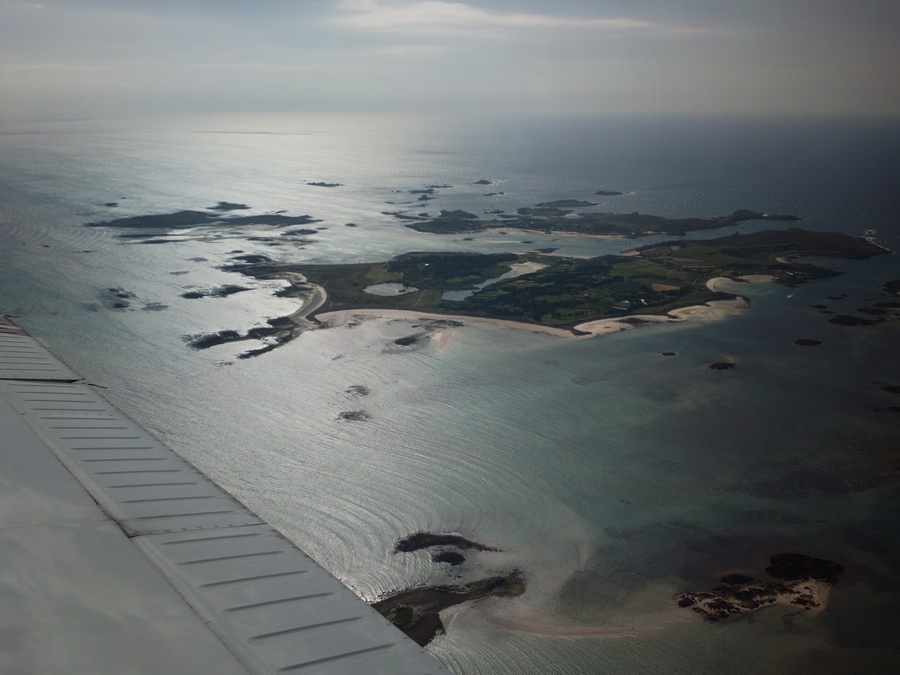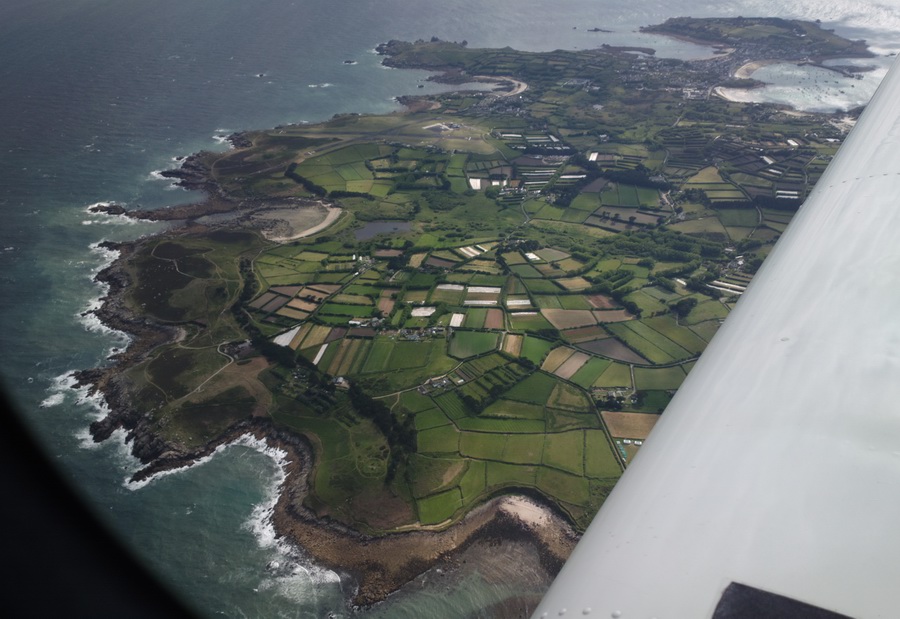 The airport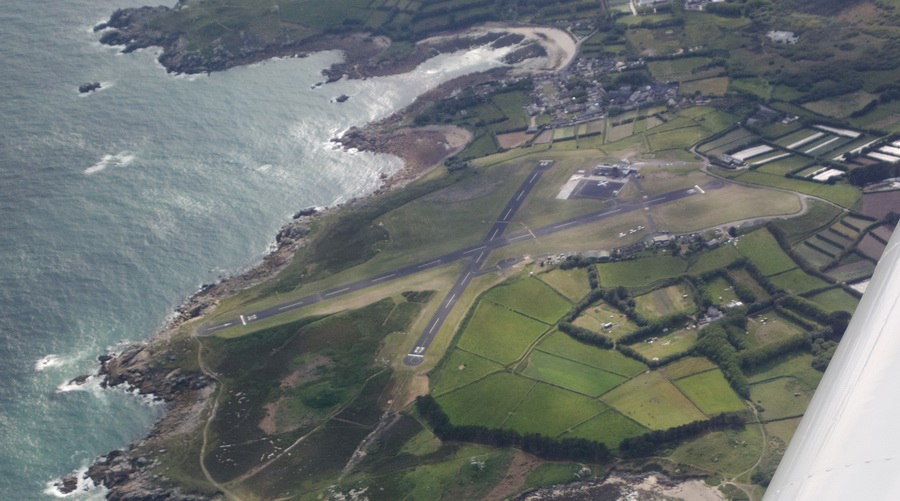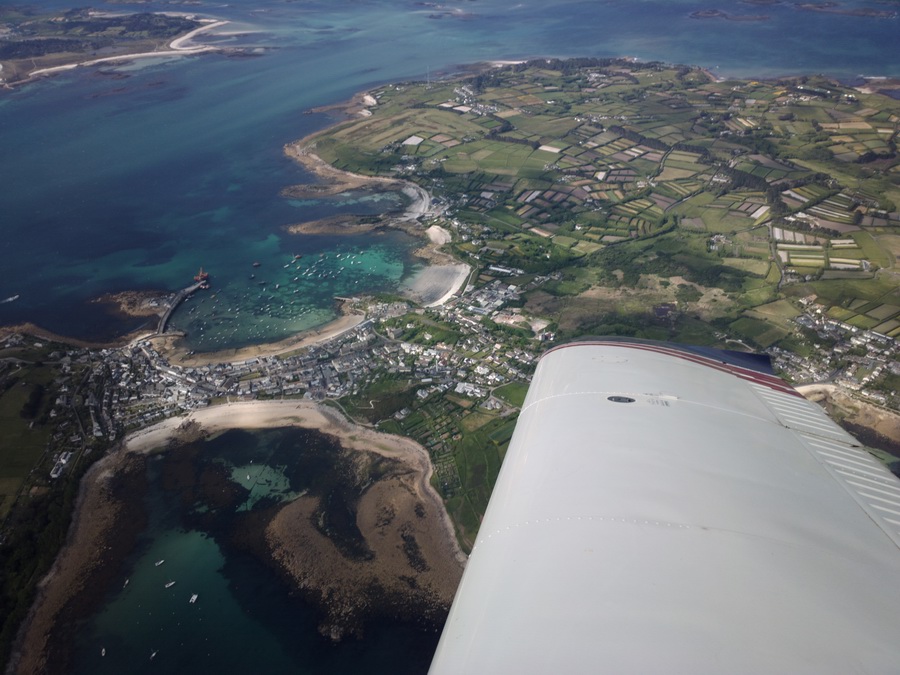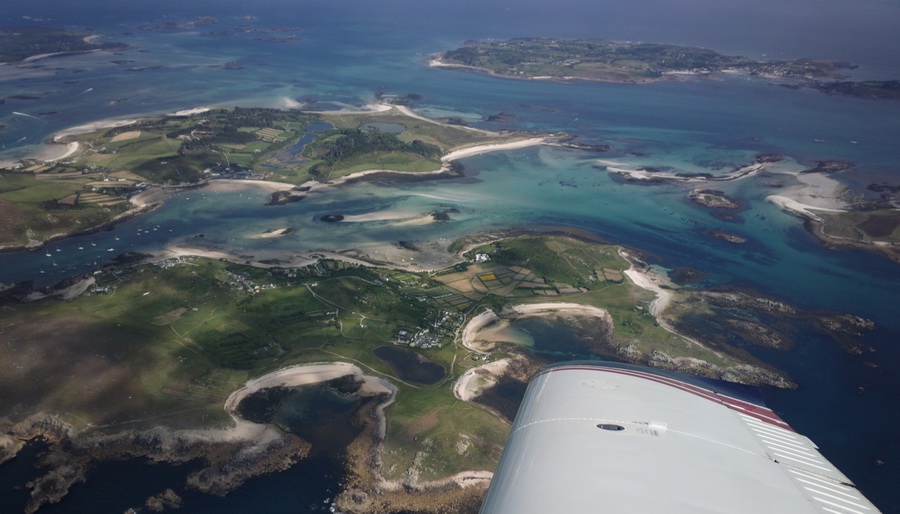 On the way back I had to climb to FL070 to stay on top, with tops around FL067 and -2C inside the cloud (+4C above it)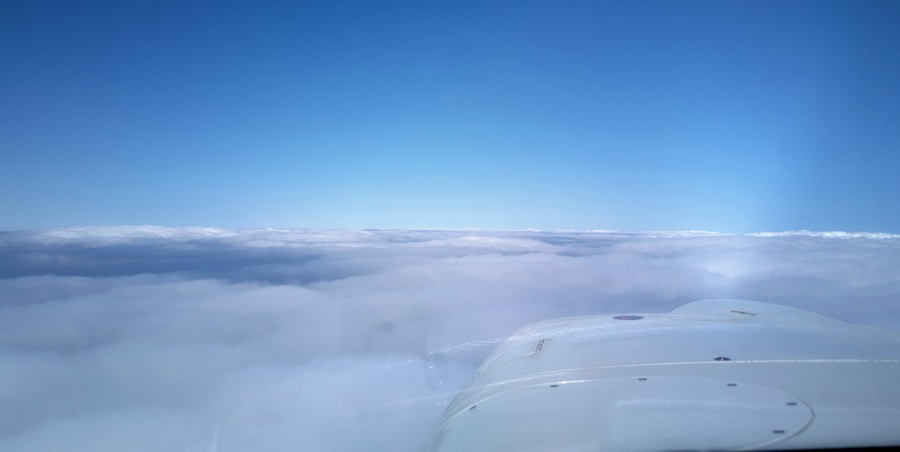 There is some Class A airspace, base FL065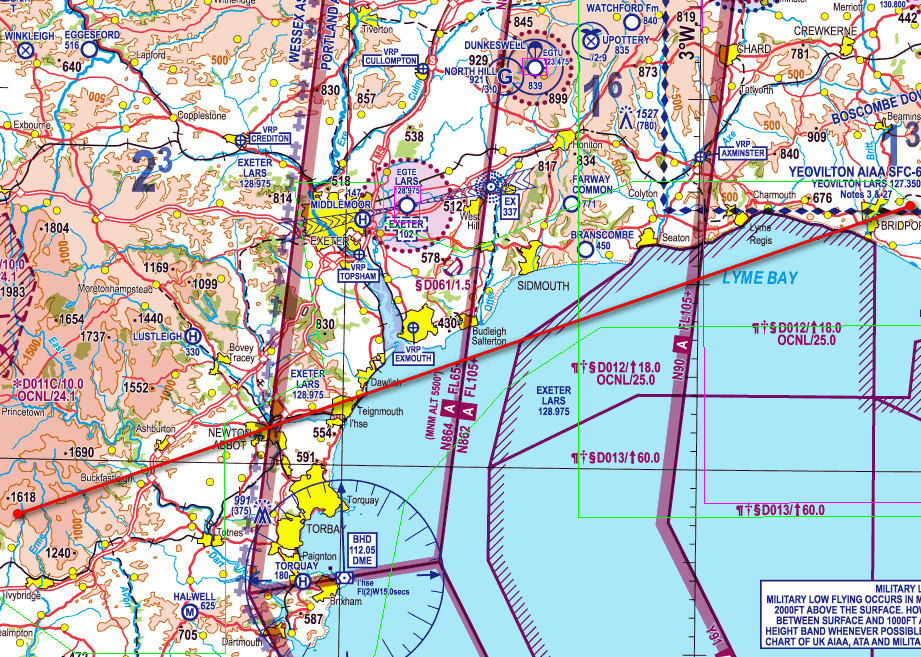 and slightly to my surprise I got a crossing at FL070 with Exeter Radar. When asking for the IFR clearance I told them I had an IR; not sure if this makes any difference to them, but it could not have been legally done on the IMC Rating whose IFR privileges are limited to Class D-G. An IMCR pilot would have had to go down into the cloud, below FL065. However, due to the icing conditions, he would have had to simply descend below the cloud - maybe 4000ft and continue the flight there.
However, coming up to the next bit of controlled airspace - Bournemouth and Southampton - Solent ATC would absolutely not allow the IFR flight to continue at FL070, saying they were far too busy to let me do it without a Eurocontrol flight plan! What difference could a flight plan make? This is a typical UK anal traffic management, with its tight division in the services between enroute IFR and everything "below" and a resulting near-impossibility of getting a "popup IFR clearance". In retrospect I could have just filed the return flight as Eurocontrol IFR and flown it at FL100 or so...
So we went down to 4000ft, with the cloudbases around 4500ft and a lot of turbulence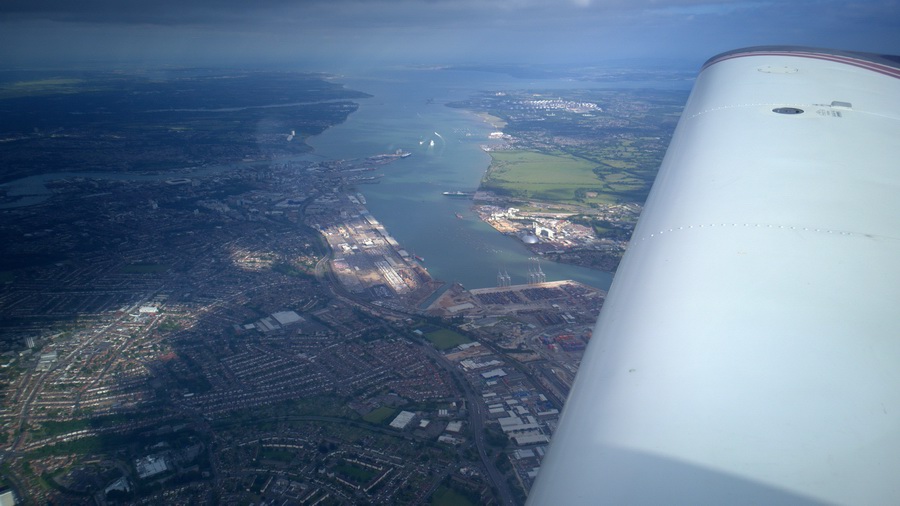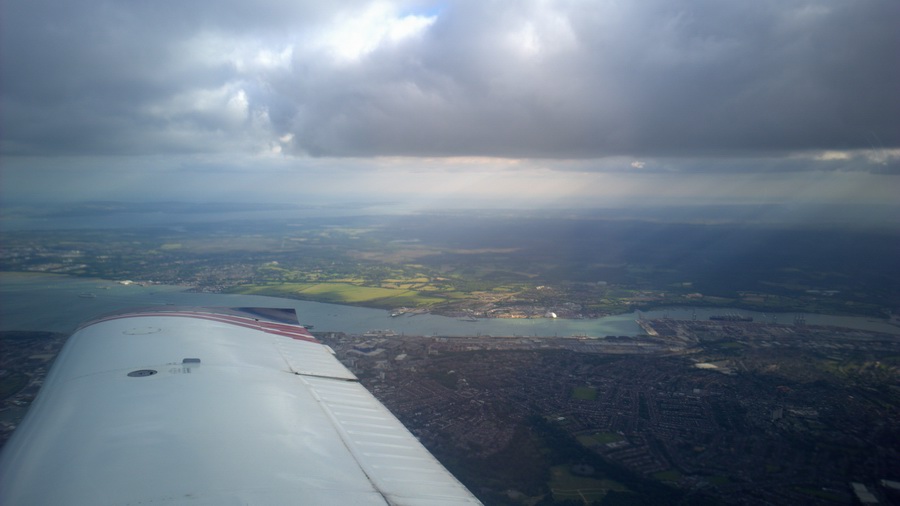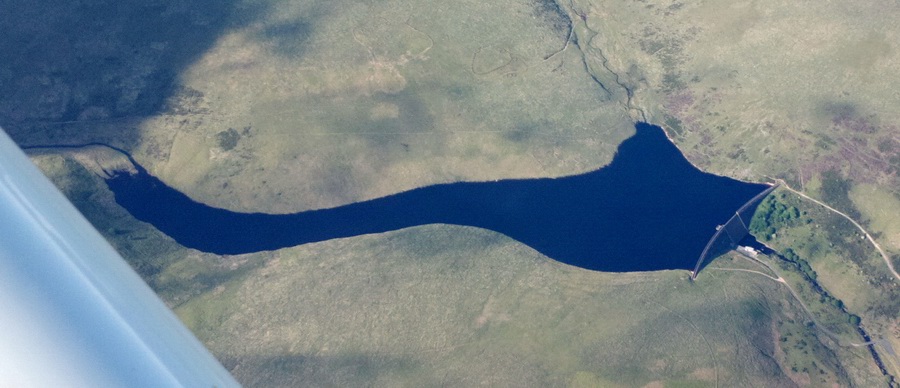 This is the Stoney Cross long-disused airfield, from WW2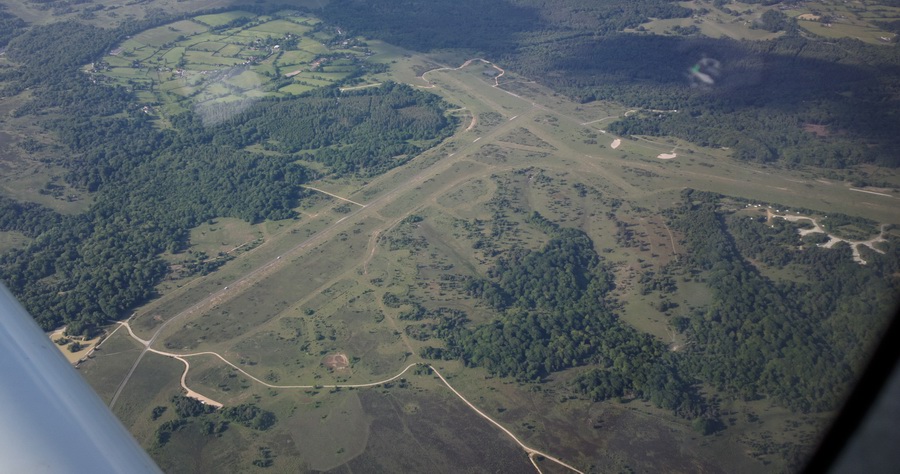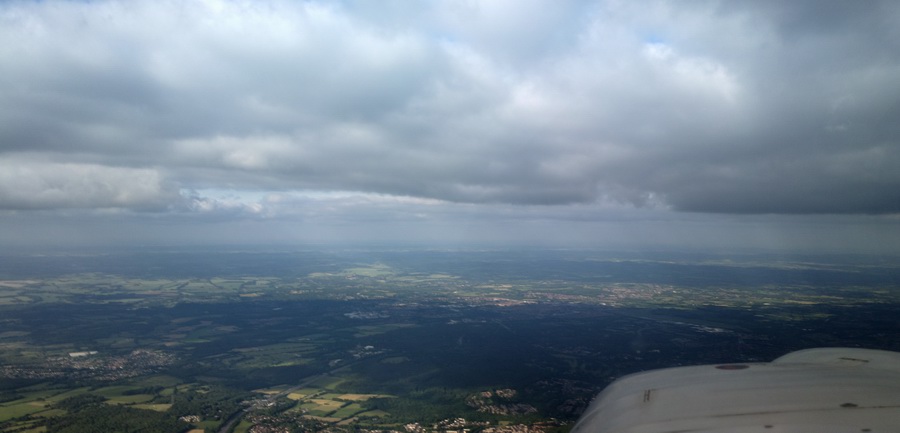 Transit of the Solent area was VFR via SAM at 4000ft as usual. This is the Southampton EGHI runway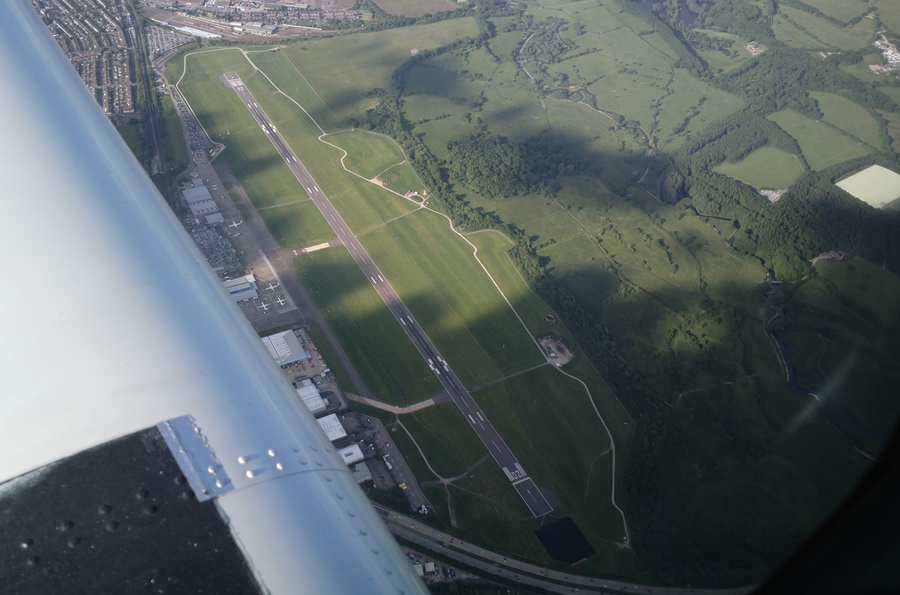 Back home at Shoreham, wind 20kt, 20 deg off the runway, and pretty bumpy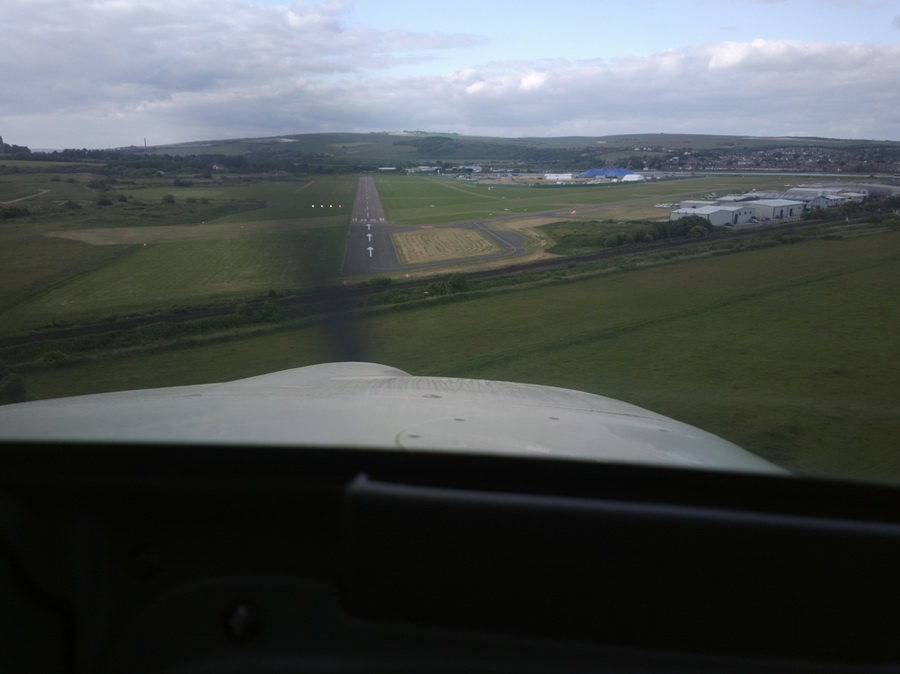 It's interesting to note how few GA flight go further than "local", yet ours was just a very short day trip for the TB20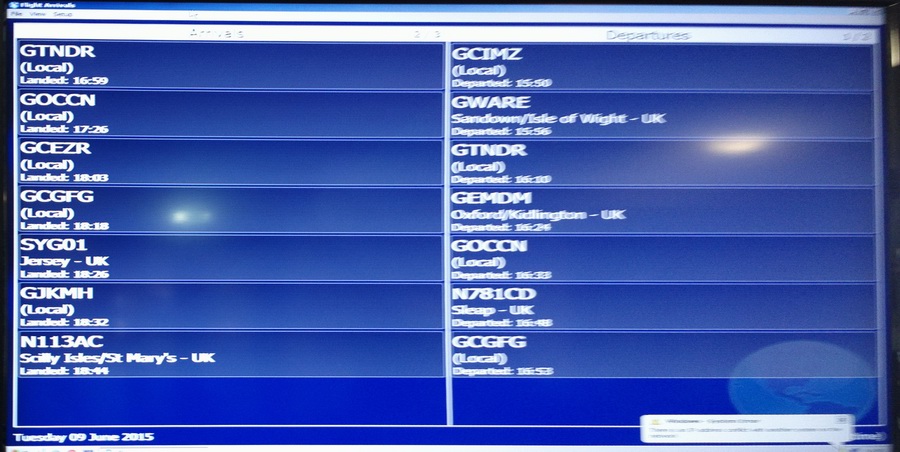 These are the tracks actually flown. Some danger areas were crossed, with consent from ATC (Exeter or Yeovilton)

Airport costs - St Mary's EGHE (June 2015)
Landing: £18.30 (July 2018: £60 for landing and 3 nights' parking)
Parking: free if staying under 6 hours
General Comments
This was a super day trip, very relaxing and a great opportunity for taking photos. I would recommend an overnight stay at least and some boat trips. But it is well and truly "in the back of beyond" and you won't find any night clubs there... Obviously it's worth doing only if the weather is very good.
It is also a great demonstration of the utility value of GA flight. The only other ways of reaching the Scilly Isles involve long drives, or long train journeys (mostly via London), and a ferry or the mentioned flights at the very end. At best, it will take a complete day in each direction. For those living in the south east UK, it takes half a day to be on a Greek island! And the cost of flying there in the TB20 (which is mostly the avgas) are similar to what it would cost to get there using other transport.
The grass parking area is not great for some aircraft types, but is acceptable with due care. There are some small stones near the grass/tarmac boundary so it's advisable to use the old trick of getting a bit of speed and crossing the boundary itself with the engine on idle, and at a 45 degree angle to the edge as usual. There are also some significant depressions in the grass surface, maybe 5-10cm so watch out for those. I don't think it would be suitable for a heavy aircraft with narrow wheels like a Cessna 421.
No GA aircraft were seen airborne enroute on the entire trip.
The photos on this trip were done mostly with the Nokia 808 phone which takes a 40MP image and downsamples it to 12MP. Usually this produces excellent images, especially for a phone... A few others were done with the Nokia 1020 which has a similar camera to the 808 but due to device limitations (no hi-res jpeg format available) those were exported in RAW (DNG, 40MP) and converted to jpeg using a utility called IRfanView. The 1020 uses an obscure DNG format which a lot of software cannot open. I have since relegated the 808 to a "spare" and bought a Samsung S6 whose camera is the best among modern phones but due to the inferior optics and being much thinner falls well short of the 808's. However, it is a lot more modern and comes with a properly functioning web browser and many nice features. The 808 runs the Symbian O/S which despite being "officially dead" is perfectly functional but it got abandoned by app developers as soon as the Iphone became fashionable (c. 2010) and consequently the 808 cannot deal with many modern websites. The best browser for it is Opera Mobile which is basically rubbish. Technology does not always move forward! For really good quality photos I use the Pentax K3 DSLR with the 16-85 lens and this totally outclasses anything which is pocket-sized.
Why not Eurocontrol IFR?
It could have been done as a high altitude IFR (called "airways" in the UK PPL scene) but there wasn't much point. In retrospect however, the return flight would have benefitted from the lower turbulence at a higher altitude.
Flight times (airborne times)
EGKA-EGHE 1:30
EGHE-EGKA 2:00
A video of the same flight done in 2017:
Shoreham EGKA to Scilly Isles EGHE from Peter on Vimeo.
This page last edited 14th July 2018