Skiing trips from Shoreham EGKA to Annecy LFLP, France, and Zell am See, LOWZ, Austria, March 2016
This report describes two trips made to ski in the Alps. It shows how well GA travel works for this purpose. I have simplified it relative to my usual trip reports. Both destinations were visited previously, in the summer of 2015. A brief report on the Annecy trip was posted on EuroGA here and the Zell am See trip report is here.
The ski locations were based on personal recommendations from other skiers I know personally. I am a beginner skier and started only a few months ago, at age 58! I have zero interest in breaking a leg or anything else, especially with the huge hassle this would cause when travelling by GA - having to organise retrieval of the plane, etc. After one indoor session and two airline trips to Austria, and some hours of instruction, I can parallel ski but am staying on gentle slopes only.
The one near Annecy was Grand Bornand where a work colleague learnt to ski at a place called Chinaillon - 7MB PDF piste map. It has nice long scenic runs. So I had a solid recommendation from someone who I had skied with a few weeks earlier, at Filzmoos in Austria, where I had some lessons. There are also advanced runs there, of course. Grand Bornand turned out to be really great.
The one near Zell am See was Schmittenhöhe - 7MB JPG piste map. This was recommended by several flying friends. Unfortunately this was less of a success for me; the lowest classification in Austria is "blue" (in France it is "green") and "blue" covers a wide range of required expertise, with slope angles up to 45 degrees being OK if they are wide enough. I found all the runs had bits which were too steep and wasn't willing to risk it.
Here is a glossary for non-aviation readers.
Pilot
FAA CPL/IR, JAA/EASA PPL/IR, ~2000hrs.
Aircraft
The aircraft is this 2002 TB20GT; one of the last made before production ended.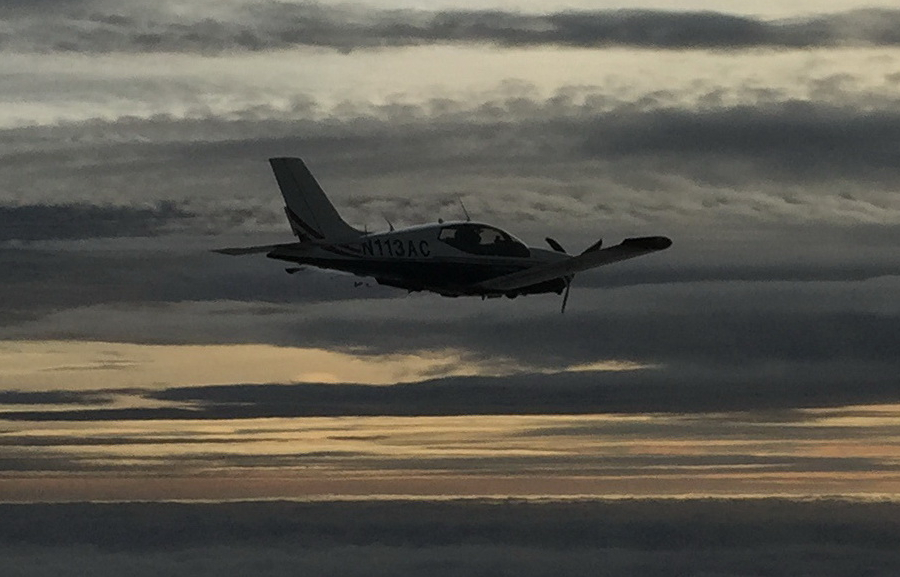 Routes
These were developed with the EuroGA autorouter which was also used to file the flight plans. This great facility is currently entirely free. The image below shows only the outbound routes. The return ones were very similar.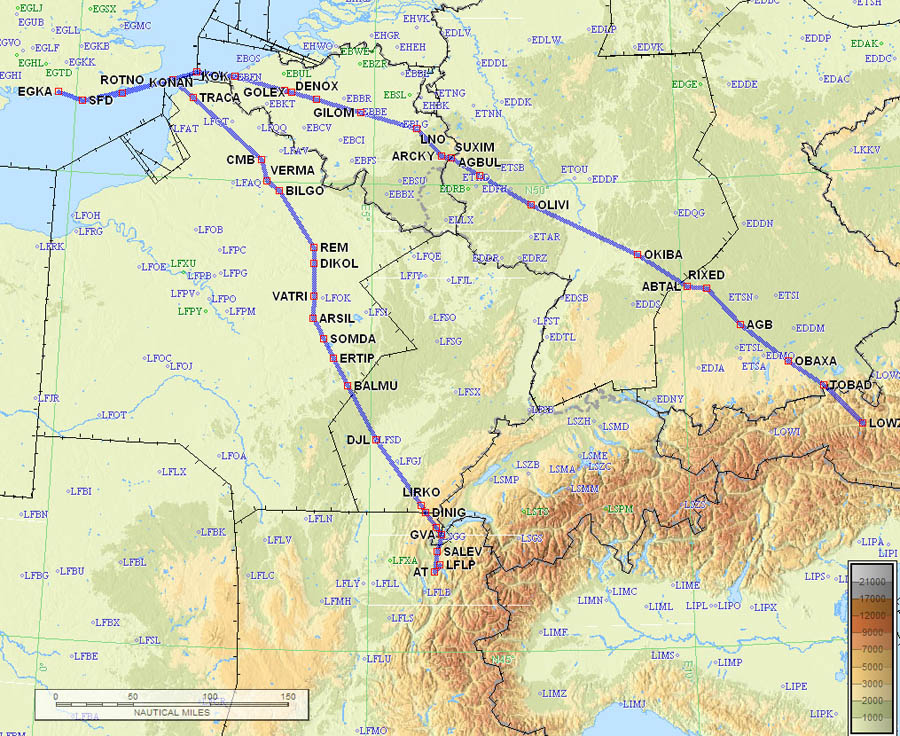 To Annecy LFLP, one has the choice of two virtually same distance routes. One to the east of Paris (shown above) and one to the west of Paris which I didn't use simply because it involves a much longer water crossing, which is pointless if there are no other factors. At FL100 or so, the water crossing shown above places one out of glide range of land for only a few minutes.
Since LOWZ is VFR-only, the outbound flight plan has to be a "Y" flight plan, with a transition to VFR at the end. The return flight plan is correspondingly a "Z".
Airport PNR/PPR
Both LFLP and LOWZ have Customs (including Immigration - the two functions are rarely separate in Europe, with Germany being one exception) and they need PNR (prior notice required) for both arrival and departure from/to non-Schengen countries such as the UK.
Per the AIP, LFLP needs a 24 hour notice! Such a long period is becoming common in France, for no obvious reason - even at some airports that serve major airlines, e.g. Bergerac. The contact email is

However I have found that emailing the airport operations office on

and making it clear you need Customs/Immigration will produce a reply saying they have contacted Customs.
Per the AIP (have to then look in GEN 1.2, page 2), LOWZ needs just a 1 hour notice. The contact email is

For some reason the airport wants 2 hours' notice on its website! This is why in Europe one should always contact the airport itself before flying there.
LOWZ is a much smaller place than LFLP and basically just one or two people are in charge of everything. The other side of that lack of "official procedures" is that they can get very busy. On both my visits to LOWZ they forgot to advise the police 2 hours before departure also, so I had to wait 2 hours after arriving at the airport (and reminding them to do it) before taking off. The police there appear to do the usual airport police tactic of not saying anything about whether they will turn up (or indeed whether they even received the message); you just have to wait for two hours and then go...
LFLP however adds an extra bureaucratic and pointless dimension: they want you to use a handling website called MyHandling. I described the process here. They failed to tell me that this is required only above 3000kg; below that an email to the airport (as above) is sufficient. This MyHandling process is spreading through France and is universally hated by business jet pilots who don't want to waste their time with it and who are demanding that an email to handling should be sufficient. I had created a profile on MyHandling, including the creation of a "fleet" (comprising of one TB20

) but it was wasted.
LFLP also has a €200 handling surcharge during the winter! This is apparently applicable if you arrive or depart on a Saturday or Sunday. I was arriving on a Friday and departing on a Monday, so that should have been OK. I always shoot off emails to unfamiliar airports before going there, or faxes to every known fax number if there is no email response. In this case, because their operations guy was rather "economical" in his emails, it took 24 emails (over a few days) to get the details sorted! But those emails saved me a lot of money when, on departure, they were about to charge me some portion of the €200 because the aircraft was "there" on Saturday and Sunday! The lady at the desk was extremely nice and helpful but there is no substitute for tying up these loose ends beforehand.
Mountainous Terrain
LFLP is straightforward. There are mountains not far away but there is nothing difficult about flying in there, VFR or IFR.
LOWZ lies at the bottom of a deep canyon within the Alps. It is not accessible unless one can descend into the canyon without entering cloud. Well, there are methods but they could result in a reduced life expectancy

It can also be reached using "mountain flying" which is basically flying in the canyons, below any cloud. The local pilots, and other pilots who know what they are doing, do that but you need to be competent because one can fly into a canyon which becomes too narrow to turn around... The planning and procedure I used are described in the 2015 trip writeup.
Weather and Other Stuff
Obviously, one is not going to go skiing if the destination weather is rubbish, and this is true for both GA and airline. The big difference is that airline flights tend to be booked a long time in advance - because (a) that is how most busy people book their holidays and (b) airline tickets get expensive when booked late. Hotels can also get more expensive, but more likely they just get sold out. Some European cultures book their holidays 6-12 months ahead.
With GA travel, there is no short-notice travel penalty so you can stay at home until the destination weather is good. The short-notice hotel issue can be tricky but AirB&B and Booking.com can be very useful.
For France, two sites which I picked up recently are Cybevasion and Abritel and these might be of interest; the former has an English language option on it. AirB&B and Booking.com are less popular in France, reportedly because they take too big a cut - 15% or even more if they want better rankings in searches.
Both trips in this report were done with the ski destination weather being CAVOK i.e. blue skies. The UK end was something else...

One problem with winter flying is removing frost from an aircraft which has not been hangared, before departure. Hangarage is scarce everywhere. Usually it cannot be booked in advance or otherwise assured, though often you can get it if there is room when you turn up and you ask nicely. The prices range from a very reasonable €11/night at Zell am See to something like €200/night (checked 2/2016) at e.g. Sion LSGS which is another hugely scenic location. Sometimes one may be able to purchase a few hours in a "warm" hangar before departure, to thaw the frost off, and e.g. at Sion I was quoted €150 for that. So I carry a pump-up spray kit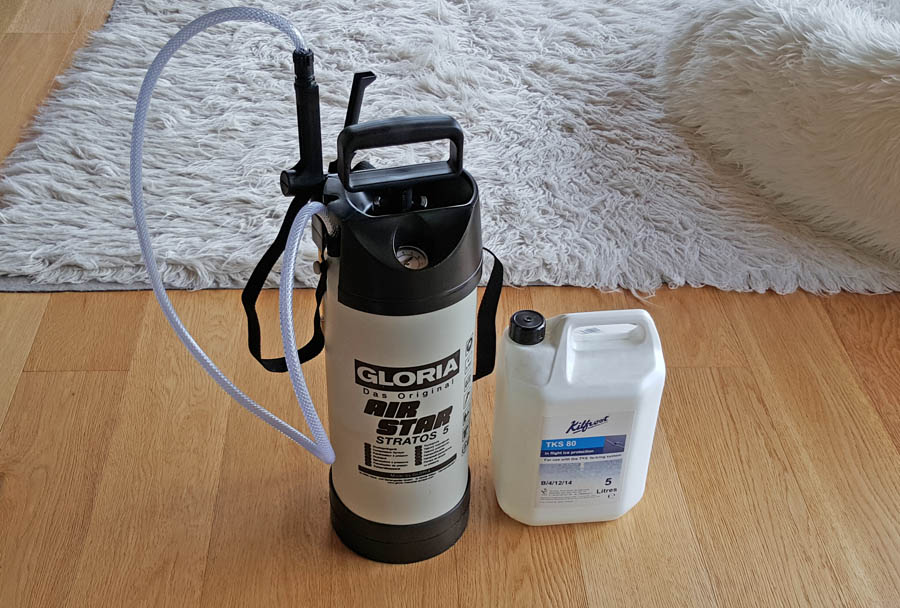 One can buy the cheap gardening weed killer sprayers for down to €20 (Hozelock, etc) but they often leak, and TKS fluid makes a mess... I bought a good quality German-made (probably chinese-made) sprayer for about €100 which should not leak. Having bought it, of course, I have never needed to use it

The fluid is carried in the original 5 litre container which has not yet been opened. My aircraft has a TKS de-iced propeller so the fluid would always eventually get used up in that anyway; my usage there has historically worked out at several litres per year.
Alternates
For Annecy LFLP there are several reasonable IFR airports, but all of them would be a few hours in public transport to get back to where one wanted to be. I filed Geneva LSGG. In reality the chances of needing an alternate are very small because Annecy has an ILS.
For Zell am See LOWZ, from where one would have to divert if there was cloud cover above the relevant canyon, the best one is Salsburg LOWS. This is a big airport with ILS. It is about 2 hours by public transport from LOWS. There is a restriction there: they don't allow parking through Saturday night! However a telephone call confirmed this would not be an issue if one had diverted there. They would find somewhere on the apron to move the aircraft to.
Shoreham - Annecy and back
I did not book the apartment and file the flight plans until the destination weather was checked. The apartment was found on AirB&B and was one of the very few left anywhere near. It was good value at €240 total for 3 nights. The guy was really helpful and is happy to have his phone number here: +33 689 09137.
The departure weather was good, for the destination at least: TAFs/METARs IR Image MSLP 0600 1200 Radar Sferics
On any nontrivial trip one has to look at the options for getting back on the planned return date, and what does the picture look like for subsequent days in case the return has to be delayed. The planned return day was good and the following day for good measure was good too.
The departure weather at Shoreham was however poor. There was a very thin cloud layer, with a cloudbase of around 100-200ft and visibility of several hundred metres. I am OK with that provided I can see enough of the runway ahead to stop in case there was a vehicle etc on it. Immediately before taxiing out I checked with the ever friendly firemen that all their vehicles were accounted for

The remaining risk is of an engine failure... but this cannot be totally avoided in single-engine flying, where there are many - usually short - time windows when a forced landing would be impossible.
I filmed the departure but forgot to switch on the camera!
The cloud tops were at about 500ft and the low cloud disappeared into the distance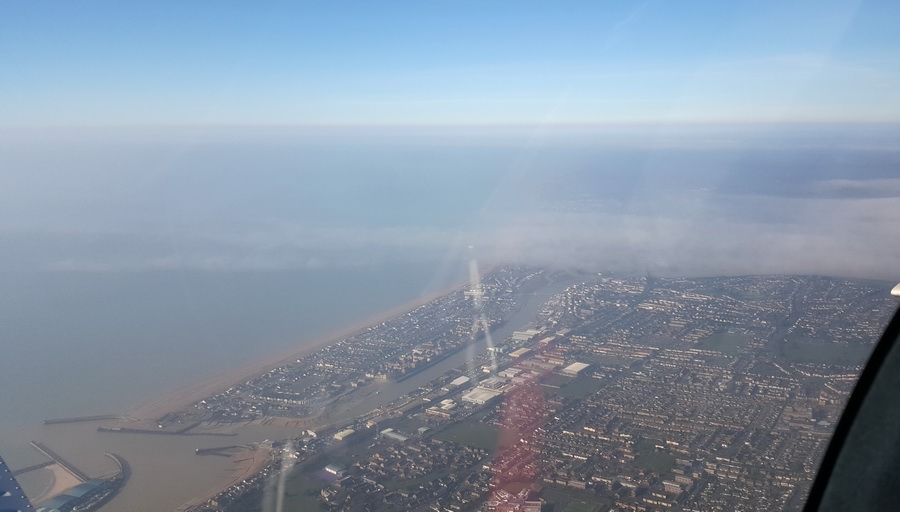 London Control issued a DCT TRACA, as filed, and FL090 for the cruise. This is a good level for fuel economy and speed, and while I use oxygen to stay wide awake, the oxygen flow is very low.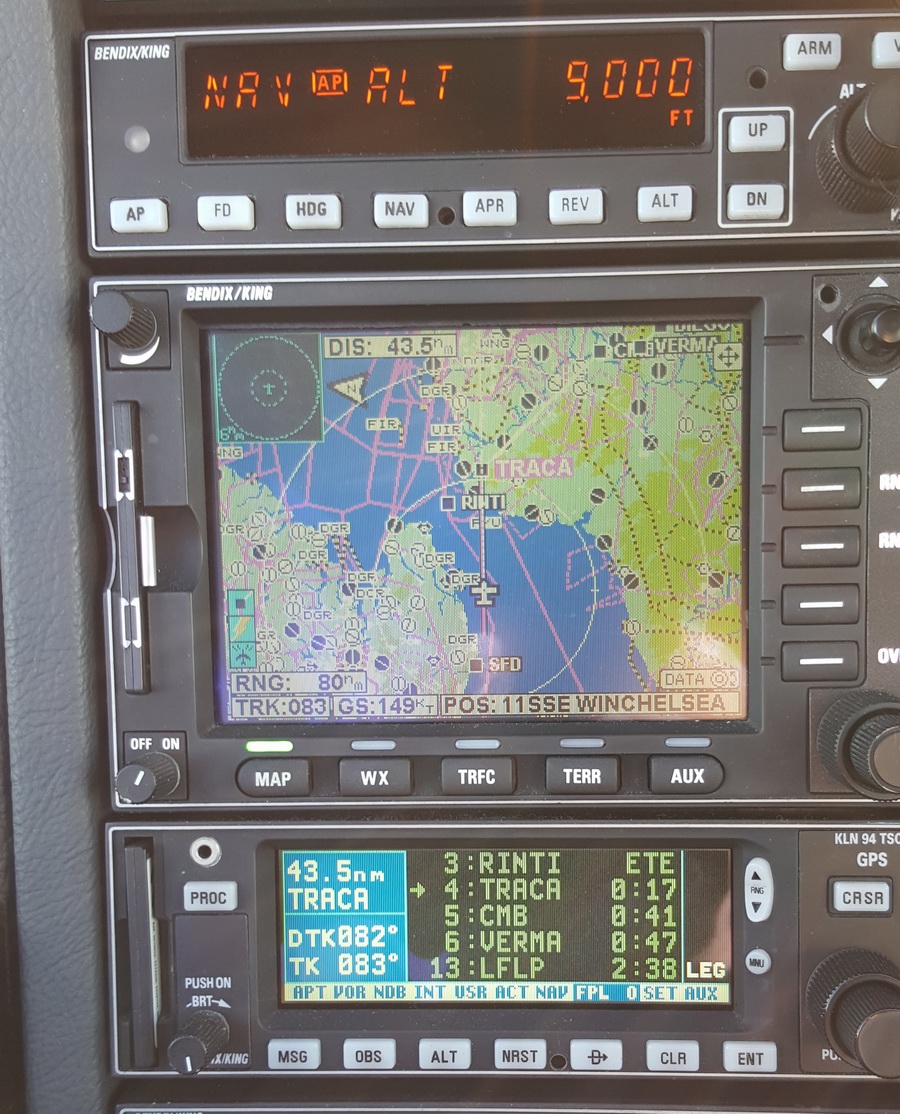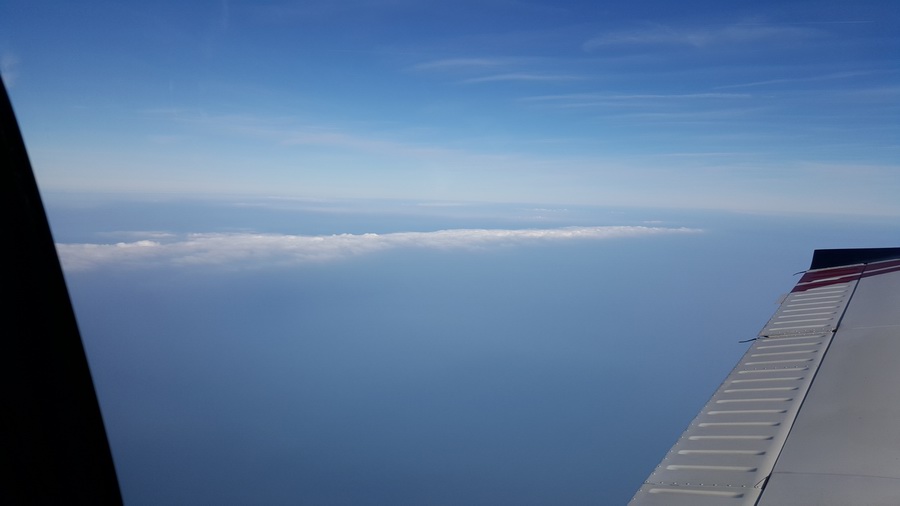 This is the camera I used to make some rather quick and dirty movies - a Sony FDR-1000V. One can remotely control it with a mobile phone, on which one can have a live view of the camera's image. There is also a clumsy wristwatch-style remote controller which I could not get to work reliably and whose battery life is yet another issue. Here I am powering the camera via its USB socket; it has a 2hr battery life whether recording or not - unless you turn it off totally but then there is no way to turn it back on remotely - so external power is necessary. Here, glued to the front of it is an ND12 filter (about 5cm diameter - it's all I had) which forces the shutter speed to be much lower than normal and removes most of the unpleasant visual effects of the propeller. There is a lot of vibration transmitted from the window (due to the turbulent propeller slipstream hitting it) but this camera has excellent stabilisation, claimed to have been developed for use with drones.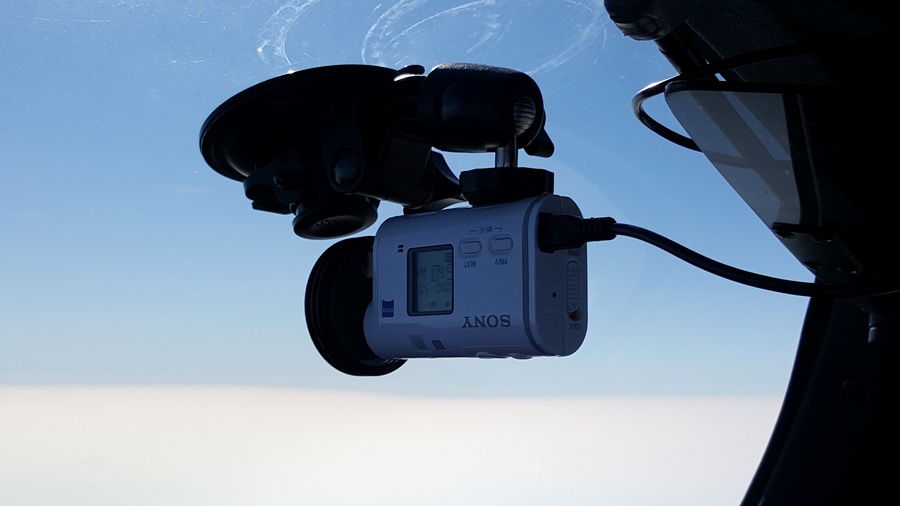 The LFOB (landing fuel on board) settled to 50 USG, so with 86 USG usable fuel one could go to Annecy and back to Shoreham without a refuel...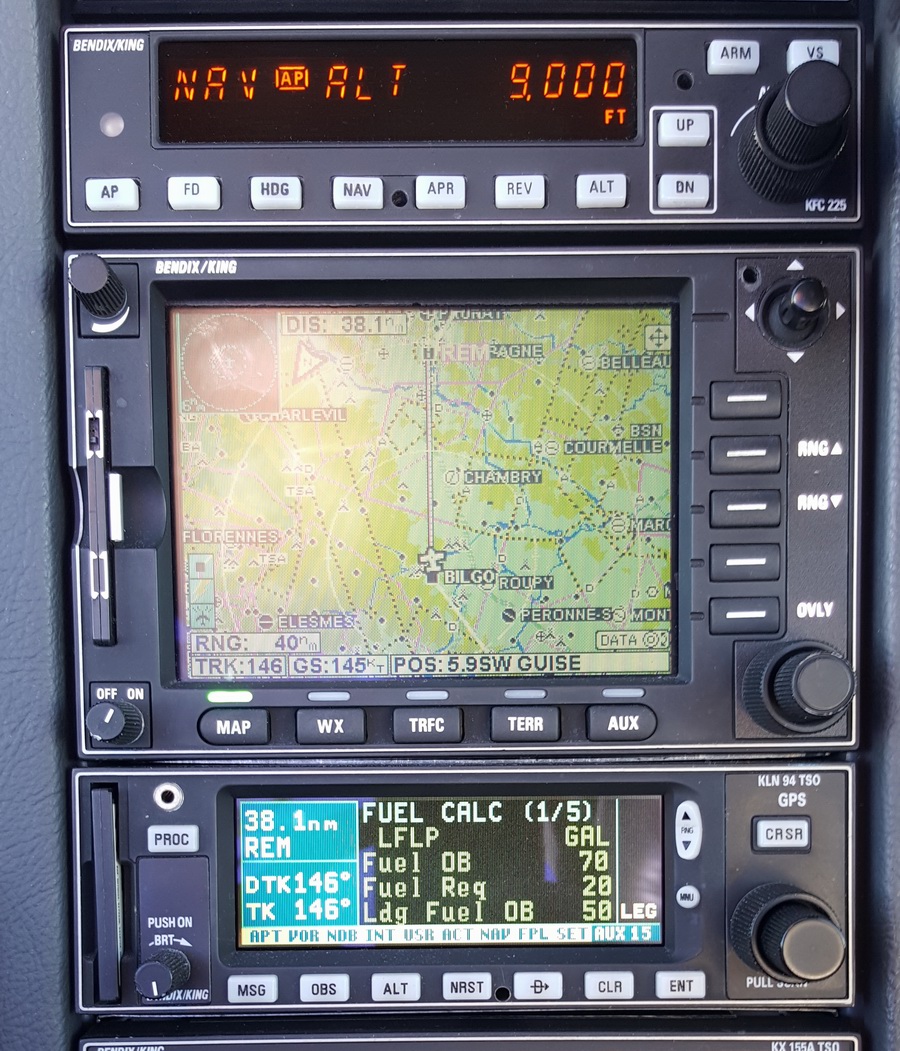 At this time of the year - mid March - there was very little snow on the ground over most of the route but approaching the Alps it started to appear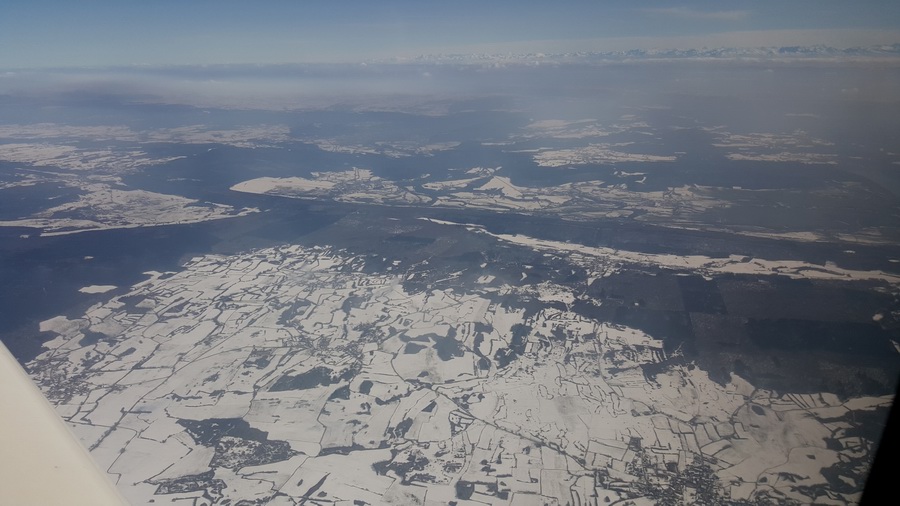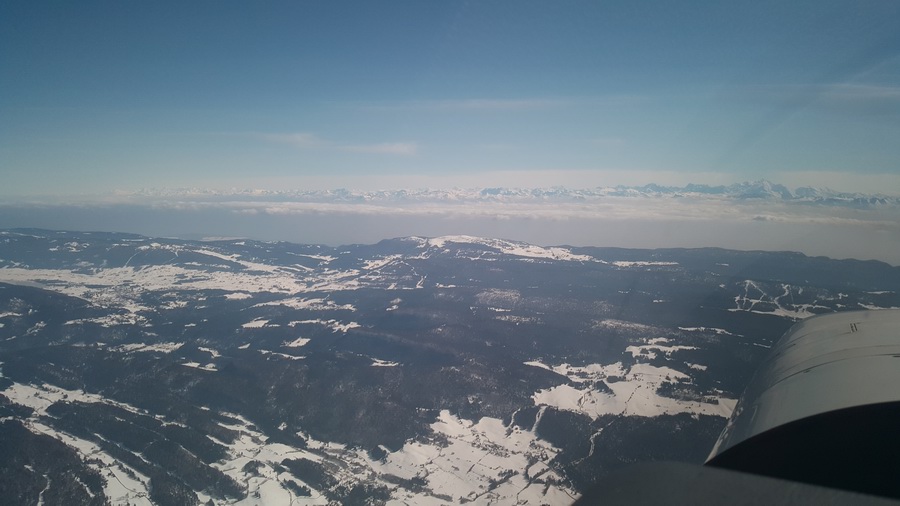 Mt Blanc is now visible
and here is a zoomed-in version; not bad for a mobile phone camera (Samsung S6, 16MP)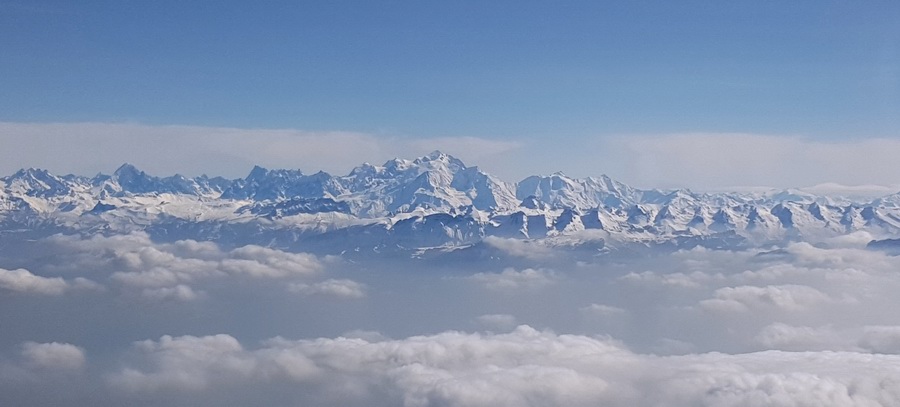 Geneva ATC issued a STAR - the Y55 Transition - followed by a radar vectored ILS X 04. The Y55 transition is not in my KLN94 GPS (whose database doesn't contain any RNAV SIDs/STARs) but the individual waypoints were either already on the filed route or they were in the database: LIRKO DINIG SOVAD GVA SALEV so this wasn't a problem. Where the remainder which show on the MFD below (PINOT COLLO CBY LOPTO) came from, I have no idea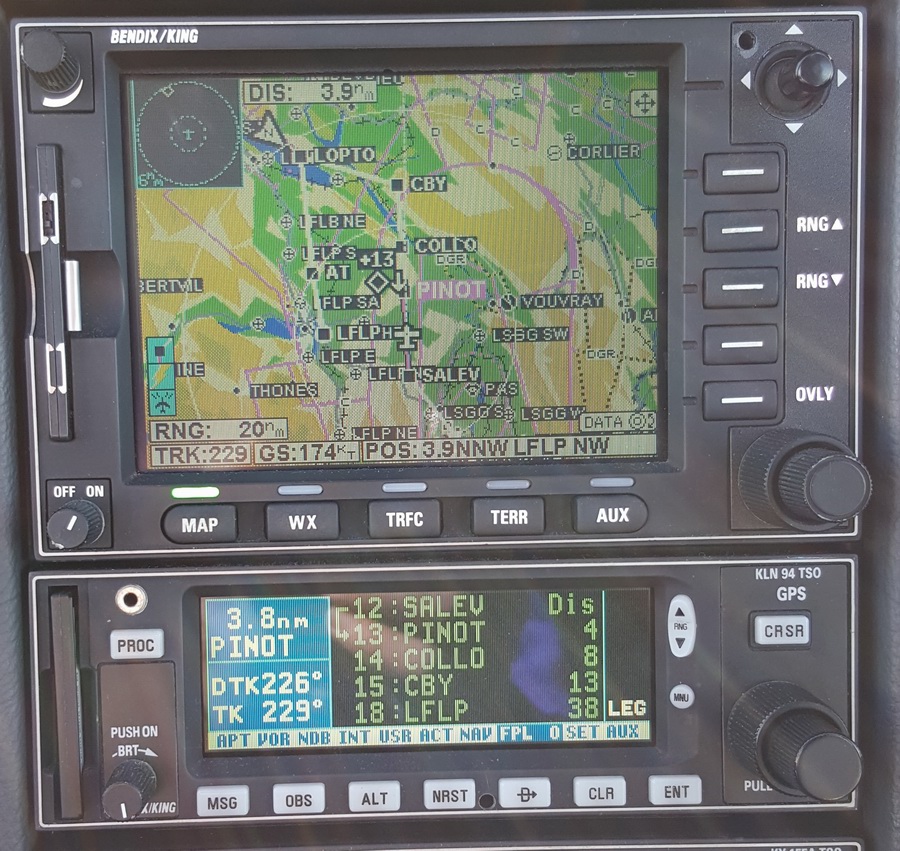 Established on the ILS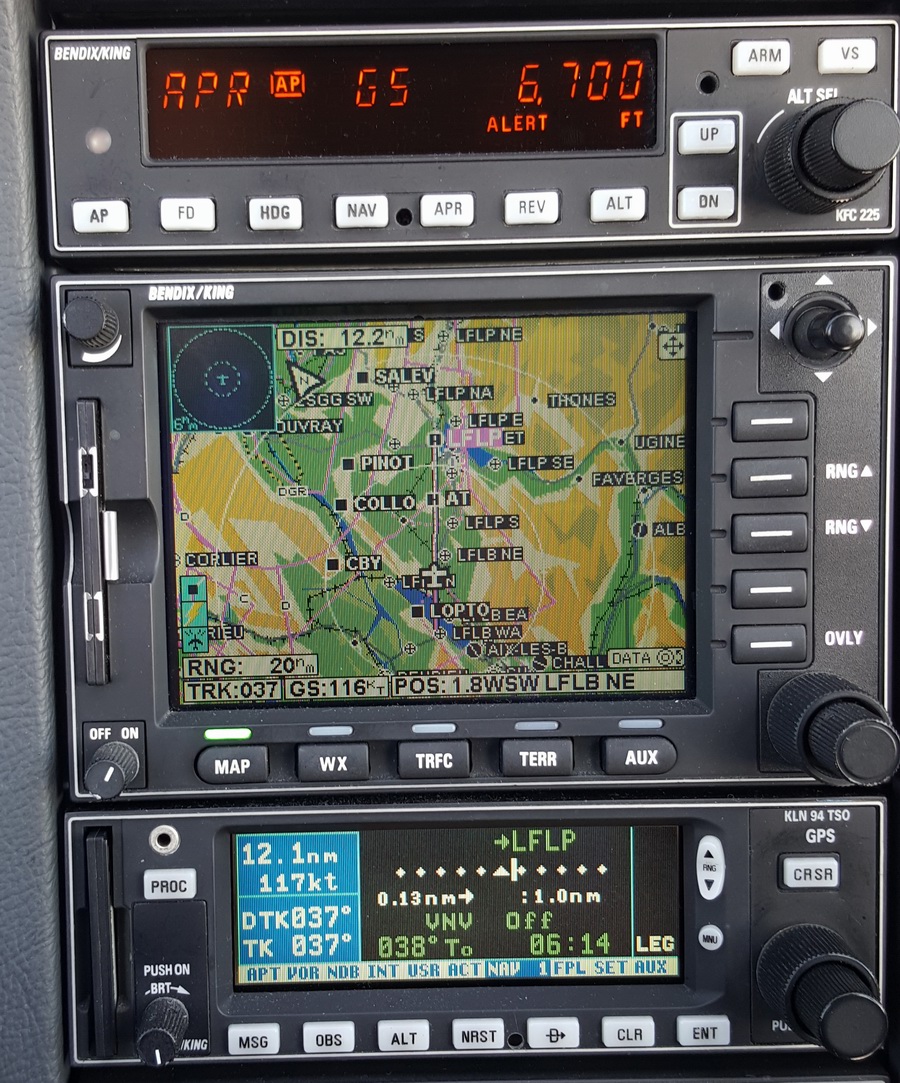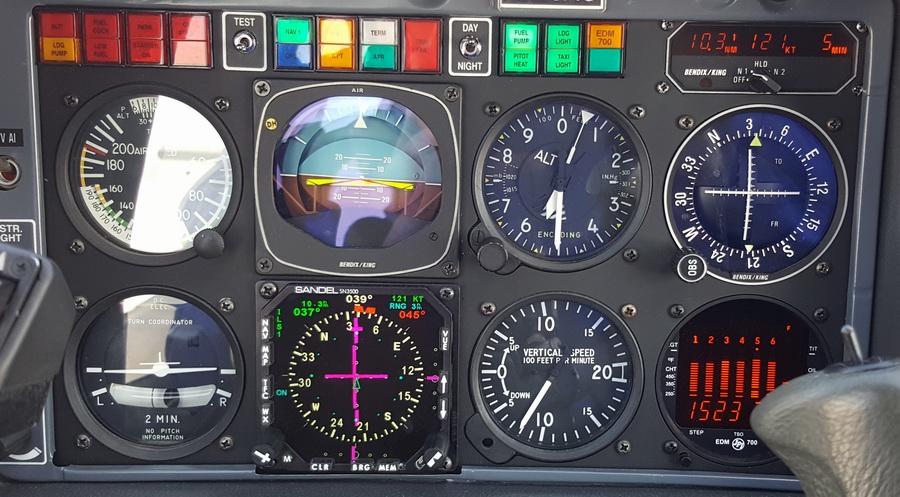 After descending through a thin cloud layer, visual with the runway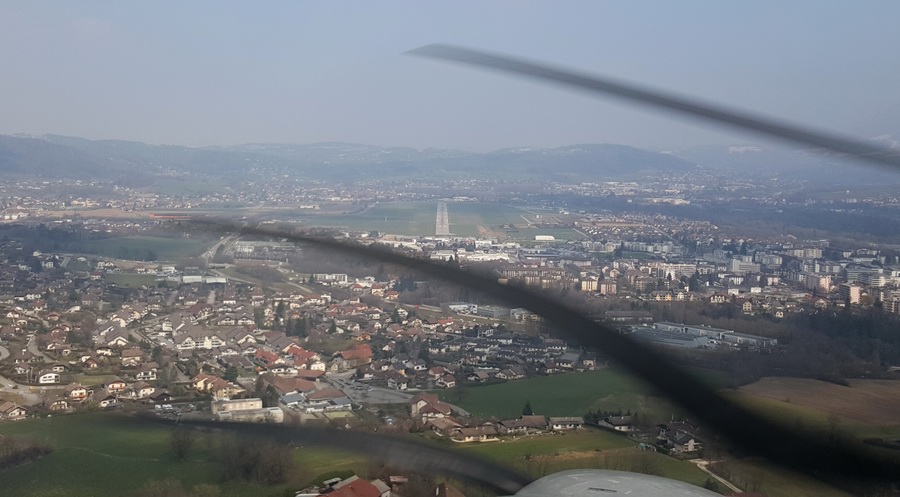 My plane was the cheapest one parked there by a factor of about 30x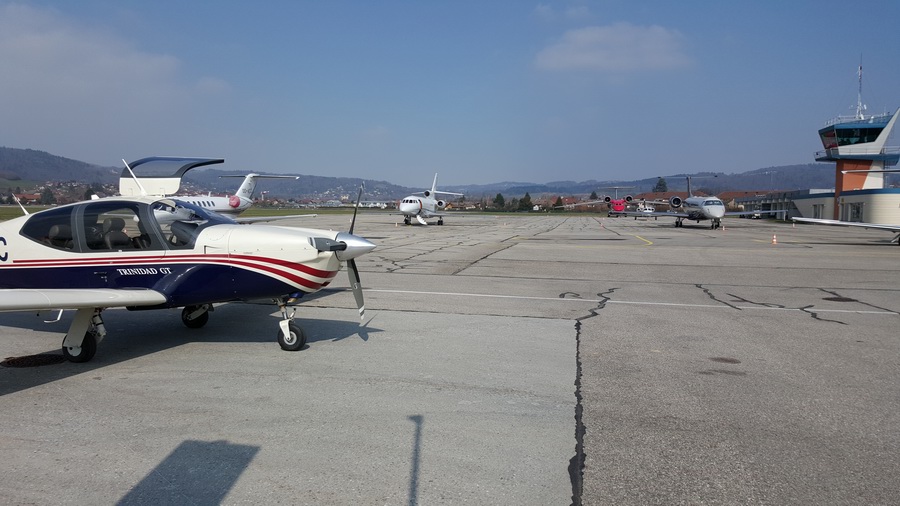 As always I refuelled immediately after landing. The above pic was taken at the AIR BP self-service pump (which I could not operate due to all instructions being in French, despite it identifying my AIR BP card as "UK", and due to some mysterious fault, but a couple of airport employees walked over and fixed it) and then was asked to park at the end of a GA parking area, well out of the way, which was really good. No "handling" was involved.
The airport has a very posh crew and passenger lounge, with free drinks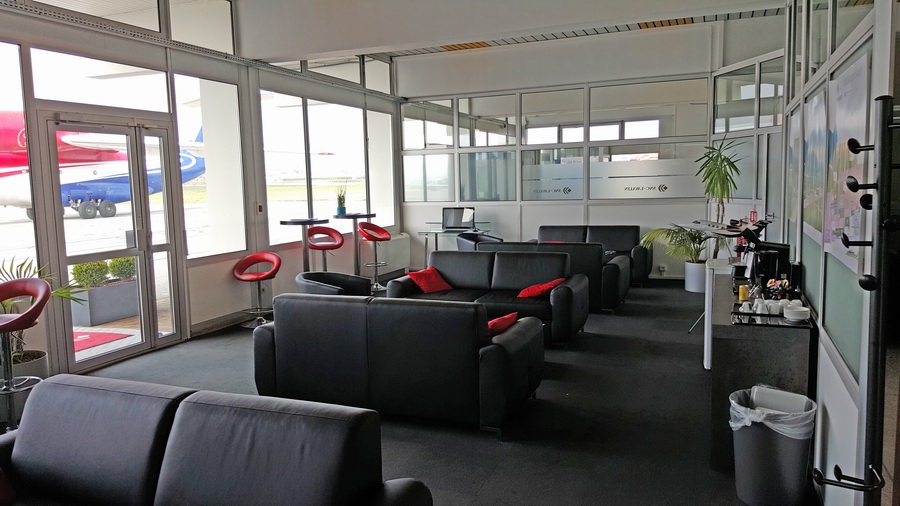 Everyone was really friendly and helpful. Everyone spoke English, which is not at all common for French airports, but the business jet situation changes everything!
I had the option of getting a taxi (about €25) into the town and then a bus from the bus station to Grand Bornand. I knew which bus (#62) but with all the gear it is tempting to get a taxi all the way, so I did that, for €95. French taxis are the most expensive of all and this was about 2x the rate in say Austria.
The view from the apartment was spectacular; here we are looking in the direction of the Chinaillon ski site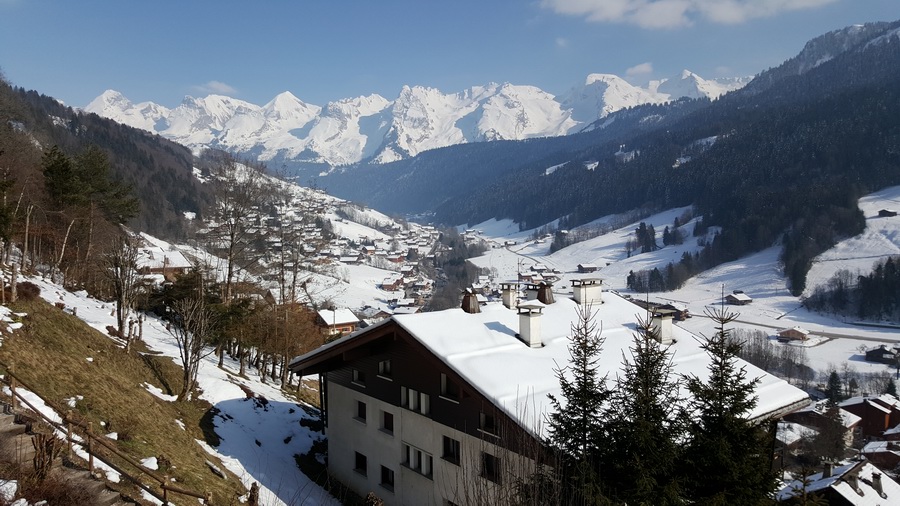 As usual at ski resorts, there is a shuttle bus and this one was about 20 minutes. The views are spectacular all around. I did not think I would have enough time to ski on the day of arrival; this was incorrect and I could have got a couple of hours in... anyway I took the bus to suss it out (so no time would be wasted the next day) and got some photos in the afternoon sun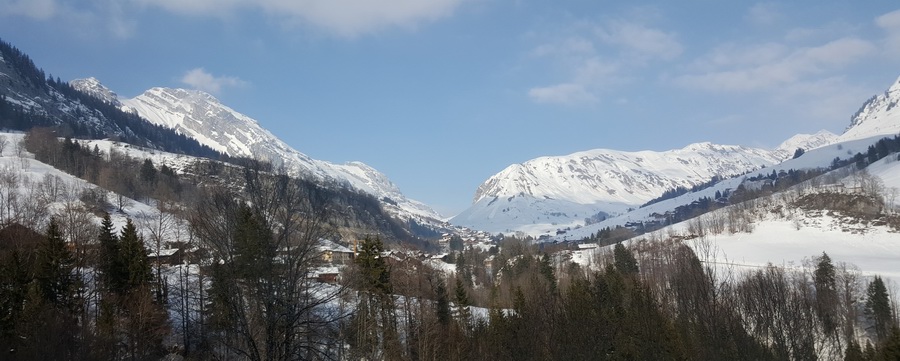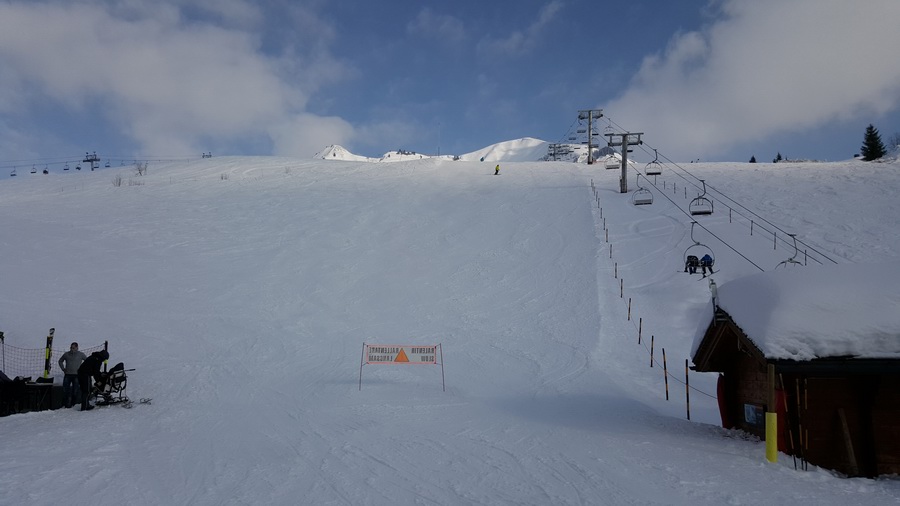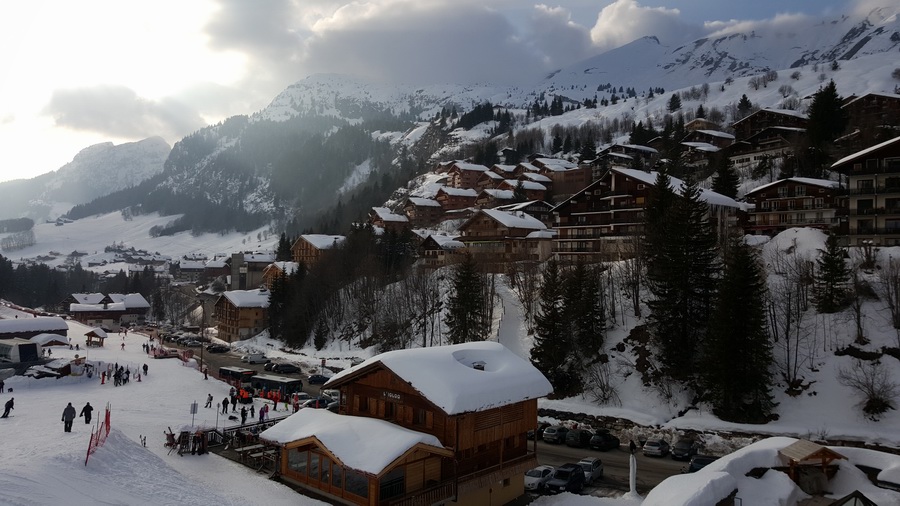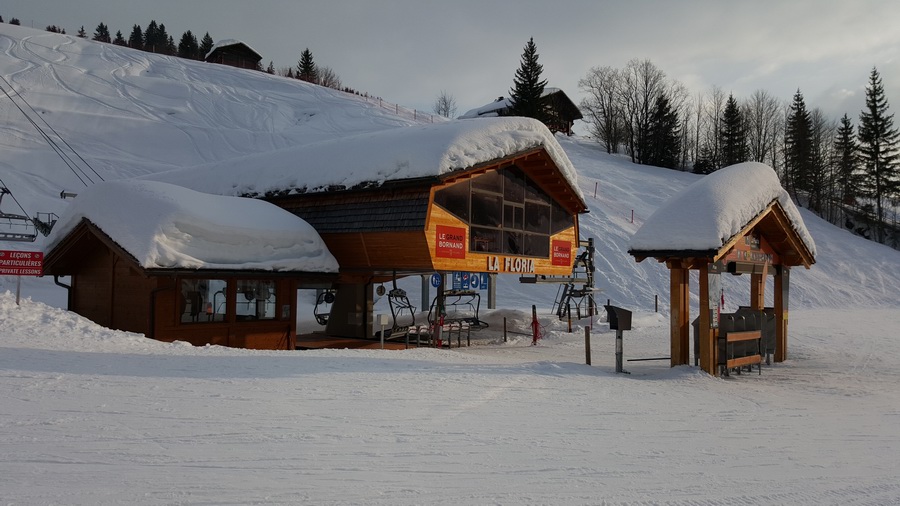 The small town of Grand Bornand has loads of places to eat, and lots of shops where one can spend money on the usual fancy ski gear which is completely pointless unless going out in a -20C blizzard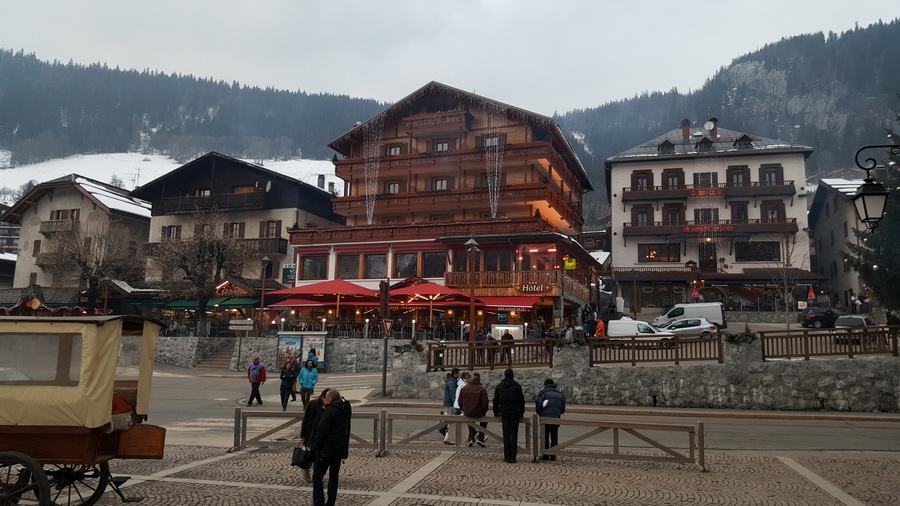 The shuttle bus stop, under the apartment. The bus was every 30 minutes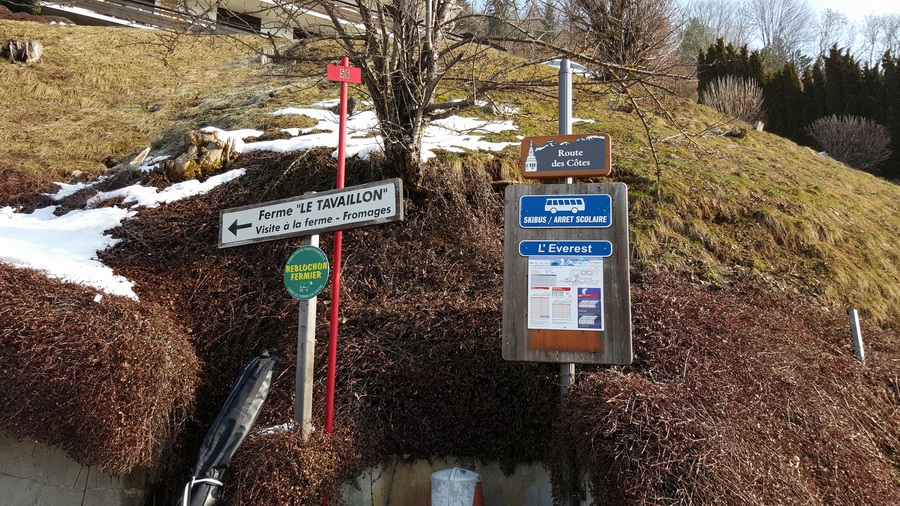 The next morning: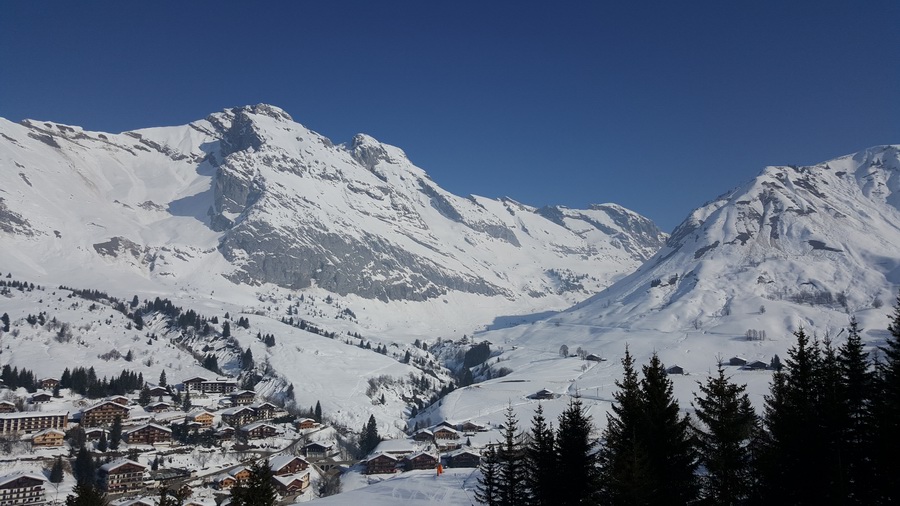 The snow here was obviously real. The winter of 2015/2016 had a very late start snow-wise, and the lower areas in most locations had runs made in artificial snow, which is bad for progress due to them being mostly narrow, and the snow being icy. But here it was the real stuff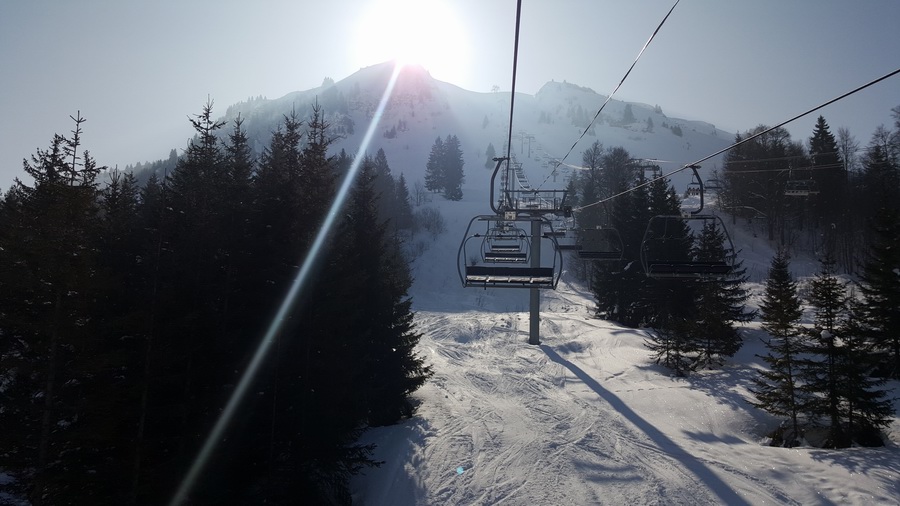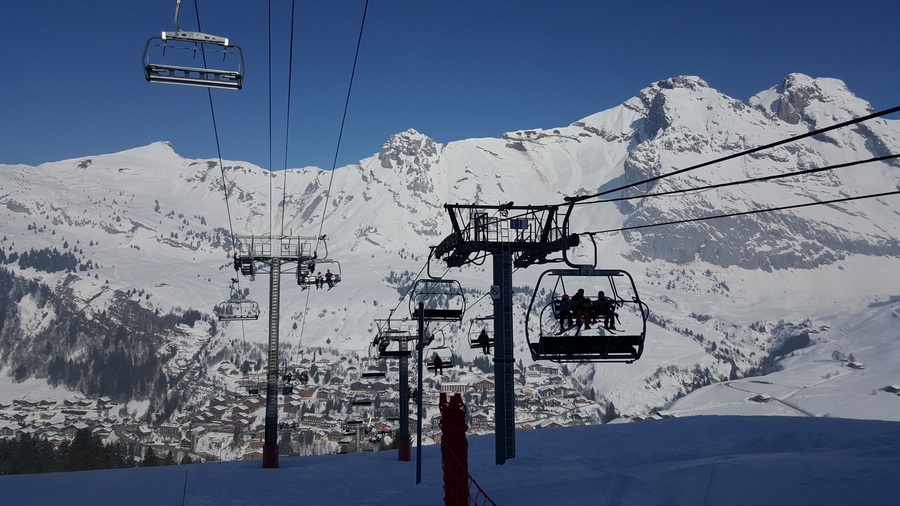 This is at the start (top) of the scenic Le Lac run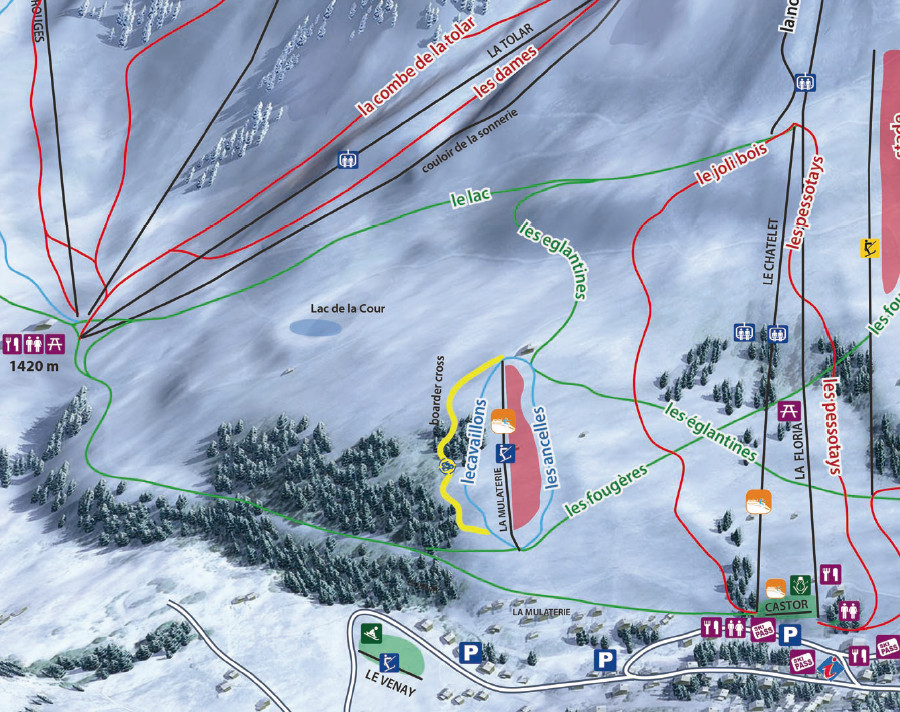 The name of the game here is to get ahead of any large group of children but actually this was easy, and since most people here were advanced skiers and were elsewhere, I had the run mostly to myself. The place to really avoid large groups of children is at the ski lift entrance, because the instructors shepherd them all together, pushing them through before everyone else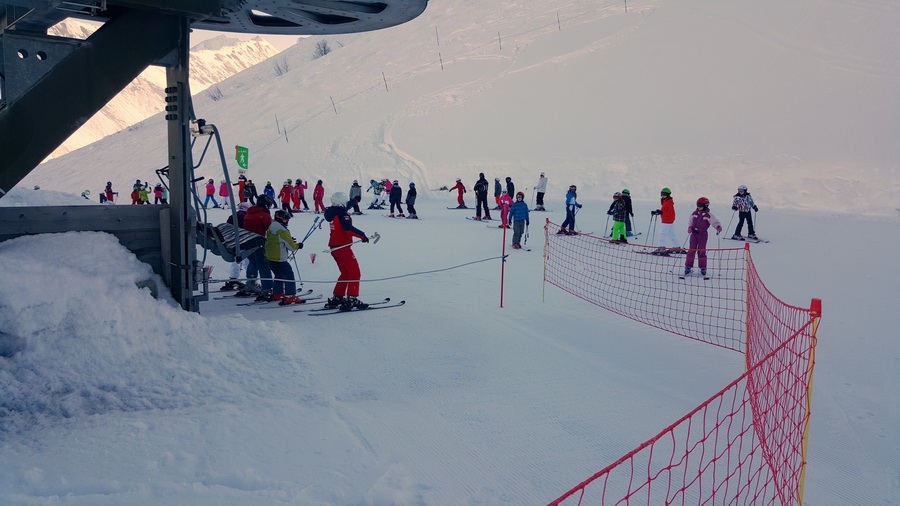 The scenery was 10/10, with fantastic snow landscapes, deep blue skies and zero wind.
This is one of the almost flat parts; elsewhere one could easily get a reasonable speed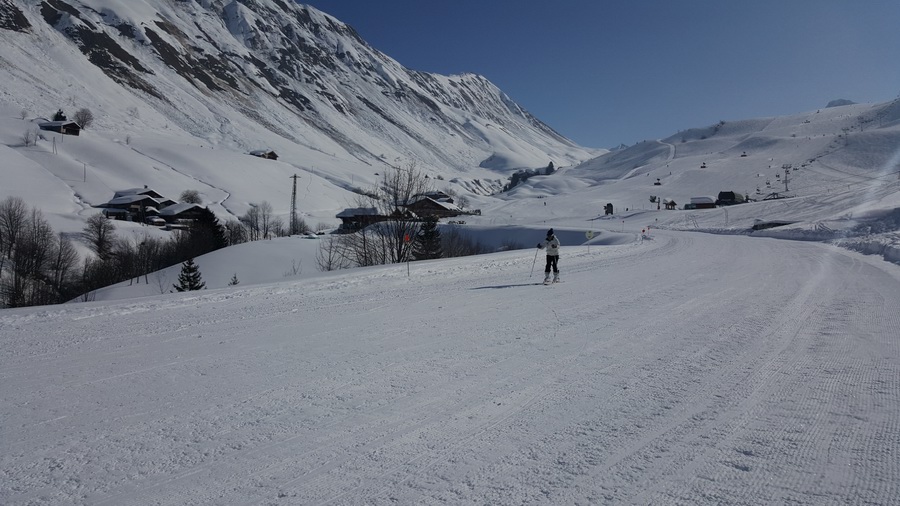 Last year I did the unusual thing and bought my own skis, from a discount shop in Scotland. Most people rent, which makes sense given some of the ripoff airline charges for carrying skis (e.g. £80 charged by Ryanair). But if travelling GA, this is not an issue, and the skis, poles and the bag weigh under 7kg.
I paid £280 for these, new, which matched the prices from various mail order outlets in Germany and Poland, and was only slightly above ex rental gear which had seen a lot of use over a year or two and which is all over Ebay (and according to skiers I know, some of it is stolen). A notoriously overpriced ski shop in Brighton was selling these for £550! The rest of the kit I own anyway.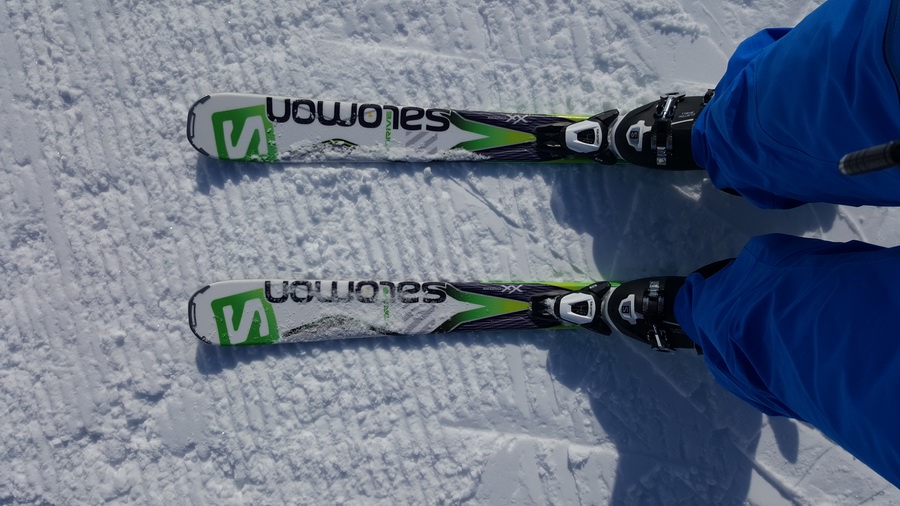 Having rented the shitty, shagged out and smelly gear at an indoor slope in the UK, I was not going to rent again, but actually the rental gear at the proper ski resorts is pretty good. Still, it makes sense to own your boots because these usually need to be custom-fitted, and own helmet is also a good idea for, ahem, hygienic reasons!
The other reason I bought skis is that we live in the countryside, next to a hill which, if it snowed up (which has happened twice in the last 5 years

) could be used for some messing about, and one cannot rent skis around here.
There were numerous chalets, some apparently abandoned for the winter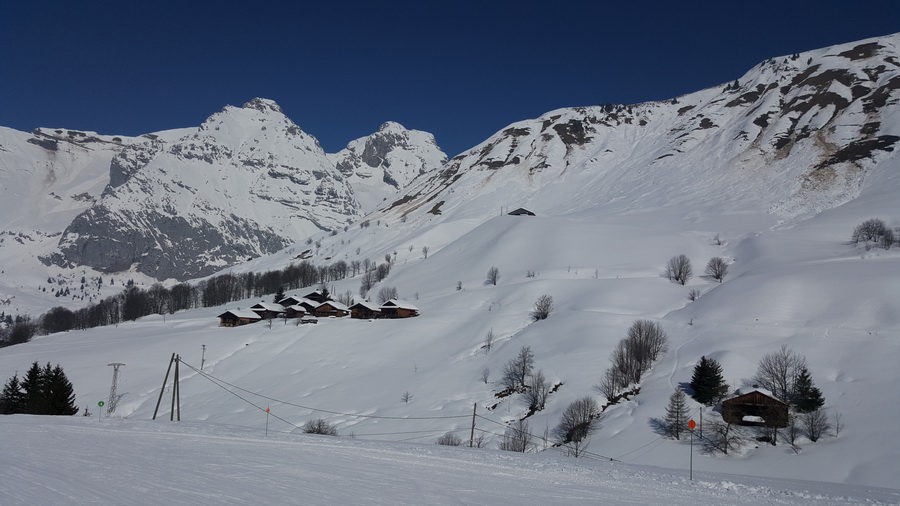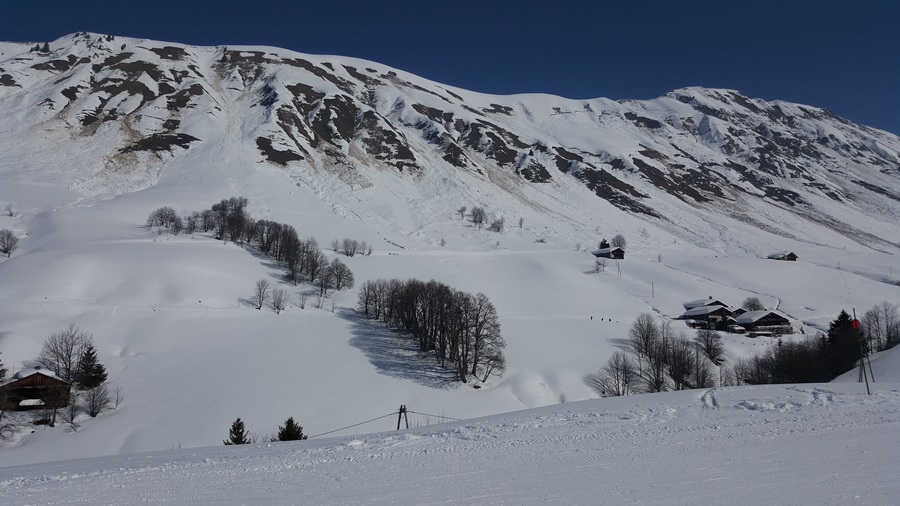 This run is called Le Lac ("lake") and here is the lake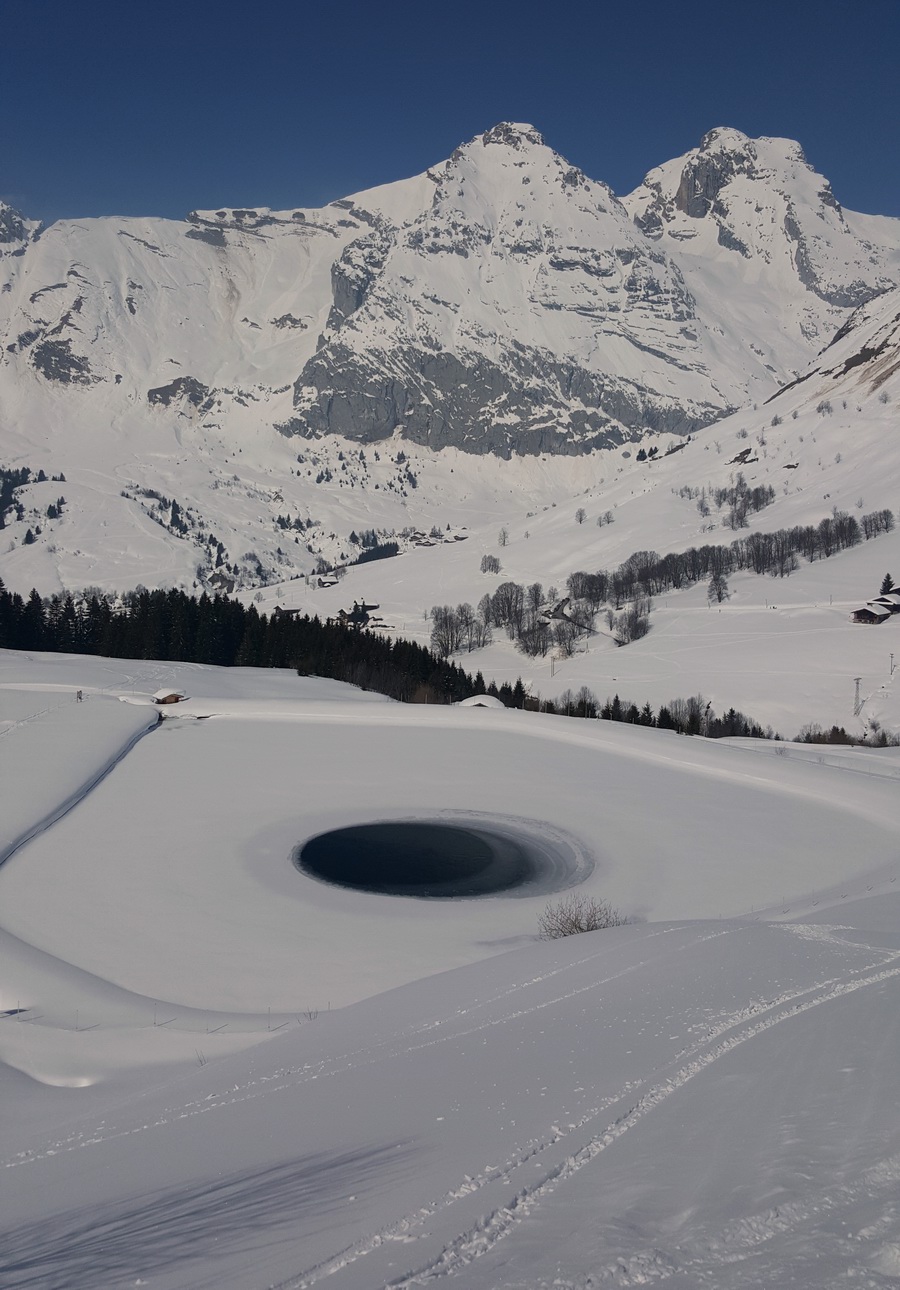 A lot of kids were messing about "off piste", falling into the ravines and streams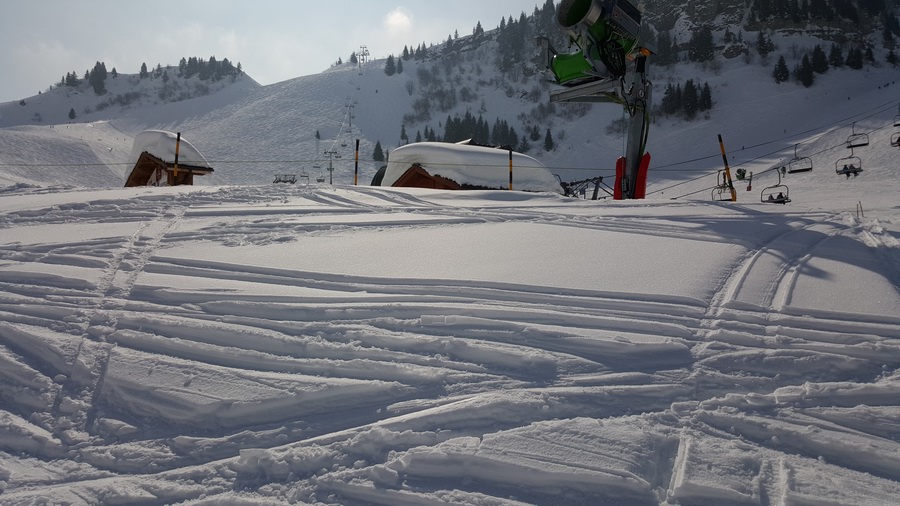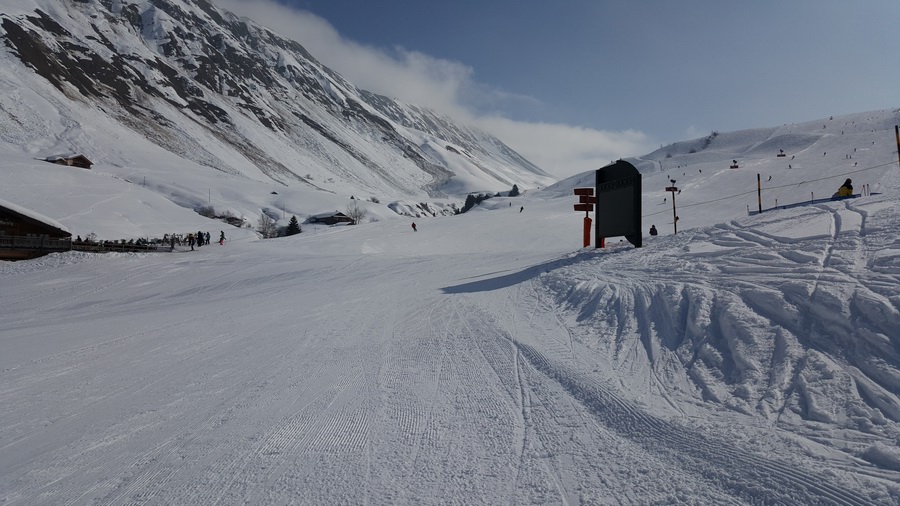 Back up the lift for another go... this was really efficient, with 10 mins of skiing and about 5 mins on the lift, and almost no queues. Strong UV though - need sunblock!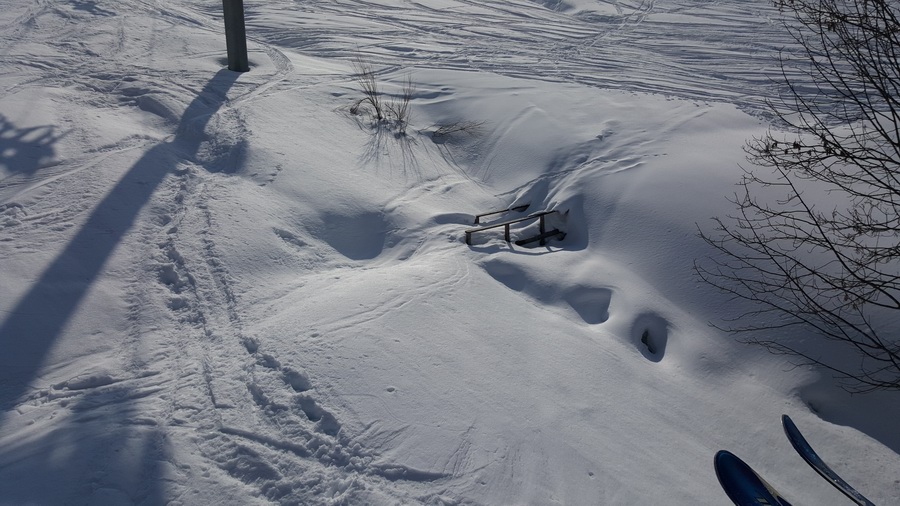 The French slopes are usually well marked with the colour code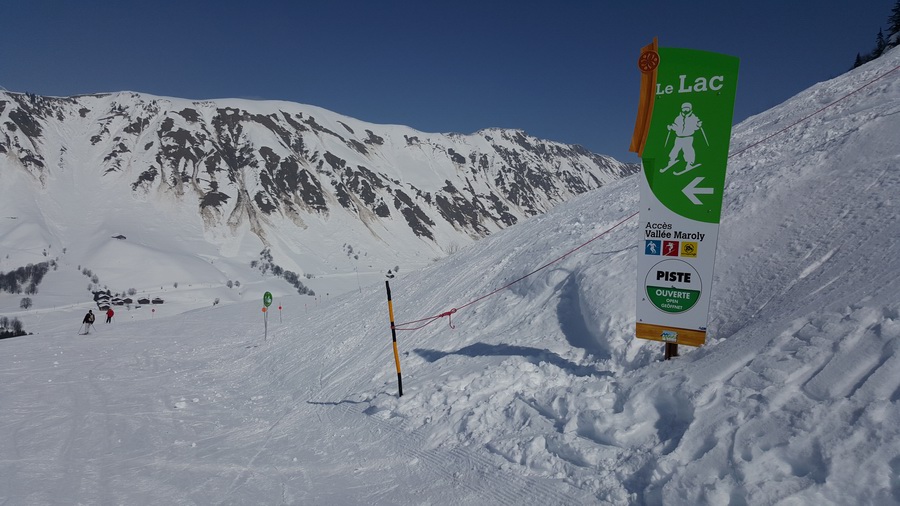 After 2 days I was knackered and ready to go home

On the way back I got the #62 bus to Annecy (45 mins) and then a €25 taxi to the airport.
The weather was good: Tafs/Metars MSLP IR
Departure was straightforward - DANBO4B - and you get the option of a left or right turn on departure from runway 04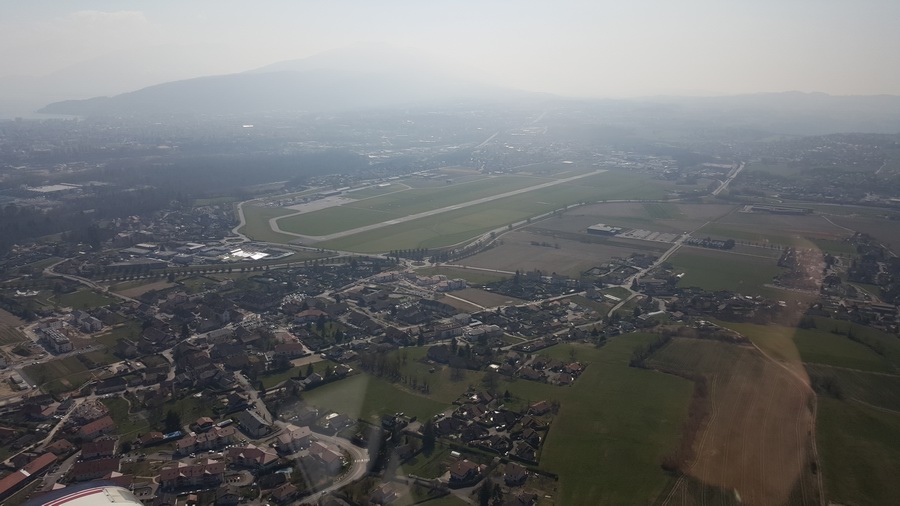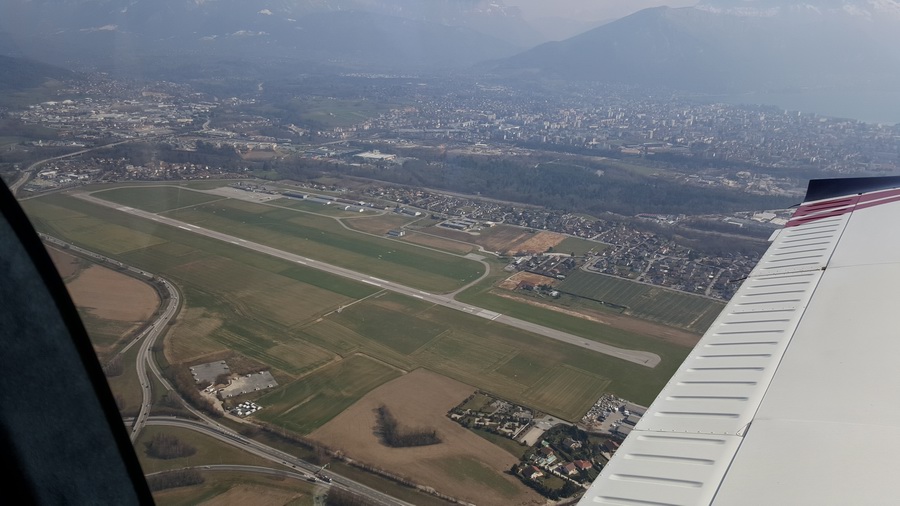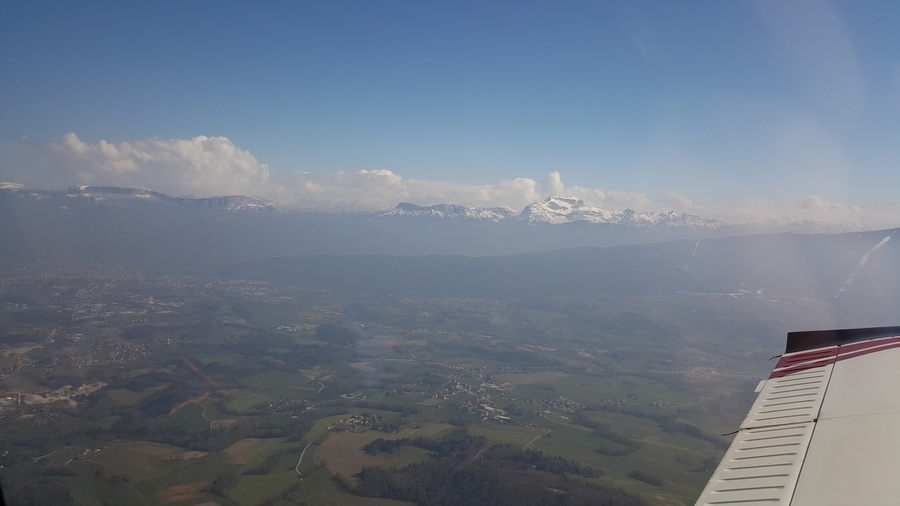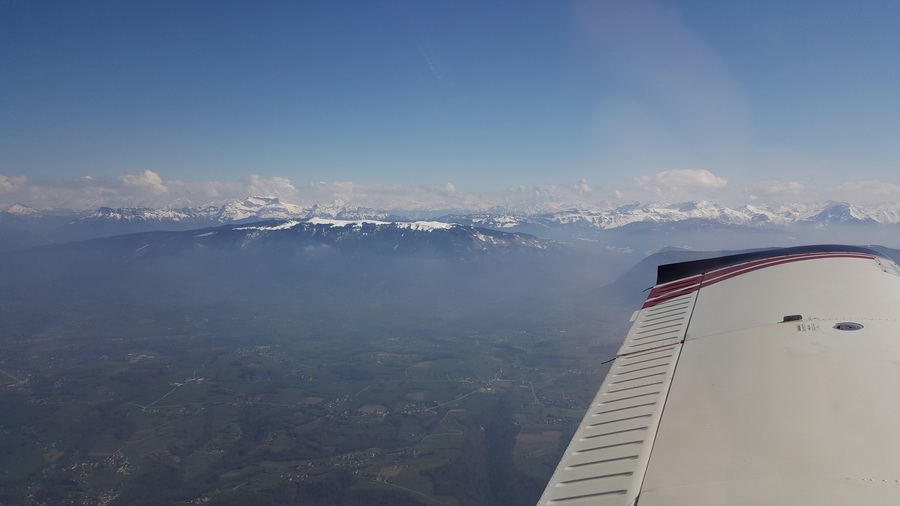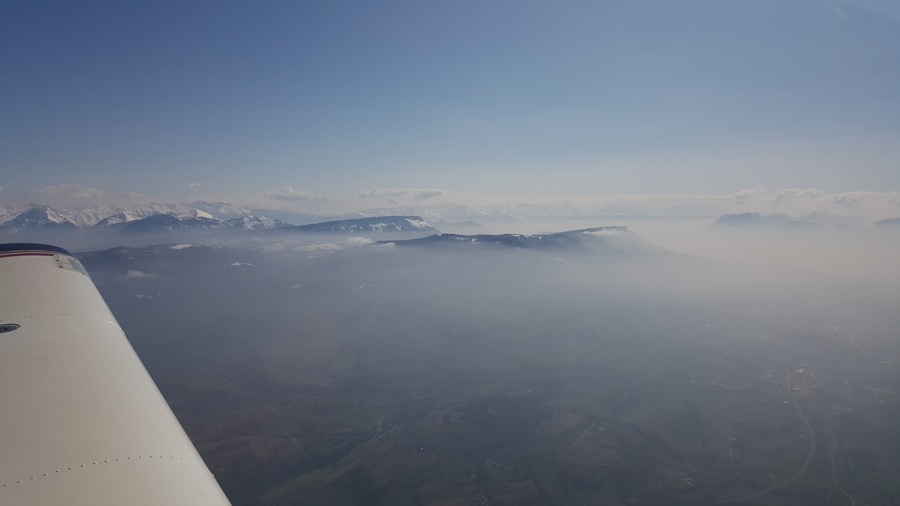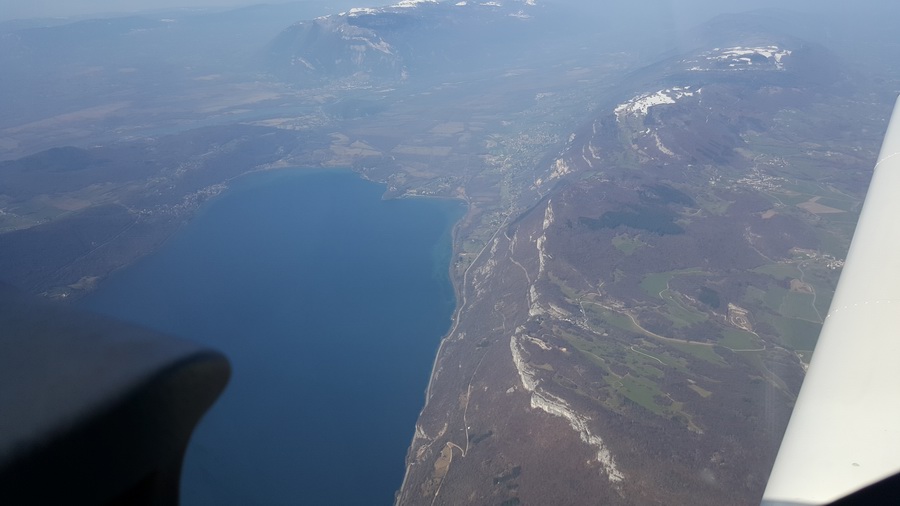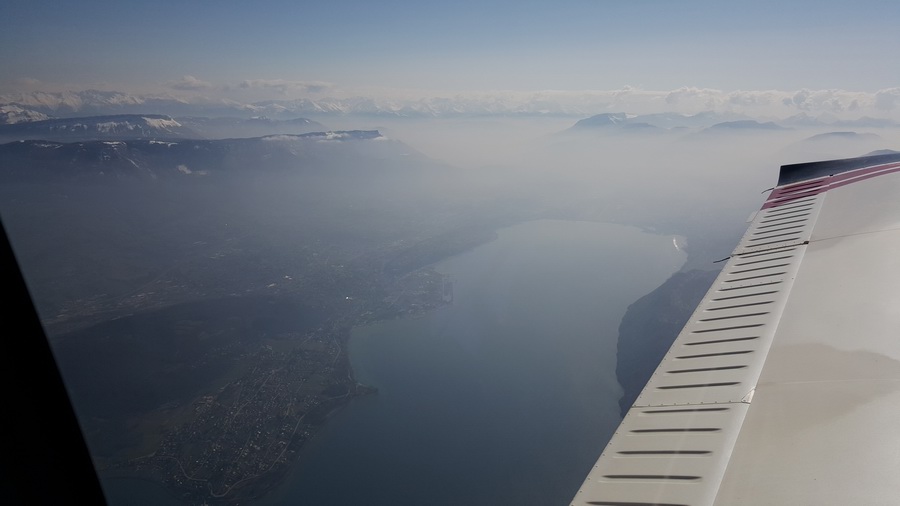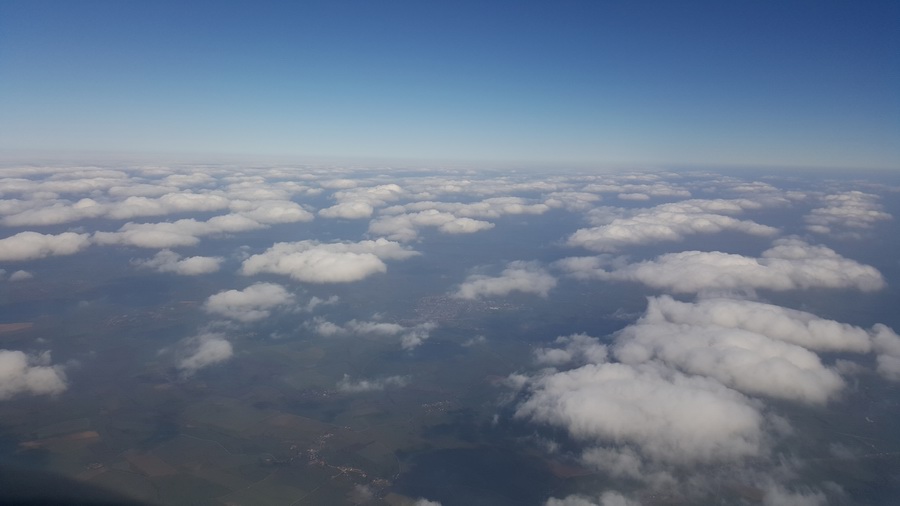 Near the UK now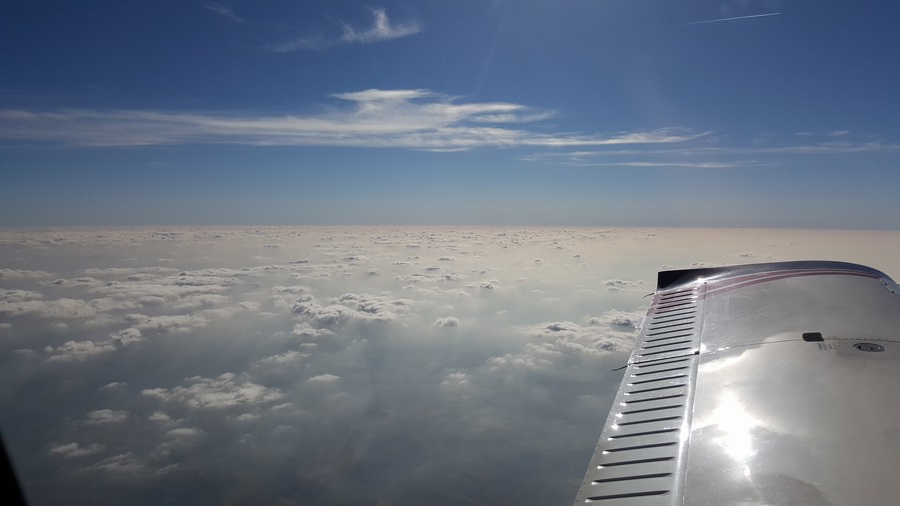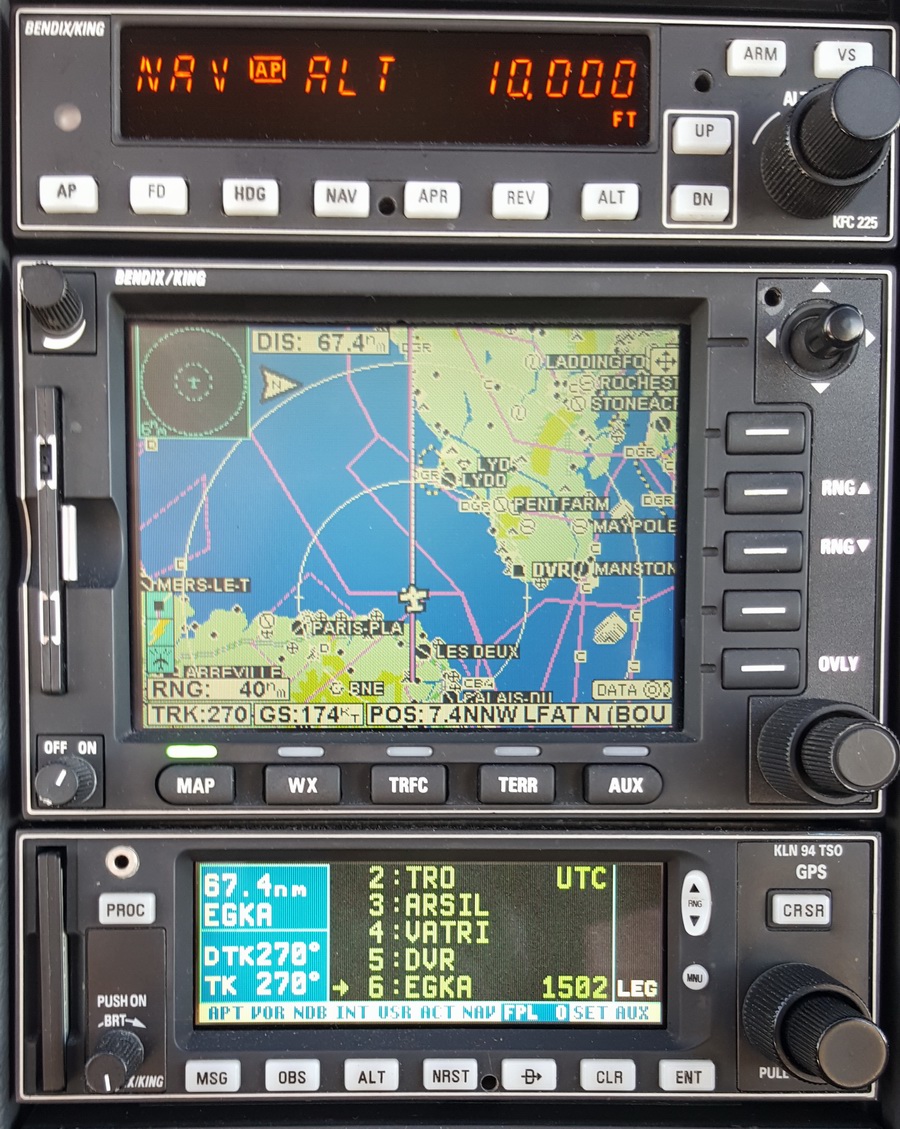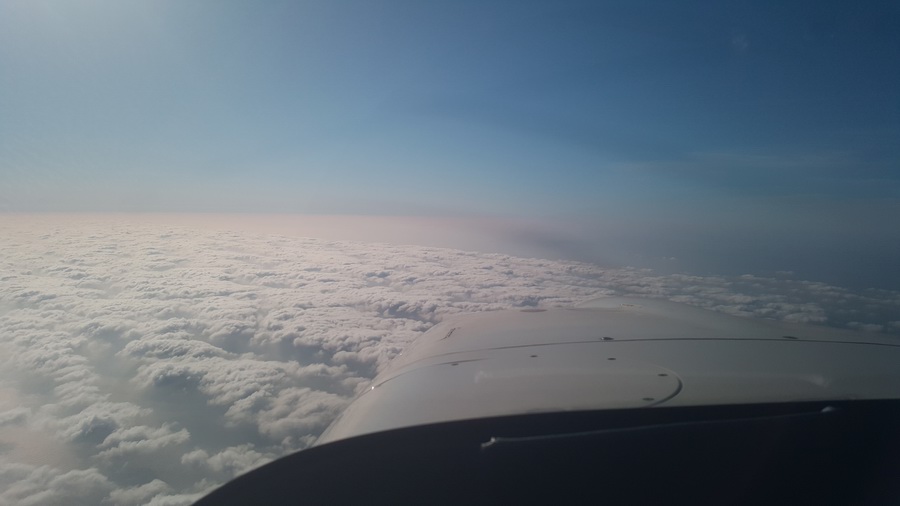 Cloudbase was about 1500ft which was fine for a visual approach at Shoreham.
Back at Shoreham and unpacked. The TB20 could carry two normal-sized skiers with all the gear, without being over max weight. The bigger red backpack has the boots, helmet, trousers, socks, etc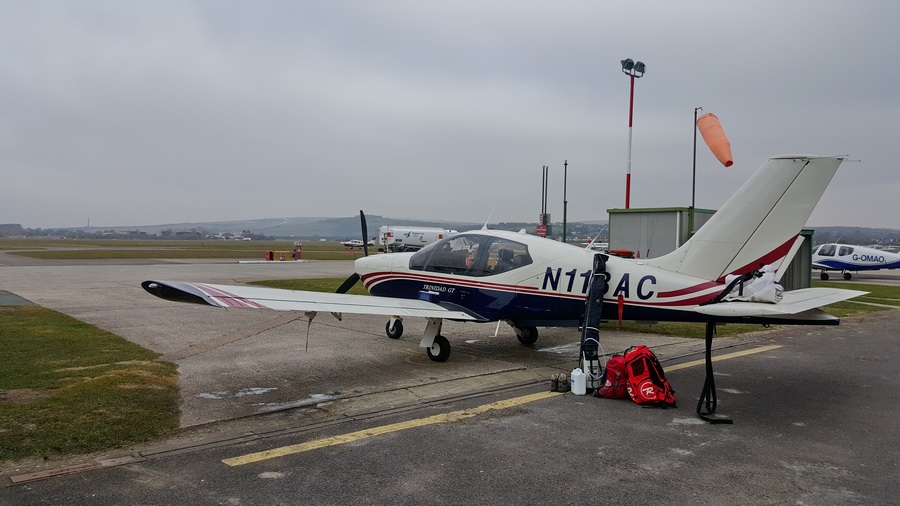 Above you can also see the TKS spray kit with the fluid container - details near the top of this writeup. The skis (1.63m) don't quite fit across the width of the luggage compartment so they go diagonally. This wastes the 4th seat, but that's wasted anyway because of the oxygen cylinder, life raft, an emergency bag, etc.
Shoreham to Zell am See and back
This trip was done a week after the one above.
Here I needed to be sure of CAVOK conditions at the destination, which is inside a canyon.
There is a problem establishing the cloud extent within the Alps, because local conditions can vary. One cannot simply get weather from some airport outside the Alps, because the conditions within are likely to be different and because "CAVOK" refers only to a lack of cloud up to 5000ft AAL (above aerodrome elevation) or up to the MSA, whichever is greater. For example one can have totally blue skies at Zell am See LOWZ while there is low cloud and icing conditions at Salzburg LOWS a short distance away but outside the Alps.
Fortunately there are numerous webcams scattered around the airfields within the Alps. Some of them are non-functioning but you soon get the idea... The following images were on the morning of departure, from webcams around the airport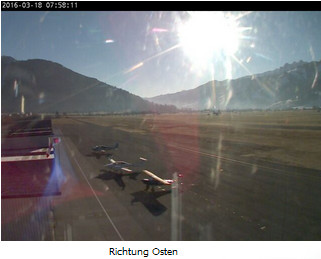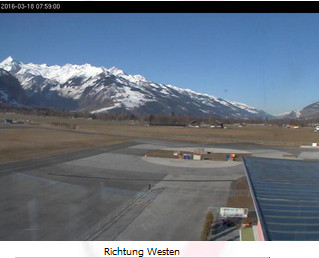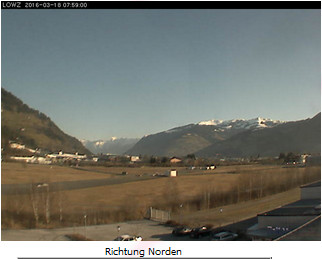 Tafs and Metars MSLP 0600 1200 IR Sferics Radar
At this point I filed the flight plans and booked the hotel via Booking.com. It was not cheap at €390 for 3 nights, but there was nothing else available at such short notice, and this hotel was right next to a ski lift.
Departure weather was mostly VMC, initially direct to SFD, remaining outside controlled airspace (altitude 5000ft) and then the usual handover to London Control.
Here we are in cruise at FL100, vectored left of the filed route by London Control, and with LFOB showing 32 USG, which is plenty for diverting to any number of proper airports with an ILS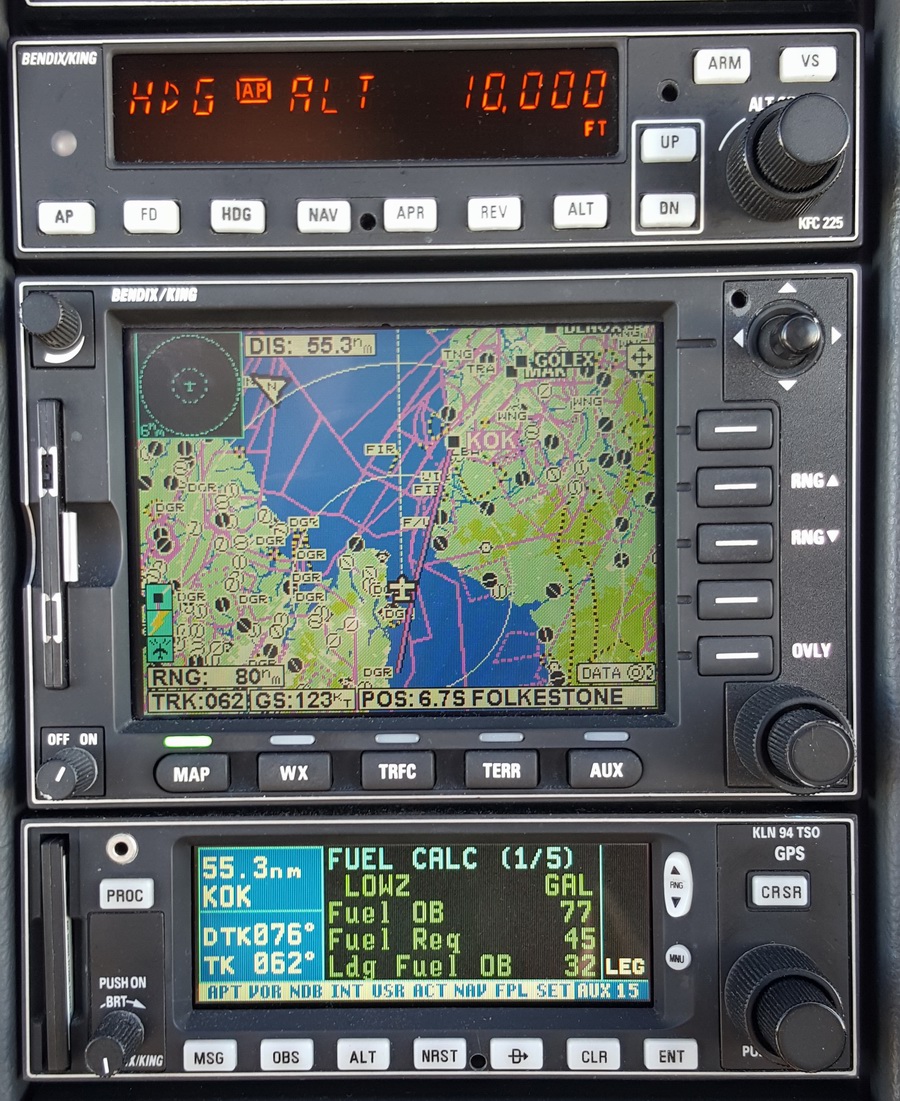 Nearly the whole flight was above a solid overcast, which is boring but is way way better than sitting in cloud and icing conditions...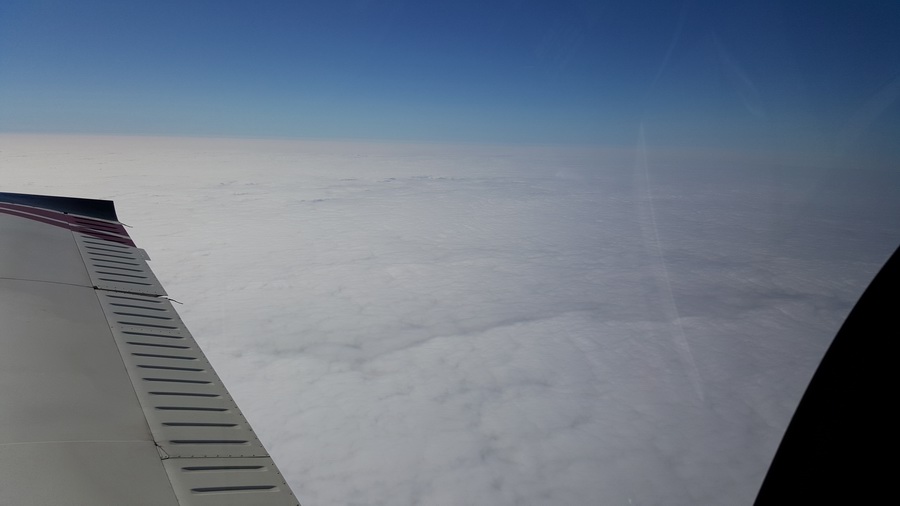 I had a bit of headwind so descended to FL090, but it didn't make much difference; maybe 2-3kt. Here we are doing 155kt TAS, with the fuel flow being about 10.5 USG/hr, engine running at peak EGT (best economy cruise) which at about 0C is standard for my TB20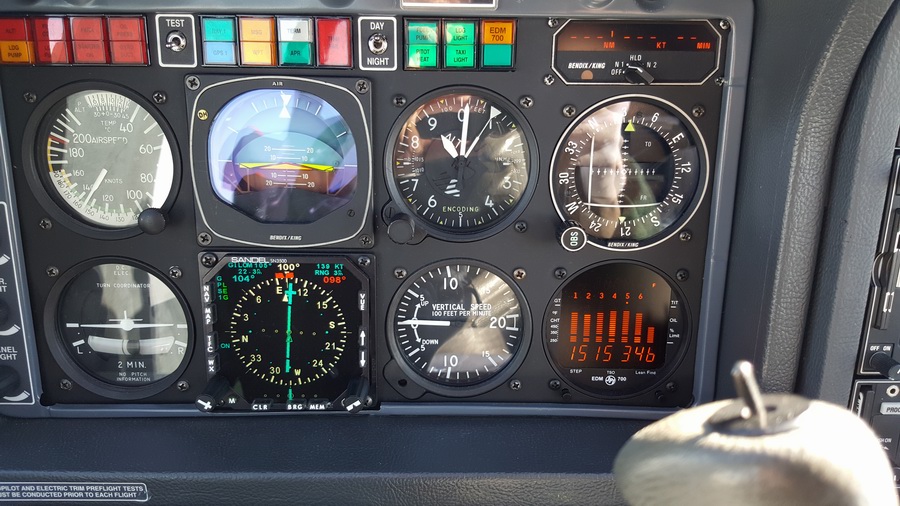 Approaching the Alps, with the ground speed showing 149kt so still about 6kt of headwind. LFOB was still showing 37 USG.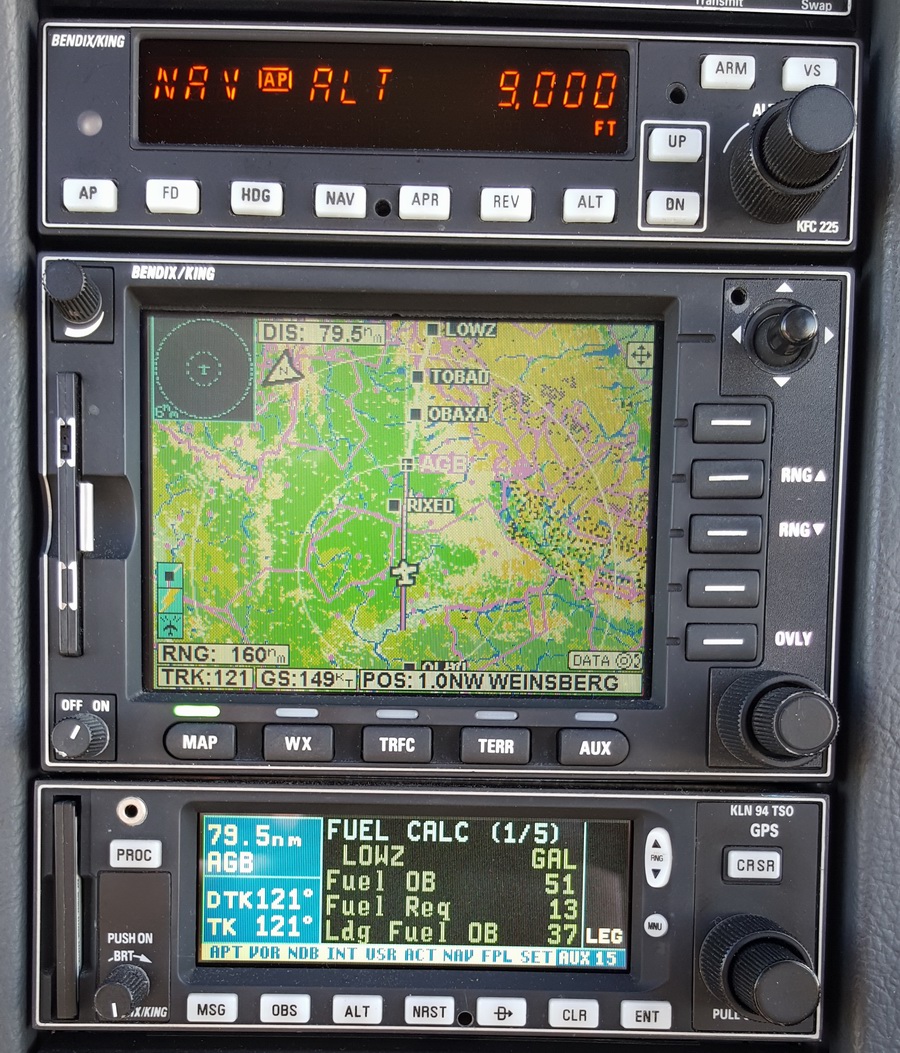 The city of Munich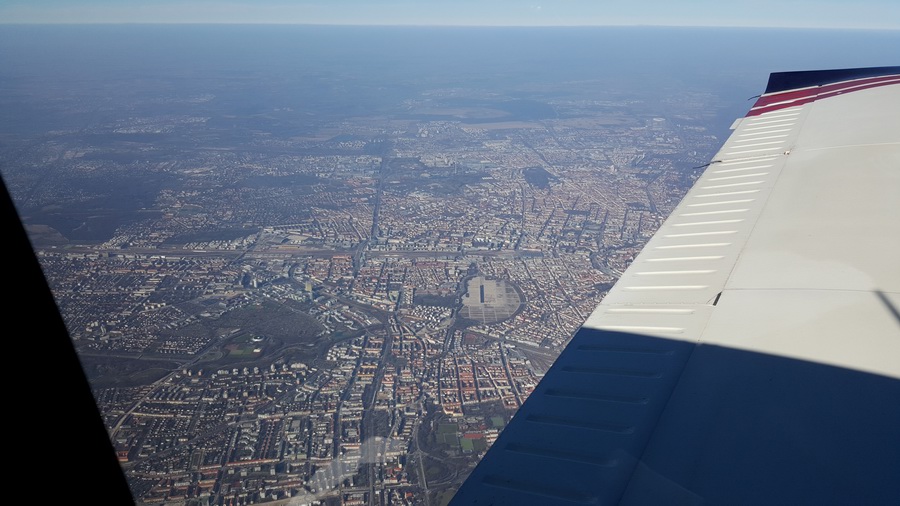 Here are the Alps again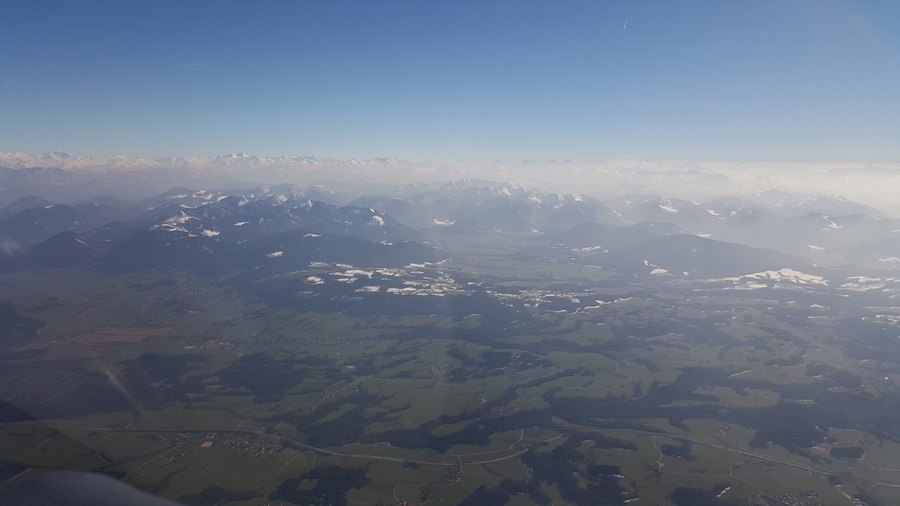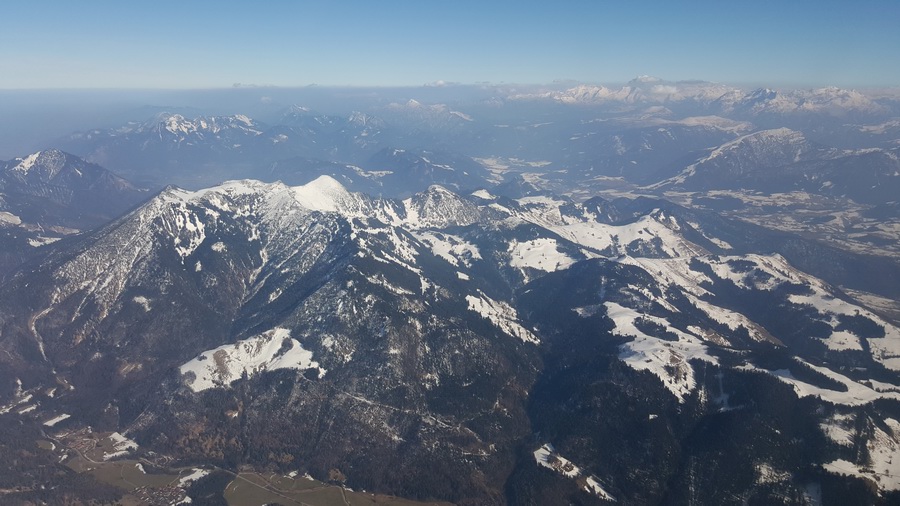 The flight here was about 2000ft above the peaks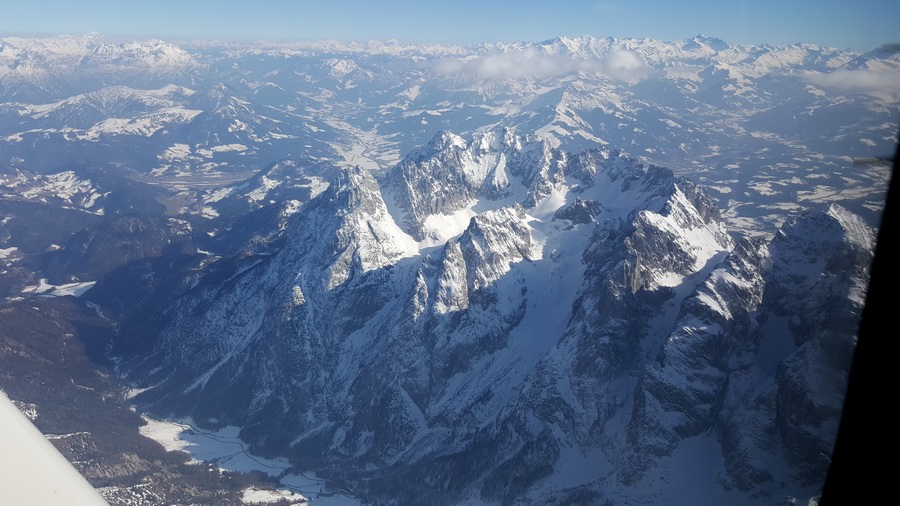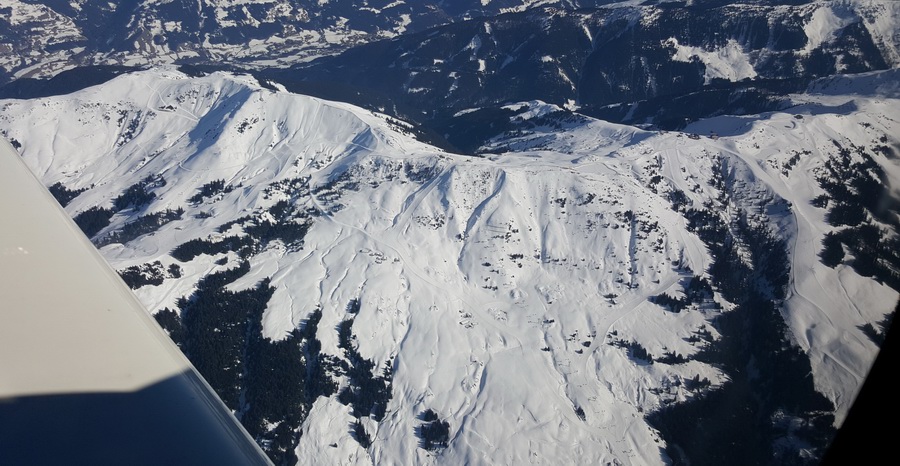 The airport is at 2500ft above sea level, so one has to lose about 8000ft and this cannot be done over a short distance, with mountains all around. One method is to fly to nearly overhead the airport and descend in a tight orbit; I did that for Locarno but here it is not a good idea because (a) there is less room (b) there is a published arrival pattern which controls flight below 4000ft and one needs to arrive via WHISKEY (c) there is a long straight canyon leading to the airport and one can simply descend along that. I set up the GPS in the OBS mode, where the magenta line lies in the canyon (bearing towards LOWZ of about 090) and here we are intercepting that magenta line, about 20 miles west of the airport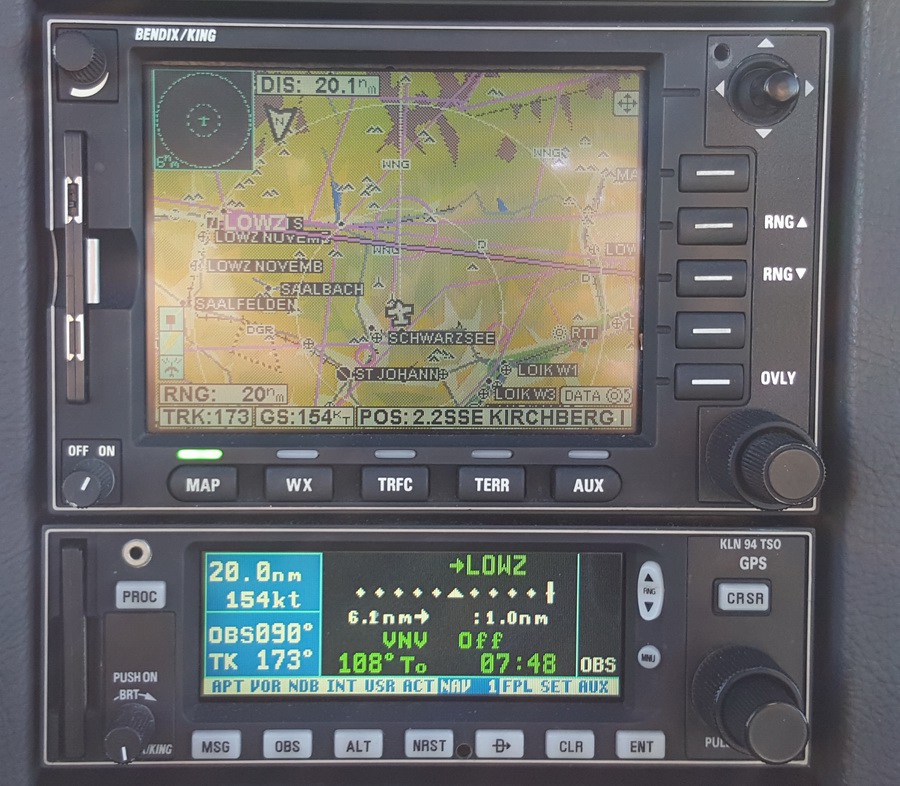 Obviously, in these great visual conditions, some will say there is no need for GPS, but I like to always be very sure of where I am and it would be awfully embarrassing to descend into the wrong canyon!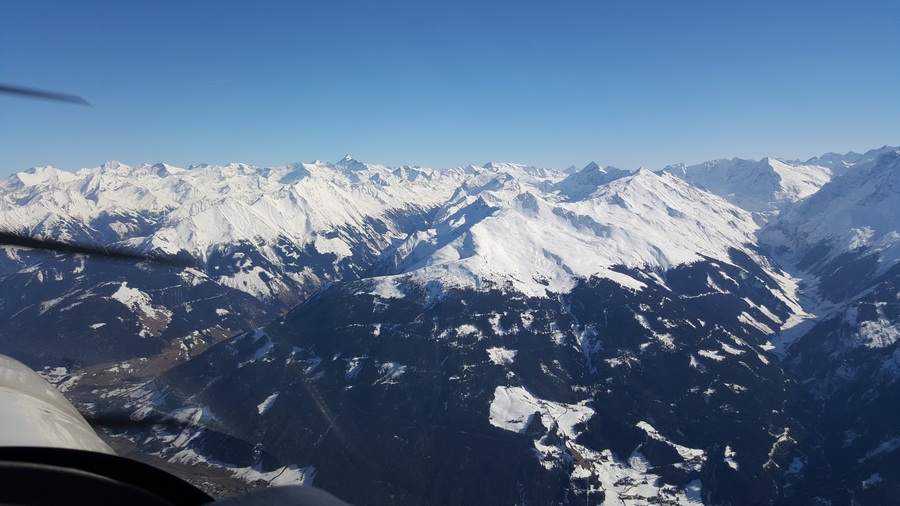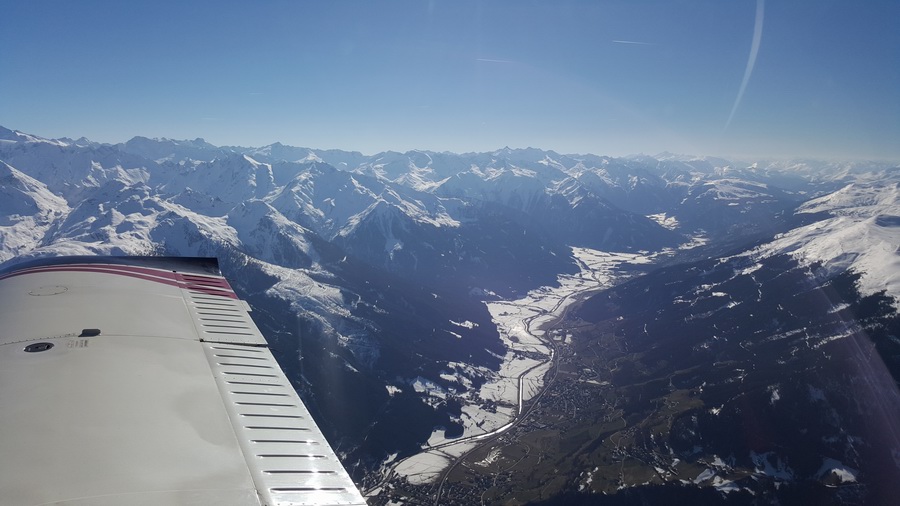 Now turning left, into the canyon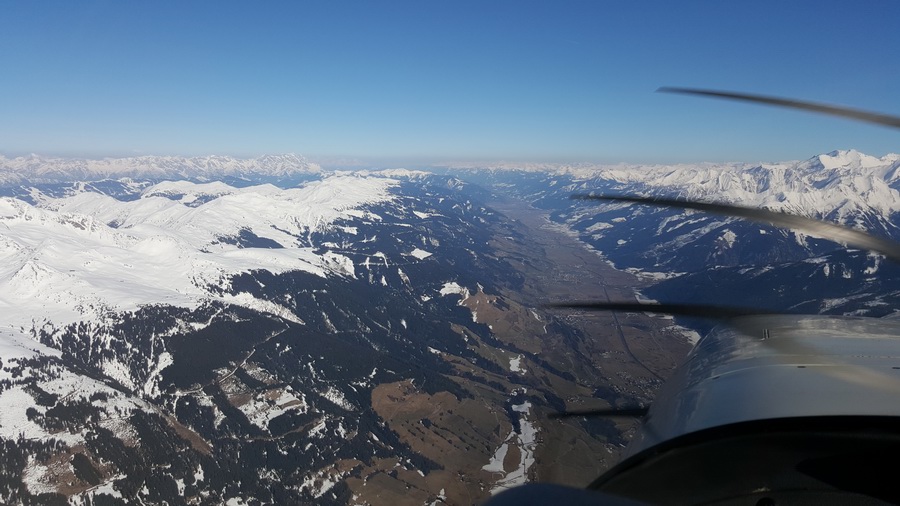 Descending below the sides of the canyon, gear down and Flap 2 to keep the speed down to about 100kt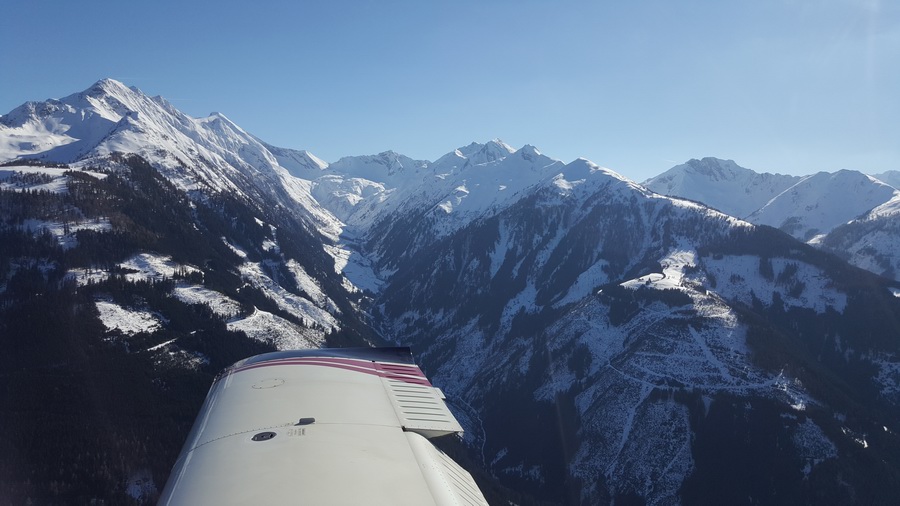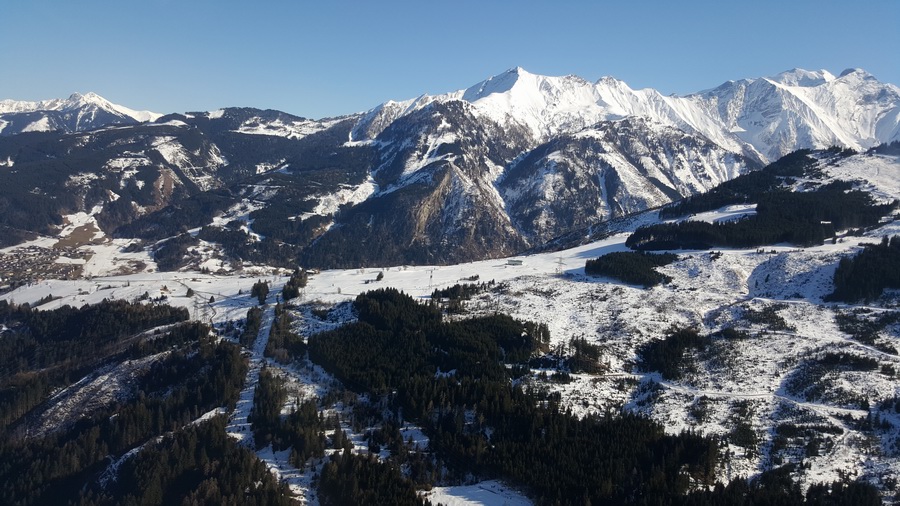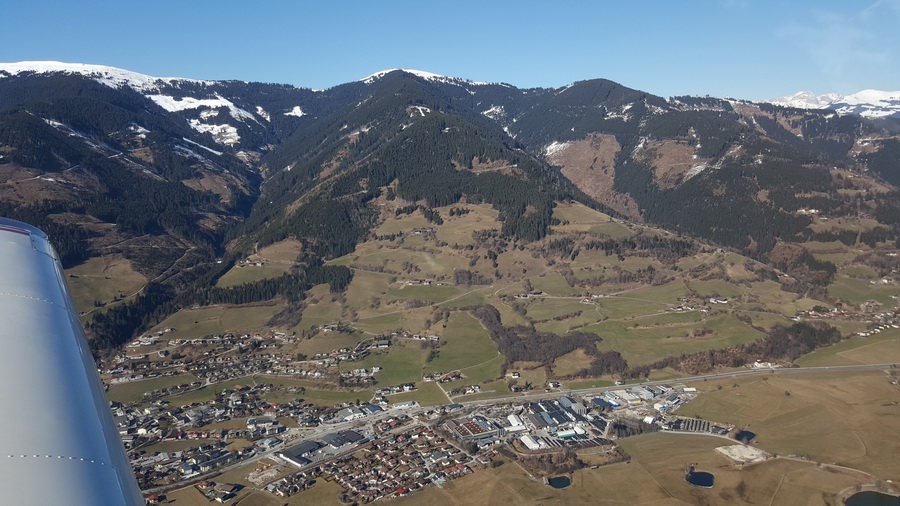 Parked at the self service pump. The procedure is strange; one has to park the aircraft there (or somewhere), walk to the office to collect a plastic card which goes into the machine, walk back and fill up. The instructions are German-only so the guy in the office wrote down the order of buttons to press

The payment is done at the office afterwards.
The scenery is stunning, but it is amazing how little snow there is at 2500ft while the ski areas just a little higher have plenty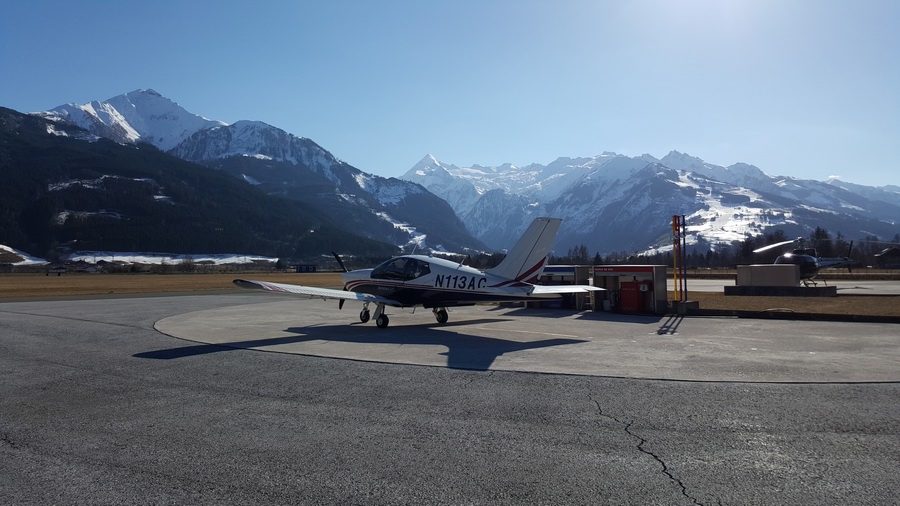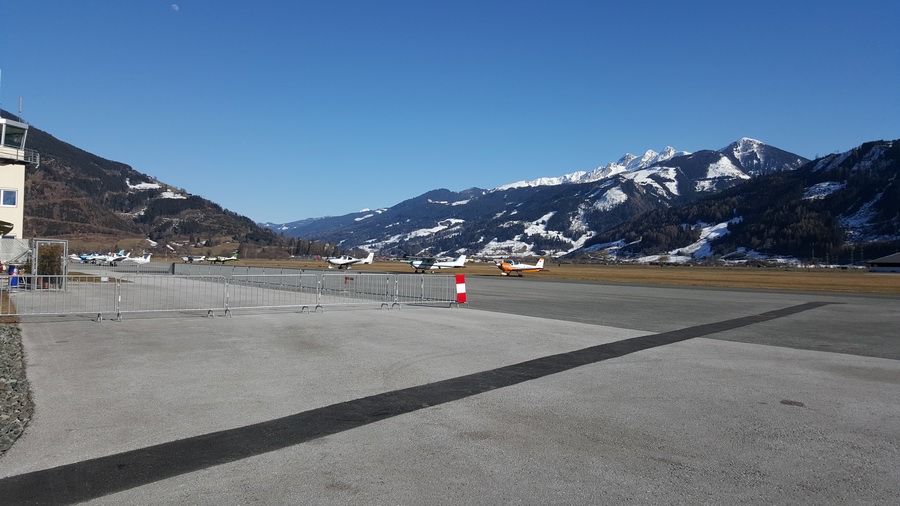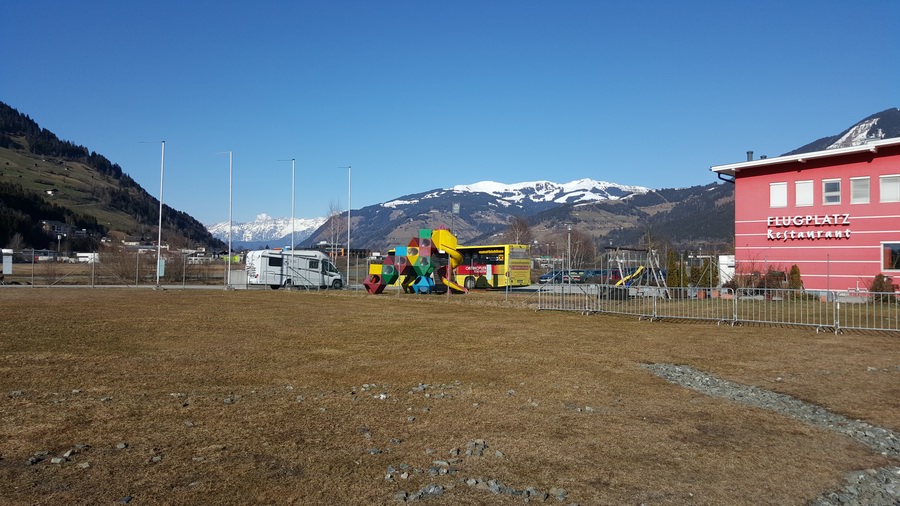 Unexpectedly I was offered hangarage at a very good rate so I accepted the offer because it avoids any night frost and having the de-ice the plane before departure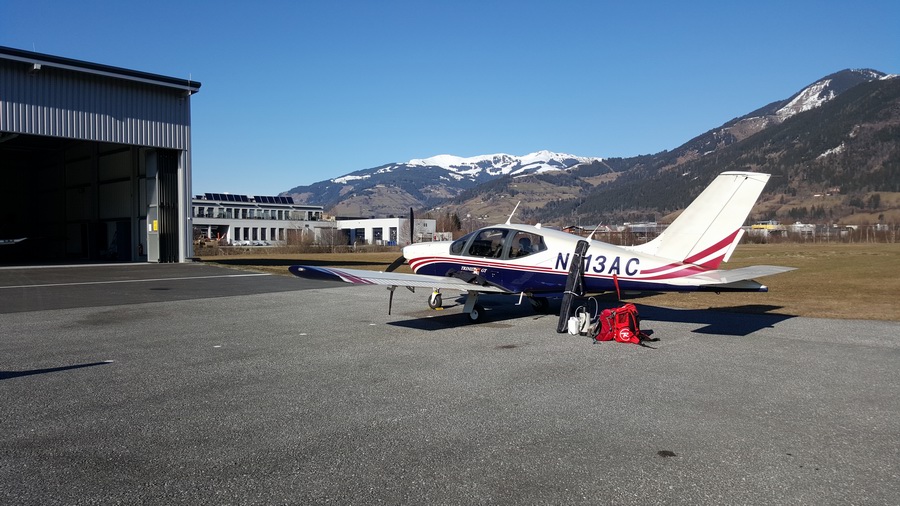 The taxi to the hotel was just €13.
The hotel Alpin was right next to a ski lift, which is a great situation. The "apres ski" bar can be seen to the right; I was too old by about 30 years to hang out there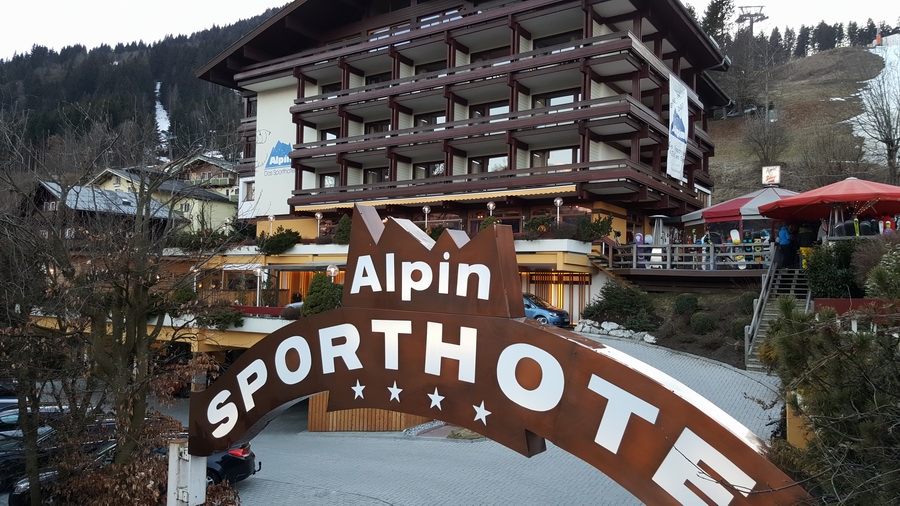 There are lots of bars, mostly noisy, but also some restaurants doing healthy food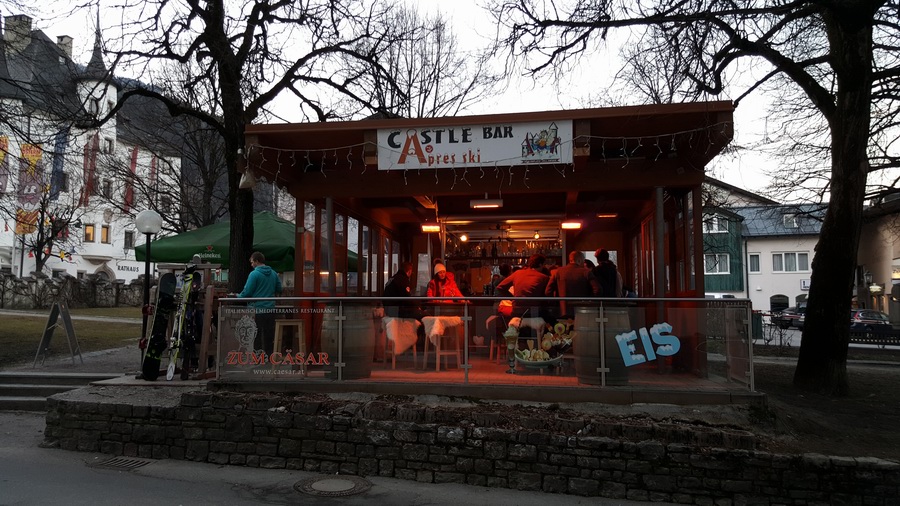 Up we go in the morning...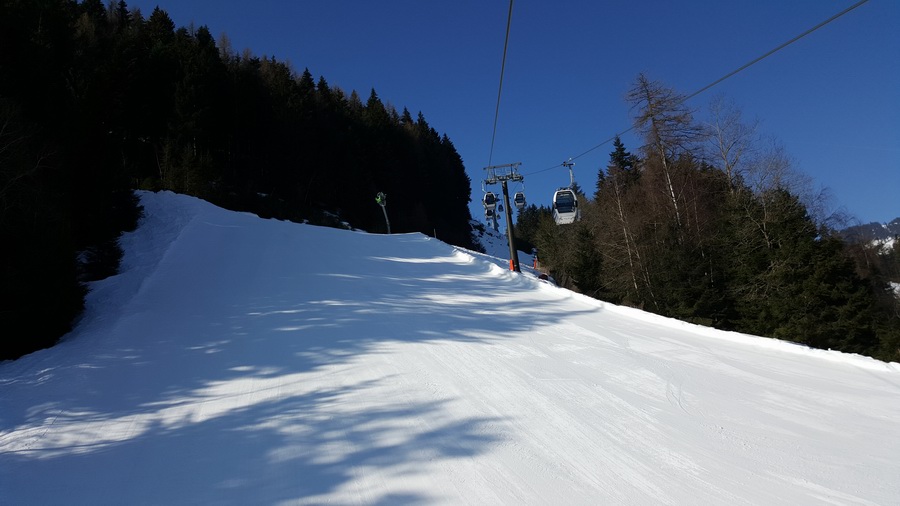 This is one of the many machines used to make artificial snow. I think the snow here was mostly real, however, although it was rock hard, presumably as a result of thawing during the day and then freezing at night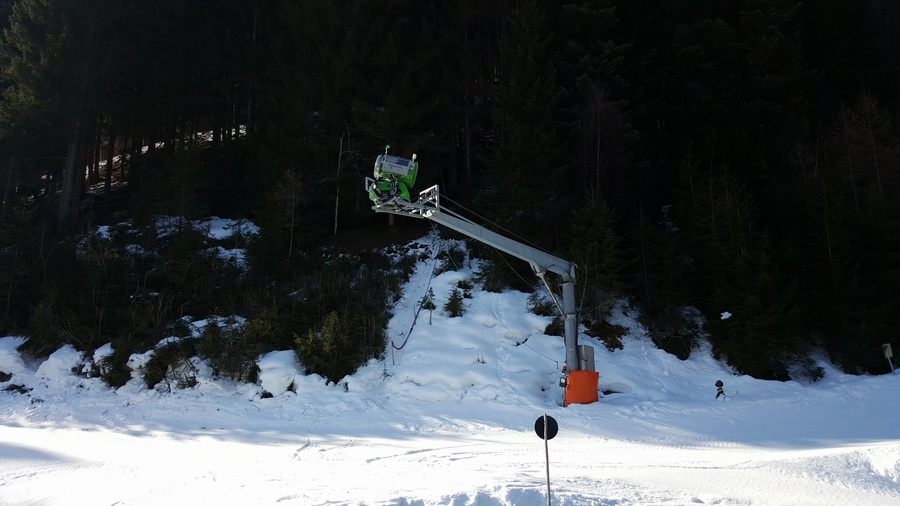 The whole area is very scenic, especially in the winter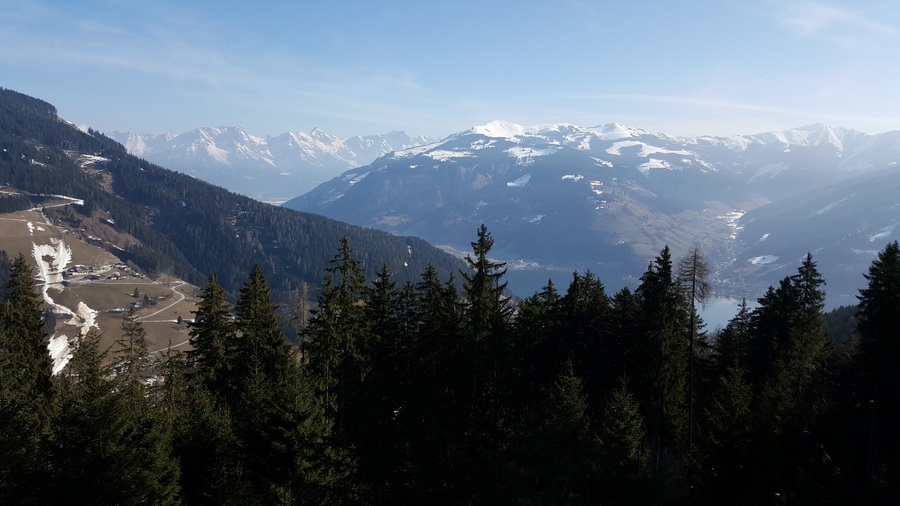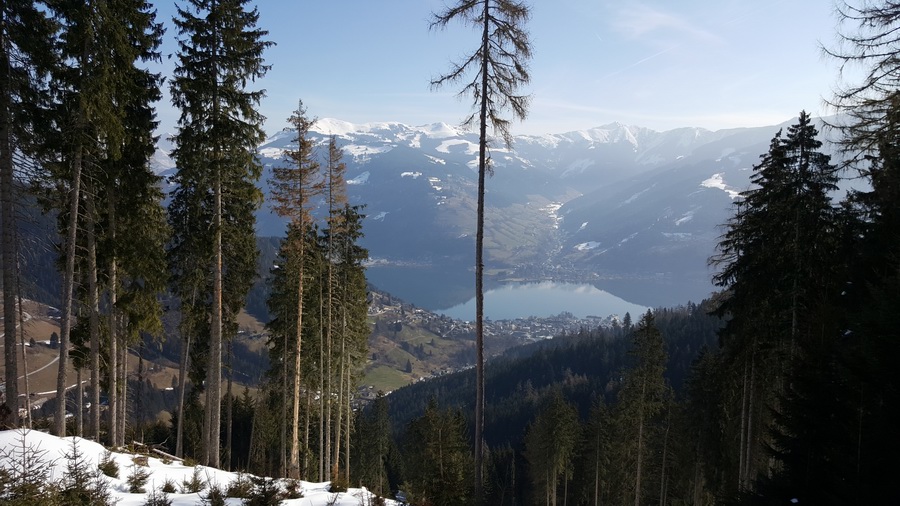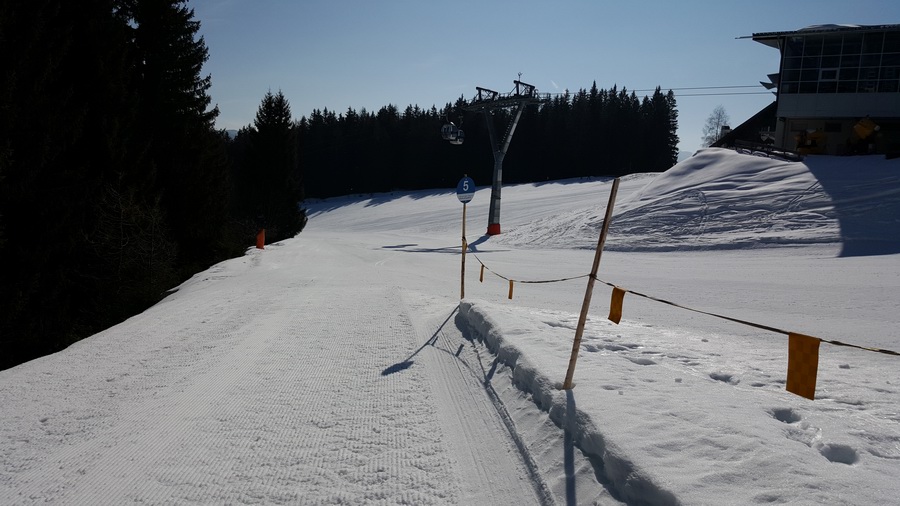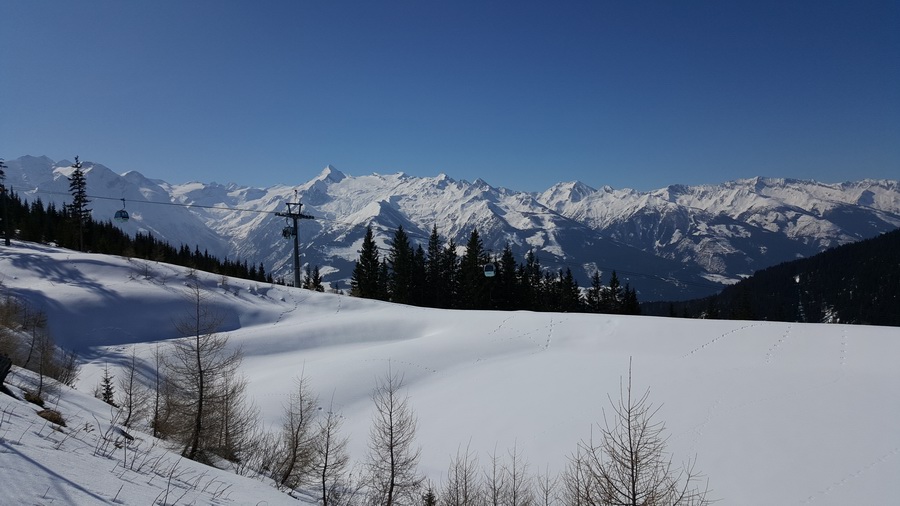 Unfortunately I found most of the runs to have bits which were too steep for what I was willing to risk. One would get a nice section and then a sudden very steep part. The one below was OK, just about, but it soon became 30-45 degrees which, together with the hard snow, was something I didn't want to take a chance on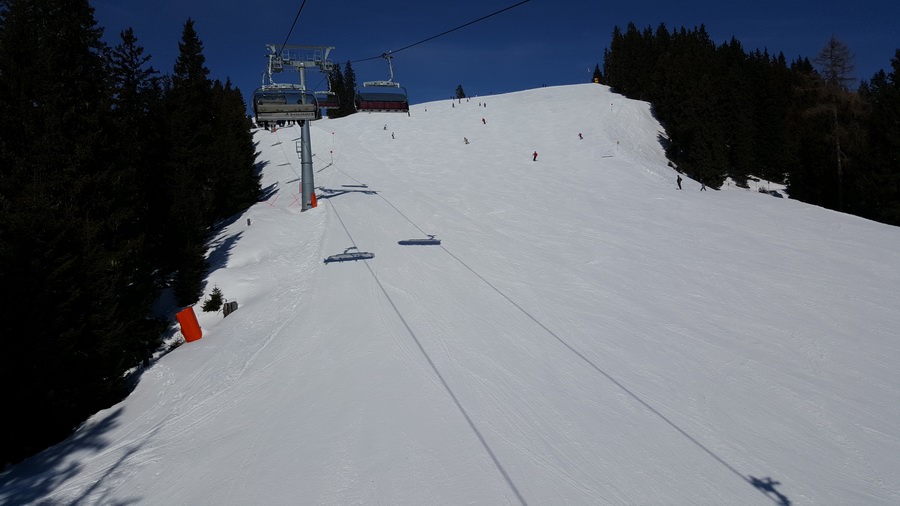 So, having gone down a few runs and then having walked back up again (!!) I decided to pack it in and just get some photos from the very top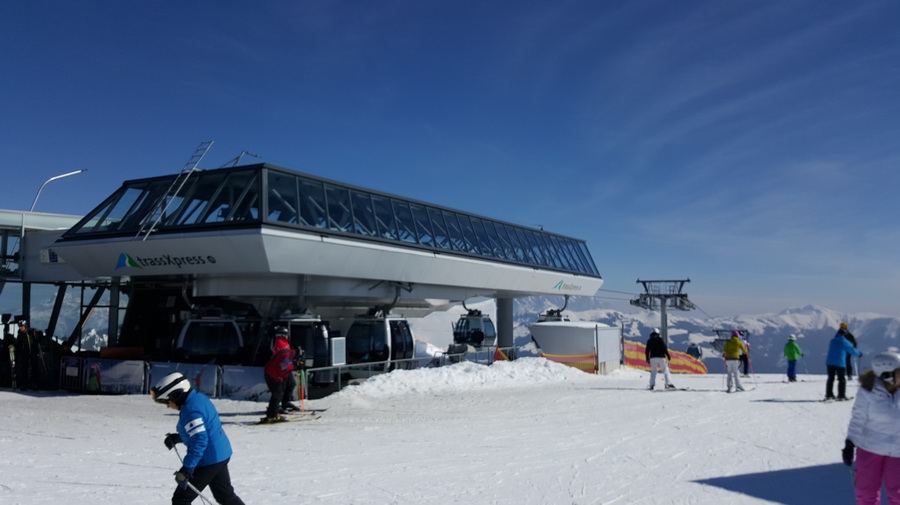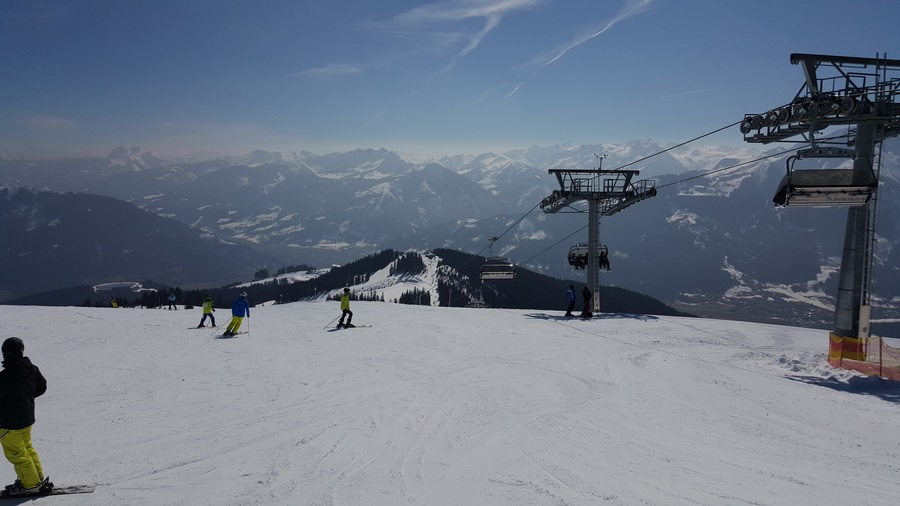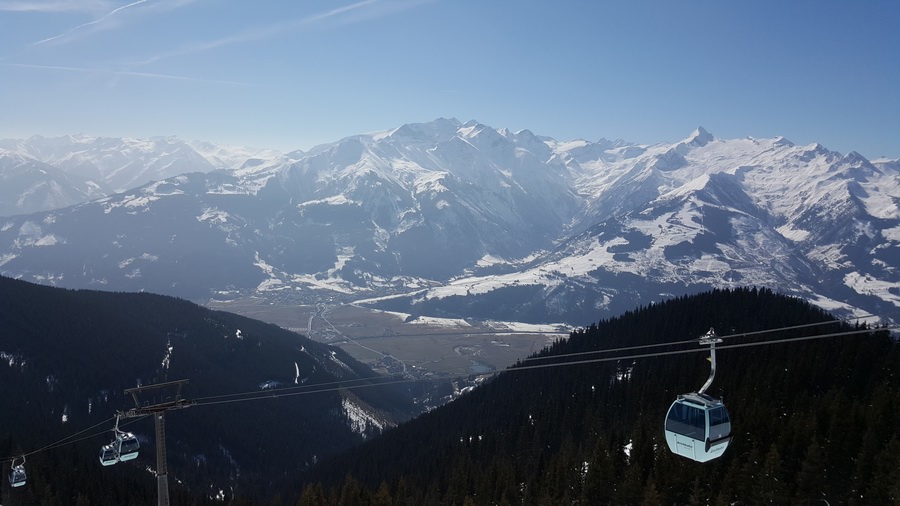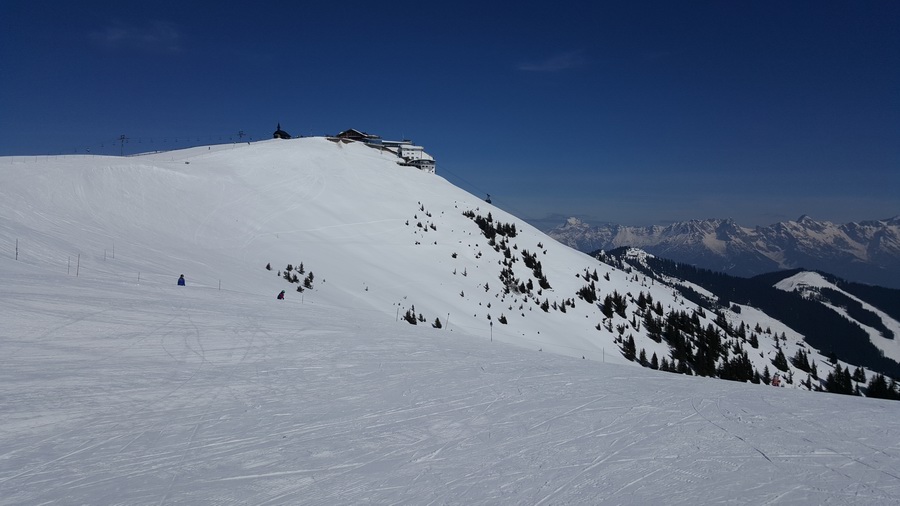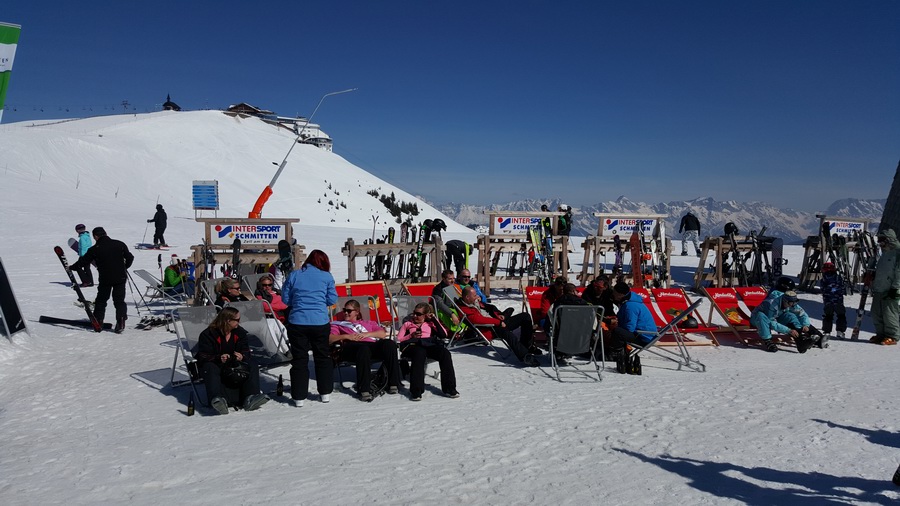 A cool way to consume a lot of beer, for some, and get a rapid suntan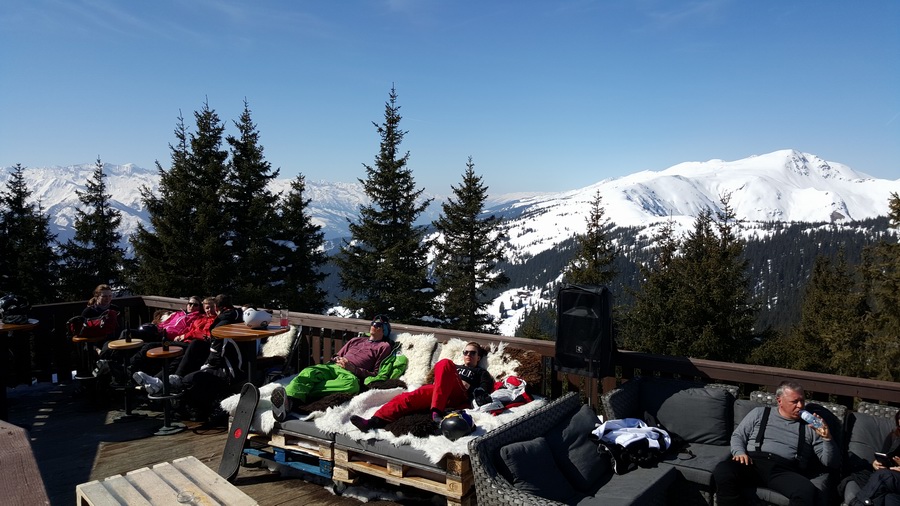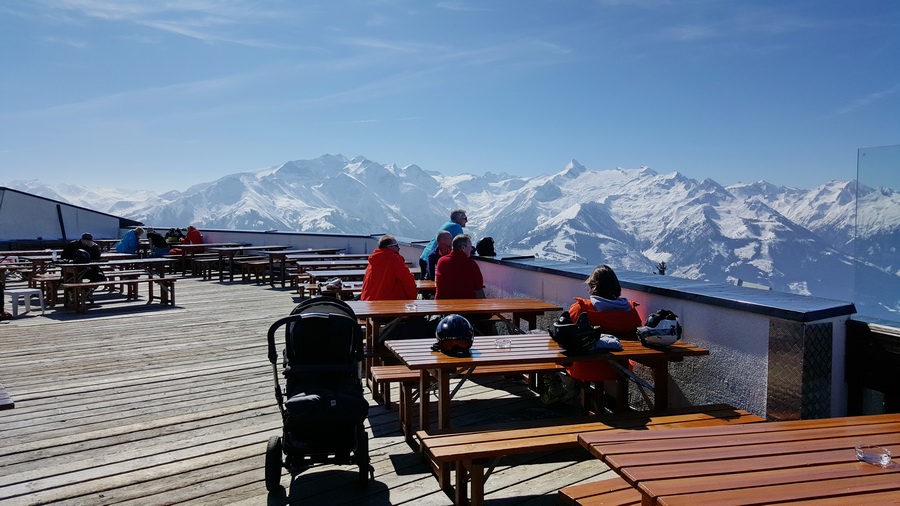 I did have one final and very nice ski along this run, back down to the hotel. But even that "blue" run ended with a very steep bit, around 40 degrees, which I walked down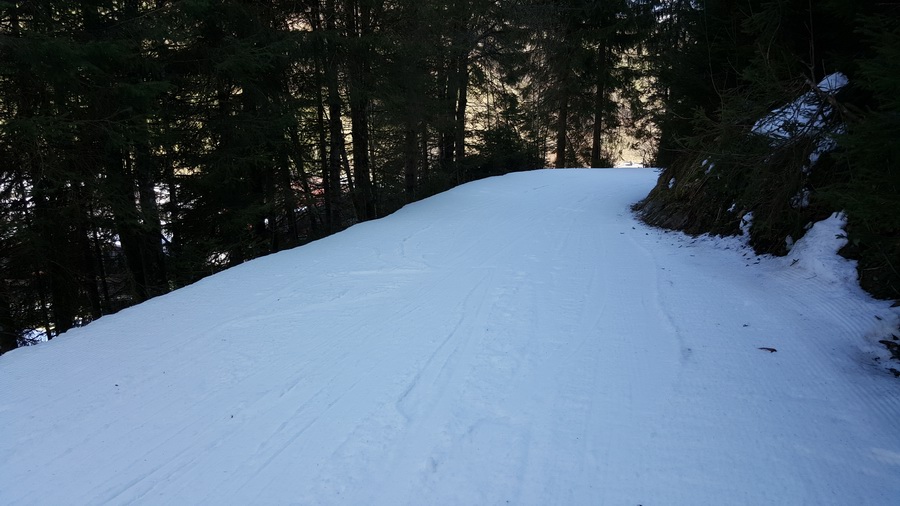 I did ask some skiers and instructors whether Kaprun - a hugely popular ski site across the valley, partly on a glacier - would be any better in this respect and they all said No. There were plenty of childrens' areas but these are too small; the best one can get is a 1 minute downhill run and then a wait at the lift.
So I decided to depart a day earlier than planned. This wasted a day at the hotel (they would not offer any discount) as well as a day's ski pass (about €55/day - I tried to sell it to some skiers but they all had theirs by then; should have bought it one day at a time!) but I don't like hanging around because the weather is always a risk for flying. With airline tickets, I would have taken a bus ride to Kaprun to look around...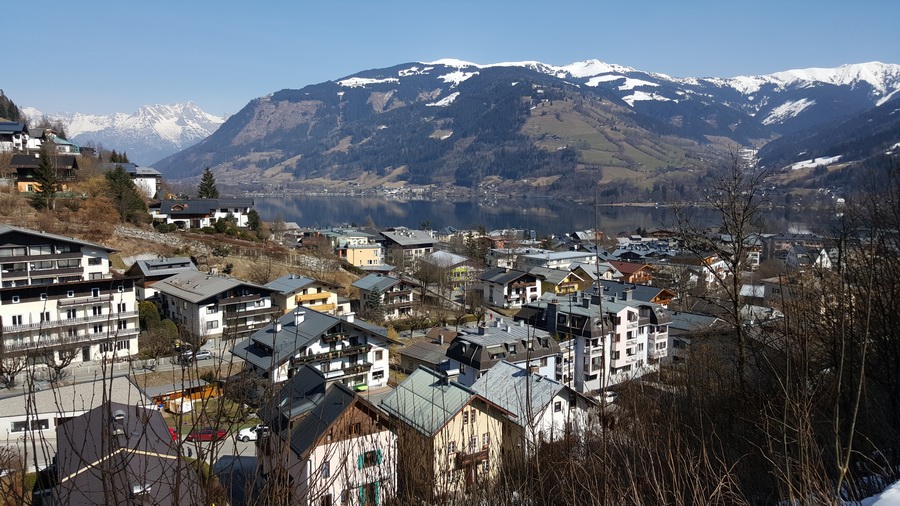 The lake shore... Zell am See is scenic in the summer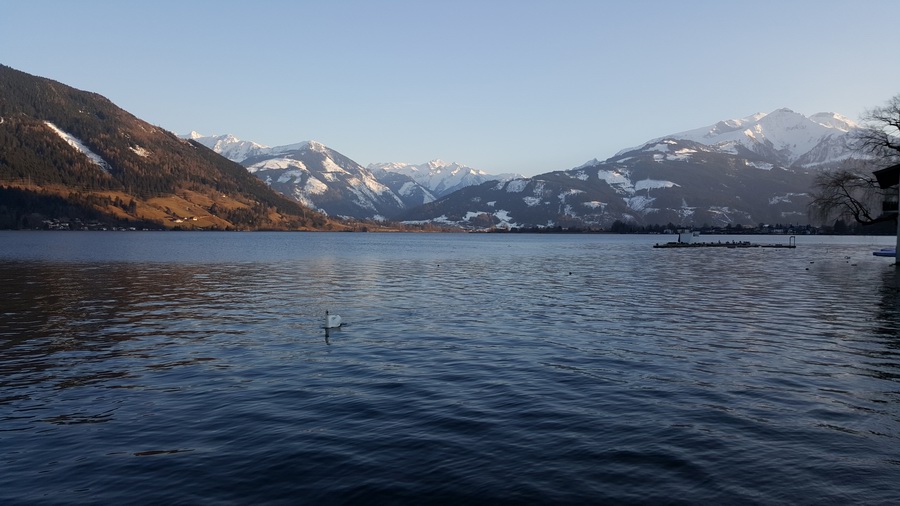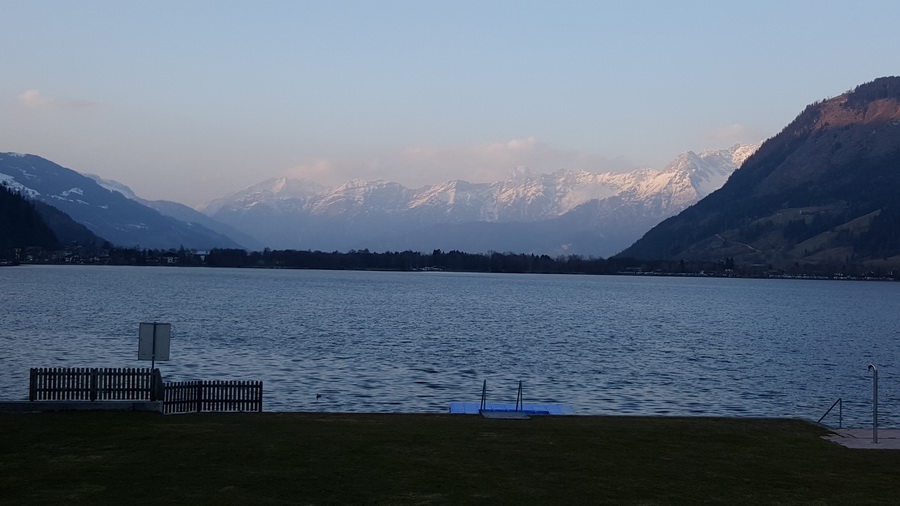 The morning of departure. The taxi to the airport was €13. The airport charges were paid at this point and everything went quickly. But, as mentioned earlier, the airport forgot to advise the police so I had to wait out 2 hours.
A nice background for the Aerostar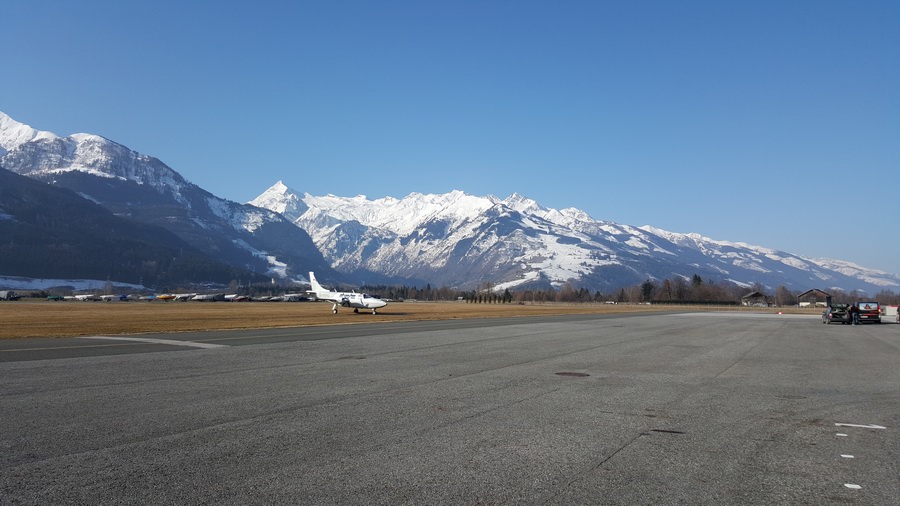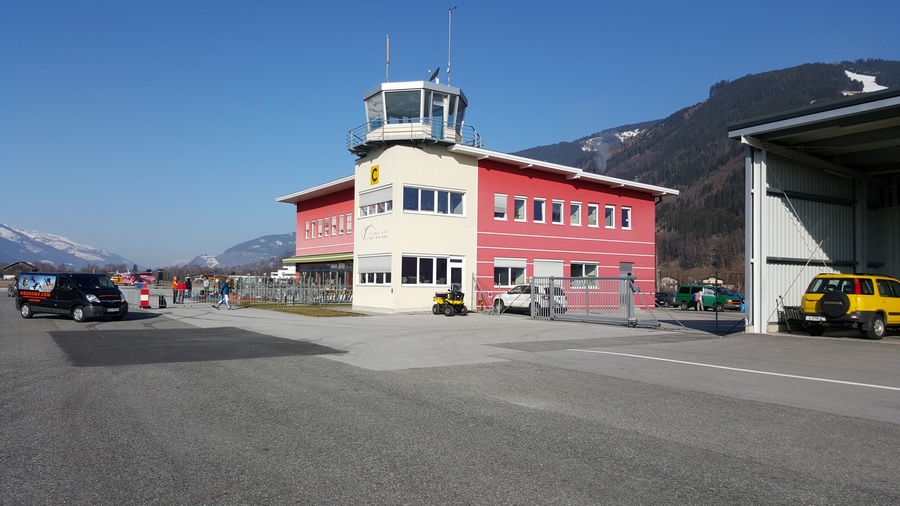 This strange twin turboprop - a Shorts Skyvan - was dropping parachutists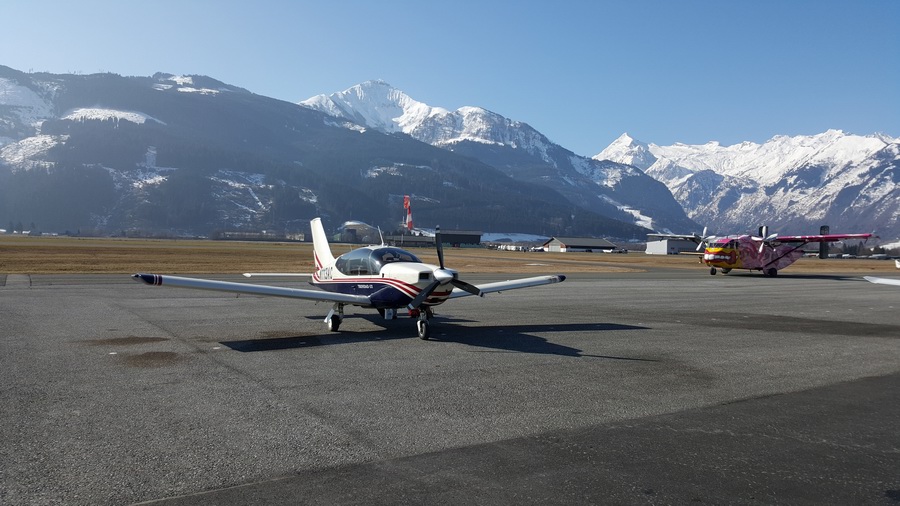 Here is the logical upgrade from a TB20: a Jetprop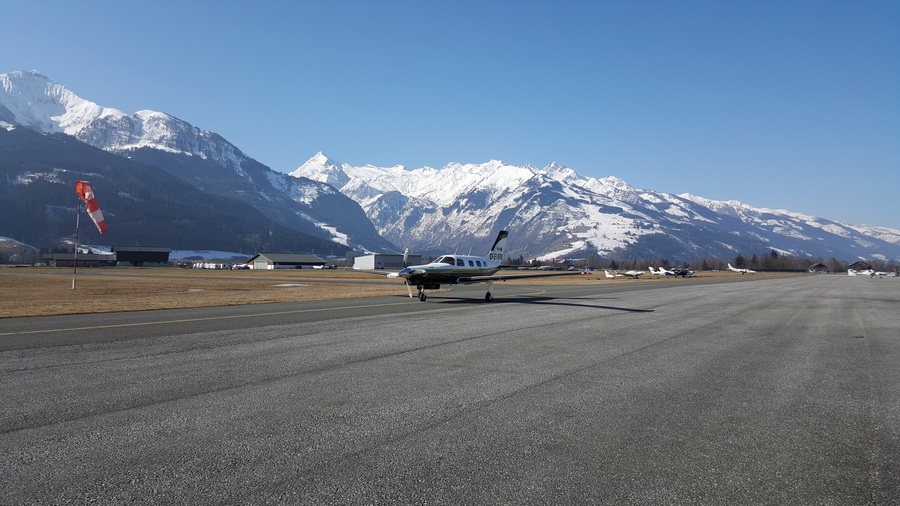 Weather was good: Tafs/Metars IR Sferics
The departure on runway 08 is towards a big hill which cannot be outclimbed in a TB20 or anything near it, so there is a left turn. The departure is a VFR one; you follow the published pattern which requires a turn over the lake, a steep climb to at least 3500ft, and then back to WHISKEY, and after that they don't care, and nobody else cares either until you pop up above the mountains and then you call up a radar controller for the IFR clearance.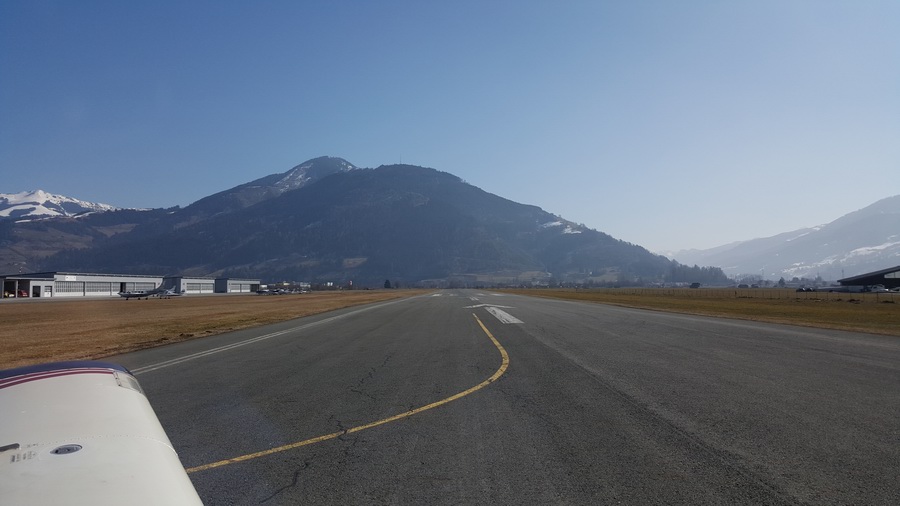 Here we are heading towards the lake, to fly over it and, on this trip back to the UK, back up the same canyon through which we arrived, via WHISKEY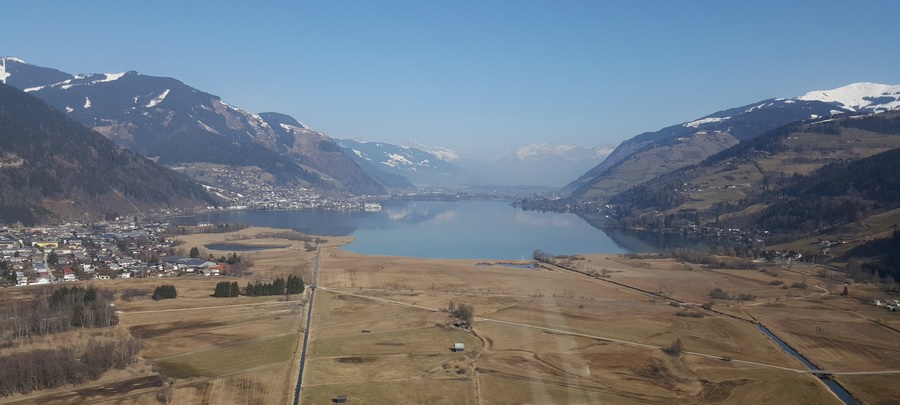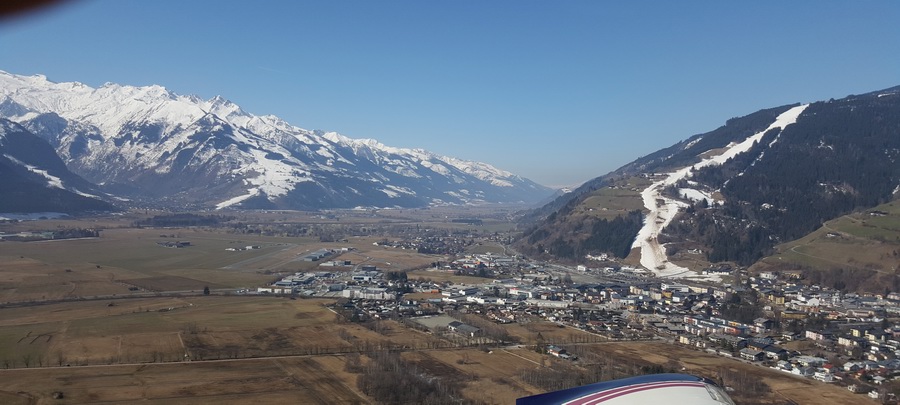 This is the town of Zell and See with the Schmittenhöhe ski area above it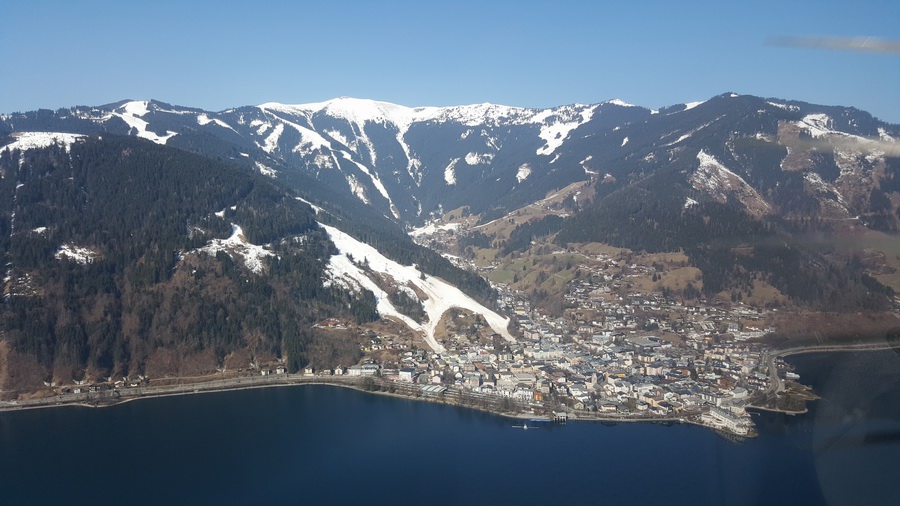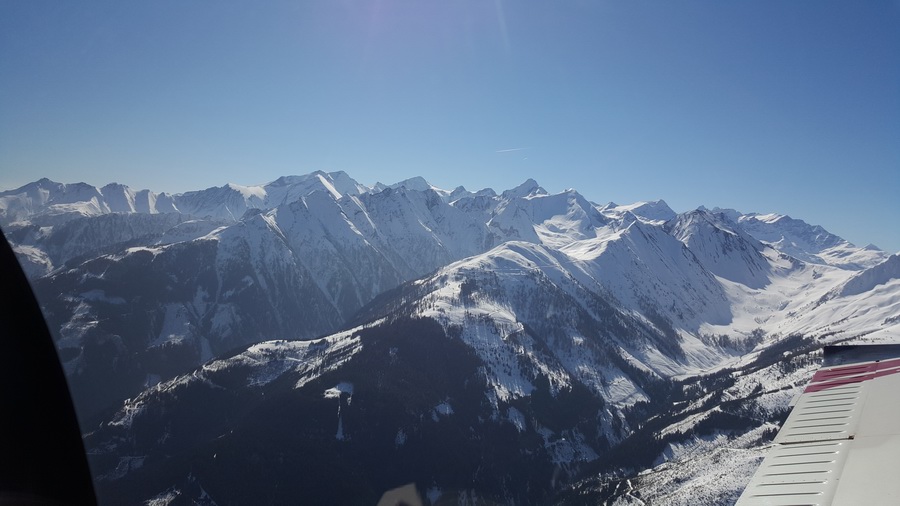 Going back up the canyon, heading around 270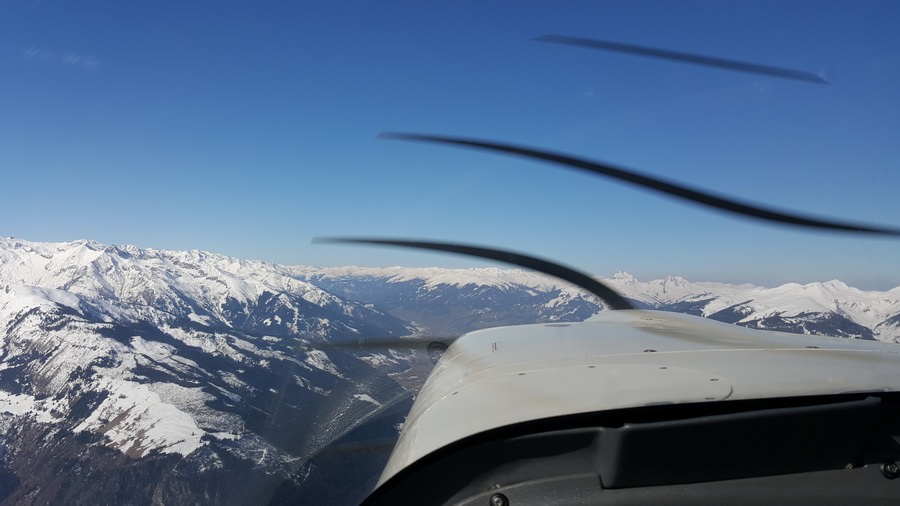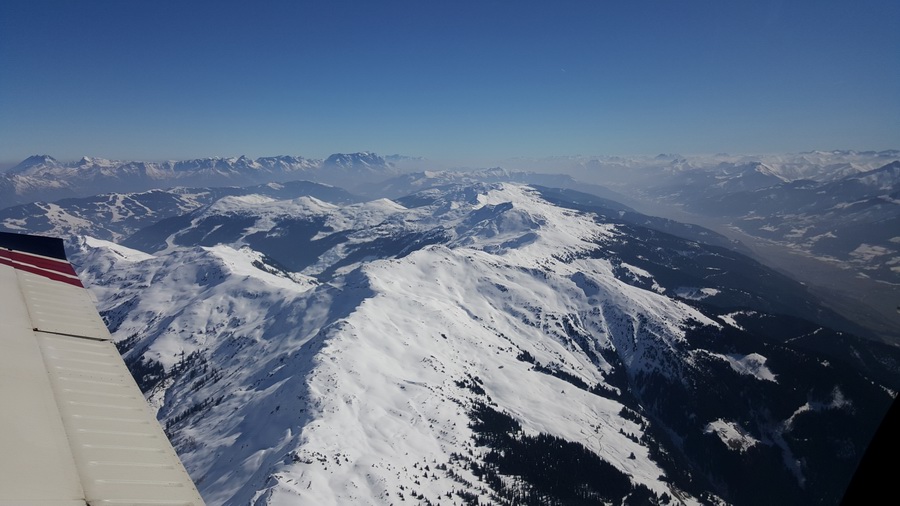 Turning north-west towards the UK, I picked up the IFR clearance from Innsbruck Radar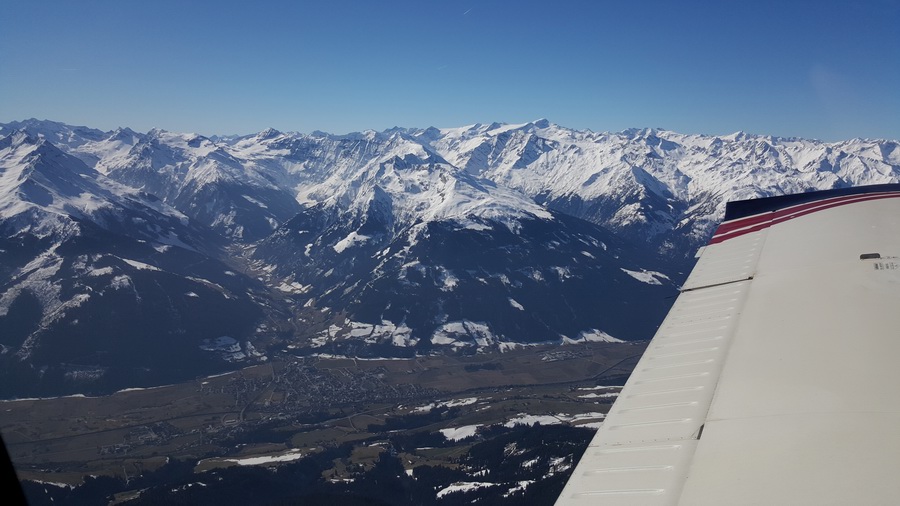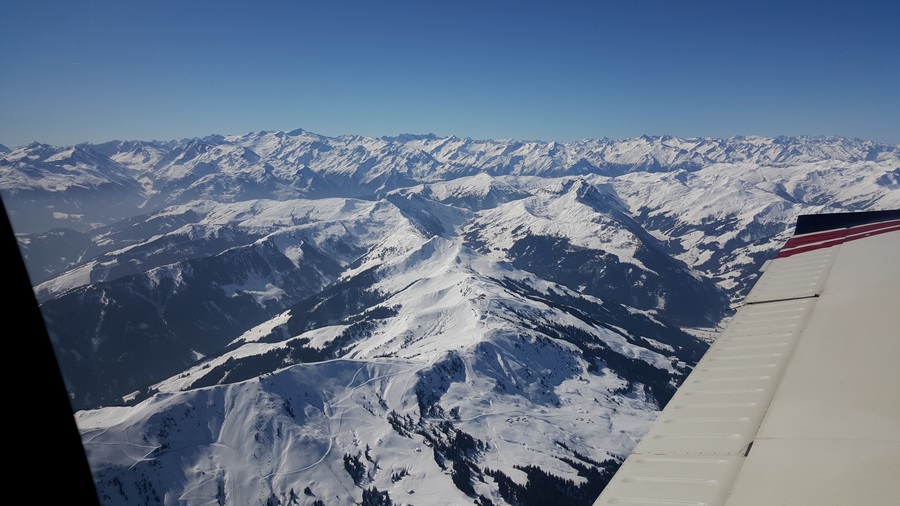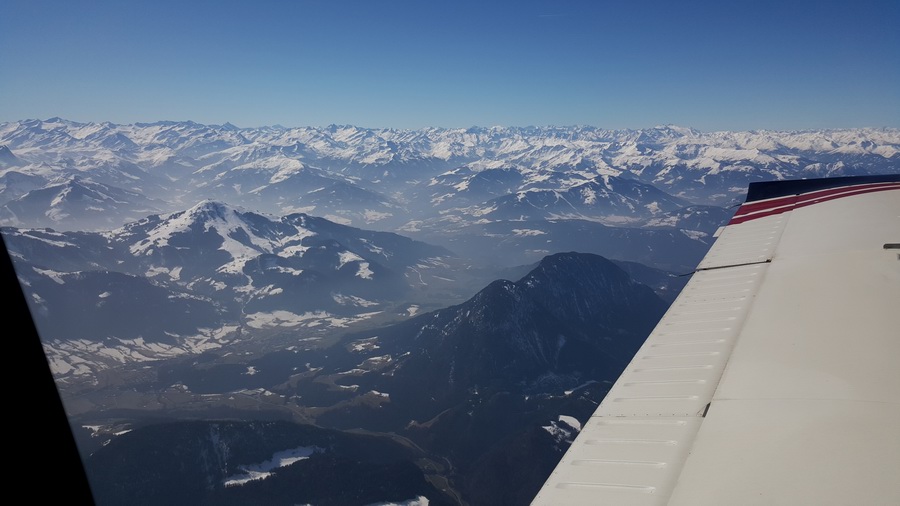 Back at 10000ft, with the Alps disappearing into the distance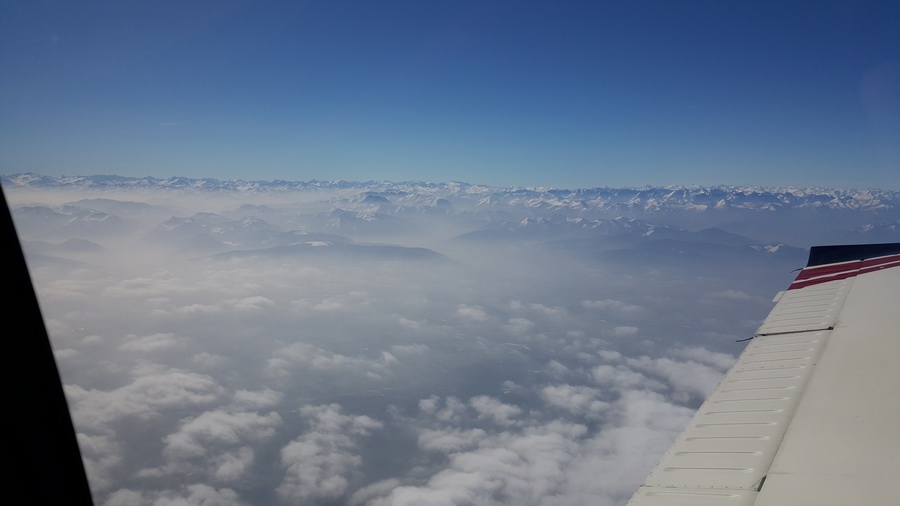 I descended again to 9000ft to get less headwind. Again, it didn't make much difference...
I got one of the longest shortcuts ever: a 240nm DCT from somewhere in Germany to KOK on the other end of Belgium.
I had an interesting debate with the German (Langen Radar) controller whose software was telling him I was about 20nm to the right of the correct track, and about 15 degrees off it. I managed to prove him wrong, by setting up the track on two completely separate GPSs; one Honeywell (KLN94) and one Garmin (G496, using EGNOS).
It was an interesting exercise; it appears that they have some function in their computer which tells them the track a client aircraft should fly to get from A to B, and this was producing the wrong data.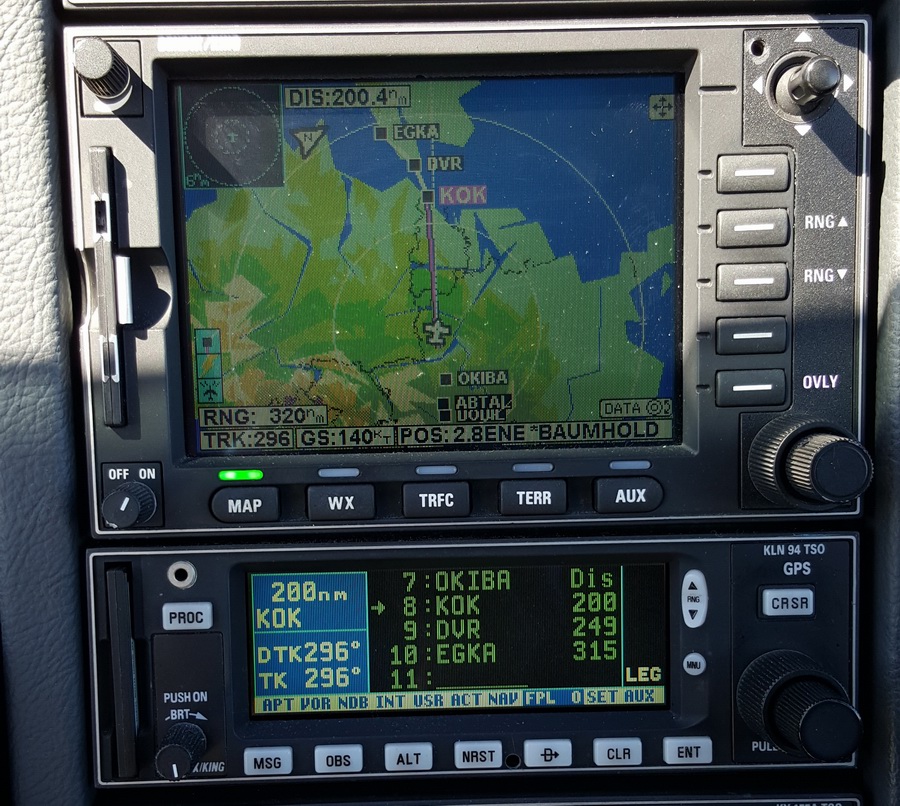 Just about to leave the coast of Belgium, towards Dover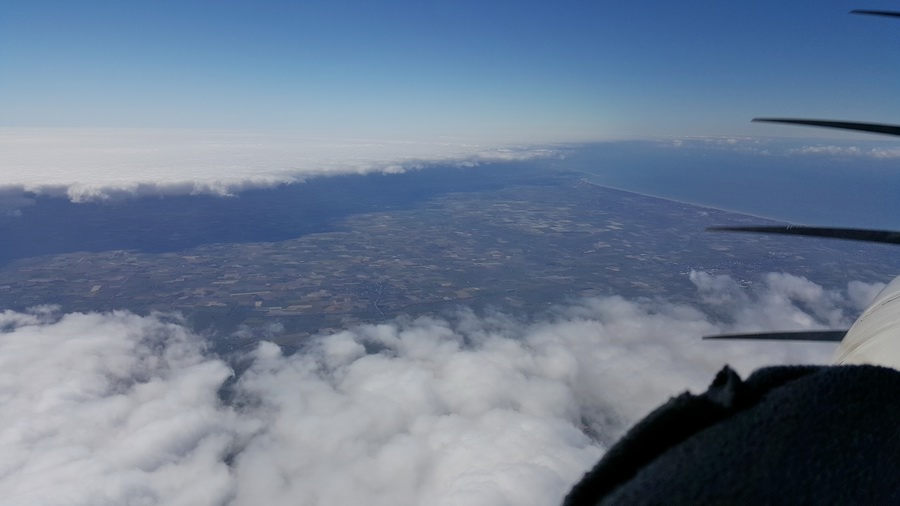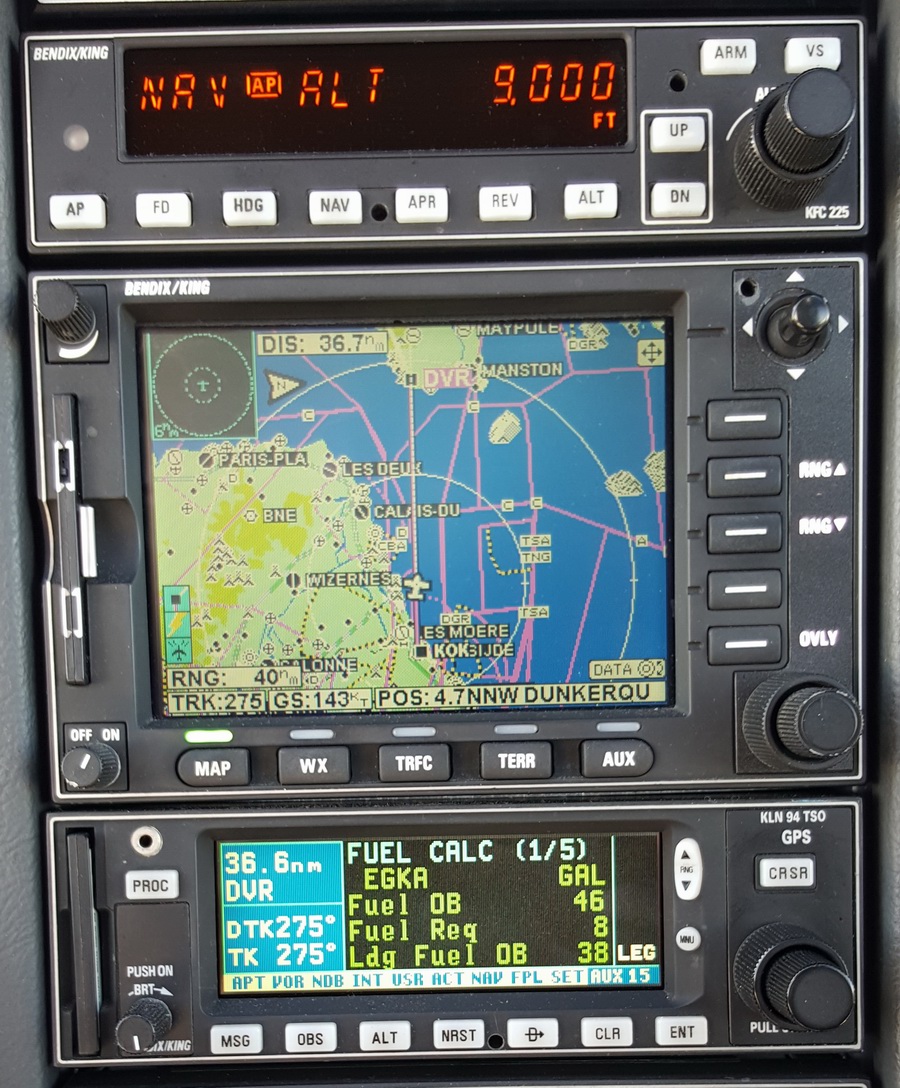 The UK coast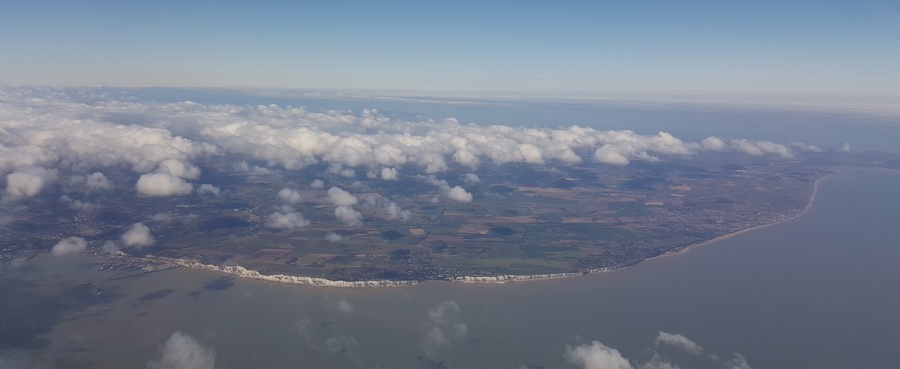 The weather at Shoreham was VMC.
All the photos in this writeup were done with the Samsung S6 phone which has a 16MP camera, and almost aproaches the quality of the Nokia 808 which in 2012 set a high standard with a 40MP camera (downsampling to 12MP) with a huge lens (for a phone) but which was dropped when Nokia effectively went bust in 2013. I stopped using the 808 only because it never had a web browser which worked on "modern" websites which push the boundaries of HTML. The S6 has now been replaced with the S7 which has a 12MP camera which has a good low light performance, and unlike the S6 has video stabilisation at 1080P 60FPS. Both phones do 4k video but it's rarely usable due to lack of stabilisation and large file sizes. The S7 is also IP68 sealed (immersible in water) and takes an SD card for expansion. I will get the S7 once a few hardware bugs have been fixed - reportedly the wifi on it barely works when bluetooth is enabled

Actual tracks flown (actual in black)
LFLP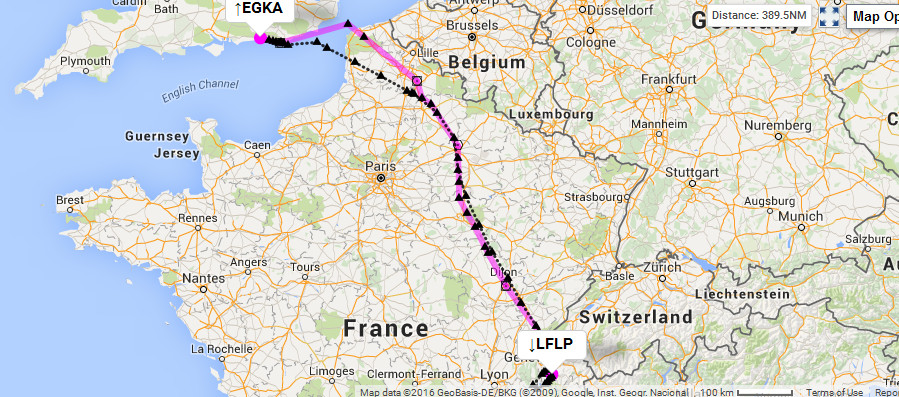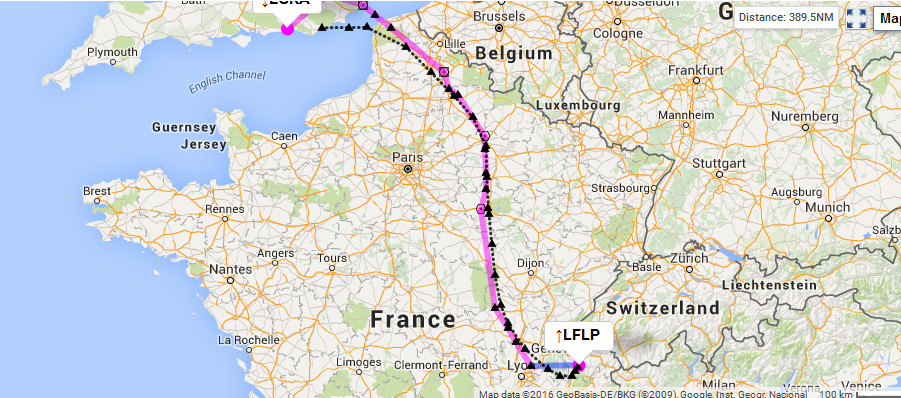 LOWZ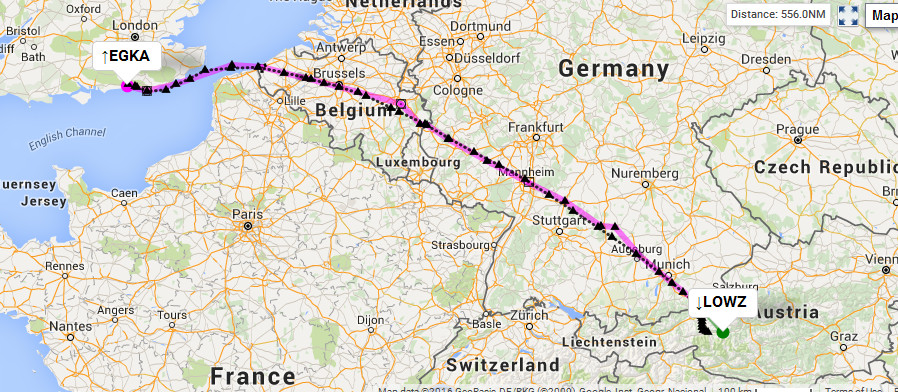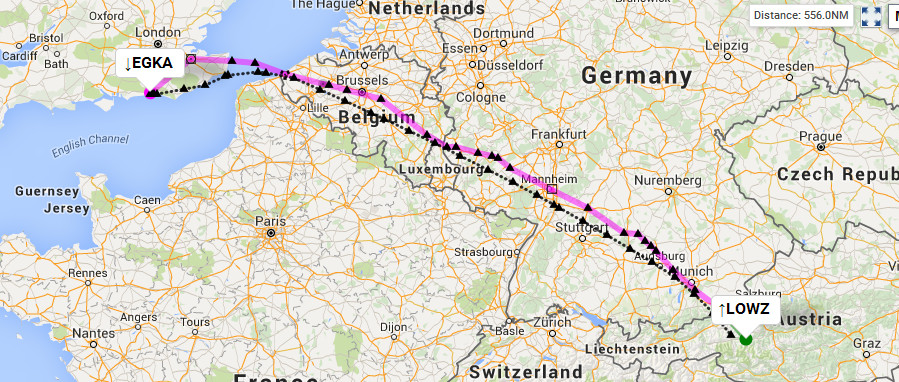 Airport costs
LFLP
Landing: €10.00
Parking: €67.20 (approx €1/hour)
See notes at the start of this writeup about winter handling costs/issues at LFLP.
Avgas at LFLP was amazingly cheap at £1.28/litre including everything (AIR BP).
LOWZ
Landing: €15.42
Hangarage: €10.67/night
Other costs: €9
Avgas at LOWZ was €1.78/litre.
Movies
These are rather "experimental"

This one was done on the flight to Annecy and contains some skiing. It was done with my Samsung S6 phone whose stabilisation is poor. The flying parts had an ND16 filter held in front of the phone, to almost eliminate the propeller effects
This one was also done on the flight to Annecy, with the Sony FDR-1000V camera pictured earlier in this writeup attached to the window. It also had an ND12 filter in front of it, to nearly eliminate the prop effects
This one was also done with the FDR-1000V camera, handheld. It shows going up the ski lift and then going back downhill, on the Le Lac run. I think that apart from the geometric distortion (typical in "action cameras" but in this case better than most, with the viewing angle reduced to 120 degrees) this camera easily outperforms any mobile phone, especially in the stabilisation department. I think the raw image quality is amazing for 1080P 50FPS. It runs for over 5hrs at this ("PS") video setting
The above video was shot at 50mbits/sec. Vimeo downsizes videos to around 5mbits/sec, for an acceptable "user experience"

on ADSL and 3G/4G connections. The full bitrate video (2GB) can be obtained with the Vimeo Download function.
This video was done on the flight to Zell am See, with the Samsung S6 phone. It suffers from turbulence leading to an unstable video
This video covers the flight to Zell am See and back. It was done with the FDR-1000V camera but with no ND filter, so the propeller is very visible
My longer term objective is to mount the Sony camera externally under the wing, a long way out. This will definitely work and will produce really high quality footage. The camera can be remotely turned on/off from a mobile phone (over wifi) but there is a problem: like all the "action cams" the camera has a poor battery life of about 2 hours. It doesn't matter if it sits there the whole time doing nothing and you just shoot a 5 minute video. Continuous shooting at 4k reduces the battery life to about 1 hour, but I record at 1080P 50FPS PS which is much more realistic; moreover the camera has no stabilisation at 4k and this in turn forces the viewing angle to a ridiculous 170 degrees where everything is distorted.
So the longest possible flight with the externally mounted camera is 2 hours... The easiest solution to this is to mount a USB power pack behind it. I will use a 6000mAh one which should extend the camera "life" to cover the longest possible flight (~7hrs). This avoids any connection to aircraft power, which would be the really neat solution. There are still issues with the external battery pack however; at say -25C the lithium battery capacity is way smaller than at room temperature. Tests in a freezer suggest that it is roughly halved. The camera itself should be OK in -25C because it's internal temperature rise is about 20C during normal operation, and it will be in a waterproof case.
Oxygen
Oxygen is practically necessary for Eurocontrol IFR. Occassionally, the weather is nice and one can fly at FL090 or so but most people would still get tired after several hours. Also many routings are not available below oxygen levels, due to controlled airspace structures, and in some cases terrain.
Very little oxygen was used here - probably 20% of the 48 cu. ft. cylinder, for 1 person on all four flights. But without oxygen I would have never attempted it because one cuts off half of the aircraft operating ceiling and in the wrong conditions could spend most of the flight in icing conditions and turbulence.
The Value of an IR
Neither trip could have been done legally under VFR, but many people would have still found a way. Departures in the UK into IMC are not regulated at Class G airports.
Flight times (airborne times)
EGKA-LFLP 3:20
LFLP-EGKA 3:00
EGKA-LOWZ 4:10
LOWZ-EGKA 4:10
This page last edited 26th April 2016