Trip from Shoreham, UK, to Tivat, Montenegro, September 2019
This article describes a trip from Shoreham EGKA, UK, with the following stops
(1) Brac LDSB in Croatia (1 night)
(2) Tivat LYTV in Montenegro, 4 nights (EuroGA fly-in)
(3) Mali Losinj LDLO in Croatia, fuel stop only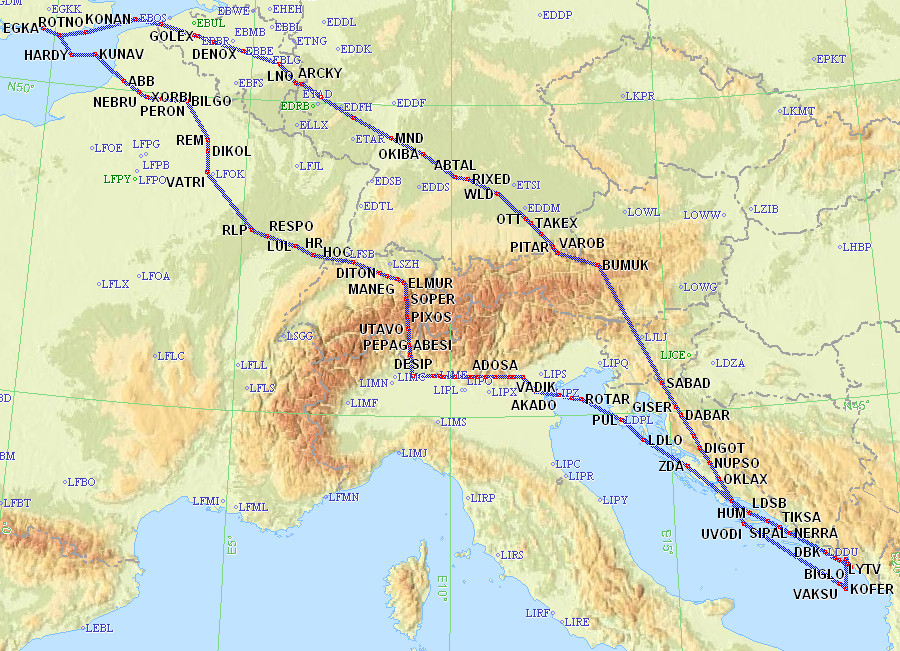 Here is a glossary for non-aviation readers.
Some background to this trip is in this EuroGA thread.
Airport PNR/PPR
Nowadays, one needs to assume every airport needs some form of prior notice. This is the product of modern job creation and pointless cover-your-ass culture. There are still many exceptions but the bottom line is that one needs to check before flying.
There is a separate issue with doing a fly-in, involving say 10-20 aircraft. Many airports don't like this regardless of how much unused space they have. Tivat created many problems in this area and only after extensive negotiation did they allow 10 aircraft to park there.
Tivat also doesn't have avgas, so everyone needing that had to make a fuel stop elsewhere. I chose Brac LDSB on the way down and Mali Losinj LDLO on the way back. Both of these are super easy and friendly airports.
Accommodation
With GA travel, there is no short-notice cost penalty so you can stay at home until the destination weather is good. AirB&B and Booking.com provide good solutions for accommodation and are widely used by pilots.
Booking.com is mostly normal hotels although many apartments appear on it also, hence it tends to be "hotel prices". I use Booking.com as the standard way to look for hotels. It is generally better than AirB&B for short-notice trips because you get a guaranteed booking right away whereas with AirB&B you "request" the apartment, and many AirB&B hosts play silly games and take up to 24hrs (the max allowed time) to respond, presumably in the hope of getting a longer-duration booking. AirB&B offers an "instant booking" facility on some properties however and this is supposedly non-cancellable. The other thing to watch with AirB&B is that you get every "broom cupboard" on it, so one should not go too downmarket... in one €40/night apartment we had sewage coming up through the floor! So, when looking for an apartment for several people, I normally look at apartments priced around the cost of a single hotel room - say €100/night. However, if you have a few days to play with, AirB&B is usually much better value for money; in most cases one can get a whole 2- or 3-bedroom apartment for the cost of the €100 hotel room. One issue with Booking.com is that most of the establishments offer only 1 room on it (to make it look like they are nearly fully booked, to scare people into booking something fast) which can make it impossible to book for a group; this is obviously solved by googling for the hotel and contacting it directly. Normally the hotels prefer that anyway because Booking.com takes a cut of at least 15%. But occassionally one finds a lower price on Booking.com, and bizzarely I have never managed to get a lower price by booking directly!
Pilot
FAA CPL/IR, EASA PPL/IR, ~2600hrs.
Aircraft
The aircraft is this 2002 TB20GT; one of the last made before production ended. This photo was taken in 2018 on a flight between Crete and Karpathos, in Greece: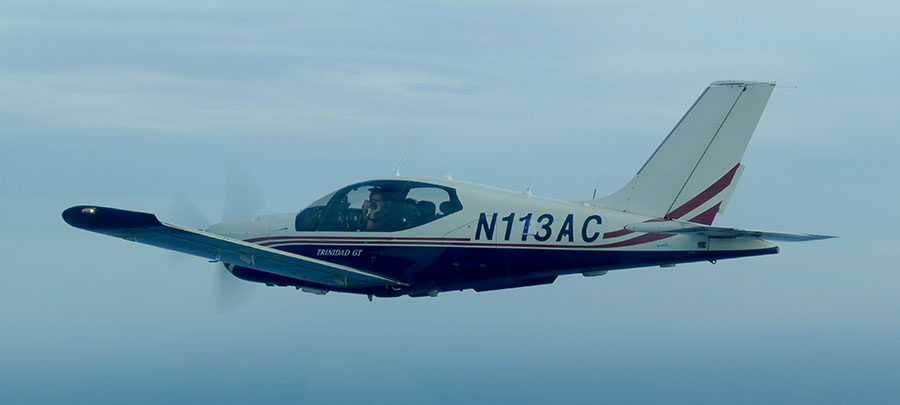 In January 2018 a full TKS ice protection system was installed. This was a big job, with numerous nontrivial aspects, but the end result was well worthwhile in expanding the operating envelope, by enabling safe penetration of non-convective icing conditions - basically icing layers which can be climbed or descended through fairly quickly. It was good to discover afterwards that the TKS system did not affect the cruise speed - something of a problem on other TB20 / TB21 installations where a speed loss of 5-7kt had been reported. The above pic shows the not yet painted TKS fluid refill door, just left of the "3". There is a payload loss of 50kg (with a full tank of fluid) which makes the TB20 a 2-seater if doing a trip with a lot of stuff. The system is totally effective against any icing conditions I have encountered but in those conditions it will empty the tank in around 1 hour! And the sticky fluid makes a mess; it is best to wash the aircraft down after such a flight with some hot water.
The aircraft is equipped for BRNAV (RNAV 5) and can fly ILS and GPS/LNAV approaches using the autopilot. This is sufficient for current European IFR flying. The cockpit is largely as delivered in 2002, with a Sandel EHSI installed in 2011 on the LH side and with the RH side later reworked with another Sandel EHSI and arranged to form a usable "pilot panel" so the aircraft can be flown from the RH side.
There is no LPV approach capability but LPV is not yet (to me) operationally relevant in Europe especially if flying to/from the UK which normally needs an airport with Customs/Immigration. France is ahead of most countries in removing ILS approaches (from airports not served by airlines) and replacing them with LPV. Adding LPV capability (which also gives you the very useful "+V" advisory glideslope on most GPS approaches) could be done with a cheap-and-dirty solution of a used GNS430W, but that would leave various dysfunctional loose ends, and a decent installation would be a Garmin GTN650+GTN750 (or just the 750) or Avidyne 2xIFD540 (the foregoing links are photoshopped mockups) and these jobs would cost about 30k but much more importantly I don't know of any installer who I would let loose on my aircraft on which I value the virtually 100% uptime!
The aircraft has an operating ceiling of 20,000ft in ISA conditions. I have taken it to 21,000ft but in the fairly common summer conditions of e.g. ISA+15 it will reach at most 18,000ft at MTOW.
This is the current (2019) panel, with the Aera 660 GPS on the LH yoke; this is wired to the intercom to provide a GPWS function with audible warnings in the headsets, as well as providing an emergency "DCT box" for navigation following a total loss of electric power. The Aera 660 is shown running the Garmin Safetaxi product which makes it a lot harder to get lost at a big airport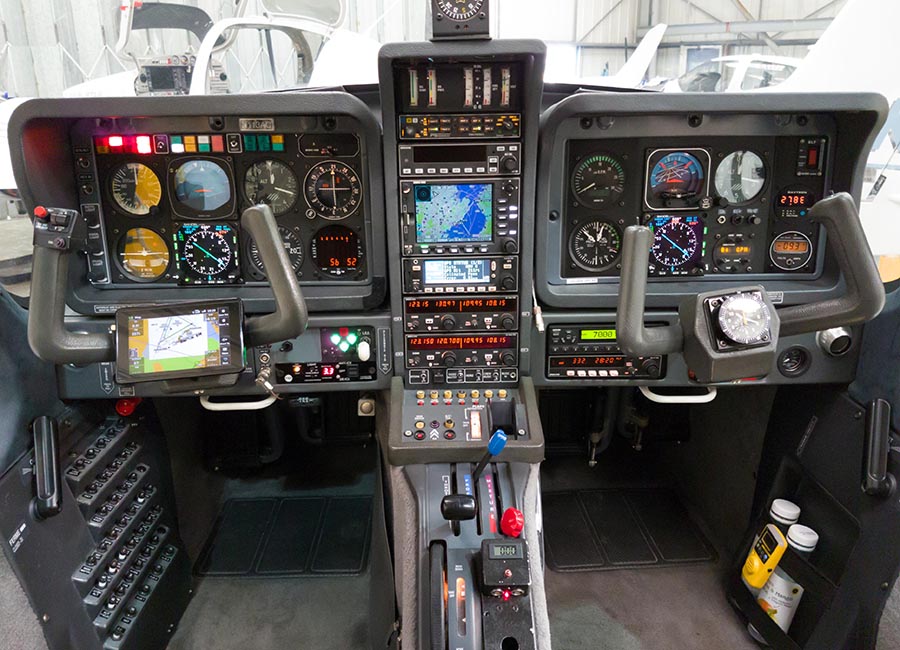 The Golze ADL150 satellite weather receiver was also installed in January 2018. This gives simple but usable graphical weather data for most of Europe, plus tafs and metars. With an upfront cost of around €500 and monthly costs of around €25 this is one of the best add-ons one can install in an IFR aircraft.
Routes
The IFR routes were developed with the Autorouter which was also used to file the flight plans. This facility is currently free. The only other options for autorouting are RocketRoute (over €200 a year) and Foreflight (around €100/year). Foreflight dominates the US market and is working on a European version, but it isn't quite there yet in terms of required functionality. For VFR flight plan filing I use EuroFPL. I also use EuroFPL for filing IFR flight plans as a backup, or for unusual situations e.g. where a specific ETA must be filed (to fit inside a purchased airport slot) and the Autorouter aircraft performance model does not allow that. With the recent demise of FlightPlanPro (one of the original autorouting tools, from 2008) the lack of a realistic backup for the Autorouter is a concern to many pilots... I have already found problems with delaying flight plans, for example.
In case the Autorouter disappeared while on a trip like this, I generate the routings before leaving home and save them in a file which I email to myself. Then I could use one of the other flight plan filing tools (e.g. EuroFPL, or at worst AFPEX) to file the flight plans. This is not 100% reliable because a flight planned route may no longer be valid a week later, but it usually works, or may just need a little tweak.
Some notes on IFR in Europe are here.
Shoreham EGKA to Brac LDSB
This was the first leg of the trip. This 886nm leg shows the great range of the TB20, which can fly for around 1300nm to empty tanks.
Local UK weather was nice, but there was a cold front to be crossed further down. The 1200 MSLP chart shows this becoming worse, with the "join" between a cold front and a warm front usually meaning extra bad weather. The radar, IR and the icing chart confirmed the weather but all these showed it to be just a narrow band. The lack of any sferics indicated a lack of TS activity, and the plan was to remain VMC on top anyway as far as possible. The IR image suggested tops in the FL150-200 range.
The Windy.com website is a new addition to the set of weather tools and is proving to be nothing short of a revolution. It offers three new European weather models - ICON NEMS and ECMWF - all of which are generally better for Europe than the GFS model which was universally used by pilots beforehand. European weather data has always been tightly guarded as a "commercial secret" so everyone used GFS, which was freely provided by the US. Somehow, Windy.com is able to offer these new weather models. The wind visualisation at different levels is very good; of course it is no more accurate than the weather models but it offers an easy way to assess which route is likely to get the worst or best winds. In reality I have found it to be within 10kt, usually. For IFR pilots, the "rain" layer is perhaps the most useful one
MSLP: 0600 1200
IR Sferics Radar TAFs/METARs DWD Icing Chart Windy.com Rain Image Windy.com Winds
Autorouter briefing pack
The route was filed for FL100 initially, rising to FL130 for the Alps. We are not crossing the Alps at their higher points; those need FL140-FL180.
EGKA N0152F100 SFD DCT ROTNO DCT KONAN L607 ARCKY/N0151F090 L607 SUXIM DCT AGBUL DCT OLIVI DCT MND DCT OKIBA DCT ABTAL/N0152F100 L173 RIXED DCT WLD DCT OTT M867 TAKEX/N0148F130 M867 VAROB DCT BUMUK DCT SABAD/N0152F100 L862 SPL SPL6N LDSB
Alternates: Split LDSP, Dubrovnik LDDU, and others
886nm as filed
826nm GC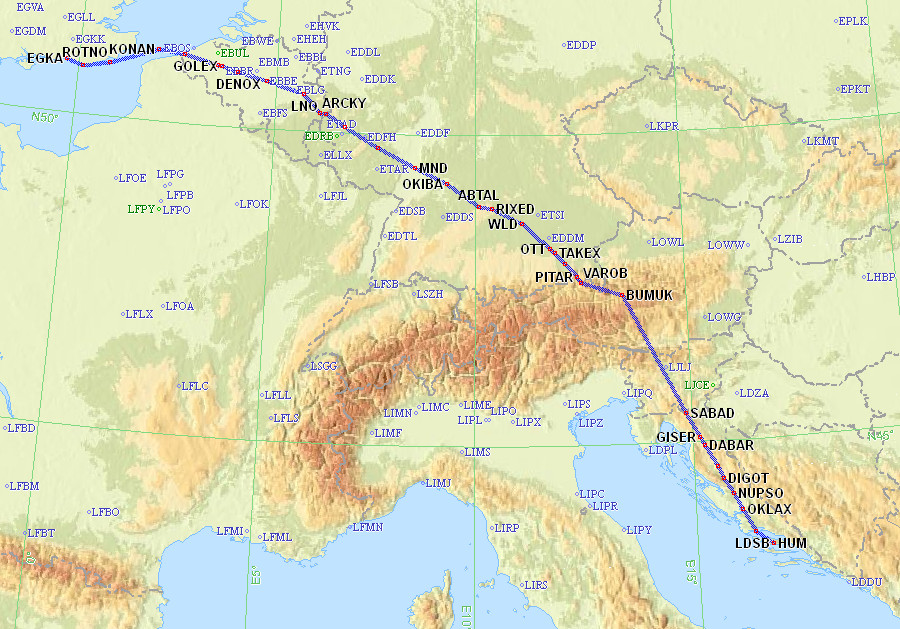 Many pilots fly "fully electronically" nowadays but for any significant trips I always prepare a printed paper package comprising of the route pic, a plog (a waypoint list; this is rarely used since the route picture shows most of the waypoints, and the flight is done with GPS navigation), and the terminal charts for the departure, destination and alternate(s). For terminal charts for unplanned airports I have a collection of PDFs on various devices including my phone. The advantage of paper is that the battery can't go flat

Departure weather was nice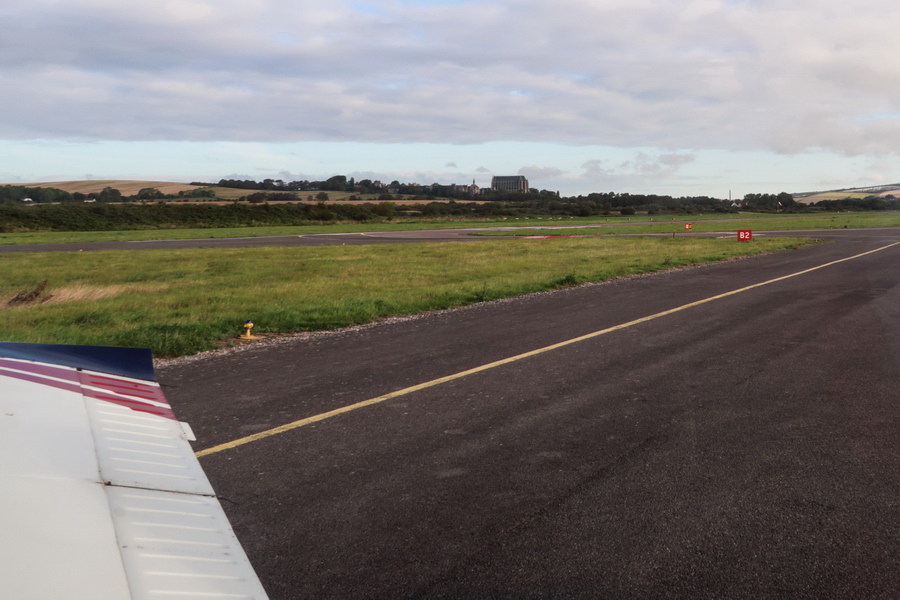 This is what IFR is mostly about: flying VMC on topof any weather, and not having to worry about busting controlled airspace

The UK has recently adopted an aggressive "100% bust them all" policy, with every infringement, no matter how brief, of controlled airspace, danger area, ATZ, being followed up and the pilot being busted for it. Their clear aim is to reduce these pilot errors to zero. They don't "get" that the vast majority of infringements are pilot errors which are an inevitable part of flying outside controlled space, especially given the UK's often dodgy ATC services. Some pilots get warning letters, many get sent to a 1-day "infringements course" (which costs £300-£500 and is mostly full of experienced pilots who got caught because they were using Mode S) and if you infringe again within 2 years of that course you are likely to get your license suspended, for many months and with no appeal. A very long discussion can be found here. As a result, many pilots are flying with transponders off (which is not legal) or with transponders removed or non-functioning (which is legal).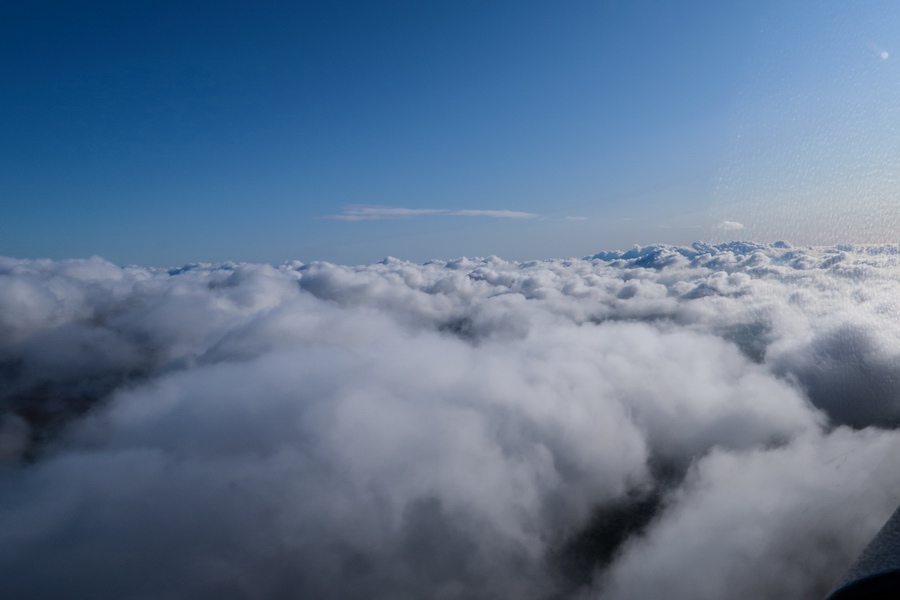 Heading towards Belgium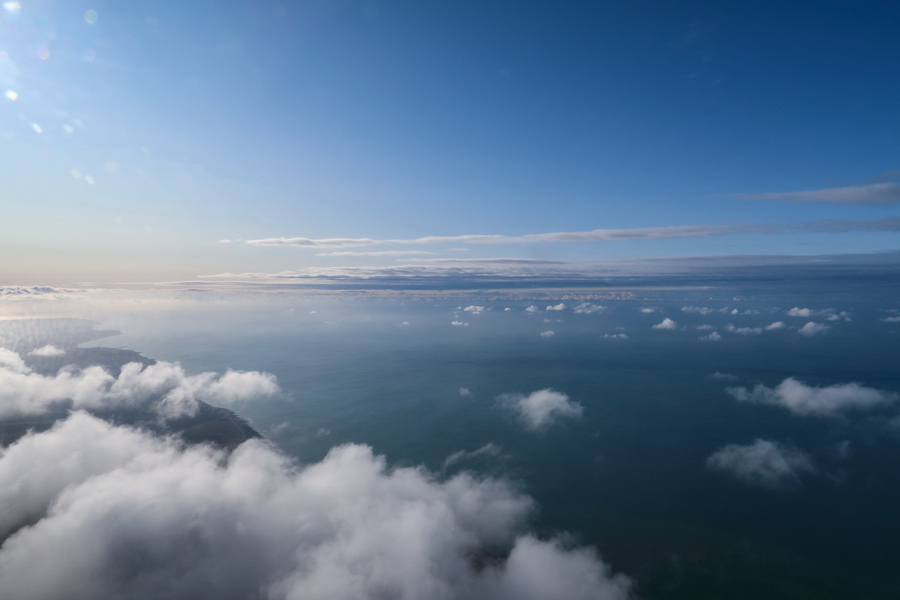 A reasonable ground speed of 151kt. The fuel totaliser is showing 20USG at landing, which is good - about 2hrs' fuel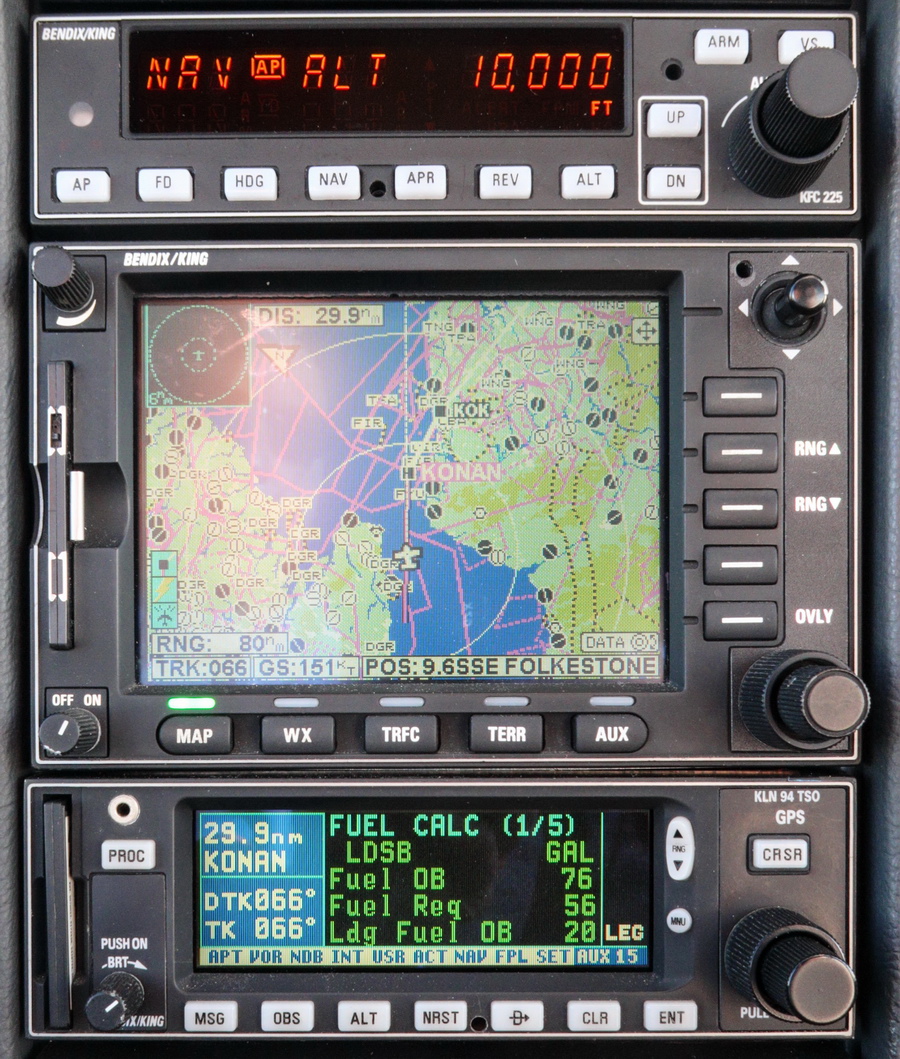 The famous cliffs of Dover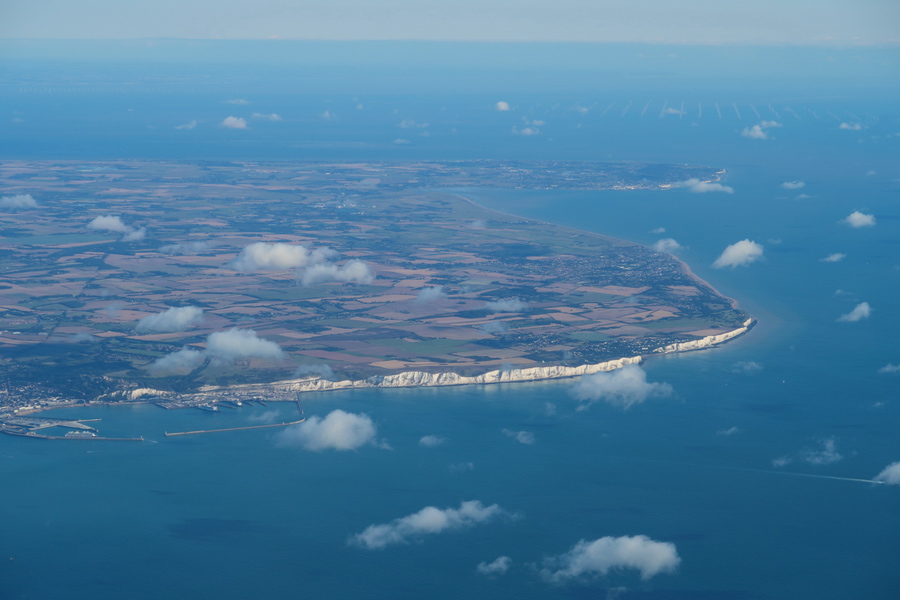 Later the cloud thickened and stayed that way for much of the route to the Alps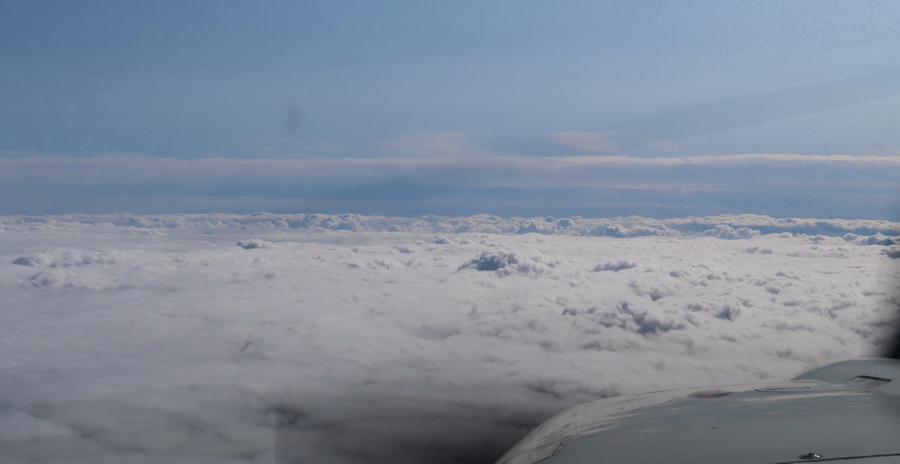 Climbing to FL140 for the Alps. We have about 15kt of headwind and the fuel totaliser is now showing 16USG on landing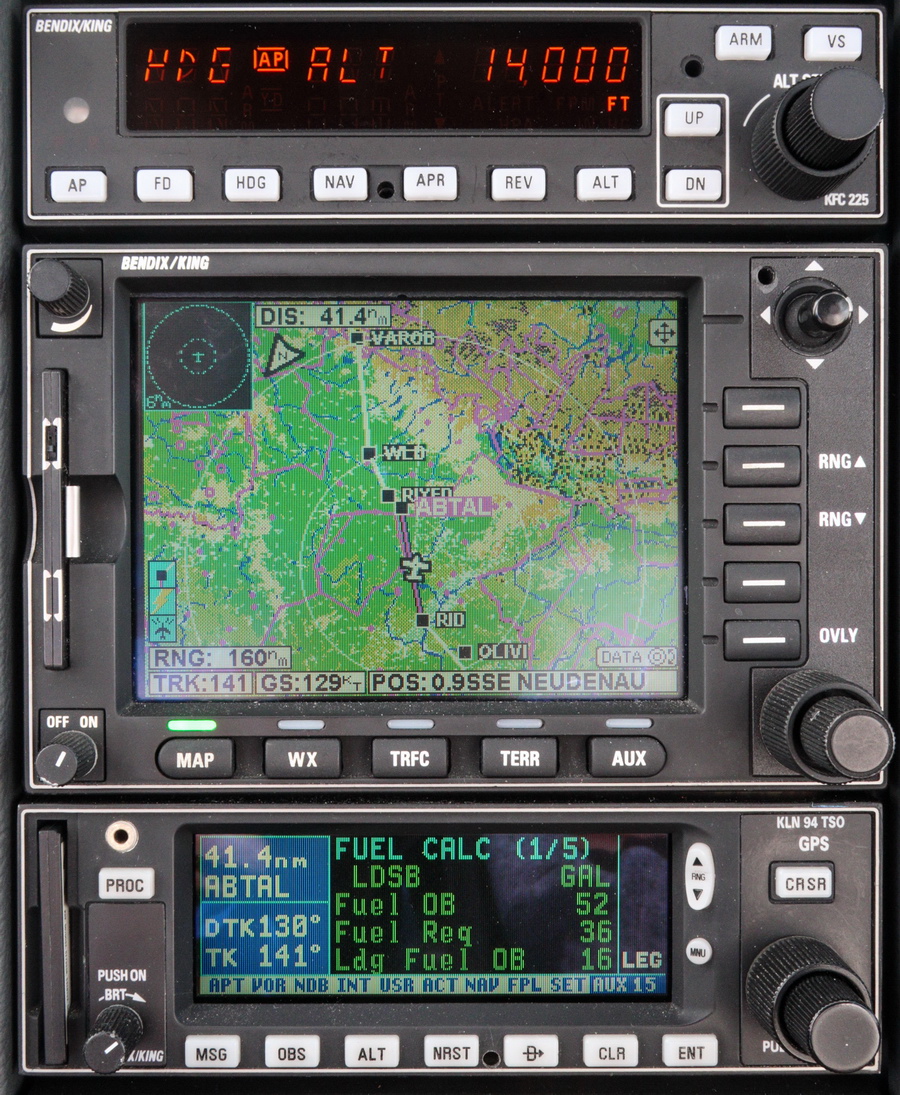 Some IMC was encountered. I have the full TKS ice protection system but in this case I didn't switch it on in advance, to see how it comes with removing ice which has already accreted. Well, the answer turned out to be: not very well! It does come off but takes a long time. The ice shown here does not affect the aircraft performance noticeably.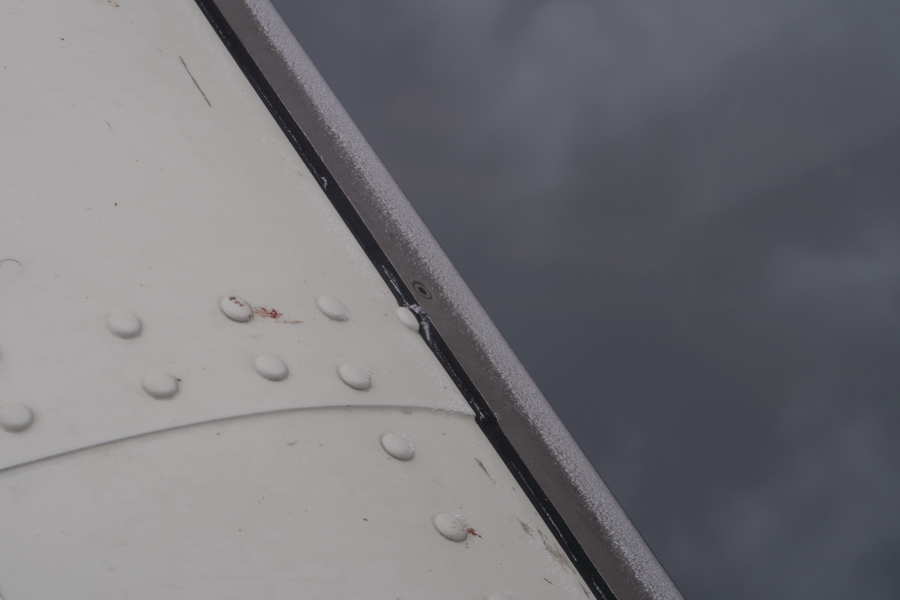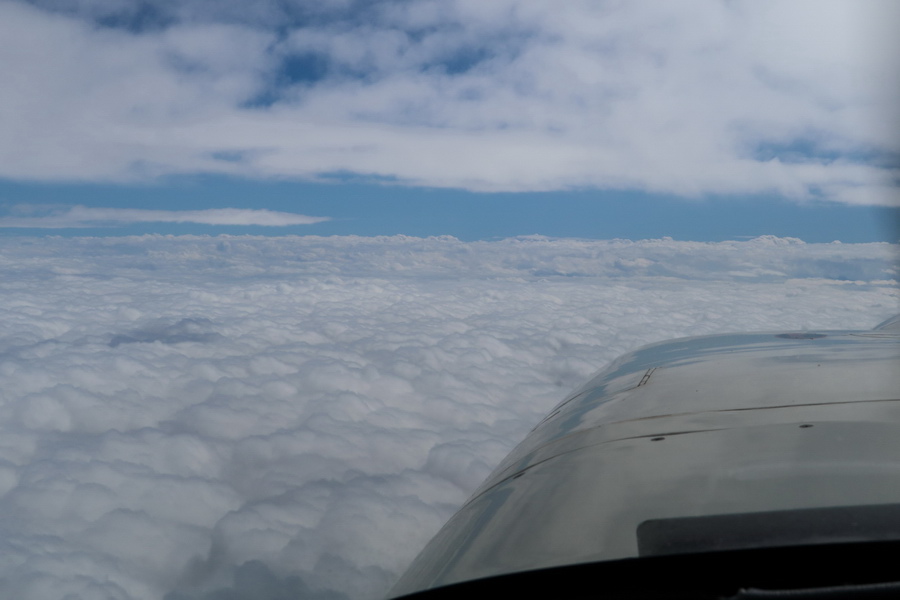 By the time we reached the Alps, the cloud started to clear up. Crossing the Alps - when you can see them - is always a highlight of a flight, and when flying out of the UK it is usually the first really interesting bit of geography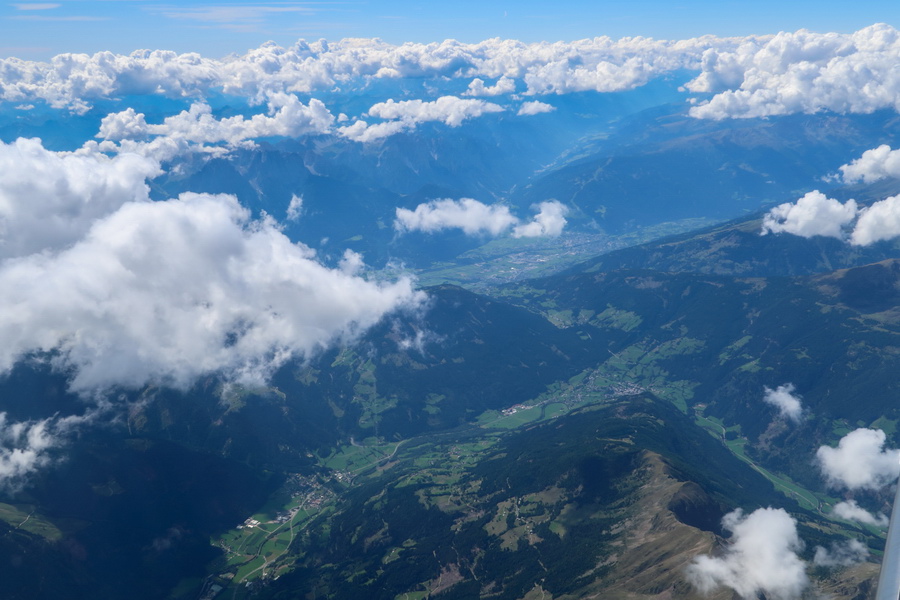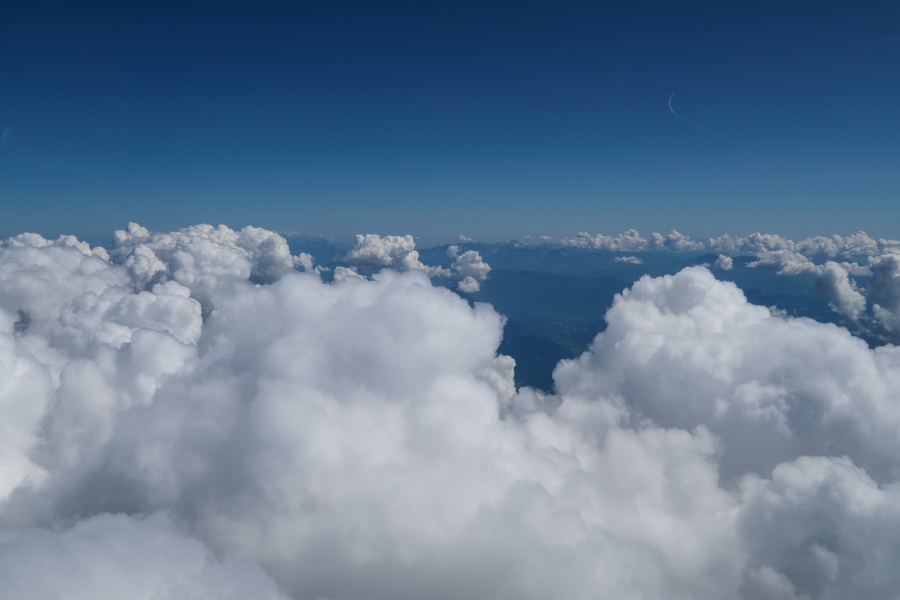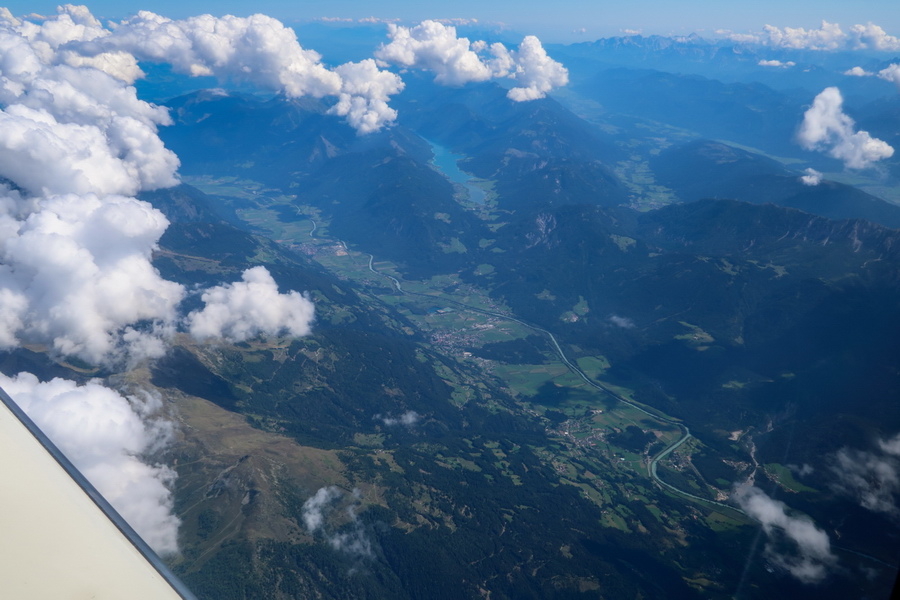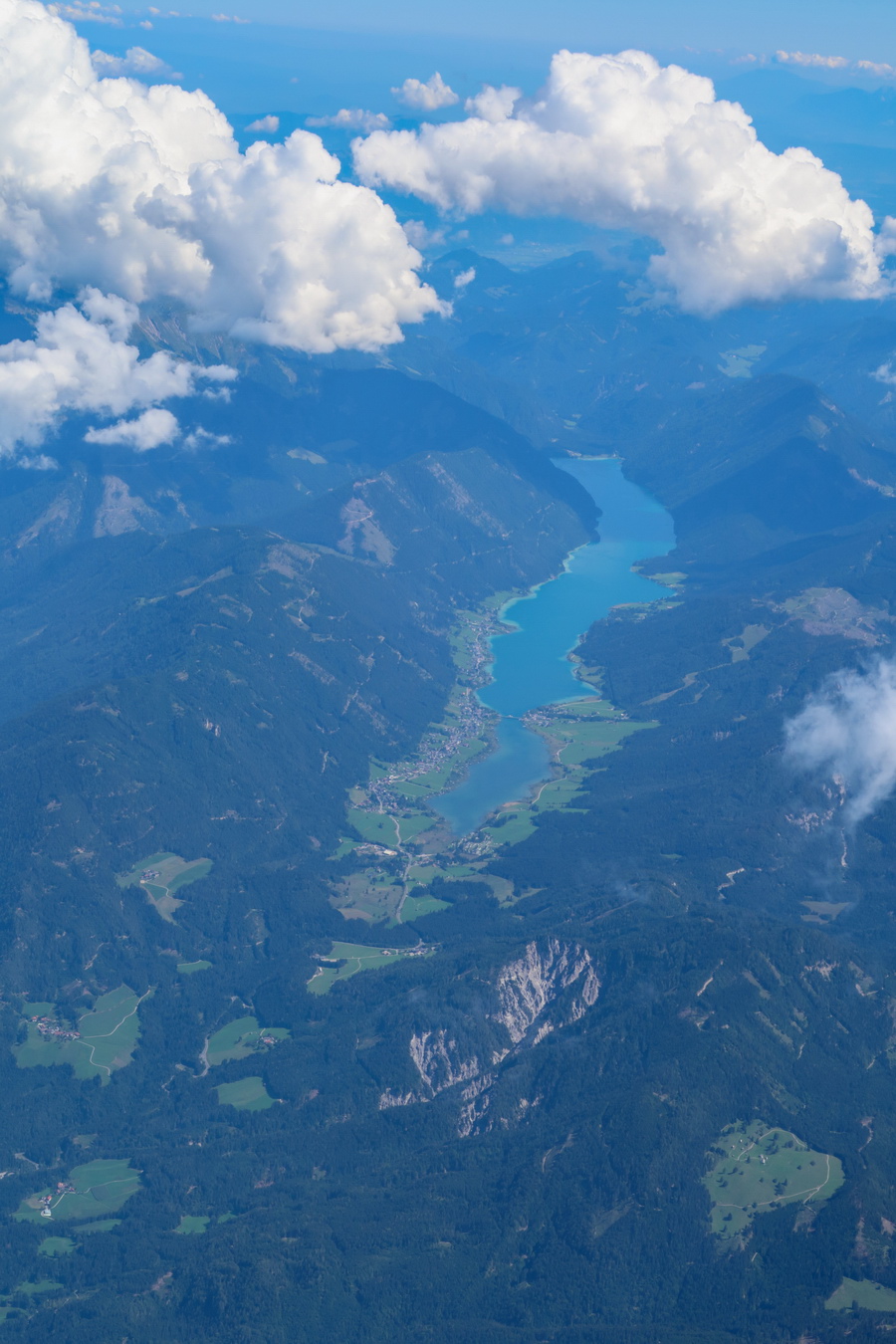 Almost over the Alps and the flat portion of N Italy is seen ahead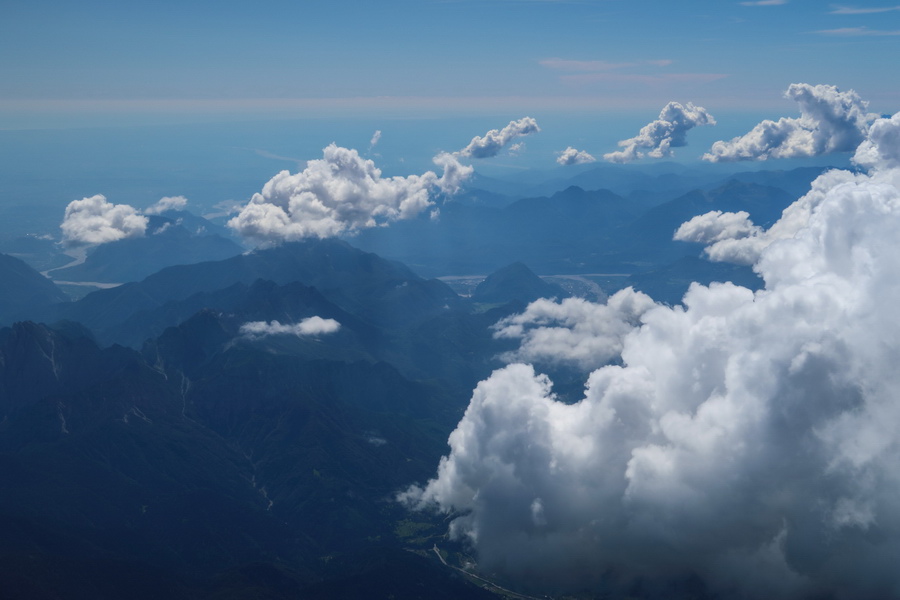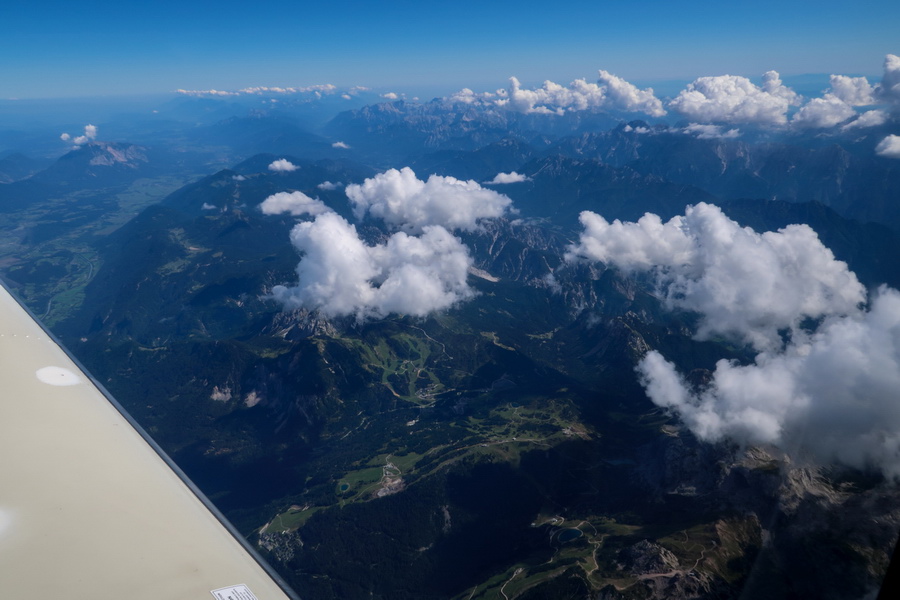 Looking back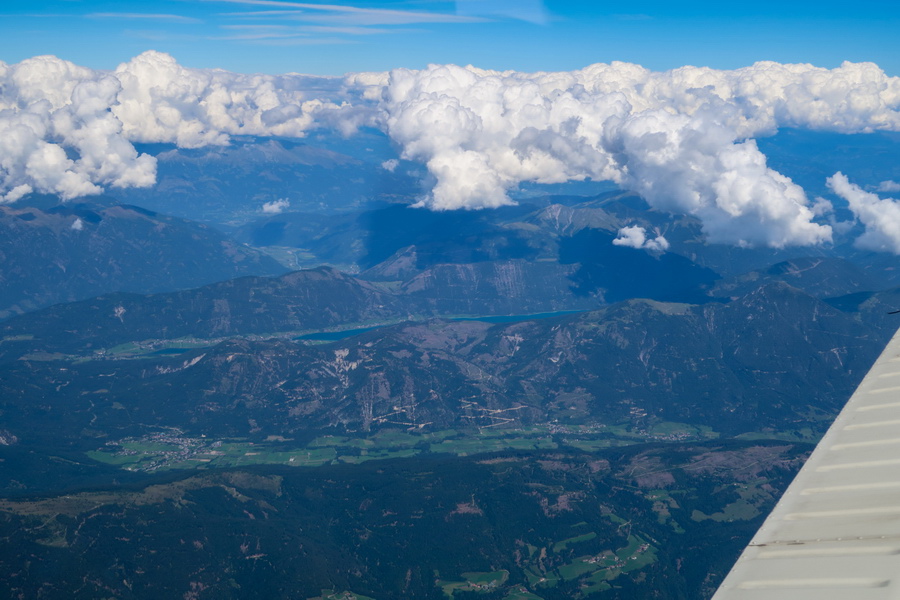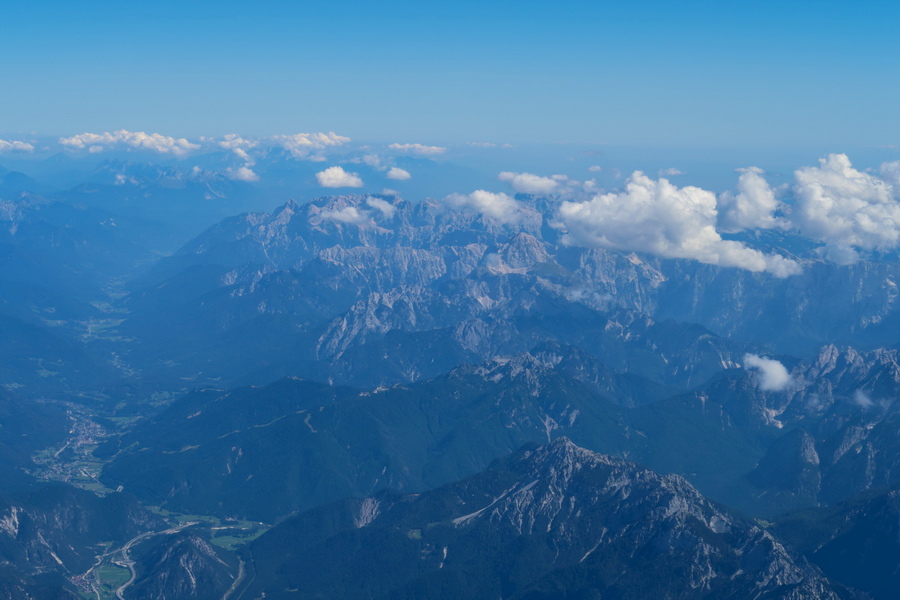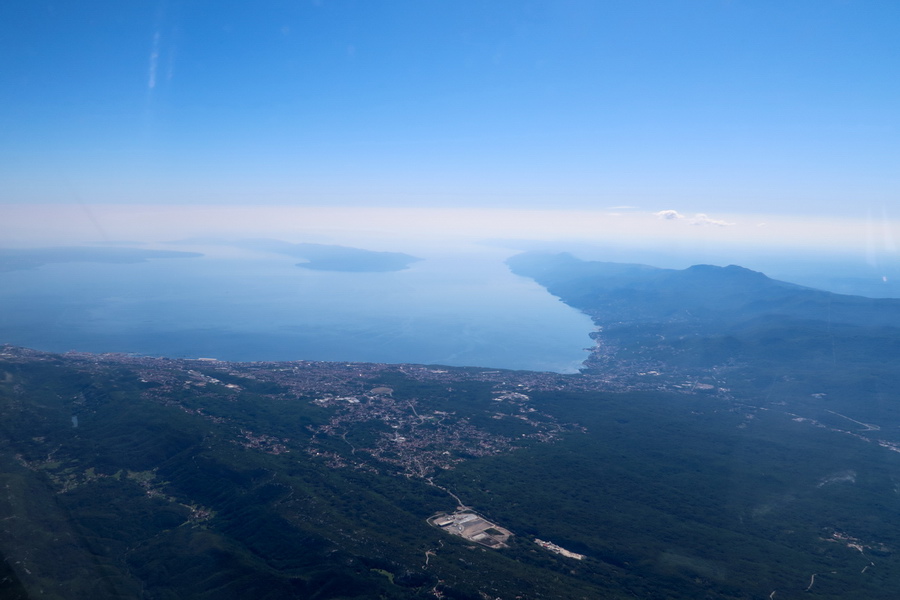 Descending over Slovenia. One recovers a lot of fuel during a descent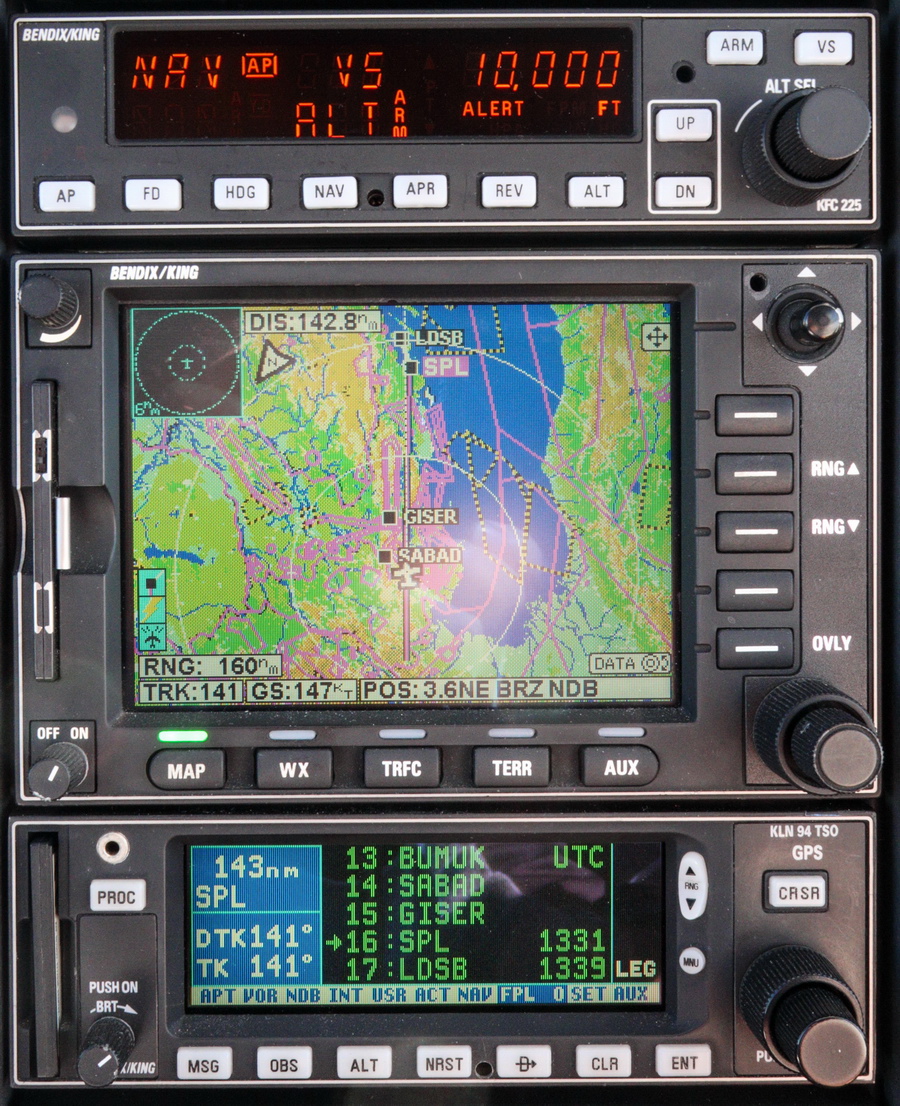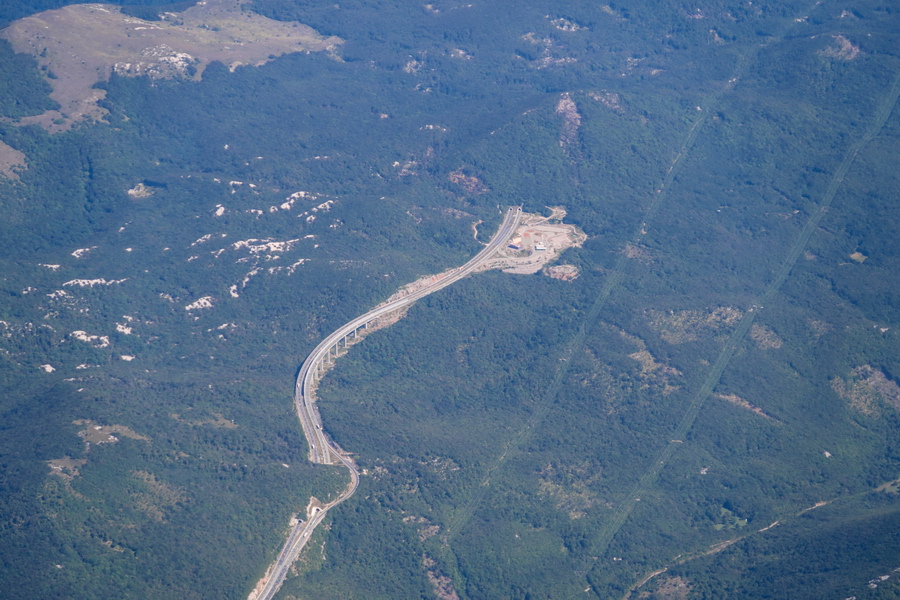 The instantly recognisable landscape of Croatia and the Adriatic, in haze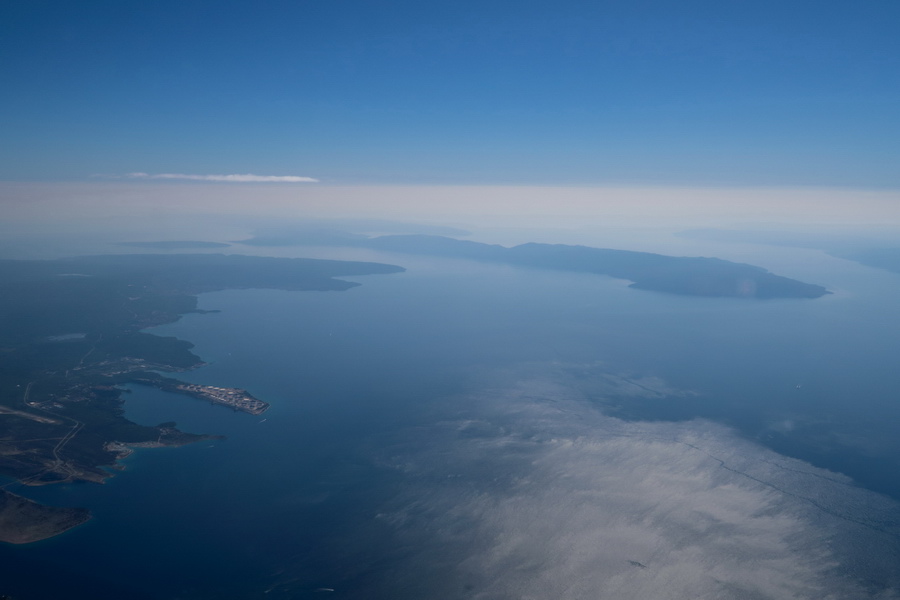 Fuel totaliser showing 12USG so if this is not improved on, we may divert to one of the enroute alternates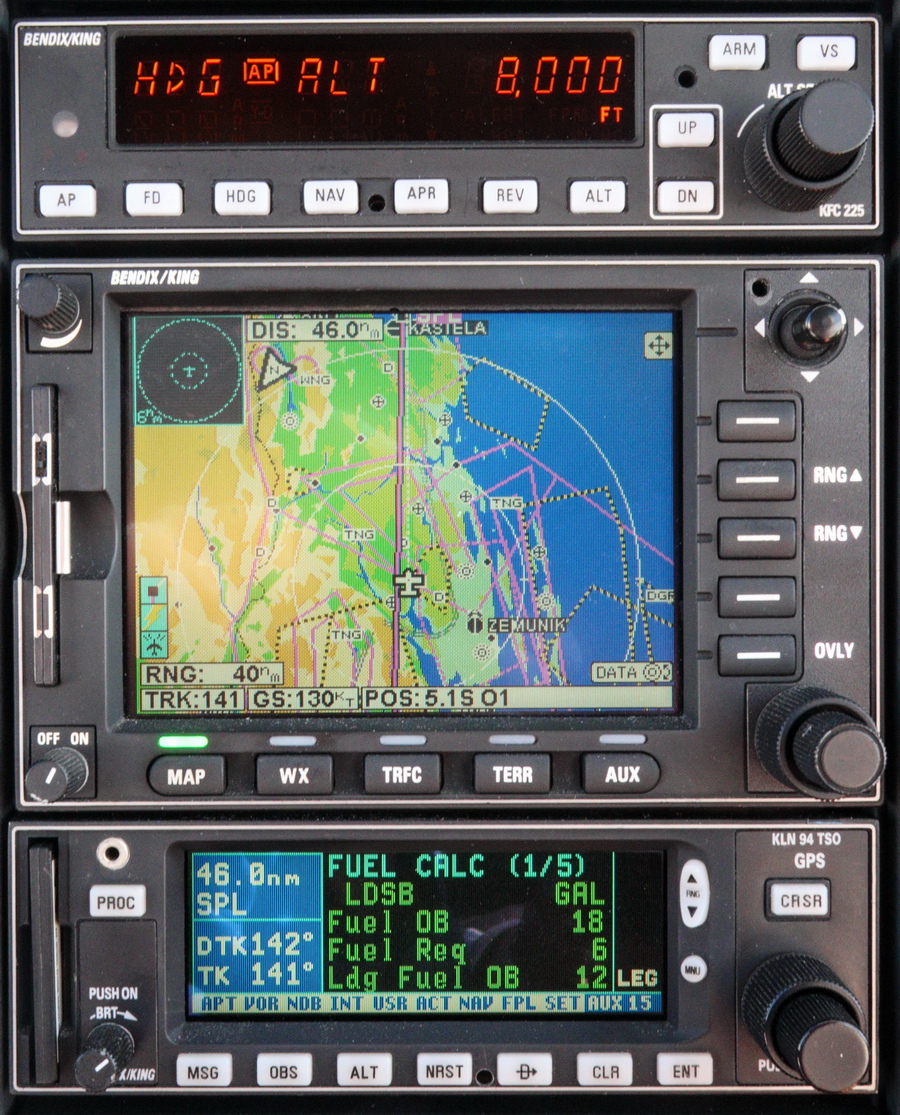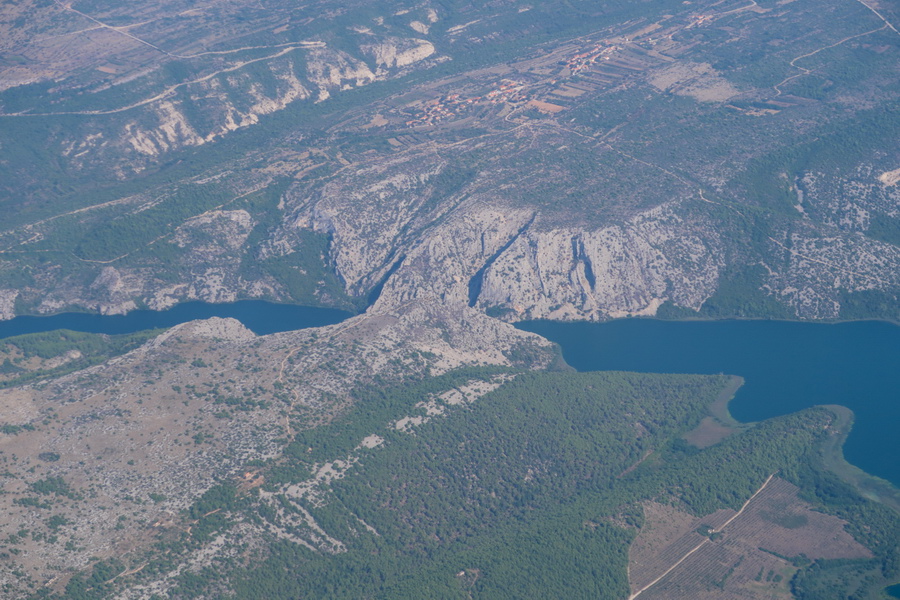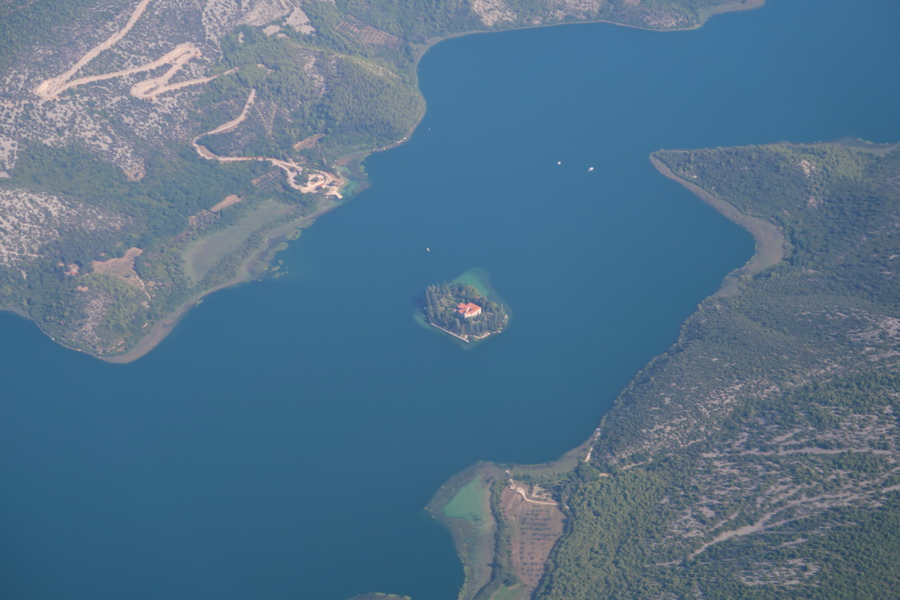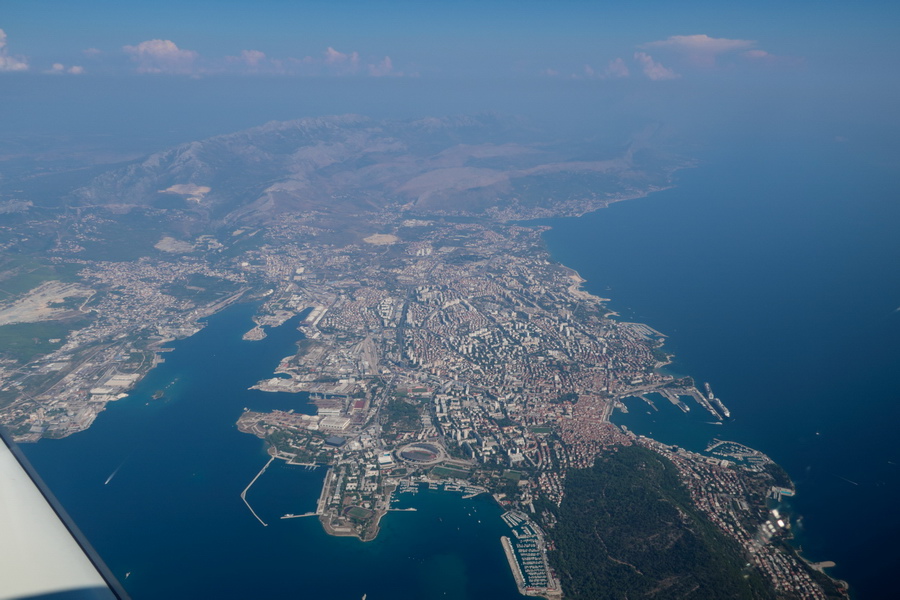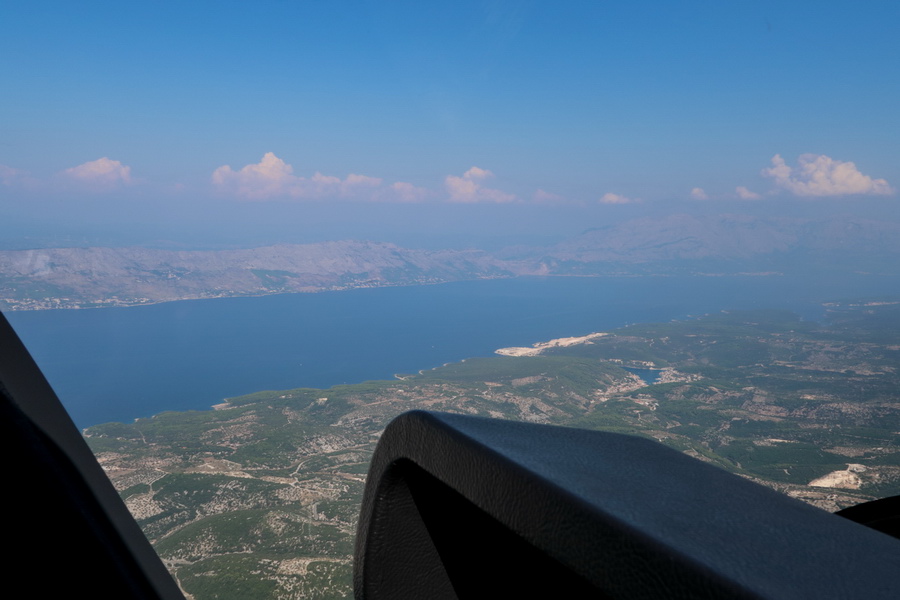 Brac airport, right base join, runway 22. The airport elevation is 1700ft and the other approach is more interesting: on a cliff edge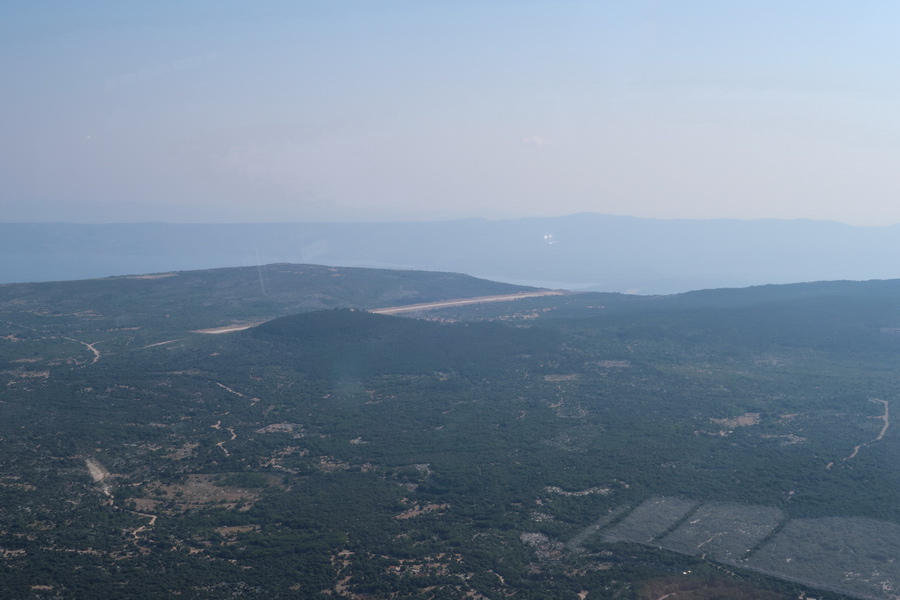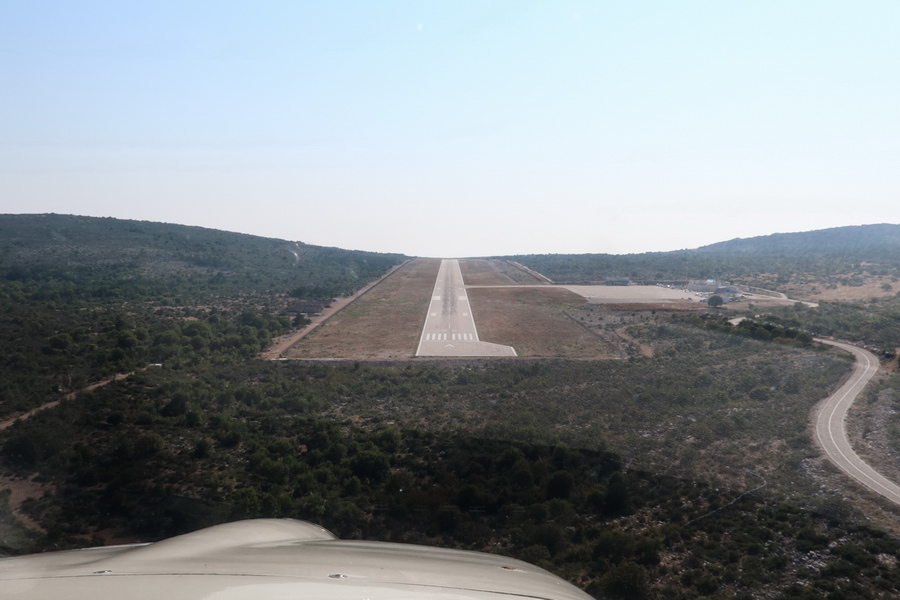 Brac got a new terminal not many years ago. Then it went through a long period of low activity but now has a lot of "airline" traffic, especially on Saturdays when you have to book parking in advance. It remains one of the friendliest airports I know, has Customs and Immigration (done pragmatically in Croatia with 1 police officer - unlike the job creation/protection schemes seen elsewhere in Europe), avgas and jet-a1. It gets a lot of GA traffic also; this is a big change which is undoubtedly the result of EuroGA activity. We had a big meet-up there in 2016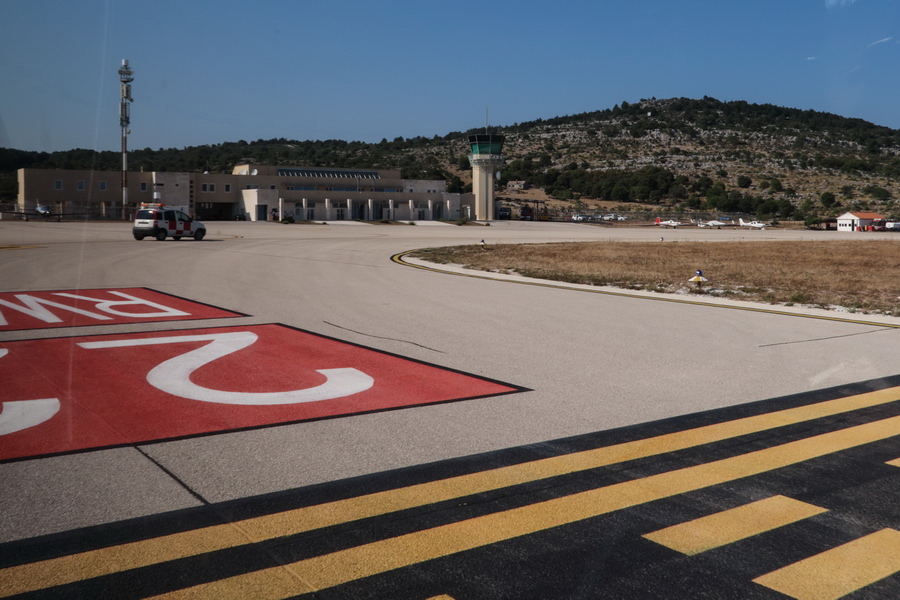 Brac is famous for its white stone and more or less everything there is built with it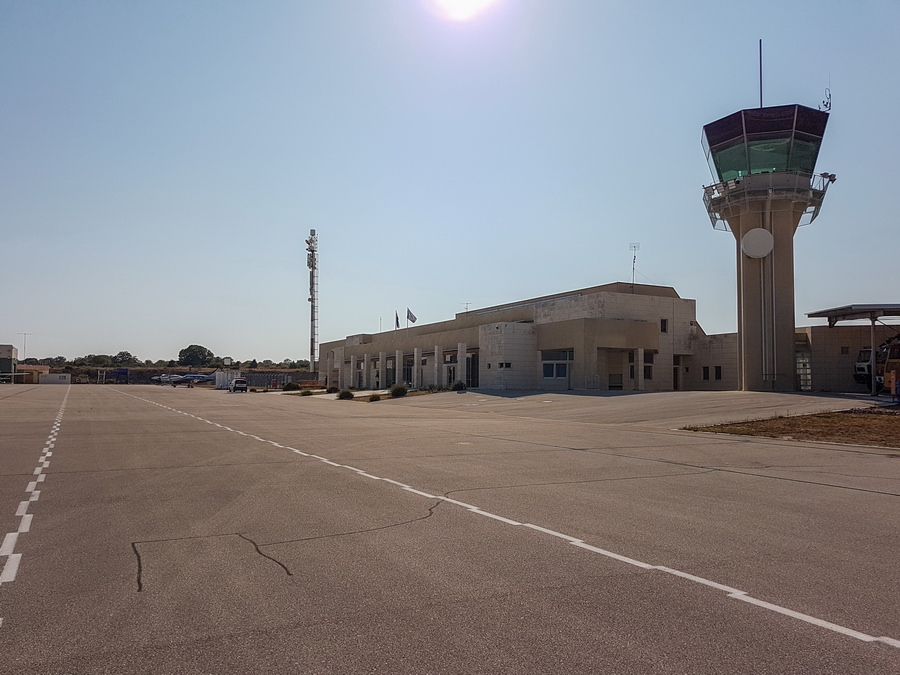 The old terminal; no longer used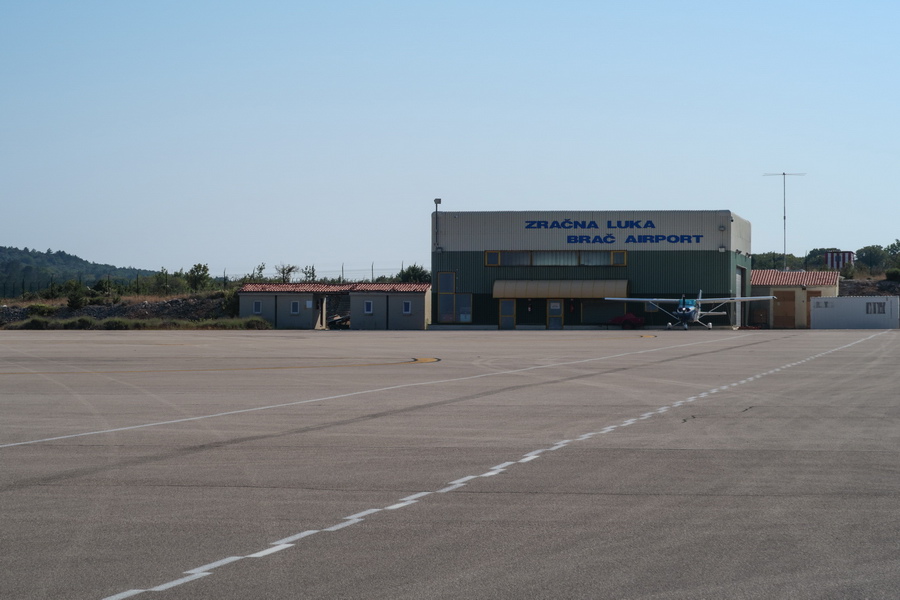 Parked for the 1 night stay. We landed just 15 minutes before the airport closes; this is always a problem when flying from the UK, because Shoreham doesn't open early enough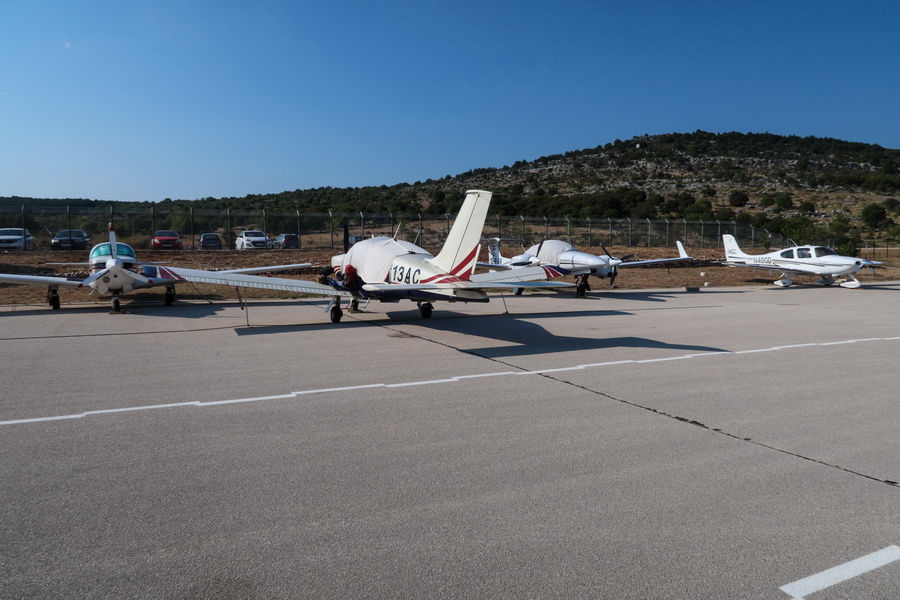 Actual route flown (Eurocontrol radar tracking). Purple line is the filed route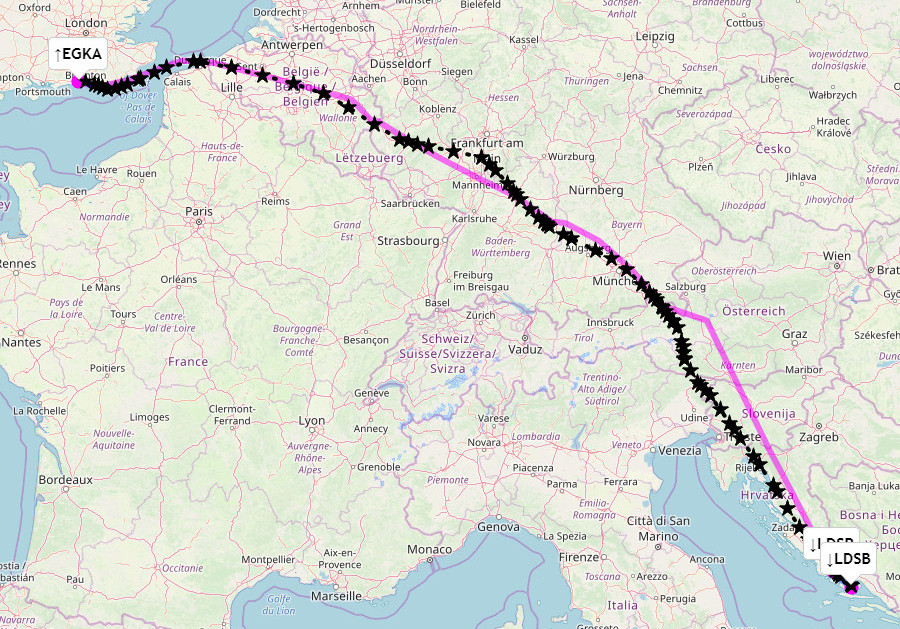 We landed with 12.6USG which is as low as I would go but - at about 1.5hrs in cruise, or 1.1hr at low level - is enough to reach a good number of alternates. Had the general weather in the area been suspect we would have diverted enroute.
Brac / Bol
Brac is a reasonably sized island and the main town is Supetar, but for just an overnight stay it is best to stay in Bol which is just under the airport. This is the harbour - just a short walk from Hotel Kastil which is really excellent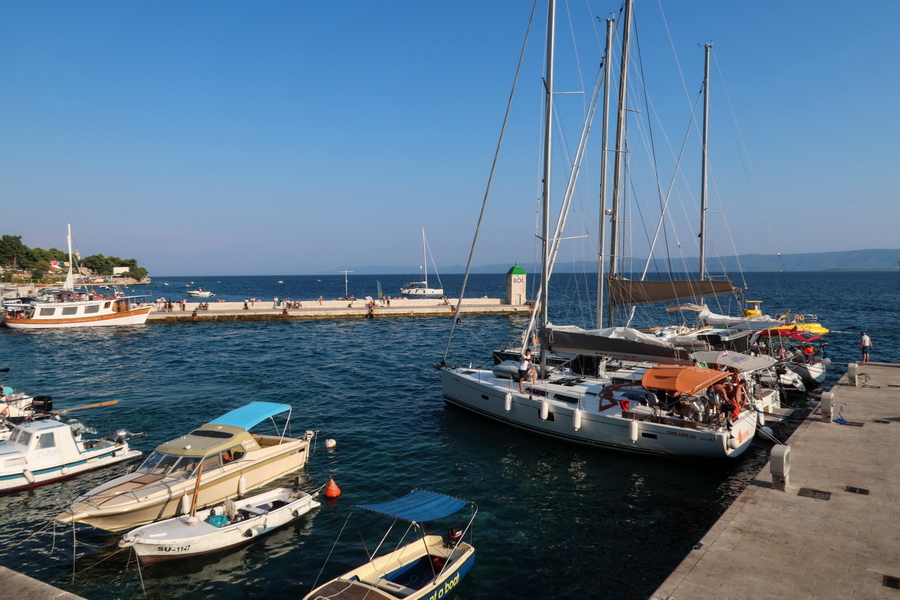 The mountains in the distance - looking to the west here - are the island of Hvar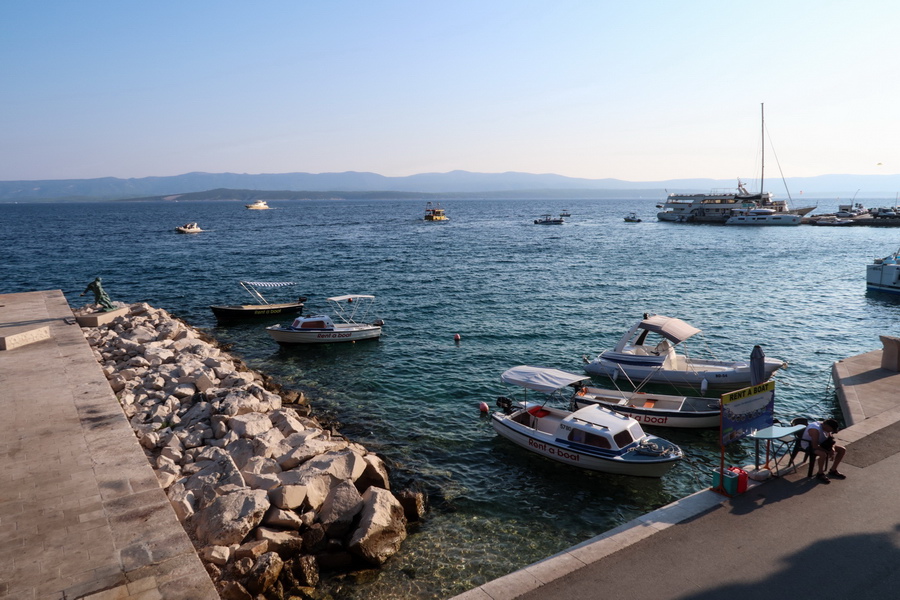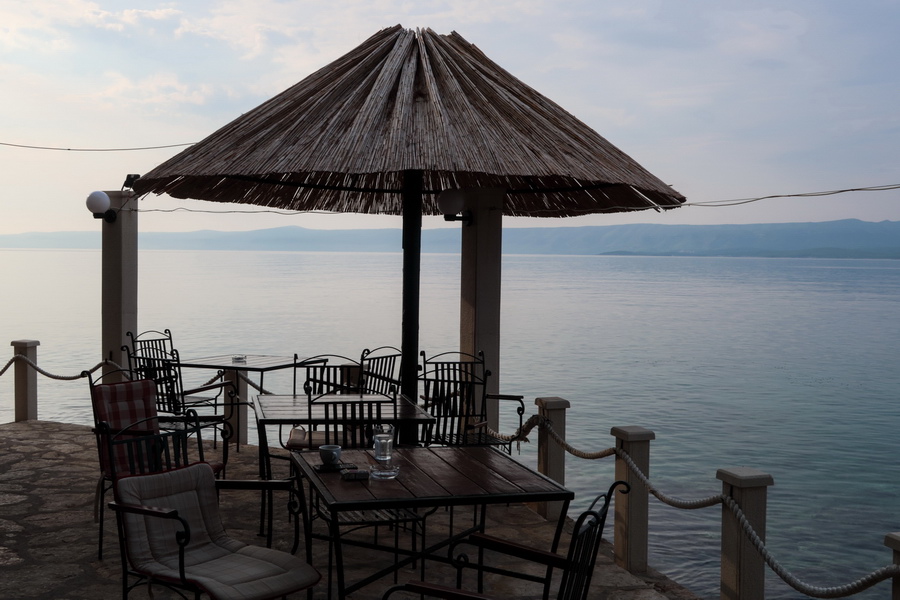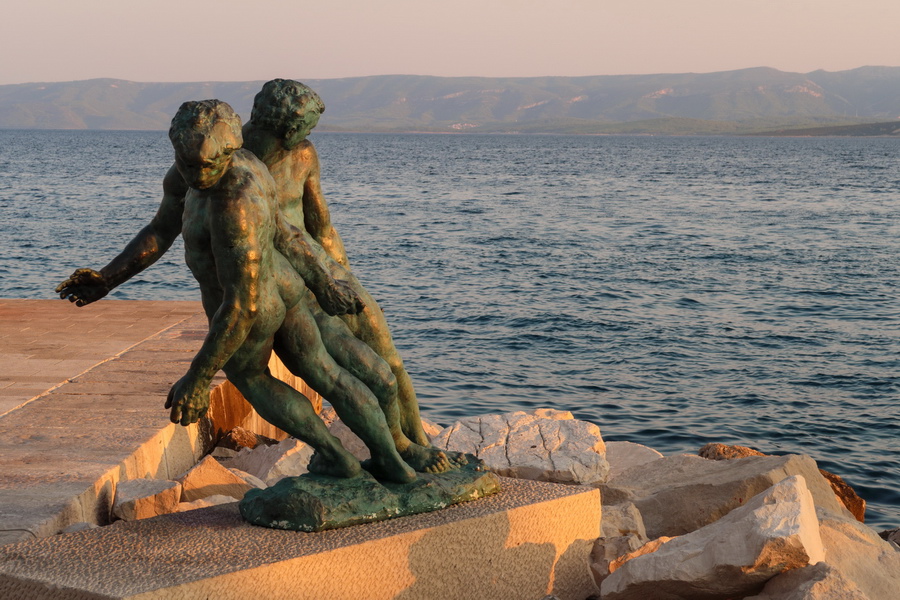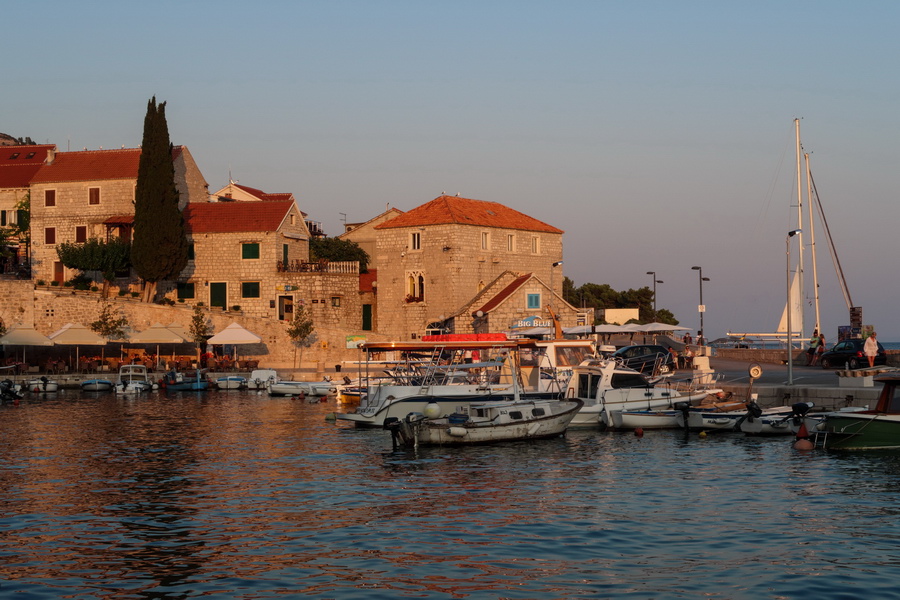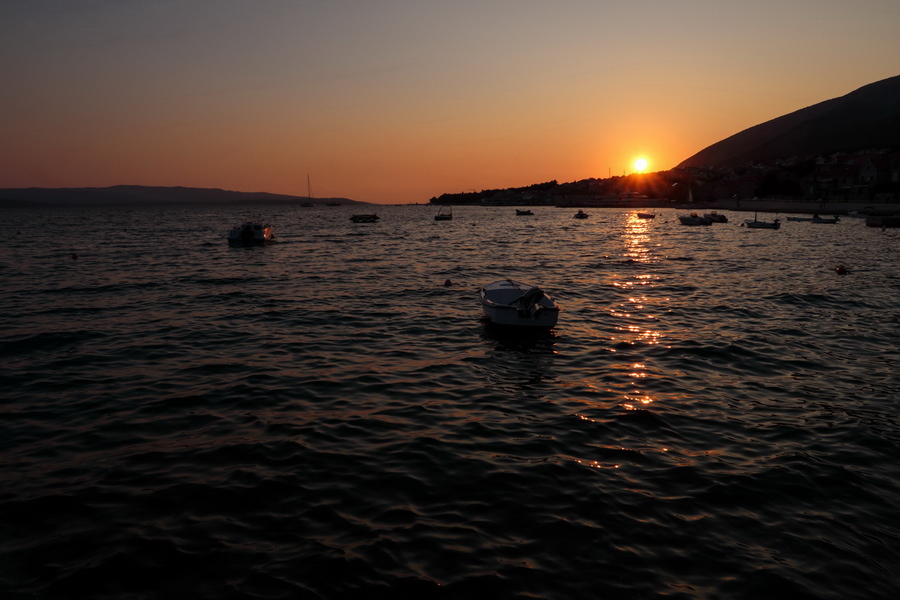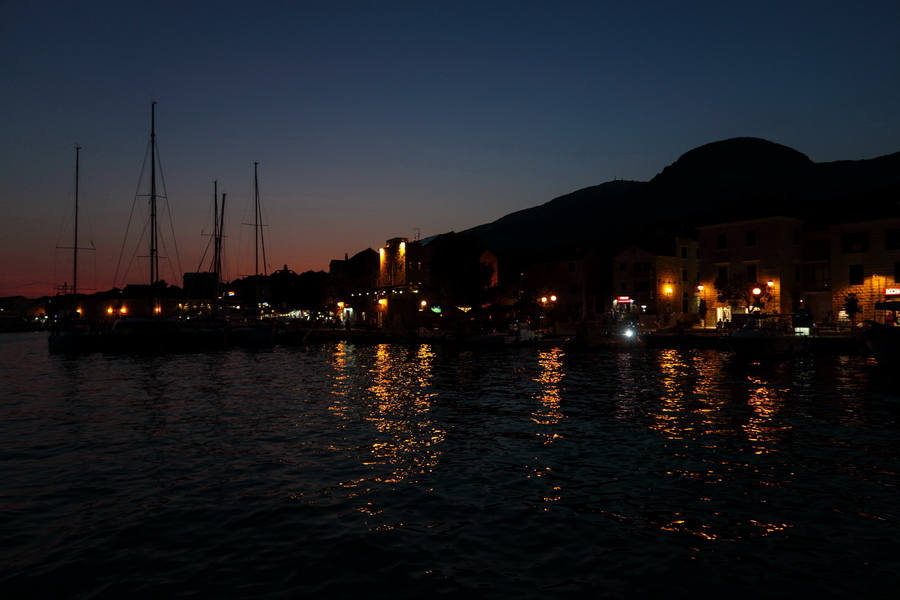 Brac LDSB to Tivat LYTV
Next morning's weather, for the flight to Tivat, was nice. There was a PROB30 TEMPO of TSRA - usual in the Adriatic - but nothing was actually happening, and it was a short flight, with full tanks, loads of alternates...
The route was filed for FL90.
LDSB N0151F090 SIPAL7S SIPAL L607 DBK L187 TAZ TAZ2A LYTV
Alternates: Dubrovnik LDDU and many others
115nm as filed
104nm GC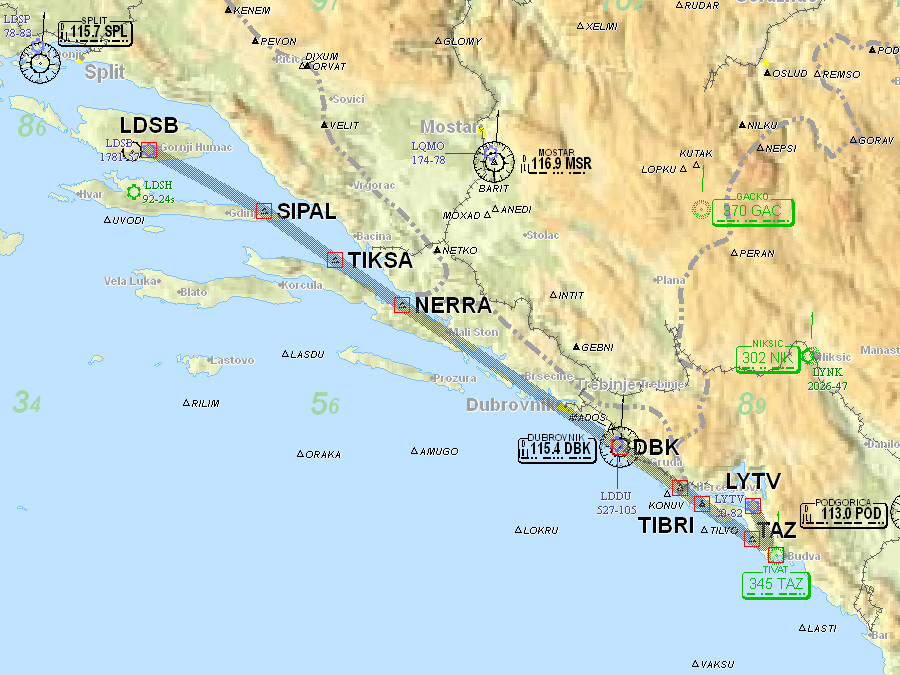 A few more pics to get before heading for the airport...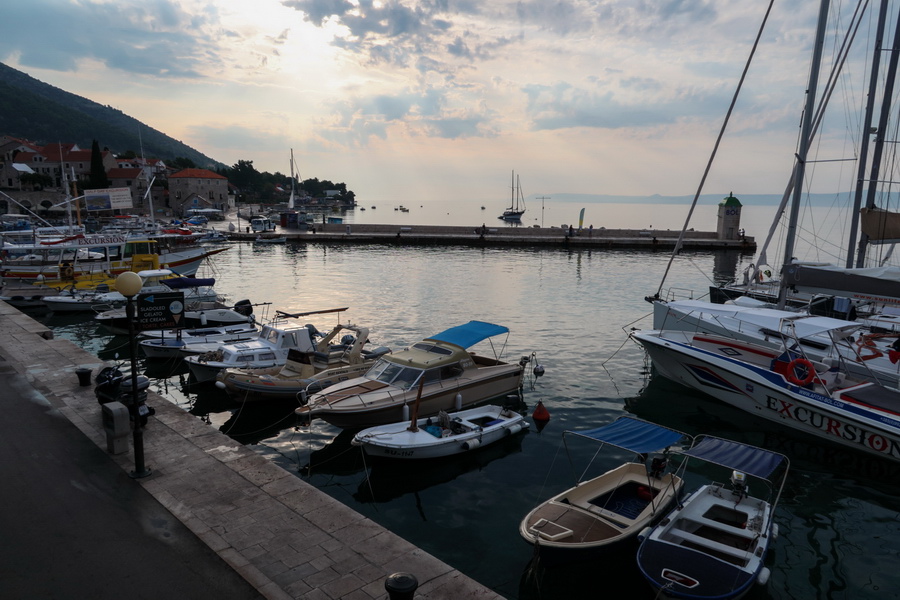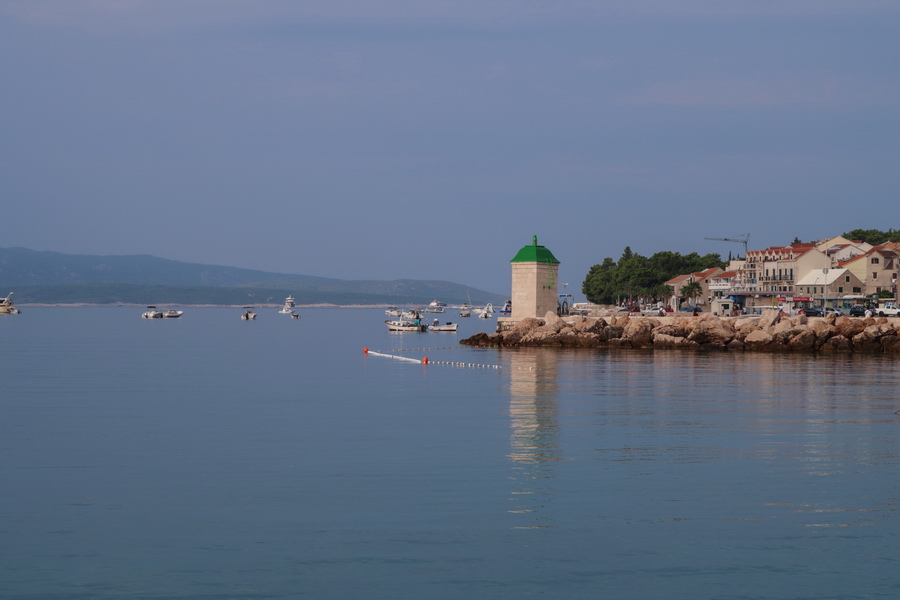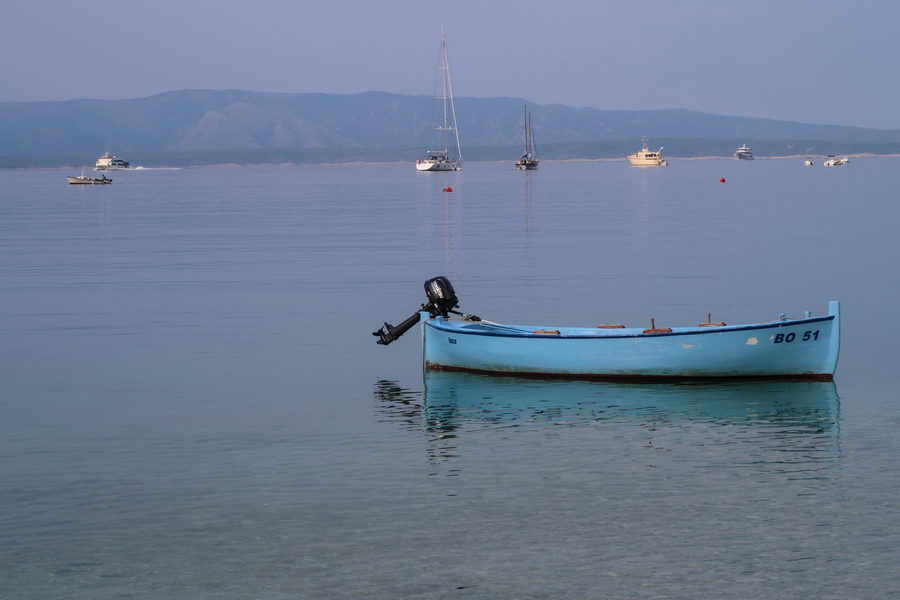 There was some cloud but nothing relevant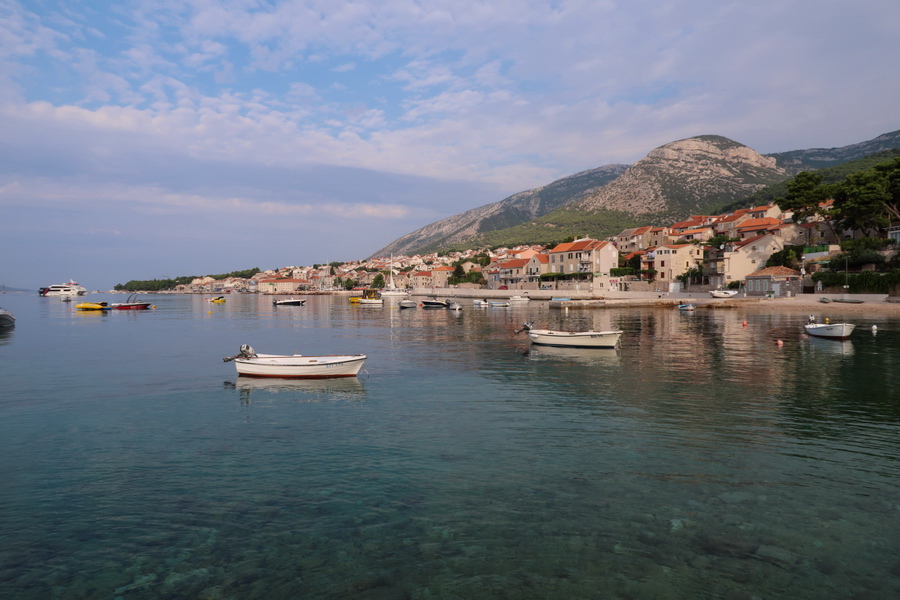 Back at the airport. They moved the planes around a bit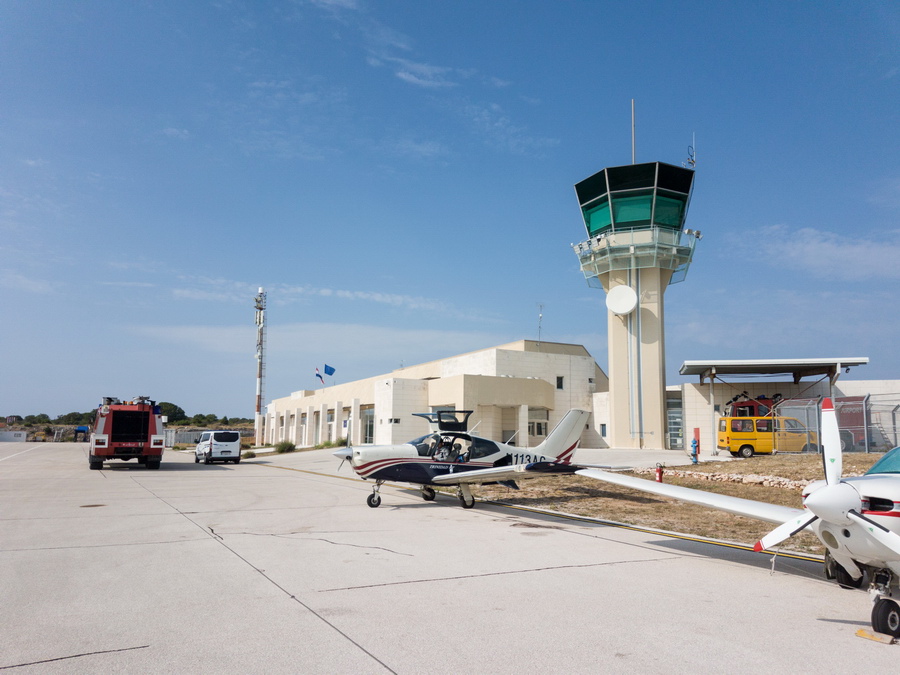 The runway has recently been extended to handle the smaller Airbus and Boeing jets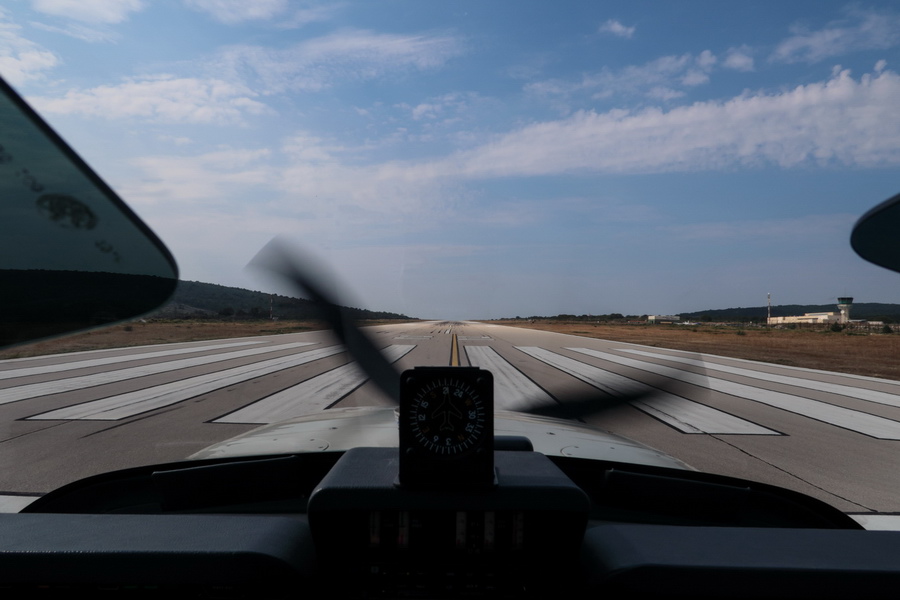 The famous "sandy horn" beach - a Brac trademark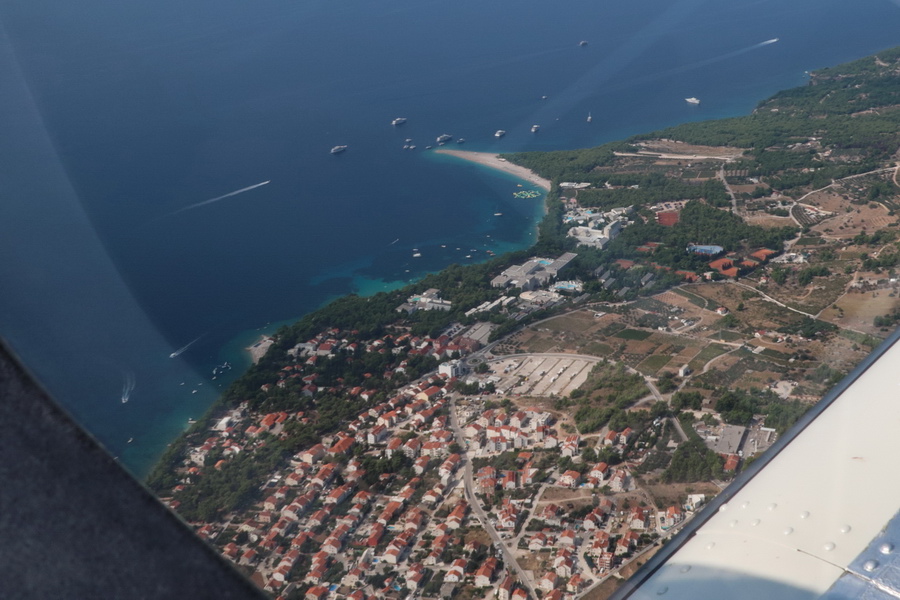 The island of Hvar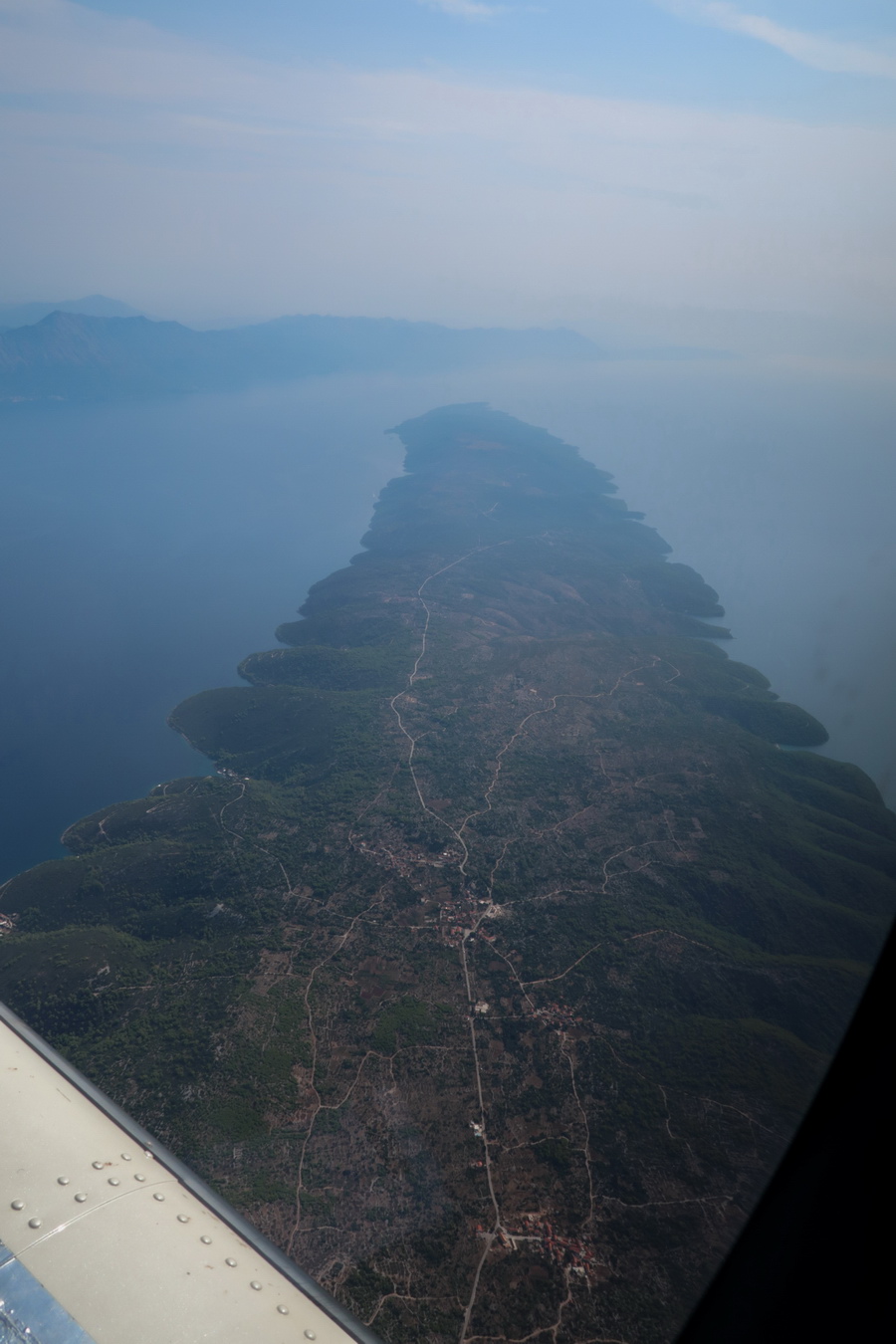 Passing the Dubrovnik area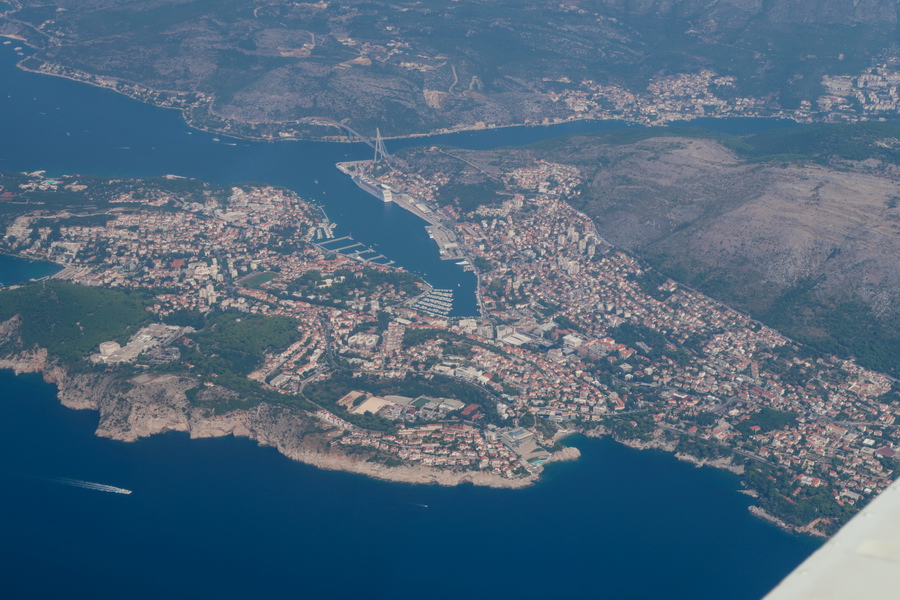 The famous old city of Dubrovnik. It was heavily shelled by Serbs during the Yugoslav wars 25 years ago, from the hills above it. Well worth a visit, though nowadays it gets pretty crowded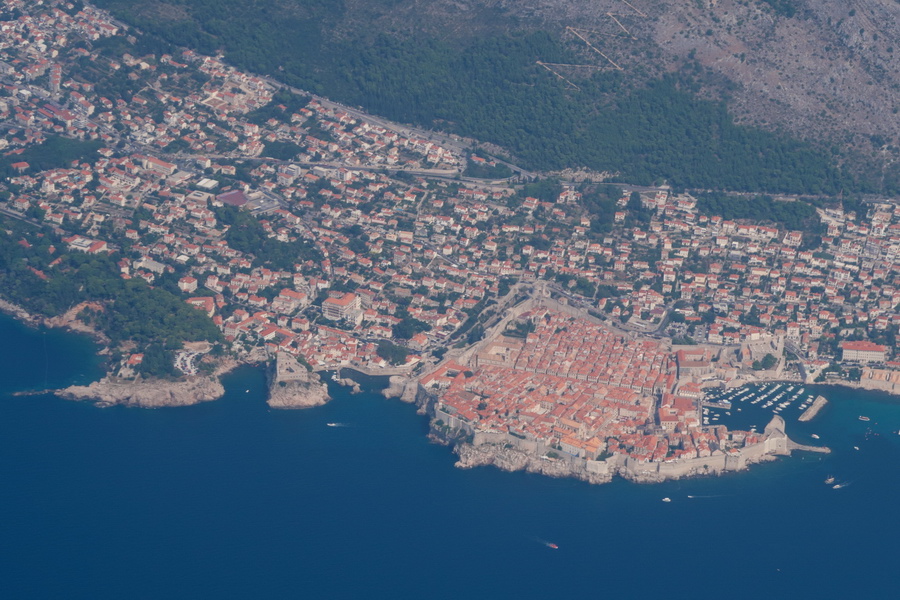 The village of Cavtat. This is near Dubrovnik airport and is a good place to stay if visiting the area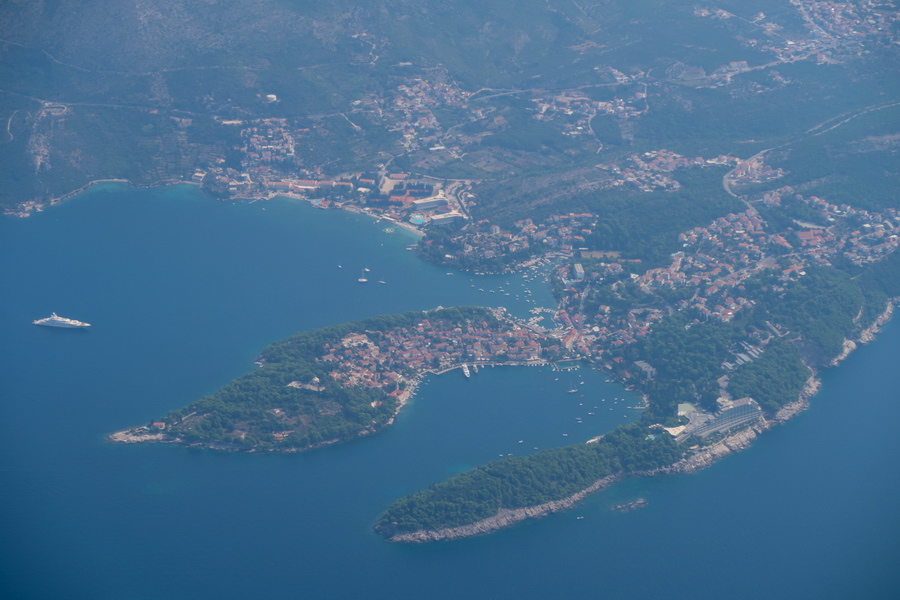 Dubrovnik LDDU - one of the best airports anywhere. Perfectly organised, GA friendly, all services, ILS, and costs just €50.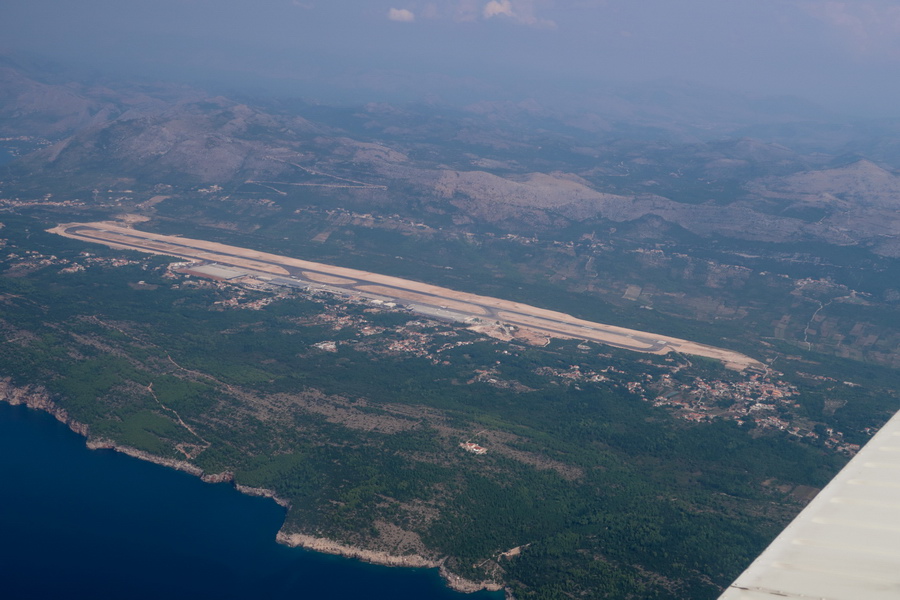 This is now Montenegro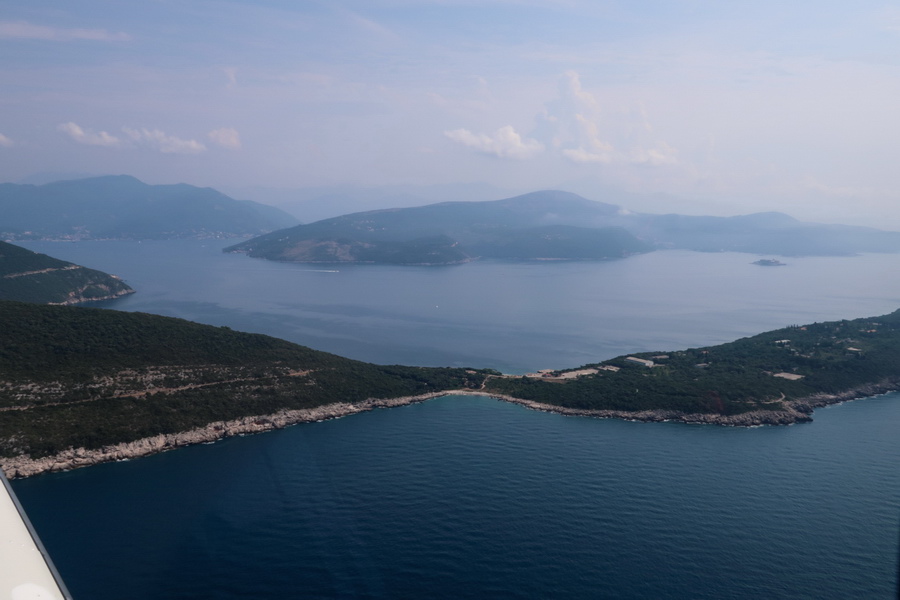 The PROB30 TEMP TSRA is starting to get going, over the mountains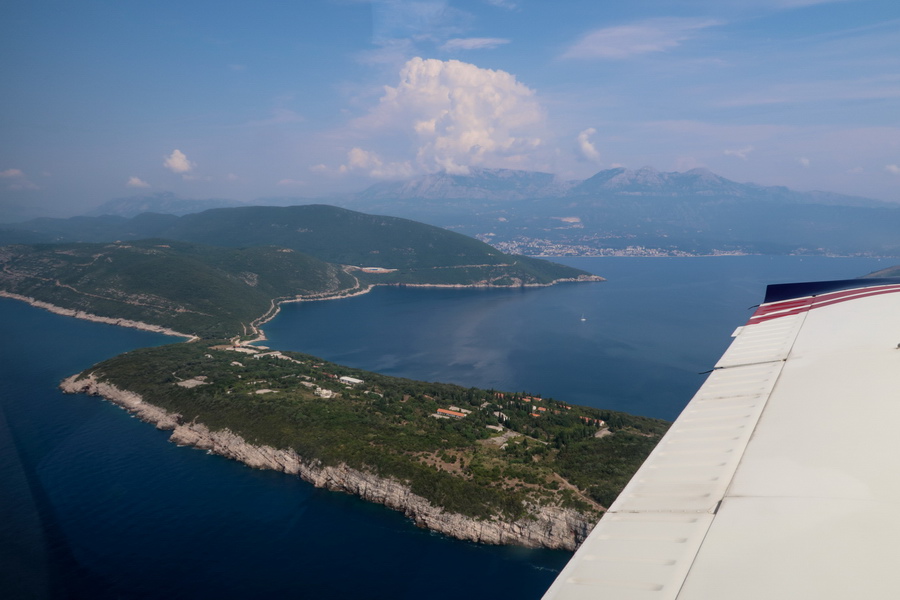 Tivat airport is visible here. ATC basically disregarded the IFR flight plan and forced us down to 1000ft for a VFR join. They aren't actually allowed to do that, and there were no traffic reasons for it, but I accepted because conditions were nice and it wasn't worth the bother, but other pilots refused and insisted on the instrument procedure. In any case you would not want to be doing this in bad visibility, or at night. The approach (see the video below) passes only just above a hill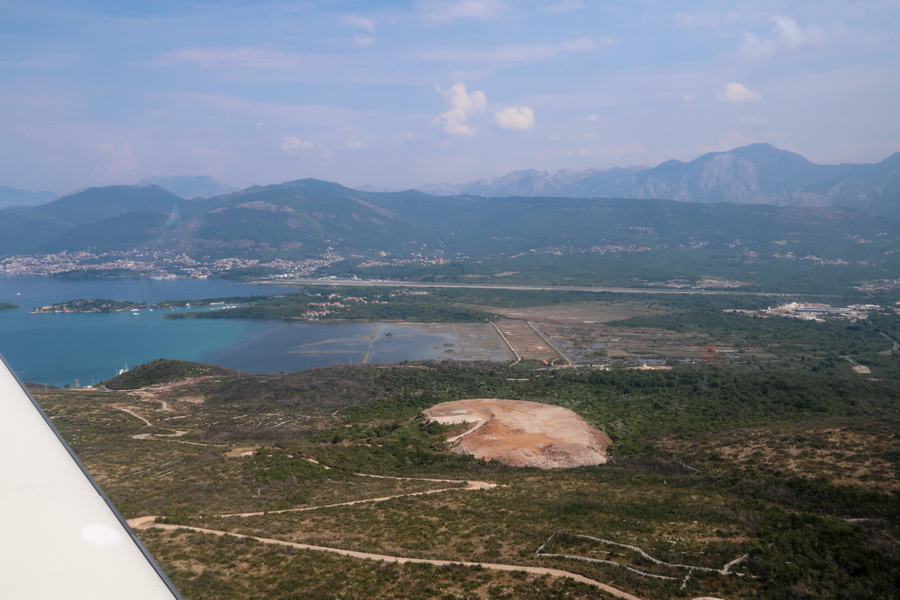 Left base, runway 32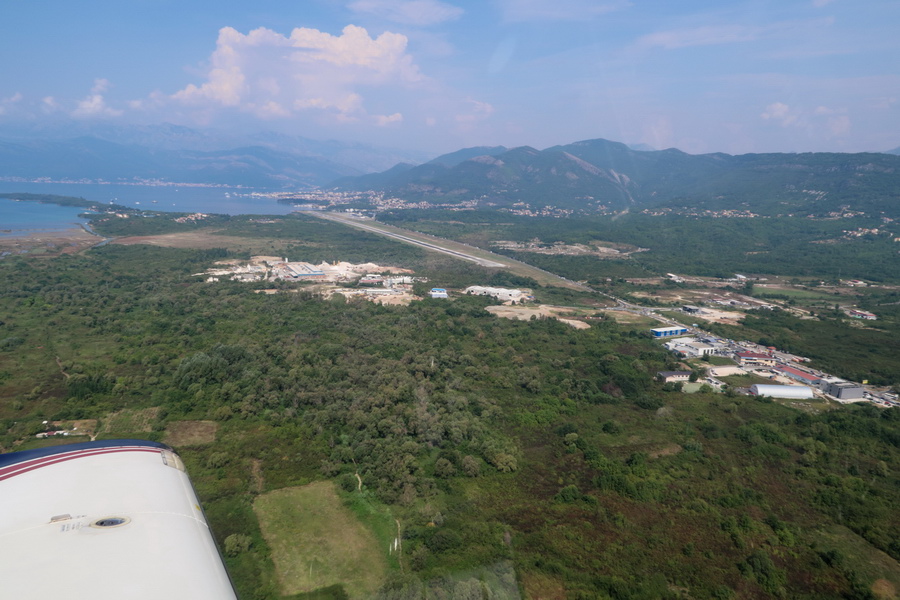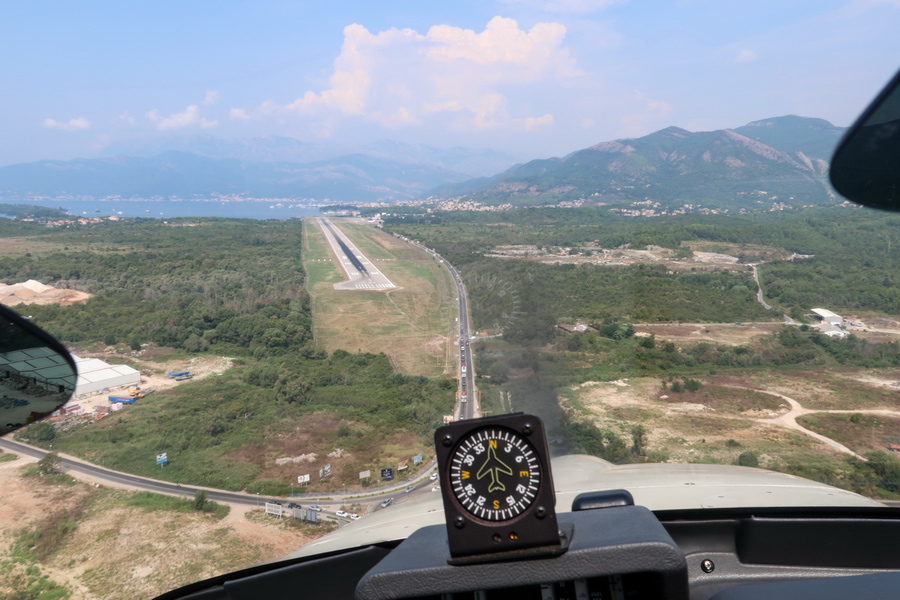 The airport has room for probably 100 light GA aircraft, so the limit of 10 which they insisted on was ludicrous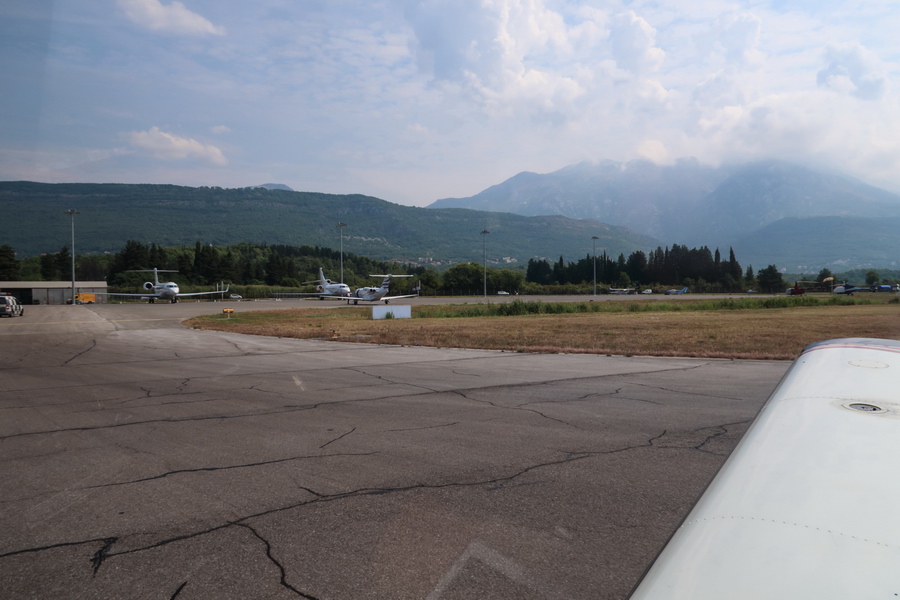 These tiedowns, to tyres with concrete in the middle, do almost nothing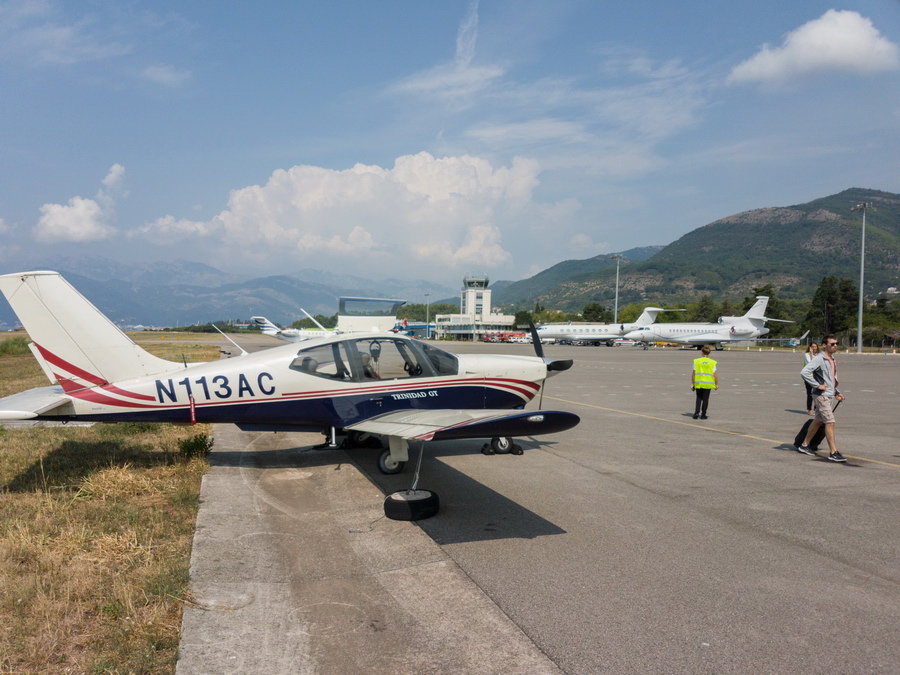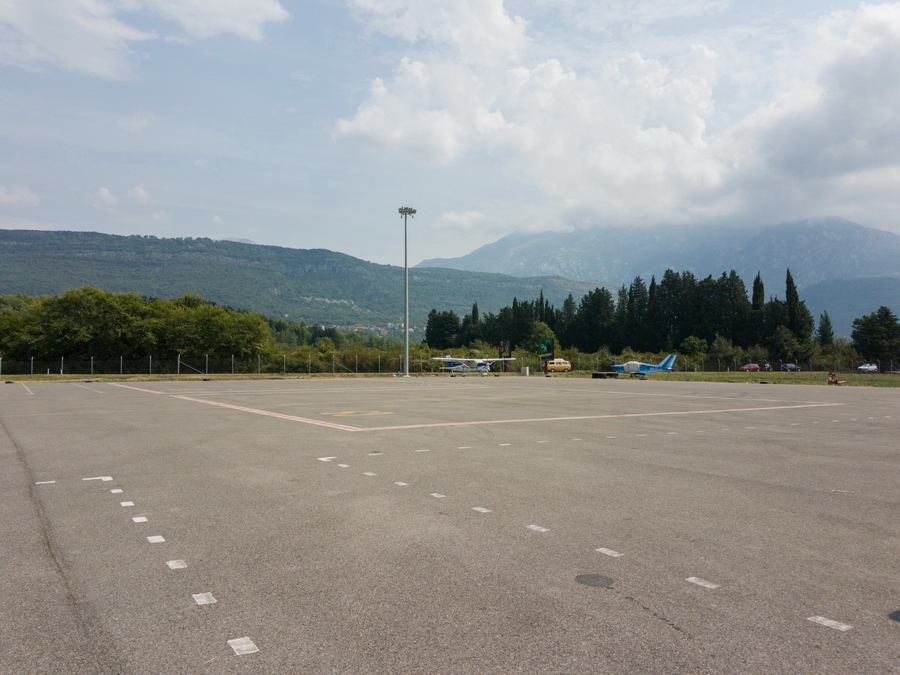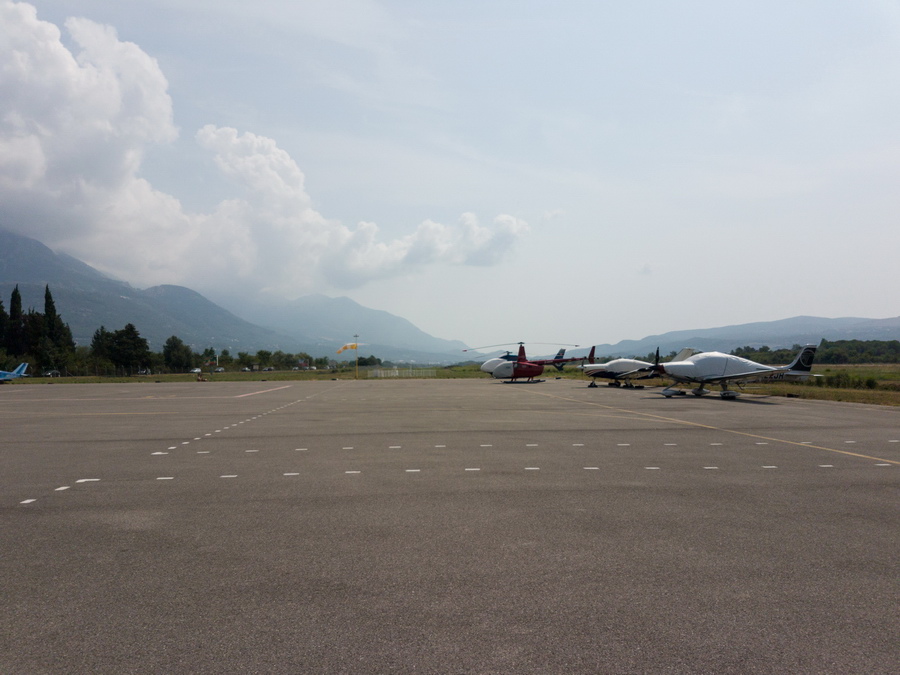 The route flown from Brac to Tivat was fairly direct but, for some reason, Eurocontrol tracking (via the Autorouter) didn't show the actual track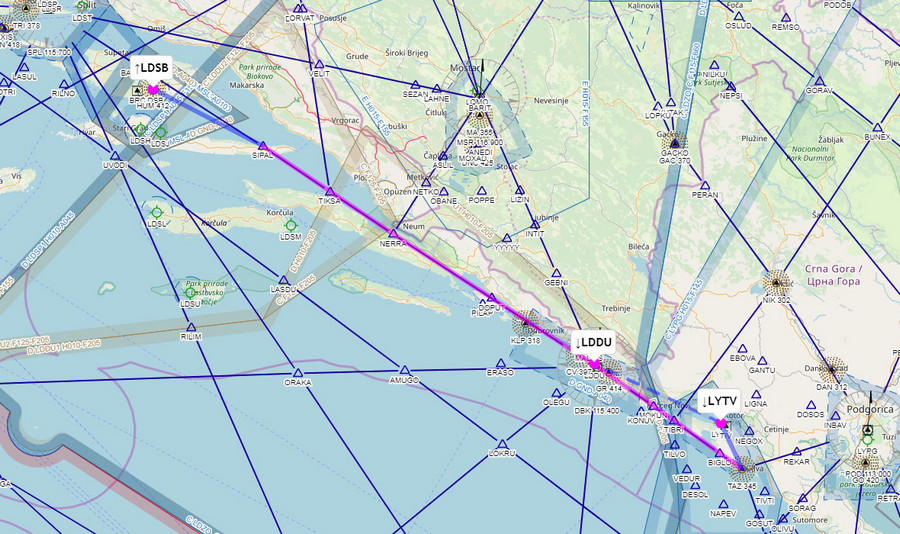 This is a video of the journey from Shoreham to Tivat, edited to show most of the ATC calls
TB20 flight Shoreham EGKA, UK, to Tivat LYTV, Montenegro, via Brac LDSB, Croatia
Tivat / Kotor
We all stayed at Kotor which is just up the road from Tivat and much nicer. The whole area is really spectacular, surrounded by mountains and lakes. I had flown over it many times but never previously visited on the ground.
This is the old town of Kotor; our AirB&B apartment was the balcony on the right hand part of the picture. I do not recommend getting an apartment right next to a bell tower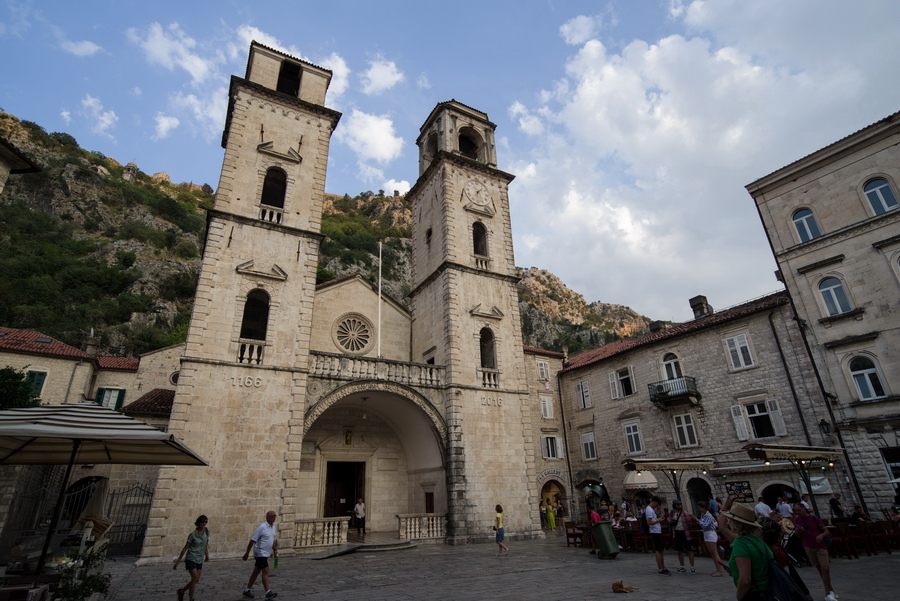 The city wall. There is a walk to the top which takes 30-45 mins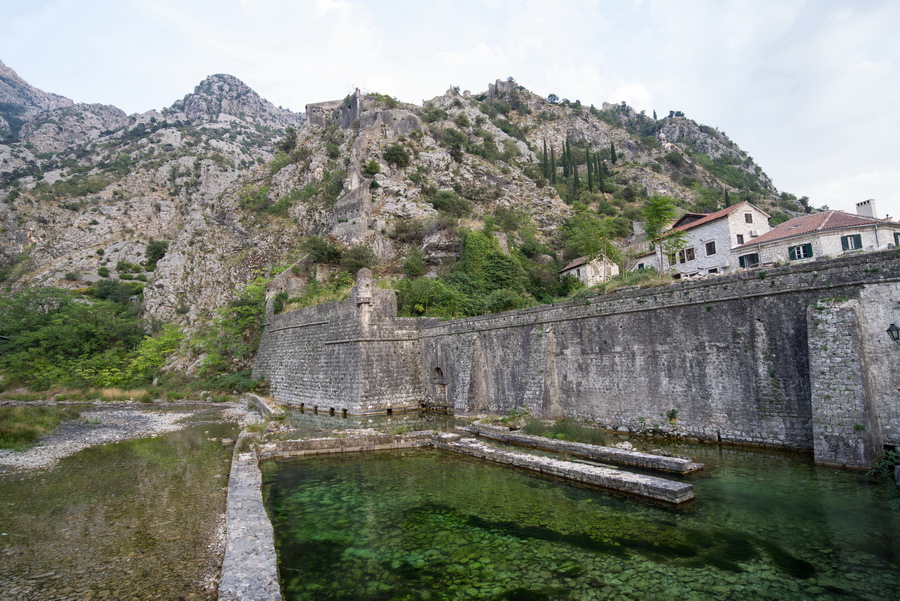 The village of Perast. There are great restaurants and a museum, and superb views across the lake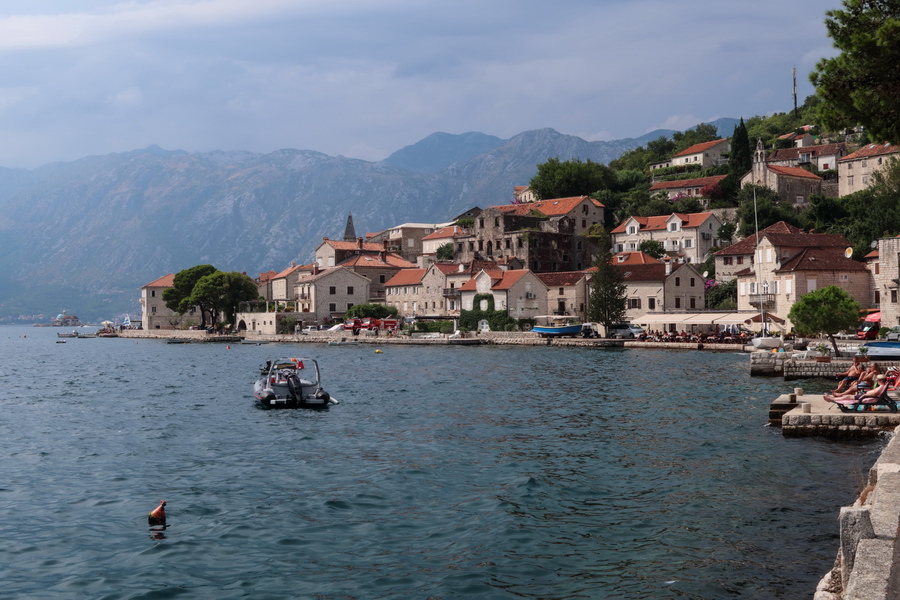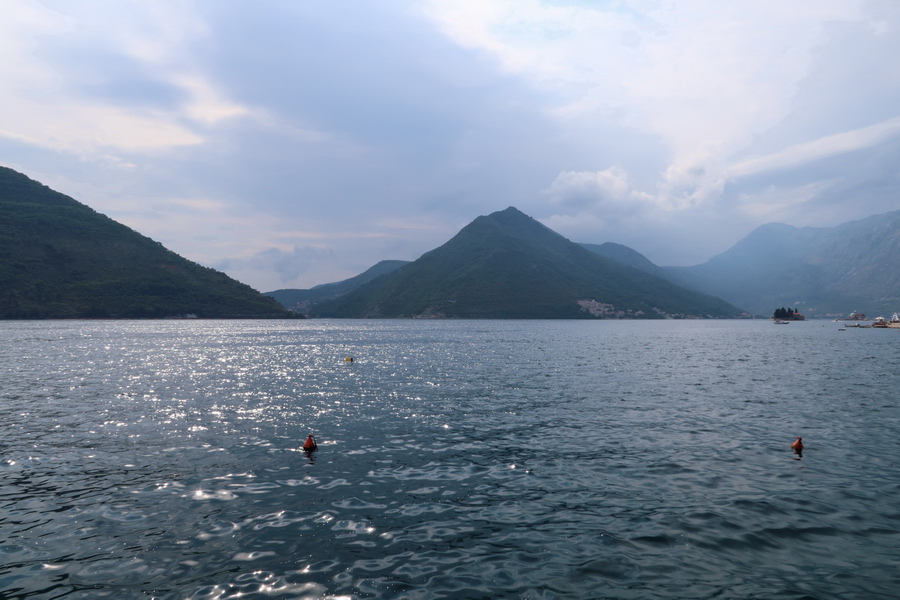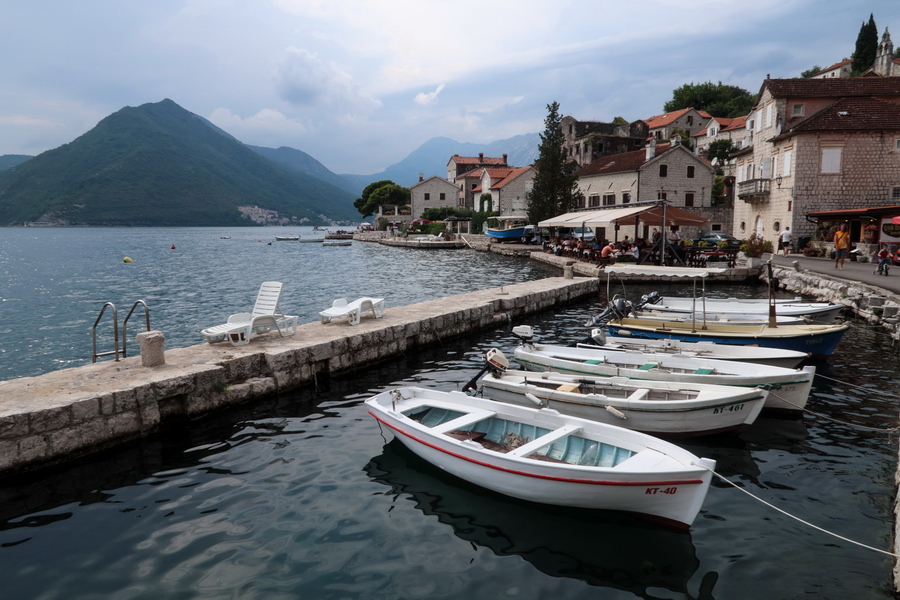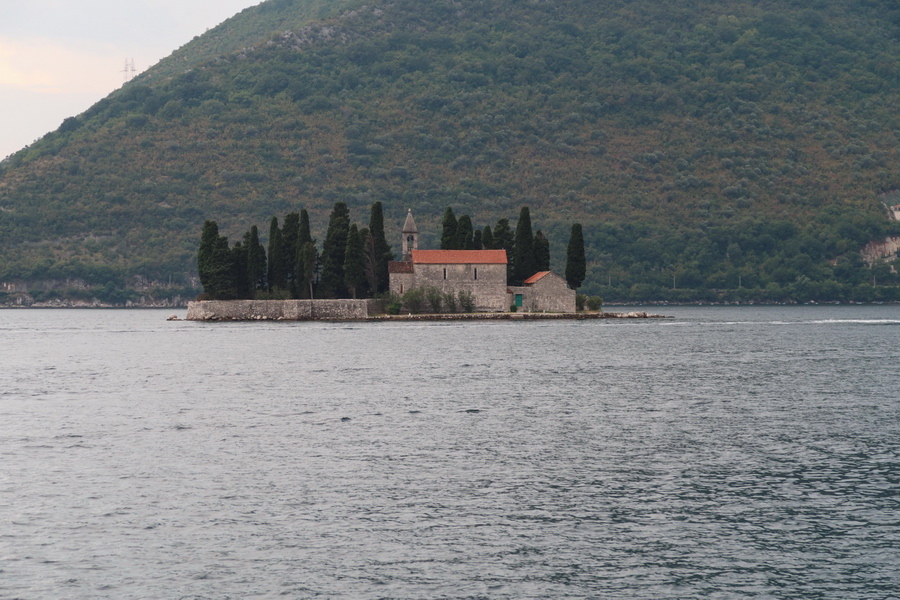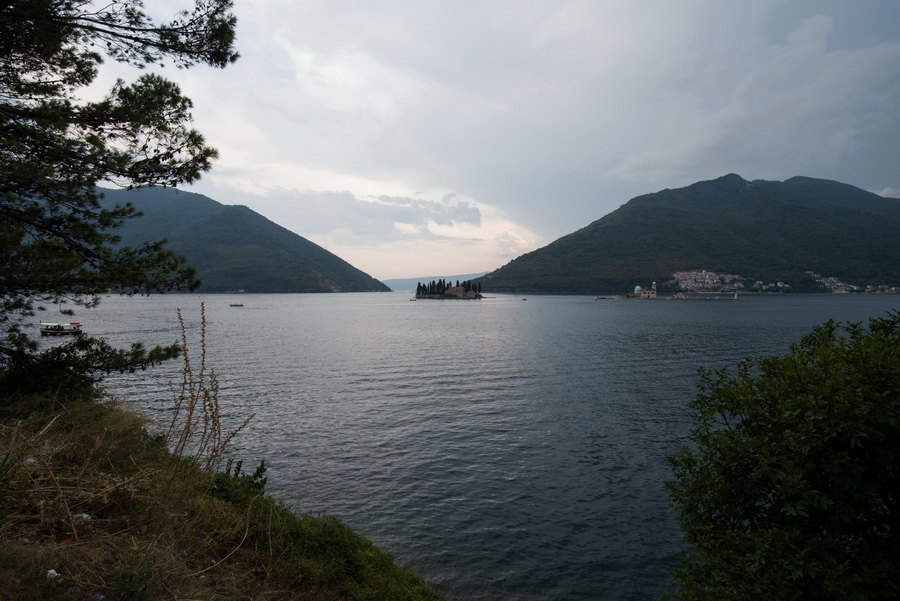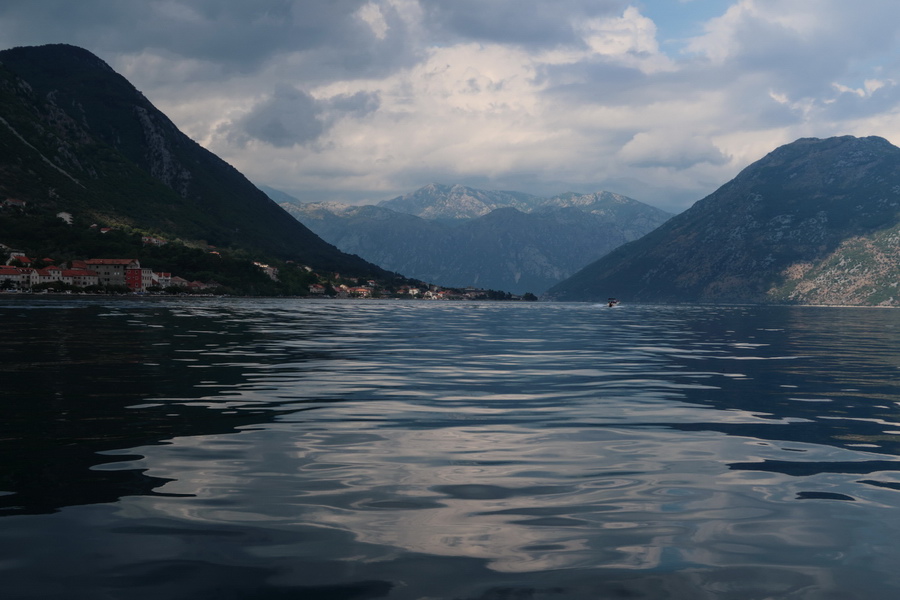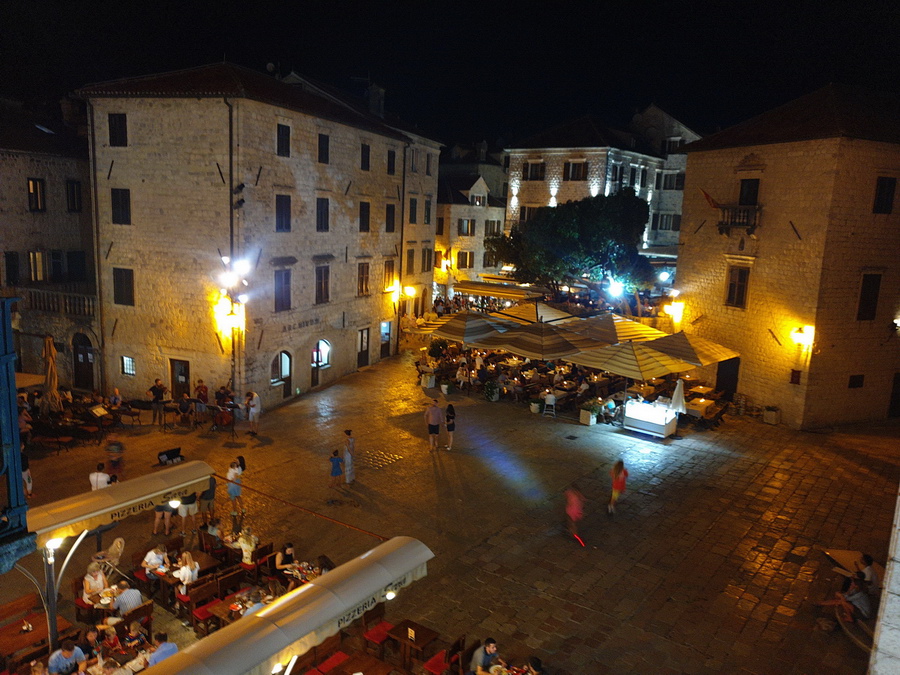 In retrospect, for a stay of several days, we should have planned day trips and done so well ahead. When we tried to book some, we found they were either full or they weren't running because not enough people booked.
There is the usual airport taxi ripoff which can't be avoided. Buses are good, when they turn up

Tivat LYTV to Shoreham EGKA, with a fuel stop on Mali Losinj LDLO
The flight from Brac to Tivat was short and I had 71USG in the tanks, but obviously a fuel stop had to be done somewhere. If trying to do the return flight to the UK in one day, it is best to choose an airport which is known to be zero-hassle and fast, and Mali Losinj LDLO is the obvious choice. Nothing in Italy compares. We did a great EuroGA meet-up on LDLO in 2014. Portoroz LJPZ in Slovenia is also an excellent well organised airport. Stopping north of the Alps, in Germany, needs more planning because Croatia is not in Schengen and many German airports cannot be used.
Weather looked good all the way back home. No real headwind (or tailwind) was forecast. There was bad weather over W Italy and France which meant that the usual route back home (further to the west and then up through E France) could not be used.
MSLP: 0600 1200 1800
IR Sferics Radar TAFs/METARs Windy.com winds
Autorouter briefing pack LYTV-LDLO
The route to LDLO was filed for FL100, and with a VFR arrival ("Y" flight plan) because LDLO had nobody in the tower
LYTV N0152F100 KOFER1C KOFER L611 UVODI L862 SPL L607 ZDA VFR LDLO
Alternates: Split LDSP, Dubrovnik LDDU, and others
274nm as filed
228nm GC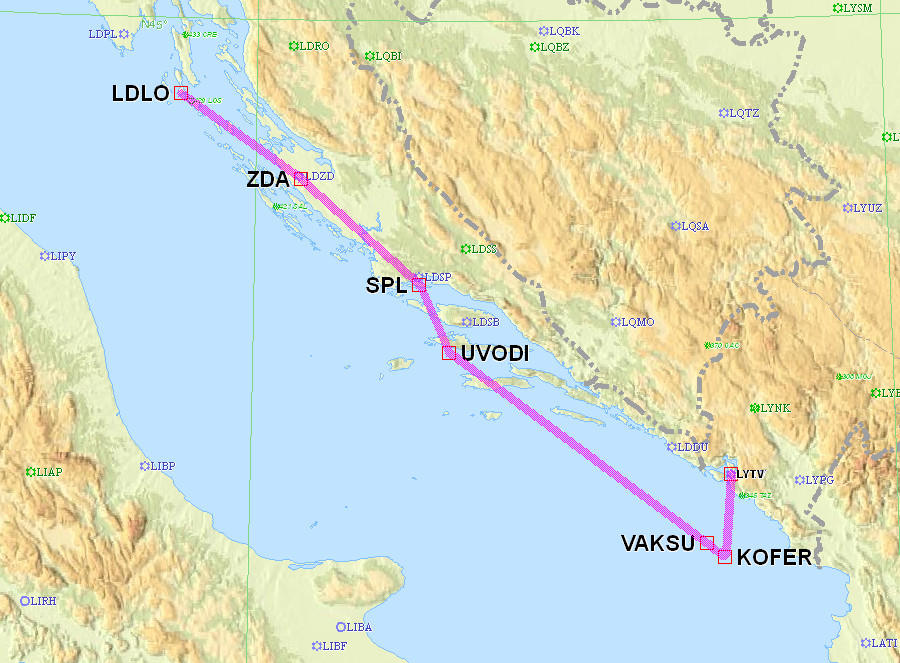 Departure from LYTV was fairly unproblematic. For some reason the airport is really tight on security, with everybody wearing a uniform but only some of them authorised to actually do anything.
As on arrival, ATC dumped the IFR flight plan and told us to depart VFR, via published VRPs. It wasn't worth an argument...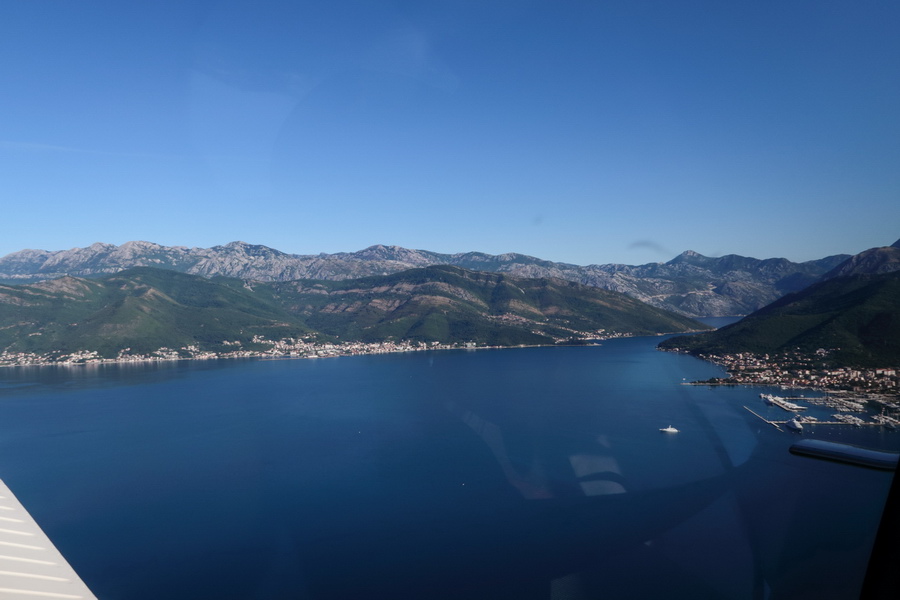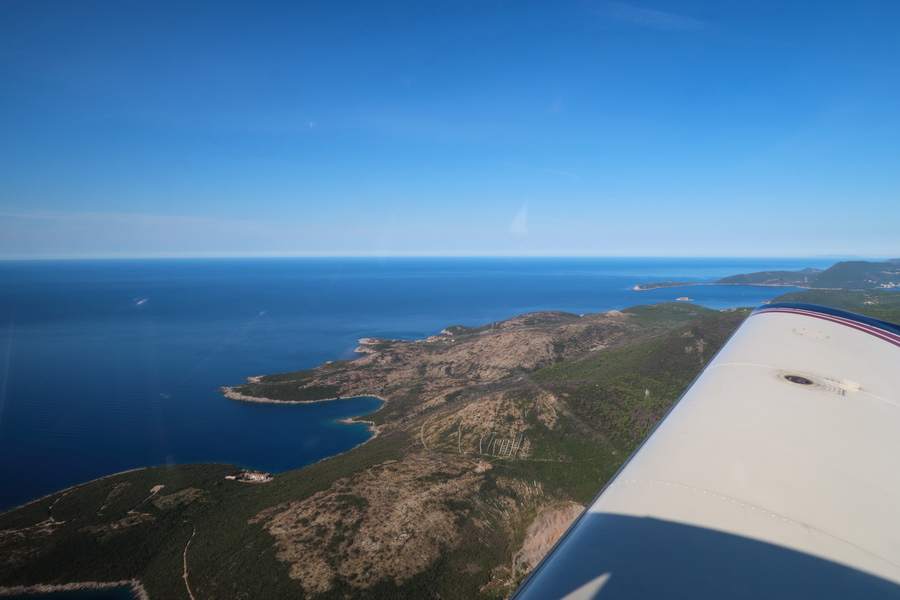 This is a view towards Albania - the wrong direction for going north to Mali Losinj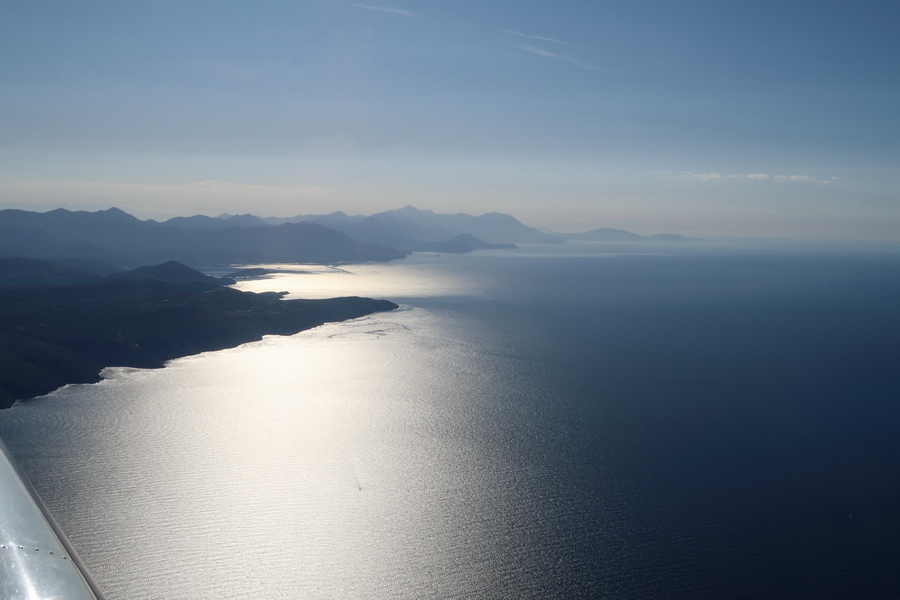 Dubrovnik area, and back in the hands of ATC which seems to know what they are doing

Apologies for the blue tint... it is caused by haze and there is no really easy way to remove it, especially when a photo is showing both near and far objects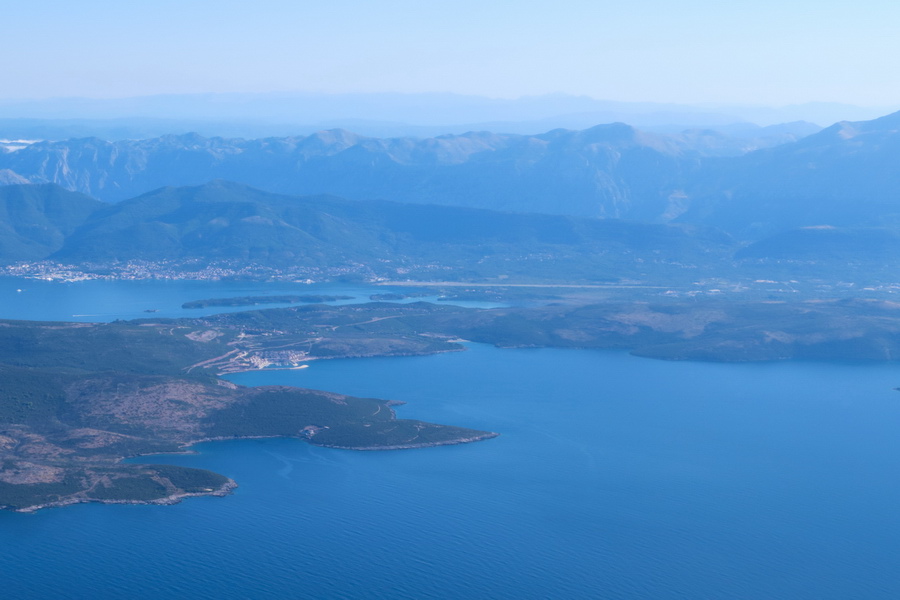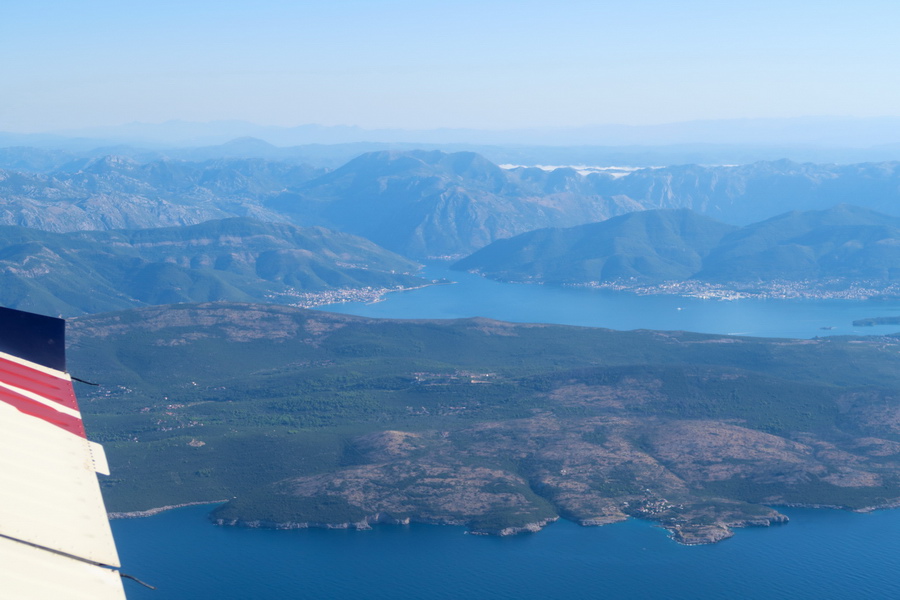 Dubrovnik airport again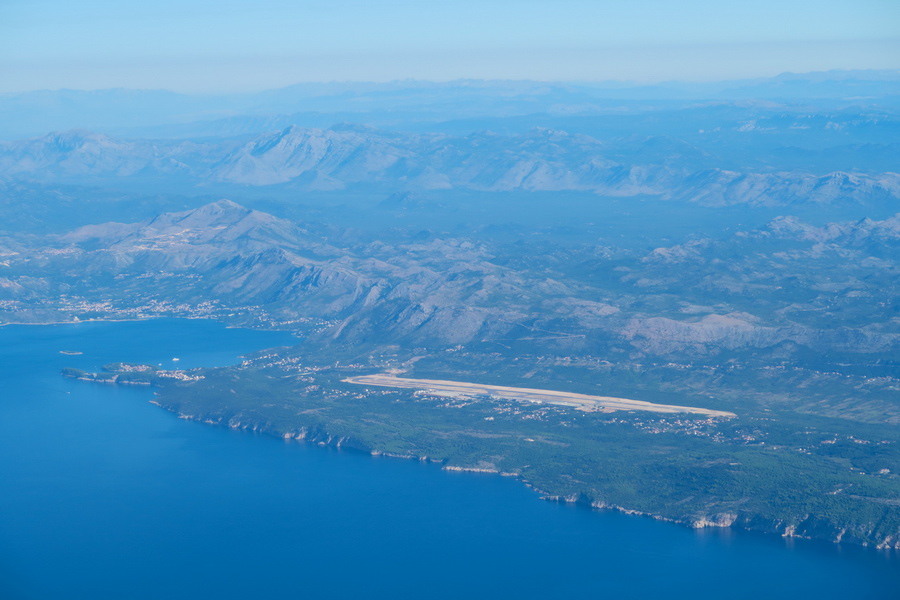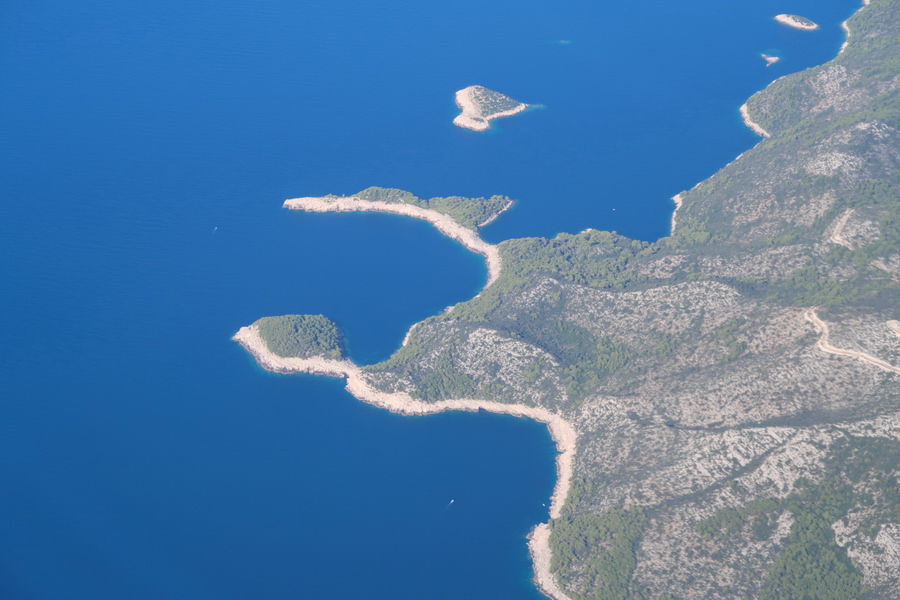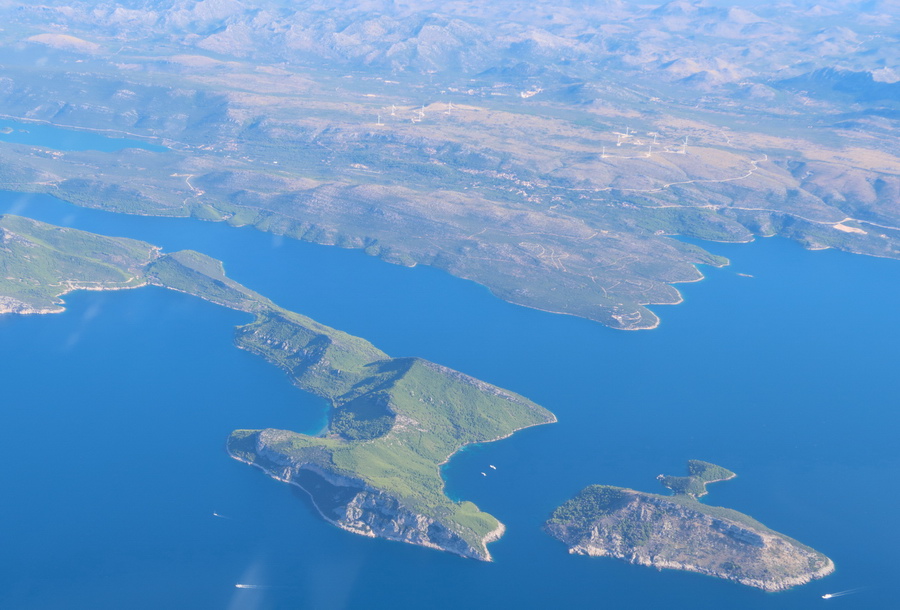 Croatia is reportedly excellent for sailing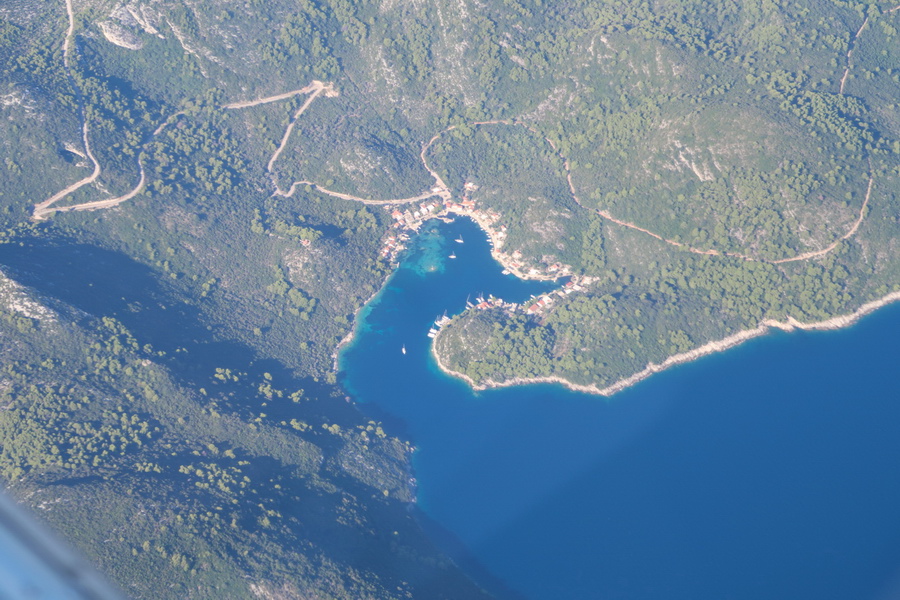 and fish farming, lots and lots of it... most fish sold in the Med are farmed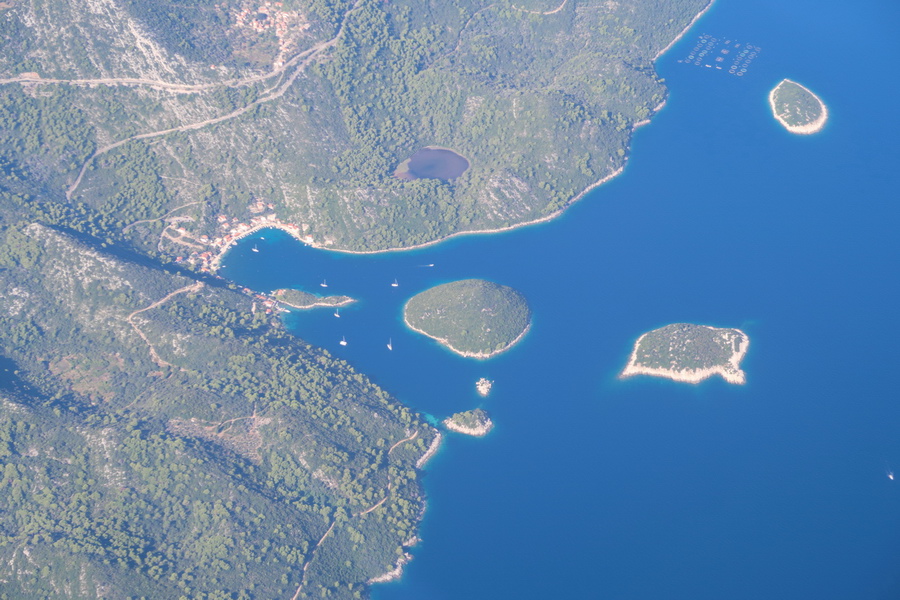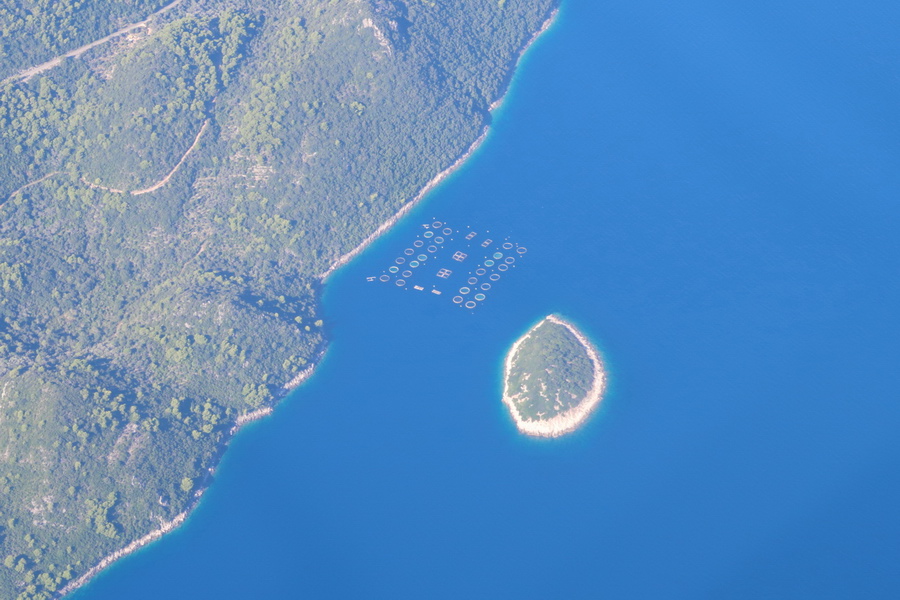 Most of the small islands are uninhabited, though some tiny ones have a house on them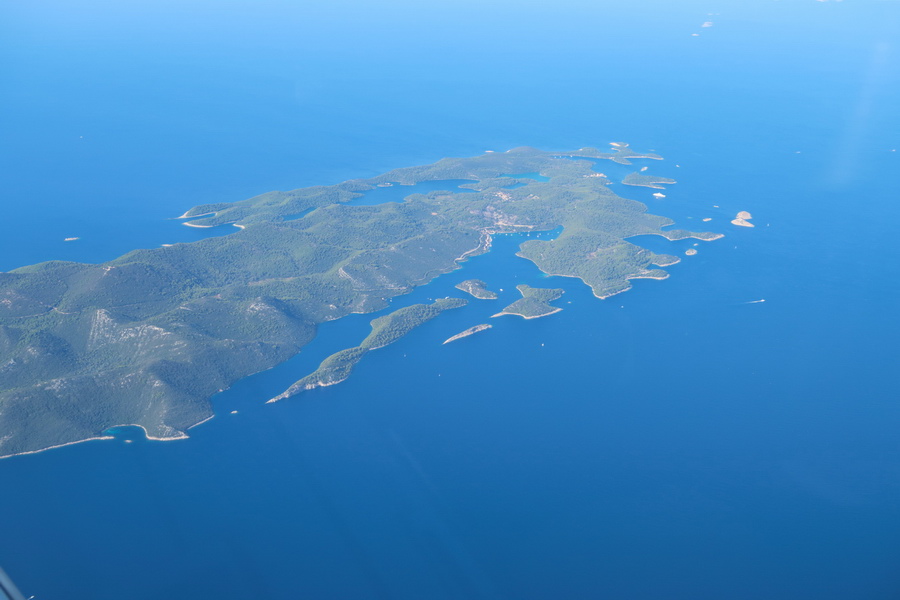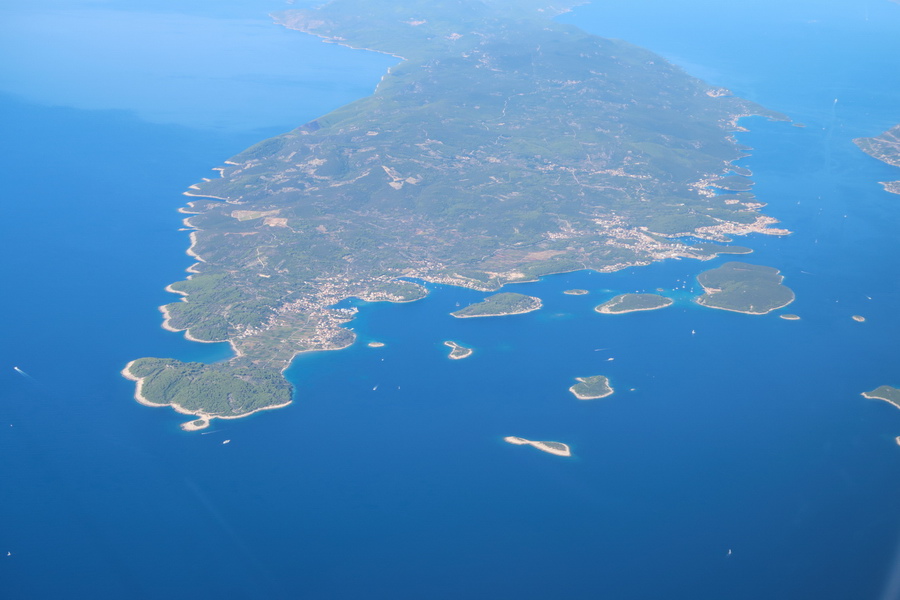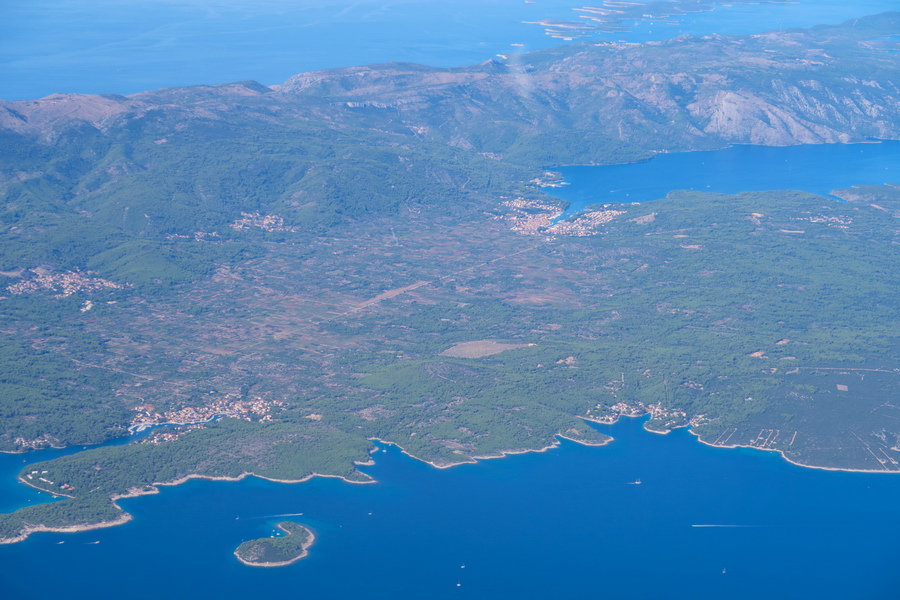 Brac airport, with Bol under it on the coast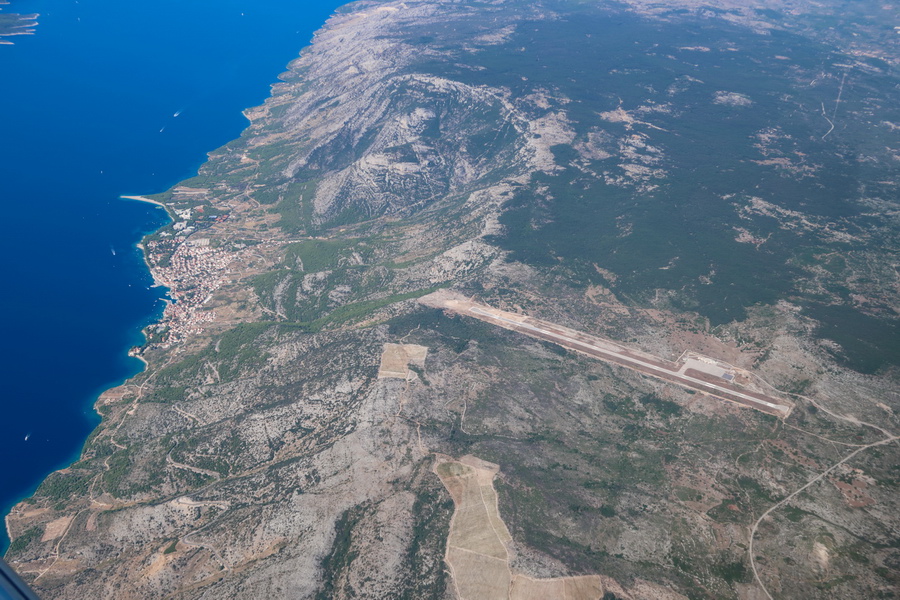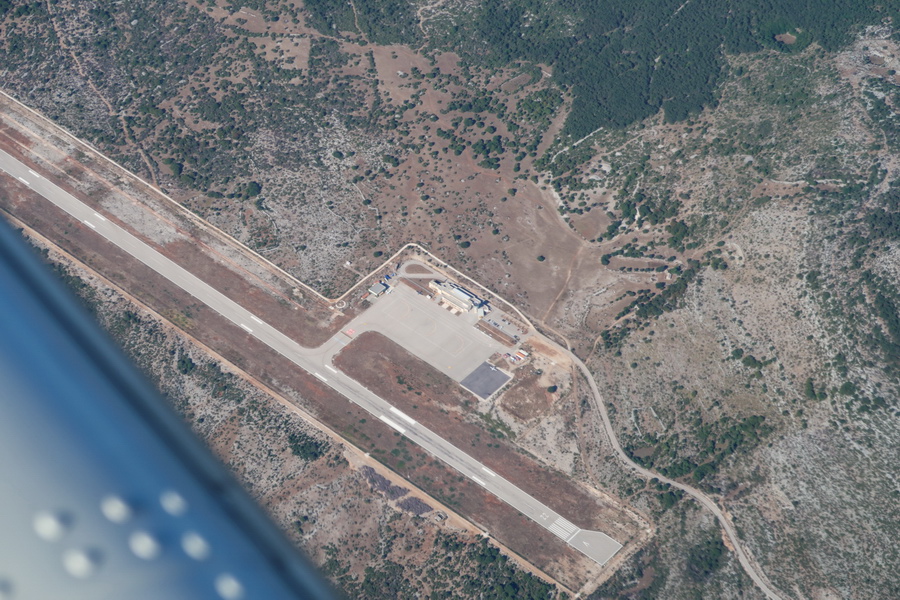 Split and its airport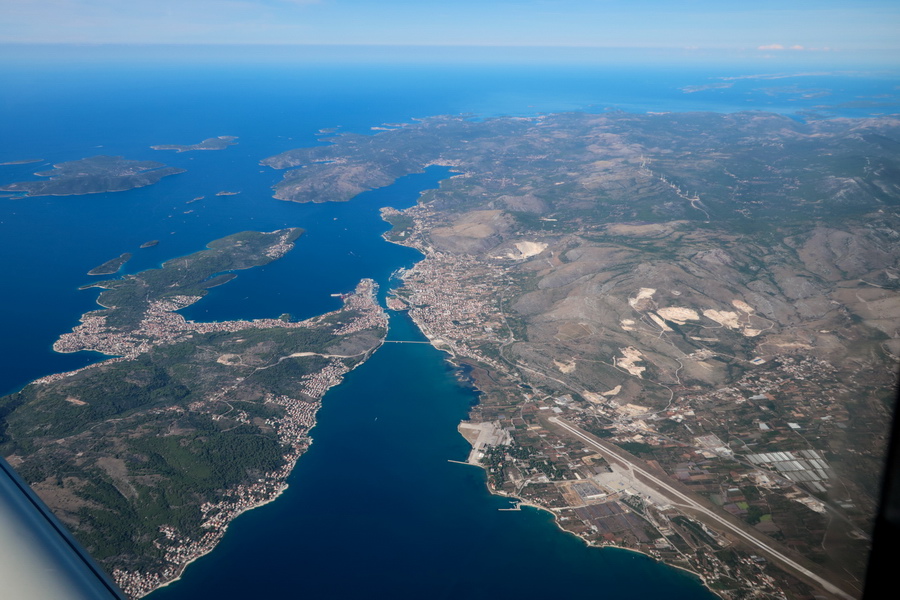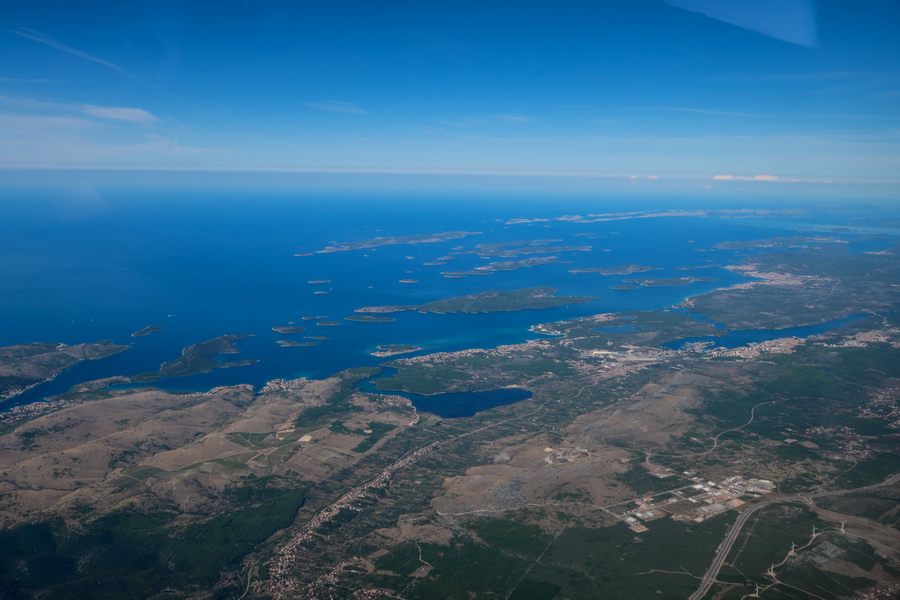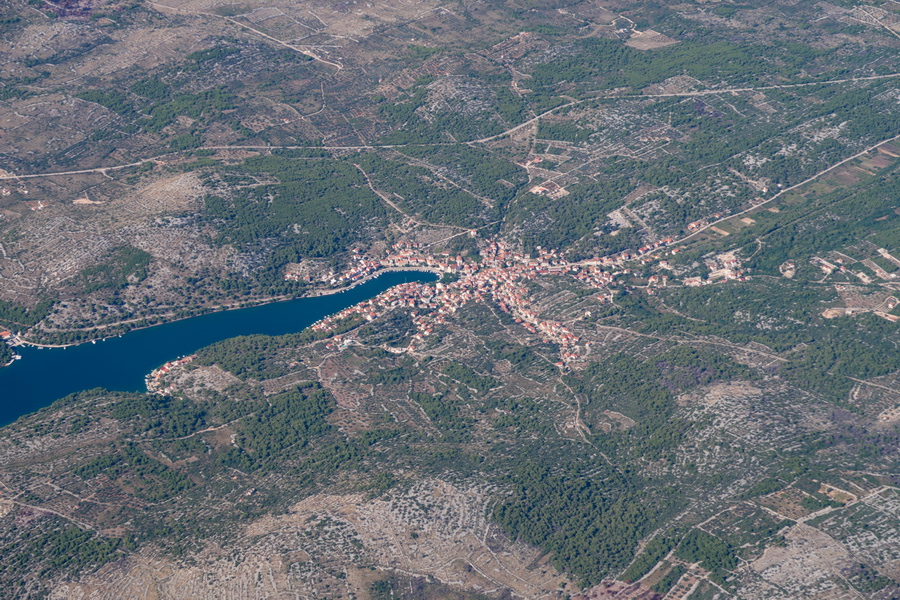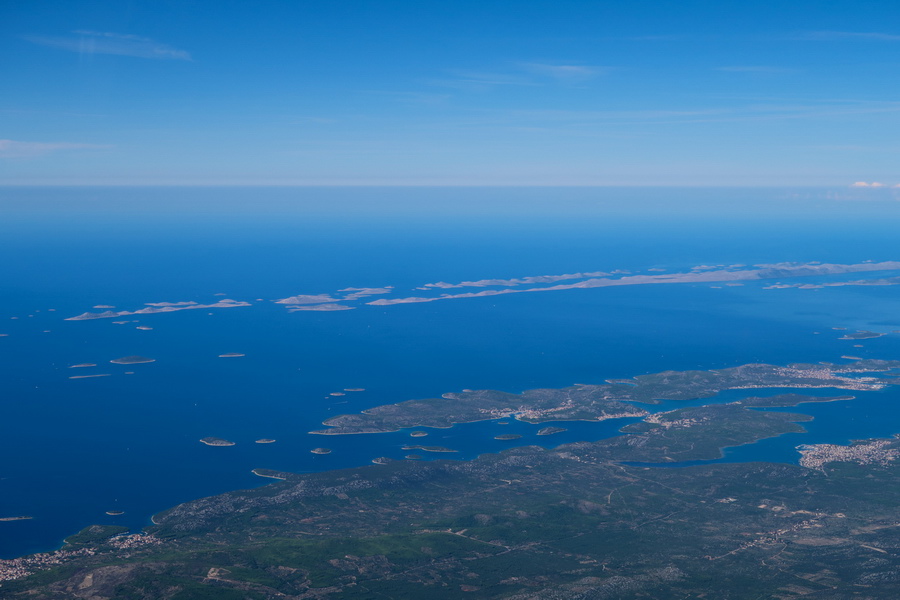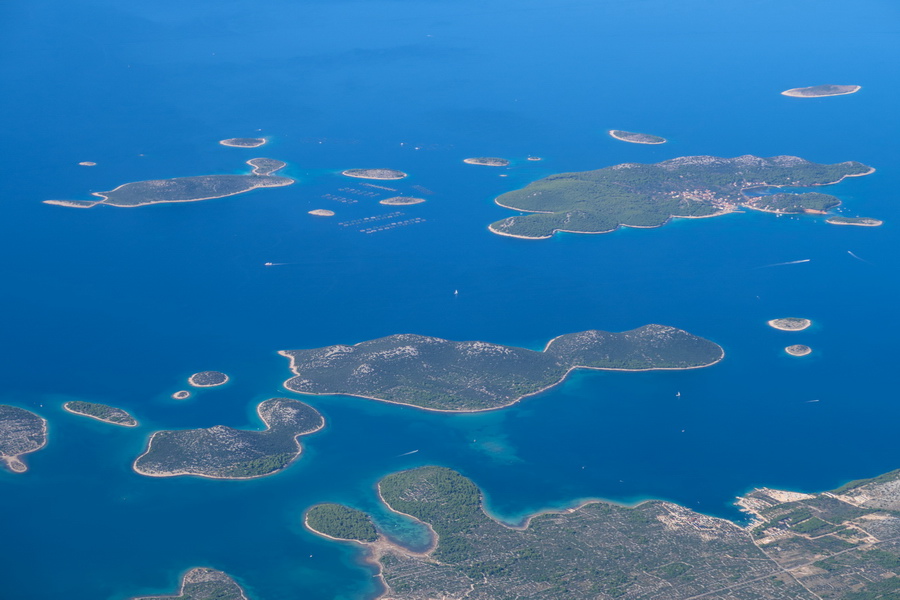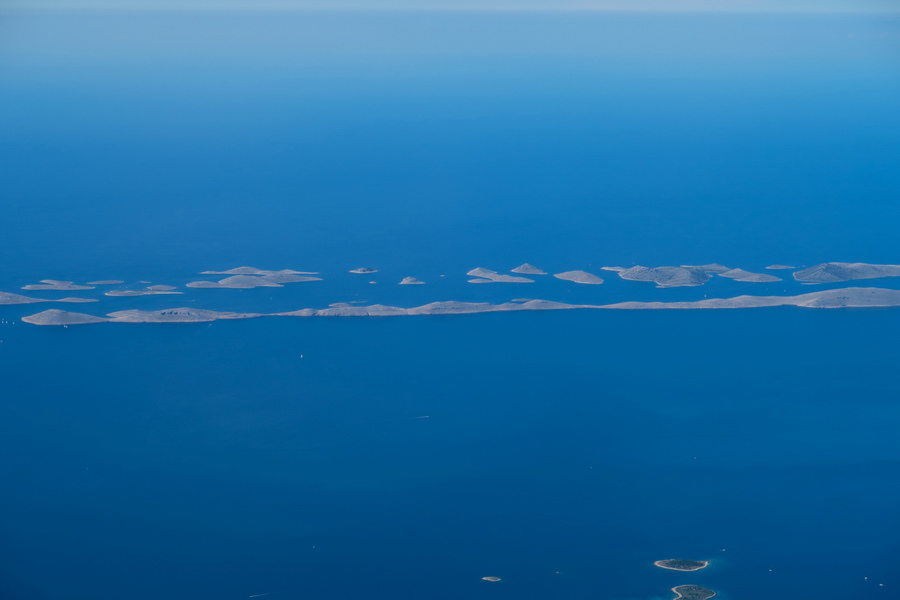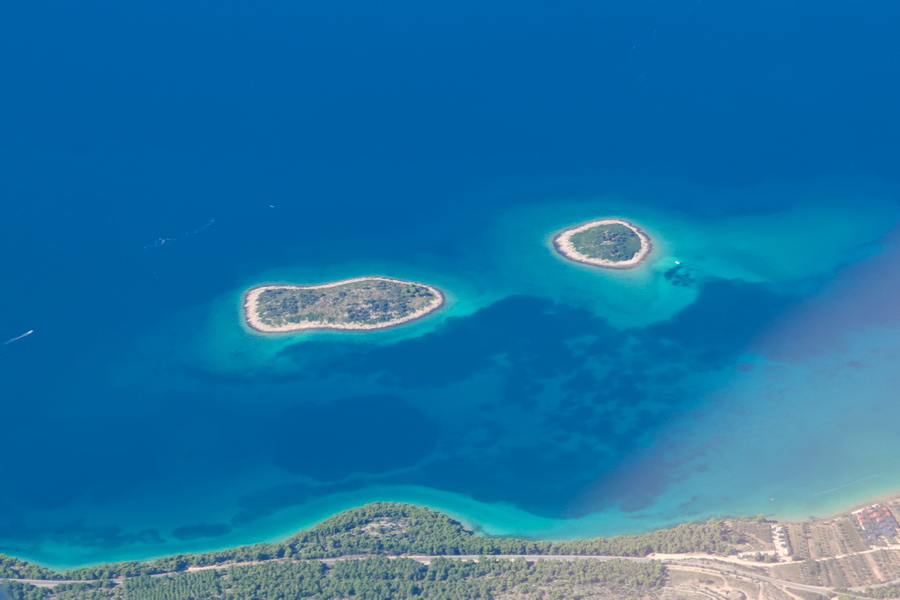 At FL100 and fuel totaliser forecasting 46USG on landing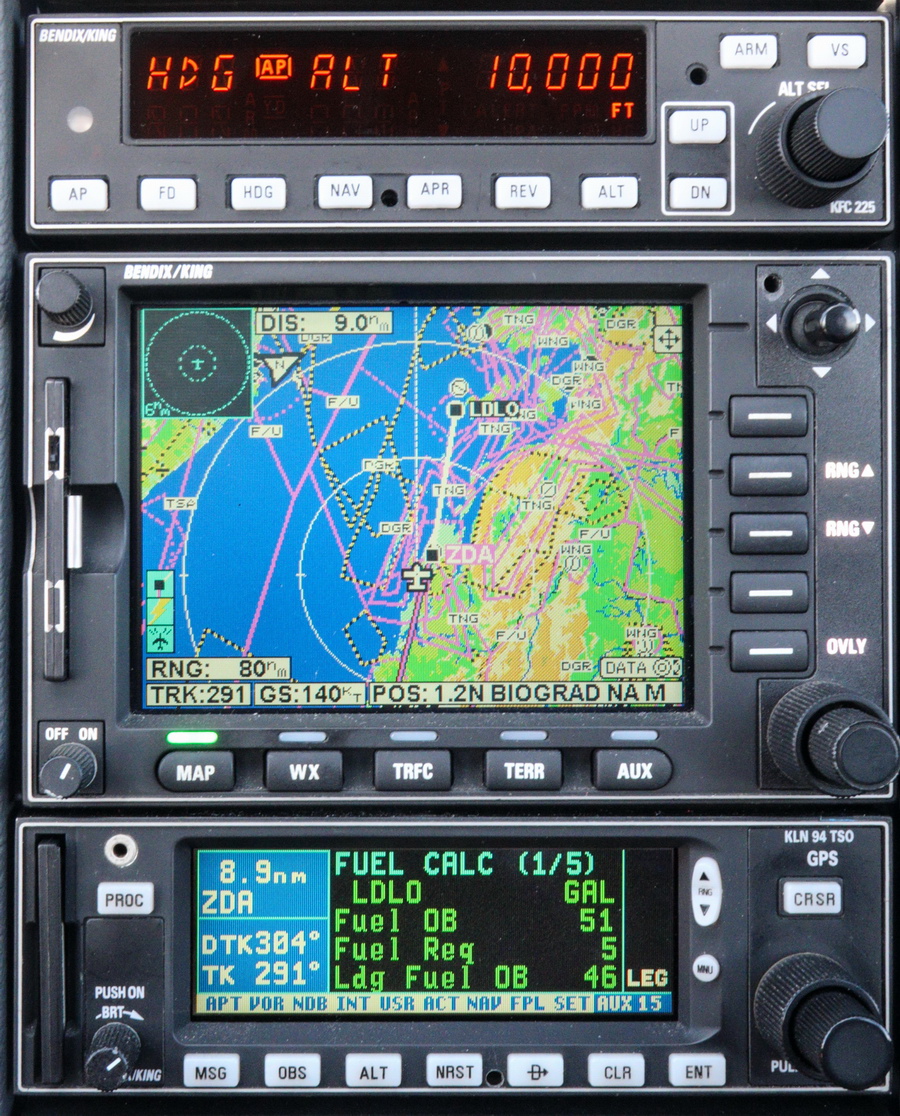 Zadar airport, with the crosswind runway which really comes into its own when the Bora wind is blowing down the mountains. 3 years ago I flew down here, at FL150, with the wind blowing, and it was a wild ride. The sea below was almost white...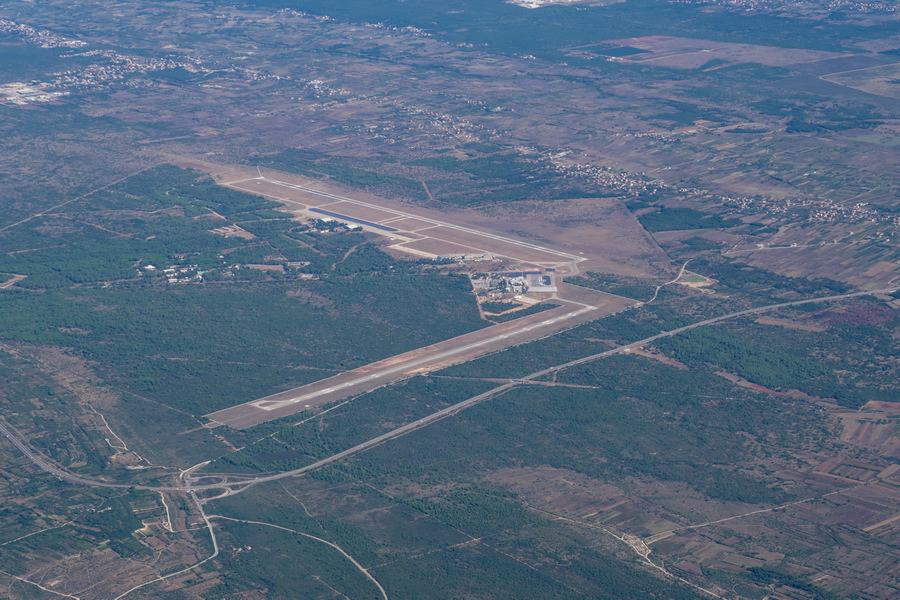 This is a former military airbase called Šepurine. It was totally devastated in the wars but the runway is in perfect condition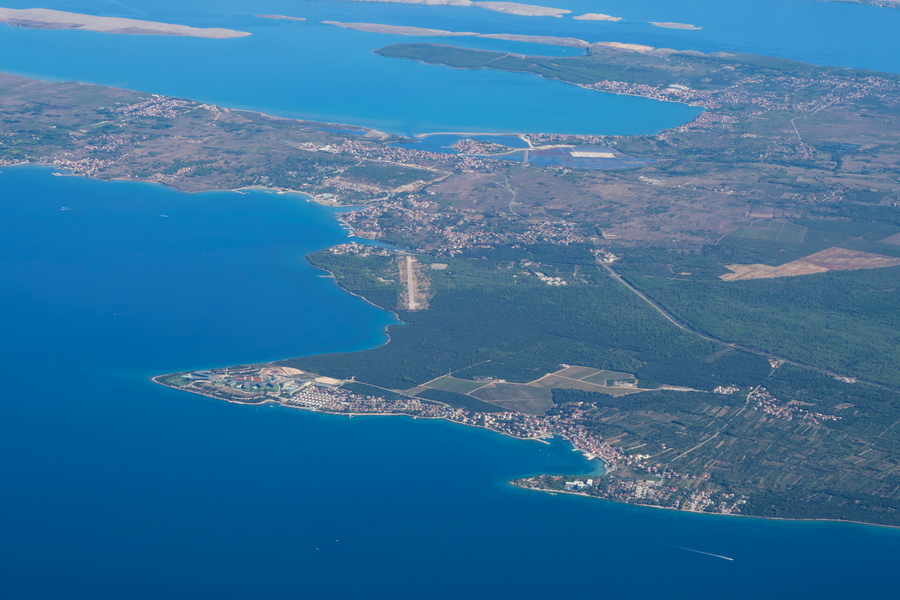 I never get tired of this wonderful scenery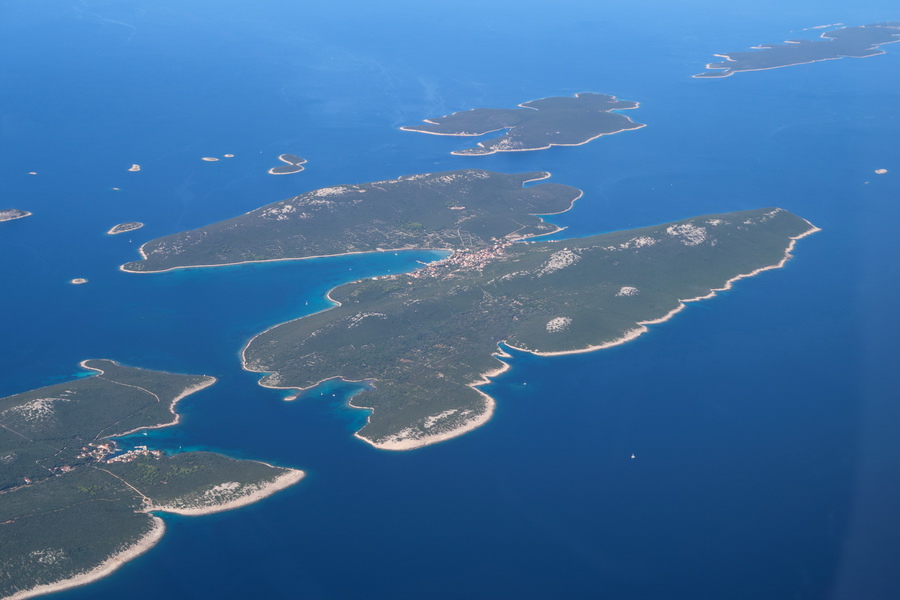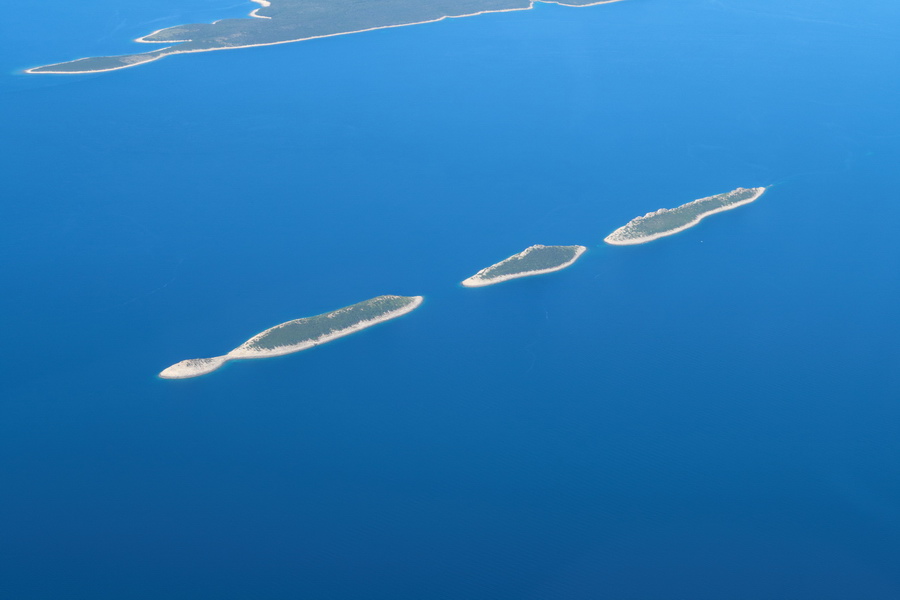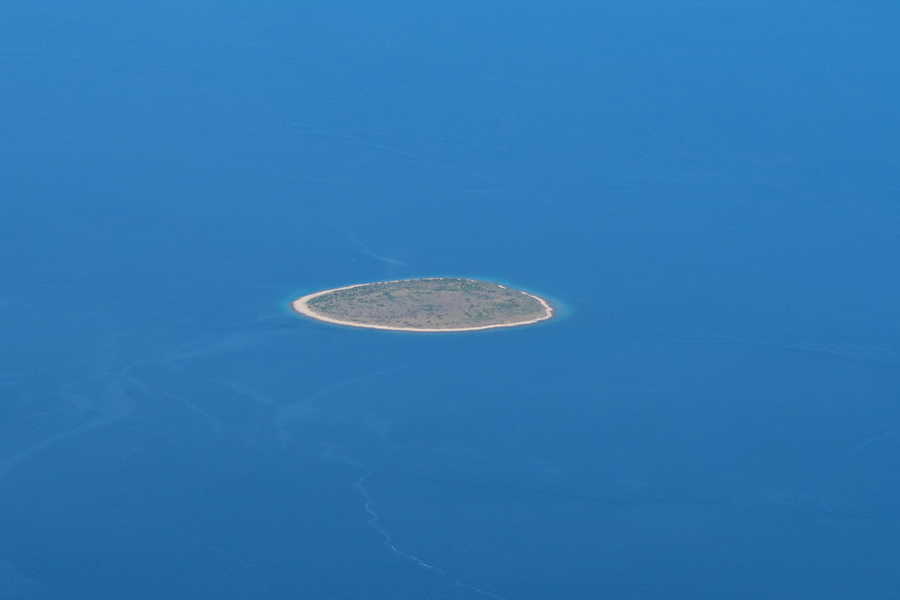 Approaching Mali Losinj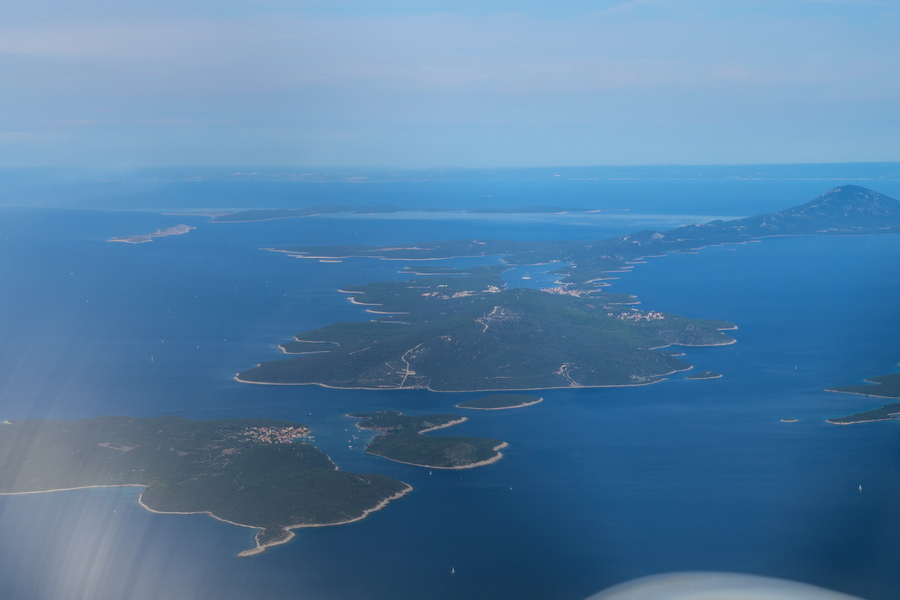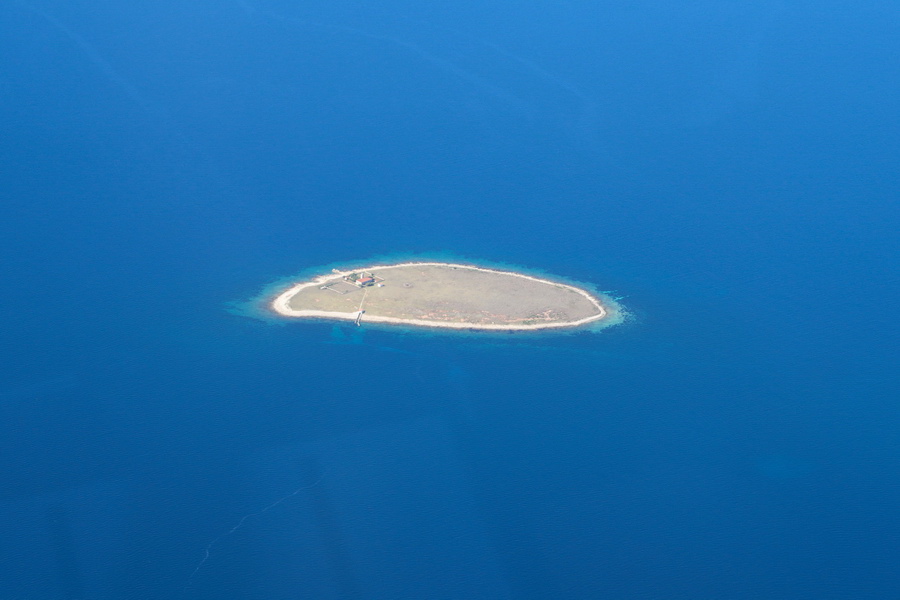 The town of Mali Losinj is in the centre, while the airport is at far left. The whole of Croatia is basically GA heaven and those who run the job creation/protection schemes we have to fight with in N Europe would do well to learn some lessons from it. Of course they won't...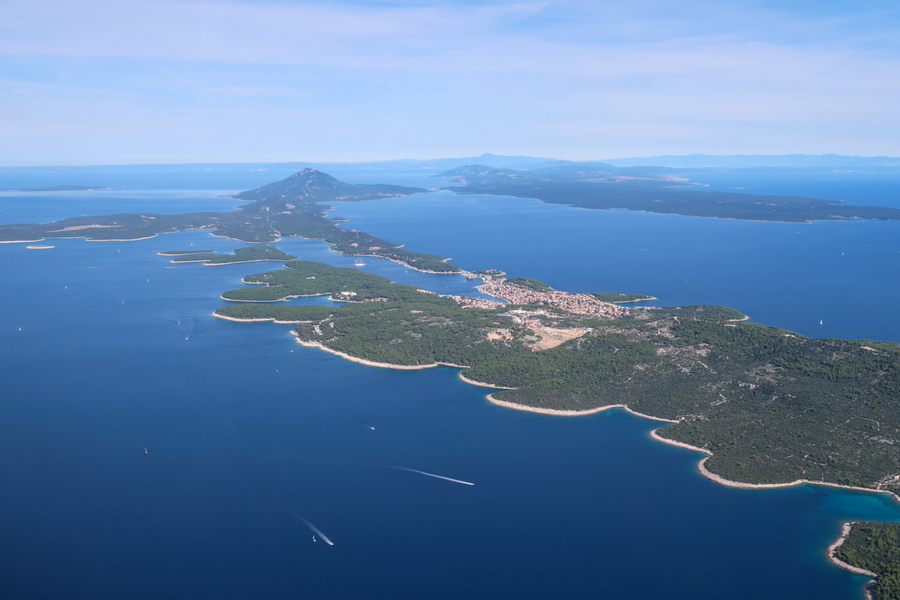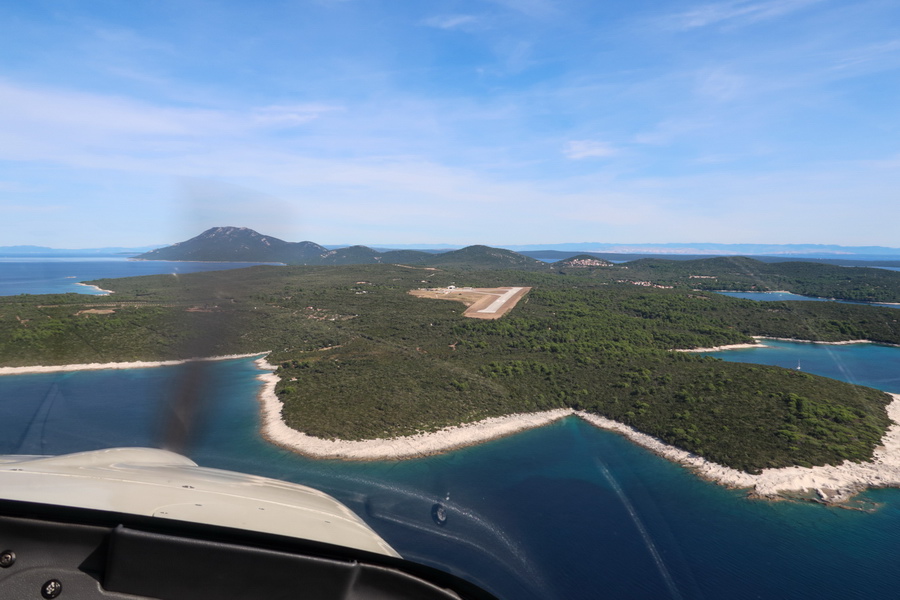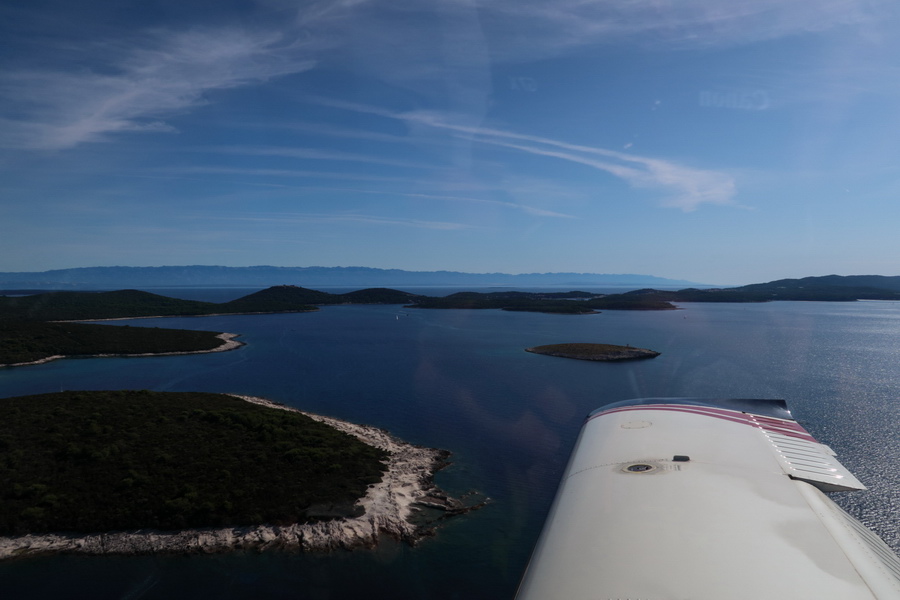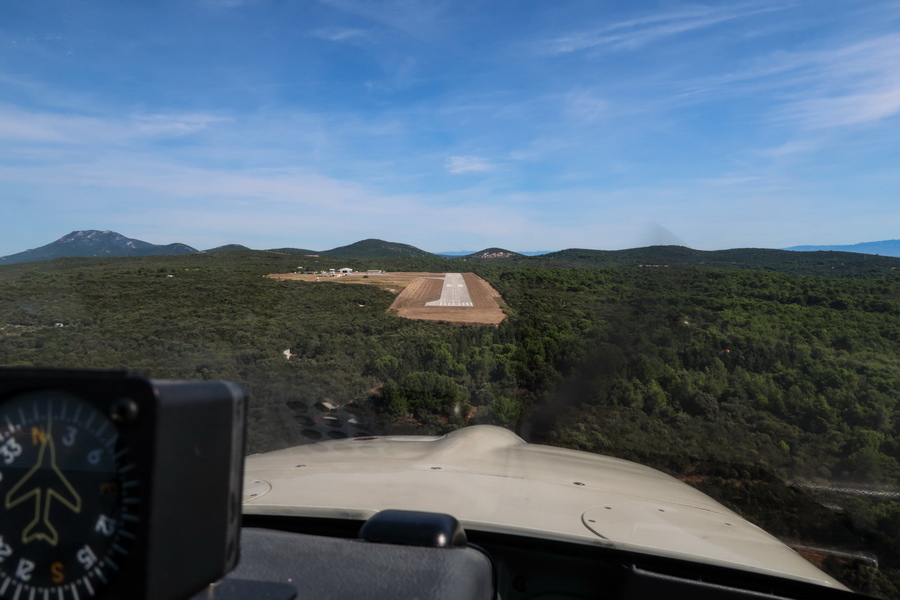 There was nobody in the tower and as we taxied in, a man on a bike came up holding a big sign "AVGAS??" so I gave him a thumbs-up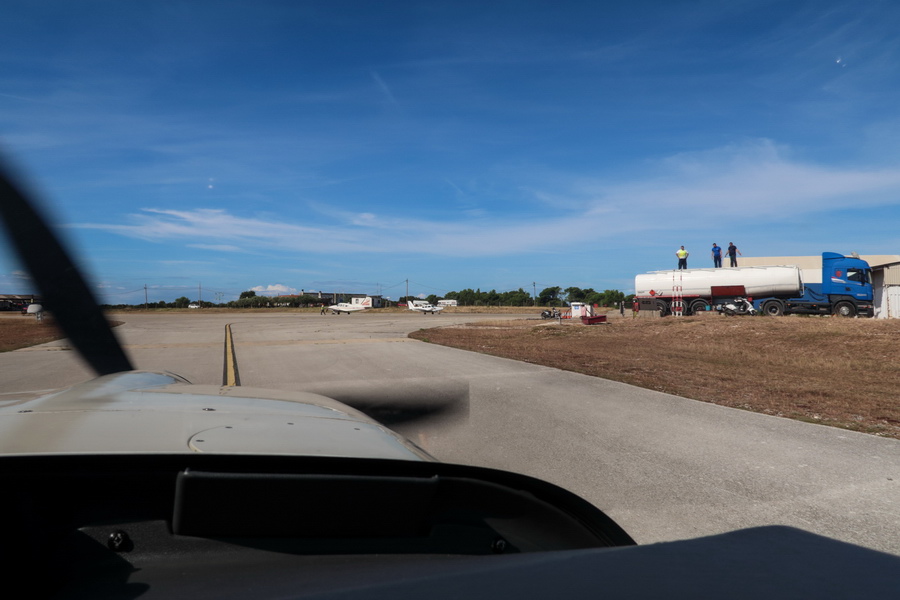 The "terminal building" in the distance, and the cafe/bar on the far right, behind the flags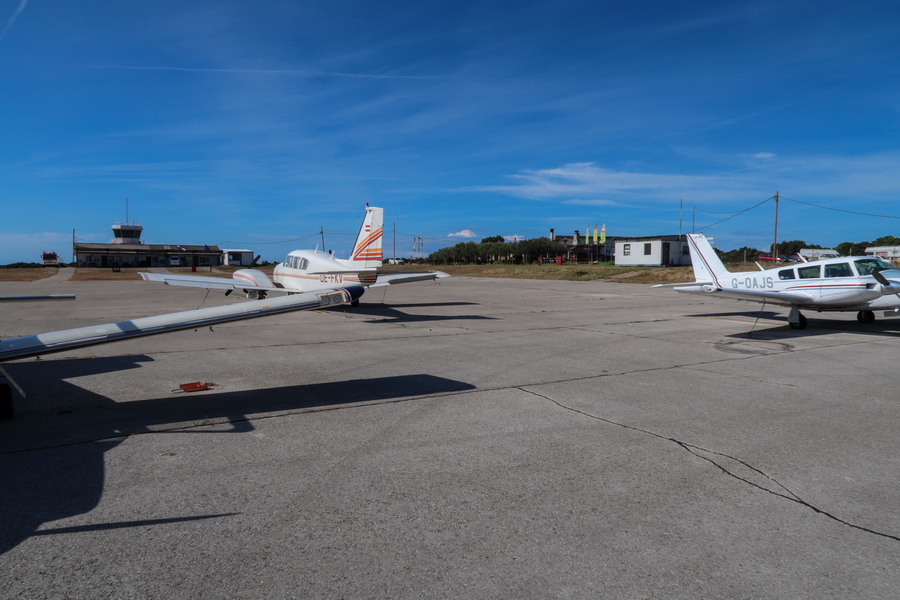 Police looked at our passports and said that since we are not entering Croatia we can go straight away. Well, that is the normal scenario on Mali Losinj

with the only difference being that since Montenegro is non-EU, the passport would have got stamped.
The onward flight plan to Shoreham had been filed back at Tivat, with about an hour allowed for the Mali Losinj stop.
The route to EGKA was filed for FL160. The flight plan was a "Z" because the nontowered status required a VFR departure.
LDLO N0148F130 LAPAB/N0145F160 IFR Z906 NAXAV L12 MOGTI/N0147F140 P66 NESES/N0152F110 P66 KPT/N0151F090 DCT LUPOL Z79 KUNOD DCT VATER DCT BADLI/N0152F100 Q762 LULAT Z104 GESLO N852 LNO L607 KOK DCT AUZON DCT KONAN DCT LZD/N0145F040 DCT SFD EGKA
Alternates: Lydd EGMD, Biggin EGKB, Bournemouth EGHH
767nm as filed
700nm GC
Autorouter briefing pack LDLO-EGKA
The route has quite a long Alps crossing but today the weather was good and we wanted to avoid bad weather over W Italy and France. Therefore a more easterly route was chosen, compared to the one shown on the overall trip image at the start of this writeup: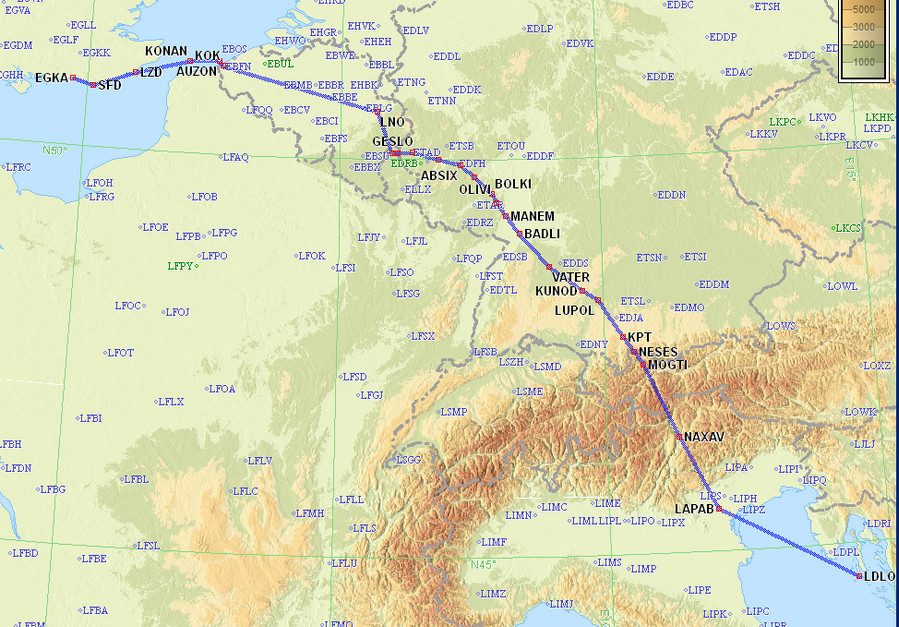 On departure, we had to wait a bit while a medevac helicopter collected someone from an ambulance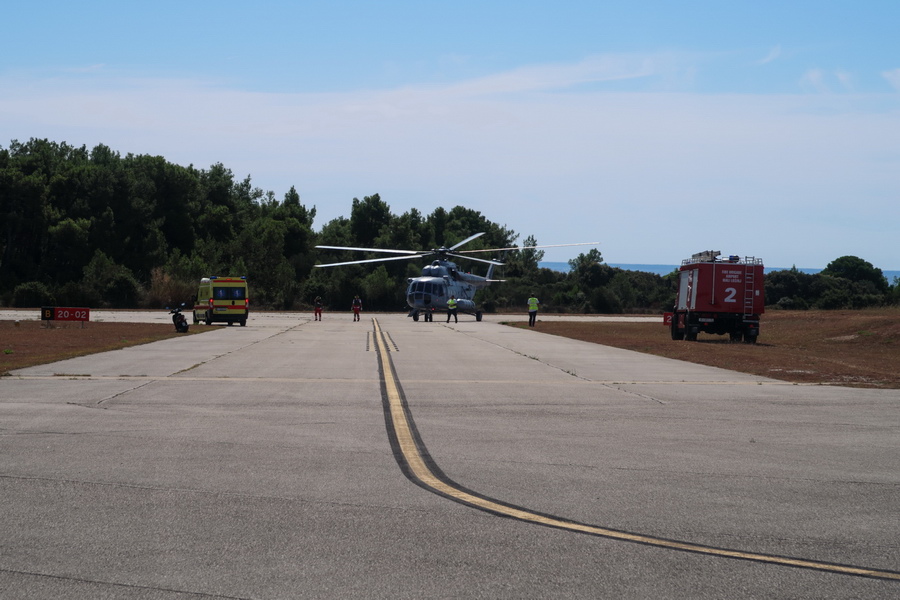 I got fresh weather info but the local weather was great anyway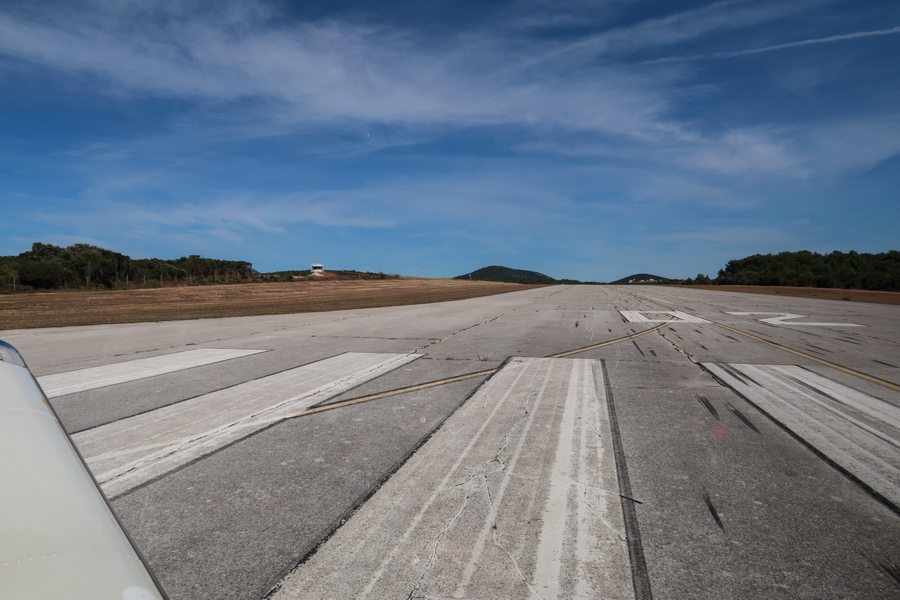 The island of Unije and the grass runway which appears disused but there is occassional activity visible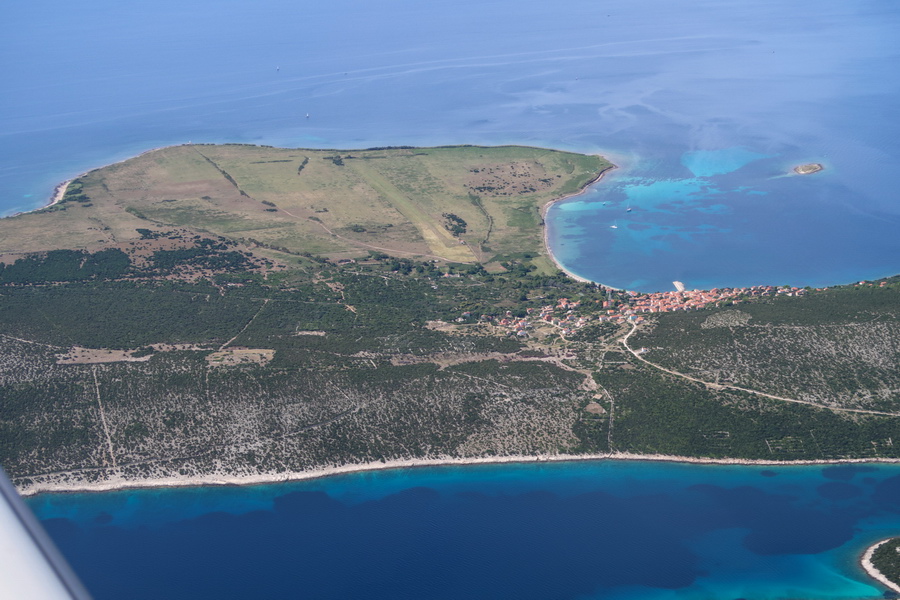 Heading to cross the Alps, while climbing to FL160. With mountains one generally wants to be high enough to see across the top of any terrain (or cloud cover) before reaching them, otherwise you end up trying to climb through icing conditions which impact climb performance. Some aircraft types have additional issues; the TB20 engine will stop at -15C due to fuel servo icing, unless alternate air is used, but alternate air reduces climb performance significantly. The DA42 has the same issue; both engines stop...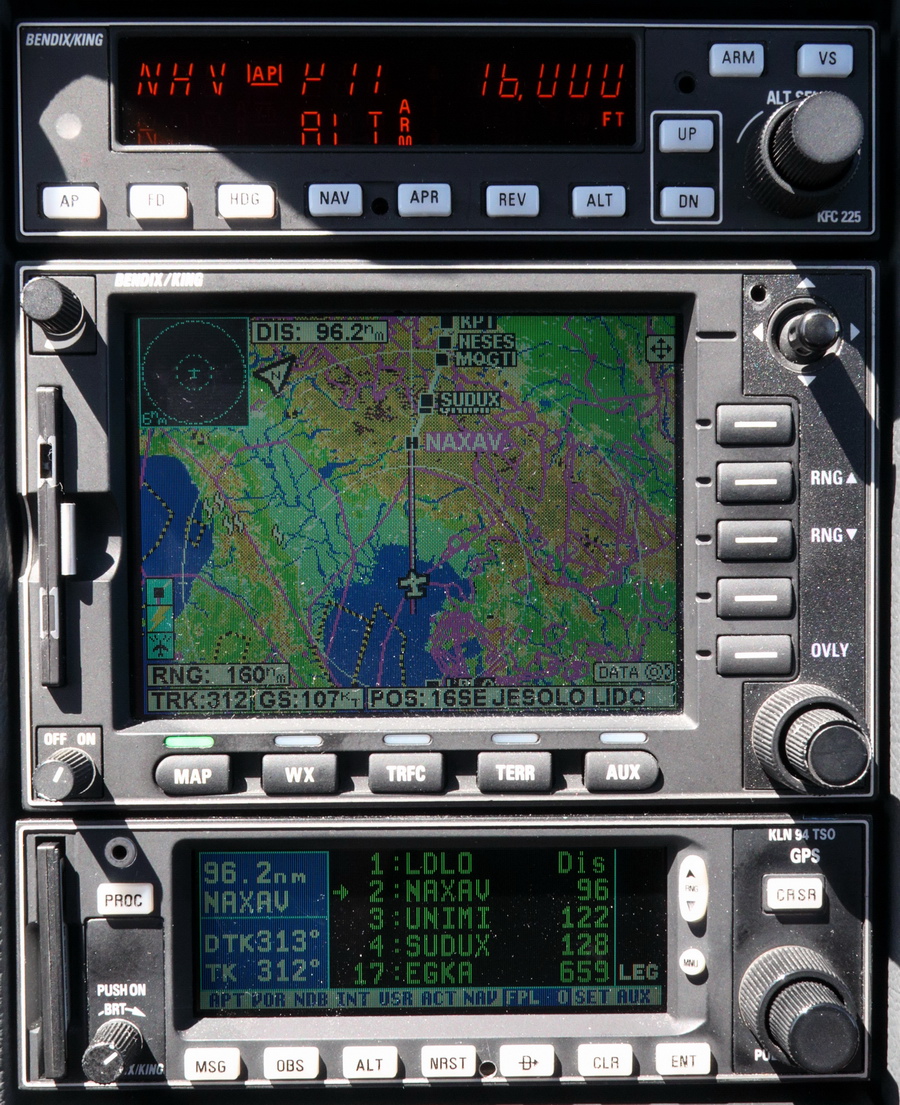 Venice ahead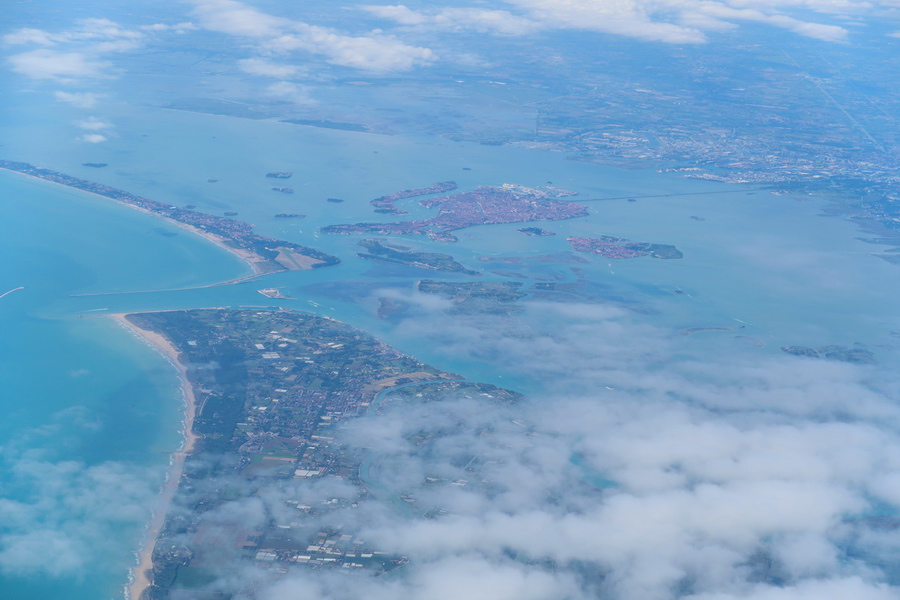 The Alps. One day I will learn the names of some of these mountains

The GPS track, in GPX format, is linked further down and there are ways to export that to Google Earth, etc.
On all overflights of the Alps I run a topo map on the tablet which should enable a glide into a suitable canyon, in the event of an engine failure.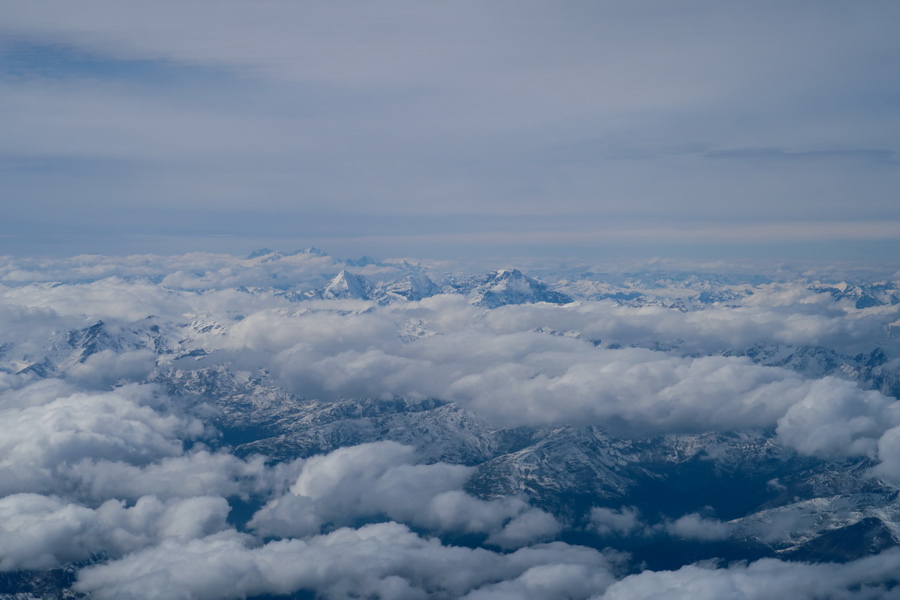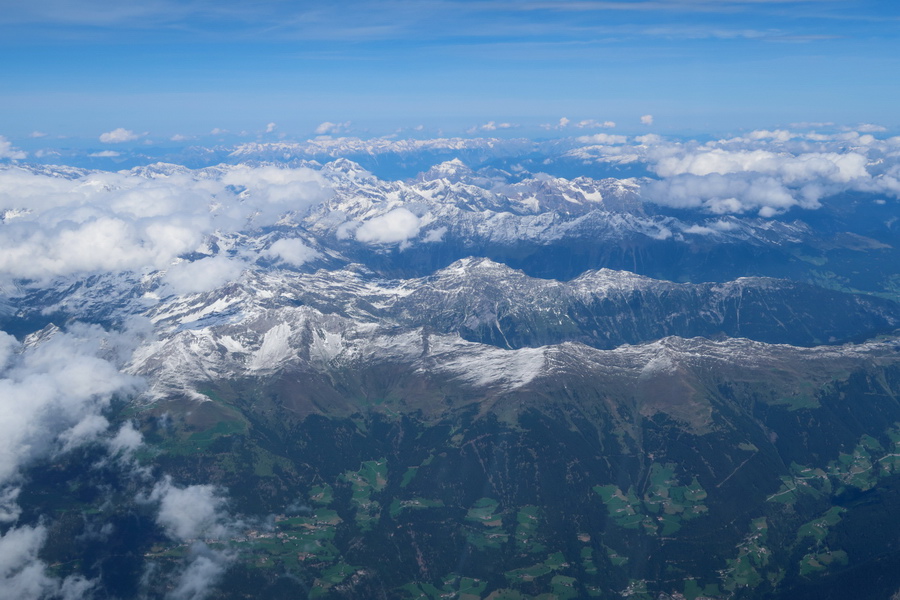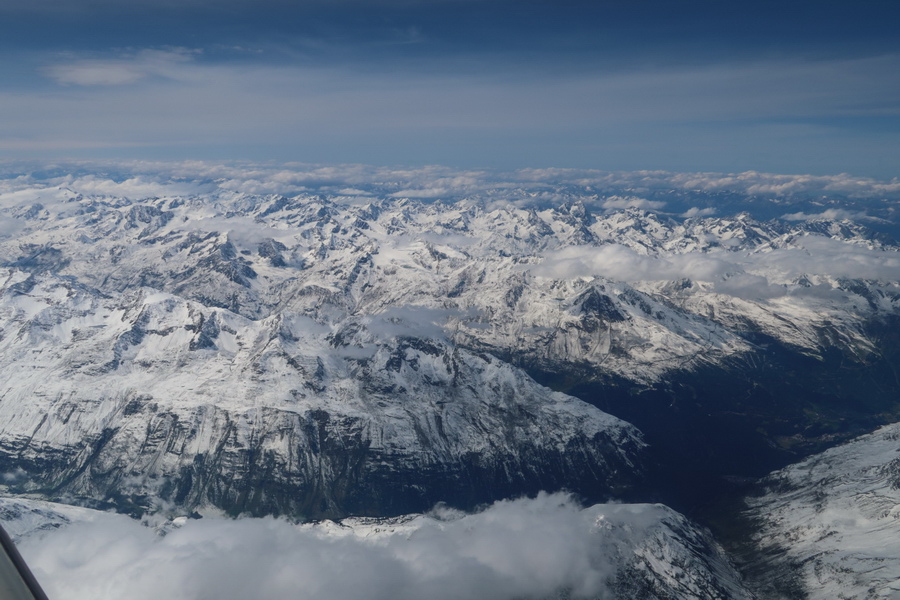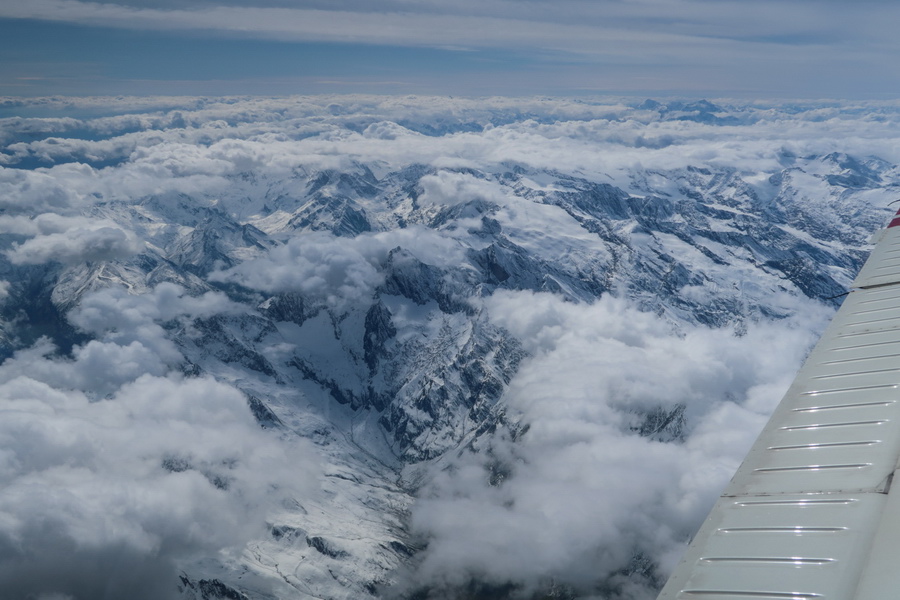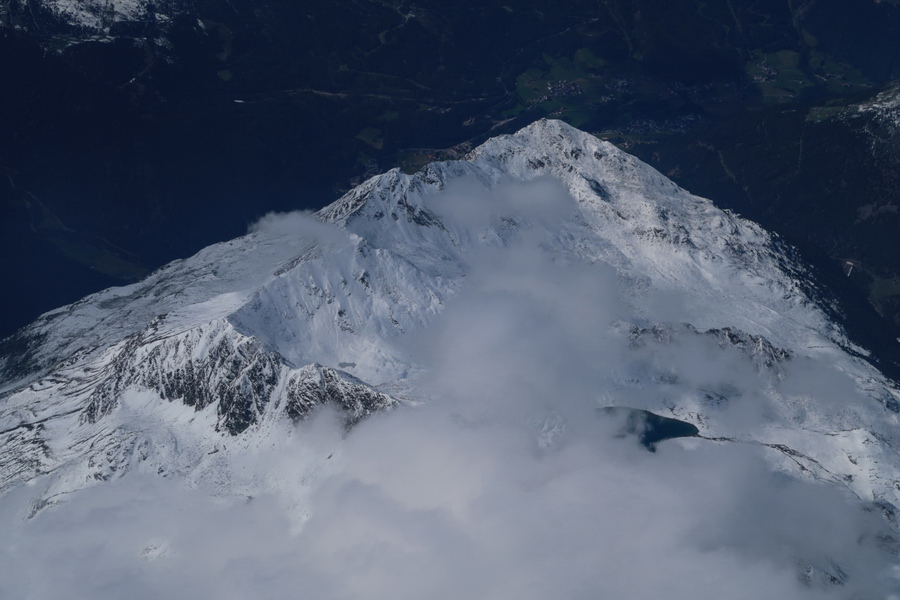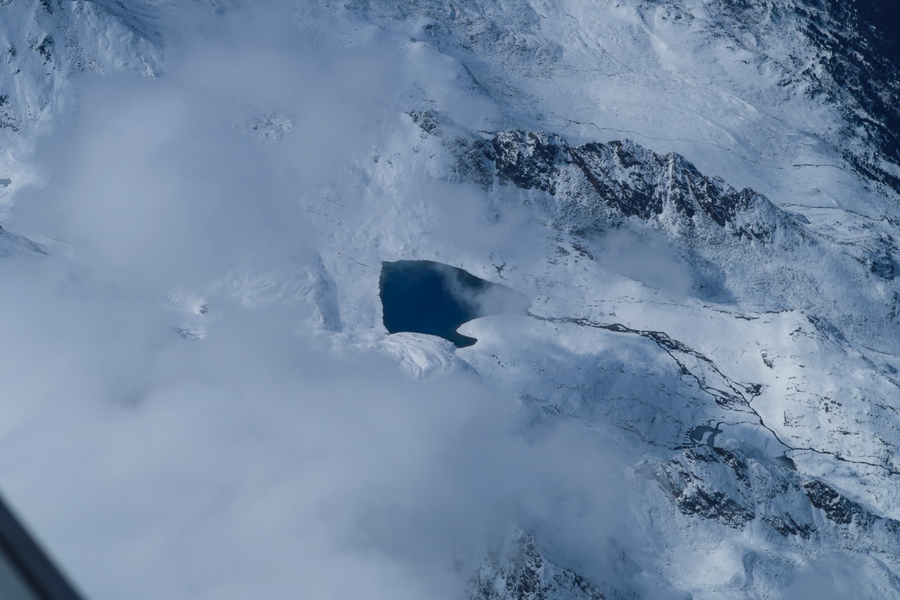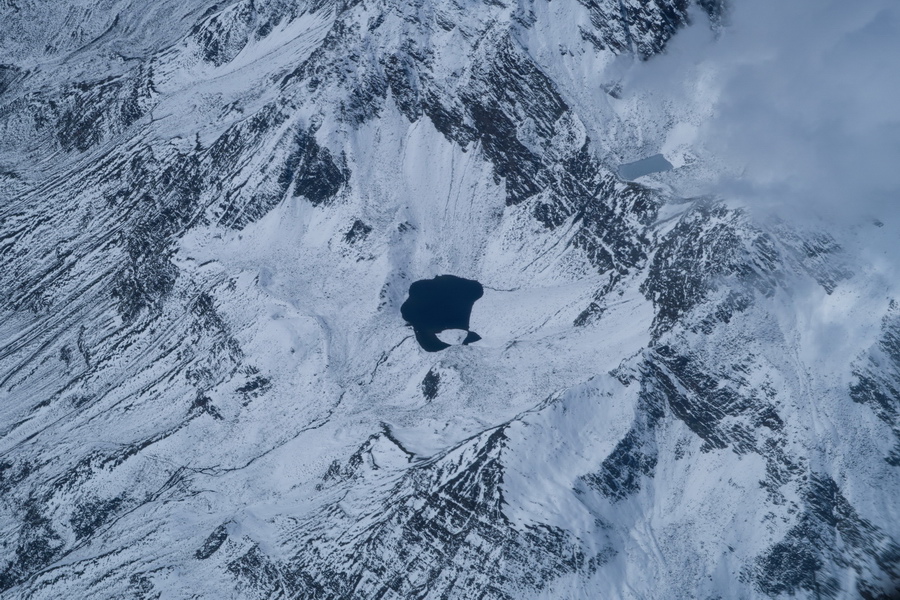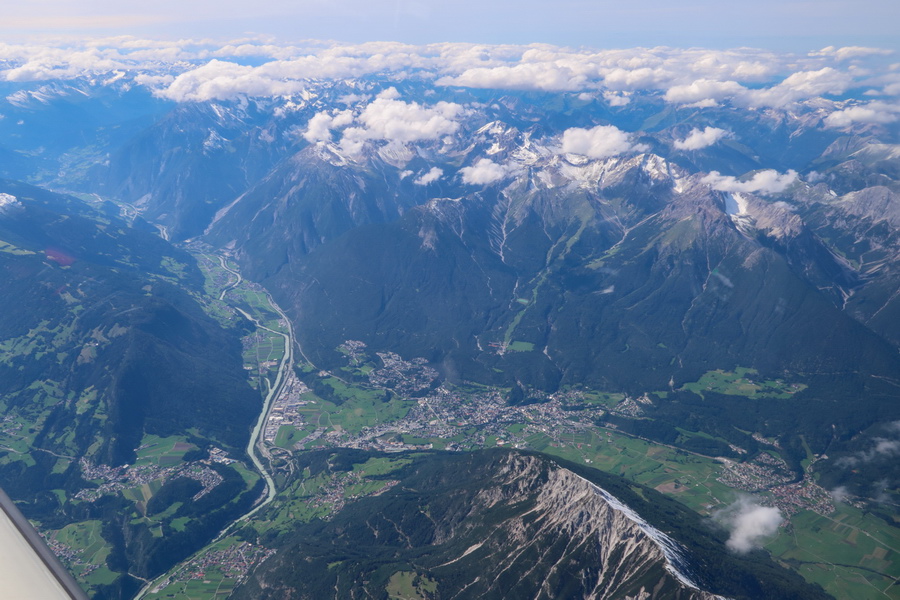 This is the end of the Alps coming up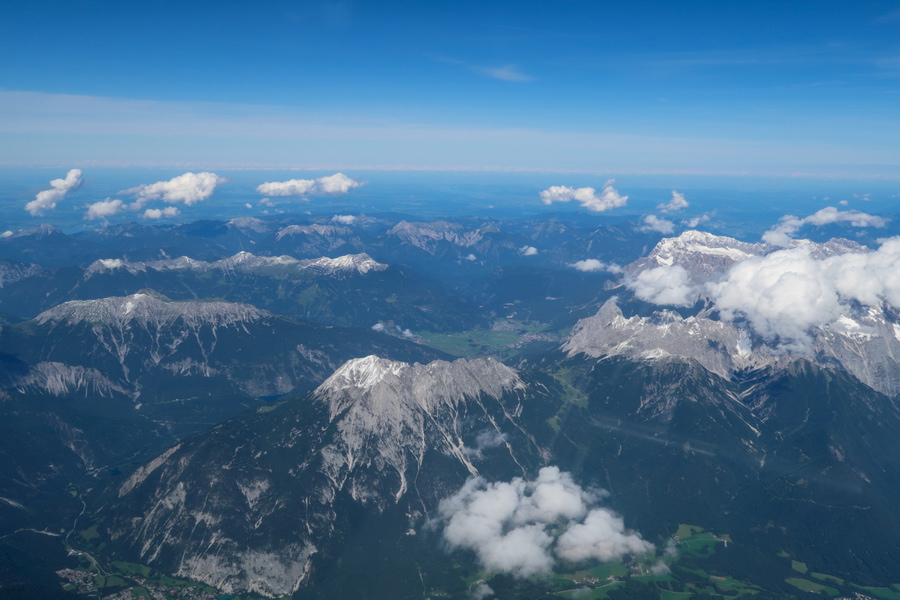 Southern Germany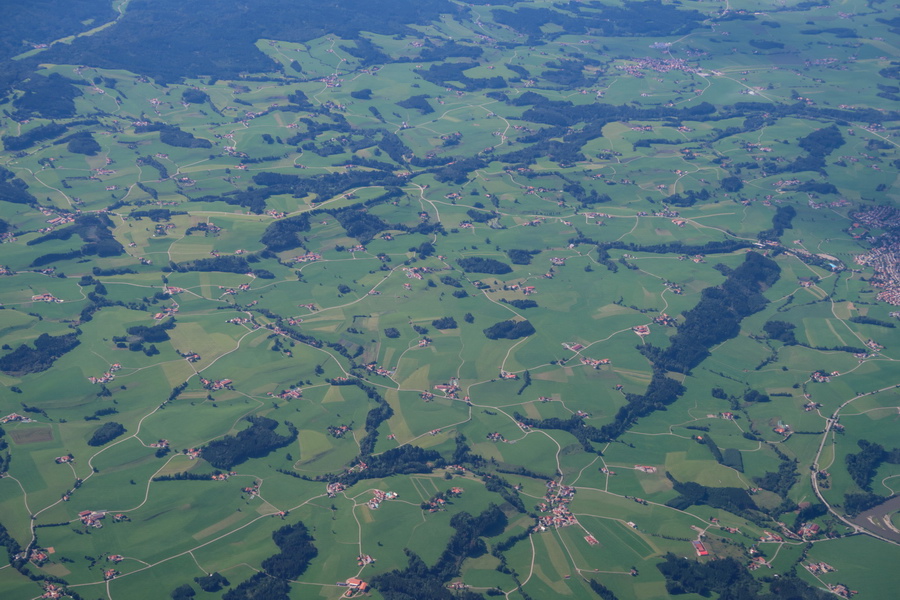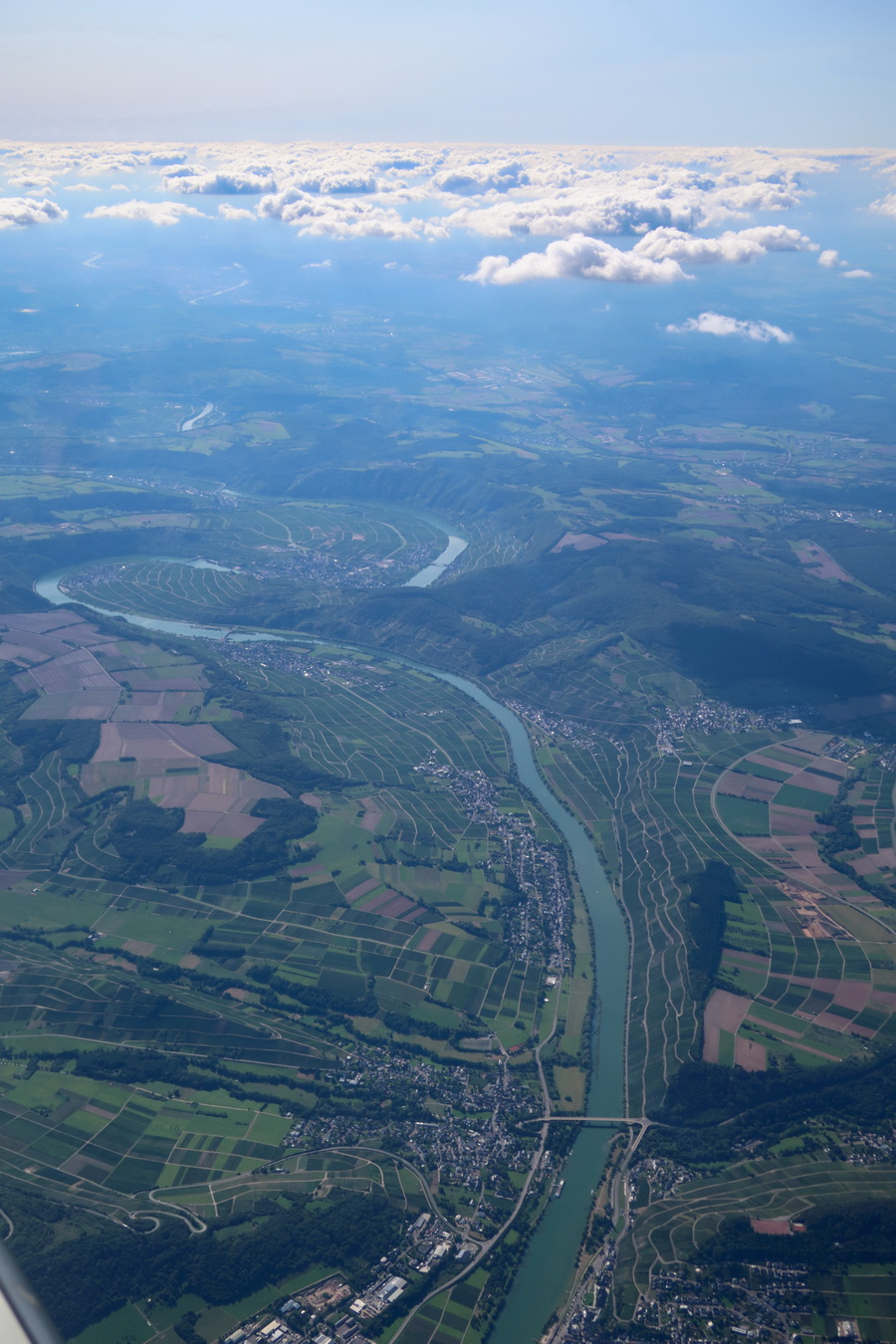 Now over Belgium. We descended to FL110 after the Alps, to get better MPG and to get a bit less headwind which was around 20kt. Landing fuel on board is being calculated by the fuel totaliser at 17USG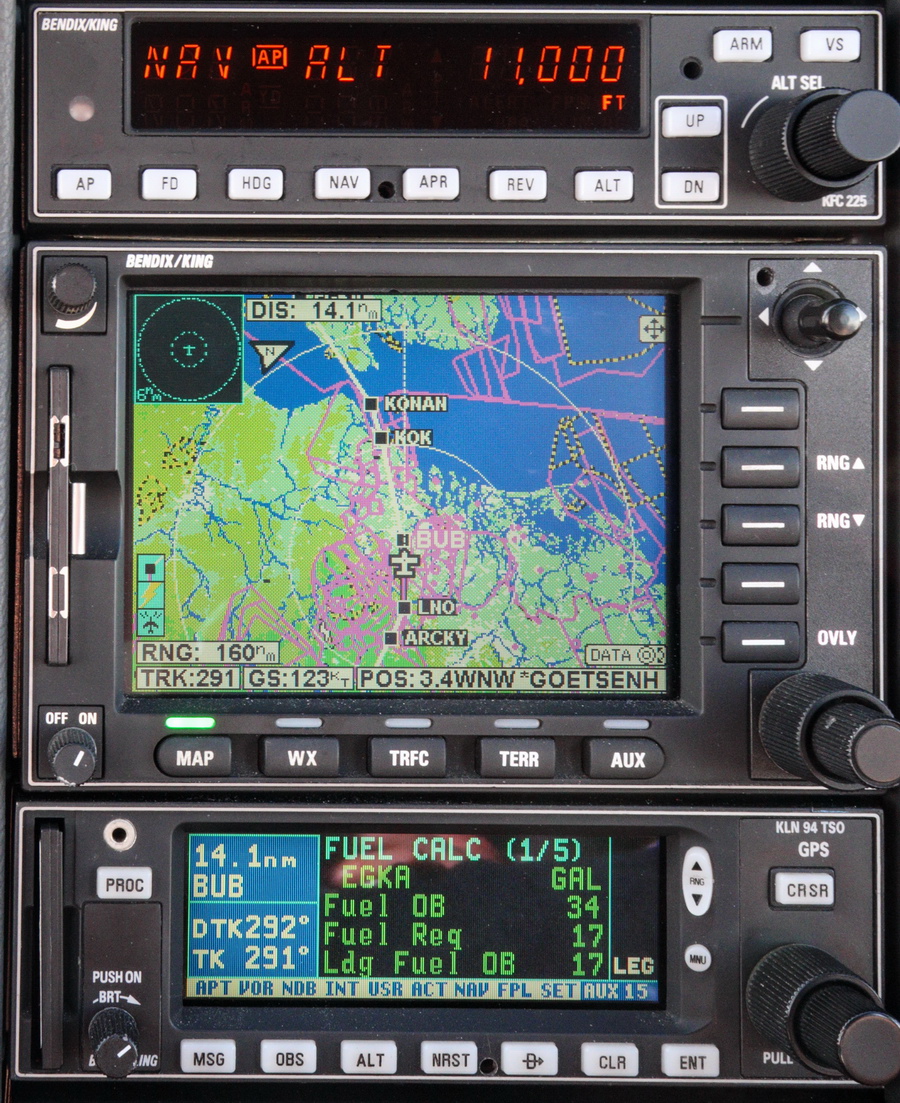 London Control were extra good, keeping us at FL100 all the way to Lydd.
You would have never guessed it but Shoreham is under that buildup which is visible ahead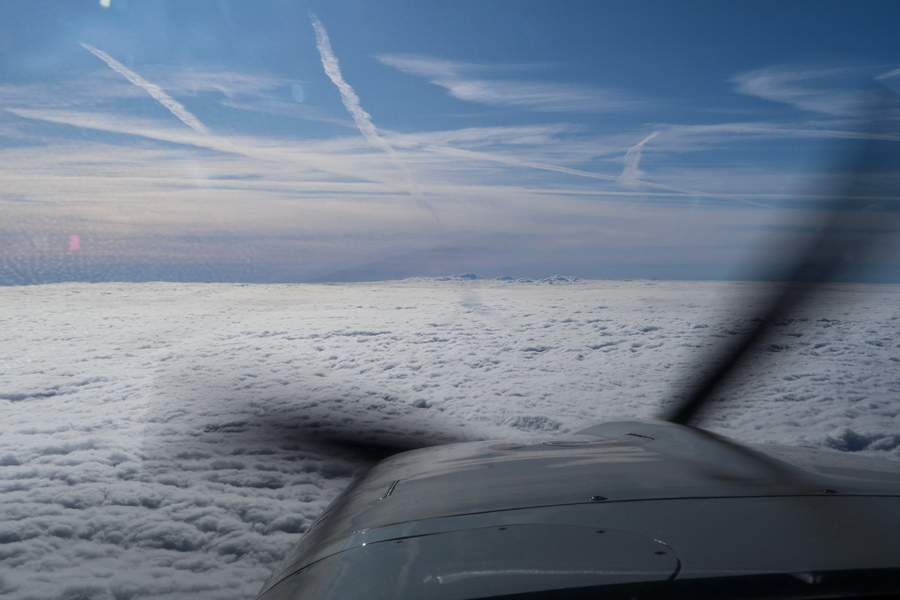 Left base for Shoreham... finally home after a long day!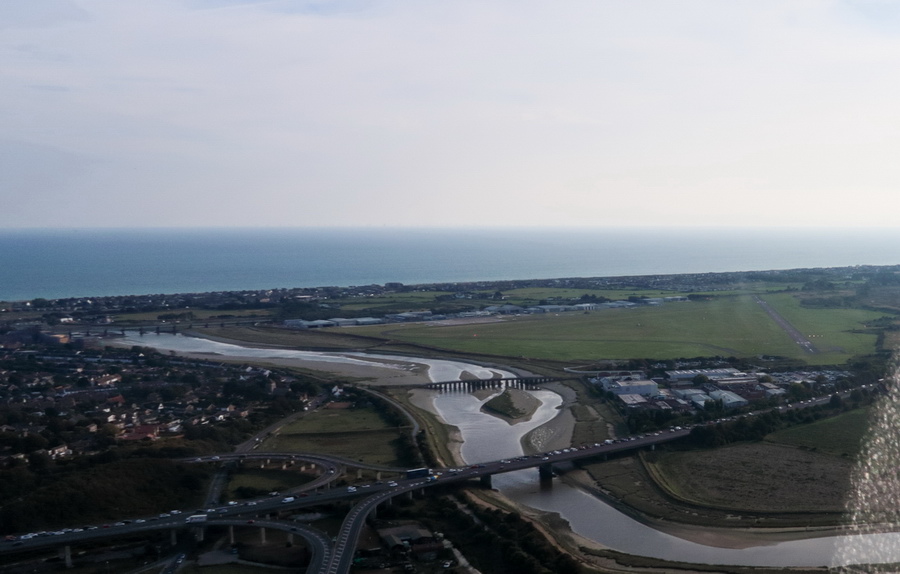 This is the track actually flown (filed route in purple). Tracking was lost for a portion in the middle, for an unknown reason but most likely connected with ATC assigning us some strange transponder code. There was some "funny business" around Munich, as does sometimes happen...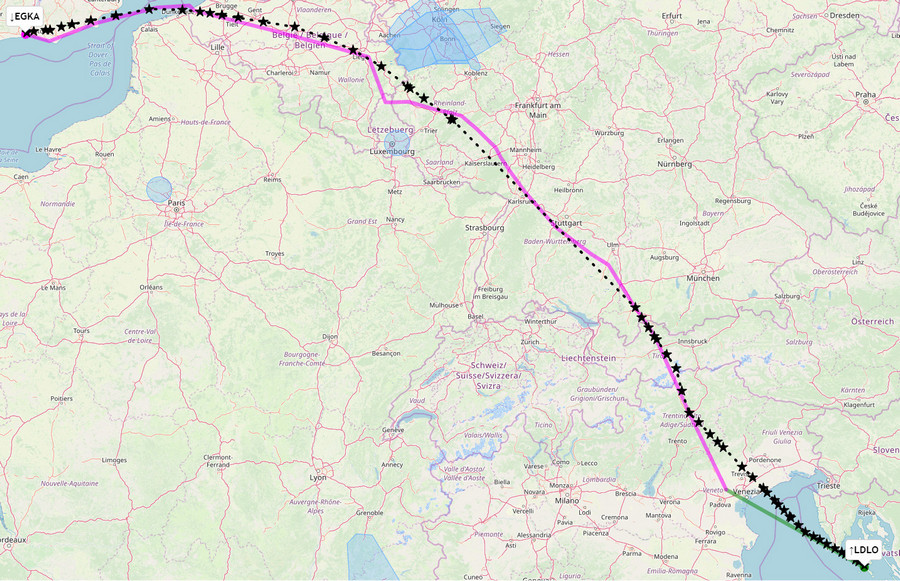 The entire GPS track, in GPX format, for the return flight LYTV-LDLO-EGKA, is here.
Flight times (airborne times)
Shoreham EGKA – Brac LDSB 6:30
Brac LDSB – Tivat LYTV 0:55
Tivat LYTV – Mali Losinj LDLO 1:55
Mali Losinj LDLO – Shoreham EGKA 6:00
Fuel on landing (US gallons)
Brac LDSB 12.6
Tivat LYTV 70.9
Mali Losinj LDLO 46.6
Shoreham EGKA 17.8
For an idea of the reserves, the fuel burn enroute ranges from 11.5 USG/hr at low level to 8.5 USG/hr at FL160.
Airport costs (including VAT) for TB20, 1400kg MTOW, AOPA discount
Brac LDSB €40 (1 night) avgas €1.95
Tivat LYTV €91 (4 nights)
Mali Losinj LDLO €40 avgas €1.95
Shoreham EGKA £30 avgas ~£2.00
I strongly recommend everyone to keep airport invoices/receipts "for ever" (certainly for a year, minimum) because there are too many cases where an airport sends you a repeat bill, and if you cannot prove payment you have to pay it again otherwise you may get impounded next time you go there - or when the next owner/renter of the plane goes there. This practice is not limited to any one country; I have had it from Spain, France, Italy... and a recent case is from Greece.
Contacts
The only issue on this trip was Tivat airport with which a Croatian member of our group did all the communications. It still took about 30 emails to come to an agreement for the parking.
Oxygen
An oxygen system is practically necessary for IFR in the Eurocontrol system. Occassionally, the weather is nice and one can fly at FL090 or so but most people would still get tired after several hours. Also many routings are not available below oxygen levels, due to controlled airspace structures, and in some cases terrain.
On this entire trip the usage was around 50% of the 48 cu. ft. cylinder, for 2 persons. Without oxygen I would have not done the trip because one cuts off the top half of the aircraft operating ceiling (the Alps cannot be crossed, for example, and one cannot climb above most cloud) and in the wrong conditions could spend most of the flight in icing conditions and turbulence.
The Value of an IR
On this trip, the flights could have been done under VFR, but lower down, on different routes, and with a lot more hassle with ATC.
Photo Galleries
For the photo galleries I have for many years used the feature in Photoshop, which works well enough. The galleries in this report were generated with Juicebox which has a free version with various limits (e.g. up to 50 photos) and a $45 version which does everything. It runs on Adobe Air and seems to have issues with large galleries on a win7 64bit machine so I run it in a winXP compatibility mode

It delivers good results but has some annoying features e.g. stripping off EXIF data, which should arguably be preserved, or at least be configurable. It also can't process images over 4096 pixels wide which a lot of modern cameras do exceed so I have to downsize them a bit first.
Gadgets
No trip report can be complete without this bit

The flying videos were taken with an externally mounted Sony FDR-X3000 camera, at 1080P (full HD) 50 frames/sec and with a video bandwidth (mp4) of about 25 megabits/sec. The result is a high quality video but at over 10GB per hour there is a lot of it! This trip generated almost 500GB of video data. Editing removes some 95% but it still cannot be hosted on any reasonably priced commercial video hosting site if the bandwidth is to be maintained. I also cannot host them on the server used for peter2000.co.uk because of the limited storage allowance. So I use Vimeo and pay them $60/year to give me a 5GB/week upload budget (which is wasted most of the year). They still downsample the video to around 5 megabits/sec. The result is ok, especially for a slow moving subject like a flying video, but if you want to see the original file there is a Download option on Vimeo. You will need a fast PC to play it however... In case you ask "why not 4K"... well, good quality 4K generates about 100 megabits/sec, can be more hassle to edit, stabilised 4K cameras are only just appearing, there is no way to host it online without reducing the quality to something like 1080P, and only a top-end PC with a top-end graphics subsystem can play 4K smoothly at 100mbits/sec. For anything beyond being a sad bastard and watching your own videos at home, 4K is simply impractical and will remain so for many years due to the multiple limiting factors. The collapse in the sales of action cameras tends to confirm this...
Video editing is done with Vegas (formerly Sony Vegas) Pro v14 and later Vegas Pro v16. There are many editors which will do the job but I like this one since it is relatively bug-free. It is well supported by plug-ins; for example the Vegasaur plug-in has many features including an import facility which makes the GPS subtitles possible. I have been in the Vegas "upgrade pipeline" for years and have just upgraded from v14 to v16 for $199. Otherwise, it can be expensive to buy it straight. V16 has some good stuff like the ability to attach text or an effect to a part of the scene so it moves with it. However, for the sort of simple videos in this trip report, if you don't need GPS subtitles and such, you could use Vegas v11 which can be found on Amazon or Ebay for peanuts, or most other video editors for that matter... I have avoided the current fashion in videos which is a series of automatically generated headache-inducing short sharp cuts

The photos were shot mostly with a Samsung S7 phone and a full-frame Pentax K1 DSLR which produces outstanding photos. I use mainly two lenses; a Pentax 24-70mm f2.8 and a Zeiss Milvus 18mm f2.8. For "landscape" photography I nowadays use mostly the 18mm because of its great quality and low weight. However I carry the K1 only on trips to new and scenic places. Recently I bought a Canon G7X "pocket" camera which gets used instead of the K1 on most trips and is much more portable. Anything below the G7X is not worth buying because it isn't sufficiently better than a decent phone.
All photos were taken in DNG raw format and processed in Lightroom to crop and remove some haze. This avoids the fashionable but ridiculous enhancements (over-saturation and over-sharpening) which the phone makers do. The other program I use instead of Lightroom is ACDSEE PRO which is easier to use in the way it can be used on any randomly chosen picture folder. Lightroom workflow is a lot more formal, but Lightroom is much quicker for processing lots of photos. All these programs try to impose weird workflows which are counter-intuitive unless you work in just the way they want you to... I went on a 2-day Lightroom course and didn't get very much from it.
In theory one could do everything needed on a trip with just the Samsung S7 phone. It can be used to get weather, file flight plans, run the ADL150 app, and of course do all the normal comms with other people. It can even take "ok" photos. It is however too painful to use for much typing, or viewing approach plates. So, I have the Samsung Galaxy T705 8.4" tablet. It is functionally practically identical to an Ipad (which I have too, kicking around the house, for web browsing) but is much better for a "power user" because it isn't as restricted as an Ipad. For example it can be expanded with a micro-SD card; say another 128GB. The T705 version of this tablet takes a SIM card and with a contract SIM (I have a Vodafone contract on both the S7 and a cheaper version of it on the T705). This tablet also acts as a "backup phone" because it is a fully functional phone. I have VOIP installed on both the S7 and the T705, via the Localphone VOIP service which works most of the time and this delivers extremely cheap outgoing calls. On the phone I use the CSIPsimple VOIP app and on the T705 there is a built-in VOIP function which seems to work.
One cannot beat a laptop for productivity, and I use a Dell XPS13 (I have the older XPS13-9360 version with a 1920x1080 screen) which is does basically everything anyone could ever need and with the quad core I7 processor is very fast - good enough for movie editing/rendering and faster than most of today's ~3GHz desktop computers.
In the aircraft I run the above T705 Android tablet. That also runs the app for the ADL150 satellite weather receiver.
I would like to thank all those who made the fly-in

The airport limited us to 10 aircraft, against up to 18 potential arrivals, so somebody had to drop out. This is never an easy situation to manage and we will try to avoid it in the future.
This page last edited 2nd January 2020