TB20GT Miscellaneous Parts
This page contains random data on alternatives to Socata official parts. I will be updated as I find more part numbers. Unless noted, the parts are the actual identical parts. Also, parts listed are for the GT aircraft airframe serial number range and may or may not be correct for earlier serial numbers.
Windshield and other transparencies
The transparencies are made by this French company but unfortunately (I spoke to them in 2015) they don't do business with pilots:
STARPLAST
Parc Ester Technopole
23, rue Soyouz
BP 92084 - 87070
Limoges Cedex 9
tel +33 555 304126 / +33 555 300421 (direct line for Michel Cornard; the President Directeur General)
fax +33 555 312282
http://www.starplast.fr
Alternatives available from Josef Weiss Plastic GmbH or here.
Great Lakes Aero Products do various bits.
Swisstac/EAO Switches/Indicators (on top of TB20 LH instrument panel) 1 2
Lamp extractor farnell.co.uk P/N 149-227
Lens extractor farnell.co.uk P/N 141-235
Some older TBs are believed to use the EAO Series 41 switches/indicators.
PTT Switch
Mouser.com P/N P7-121122 - about $25.
Electric Fuel Pump
This is a Weldon B8120H (28V). These companies have come up in the past for complete overhauls:
http://aircraftaccessoriesofok.com/
http://www.qaa.com/
both above in Oklahoma. These can supply an 8130-3 or maybe even an 8130-3 with an EASA approval number (equivalent to EASA-1).
7/2019: http://fuelpumpsupply.com/
4/2020: this is another overhaul firm
Aeromotors, LLC.
304 E. Murray Street,
Browntown, WI 53522
www.aeromotorsllc.com
If it can be established that just the motor is gone, any competent motor repair company can repair it, including creating a new commutator and sourcing suitable brushes for it. I have used Trafford Rewinds in Manchester, UK, for various jobs, and they always did it OK. Most jobs start at a couple of hundred £ though and that's for the simple ones.
Landing Gear Pump
There is a long story behind this, with several models having been used over the years and with sometimes eye-watering overhaul or replacement costs. The TB20GT has the Parker / Oildyne / Commercial Hydraulics (all referring to the same company and product, due to takeovers etc) gear pump which - unlike models used in pre-GT models - is relatively cheap and Socata's official position is that it cannot be overhauled. I paid €1300+VAT for P/N TB206126700412 in 2015 after the motor started running intermittently. However, reports suggest that it can be overhauled, for $1000, to FAA requirements, by this company:
Pifers Airmotive
1660 Airport Road
Waterford, Michigan
48328
USA
tel 001-248-674-0909
However, beware - Parker have subtly changed the motor on this pump (without changing the P/N) and it is a few mm wider and no longer fits into the Socata mounting point. Therefore, you need to specify that the motor is overhauled (probably rewound?) rather than a new one fitted.
As of 2010 Socata offer a modified mounting pump mounting bracket which deals with the larger motor - P/N TB2047046105; priced around €60. Attaching this bracket is a big job however because it is riveted in place and access to the other side takes some time. A simpler solution becomes obvious when you are "in there" and it is just bending a little bit of the metalwork...
More here. I think I have found a replacement pump, directly from Parker, for about GBP 450+VAT (if they think you are a trade user) or GBP 750+VAT (if they think you aren't

). These are cheap hydraulic pumps, used all over the place. I think the P/N 108BIC19ALL4V2912 is the exactly same model as Socata use. I will buy one and see... What you must not do is disclose the aircraft application when ordering; Parker are very switched on and will block the sale. They claim that they are not allowed to sell to the aviation market but in reality they have an agreement with Socata, and others... They have told me that the above P/N is very rare and they have sold only one, and it went into a light aircraft, so it probably is the right P/N

The above company, Pifers, can also overhaul the hydraulic landing gear actuators, for around $1500 per unit which includes $400/unit for the seal kit.
Another company which is known to overhaul gear pumps is
Aerospace Turbine Rotables, Inc.
3414 West 29th Street South
Wichita, KS 67217
USA
tel 001-316-943-6100
fax 001-316-943-2917
Certified Repair Station NV2R045L / EASA.145.4033
Contact: Mark Mertes - mmertes@turbinerotables.com
It is possible to fit the LHC pump (used in the TBM) into the TB20. It is very expensive but of high quality and long life. This company can overhaul it:
Intertechnique Services Americas, LLC
Contact:
Olivier Tallon
Project Engineer
Warranty Administrator
Tel: 262-293-1000 Ext. 1071
Fax: 262-293-1010
E-mail: o.tallon@insa-zodiac.com
Web: http://www.idcaerospace.com
This company http://www.cjaviation.com/ has recently (2/2018) overhaule a Weldon gear pump. They have FAA and EASA approvals.
Door Gas Struts
They were uprated from 400N to 600N around 2003, reportedly because the 400N strut was no longer available. The new strut is longer and requires a special Socata mounting bracket to take up the extra length. Both struts are made by STABILUS but are almost impossible to obtain from their distributor network in any usefully small quantity. The Socata bracket P/N is TB1025086103 and costs around $400. The 600N strut has a problem however: its holes are too big, and one has to machine a reducing bush to bring them down to 6mm diameter.
There are also companies which can re-pressurise these struts, provided the struts are in a good condition:
Stephen Fenner
LS Technologies
Saskatoon, SK
Canada
tel 001-306-683-5000
fax 001-306-683-6403
SGS Engineering UK Ltd
Unit A6 Cranmer Road
West Meadows Industrial Estate
Derby
DE21 6JL
UK
Tel: 0044 1332 298 126
Fax: 0044 1332 366 232
Email: sales@sgs-engineering.com
Enquiries suggest that the cost of re-pressurisation is too high unless you have say a dozen of them to do. The process involves putting the struts in a pressure chamber and the gas finds its way in past the one-way seals.
Landing Gear Switches
These are made by Crouzet in France. There are two types: the blue plastic ones which indicate the gear is UP (which from Socata cost about £100 each), and the more sturdy (and more safety-critical) metal limit switches which are mounted on the gear mechanism (which from Socata cost about £1500 each).
For the blue plastic switch, the Socata switch is the Crouzet 83139 family. As this close-up pic shows, it is the 831395 which has the lower temperature range of -20C to +85C (not actually adequate but it's the best Crouzet do!). Then there will be a suffix (8 more digits) to specify the actuator, but generally the existing actuator can be transferred to a replacement switch. The data sheet is here and a later one here. The basic switch (0 to +85C temp range) is £28 from here photo. For the -20C version I would try a Crouzet dealer. However I very much doubt the -20C version is any different!
For the metal limit switch, Socata P/N TB30-61018003, the Crouzet P/N is 83778012 (drawing). Crouzet list this as a "custom part for a Socata TB20" (hey, there's a suprise...) and it is not listed on their website. This P/N has the Tyco/Amp connector attached.
The same part without the connector is 83778011 (data sheet) which costs £332 from Crouzet dealers.
The connector can be obtained from various places e.g. mouser.com; it comprises of several parts. It is cheap enough - probably under £10 for all the bits - but is not really suitable for aviation use because it is not properly sealed and uses crimp contacts which will rot away. I don't know why Socata used it in a location where it will obviously get wet etc. If I was rewiring this, I would use a proper mil-spec connector.
There is also the 83778021 switch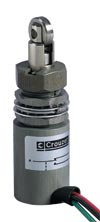 which is identical to the 83778011 but the wires come out at a right angle; it should still be usable OK. The 83778 series is all "aerospace" parts and can be purchased from AMSAFE who have one UK branch at tel: +44 (0) 1903 810593, fax: +44 (0) 1903 879135. The Crouzet website is littered with incorrect pictures of switches and is misleading. These switches should last many times the life of the aircraft - unless they are allowed to corrode, etc.
Stall warner switch
This is an industry standard microswitch pattern - photos. In 2002 Socata used a WHBT2151 which is pretty obscure now. Another P/N is CR1K2-UL (the photo is of a Socata stall warner part, from 2018). These are all obsolete although old stocks seem to exist within the aviation parts supply chain, at exorbitant prices. One current P/N is a GPTCLS01-OF which is under 10 euros but that appears to have a lot higher operating force. Update 10/2019: Mouser sell P/N GPTCLS01. These need the stall warner paddle transplanted from the old switch.
TB20 locks
On serial numbers past about 720, these are KESO 1000 which are made by KESO Systems. A UK contact is:
Assa Abloy
Wood Street
Willenhall
West Midlands
WV 13 1 LA
T +44 190 236 69 11
F +44 190 263 46 66

The total cost for 2 keys (including VAT, post and packing) is about £36.
Another contact is
Annie SAVAJOL
Export Department
JPM SAS
Route de Paris Avermes
03000 Moulins France
Tel 33 (0)4 70 48 40 72
Fax 33 (0)4 70 48 40 98
www.jpm.fr
SAVAJOL.Annie <SAVAJOL.Annie@JPM.FR>
Another contact is
Mr Shah Jiwa
Keyprint Security Ltd
45 Assembly Street
Edinburgh EH6 7BQ
+44 (0)131 561 0141 (Direct)
+44 (0)131 555 0909 (Work)
+44 (0)7973 392 458 (Mobile)
+44 (0)131 554 1177 (Fax)
who charged £26/key in 2013.
Another contact is
Global Locking Systems Ltd
70 Morgan Close
Ashmore Lake
Willenhall
WV12 4LH
West Midland
United Kingdom
Phone +44 1902 607080
It should be a KESO 1000 key.
Soundproofing Material
This is available as a kit from Socata, but alternative materials should be of a higher quality than the Socata stuff which starts to perish in about 3-4 years. This company (local copy) can supply better stuff. There is quite a choice of better quality materials but none of them are self-adhesive.
In 2017 I re-did the aircraft insulation using two different kinds of foam. For the interior of the rear airframe cavity (the bulkhead shared with the luggage compartment) I used this. For the firewall I used the Soundex SX-500. These two materials appear to be very similar in "feel" but there is a 2x price difference.
The adhesives used were these. For the airframe cavity foam I used the Scotch-Weld adhesive because it is a lot less toxic of the two which is important when working in the confined space. For the firewall I used the AF-178 which is a lot stronger. Both adhesives need proper breathing apparatus - a mask with the correct filters. These are contact adhesives so it pays to cut the foam out to the right shapes before starting anything.
Removing the old Socata-foam adhesive from the firewall was a horrible job. It was done with MEK, a full face mask, and rubber gloves which should be OK for some tens of minutes of exposure to MEK. Common gloves such as Latex etc dissolve in seconds.
Avionics Bus Relays
Socata sell only the complete PCB (example schematic) with four of these, P/N TB20-65746000 (unverified) for about $420. In line with Socata's policy of buying French even if it results in a part which is hard to get and expensive, the individual relays used by Socata are made by Cartier/Savoy in France. With considerable effort I located a distributor: Britax. The original P/N was 03523 which in 2011 this was reportedly superceded by P/N 20 441 006. The supplier had some of the 03523 left in stock and I bought the whole lot. They are a tiny fraction of the cost of the whole relay board from Socata. They are basically very ordinary 28V commercial vehicle relays, non-sealed.
Many other firms (Omron, Potter & Brumfield, Panasonic CB1P24, Durakool, etc) make relays to the same pattern and some with a much better contact rating. Some of these are hermetically sealed, though not necessarily with terminals which will plug into the existing socket, as in the CB1 example.
This pic shows the Cartier relay, alongside the Panasonic CB1. This pic shows their underside and shows the sealed CB1 has solder pins, so while being superior cannot be used to directly replace the Socata relays.
I am happy to sell the Cartier relays I have, for US$20 per relay, plus shipping (no 8130-3 etc):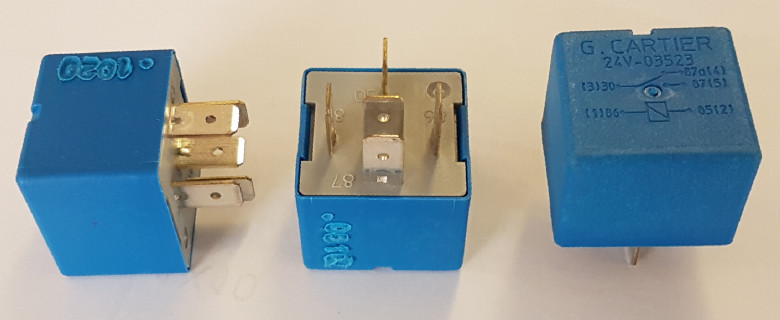 Flap Relays
See notes in table below. I have a quantity of the HG2-DC24V, for sale (no 8130-3 etc). These are the original relays which have the higher grade cadmium plated contacts which were banned in Europe... US$60.00 each plus delivery which by airmail would be $20 to most places.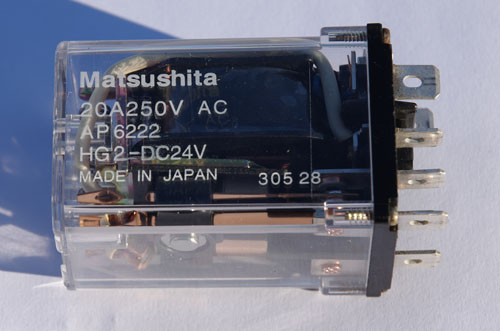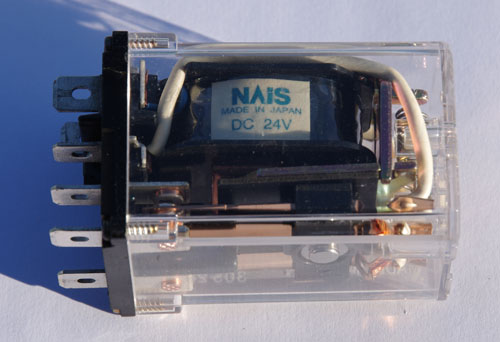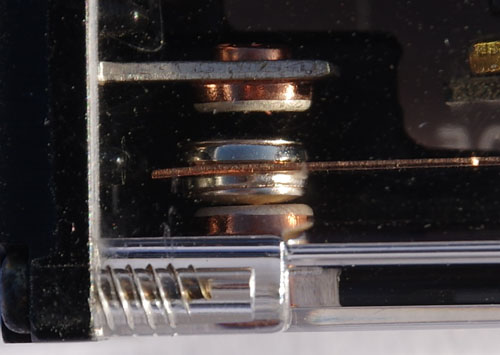 Moritz Gauges
These are here (local copy). They can be found on some late-model TB GT aircraft. They were factory fitted and there is no retrofit option. Moritz were taken over by Radiant Power; details here (local copy) and it is believed the company has basically disappeared.
Voltage regulator
On the TB20GT this is a Lamar B-00368-5 which is quite hard to find away from the pricey Socata parts supply chain. Much more common is the B-00368-2 and the only difference is the overvoltage trip value: 32V versus 31V respectively. More info is here.
Wheels
As with many wheels used in GA, these are made by Cleveland (local copy).
Lo Presti make nice wheel caps - here - local copy
Exhaust Systems
Aerospace Welding (see table below) can repair the various exhaust system parts.
Dawley Aviation can repair the Socata-specific clamps and replace the seals for ~$30 (January 2019) each. They clean them up and fit a new inconel strip. They don't supply the bolts and nuts.
Contact Kurt at: sales@dawley.net or (262) 763-3113. http://www.dawleyaviation.com. Also on 1-800-338-5420.

Spinner / Backplate Repair
This firm has FAA approvals for welded repairs.
Pitot Tube
AERO INSTRUMENTS AN5812-1 24V
KAP150 Autopilot Servos
These servos were fitted to many late pre-GT TBs, and some very early GT ones. The motors in these appear to be no longer available, other than for a reported $12000. This firm
Big Woods Electric Motor, Inc. , 875 8th Ave. South, Wahpeton, ND 58075, USA
has been reported as being able to repair the motors.
More parts:
Socata P/N
Description
Real Manufacturer
Real Mfg P/N
Real Mfg Contact Details
Notes
Oil pressure transducer
Honeywell
MM200PG1HA
www.honeywell.com/sensing/products/di
Check the fitting thread (the QA/HA suffix)
Bose X aircraft power socket
LEMO
Aircraft Spruce 11-01846
Aircraft Spruce
LEMO don't appear to sell this connector directly
RMI 400Hz inverter
Midcontinent Instrument Co.
MD26-28
Wichita, Kansas USA
This product has crap reliability; there are similar units
Door gas strut, older type 400N
Stabilus
LIFT-O-MAT 94331
Stabilus Ltd, Banbury, UK 01295-274777
This is the originally fitted 400N one
N7070020001
Door gas strut, newer type 600N
Stabilus
LIFT-O-MAT SWA8F2090125F2B-600N-166294
Stabilus Ltd, Banbury, UK 01295-274777
This is the later 600N one which needs the special Socata brack
N7070631301
Nose gear gas strut
Stabilus
LIFT-O-MAT 8722BX 600N
Porsche dealers :) (do a google on Stabilus 8722BX)
Tachometer
Noris Automation
NRF80-LM023
www.norisautomation.com or www.noris-group.com
No longer listed on their website… - similar
Horizon P1000 is a popular replacement
Various Parts
Exhaust System
Aerospace Welding Minneapolis, Inc
http://www.awi-ami.com/page%20125.pdf
12124 12th Ave. South, Burnsville, MN 55337 952-890-1511

 

Product reported as lookalike, may not be Socata's supplier
TB2061238001
Hydraulic pressure switch
Eaton Aerospace (formerly Consolidated Controls - non-responsive
211C243-28
TB20/21 GT - this switch had many failures
TB206132002
Hydraulic pressure switch
As above
211C243-30
Certain pre-GT models
N6019227220
Elevator trim cable spool seal
Busak/Shamban/Trelleborg
187-055-7355
www.busakshamban.co.uk
Custom made for Socata - PTFE seal
N6019227221
Elevator trim cable spool seal
Busak/Shamban/Trelleborg
187-054-7355
www.busakshamban.co.uk
Custom made for Socata - PTFE seal
N7423520810
Landing gear emgcy valve seal
Busak/Shamban/Trelleborg
ORYF005270N7I02 16 x 2
www.busakshamban.co.uk
N7423529719
Landing gear emgcy valve seal
Busak/Shamban/Trelleborg
QRAR04005-N7004 2.57 x 1.78
www.busakshamban.co.uk
OPT10930500
LH panel antivibration kit
Socata
See here
N7733011024
Flap relay
Panasonic
HG2-DC24V or HG2-DC24VF
Mfg URL
The "F" version data was the last one available, up to about 2012. The non-"F" version data exists in the Far East only because it contains cadmium which is banned in the EU.
.N7284526357
Fuel selector filter element


LE BOZEC 402A12-5
SOFRANCE SA CH0751103502N00
http://www.donaldsonaerospace-defense.com
http://www.sofrance.com
€175 from Socata or $156 from sofrance.com (1/2013)
N7423015002
Fuel cap outer o-ring
Various (do a google on M25988/1-338)
M25988/1-338 3-1/8 ID X 3-1/2 OD X 3/16 W
Material Fluorosilicone 70A

N7423015001
Fuel cap inner o-ring
Various (do a google on M25988/1-010)

M25988/1-010 1/4 ID X 3/8 OD X 1/16 W
Material Fluorosilicone 70A

N7423528002
Fuel filter o-ring
Busak/Shamban
P/N 88002 Material 61D6 (blue) ID=12.2mm, thickness=1.9mm
N7423529156
Fuel filter o-ring
Trelleborg LeBozec
P/N 83156 Material 61D6 (blue) ID=15mm, thickness=2.7mm
N7423529196
Fuel filter o-ring (metal)
Trelleborg LeBozec
P/N 85772
N7423529197
Fuel filter o-ring
Trelleborg LeBozec
P/N 88397 Material 61D6 (blue) ID=49mm, thickness=3mm
N7423550073
Wing tank fuel drain o-ring
Le Joint Francais Bezons
R17/21A7 / PB701A/21A7
http://www.ljfm.com/site/implantations.asp?langue=en
Measured ID 21.2mm thickness 3.8mm
N7788014101
Sun visor support
Mercedes
A1238110041 7101
www.baldshop.de
pic
N7788014136
Sun visor support
Mercedes
A1238110041 8336
www.baldshop.de
Main wheel bearing - cone
Timken
13889
Main wheel bearing - outer race
Timken
13836
Nose wheel bearing - cone
Timken
08125
Nose wheel bearing - outer race
Timken
08231
<![if supportMisalignedColumns]> <![endif]>
I received this cross-reference list from a TB owner. The origin is not known. I have not checked it and some of it may be a duplicate of the above.
Other 3rd Party TB Parts Suppliers
Many aviation parts have STCs for the TB range - either for TBs specifically or for use with one of the engines - and it would be impossible to list them all. The following items are specific to the aircraft:
LoPresti Wheel covers
Bruce's Custom Covers ( aircraft covers and cowling plugs)
This page last updated 28th June 2020