Trip to Astypalea, Greece, September 2017
This trip was for a EuroGA fly-in. On EuroGA we normally have two big fly-ins a year, in May and September. On these fly-ins we create a Telegram group and use that to coordinate everyone who has turned up so one can do other meet-ups, etc.
While the flying in this trip was standard European IFR in the Eurocontrol system, and I have already written extensively about this in other trip writeups here, and I have been flying to Greece since 2004, this trip was not trivial to plan. Greece has changed significantly for 2017: a German company called Fraport has taken over nearly all the money-making Greek airports, driving up the costs and introducing a tight slot system. When the existing Greek airport handlers saw how visitors were being ripped off by Fraport, they decided to help themselves to some of it "while the going is good" and the end result is an order of magnitude increase in the costs - to the €300 area. Even booking a slot is €50 and if you need to change your plan it is another €50. These slots are not required for IFR arrivals or departures but the office at Samos told me there is no difference and the slot constitutes the "airport PPR". It gets confusing because according to the NOTAMs airport slots were required for all IFR/VFR GA flights excluding helicopters to Fraport airports, through the handler. And even non-Fraport airports jumped on the rip-them-off bandwagon. The end result is that the only airport which is a Port of Entry, has Avgas, and at around €60 (2017) isn't a ripoff, is Sitia LGST on eastern Crete! It remains a good base for flying around the smaller Greek airports (whose costs are mostly still reasonable) but it has a difficult opening timetable which on most days doesn't overlap with most of the others... Reaching Sitia from outside Greece (e.g. from Croatia) needs an aircraft with a reasonable range. The other options are Iraklion LGIR (a slightly smaller ripoff at about €150, or €100 if you arrive and depart VFR) and the big Athens airport LGAV (makes sense only as a "technical stop" i.e.not leaving airside when it is "only" about €200). The last two are not operated by Fraport.
Astypalea LGPL has no fuel (not even Jet-A1) and is not a Port of Entry (Greece signed the Schengen treaty but disregards it) so a stop elsewhere in Greece is required for both arrival and departure. The two most obvious were Samos LGSM (a Fraport ripoff airport at about €250 but eventually came to €330) and Athens LGAV. Sitia LGST was too far south to make it worthwhile but more importantly the timetables were very limiting as to which days of the week would work. In addition, Astypalea opening hours being very early on some days mean that a nearby stop is required...
ASTYPALAIA AERODROME OPR HRS:
FROM 30/05/2017 TILL 28/10/2017
MON 0730-1000 1300-1600
TUE THU 0300-0600
WED 0730-1000
FRI SUN 1100-1400
SAT 0300-1000
This diagram summarises the present-day "Greek situation". There are two small details not shown: avgas exists at Athens LGAV (shown) and very close to it at Megara LGMG (which is however not a Port of Entry which makes it useless for most trips), and Syros LGSO now has avgas (but again not a Port of Entry).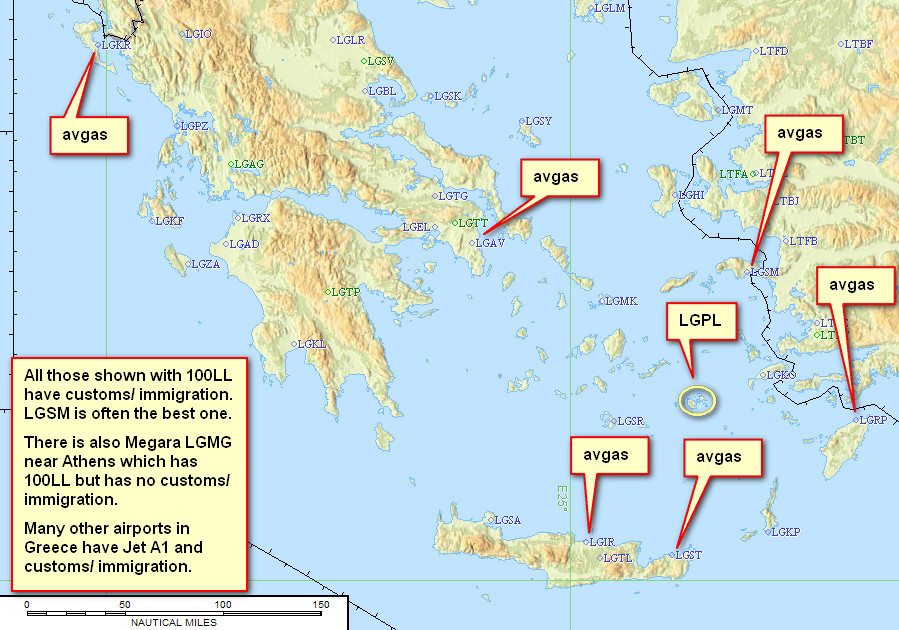 In view of the above, it was with some trepidation that the decision was made to run the fly-in to Greece. However, a number of factors were in favour: we had never been to Greece before, it was apparent we would not go there again for a long time, it would be an opportunity to get together with a bunch of Greek pilots who otherwise - for various reasons, starting with a lack of money - would not come to our fly-ins further north, and finally of course Greece is a wonderful country to visit!
In view of the Greek airport costs and timetables, my plan was to do 1 night on Brac LDSB, 1 night on Samos LGSM, then fly to Astypalea LGPL. On the way back, I would have some options, because the Samos-Astypalea leg is very short (about 80nm) so I would have nearly full tanks. One would be back via Samos, another back via Sitia or Iraklion, and others via Corfu or Athens. Other members of the fly-in chose different routes, with some going via the tech-stop at Athens, which was not hugely expensive but turned out to be a bad choice because they got long delays.
I think that - except for a direct flight to Sitia and doing some small islands from there - Greece is now very difficult for visits using GA. One could argue that €300 is not so much compared to the cost of avgas burnt flying to Greece but few people like to be ripped off quite so blatently.
Justine and I have visited many Greek islands. I still plan to visit Karpathos LGKP, Kasos LGKS, and the tiny island of Kastelorizo LGKJ. It's going to be an interesting airport timetable challenge

The others we have not yet visited (e.g. Kos, Skyros...) are best done by EasyJet.
Greece continues to be challenging for VFR flight due to a lack of map data. Old ONC charts marked-up with later data can be found here and tablet products such as EasyVFR and Skydemon cover Greece now. I use EasyVFR but didn't use it on this trip because all the legs were flown under IFR, which is mostly in controlled airspace. In Greece, IFR must take place in controlled airspace, and if the ATCO sends you OCAS he has to inform you that ATC will not be provided, and they don't want to do this.
A general information page for Greece, prepared and maintained by AOPA GR is here.
Astypalea is a lovely and very traditional Greek island. With a population of around 1300, not much happens there

Here is a glossary for non-aviation readers.
Airport PNR/PPR
All the Fraport airports are PPR, either by regulation or by the fact that you have to obtain the slot. Astypalea was easy. There was a published ~€200 handling charge but this was avoided via a request, so the end charge was under €30.
Accommodation
With GA travel, there is no short-notice cost penalty so you can stay at home until the destination weather is good. The short-notice hotel issue can be tricky but AirB&B and Booking.com can be very useful and are widely used by pilots.
Booking.com is mostly normal hotels although many apartments appear on it also, hence it tends to be "hotel prices". In fact I use Booking.com as the standard way to look for hotels. It is generally better than AirB&B for short-notice trips because you get a guaranteed booking right away whereas with AirB&B you "request" the apartment, and many AirB&B hosts play silly games and take up to 24hrs (the max allowed time) to respond, presumably in the hope of getting a longer-duration booking. Many hosts simply don't bother to reply, and this gets much worse during the busy season. Fortunately you can cancel your request if you don't hear back within say a few hours. The other problem with AirB&B is that you get every "broom cupboard" on it, so one should not go too downmarket... in one €40/night apartment we had sewage coming up through the floor! So, when looking for an apartment for several people, I normally look at apartments priced around the cost of a single hotel room - say €100/night. However, if you have a few days to play with, AirB&B is usually much better value for money; in most cases one can get a whole 2- or 3-bedroom apartment for the cost of the €100 hotel room. One issue with Booking.com is that most of the establishments offer only 1 room on it (to make it look like they are nearly fully booked, to scare people into booking something fast) which can make it impossible to book for a group; this is obviously solved by googling for the hotel and contacting it directly. Normally the hotels prefer that anyway because Booking.com takes a cut of at least 15%. But occassionally one finds a lower price on Booking.com, and bizzarely I have never managed to get a lower price by booking directly!
For Greece, there is an argument that you should use the small family hotels because they need to be supported and their prices are mostly low anyway. Our experience of these is certainly very positive.
Pilot
FAA CPL/IR, EASA PPL/IR, ~2300hrs.
Aircraft
The aircraft is this 2002 TB20GT; one of the last made before production ended.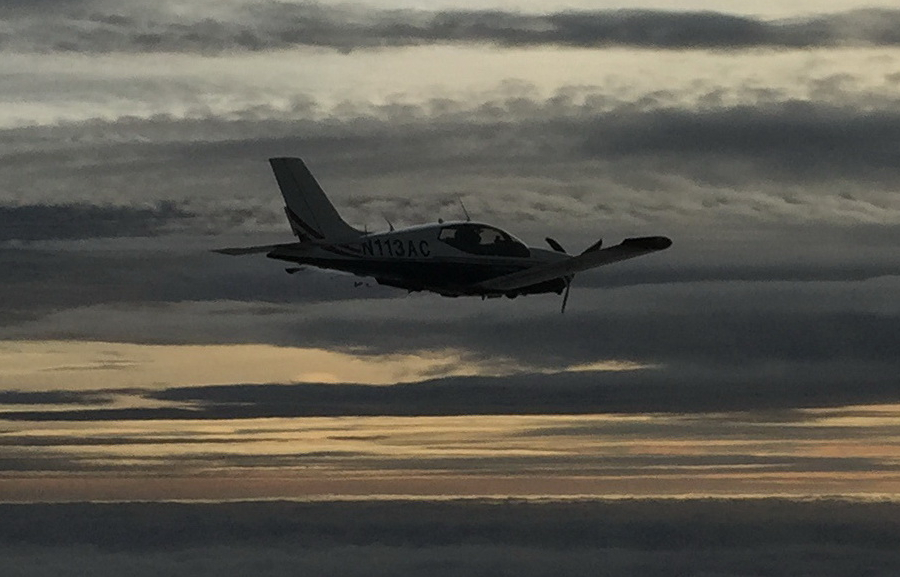 It is equipped for BRNAV (RNAV 5) and can fly ILS and GPS/LNAV approaches using the autopilot. This is sufficient for all practical European IFR flight. The cockpit is largely as delivered in 2002, with a Sandel EHSI installed on the LH side and with the RH side reworked with another Sandel EHSI and arranged to form a usable "pilot panel" so the aircraft can be flown from the RH side.
There is no LPV approach capability but LPV is not yet (to me) operationally relevant in Europe especially if flying to/from the UK which normally needs an airport with Customs/Immigration. France is ahead of most countries in removing ILS approaches (from airports not served by airlines) and replacing them with LPV. I have just heard that Greece is moving to LPV soon, with a raft of LPV and LNAV/VNAV procedures to be announced soon. Adding LPV capability (which also gives you the very useful "+V" advisory glideslope on most GPS approaches) could be done with a cheap-and-dirty solution of a used GNS430W, but a decent installation would be a Garmin GTN650+GTN750 (or just the 750) or Avidyne 2xIFD540 (the foregoing links are photoshopped mockups) and these jobs would cost about 30k but much more importantly I don't know of any installer who I would let loose on my aircraft on which I value the virtually 100% uptime!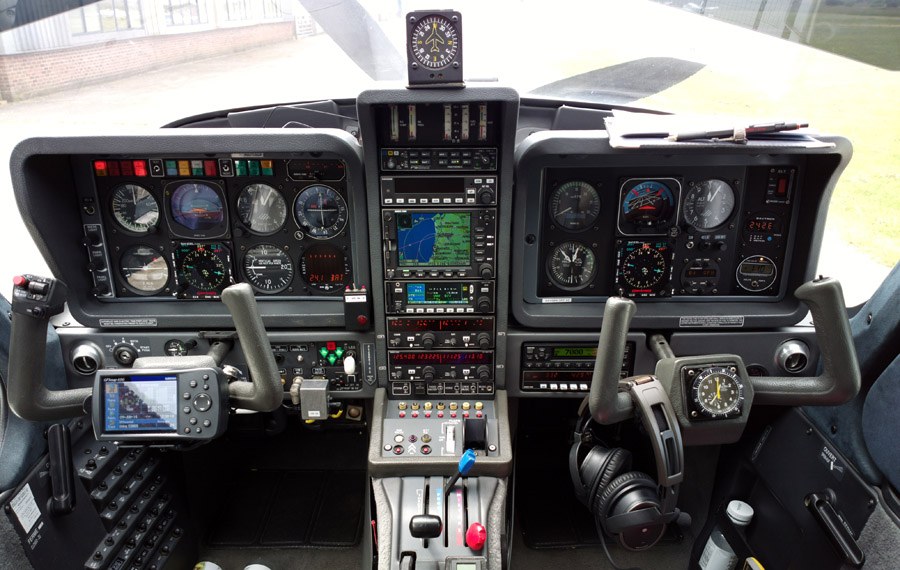 The aircraft has an operating ceiling of 20,000ft in ISA conditions. I have taken it to 21,000ft but in the fairly common summer conditions of e.g. ISA+15 it will reach 18,000ft at MTOW.
Planned upgrades for 2018 are: full TKS anti-ice system (currently I have only propeller protection) and the ADL150 satellite weather receiver.
Routes
These were developed with the EuroGA Autorouter which was also used to file the flight plans. This facility is currently free. It does IFR flight plans only (I Y and Z but not V). A wiki on it is here. The only other options for autorouting are RocketRoute (which is expensive), and a free PC tool FlightPlanPro which was developed by one of the RocketRoute people before RR came along and which at time of writing is non-functional in much of Europe due to a lack of database updates. For VFR flight plan filing I use EuroFPL. I also use EuroFPL for filing IFR flight plans for unusual situations e.g. where a specific ETA must be filed (to fit inside a purchased airport slot) and the Autorouter aircraft performance model does not allow that.
Some notes on IFR in Europe are here.
Shoreham - Brac (diverted to Dubrovnik)
This was the first leg of the trip.
Local UK weather was miserable. I got soaked in drizzle under a 300ft cloudbase just removing and packing away the cockpit cover and doing the preflight... fortunately the TB20 has a good heater. However the weather at altitude was clear, as the IR image shows.
MSLP: 0600 1200 1800
IR Sferics Radar Wind Forecast TAFs/METARs.
Autorouter briefing pack
The following day's weather, for the flight to Samos, was good 0000 1200.
The route was filed at various levels, from FL100 to FL120. The Alps normally need FL140+ but on this flight they were crossed where they are not so high. Most importantly this route is about the shortest IFR route which validates via the Eurocontrol system.
EGKA SFD Y803 DVR L9 KONAN/N0152F100 L607 SUXIM DCT ABDAP DCT GISNO DCT ABUKA DCT OKIBA DCT ABTAL L173 RIXED DCT AGB DCT OBIXO/N0150F120 DCT ERKIR DCT INGID DCT SABAD/N0152F100 L862 SPL LDSB
Alternates: Pula LDPL Losinj LDLO Zadar LDZD Split LDSP
894nm as filed
825nm GC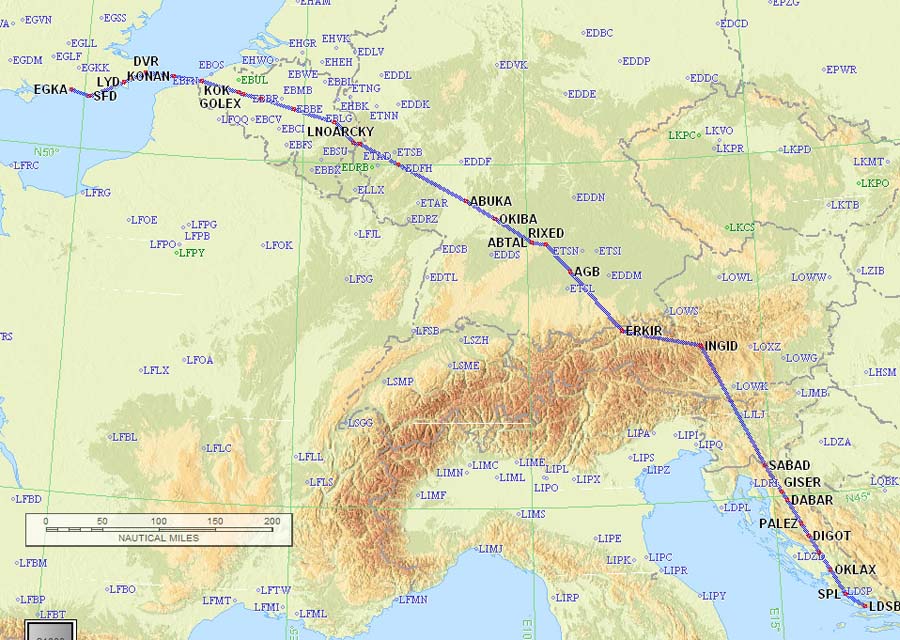 The above really shows the wonderful capability of the TB20. In still air, the above flight would leave you with 2 hours' fuel!
Actual route flown (FR24)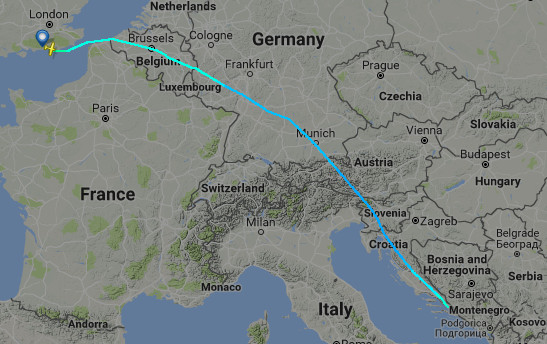 The cloudbase on the morning of departure was about 300ft, with light drizzle and generally really unpleasant - especially as one has to pack up the cockpit cover and roll it up into a bag, without getting oneself totally soaked by it...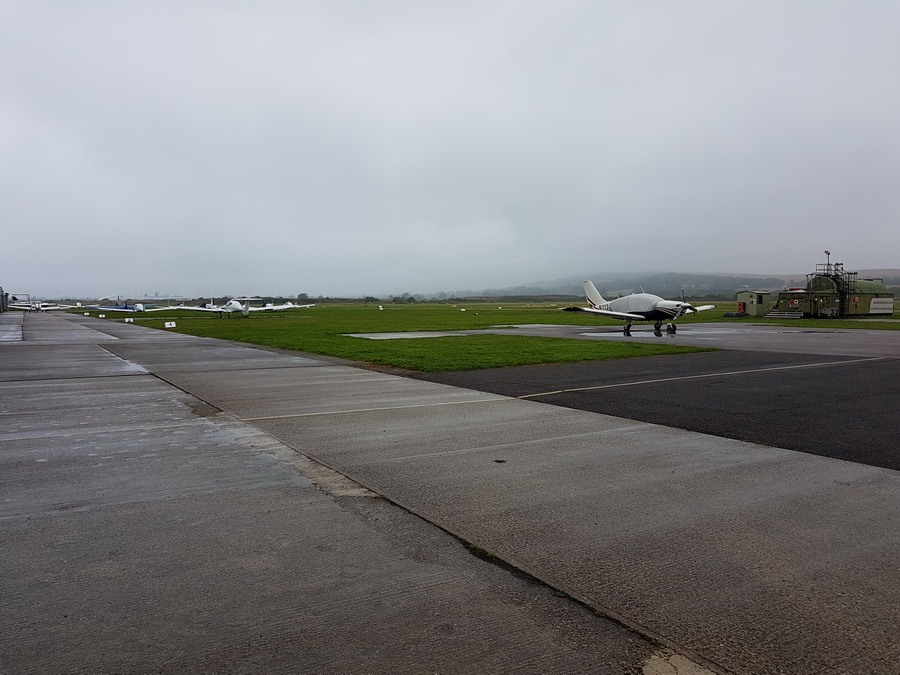 I am now testing the Garmin Aera 660 GPS which comes with the excellent Garmin SafeTaxi charts. It is very easy to get lost at an airport and this should help. This also does terrain warnings (which crucially come out on an audio output connector) and will replace the Garmin 496 which I have had yoke mounted since 2005 and which is basically useless except as a terrain warning device and, at a push, a "DCT box" for emergency navigation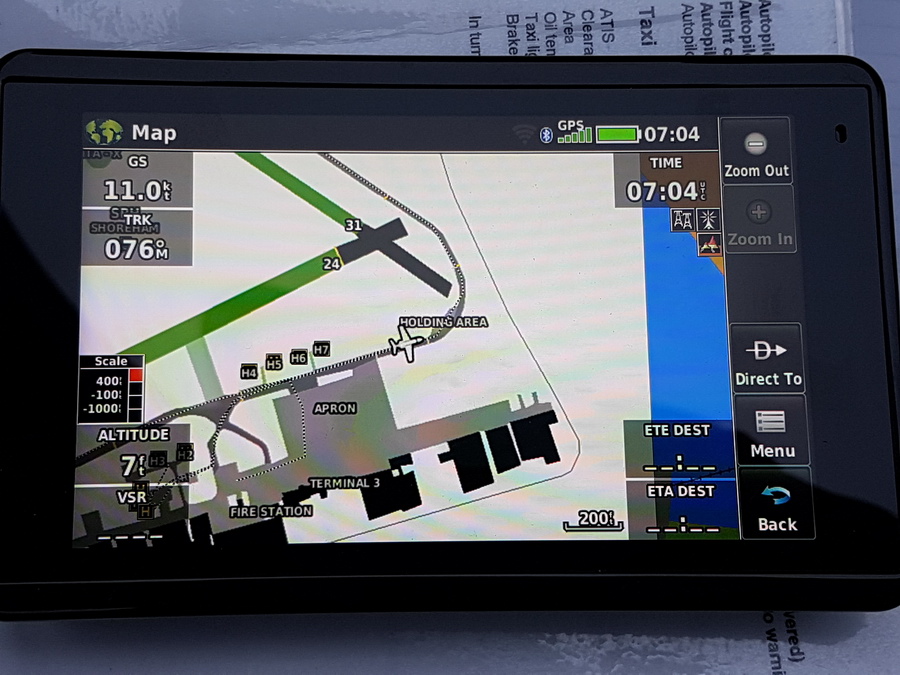 However, both the Aera 660 and the 496 are equally useless at depicting airspace.
With a top around 8000ft, the layer was not thin but was warm enough to not present an icing risk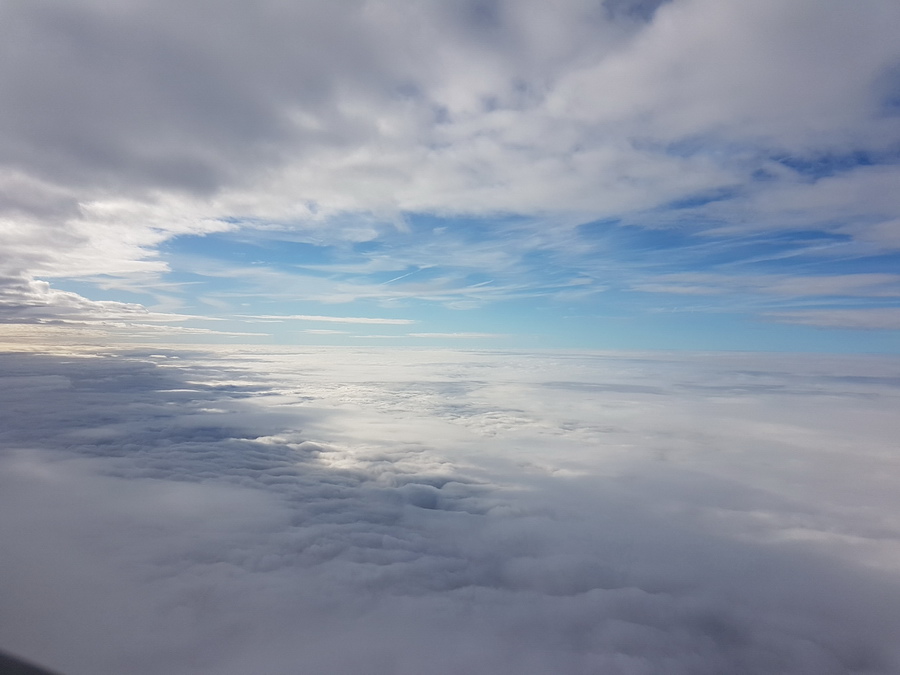 The initial level of FL100 was just right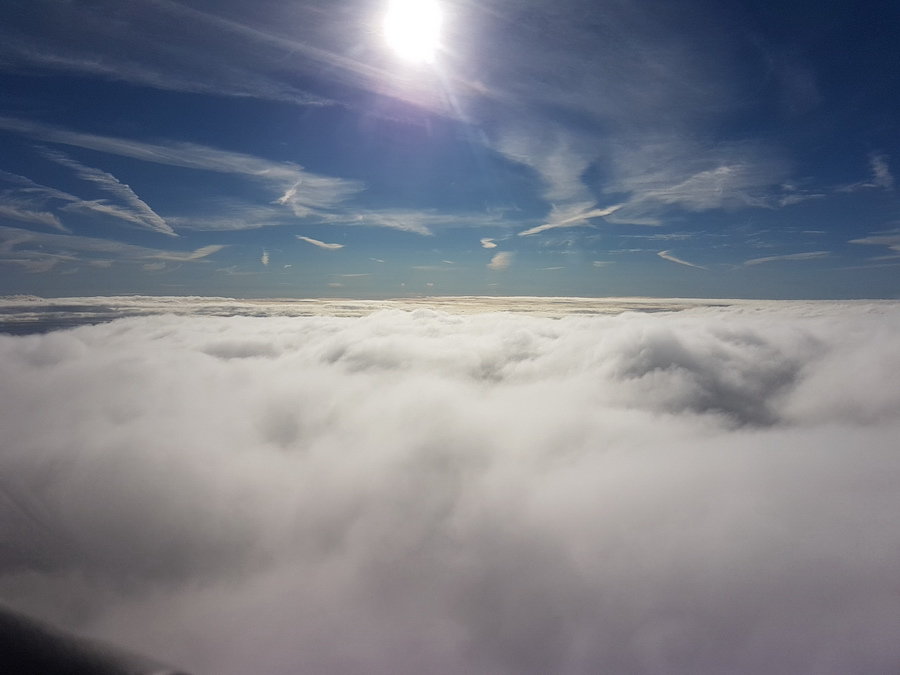 The conditions cleared up later but as usual there was a lot of haze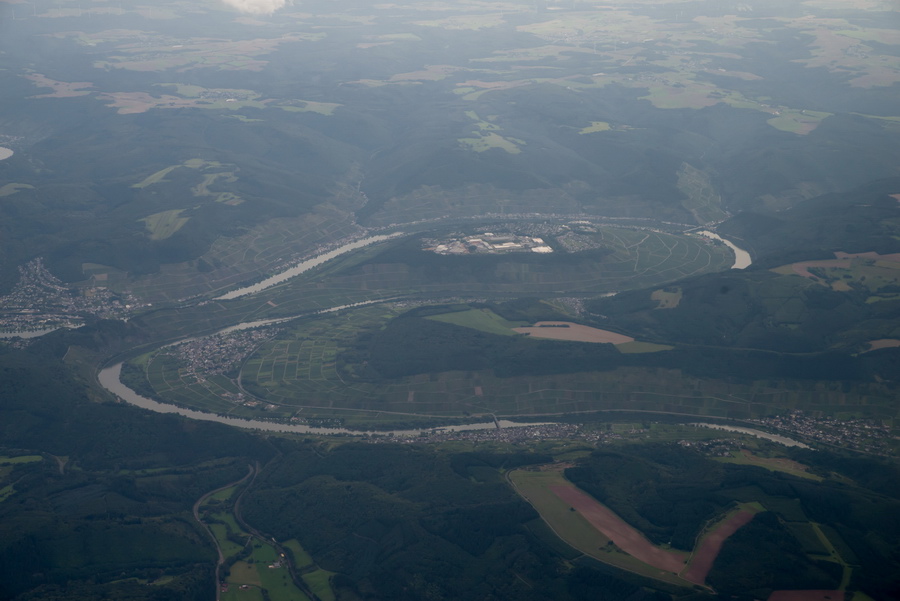 There was a considerable tailwind on this flight, of 20-30kt. Also, as I was passing Pula I exchanged some emails with Brac airport and realised I had screwed up: I had not read the Brac notams properly and the following day their opening hours were different - shifted towards the evening, with a later opening in the morning, which meant I would miss the prebooked slot at Samos by several hours. Since booking those slots was a painful exercise involving the banging of the heads of 78.5% of Greek airport jobsworths against a brick wall, I decided to continue the flight to Dubrovnik which has very wide opening hours every day. The fuel totaliser forecast a LFOB (landing fuel on board) of 22 USG at Dubrovnik which was fine with either Brac or Corfu as the alternate.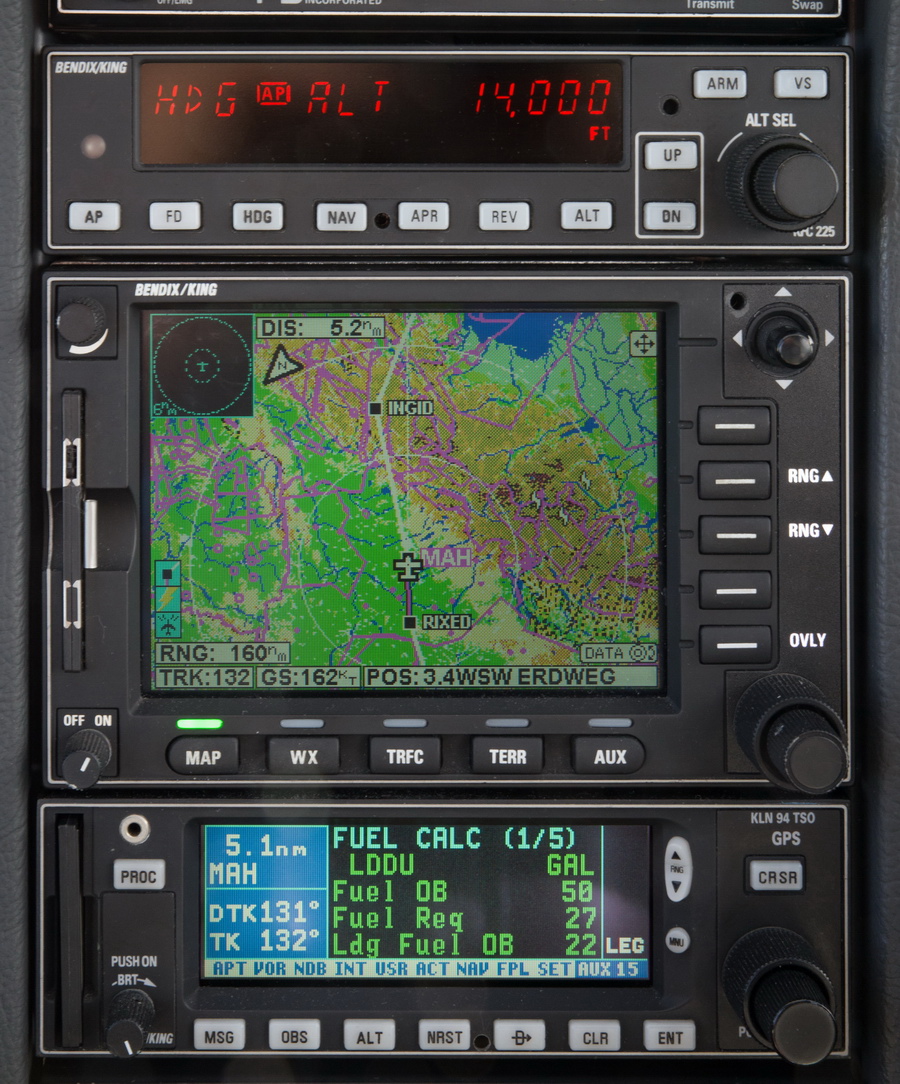 This meant I wasted the hotel booking on Brac but not all screwups are bad! I had screwed up on the hotel booking too and booked both it and the hotel on Samos (booking.com) for the following month! So I was able to cancel these without a penalty

The really scenic part of a flight to the Adriatic starts when the Alps appear. Now we are at FL140. The MEA here is FL120 but I climbed higher to reduce the effects of any turbulence caused by the fairly strong wind flowing over the terrain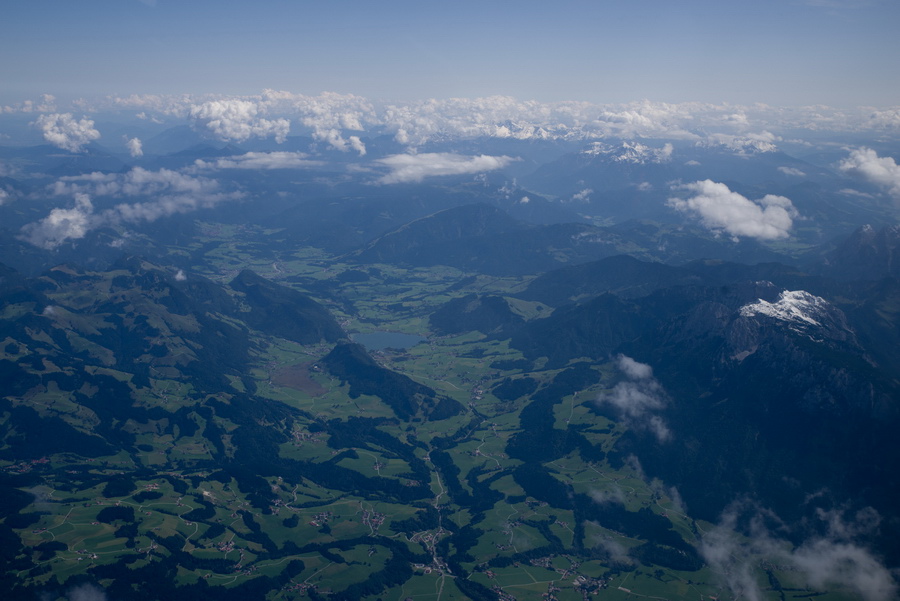 This was September so all the snow here has been there since the previous winter and much of it will be permanent. The temperature at FL140 was -6C so most of the terrain below would have been around 0C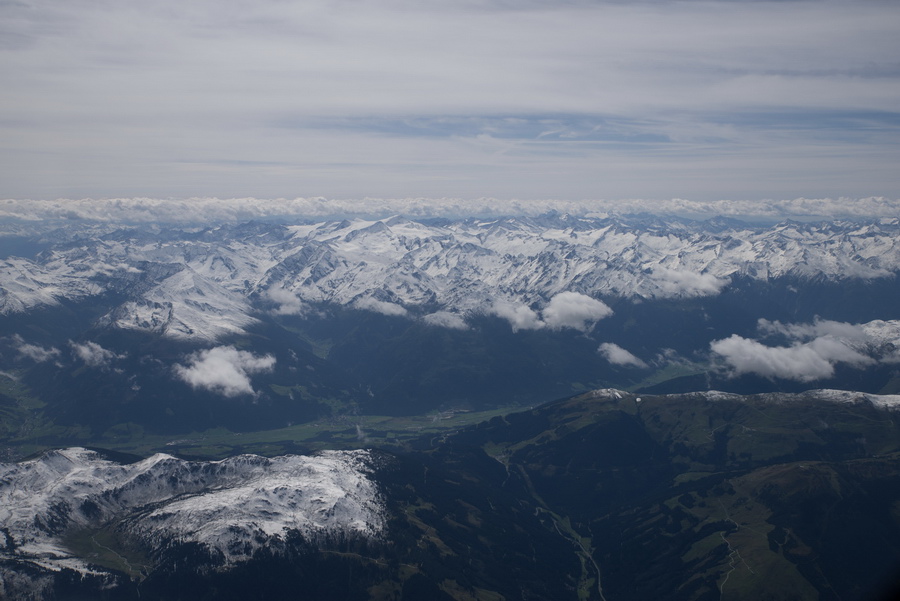 Zell am See, with the airport visible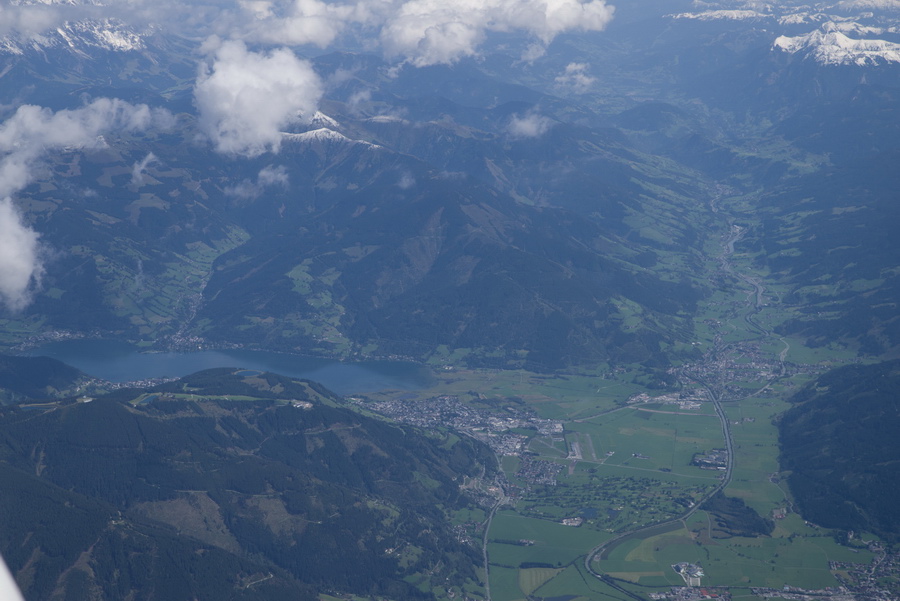 The engine failure options appear bleak but in reality most of the Alps present opportunities for gliding into one of the wide valleys. I also run a GPS which has a proper topographic map (generated from Google Terrain, before Google stopped people downloading gigabytes of the data in one go) so one would have good options even if flying above a cloud layer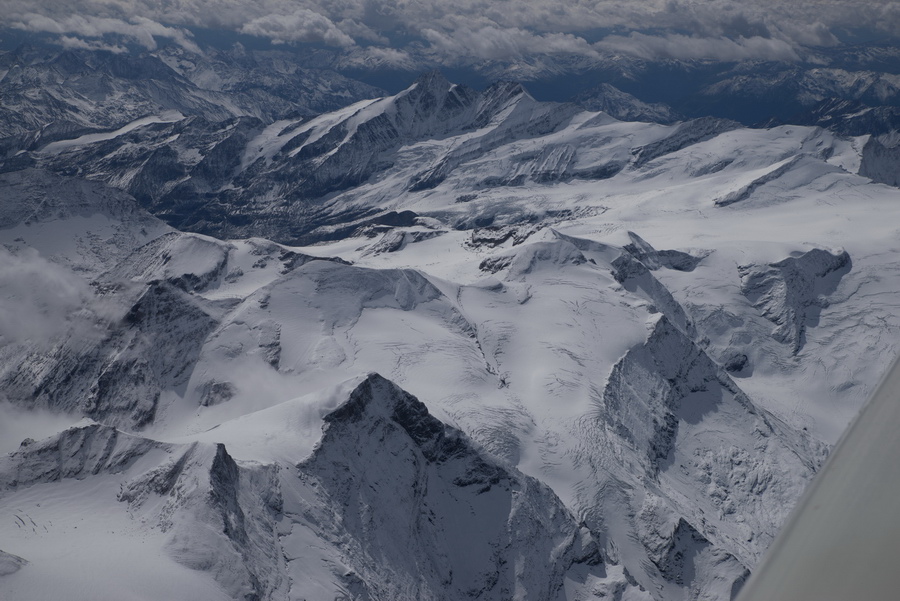 Passed the Alps now and here is the unmistakable view of the Adriatic with its hundreds of small islands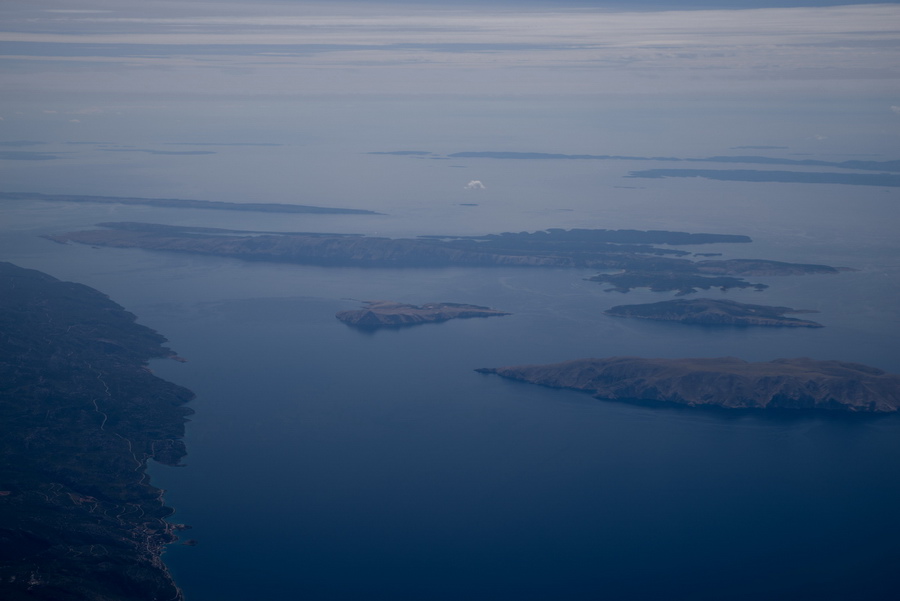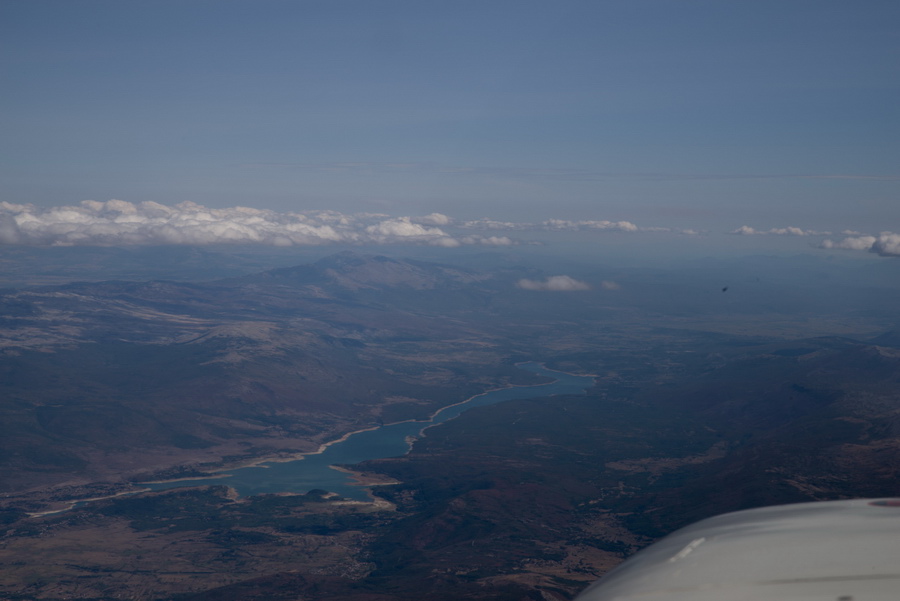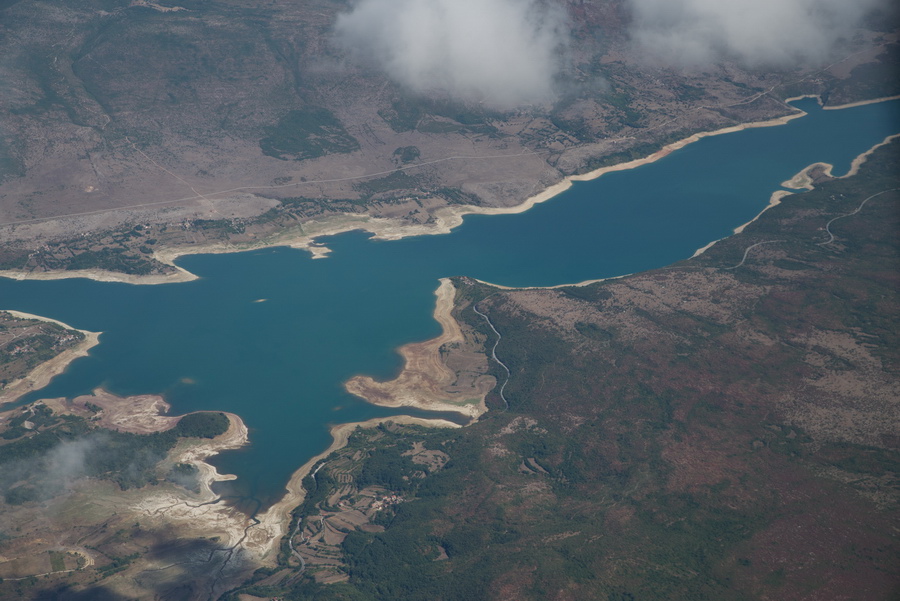 Brac airport, where I was originally going to land. Brac is a great place to hang out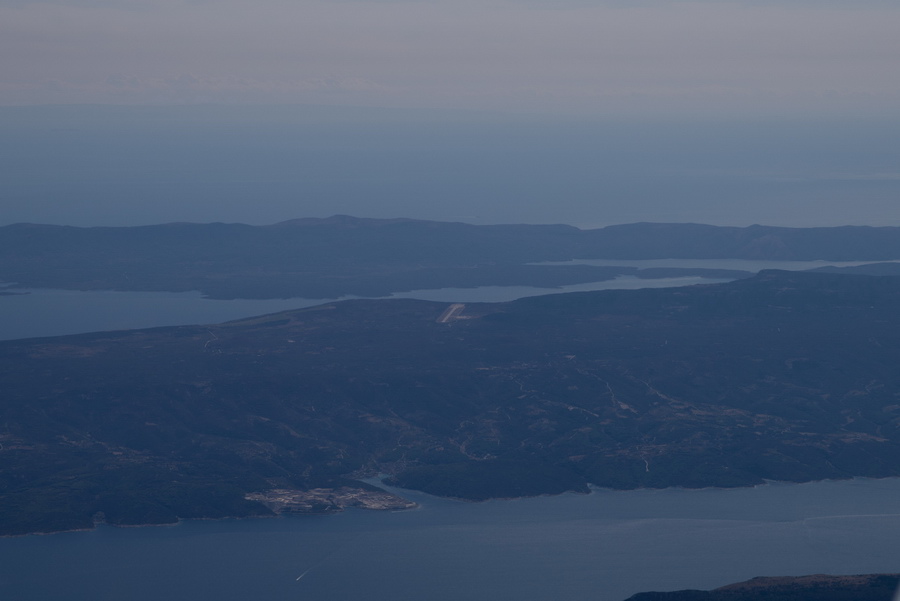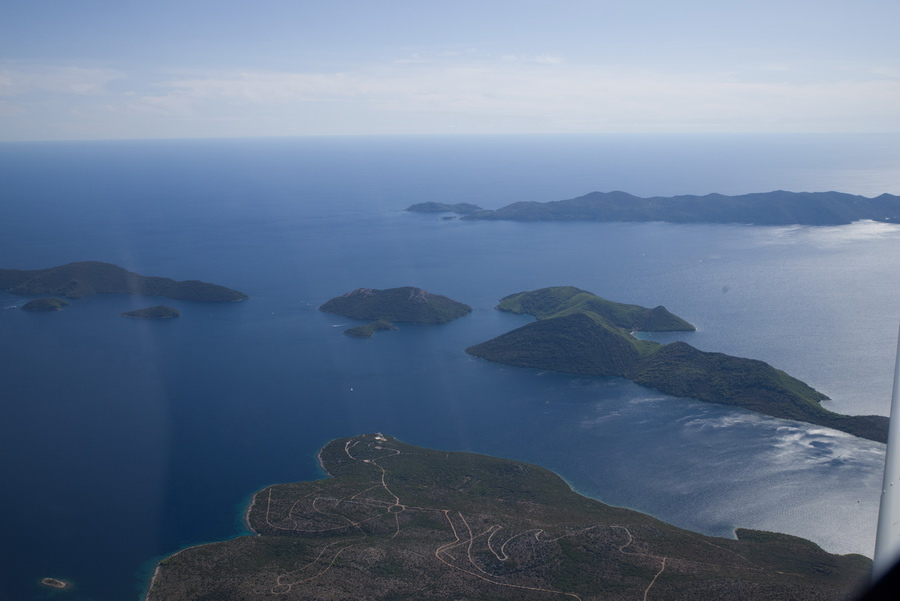 Dubrovnik is now visible in the distance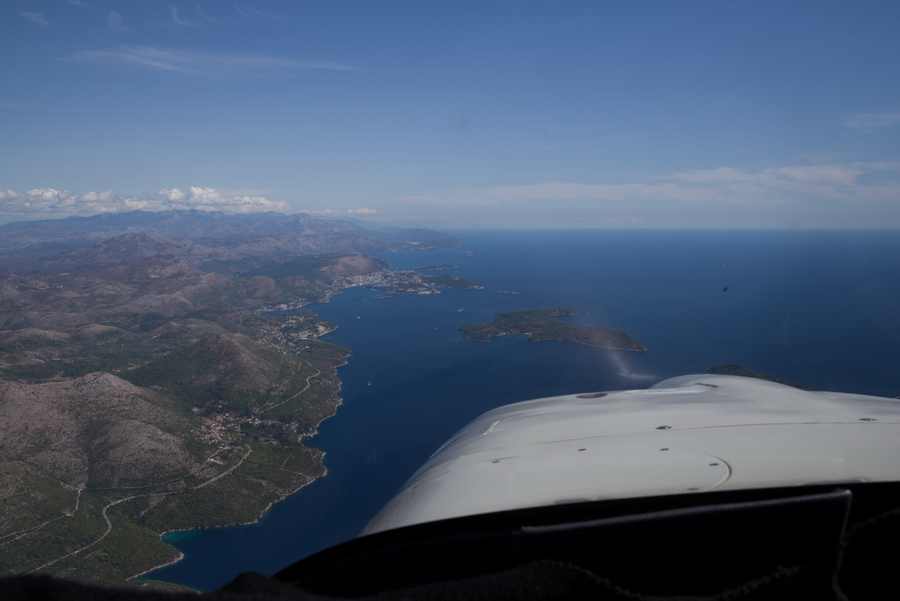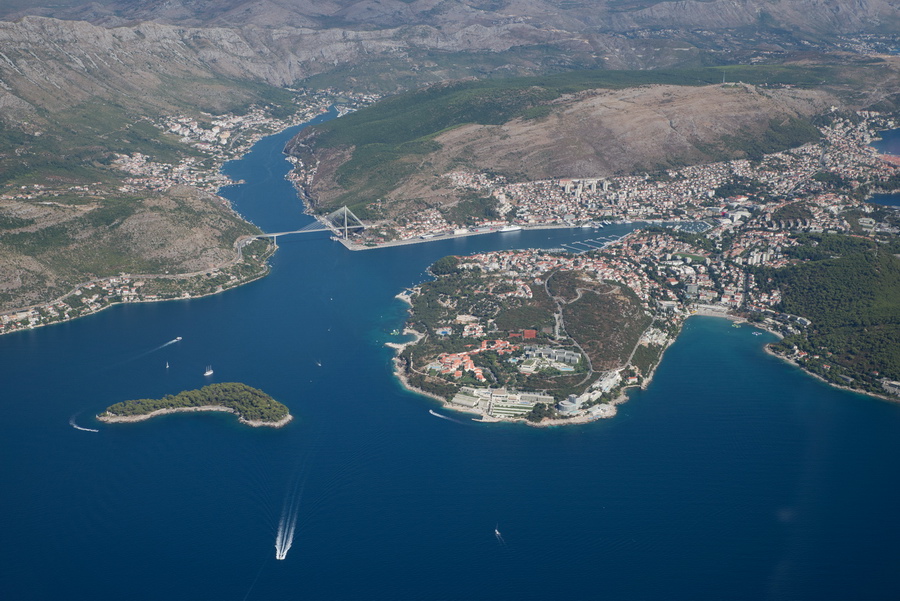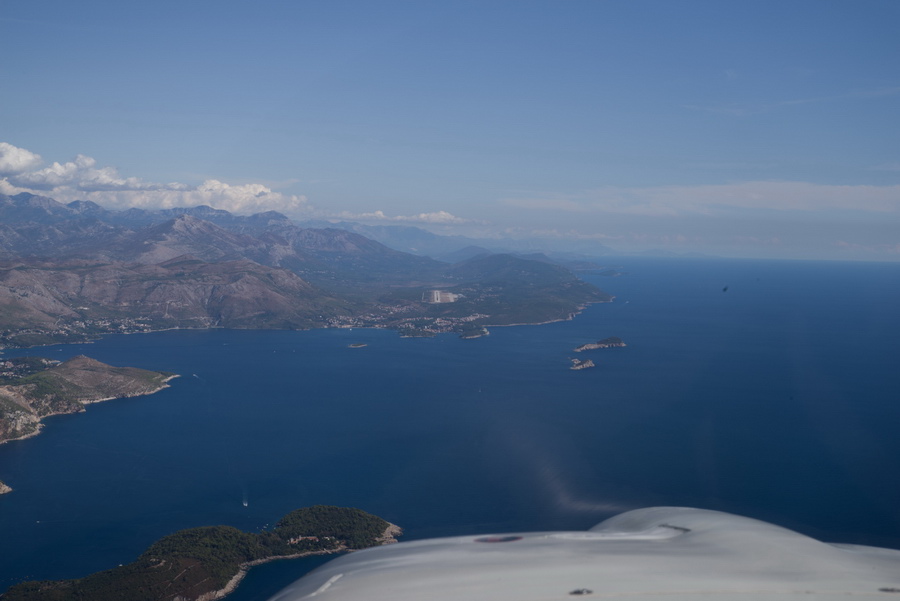 The old city of Dubrovnik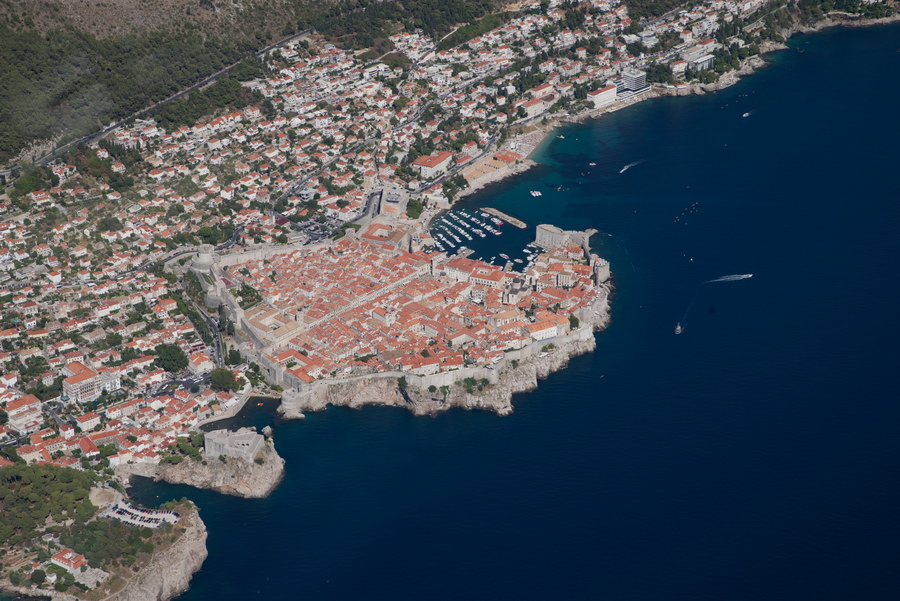 On the ILS; straight-in for runway 13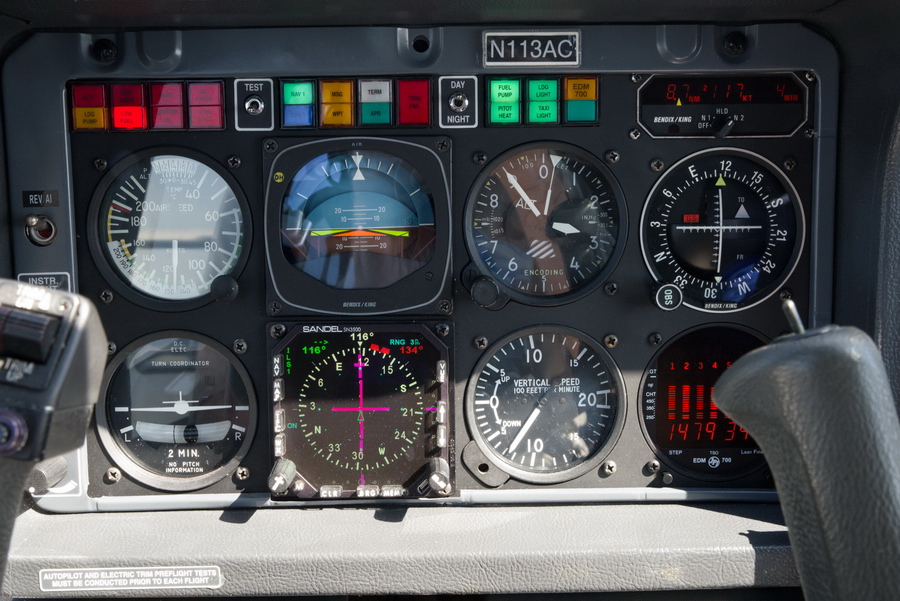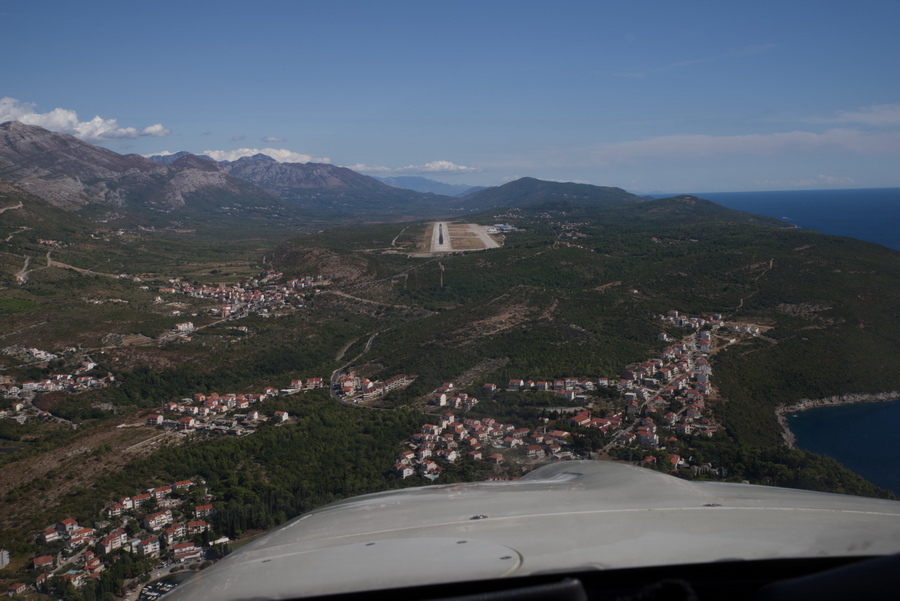 Dubrovnik is an excellent, perfectly organised and highly GA-friendly airport. Fuel and the handler arrived instantly and 15 mins later I was done. The total cost was €50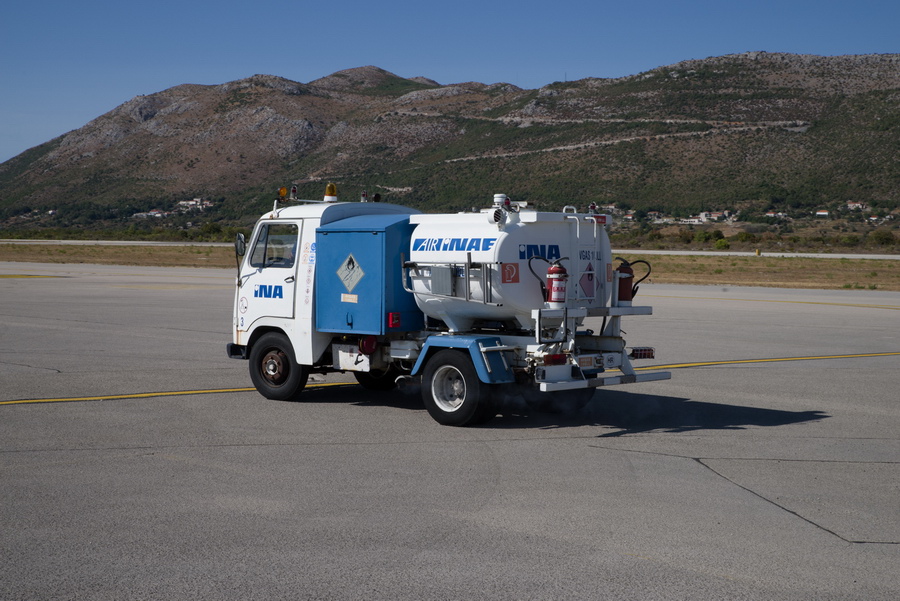 There are many airline flights but the management still keeps it open to GA which is highly commendable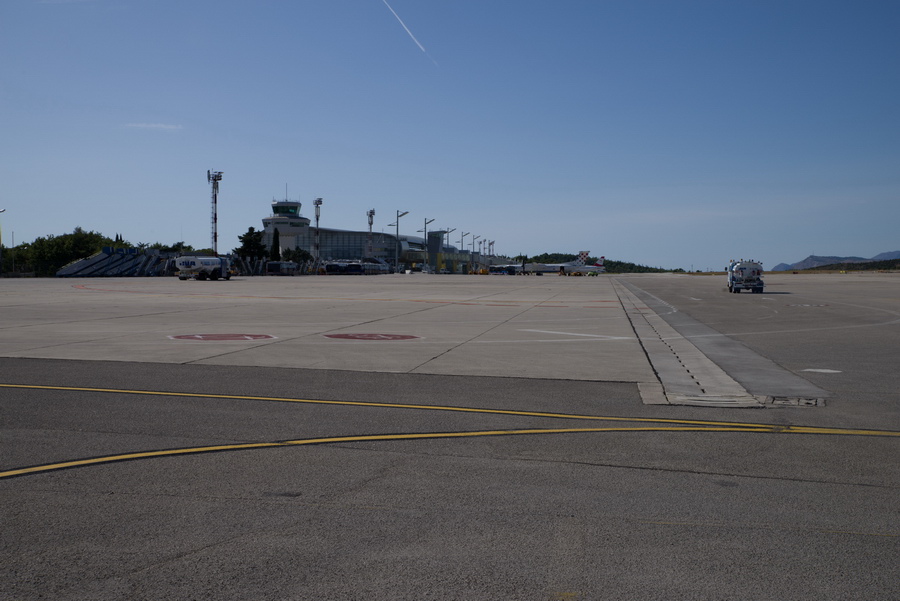 Packed up and nearly done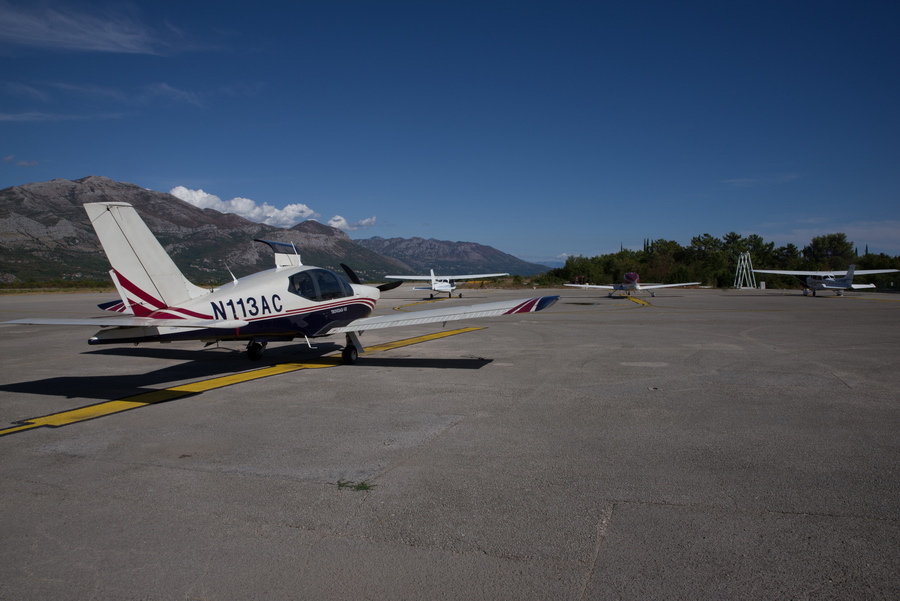 I found an apartment on booking.com - Villa Rozic - for €60 on a scenic hillside at a coastal village called Cavtat, near the airport. The village was really nice and it was great to forget the wet UK weather.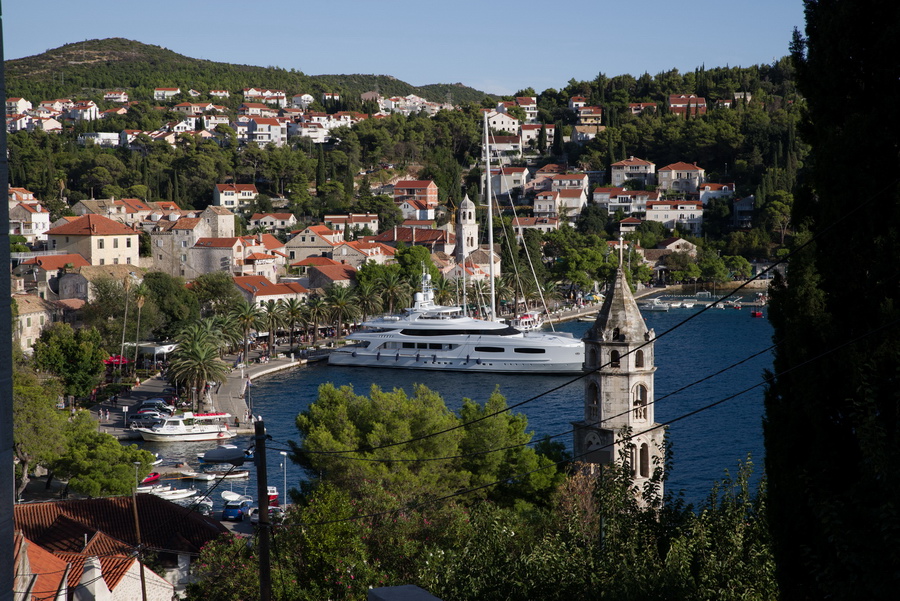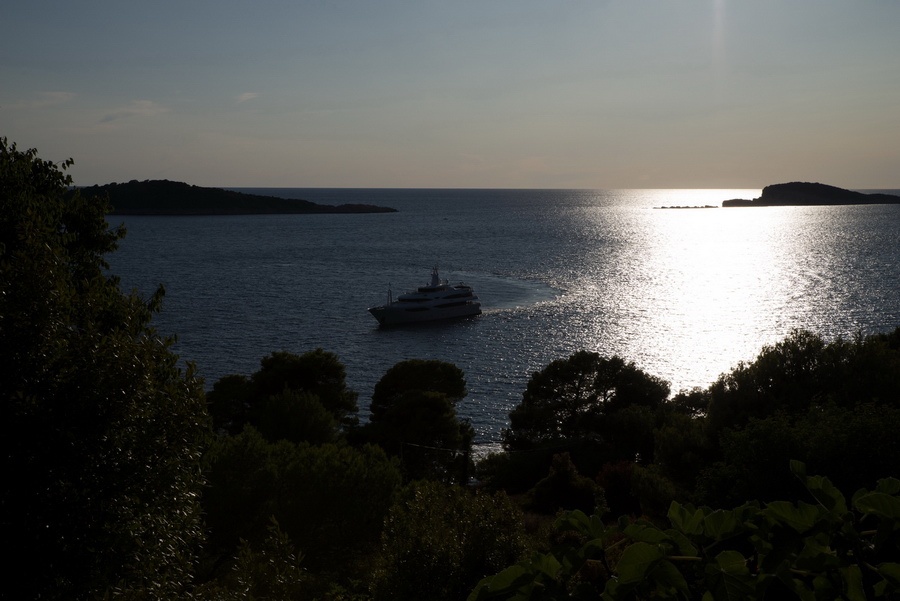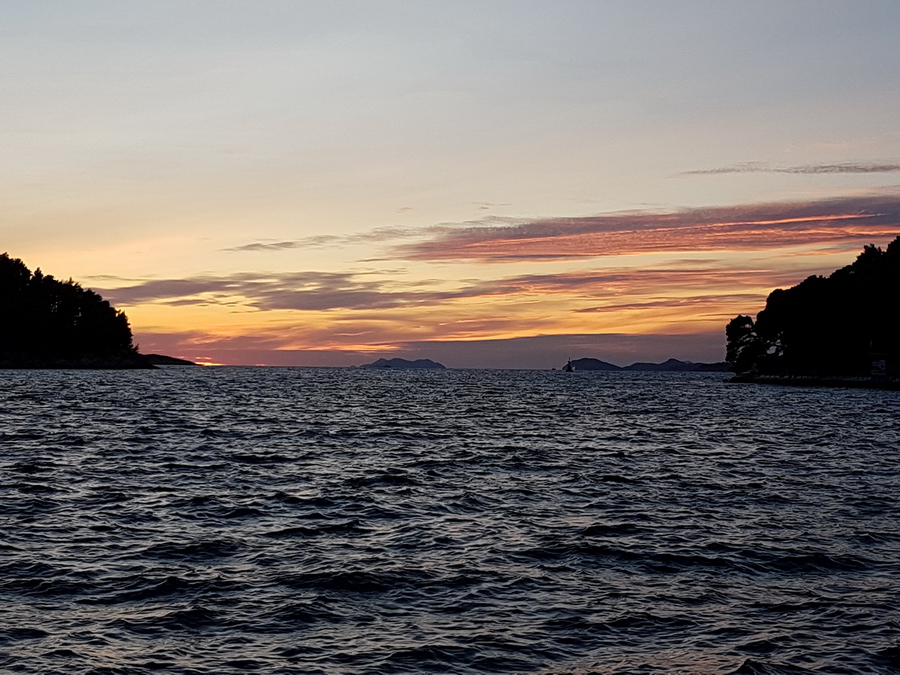 This is the video of the entire flight, edited to show only the more interesting bits:
TB20 flight Shoreham EGKA to Dubrovnik LDDU from Peter on Vimeo.
Dubrovnik - Samos
This was the second leg of the trip.
MSLP: 0600 1200
IR Sferics TAFs/METARs
Autorouter briefing pack
The route was filed at levels from FL110 to FL120.
LDDU MOKUN L187 LASTI/N0152F110 L187 RODON N732 GRIBA DCT ADDER/N0150F120 M603 KAS/N0152F110 W58 LSA/N0152F100 W58 ETRUD N130 MES H59 NISOS/N0151F090 H59 ORMOS LGSM
Alternates: Corfu LGKR Athens LGAV Sitia LGST Iraklion LGIR
550nm as filed
492nm GC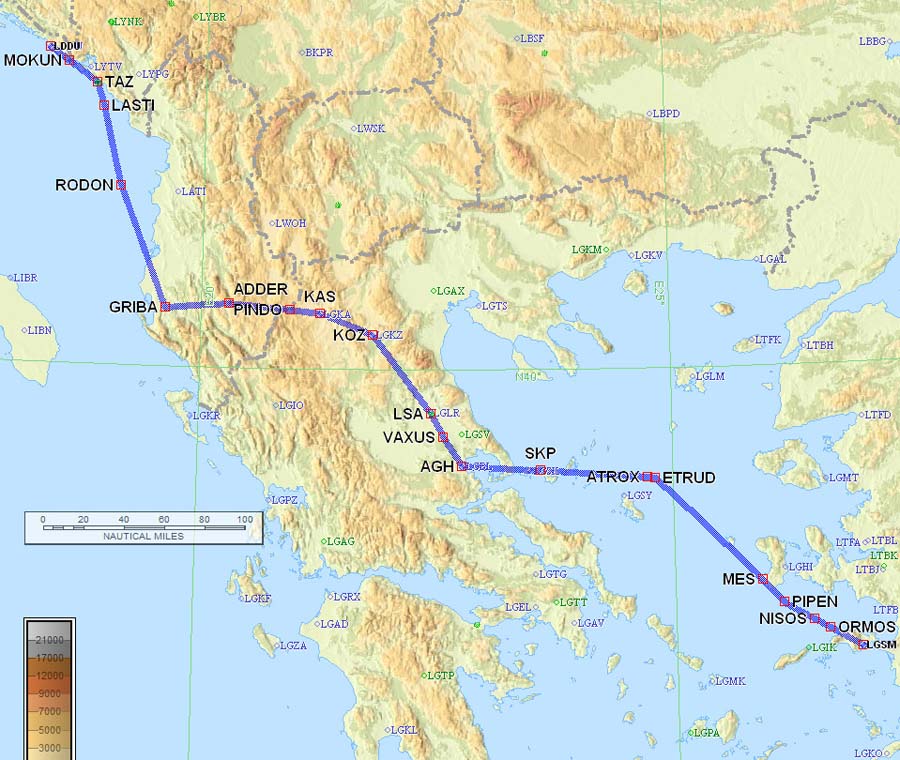 Actual route flown (FR24) - you can see tracking was lost over a bit of Albania and N Greece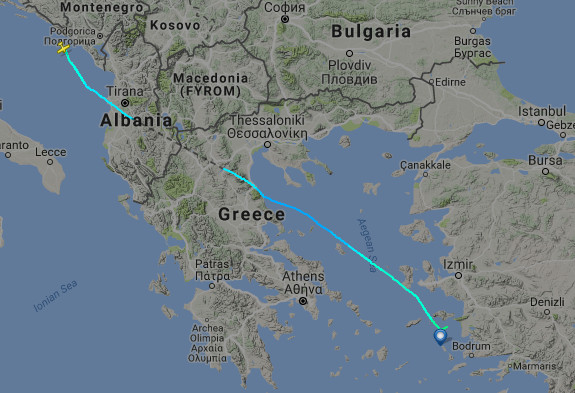 The morning at Dubrovnik was very nice. It is always good to see other GA aircraft at these big airports; most big airports have driven them out with crazy fees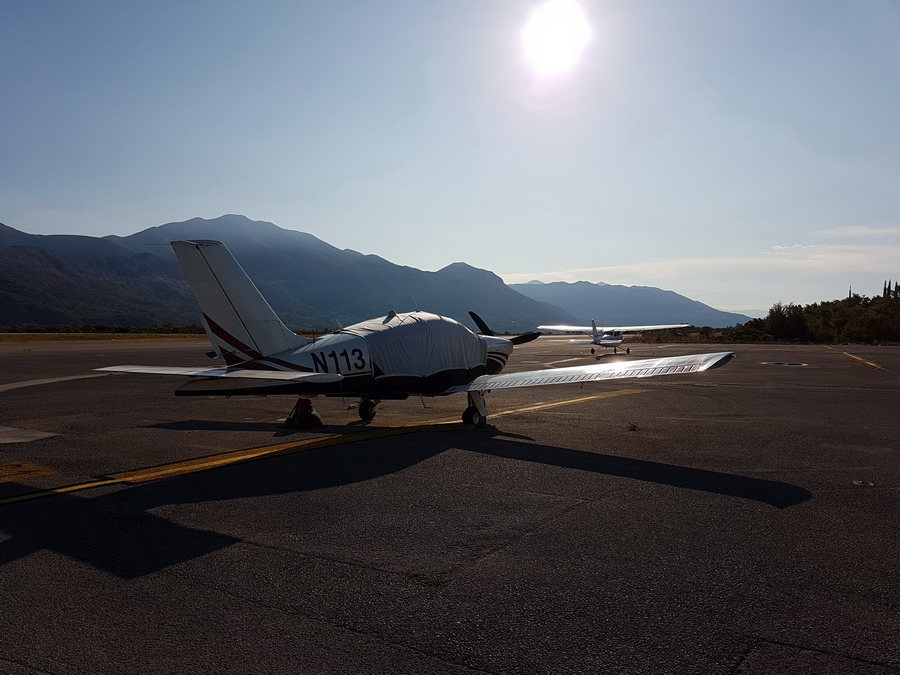 Departure was straight out to the north, with a turn to the right; this is looking backwards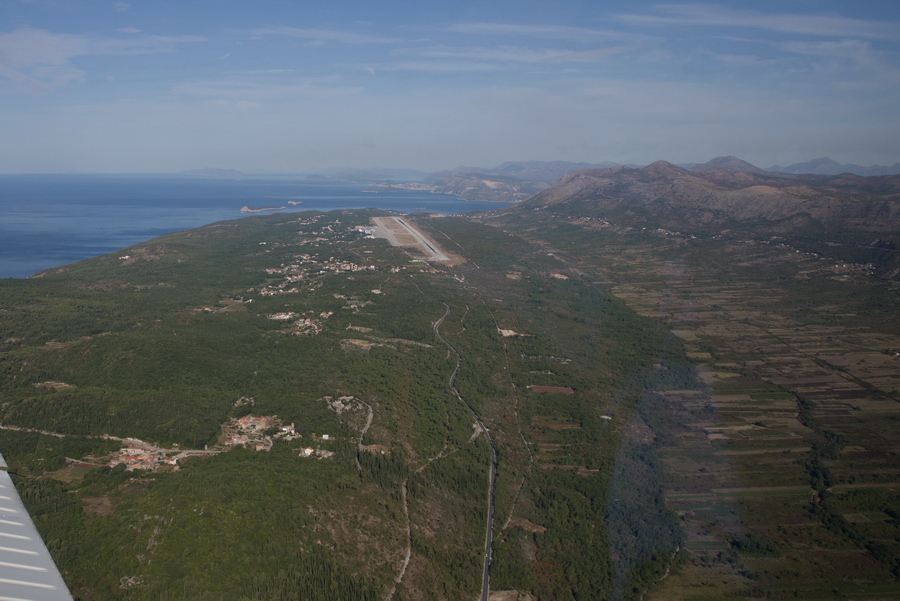 The rugged hills and mountains of Montenegro and later Albania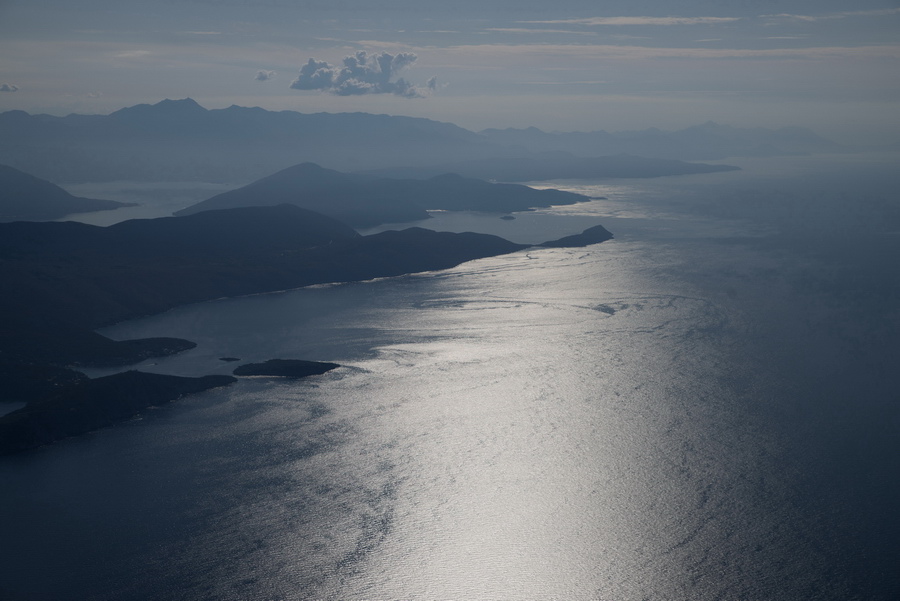 I could have climbed on top of all this but it looked fine to fly between the layers, the temperature was positive so no risk of icing, and the layer above was thin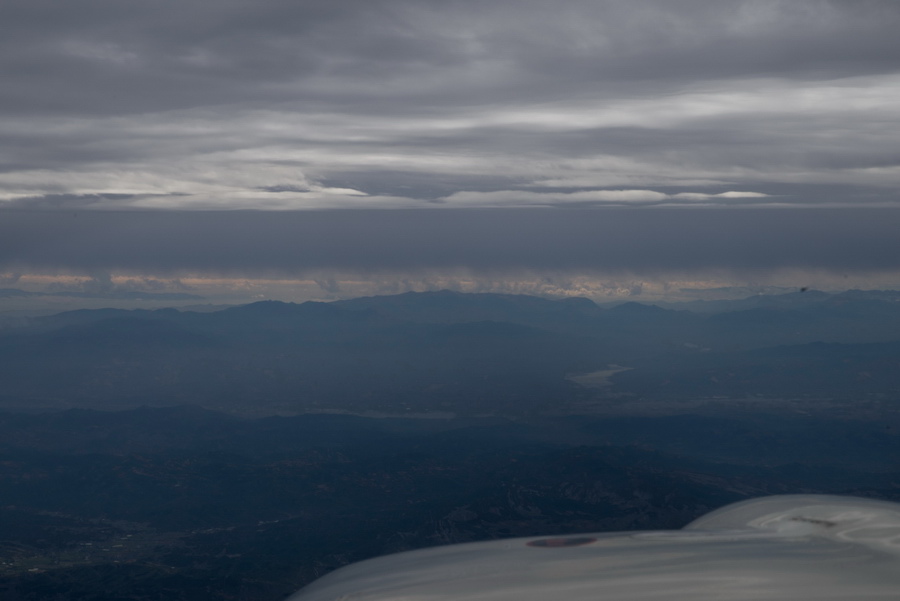 The city of Tirana - the capital of Albania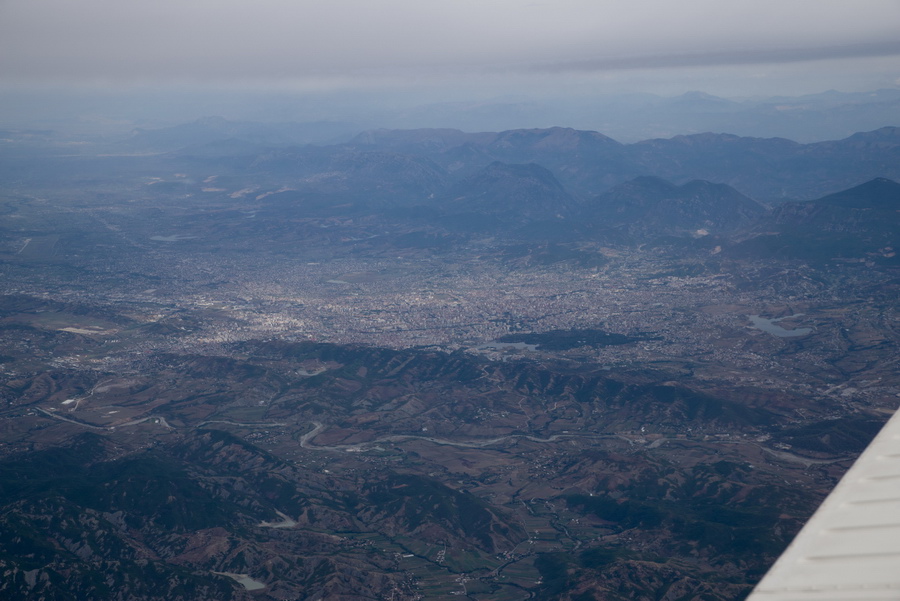 Now entering Greece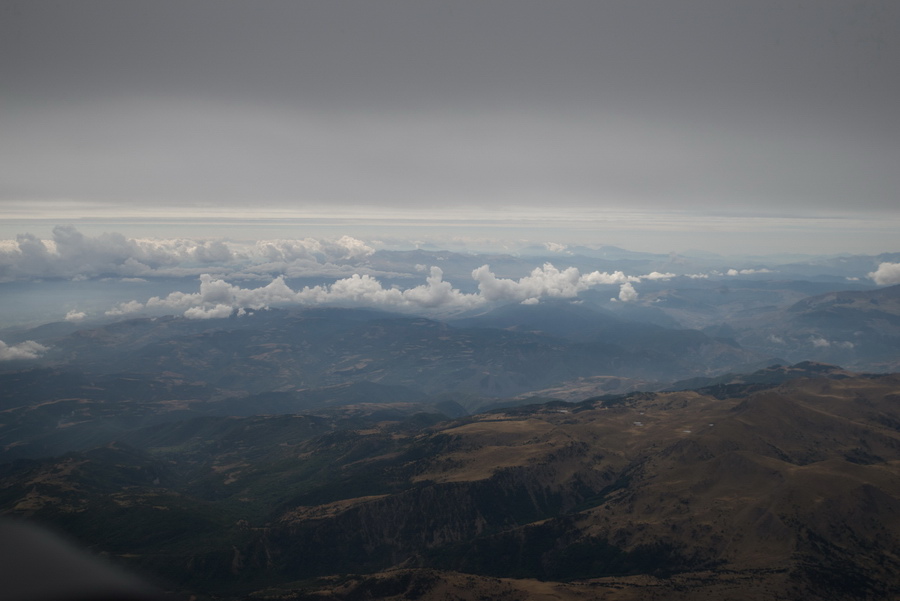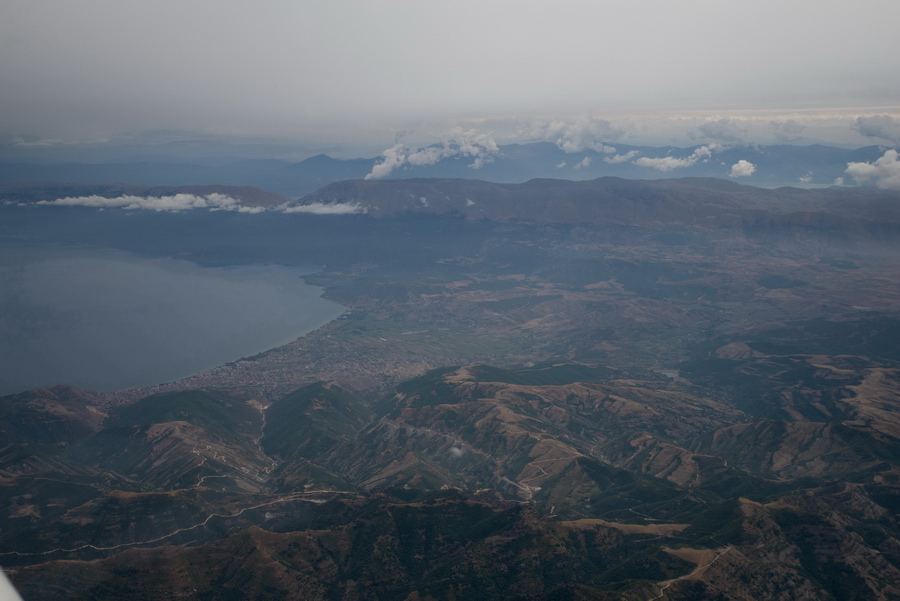 Enroute the LFOB stabilised at 49USG which is plenty for reaching any of the alternates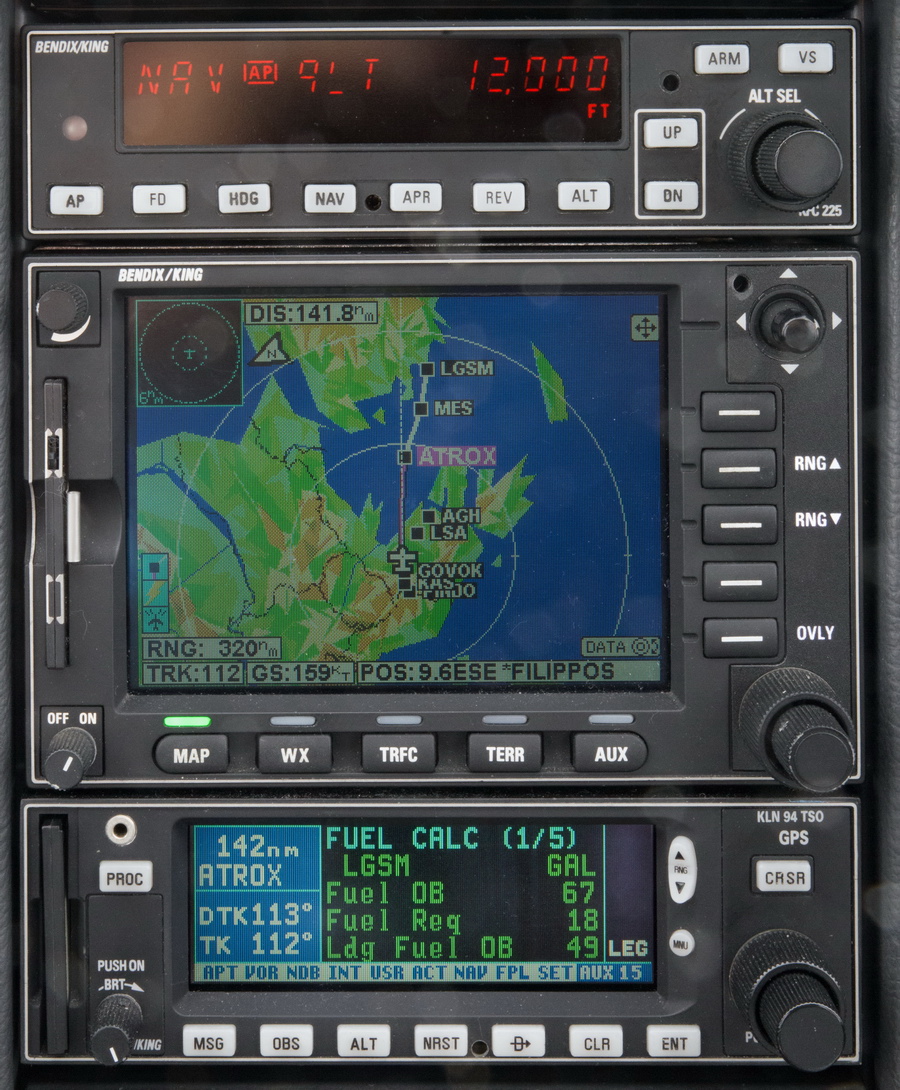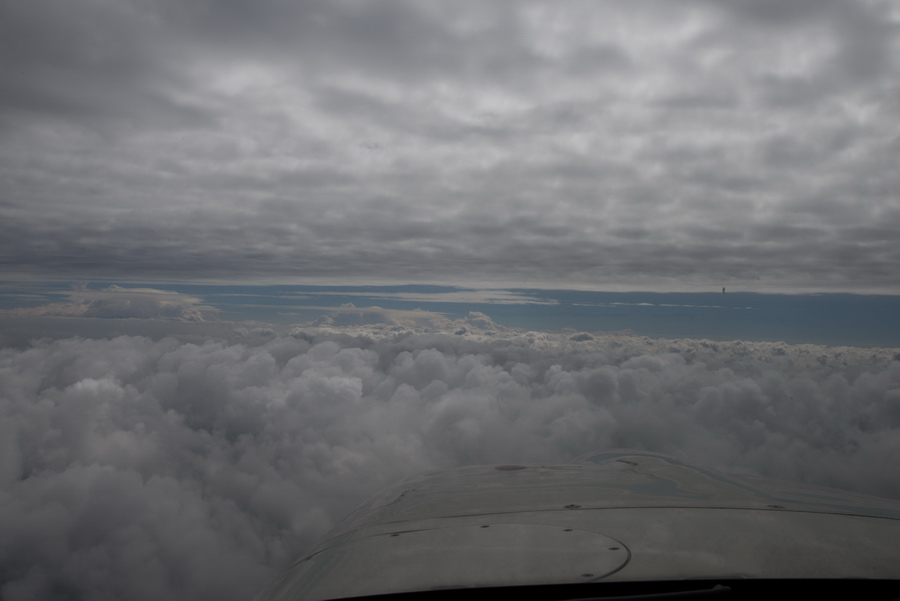 Over the Greek mountains, the buildups really started and I had to climb to FL150 as fast as possible just to keep pace with the tops which were rising before my eyes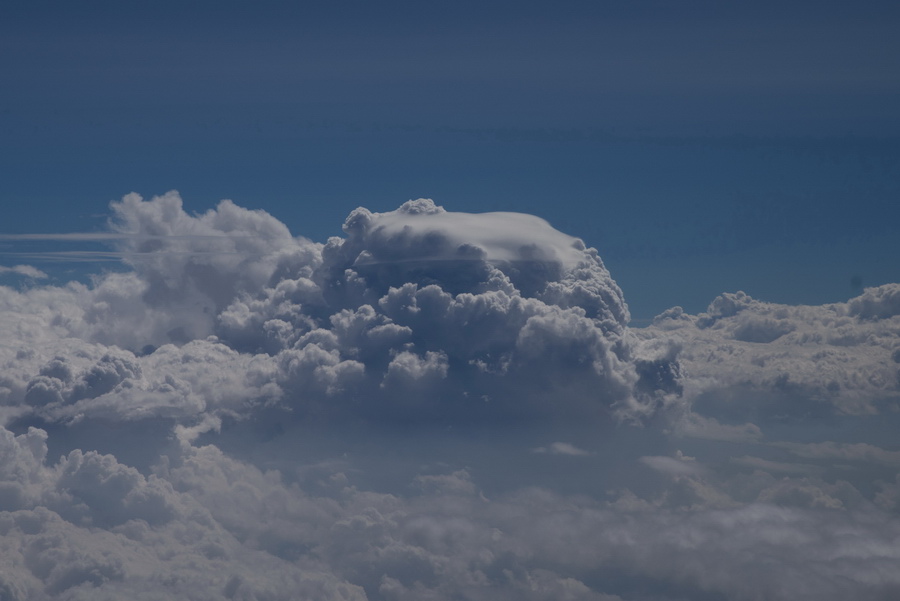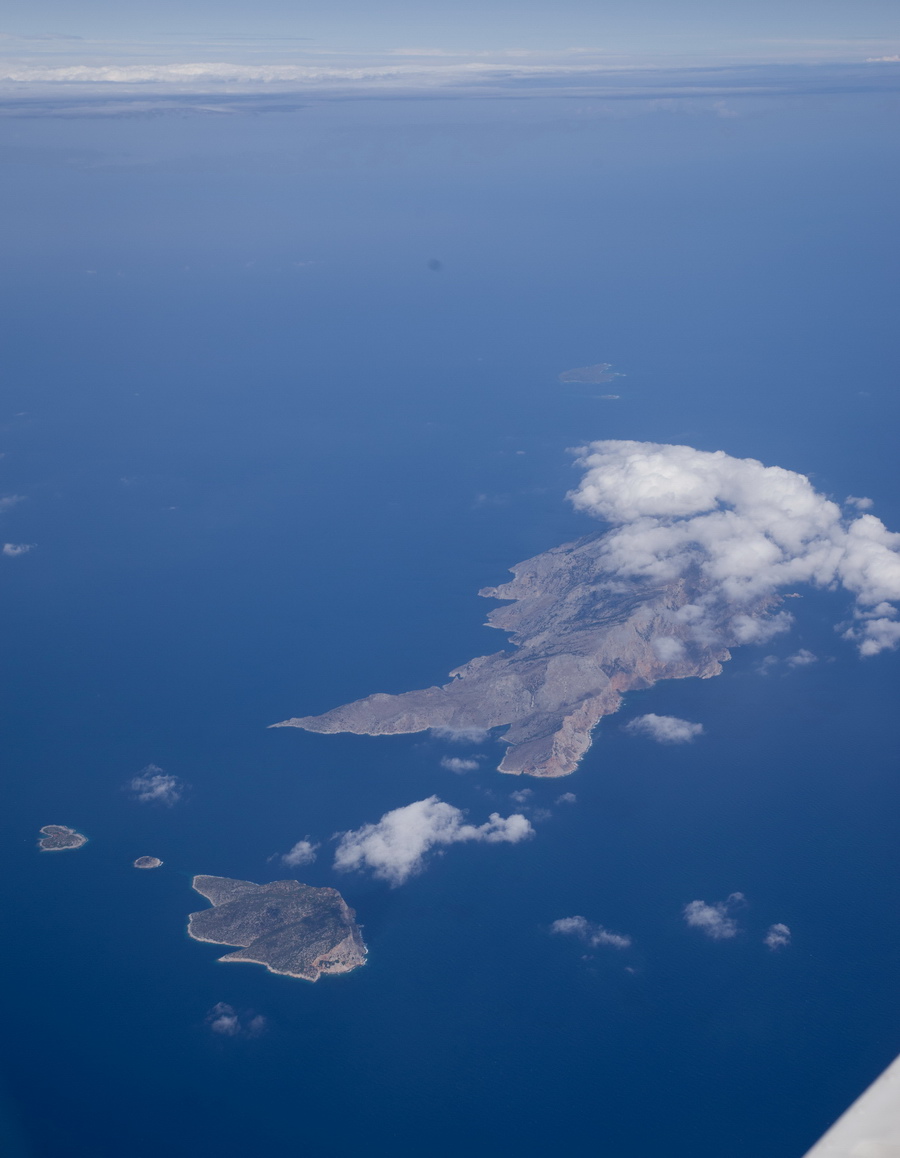 Skyros airport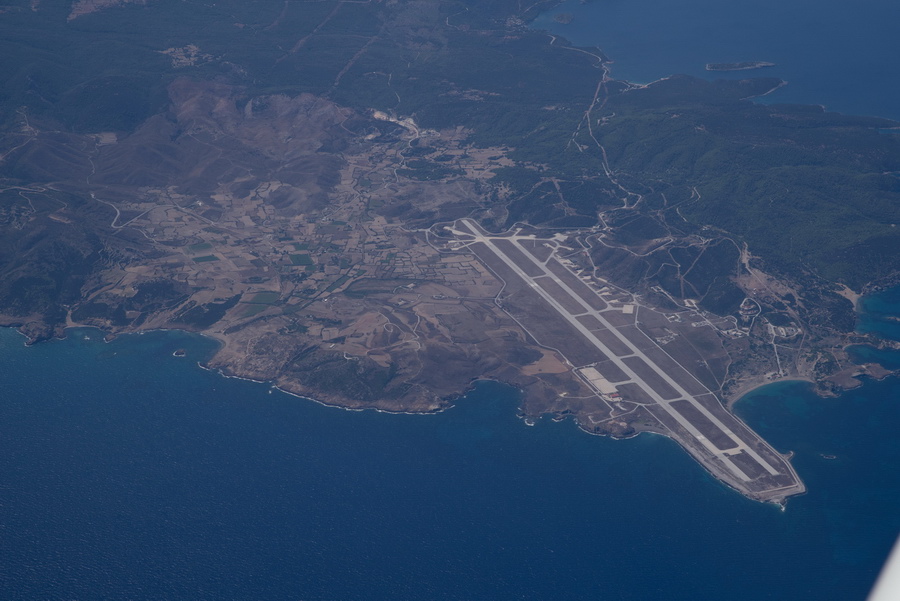 Right base for Samos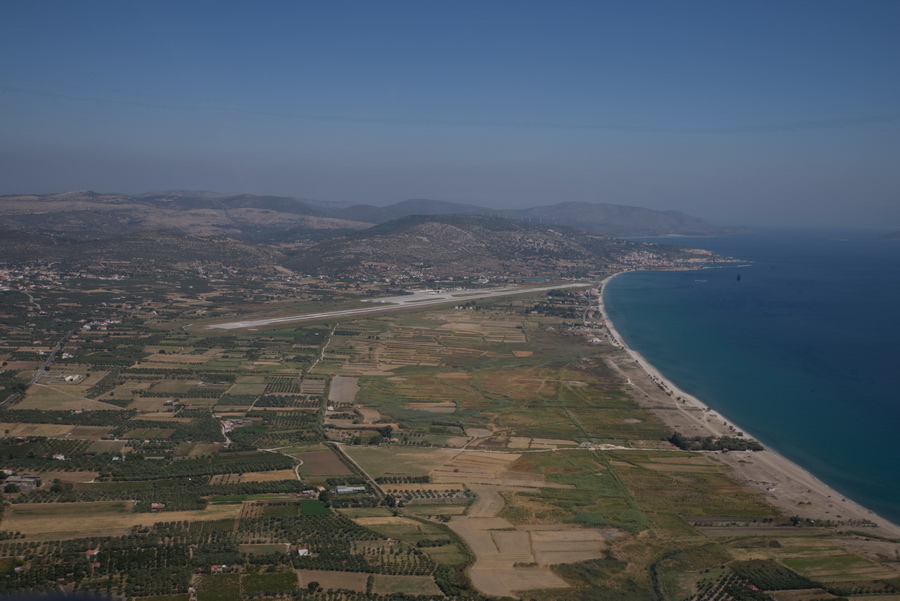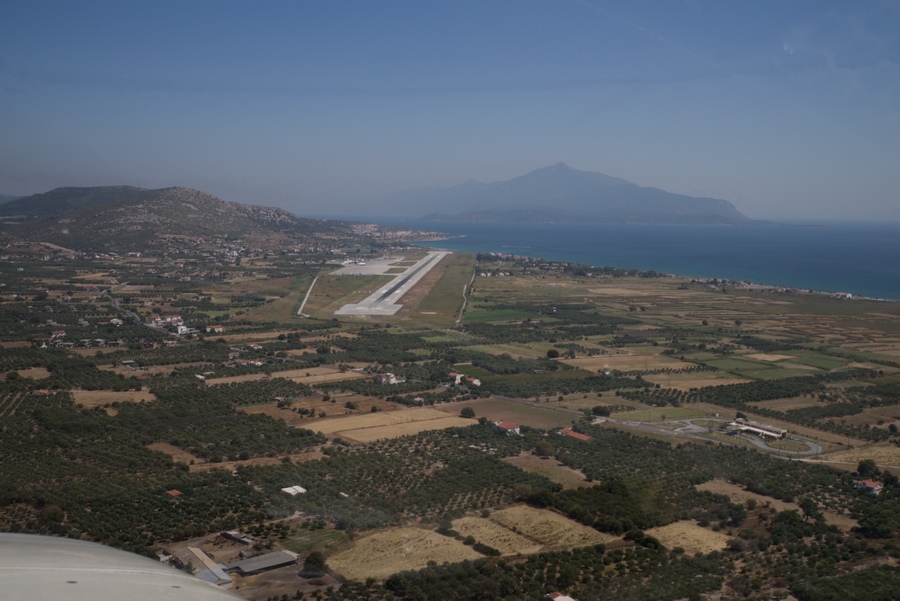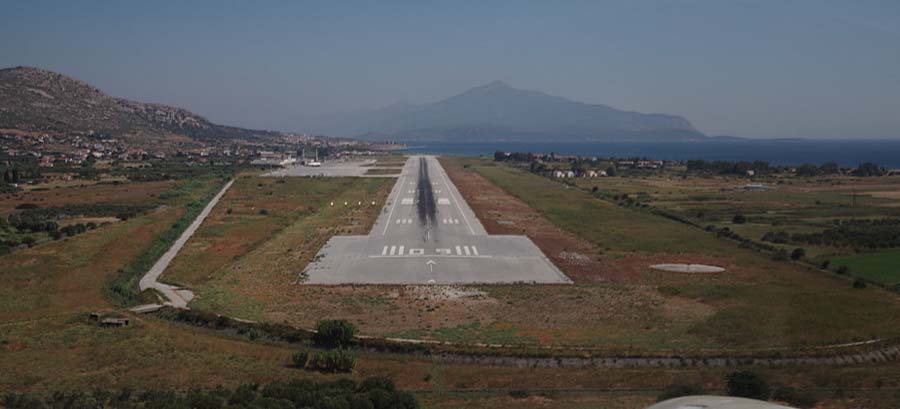 Upon landing at Samos, I got a good dose of the "new Greece under German management". This starts with mandatory red stickers, without which they won't give you any fuel. I removed them as soon as I was out of Greece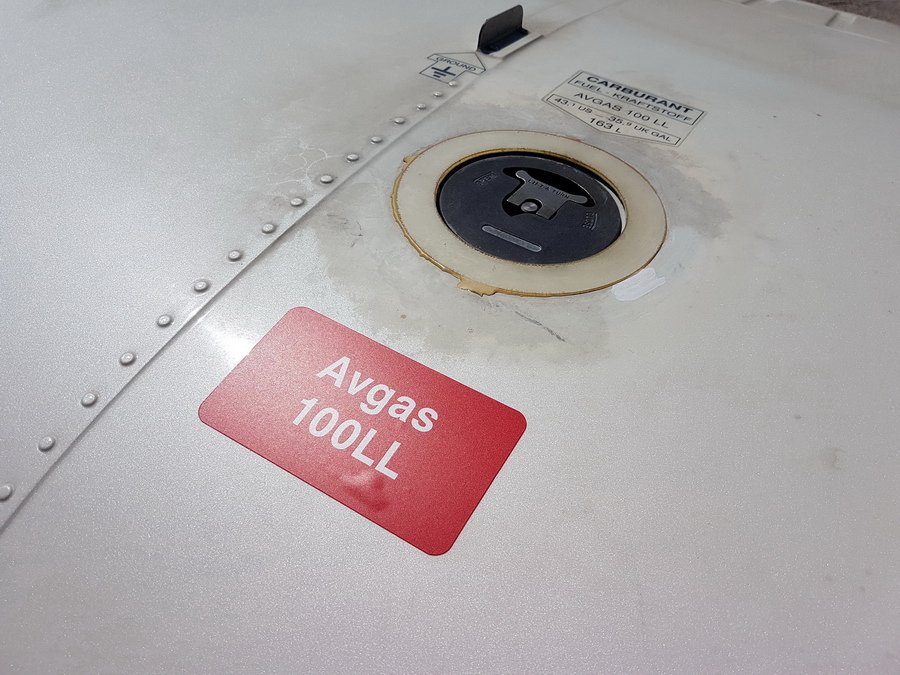 Then four men (the 4th one is out of the picture here) spent half an hour working out how to do it in accordance with the regulations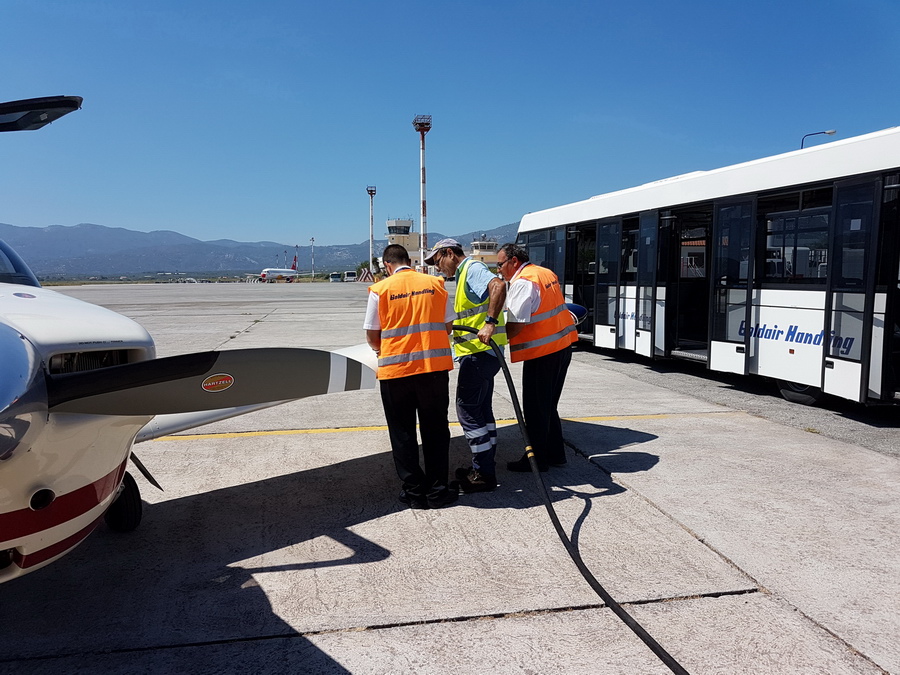 The bus is obviously needed to justify the massive hike in the fees. To be fair however, these are a standard fixture around Europe...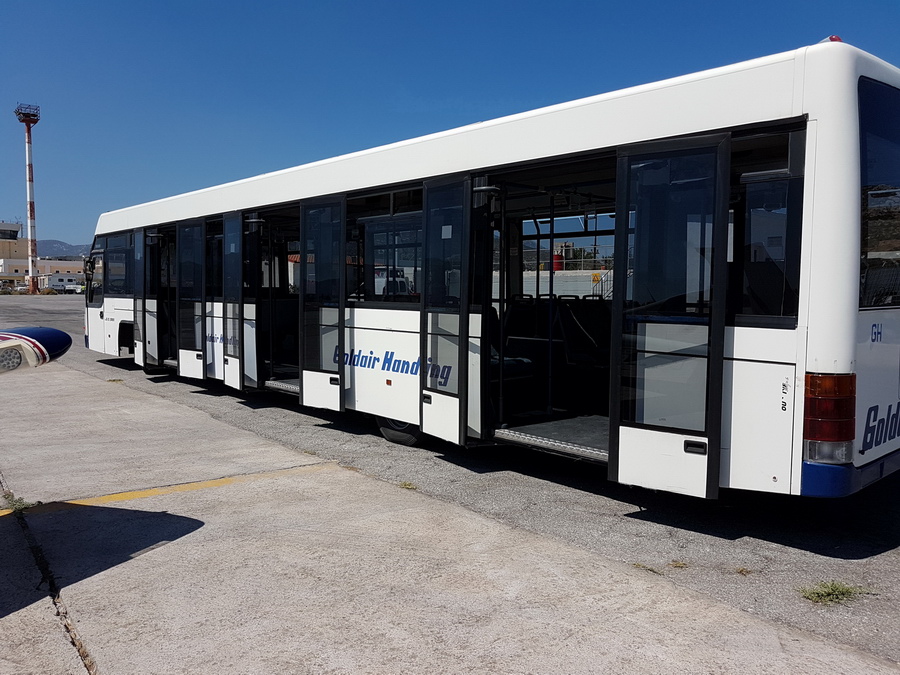 I stayed at a place called Zorba's Hotel in the main town of Pythagóreion whose booking.com photos look way better than the actual room

but at €45 it was just fine for the 1 night. As is often the case in hotels, WIFI was not usable but nowadays this is irrelevant because 3G/4G data comes in big bundles and these include roaming data too.
The town is lovely to walk around and to enjoy the great Greek food.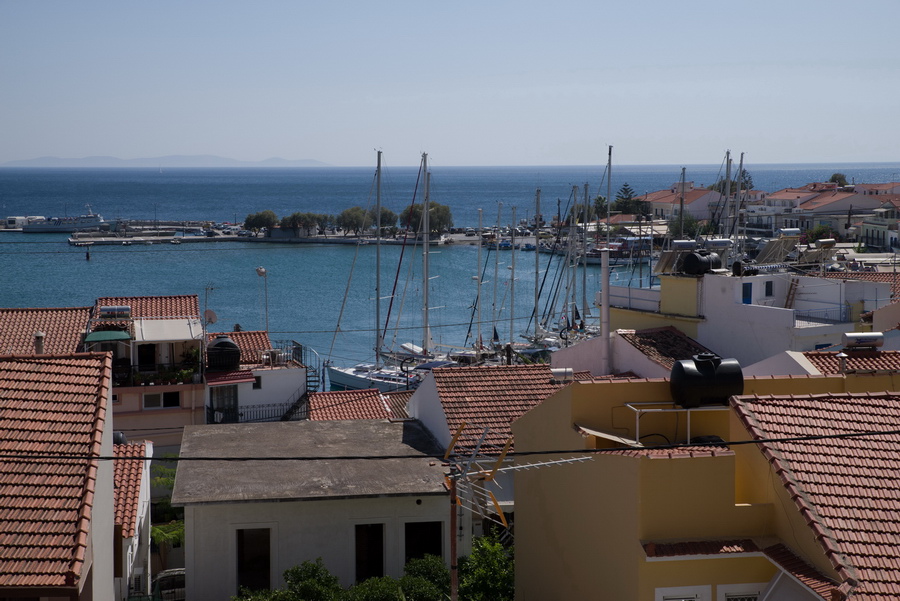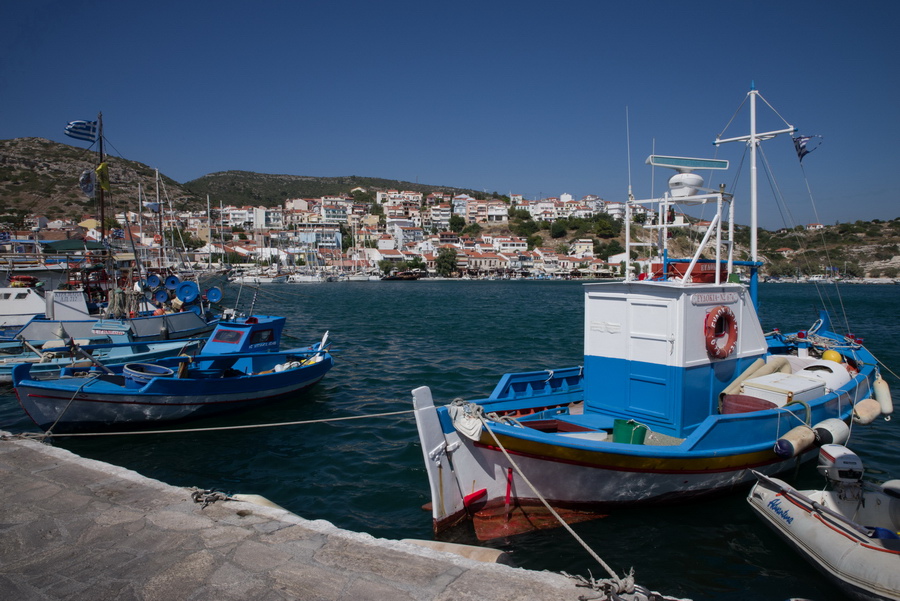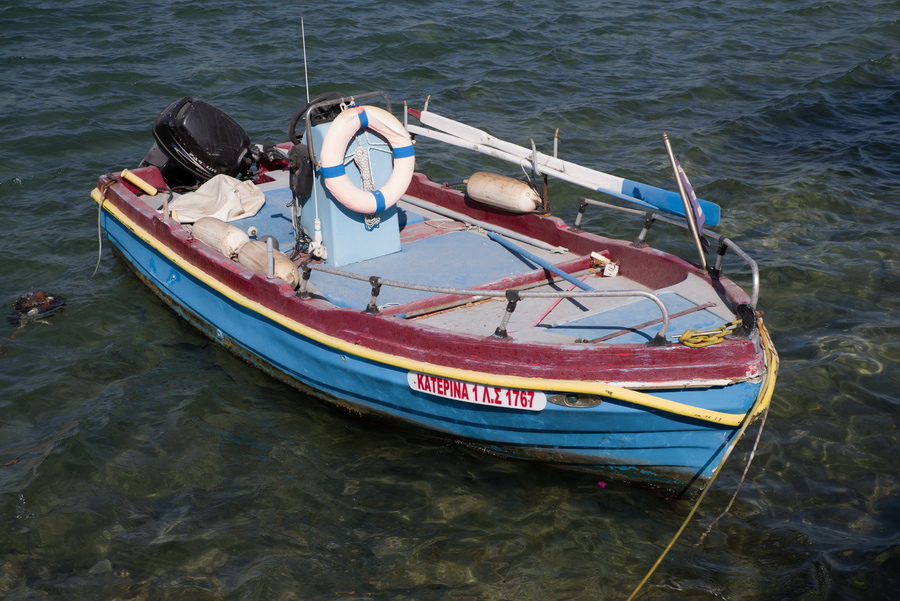 Nowadays we eat mostly a "plant based" diet (basically no meat or dairy). This is purely for health reasons - we are not ideological vegans. However this is virtually impossible to do while travelling - even in places where the food is of good quality like Greece, with no sauces used to cover up poor ingredients - so the best I can do is a large salad, not eat the cheese on it, and to get some "substance" have the smallest possible fish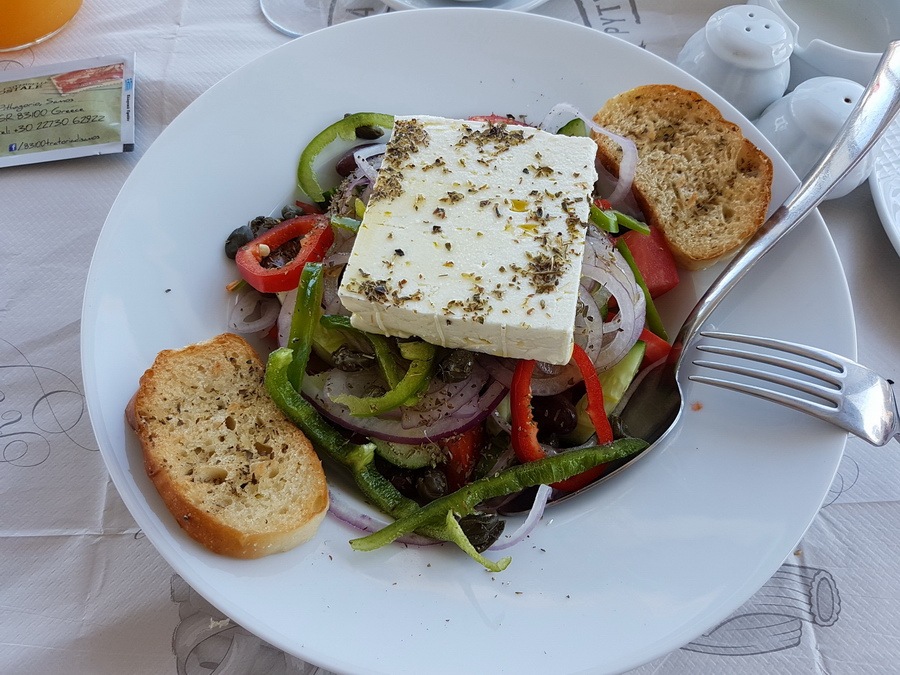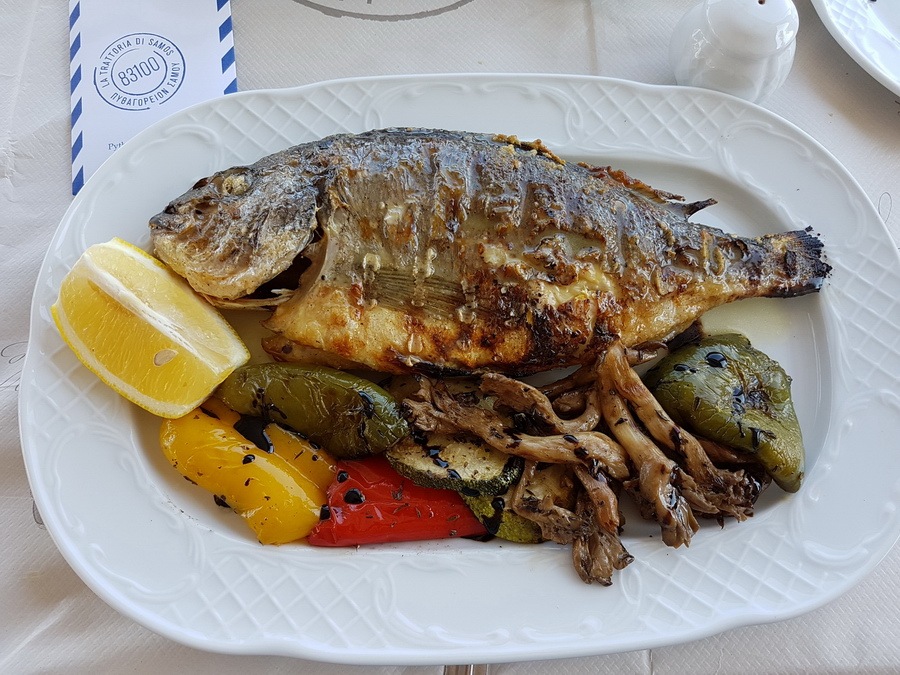 The following morning - the view while having breakfast (fresh orange juice of course) in the harbour is unbeatable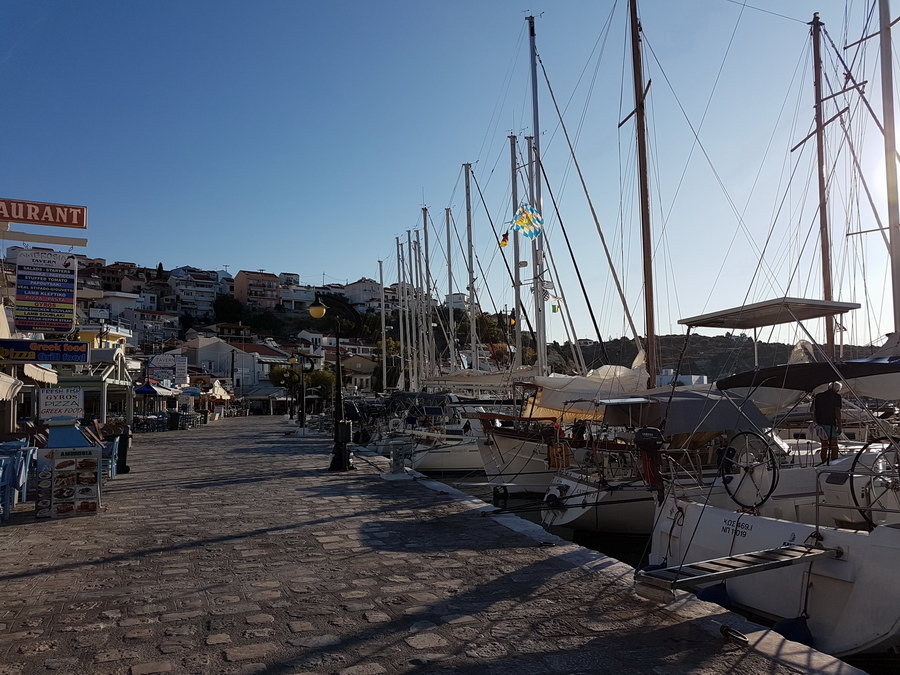 This is the new Fraport-inspired money printing system: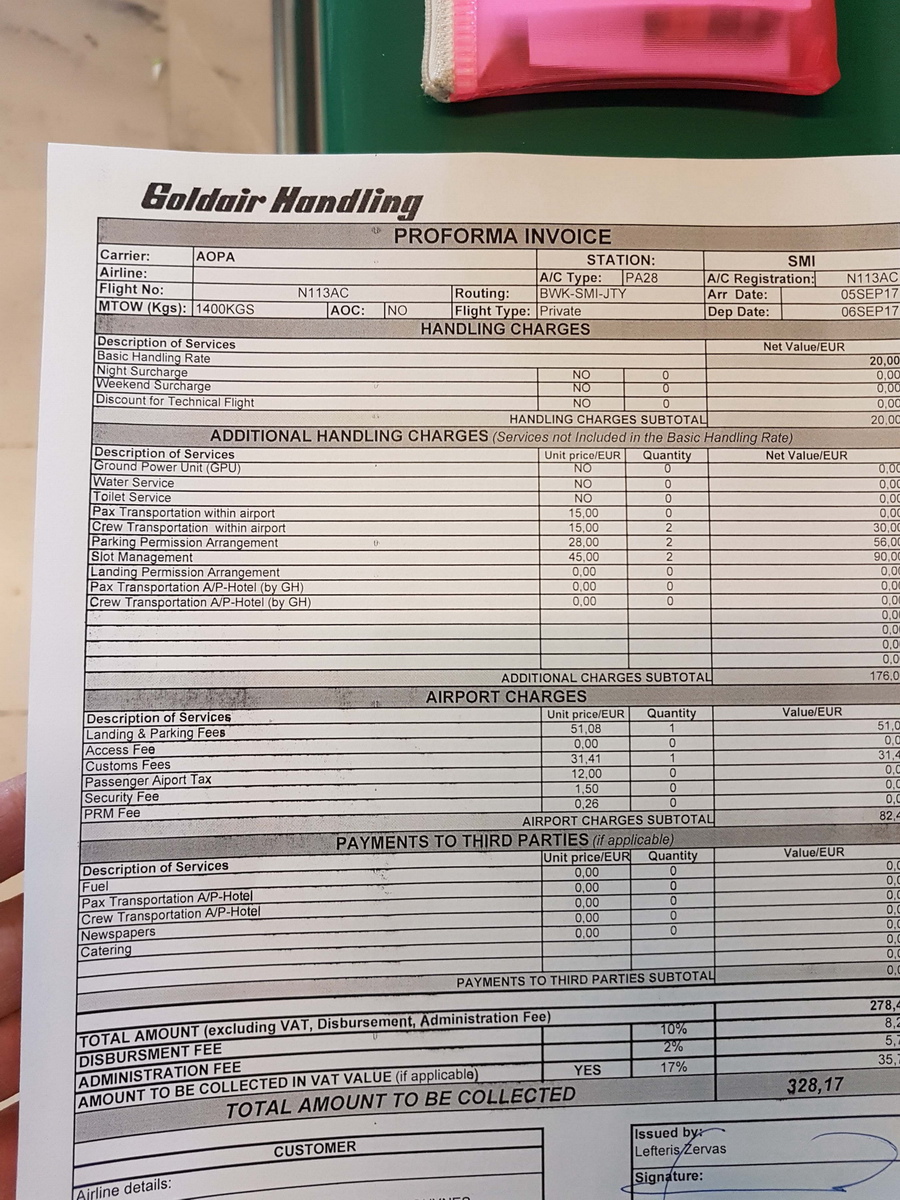 A few years ago the bill would have been nearer to €40. Except for the fuel (which you pay to the fuel man) they won't accept payment until the day of departure so you have to pay whatever they want because you have to time to argue...
From Greece, I always bring back a bottle of two of Ouzo

This Ouzo is arguably the best one. The advantage of flying your own plane is that you can bring back whatever you want.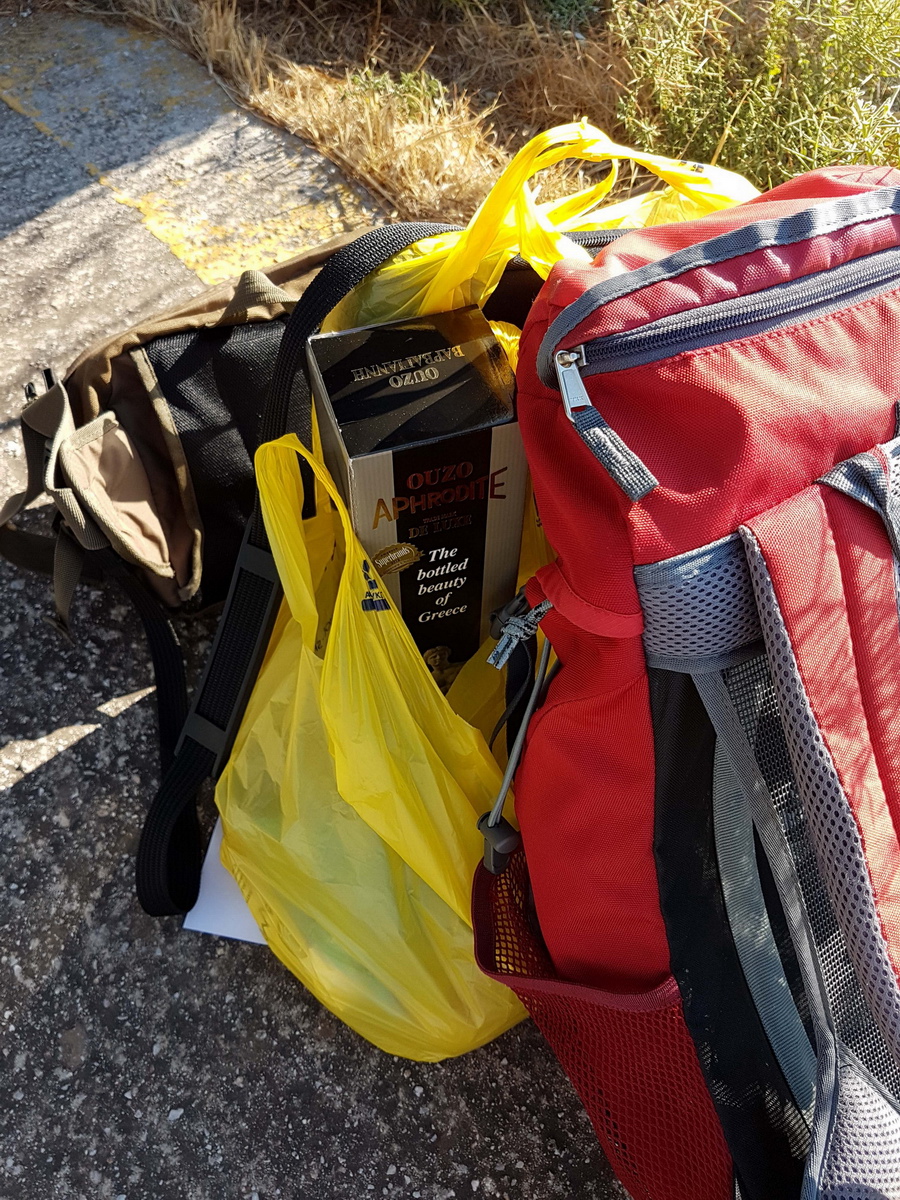 This is the video of the entire flight, edited to show only the more interesting bits:
TB20 flight Dubrovnik LDDU to Samos LGSM from Peter on Vimeo.
Samos - Astypalea
This was the third leg of the trip.
MSLP: 0600 1200
IR Sferics TAFs/METARs
Autorouter briefing pack
The route was filed at FL100. A very simple route:
LGSM LARKI LGPL
Alternates: Samos LGSM Sitia LGST Iraklion LGIR
71.7nm as filed
71.3nm GC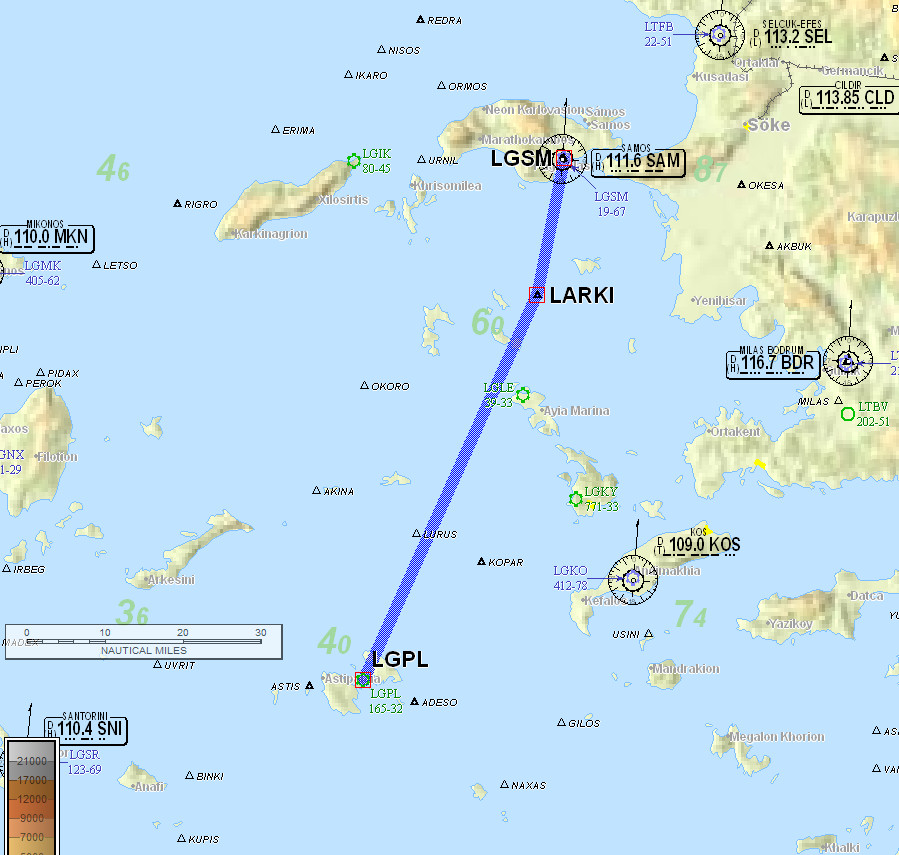 Actual route flown (FR24) - tracking is very incomplete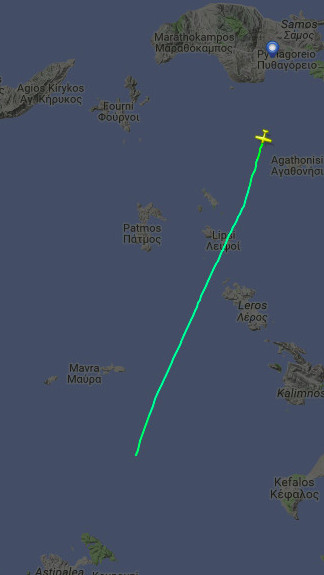 Actual route flown (Eurocontrol tracking)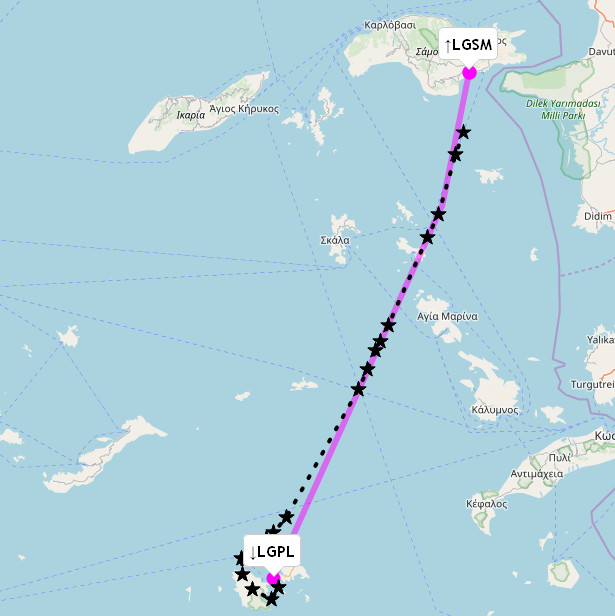 Samos departure weather was great, though quite windy. In fact the departure was one of the wildest I have ever had - as the video at the end of this section shows

This is typical for Samos and is caused by the mountain north of the runway and the air flowing across it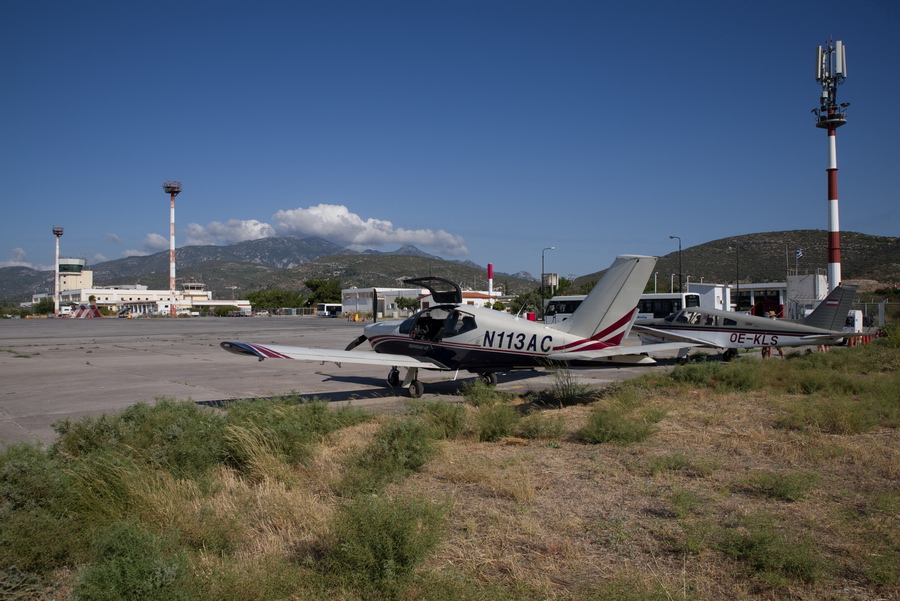 The short flight was mostly over the sea but with some interesting islands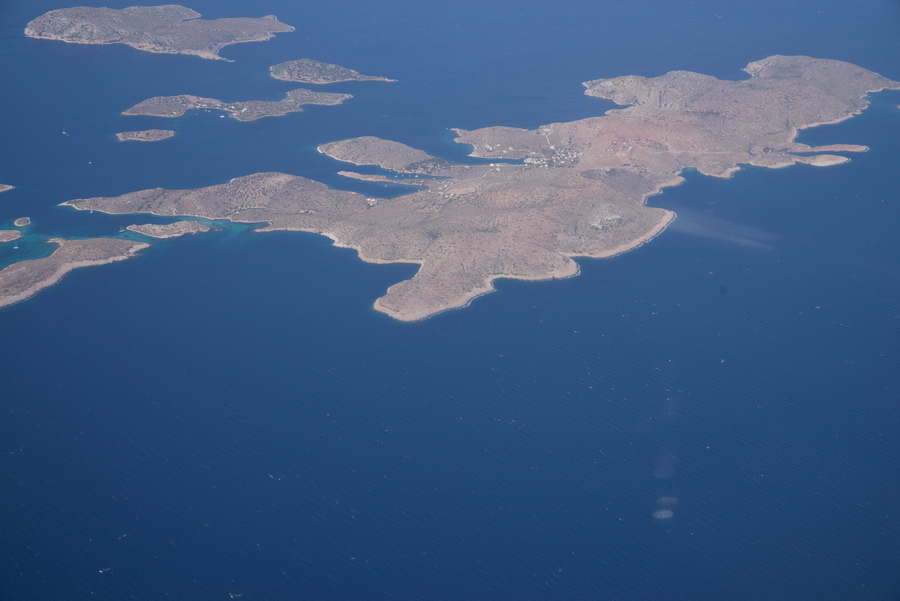 This is Leros, which we visited here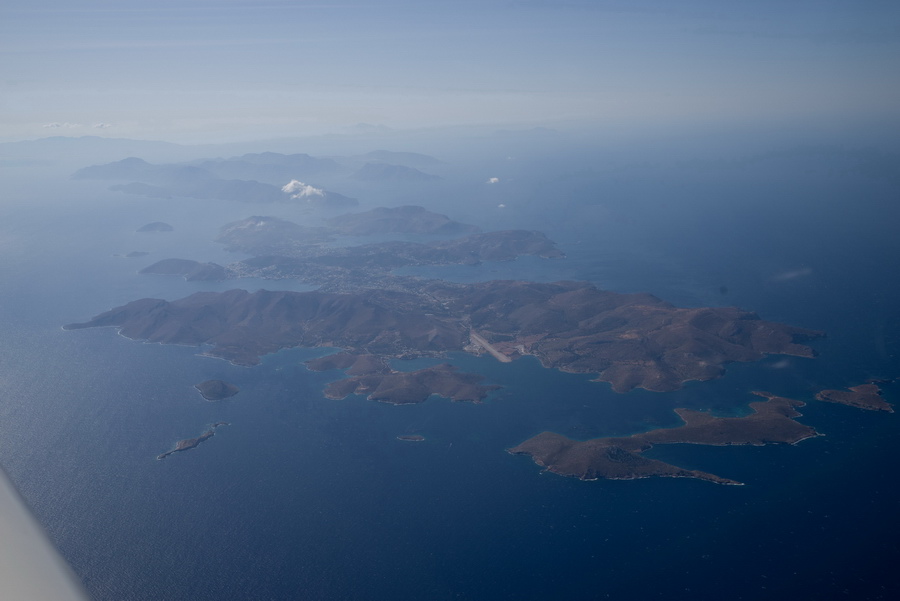 Finally... Astypalea...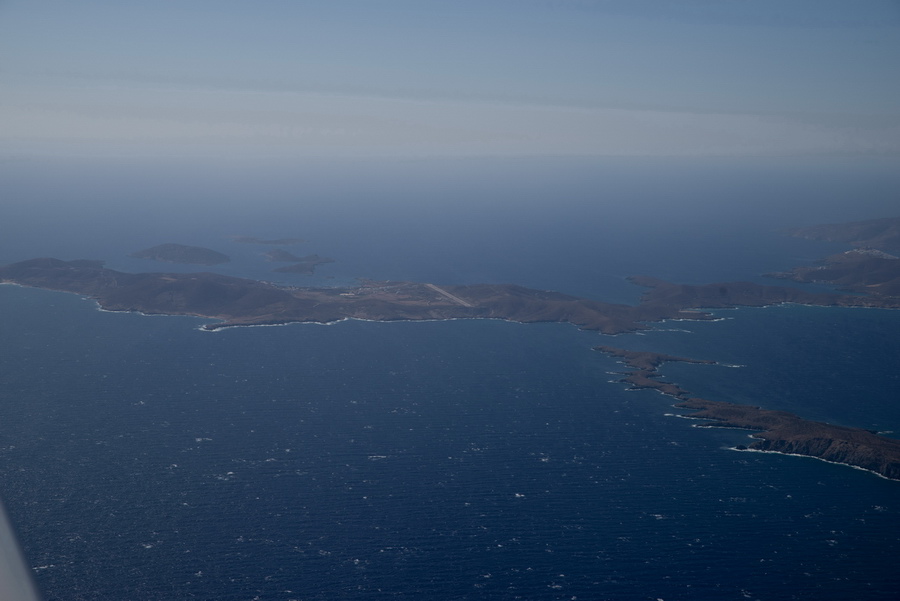 This is Kos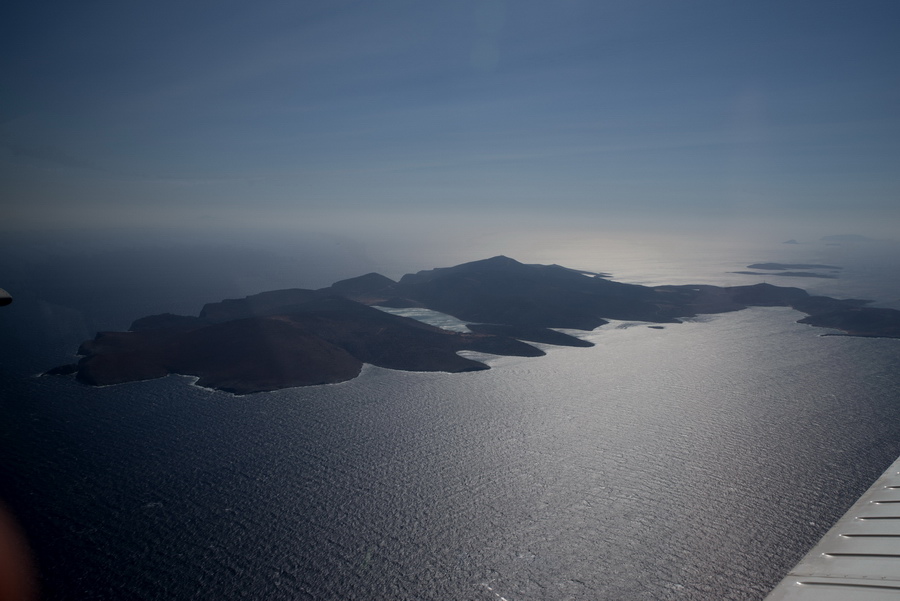 I arrived at Astypalea some minutes before the official opening time so I asked if I could fly around the island - ATC (Kos Approach) approved. This is the only town - Hora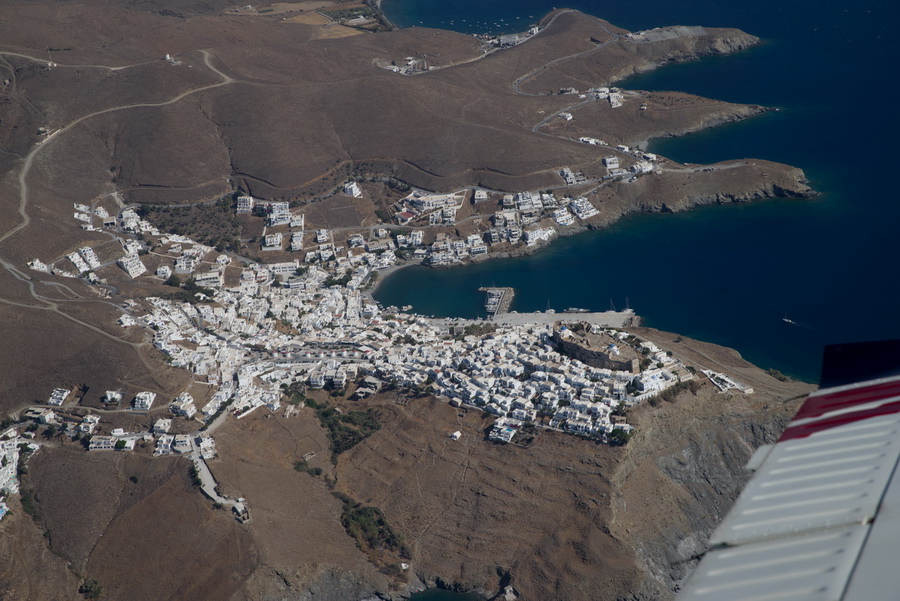 The airport from about 3000ft. There are around 2 flights per day, from Athens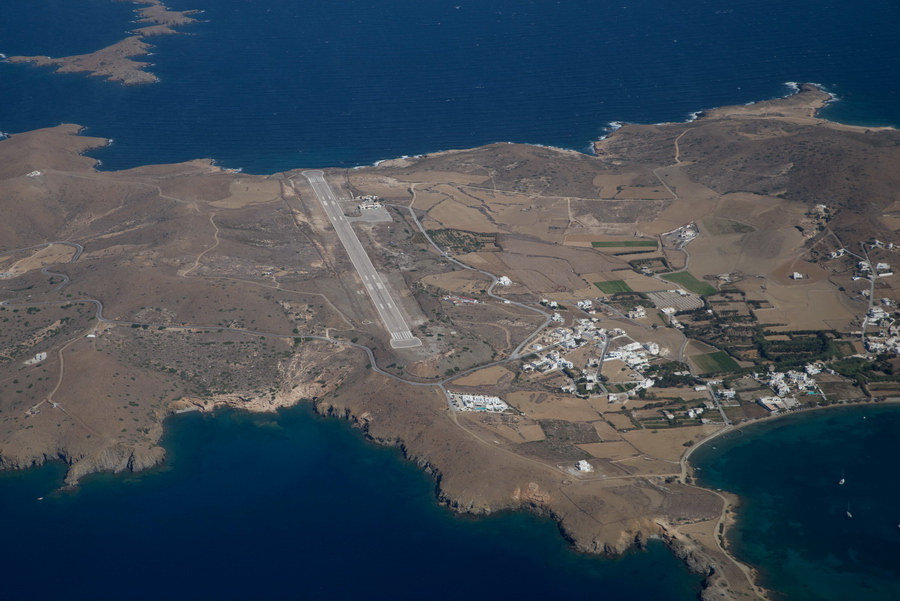 However I later had to waste more time because the airport didn't open for about 10 minutes after the opening time. Finally, we are on the final approach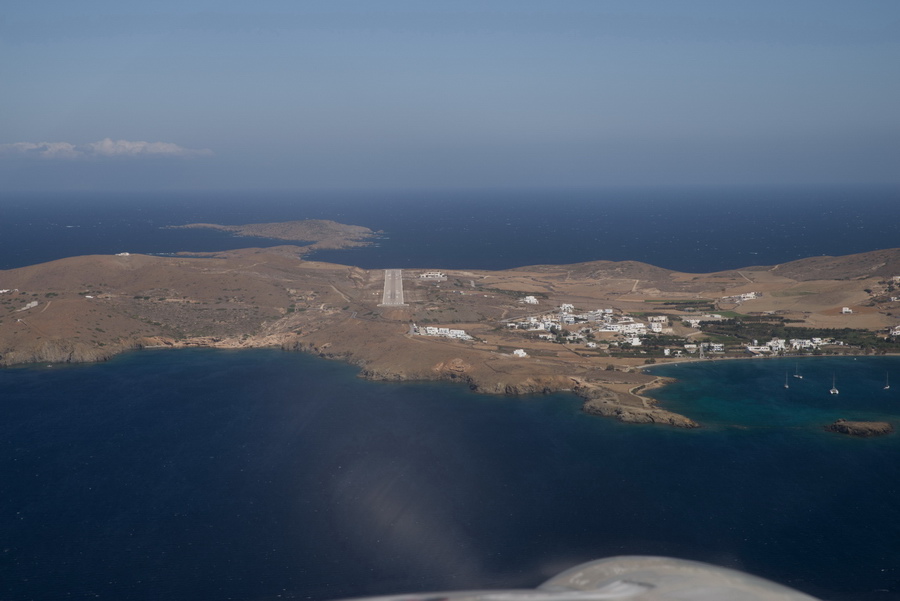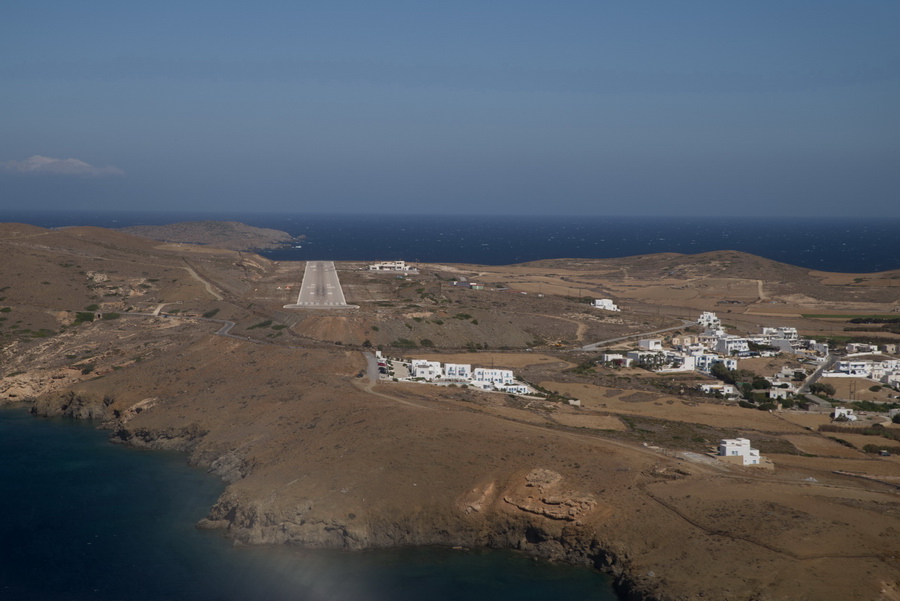 It is the usual sleepy small Greek island airport - similar to Milos and others. Just as Greek airports should be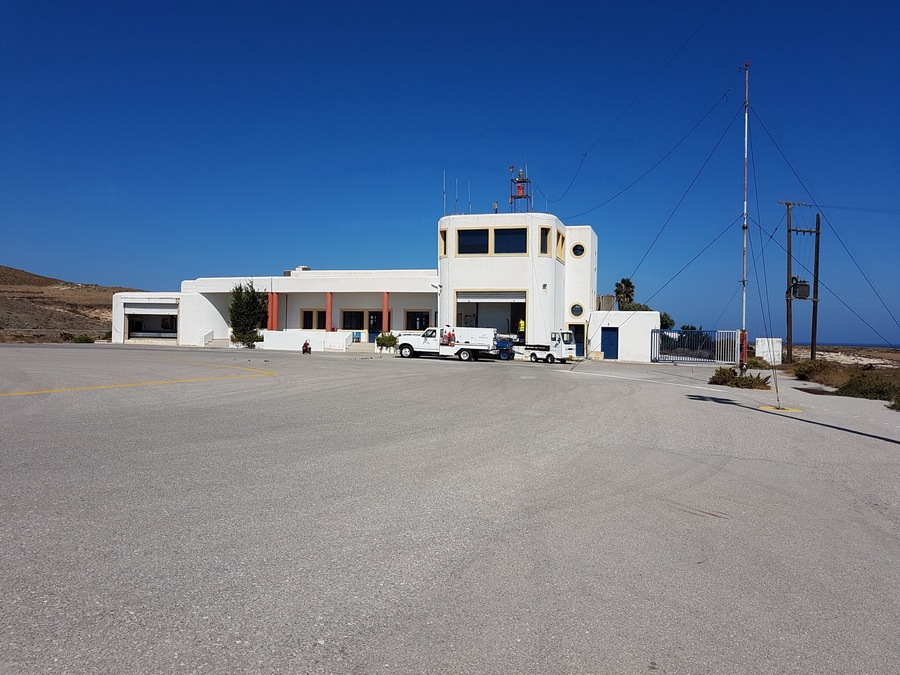 I was the first of the group to arrive. It was quite windy and getting the cockpit cover on wasn't easy...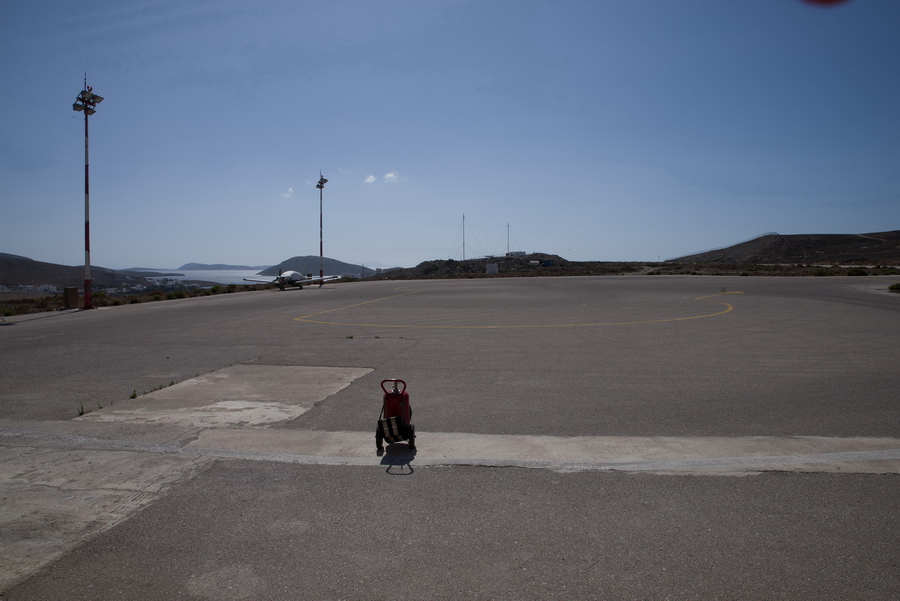 I landed with 75 USG in the tanks which meant I would have loads of options for getting back home.
The hotel bus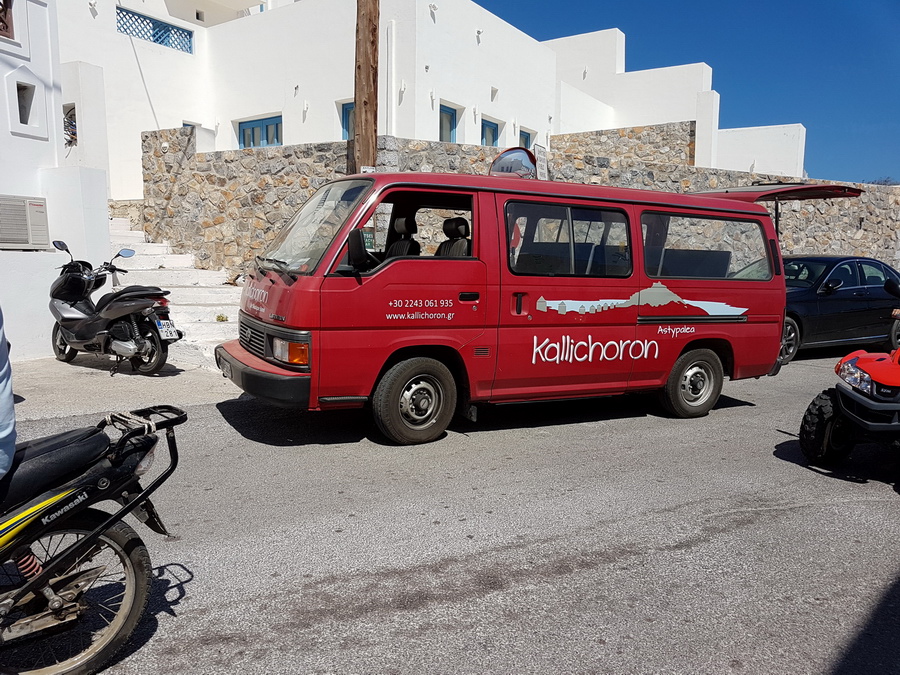 Justine joined me via a same-day airline trip from the UK, via Athens. She used to do most of the long trips with me but stopped several years ago; not due to any single event but due to a gradual buildup of anxiety about flying... She still does shorter trips, say up to 2hrs.
We stayed at a hotel called Kallichoron, in Chora which is the only town on the island. The view from the hotel: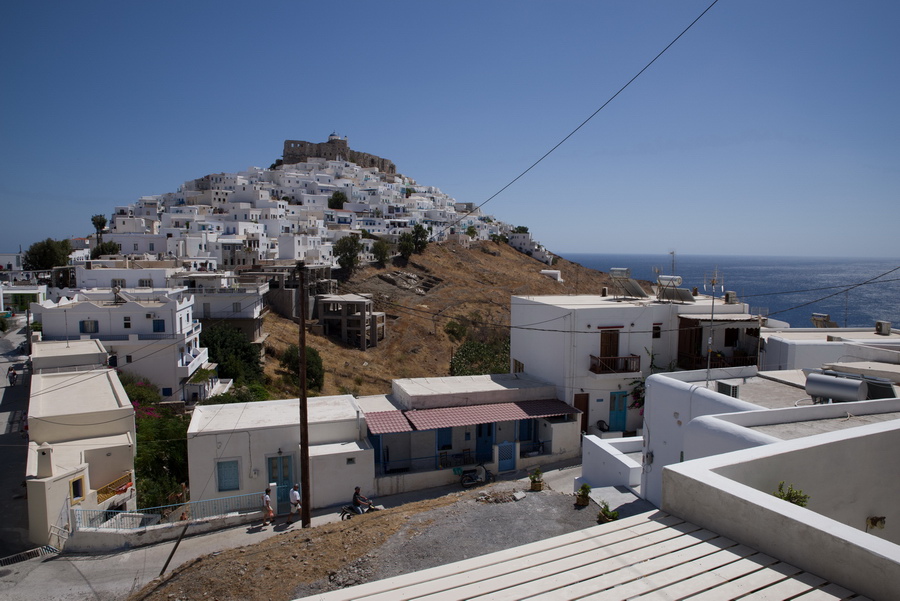 The walk into town. September is "low season" so it wasn't crowded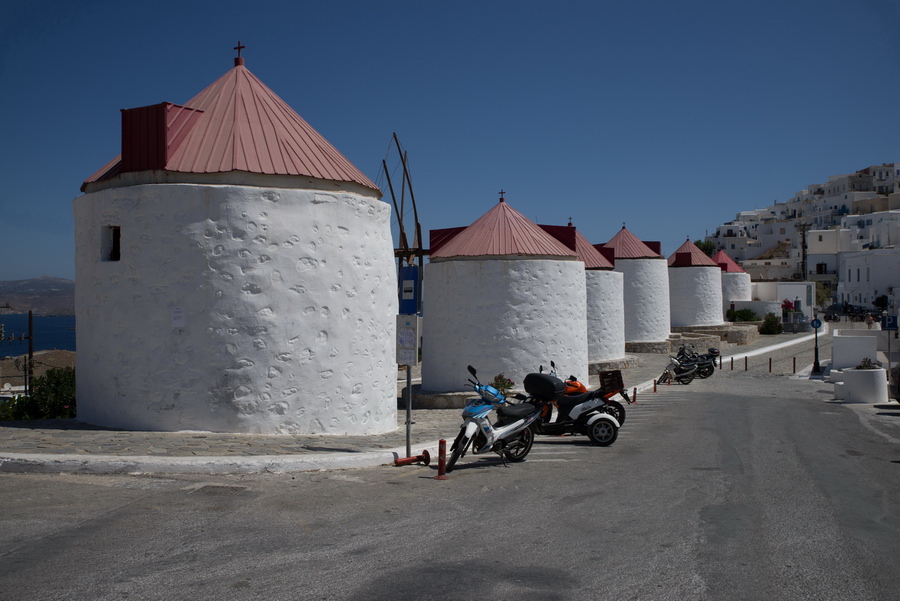 This was a really nice cafe/restaurant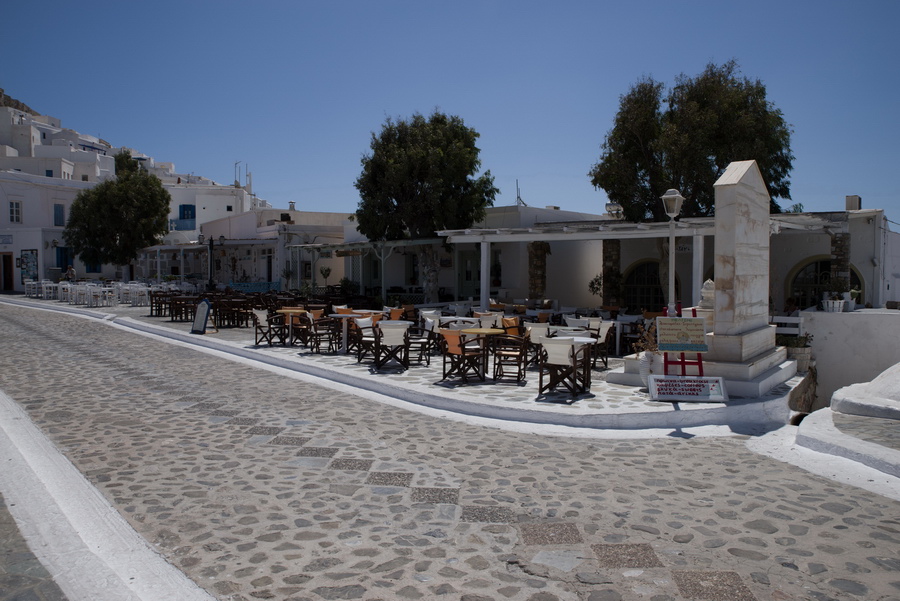 Down town and the harbour, where all the action is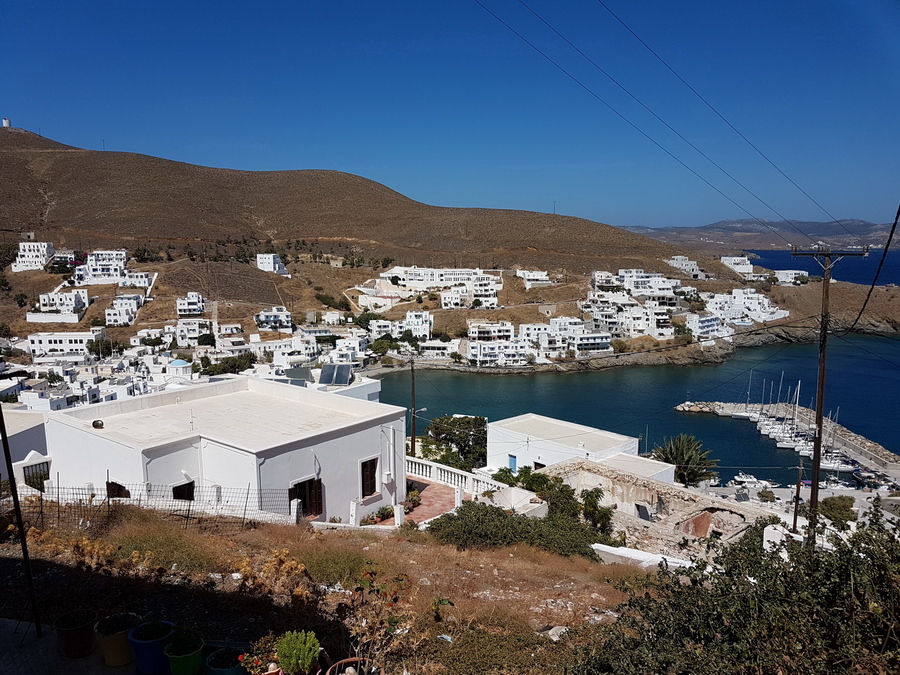 The one petrol station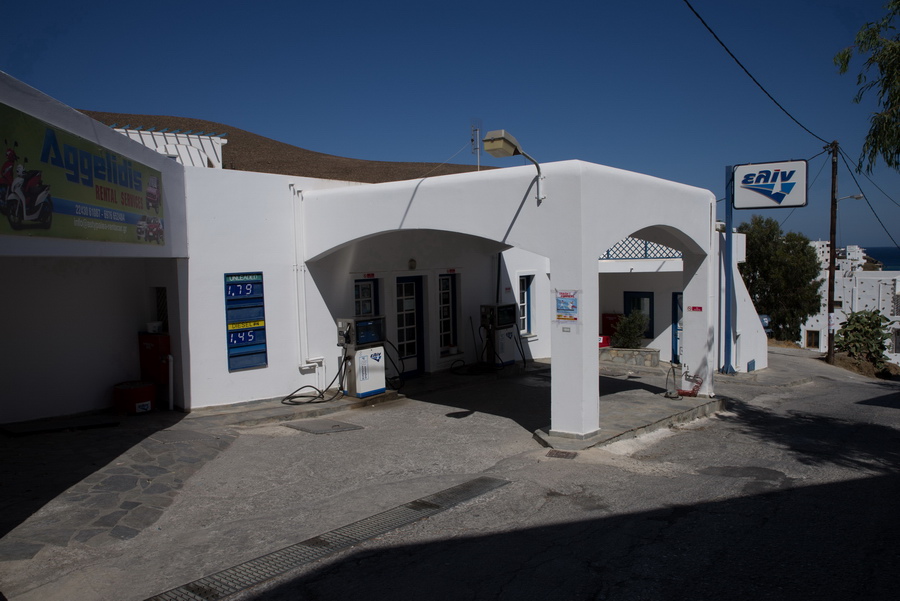 Boutique shopping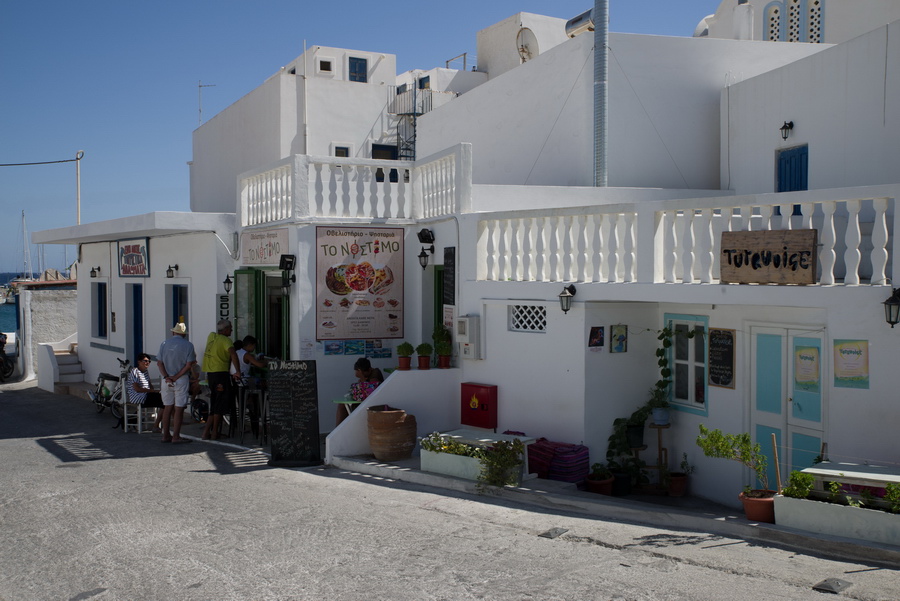 As with all Greek islands there is a lot of boat charter going on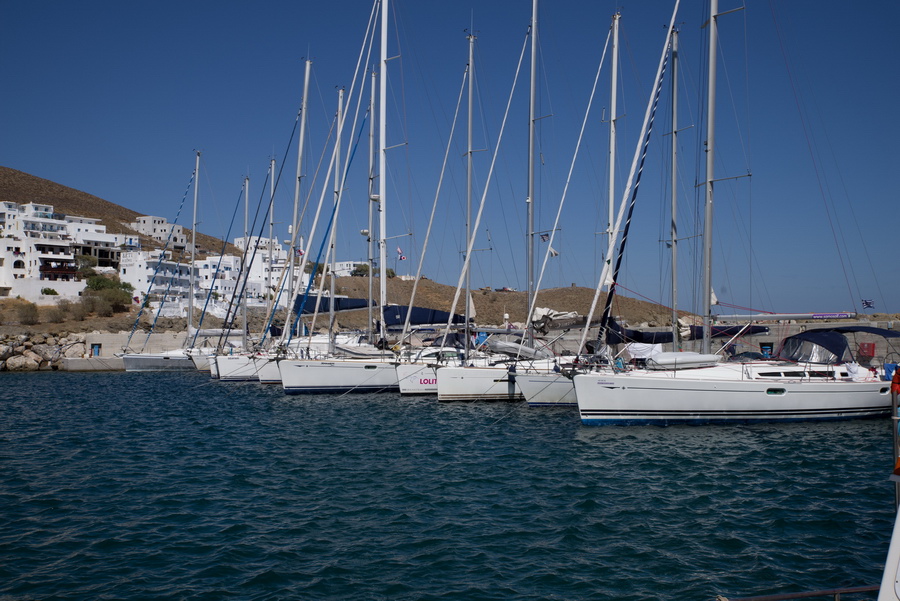 and some posh stuff too (probably chartered, too...)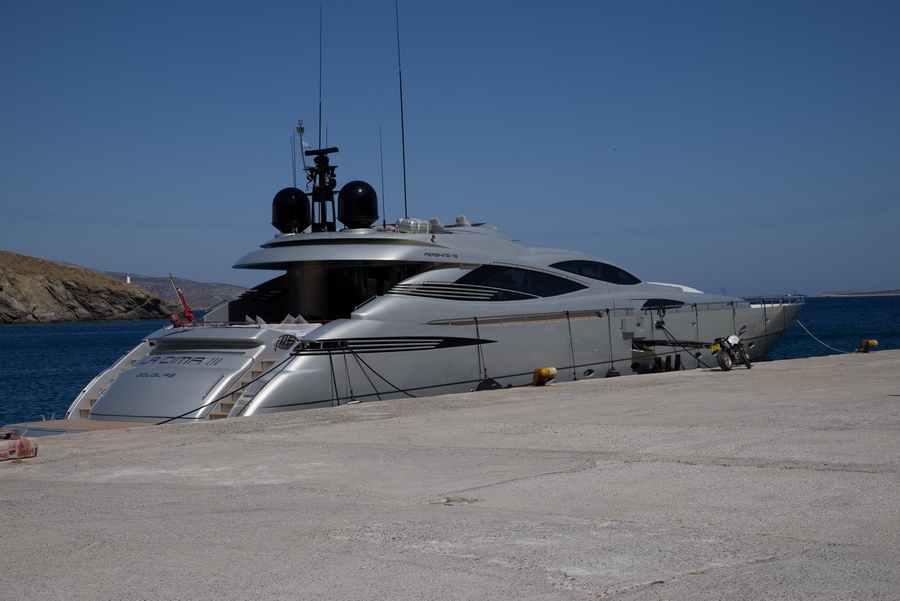 There are two buses running on the island. One looked better than the other... this was the worse one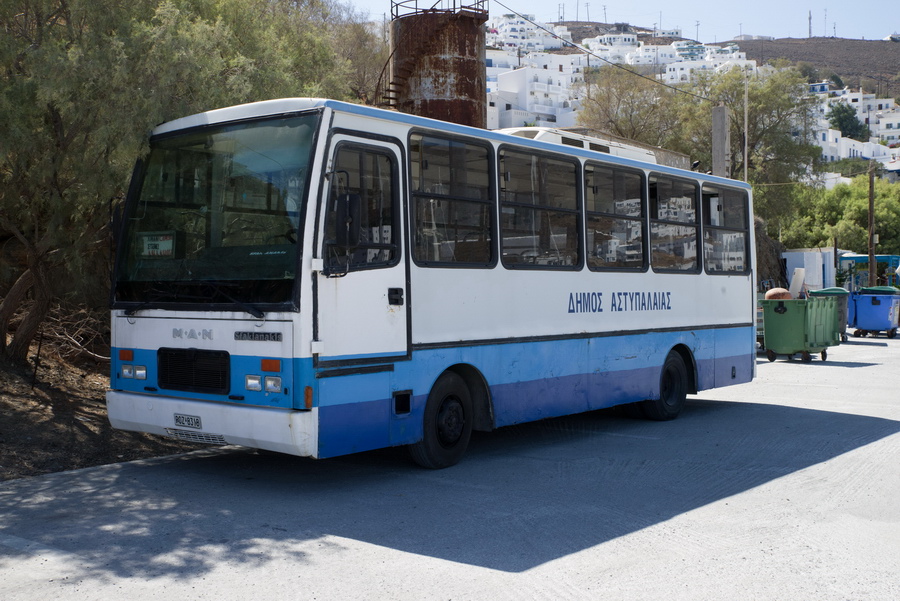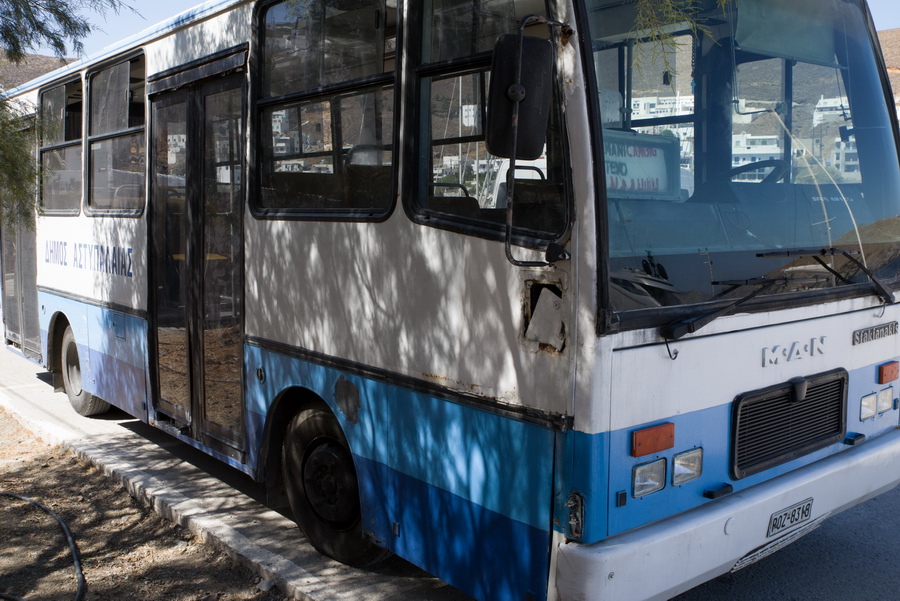 I think some more of this €€€ stuff is needed but it isn't coming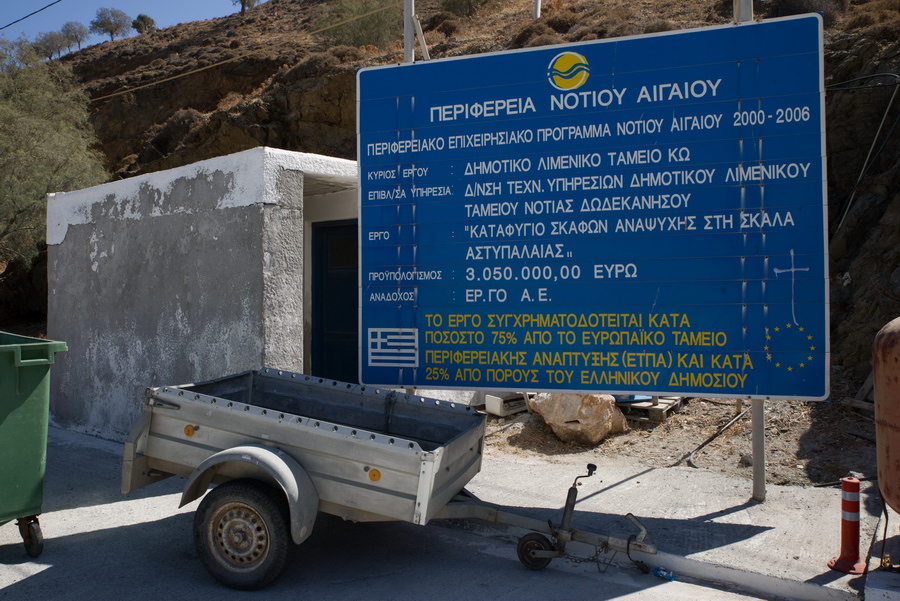 A real Harley-Davidson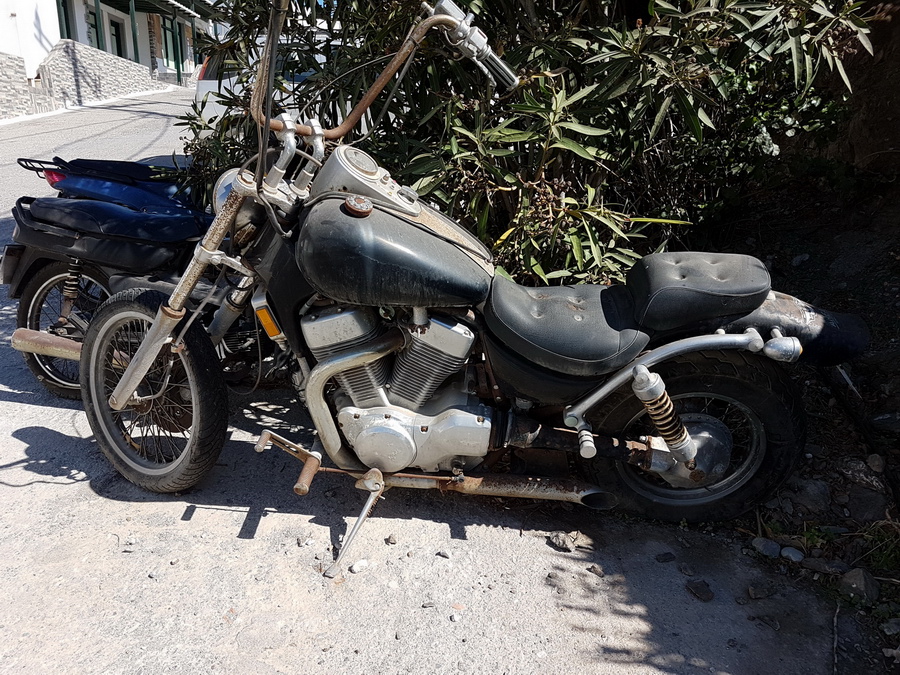 The castle at night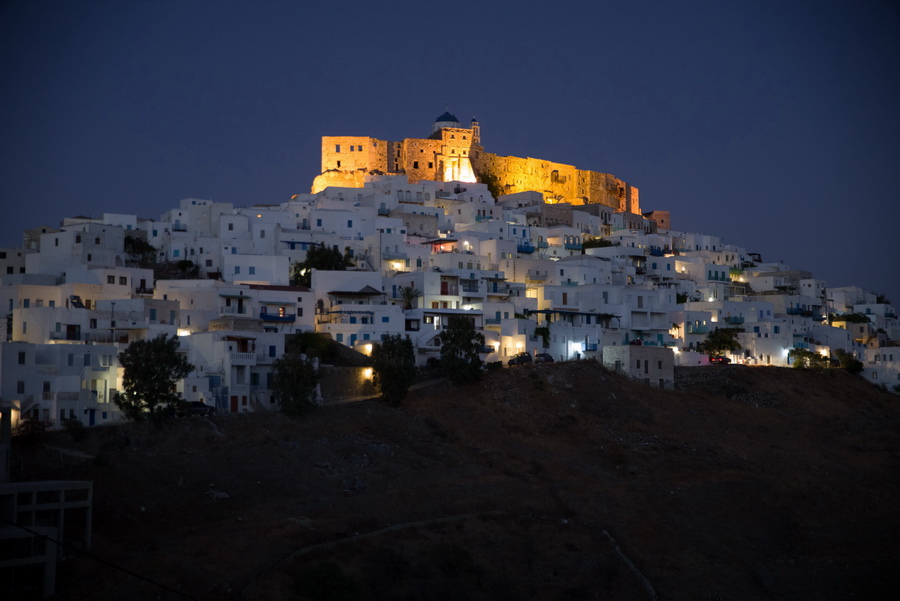 The hotel specialises in healthy food so no British fry-ups here

This was the breakfast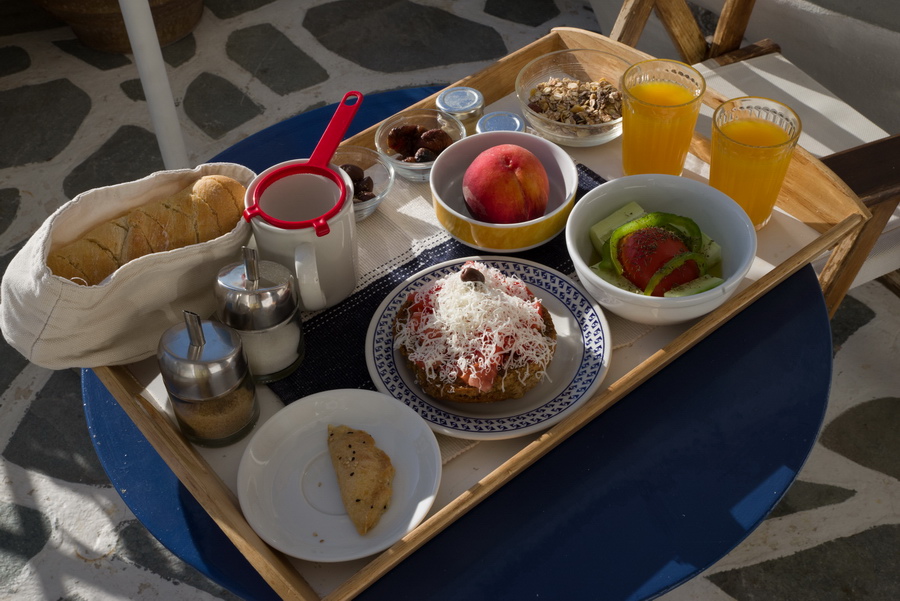 We walked up to the castle. There are great views from the top. The most important thing in the castle area (built in 1400) are the three old churches, one for Virgin Mary (built 1760). The town was built around the castle, with very narrow and complicated streets in order to protect them from pirates.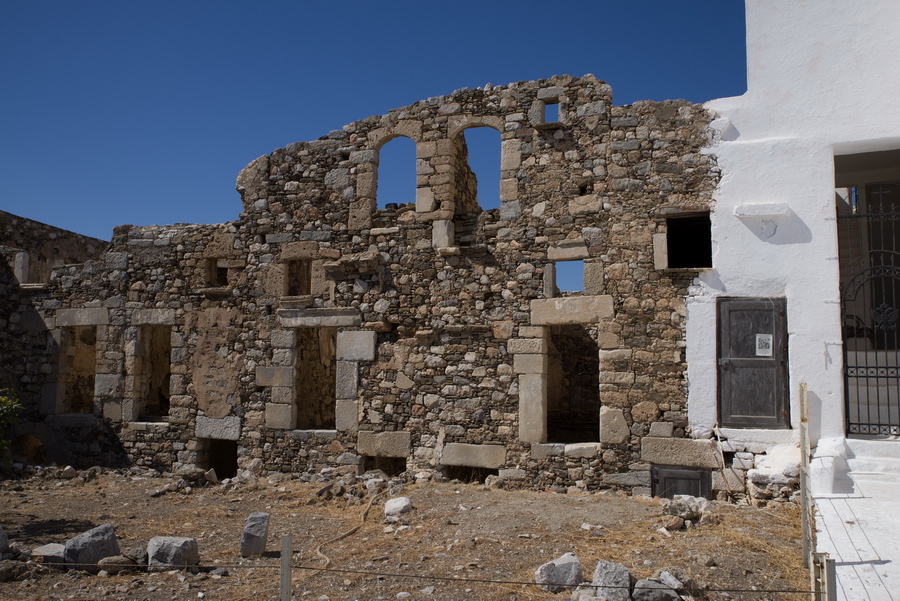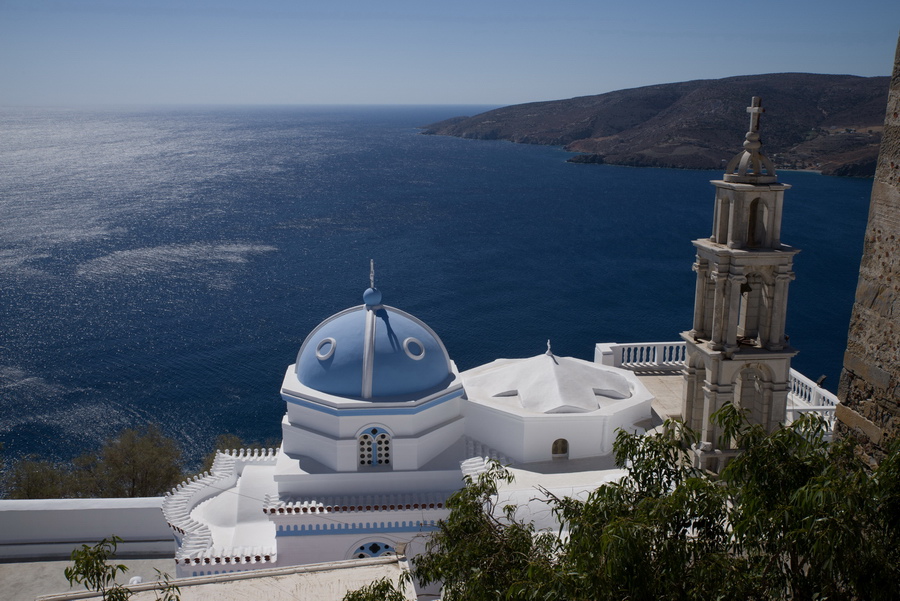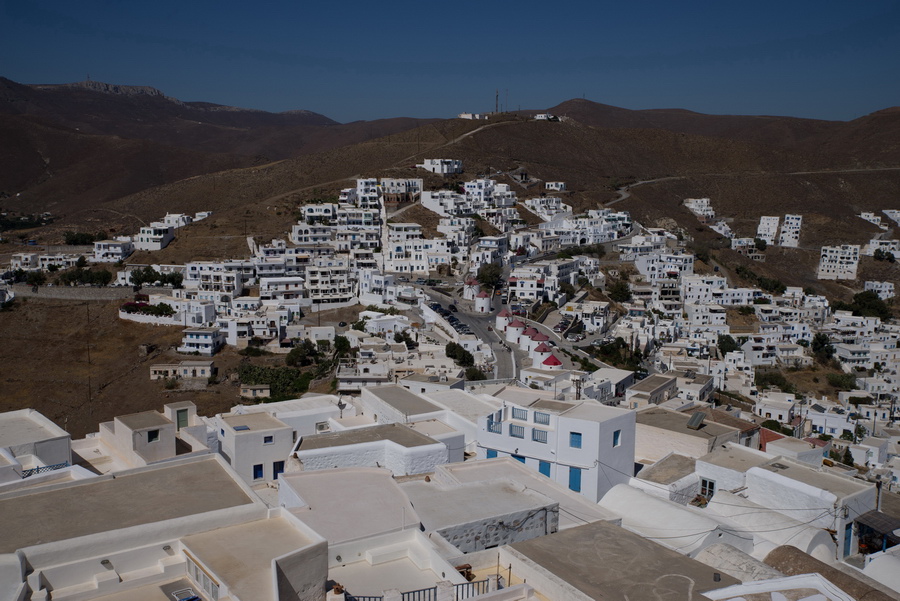 We rented one of these. A 4x4 is desirable because many of the roads are dirt tracks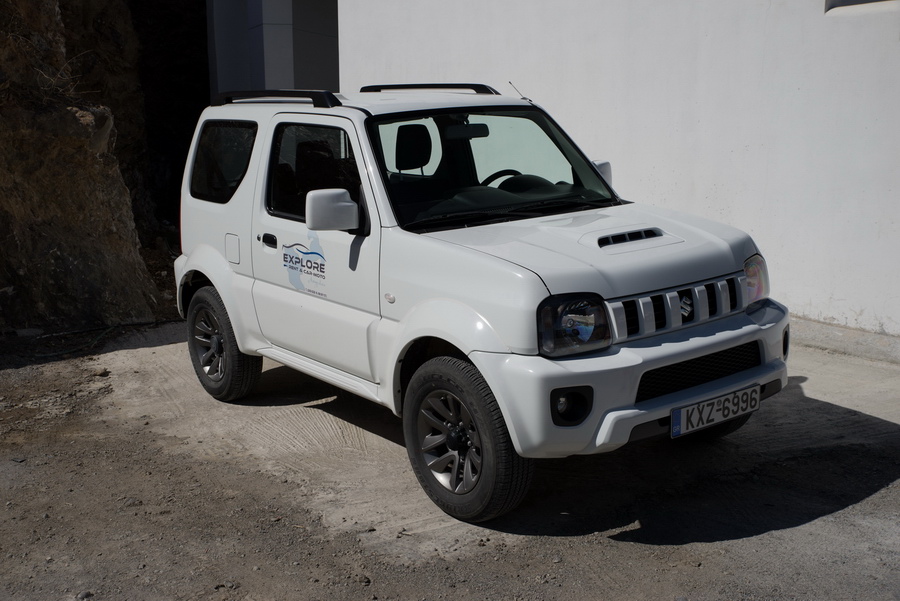 Astypalea has many lovely beaches; deserted at this time of the year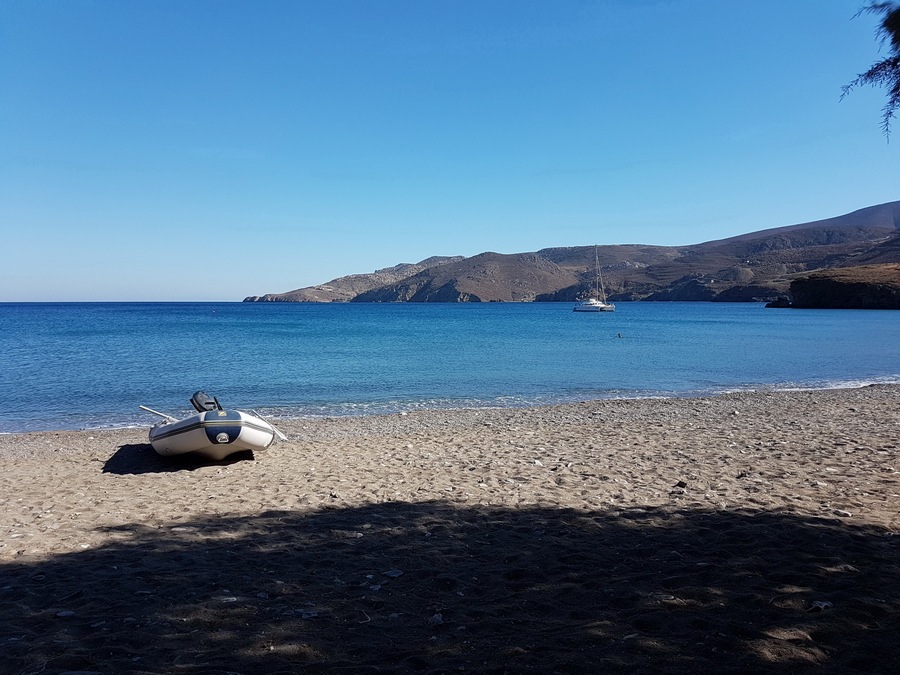 This would not sell at a British GA airfield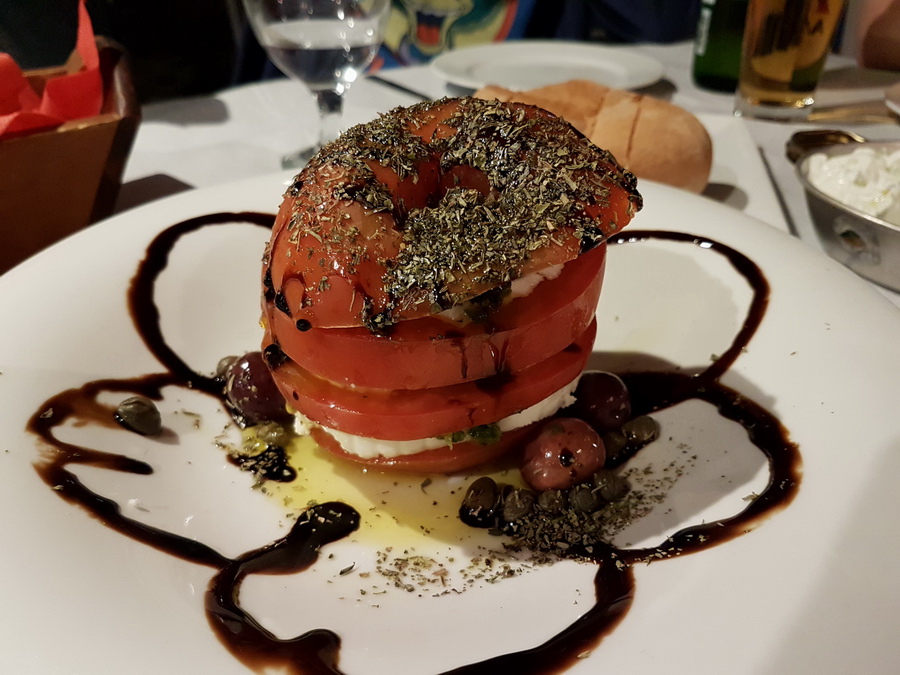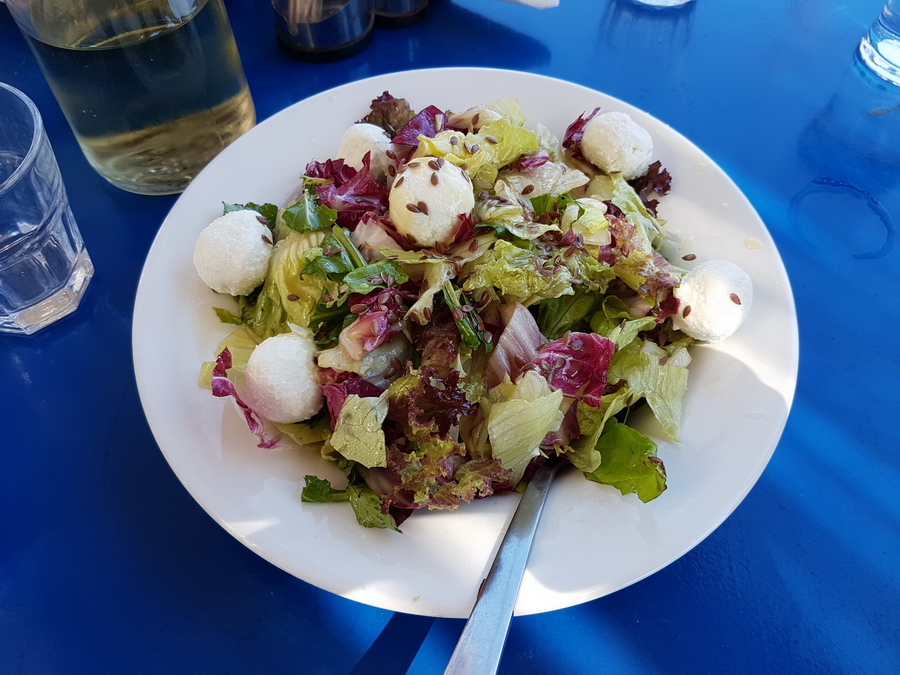 The sunsets were beautiful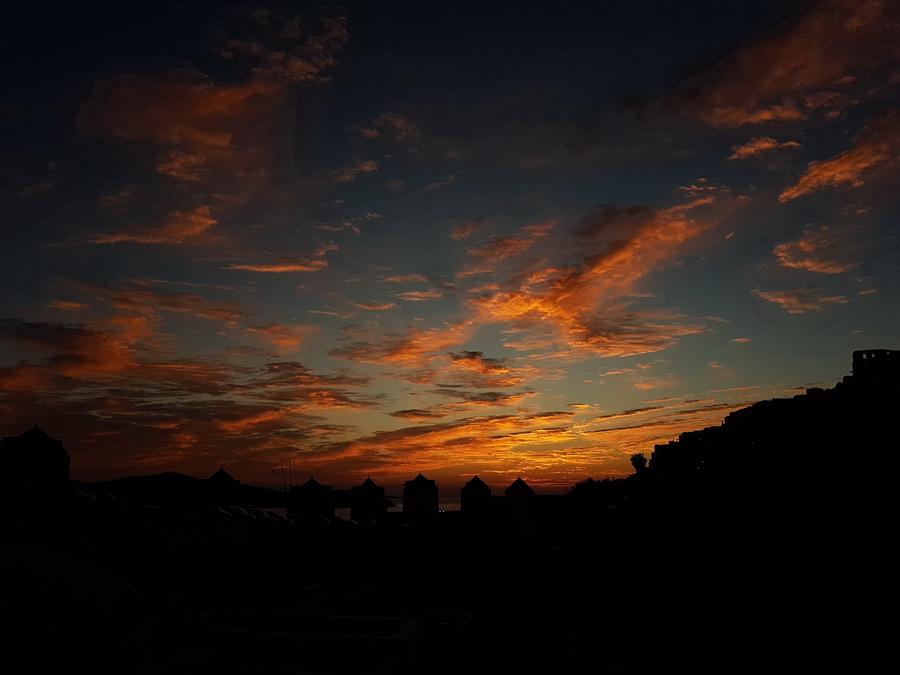 The meat is definitely free-range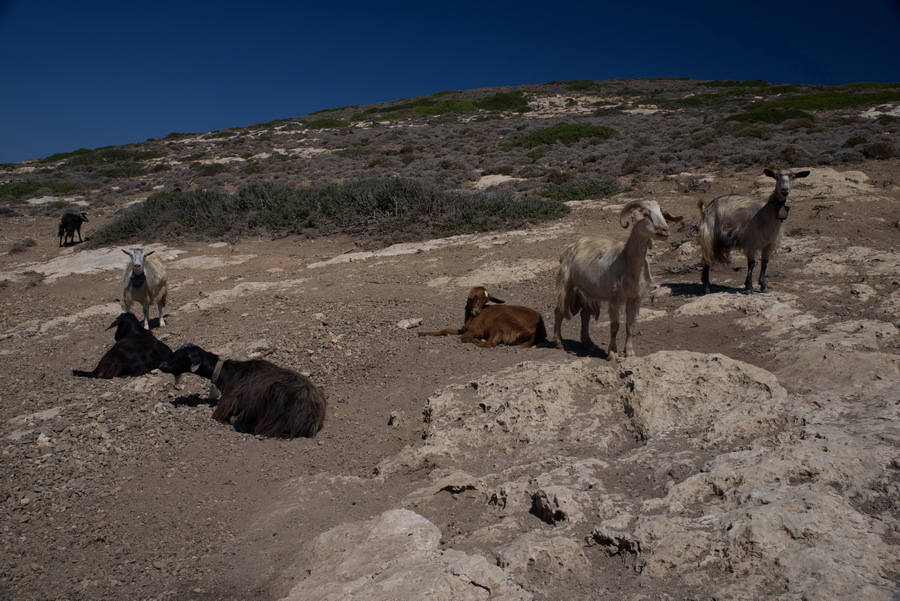 This pic is not photoshopped (I don't think any of the ground based ones here have been) but was taken with a polarising filter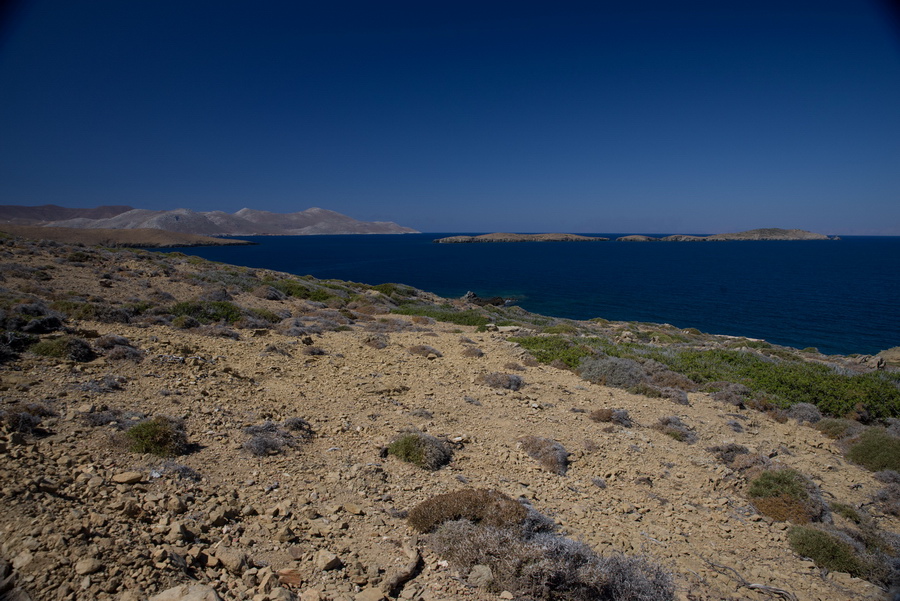 More of our group arriving. Despite the distances involved, we had a good turnout of around 14 people. Note the three Socata TB20s

I am not in the photo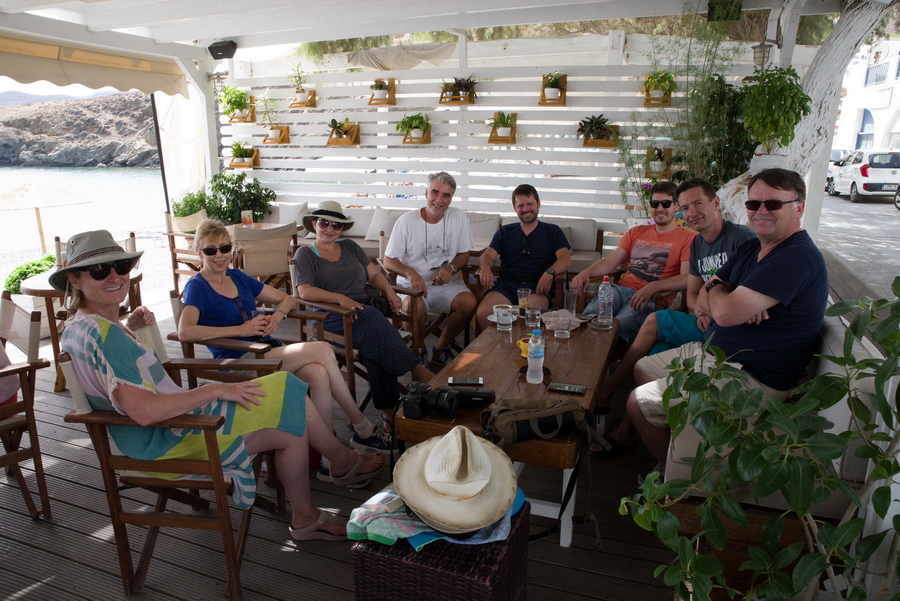 Justine and I did some souvenir shopping on the last day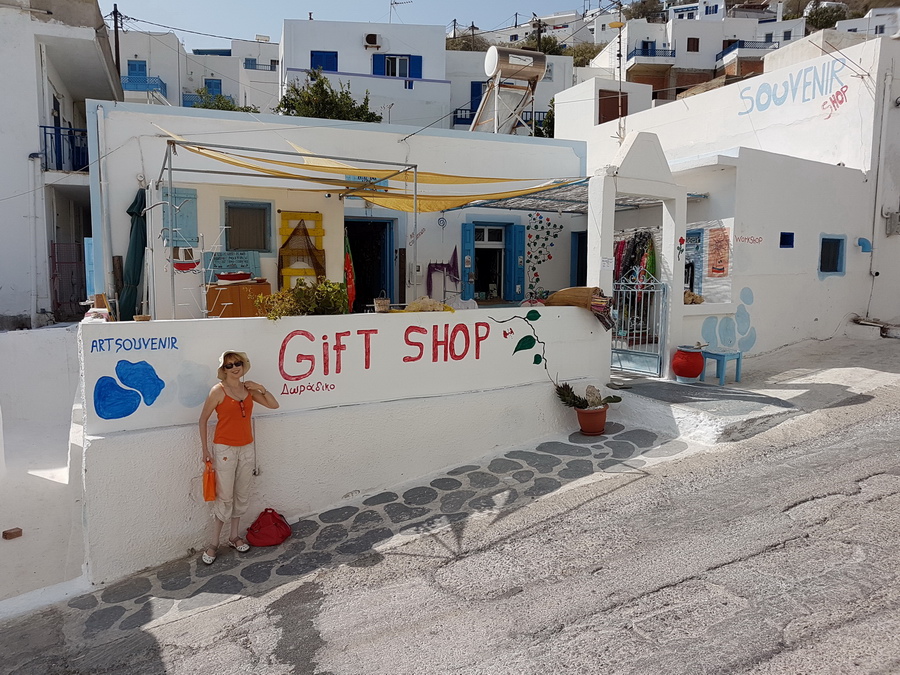 Photo Gallery - Astypalea and the return trip to the UK
This is the video of the entire flight, edited to show only the more interesting bits:
TB20 flight Samos LGSM to Astypalea LGPL from Peter on Vimeo.
Astypalea - Shoreham, UK
Of course, on the day of departure, the weather was great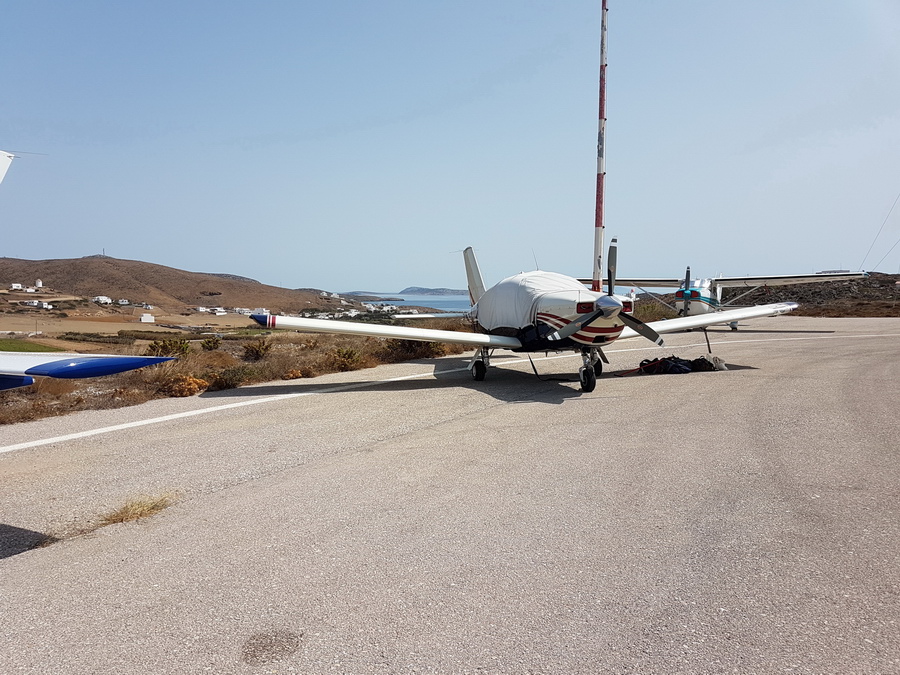 It was exceptionally hazy, with zero forward visibility at FL090 and it didn't improve until approaching the mainland. I didn't want to climb much higher due to the headwind, but climbed to FL120 later on over the Greek mainland.
Most of the return trip from Greece back to the UK was uneventful but was made difficult by strong W or NW winds of up to 60kt. The TB20's cruise speed of 140-155kt is obviously badly affected by such strong winds. Moreover, it is my experience that the wind actually seen is usually stronger than this forecast...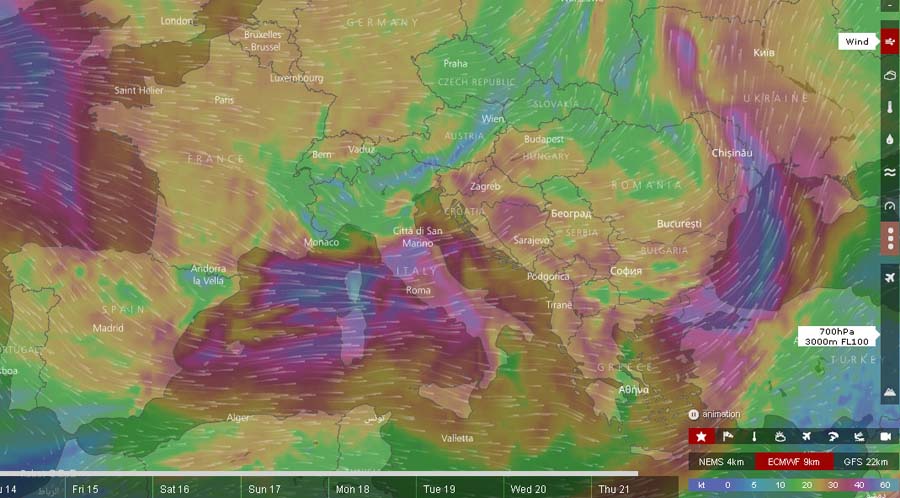 Even over Greece there was a lot of convective weather over the mountains which lie to the east of Corfu, caused by the air flowing up them from the Adriatic. I flew back via stops at Corfu, the two great GA airports of Dubrovnik and Brac, and Cannes in France to avoid the weather over the Alps. They were busy flights and few photos were taken.
The Dubrovnik-Brac flight was done just before a huge thunderstorm moved in to Brac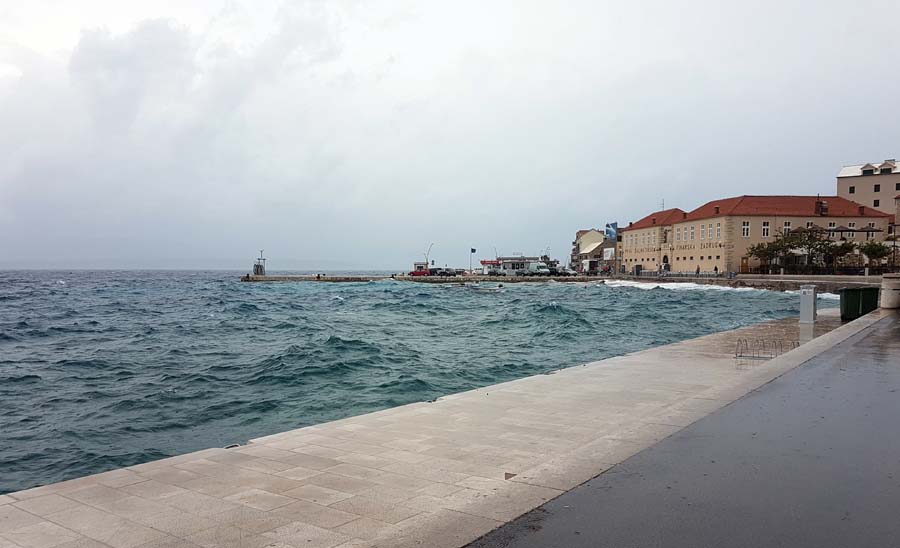 I got soaked in drizzle on departure at Brac too, the following morning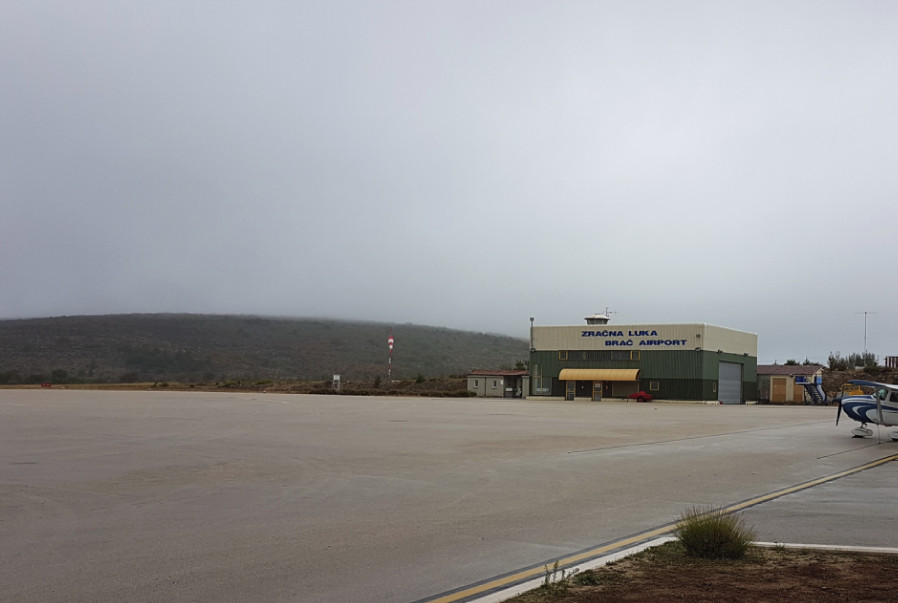 In the meantime Justine chose the sensible option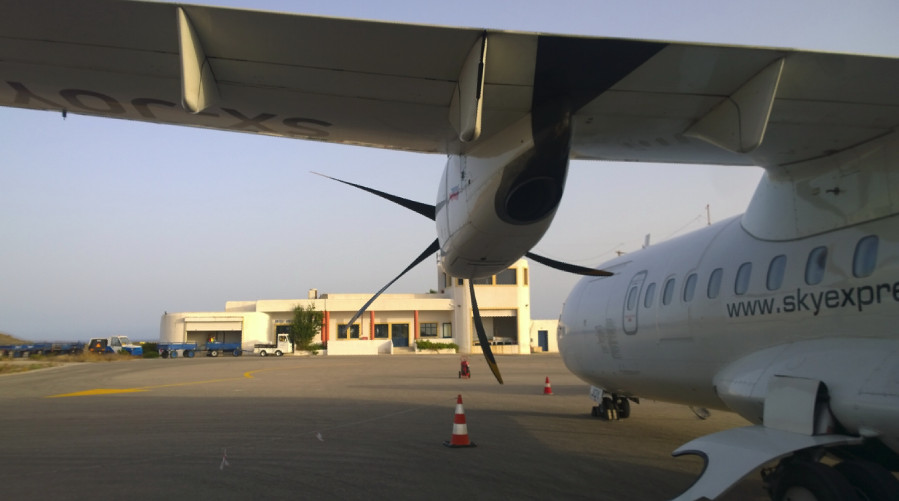 The final stop was made at Cannes LFMD to avoid bad weather over the Alps. On a calm day one could fly Brac-Shoreham direct but it was not at all possible this time.
Corsica in the haze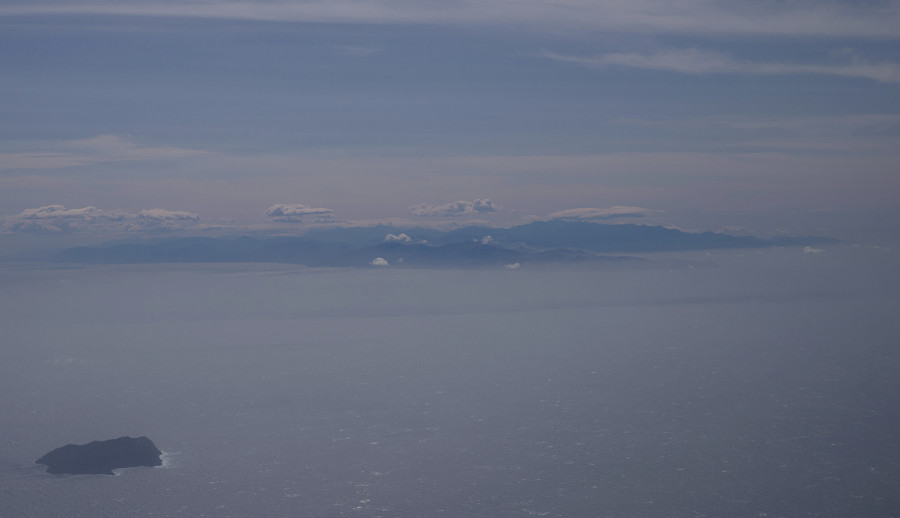 Here I am approaching Cannes at 1000ft - Nice Approach force you low down for many miles and with the 40-50kt wind it was pretty rough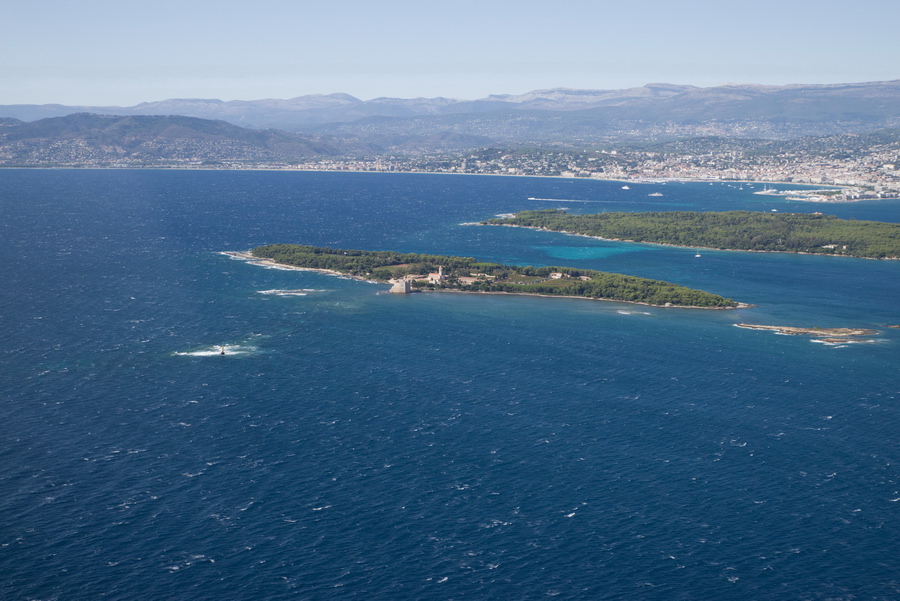 At Cannes, the usual thing happened (a French ATC strike) which wasted a couple of hours. It would have been worse had I not used the trick of re-filing the flight plan with a long VFR section spanning the ATC region which was on strike. Some info is here. These strikes are rigged to cause maximum hassle and disruption because the country in question files an airspace capacity restriction which forces Eurocontrol to issue multi-hour delays (CTOTs) so you cannot even get off the ground. And if you file a different route you might get a CTOT on that because everybody else is doing the same... Also it is very difficult to do this when you are on the move with just a smartphone; I had to get someone's help. The ATC strike screwed up everything else later on the journey and cost me a few hundred £ extra.
Cannes is not like it used to be and cost about €100 just for stopping there and most of that is "handling" which is triggered by a request for hard surface parking. Still, it is a very well organised airport where everything happens swiftly - as you would expect for their clientele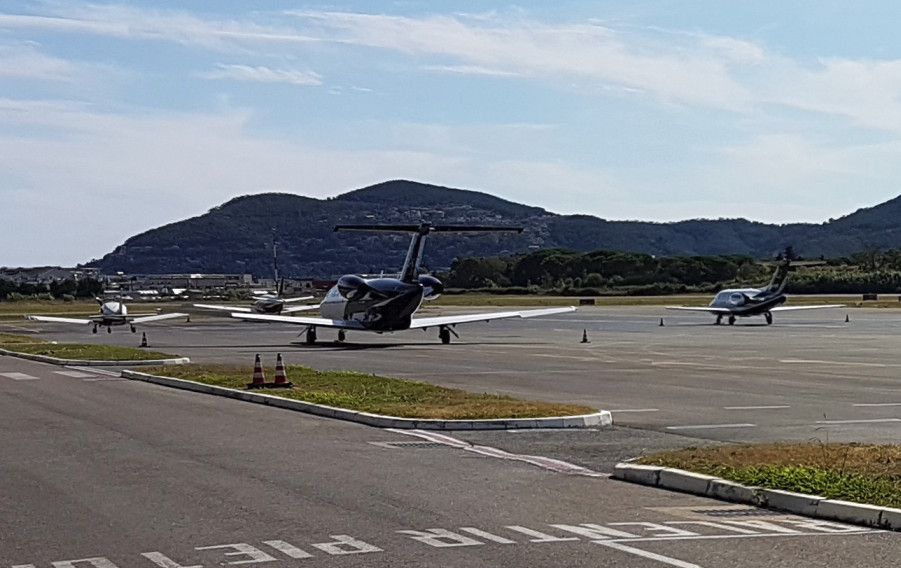 Before you can fly to Cannes you have to go through a mandatory briefing. At the end of it you get a stupid little certificate. Another thing - typical of Spain, France and Italy - is that the self service (AIR BP) pump instructions are only in French, despite Cannes being an international airport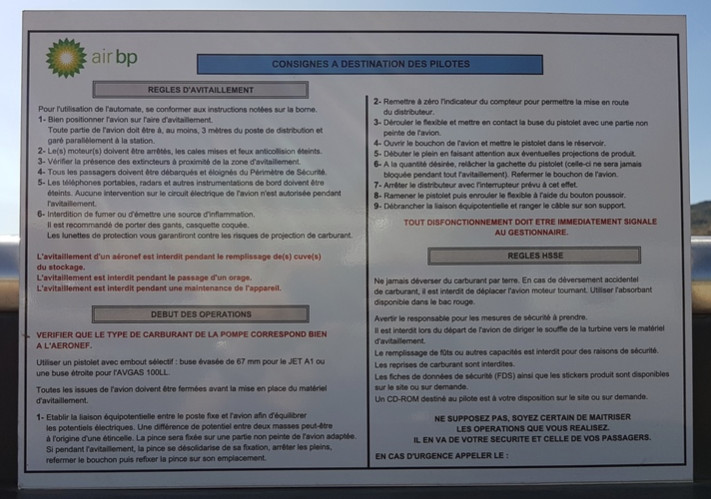 I found someone to help me operate the pump...
Avgas at Cannes was €2.03/litre.
This is the departure from Cannes, after initially flying a very long low level VFR departure route (which wasted another half an hour) via one of the VRPs south of Cannes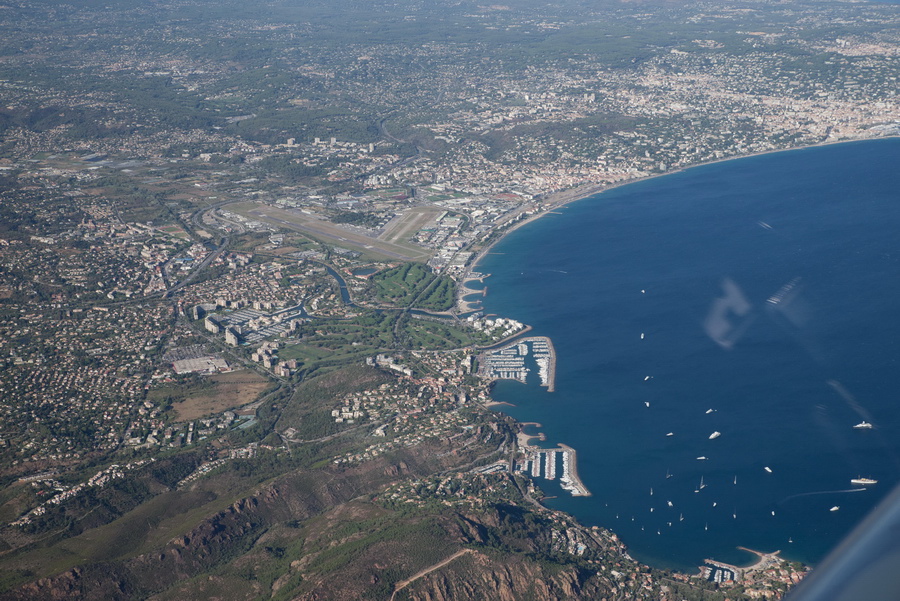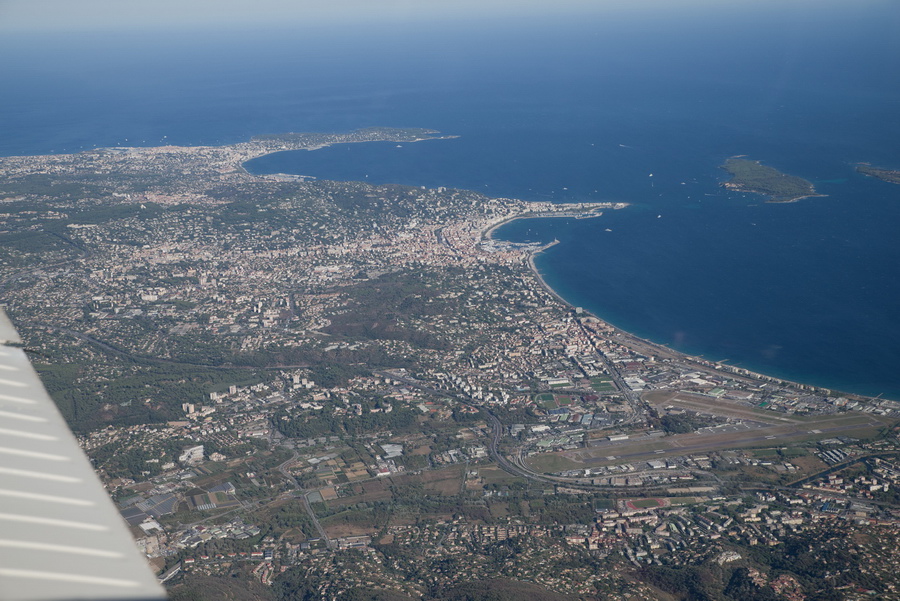 The mountains north of Cannes. Here I got headwinds of 50-60kt, made worse by the FL160 level which was demanded by ATC. The airflow produced dramatic variations in the climb rate around FL160, from -500fpm to +1000fpm!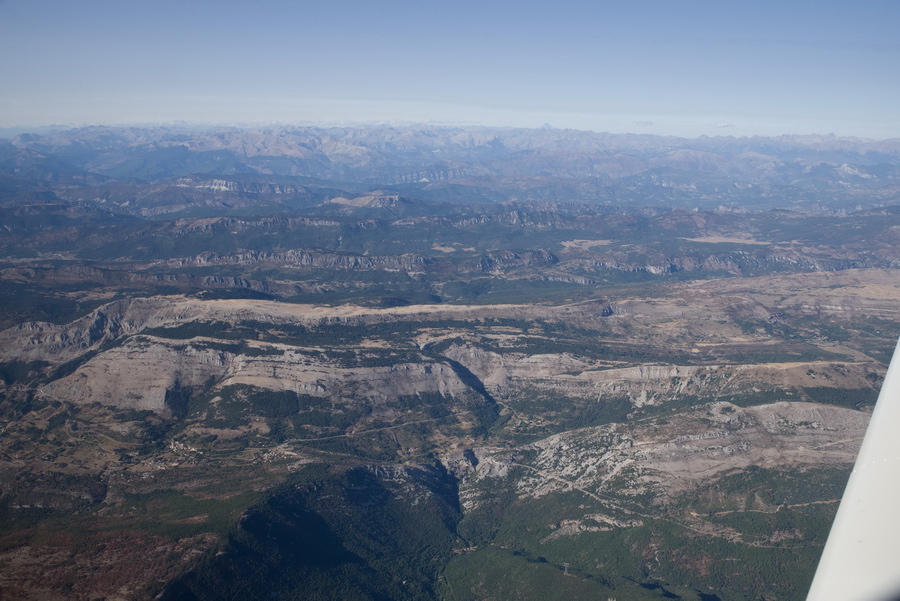 Over N France and above an overcast, but otherwise OK weather. Still fighting a 20-30kt headwind though. I was flying at "best power" because I had plenty of fuel for this leg but when it became apparent I would not make Shoreham I reduced this to "best economy"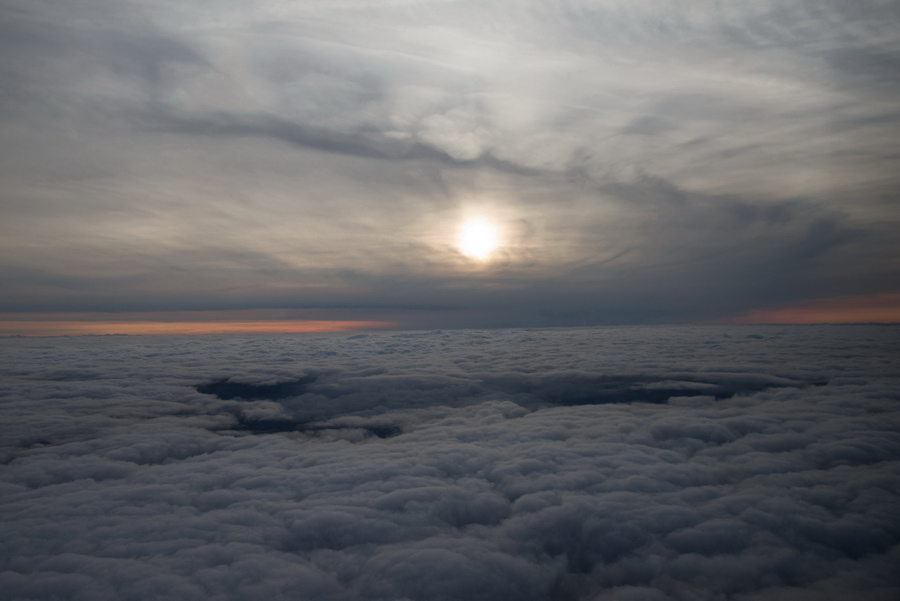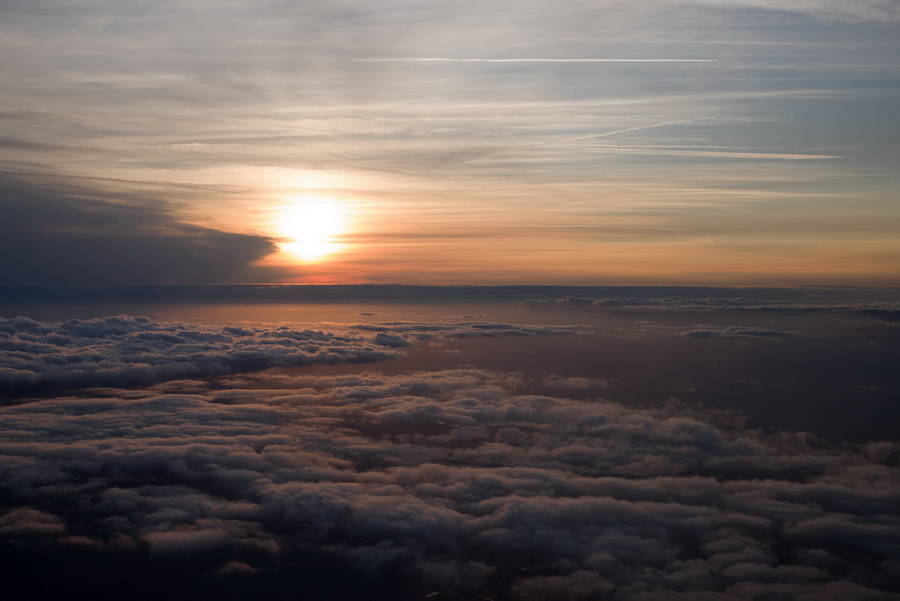 The coast of N France, around Le Havre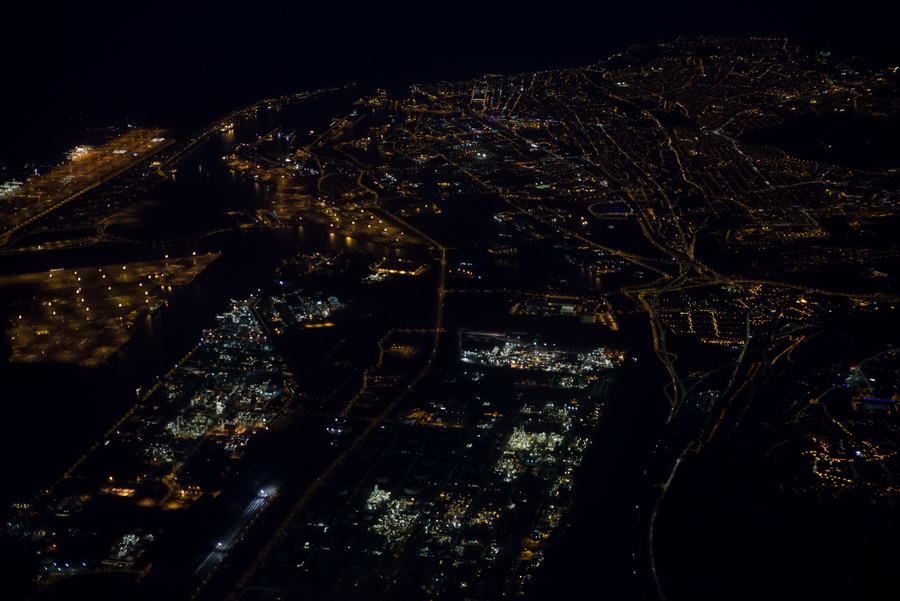 Nearly home...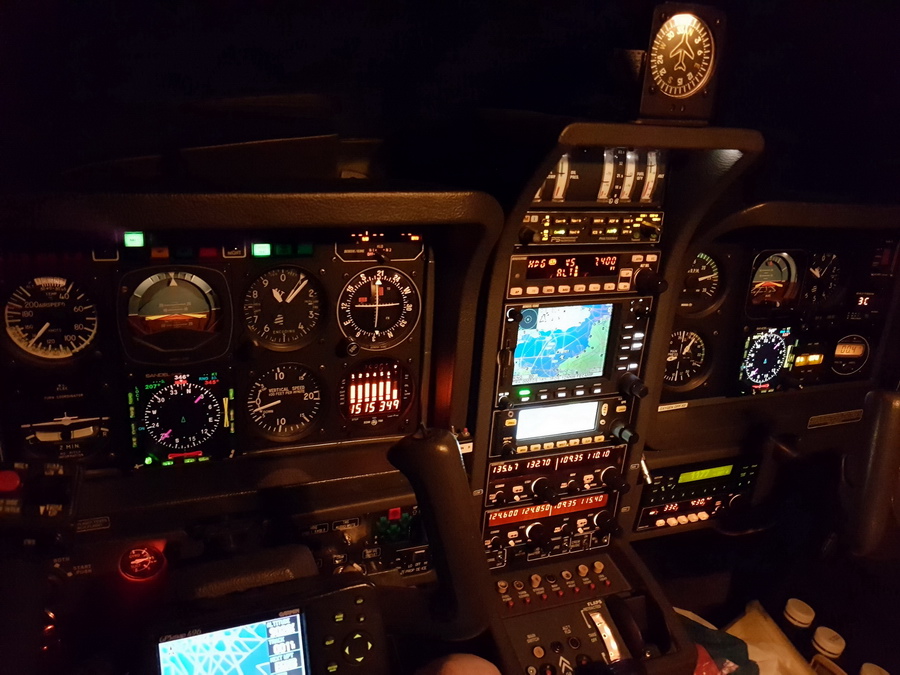 Only two airports are open in the southern UK at this time in the evening: Biggin Hill and Southend. Both have an ILS. Biggin Hill is open till 11pm (though piston aircraft movements are banned after 6pm on weekends!) and is a €80 taxi back home so I normally use it for diversions. Southend charges £200 extra after 10pm but is open H24.
At the end of a hassle-packed day like this, the runway was a wonderful sight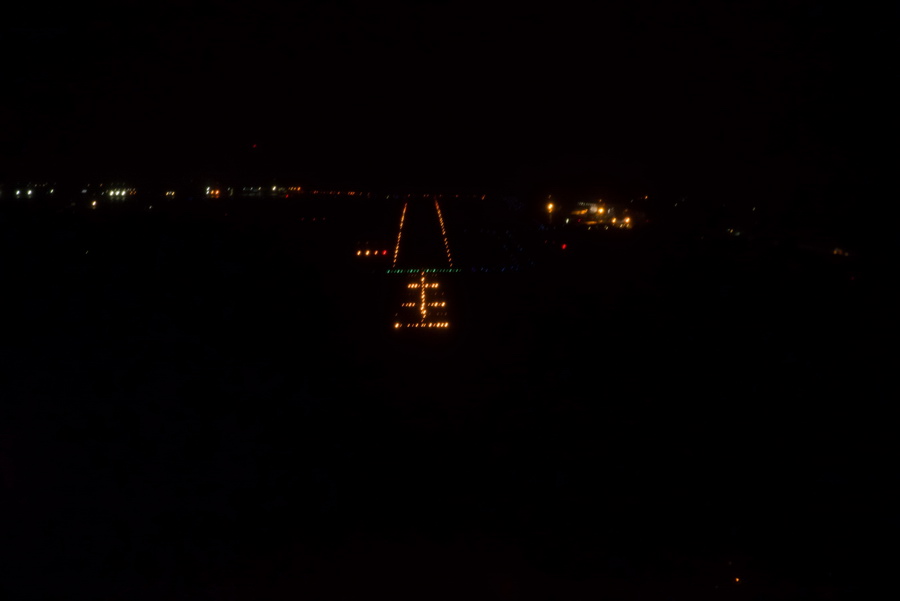 I didn't know this at the time but had I arrived 5 minutes later - after 9pm - I would have been charged another £150!
On the ground at Biggin Hill and packing up, I got soaked in the same drizzle as on leaving the UK

The aircraft was recovered from Biggin Hill to Shoreham several days later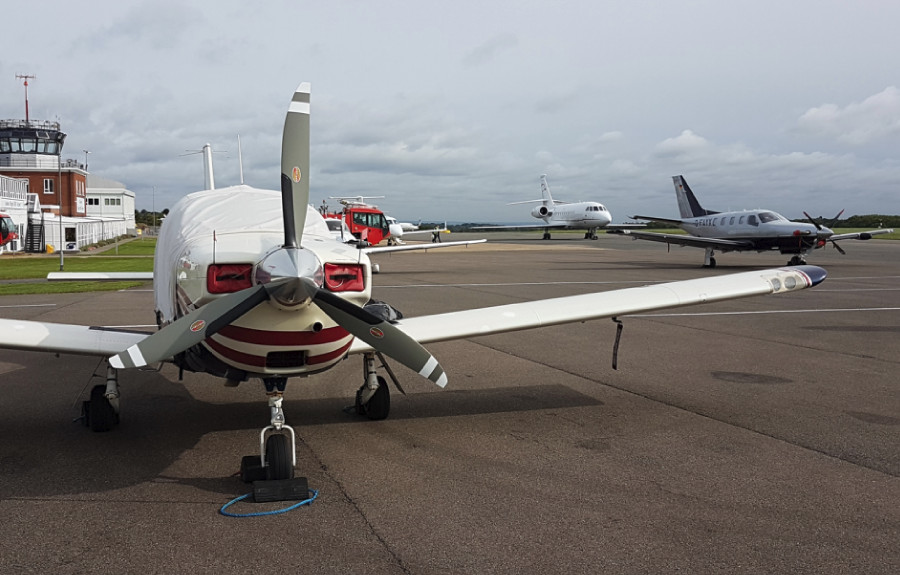 via a short VFR flight at the usual 2300ft below the London TMA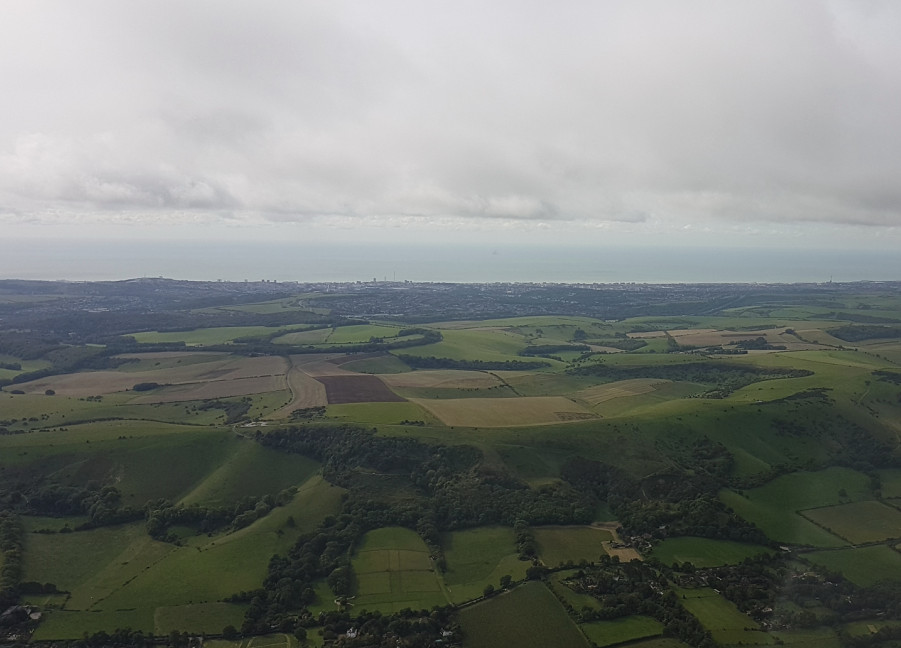 23 hours of airborne time later, back at Shoreham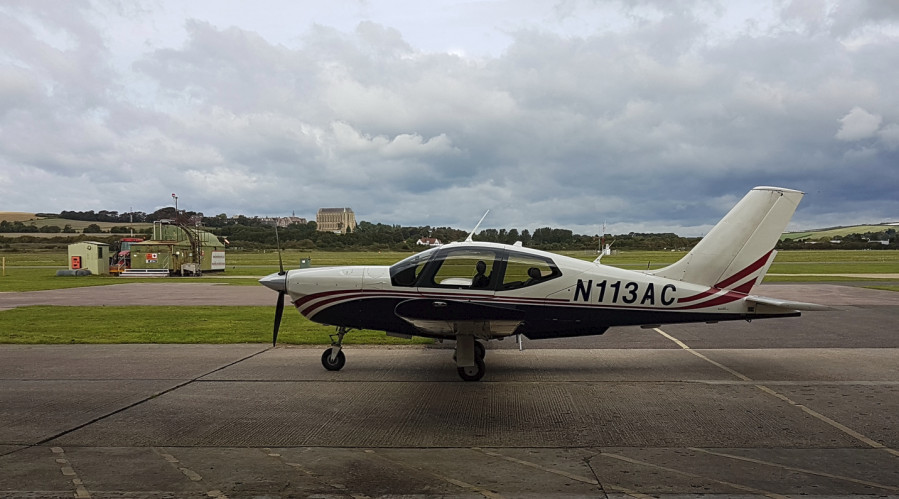 Airport costs (including VAT) for TB20, 1400kg MTOW
LDDU
Total including parking for 1 night: €53
Avgas: 14.15 HRK/litre (€1.87/litre)
LGSM
Total (see invoice higher up): €328.17
Avgas: €2.76/litre
LGPL
Total including parking for 4 nights: €20 (€200+ of handling was waived)
Oxygen
An oxygen system is practically necessary for IFR in the Eurocontrol system. Occassionally, the weather is nice and one can fly at FL090 or so but most people would still get tired after several hours. Also many routings are not available below oxygen levels, due to controlled airspace structures, and in some cases terrain.
Very little oxygen was used here - probably 25% of the 48 cu. ft. cylinder, for 1 person on all the flights. But without oxygen I would have not done the trip because one cuts off half of the aircraft operating ceiling and in the wrong conditions could spend most of the flight in icing conditions and turbulence. In this case the weather looked good but one can never be entirely sure, especially for the return flight some days later.
The Value of an IR
On this trip, the flights south of Dubrovnik could have been done legally under VFR but not the others.
Photos Galleries
For the photo galleries I have for many years used the feature in Photoshop, which works well enough. The galleries in this report were generated with Juicebox which has a free version with various limits (e.g. up to 50 photos) and a $45 version which does everything. It runs on Adobe Air and seems to have issues with large galleries on a win7 64bit machine so I run it in a winXP compatibility mode

It delivers good results but has some annoying features e.g. stripping off EXIF data, which should arguably be preserved, or at least be configurable. It also can't process images over 4096 pixels which the K1 does exceed so I have to downsize them a bit first.
Gadgets
No trip report can be complete without this bit

The flying videos were taken with an externally mounted Sony FDR-X3000 camera, at 1080P (full HD) 50 frames/sec and with a video bandwidth (mp4) of about 28 megabits/sec. The result is a high quality video but due to the size (about 10GB per hour) it cannot be hosted on any reasonably priced commercial video hosting site. I also cannot host them on the server used for peter2000.co.uk because of the limited storage allowance. So I use Vimeo and pay them $60/year to give me a 5GB/week upload budget (which is wasted most of the year) but they still downsample the video to around 5 megabits/sec. The result is pretty good but if you want to see the original file there is a Download option on Vimeo. You will need a fast PC to play it however... In case you ask "why not 4K"... well, 4K generates about 100 megabits/sec, is more difficult to edit, stabilised 4K cameras are only just appearing, there is no way to host it online without reducing the quality to something like 1080P, and only a top-end PC with a top-end graphics subsystem can play 4K at 100mbits/sec.
The photos were shot with a mixture of Samsung S7 phone, a full-frame Pentax K1 DSLR which is really outstanding especially with the 24-70 f2.8 lens.
The Pentax photos were taken from the camera in DNG raw (the camera takes jpegs to one SD card and raw to a second SD card) and processed in Lightroom to crop and remove some haze. The other program I use instead of Lightroom is ACDSEE PRO which is easier to use in the way it can be used on any randomly chosen picture folder (whereas the Lightroom workflow is a lot more formal) but most professionals use Lightroom and once you are working on a project comprising of say 100 photos it just works better. All these programs try to impose various weird workflows which are counter-intuitive unless you work in just the way they want you to... I went on a 2-day Lightroom course and didn't get very much from it.
In theory one could do everything needed on a trip with just the Samsung S7 phone. It can be used to get weather, file flight plans, and do all the normal comms with other people. It can even take fairly "ok" photos. I have the Samsung Galaxy T700 8.4" tablet which works really well. It is functionally practically identical to an Ipad (which I have too, kicking around the house) but is much better for a "power user" because it isn't as restricted as an Ipad. For example it can be expanded with a micro-SD card; say another 64GB. Apple have never allowed any such storage expansion. The tablet also tethers perfectly to the S7 phone for internet connectivity. There is a version of this tablet (the T705, which is the one I have) which takes a SIM card and with a contract SIM (I have a Vodafone contract on both the S7 and a cheaper version of it on the T705). This tablet also acts as a "backup phone" because it is a fully functional phone. I have VOIP installed on both the S7 and the T705, via the Localphone VOIP service which works most of the time and this delivers extremely cheap outgoing calls. On the phone I use the CSIPsimple VOIP app and on the T705 there is a built-in VOIP function which seems to work.
However, I have found that the main thing which a tablet does better the S7 phone is in offering a bigger keyboard. In the end, one cannot beat a proper laptop for sheer productivity, and I use a Lenovo X230-I7 which is does basically everything anyone could ever need and with the I7 processor is very fast - fast enough for movie editing/rendering and faster than most of today's ~3GHz desktop computers. The X230 is now obsolete and has been replaced by the X240-I7, and various versions of these excellent, very fast and well built laptops come up on Ebay in as-new condition, for peanuts. The best laptop today for both power and travelling is probably the Dell XPS13 which I have used too.
In the aircraft I run a Lenovo T2 10" tablet with Windows 8 and this runs everything needed. It could be replaced with an Android tablet but it is very fast in rendering PDFs (terminal charts, etc) and runs Oziexplorer which I use for VFR charts and the topo maps shown earlier in this article. It is also really solidly made. The current version of it is here.
Flight times (airborne times)
EGKA-LDDU 6:00
LDDU-LGSM 3:20
LGSM-LGPL 0:50
I would like to thank all those who made the fly-in.
This page last edited 26th November 2017